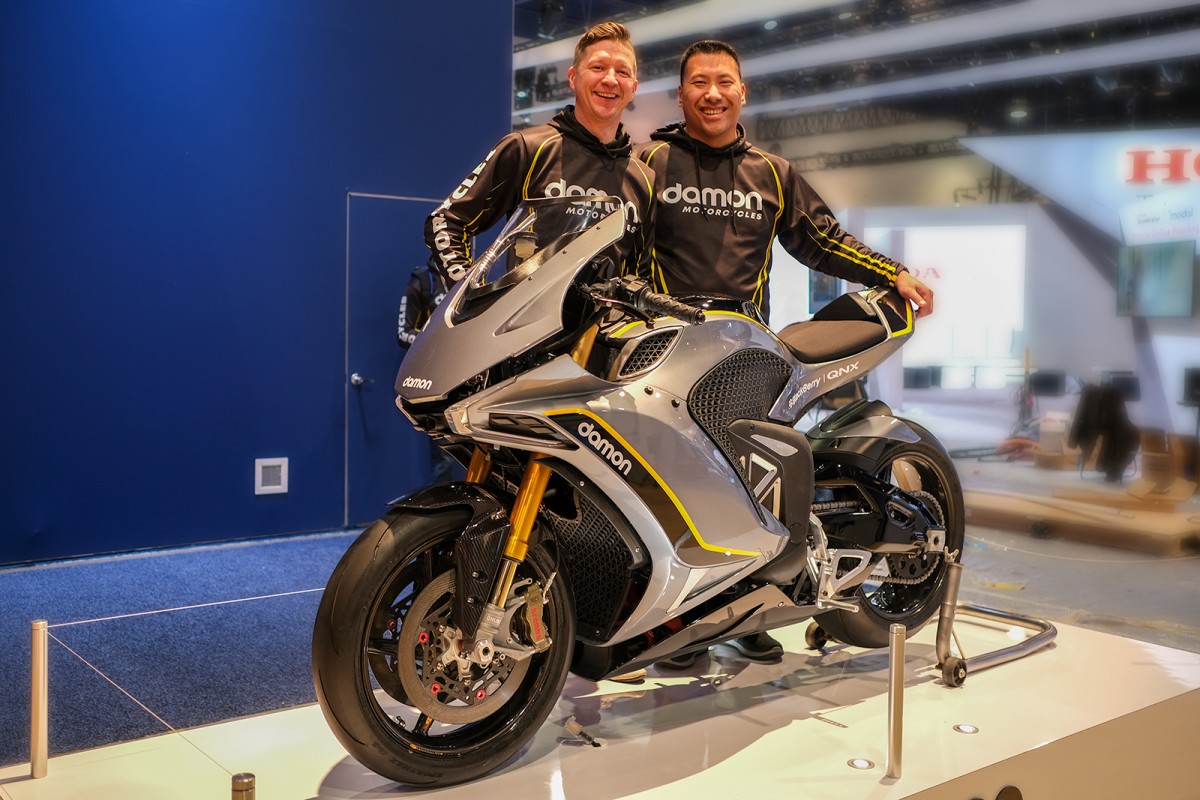 An engineer by trade and a motorcyclist by passion, Dominique (Dom) Kwong (right, with co-founder Jay Giraud) is the chief technology officer of Vancouver, BC-based Damon Motorcycles. He and Giraud have set out to make the safest motorcycle on the planet by using AI and state-of-the-art advanced warning features that help keep riders safe. Oh, did we mention you can also switch from sport-touring to super sport mode with the flick of a switch? The Damon Shift system allows riders to adjust the handlebar height, seat height and rear set position to suit the riding environment while riding. We were fortunate enough to be able to pull him away from the pressing matters of running a start-up long enough to ask him a few questions.
Your background is in electrical and computer engineering, what got you interested in motorcycles?
Yes, I've always been interested in motorcycles. Quite frankly, I didn't want to get shown up by my little brother. In 1997 he bought a Smokin' Joe's Honda CBR 600F2 and started riding motorcycles. So, I was like, Ok I can't have my little brother be cooler than me, that's just not going to happen. I started out on his bike and decided, smartly, to take a riding training course to get my motorcycle license.
What was the first bike you owned?
Sheepishly, I will admit to you the first bike I ever owned and actually the only bike I've ever owned, is a 1998 Yamaha R1. The first model year of that bike. I fell in love with that bike by looking at it in the magazines. My heart was set on a Honda CBR 900RR. I was like "that's what I'm going to get" until I came across Motorcycling Magazine and flipped the pages and there was a 2-page color ad and it showed that bike (Yamaha R1), and I'm like, "I'm done." When I bought that bike, I wasn't even licensed to ride the thing. I had to get my brother in law to ride it home for me.
How did you and Jay (Giraud) connect? How did you conjure up the idea of Damon Motorcycles?
We were both motorcyclists, have been for 20 years. He's built like two car companies and myself, in the consumer electronics space, I've made everything from headphones to heads-up displays for a ski goggle and motorcycle helmets. It was actually that industry (heads-up display) that we were thinking about rebooting a company making a motorcycle helmet. We quickly realized that safety should be part of the motorcycle and not so much just the helmet. So, we created Damon.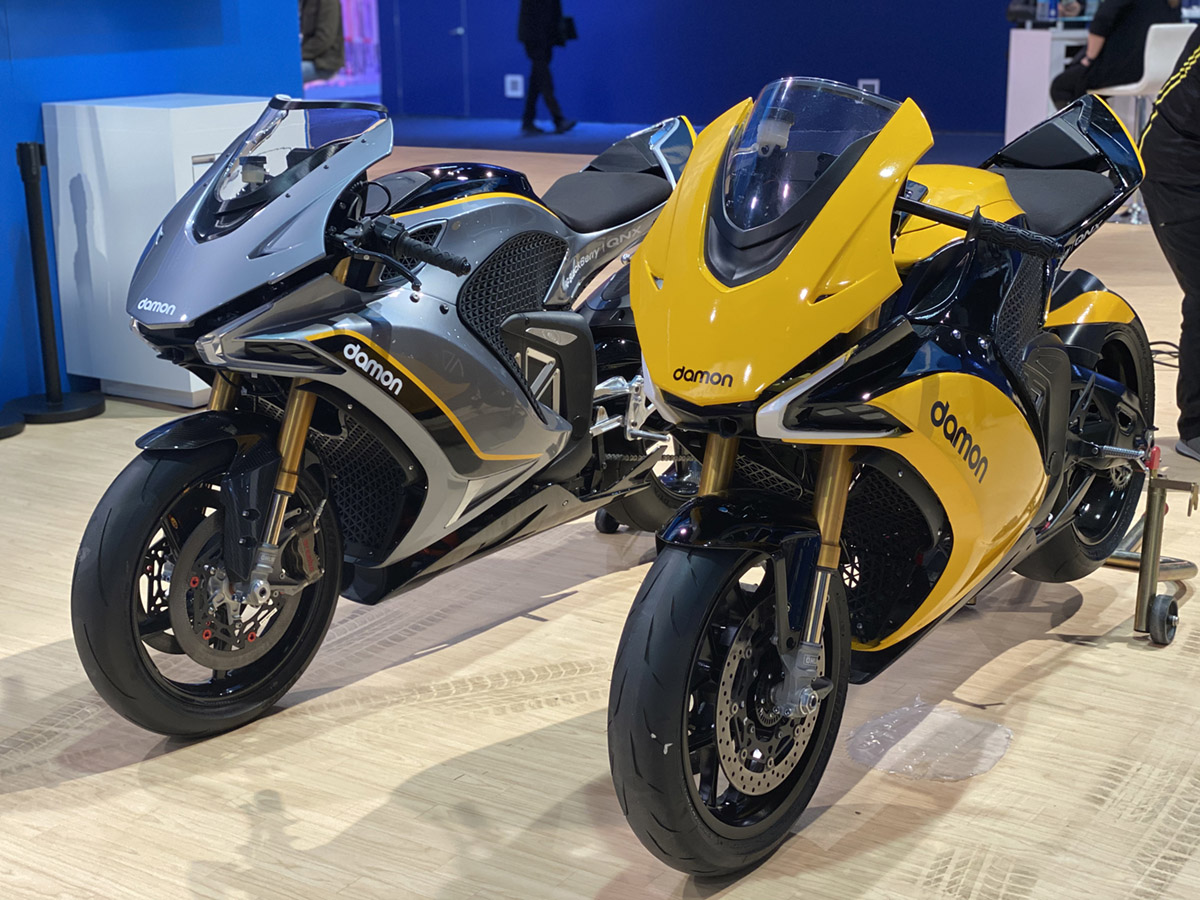 Where did the name come from?
That's Jay's first name. His legal name is Damon Jay Giraud but he doesn't like the name Damon so he goes by Jay. It also so happens to have the first 3 letters of my name in it too.
Did you study other electric bikes while working on the concept and prototype?
Oh absolutely! We studied electric bikes from quite a few manufacturers, Zero being the most obvious one. We looked at Brammo and even Harley Davidson's LiveWire. As far as electric drivetrains are concerned, there are only so many technologies that separate one drivetrain from another. The only thing that really separates bikes from that standpoint is range. How do I get as much range as possible?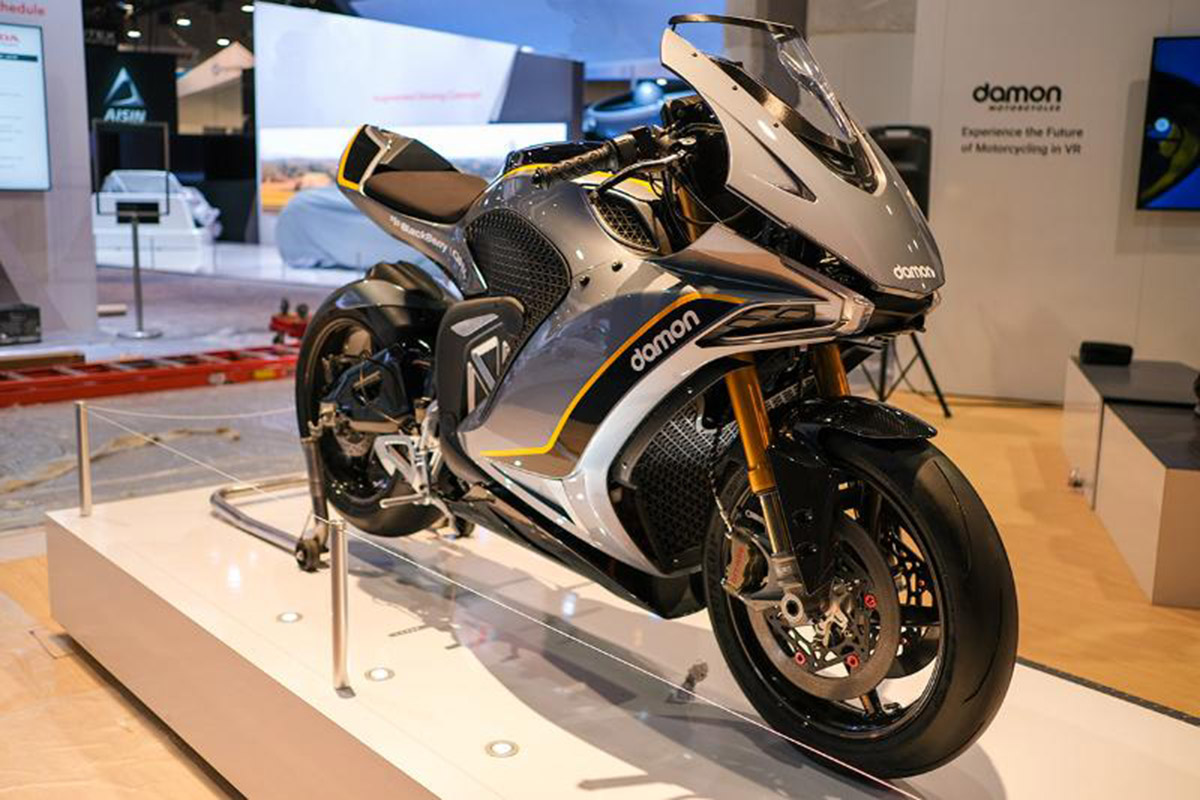 What lessons did you take away from those other electric motorcycle manufacturers?
The biggest lesson we've taken from those other manufacturers, and it shows in our bike, is that we need to make a bike that looks like a bike. Something that is relatable to the customer. You find some motorcycles that want to redefine the motorcycle; the shape, the sound, the looks. For us, that might be needed, but trying to bring that future and introduce it today, it's a really sudden change. What we wanted to do is introduce electrification and electric motorcycles in a very smooth and holistic way. Our number one goal was to design a bike that looks like a very well-made, well-designed bike. It's got to appeal to the masses.
How did the partnership with Blackberry come about?
The relationship came through one of our investors. Our investor had founded a company that Blackberry had purchased. He introduced us to Blackberry QNX. QNX is the OS to our bike, no different than say Apple's OSX or Microsoft Windows. We write our code and our applications on top of this OS. So, our CoPilot system, our Shift system, our vehicle management system; these are our own development. Our own applications that ride on top of this automotive OS.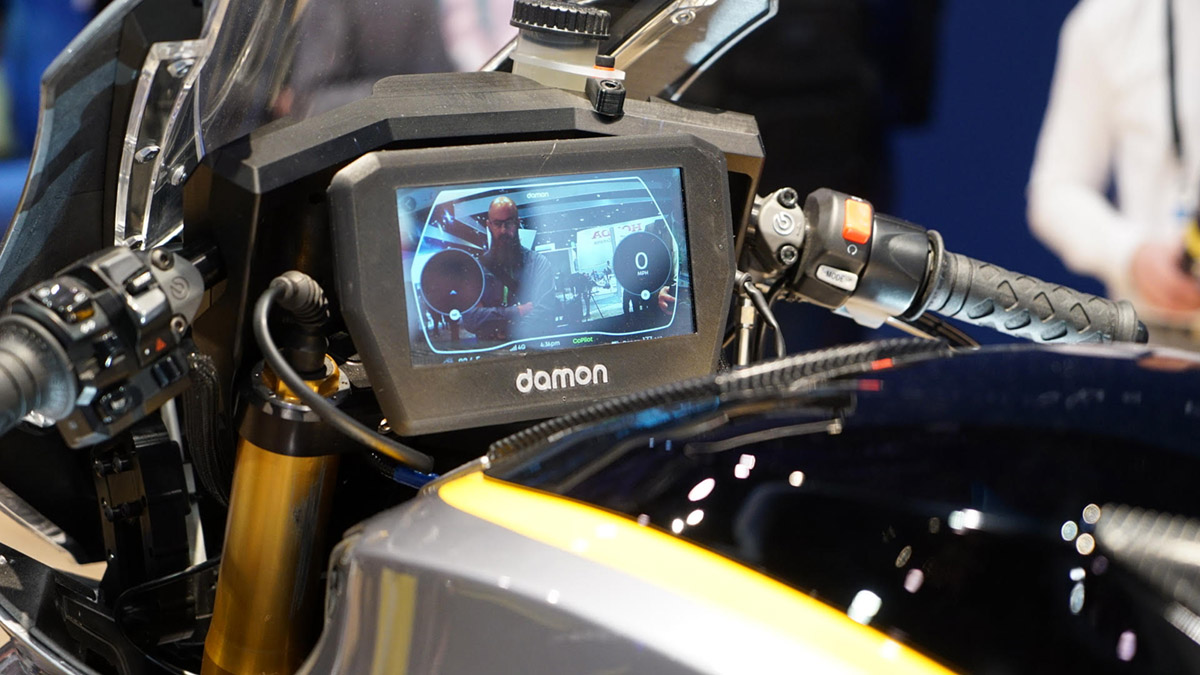 Tell me a little bit about the technology that is available on the bike
CoPilot is not an automotive driver assist system (ADAS). It's not as simple as an automotive system. We're not just taking this and sticking in on the bike. There are other companies that have tried to do that and, unfortunately, they didn't get a chance to proliferate. Automotive technologies are designed for cars. Ironically enough, we do use the commodity sensor you'd find on any car; the cameras, the radar. The key ingredient that makes the difference is that our software enables these sensors to work in a motorcycle environment. A motorcycle moves differently than a car. Aside from the 2 wheels that separates them from cars, a motorcycle leans, it pitches, it moves in a fashion that is very dynamic. CoPilot scans for threats, 360 degrees around the rider in real time, and does that all the time. So, when it detects a threat, like a car backing out of a driveway that can't see you, our CoPilot system can lock on to that target and understand its trajectory and speed. Once it determines that's a threat, it alerts the driver.
What was it like to walk out on the floor at CES and see your product there that first day?
[pauses] I still feel it today, man. I have no words to describe the feeling I have and continue to have for that moment of seeing 3 years of hard work, seeing the response. I sum it up in one word, Joy.
Are you manufacturing in Canada or elsewhere?
Yes, we are. We're going to produce the initial volume of our motorcycles here in Vancouver. We will be expanding those facilities as we grow. We will also have a presence in the US and Europe, basically wherever we expand and roll out. Damon's plan is to be a global leader in mobility.
Once at full production, how many bikes will Damon produce on an annual basis?
That's a TBD question right now. For our Vancouver facility, the one we're in right now, we can handle volumes of 500 to 1,500 units per year. As we expand further into Canada the capacity for those facilities can be in the 5,000 to 10,000 range.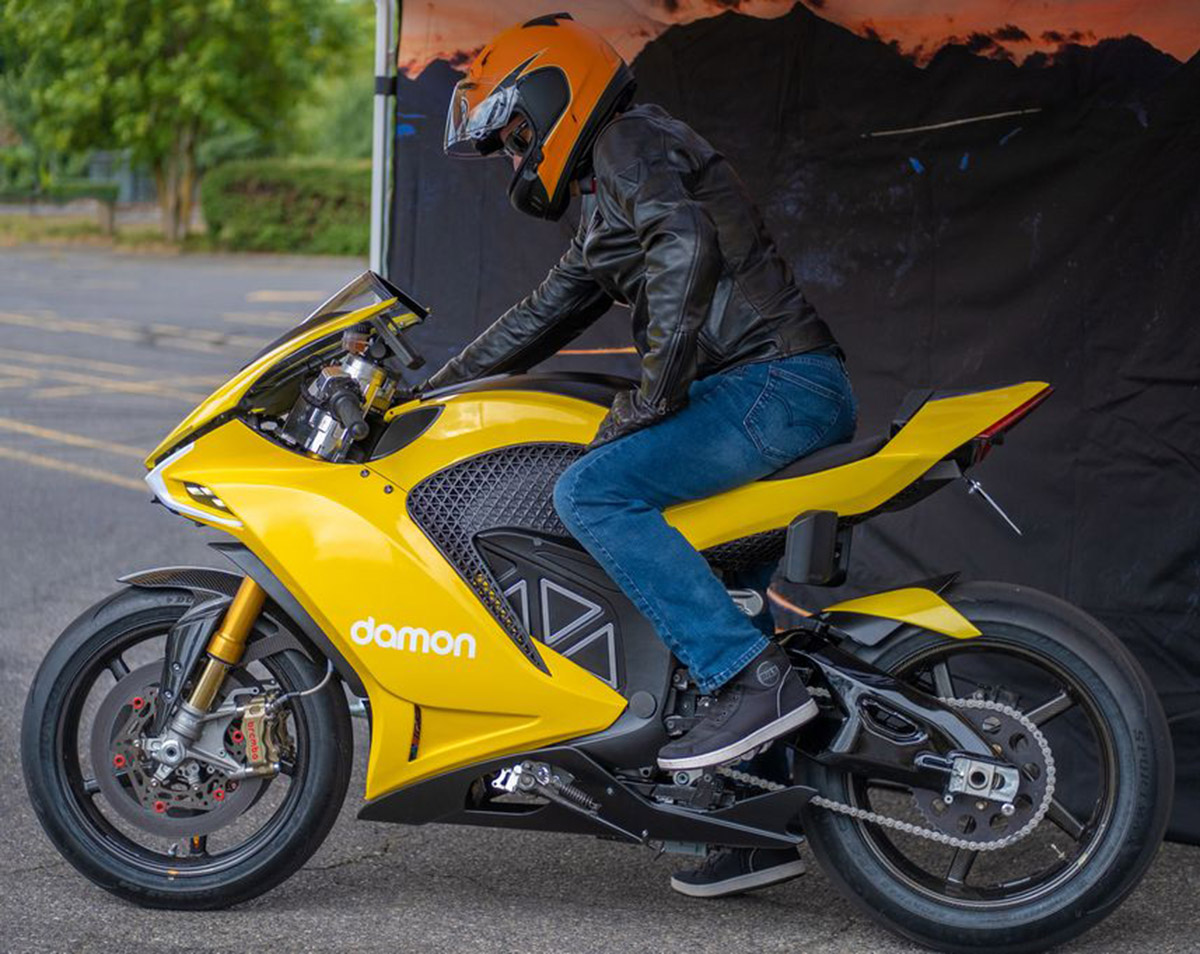 I see that the Hypersport Premier is currently sold out. How long did it take for the model to sell out and when will it be available again?
2 days. The Hypersport Premier, we made 25 unique models, color schemes and all 25 sold out in less than 48 hours after we debuted at CES. The next version of the Premier, we're talking about that internally, when that will be available and how many, so I don't have an answer on that.
What's coming next for Damon Motorcycles?
The focus is getting the first bikes out the door; our Hypersport HS, our Hypersport Premier. But as we go into different geographies, we are going to be building a commuter version which will be tailored to have a smaller footprint, to be designed for beginner riders.
If I were to open the door to your personal garage at home, what would I find?
You would find my beautiful 1998 Yamaha R1, naked unfortunately because the body work is strewn everywhere in my garage. You'd find another 1998 R1. I built 2 bikes for racing. I club raced very briefly because I wanted more seat time. You'd also find the rest of my life, you know, a lawnmower, some hedge clippers, my toolbox, a couple benches. But you will also find on the walls posters that I've collected over the many years I've enjoyed this motorcycle journey.
Do you have any favorite destinations or roads you like to ride?
There's a stretch of highway here in Vancouver that leads up to our ski resort area, Whistler, called the Sea to Sky Highway. It's a beautiful piece of road. And, the scenery around that road, I challenge anybody on this earth to find something better. It's a very tranquil area, very serene. For me, when I ride a bike on the road, especially street riding, I stick to the speed limit. I have no interest in exploring speed on the road except for on the track. I appreciate road riding in order to understand the situations riders go through, that is the inspiration when we come up with these various systems like CoPilot, like Shift.
What do you do to when you get a chance to get away from work and the challenges of building a start up?
I like spending time with my kids and their activities, I am the coach of their softball team and the president of the softball association. My eldest daughter loves Star Wars so we go see every Star Wars premier. My youngest daughter loves cooking. That's one of my favorite past times as well so we enjoy cooking together. My wife and I enjoy time at the theater, sometimes we have to be selfish as parents, spend time for ourselves.
Any final thoughts?
We have two guiding principles and questions we love to ask people that want to come work with us. The first question is, do you want to work on cool shit? The second question is, do you want to work with people that you treat as your family?
It's taken me 25 years in an industry that can be really, really cool to realize that I spend as much time here [at work] as I do at home. So, the people here that I work with are also my family. There is no way that Damon achieves what we've been able to achieve in this timeframe without these 2 guiding principles. I get to ride and work on motorcycles all day, as part of my job. That's craziness, right? I love the people I work with. My co-founder Jay is my brother. The message we relay to our investors, to our customers and to the industry is a powerful message. It's not bullshit, we truly believe in what we're doing and love doing it.
Finally, everyone that works at Damon rides motorcycles. If they didn't ride before they came in, they do now. Motorcycle technology should be developed by motorcyclists.
Thank you, Dom, for taking time to sit down and speak with us. We are excited to see where the future of Damon and the motorcycle industry takes us. One thing we're pretty sure about is that you, Jay and the rest of the Damon team will be out front leading the way. Now, about that flight to Vancouver for a test ride…