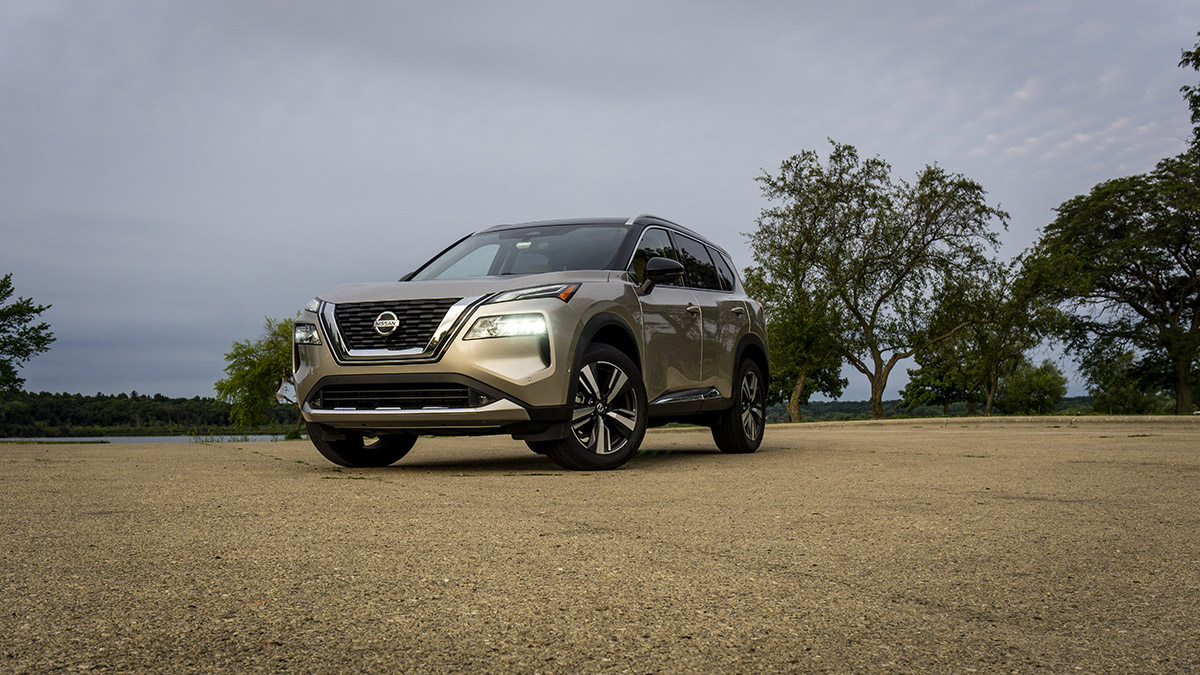 2021 Nissan Rogue may be the most inaptly named vehicle on the road today. Nothing about it suggests anything outside the mainstream. It has no dark side nor any counter-culture pretensions. Never once while I was behind the wheel did I feel like flaunting authority. Especially since Rogue has one of the most mild-mannered powertrains in the category, a 2.5-liter, 4-cylinder engine that makes just 181 horsepower and is mated to an uninspiring CVT transmission.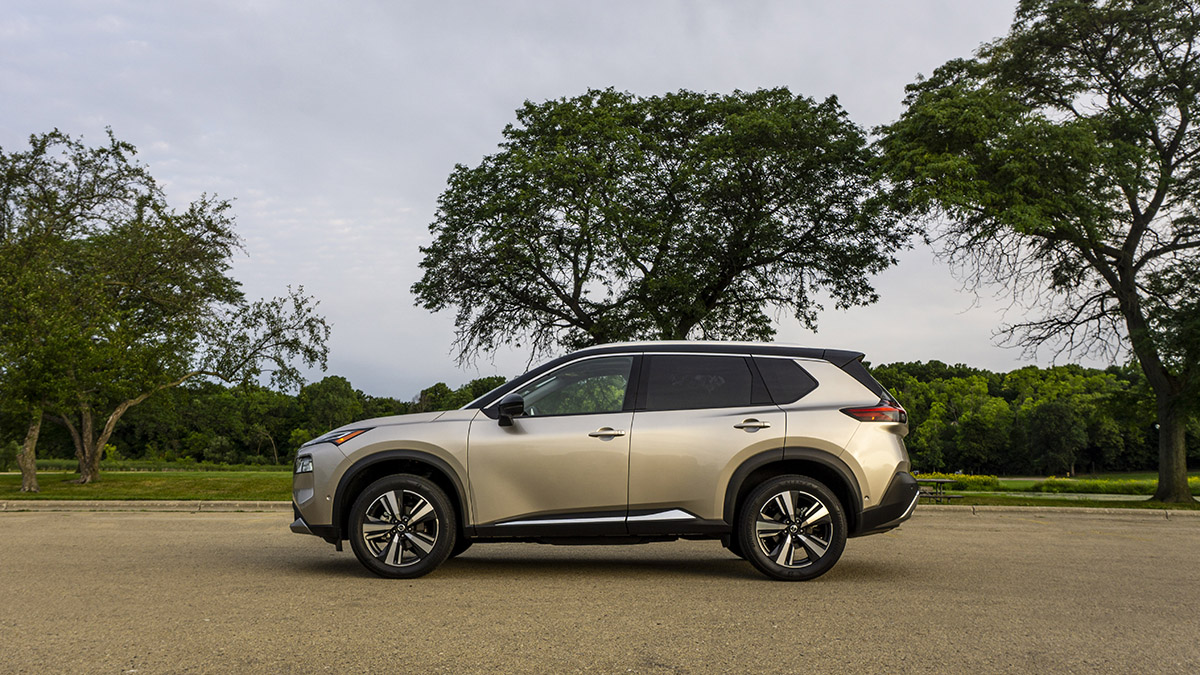 No, Rogue is in fact as conventional as a compact utility vehicle gets these days, which may be why it sells so well. Number three in a category with more than 20 nameplates. Rogue only trails RAV4 and CR-V in popularity in this biggest selling sector of the business
Updated in 2020 for the 2021 model year on Nissan's all-new architecture, Rogue rides more like a car than ever. Independent MacPherson struts up front and multi-link suspension in the rear do the job they're designed for, providing a smooth ride for the family. Rogue finds a sweet spot between the firm, sporting ride of Tiguan and the soft compliance of Venza.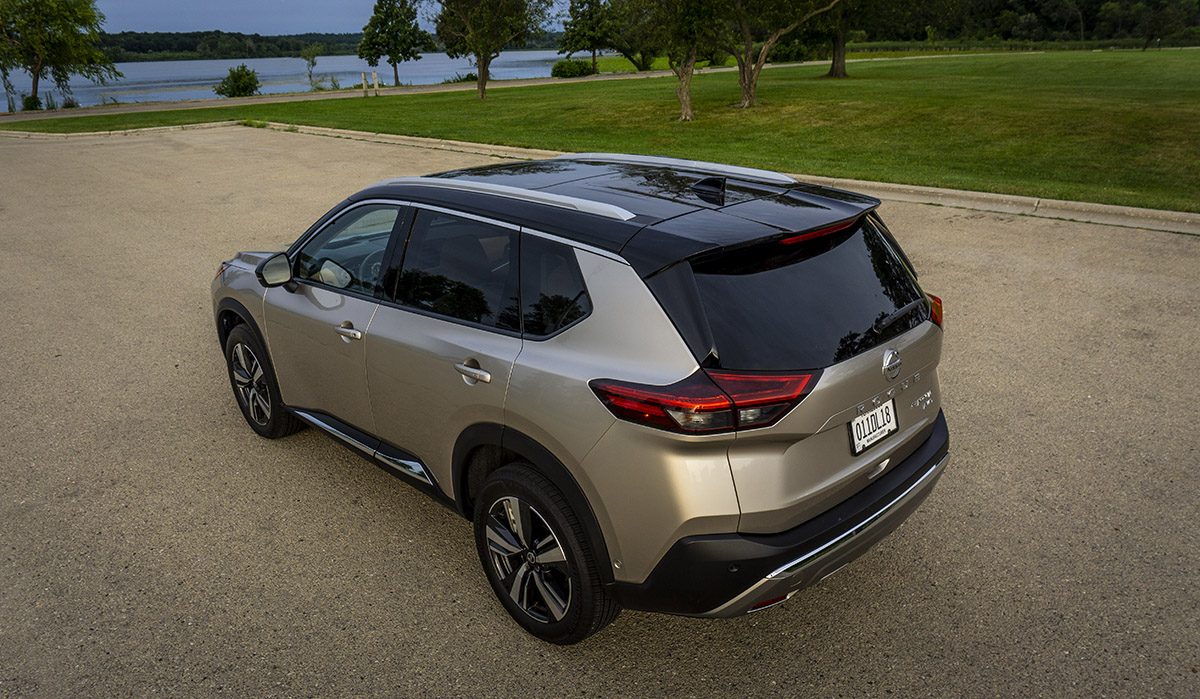 My Platinum trimmed Rogue test vehicle rode on 19-inch, all-season tires mounted on shiny two-tone alloy wheels. The rich champagne silver paint and gleaming chrome trim gave it the premium look its $39,685 price tag deserved. Rogue's revised styling is ruggedly handsome, with sharper creases, and more squared off edges. The front fascia is upright and SUV-like while the high beltline and long roofline hint at the increased space inside from its previous generation.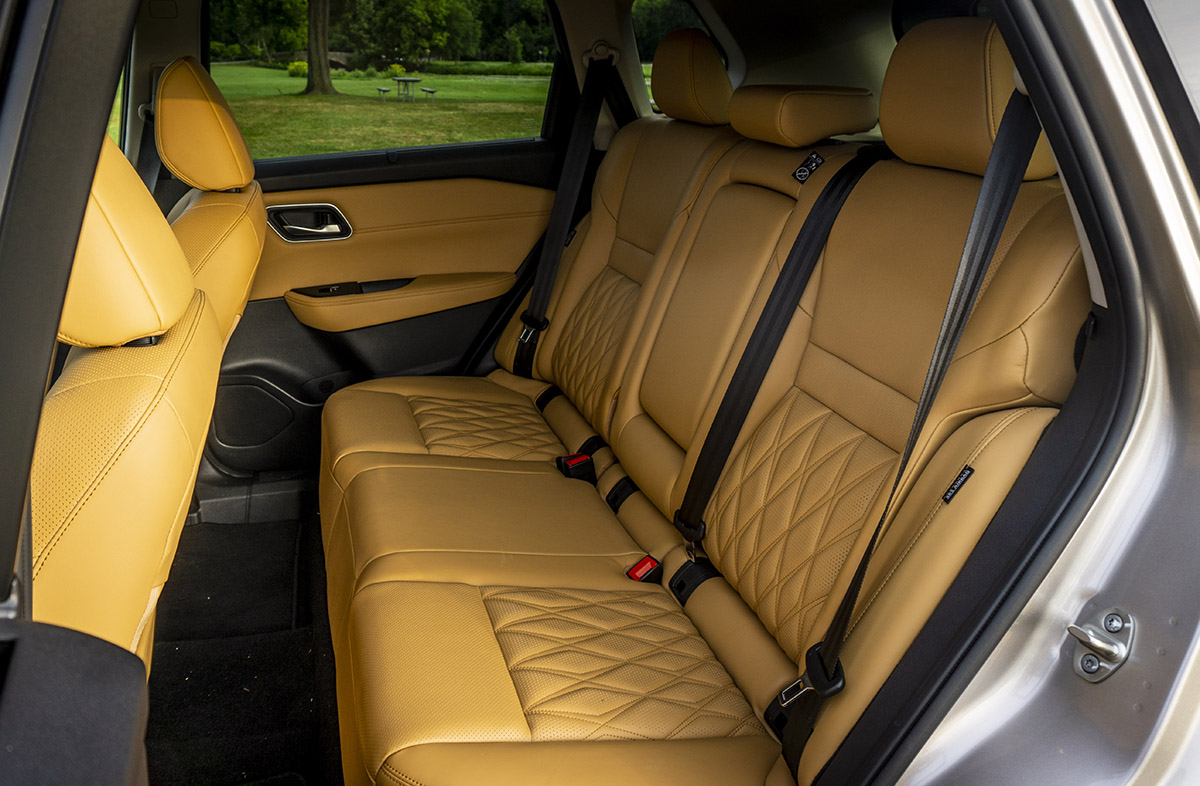 Getting into the new Rogue is easier for rear seat passengers thanks to doors that open to a full 90-degrees. This makes installing car seats or loading cargo easier. And for tall people like me, ingress and egress is also more comfortable.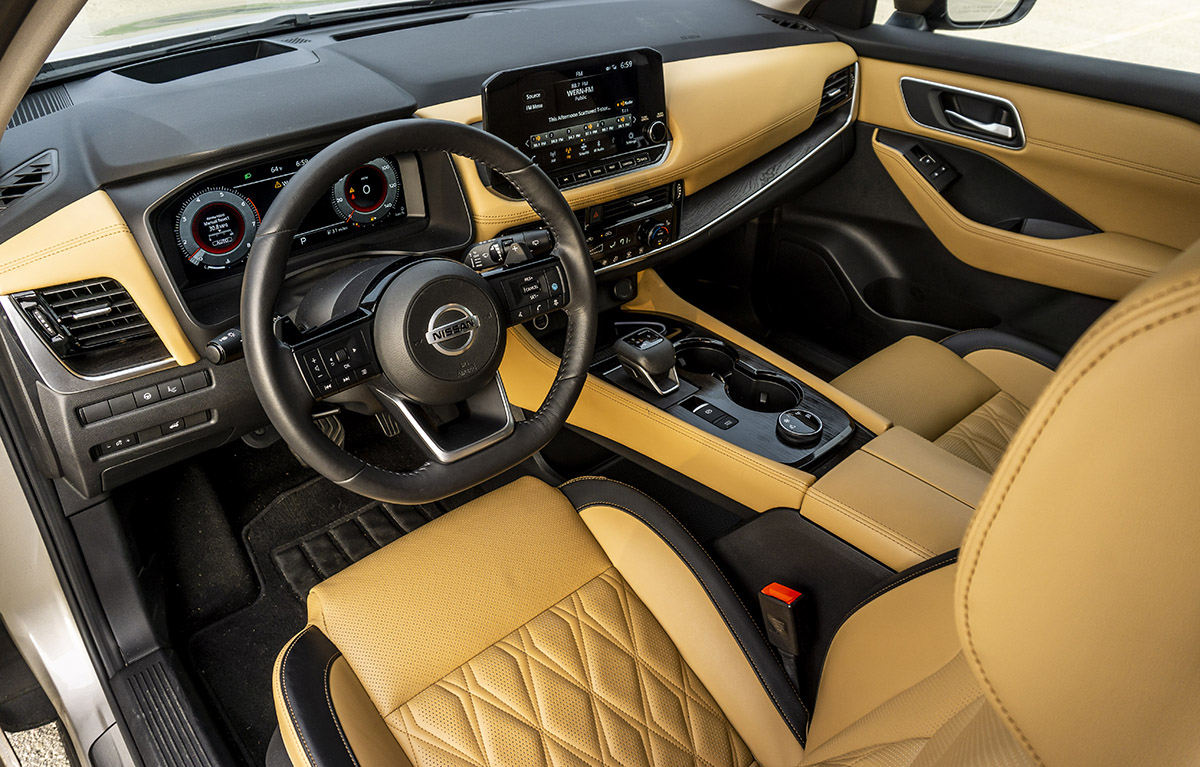 Up front, leg, head and shoulder room are more than ample even for my 6'3" frame. And when when you move up to this platinum trim, things get fancy. Highlights include two-tone, heated, quilted semi-aniline leather seats, three zone climate control, heated rear seats, and a premium Bose stereo that offers improved dynamics over the base sound system. The brushed faux aluminum trim and wood inserts are surprisingly well done and the switchgear, while still plastic, feels good to the touch.
The same is true for the electronic shift lever and drive mode dial. They're right where you expect them to be and move with precision. There's storage galore between the two seats thanks to a deep bin beneath butterfly doors, an extra compartment below the shifter, and door pockets that'll hold additional water bottles along with all the candy wrappers, grocery receipts, and other junk that will accumulate over the miles. At its most premium level, Rogue's interior is right up there with Mazda for the best in the category.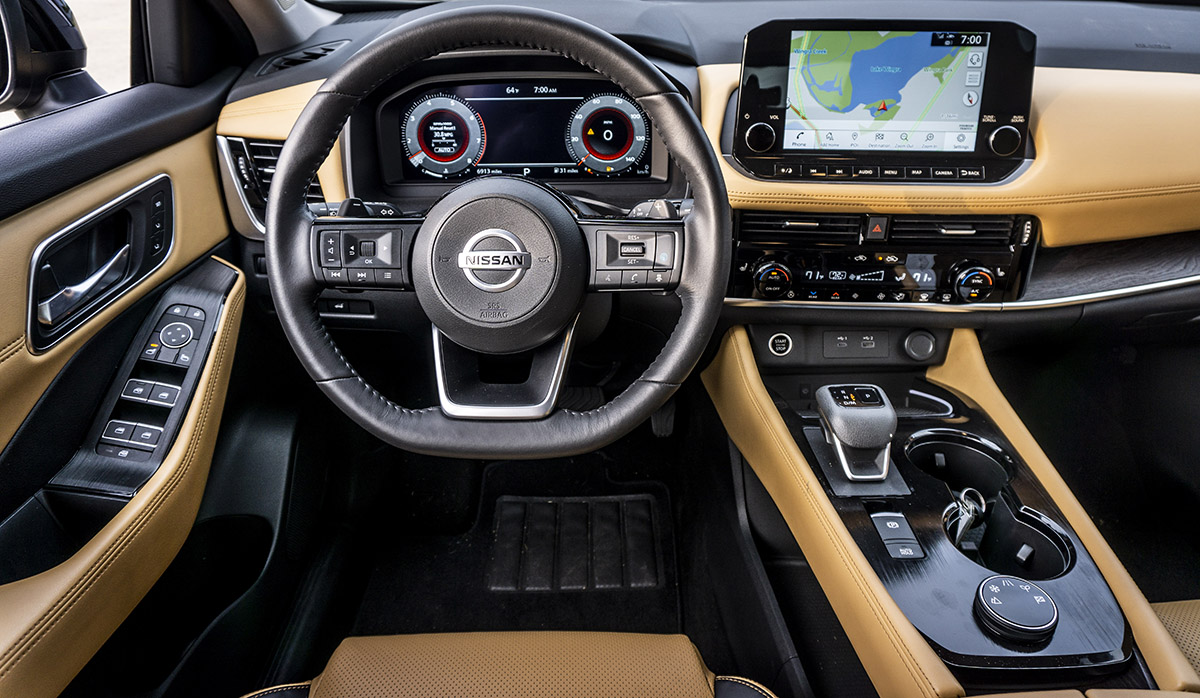 The technology is intuitive. Nissan hasn't fallen prey to the allure of overlarge screens and the dispensation of physical buttons and knobs for the fools gold of touch and voice only. The 9-inch touch screen is plenty big with crisp graphics. Separate audio and HVAC controls make operation easy. While it may make it look conventional and even a little dated, it works. Available technology on the premium trim includes, wireless Apple CarPlay (Android Auto is standard, but only works with a plug), wireless charging, as well as multiple USB type-A and type C charge ports for both front and rear seat passengers.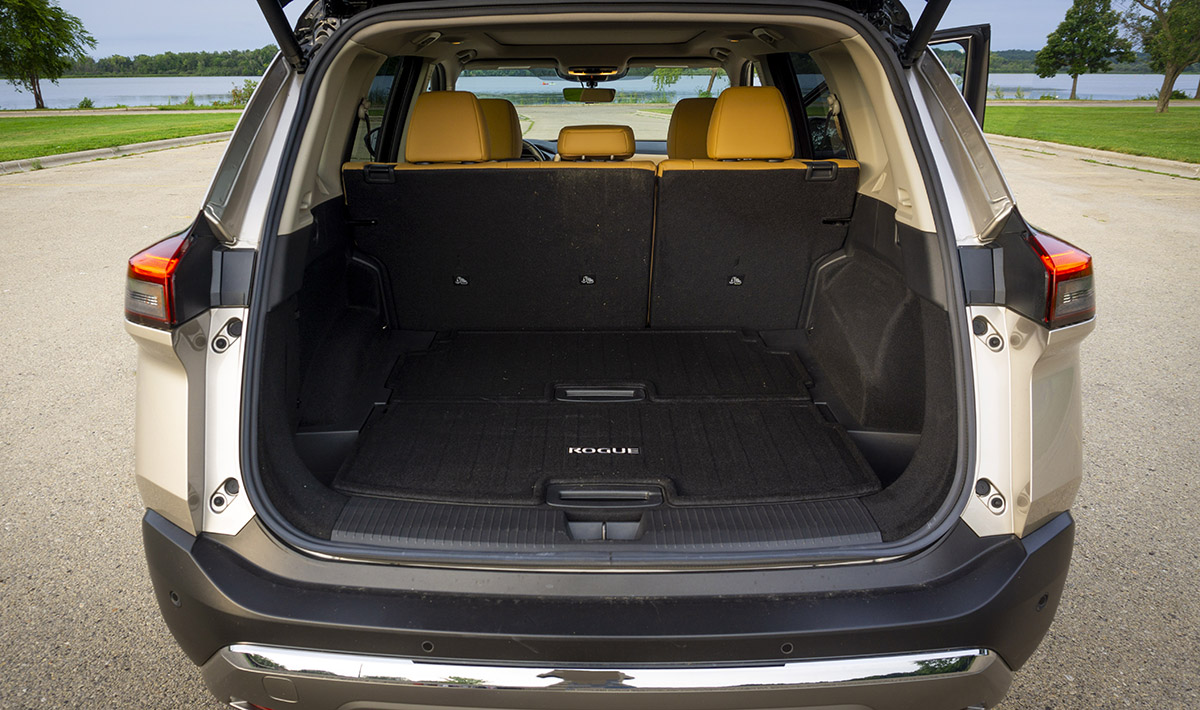 Like CR-V and RAV4, Rogue can be had fairly affordably if you opt for a front-wheel drive S model. Rogue's starting price of $27,000 (includes destination and delivery charge), is slightly higher than its rivals, but you get a fair amount of standard gear including LED head and tail lights, 17-inch alloy wheels, and safety technology that includes cruise control, forward collision warning, automatic emergency braking, blind spot warning, and auto high beams. You also get one of the roomiest cabins in the segment. Storage behind the second row is adequate, but not best in class. It does, however, have what Nissan calls, its Divide-n-Hide system that can hold small items under a false floor. Or you can remove the cover to create a deeper storage area.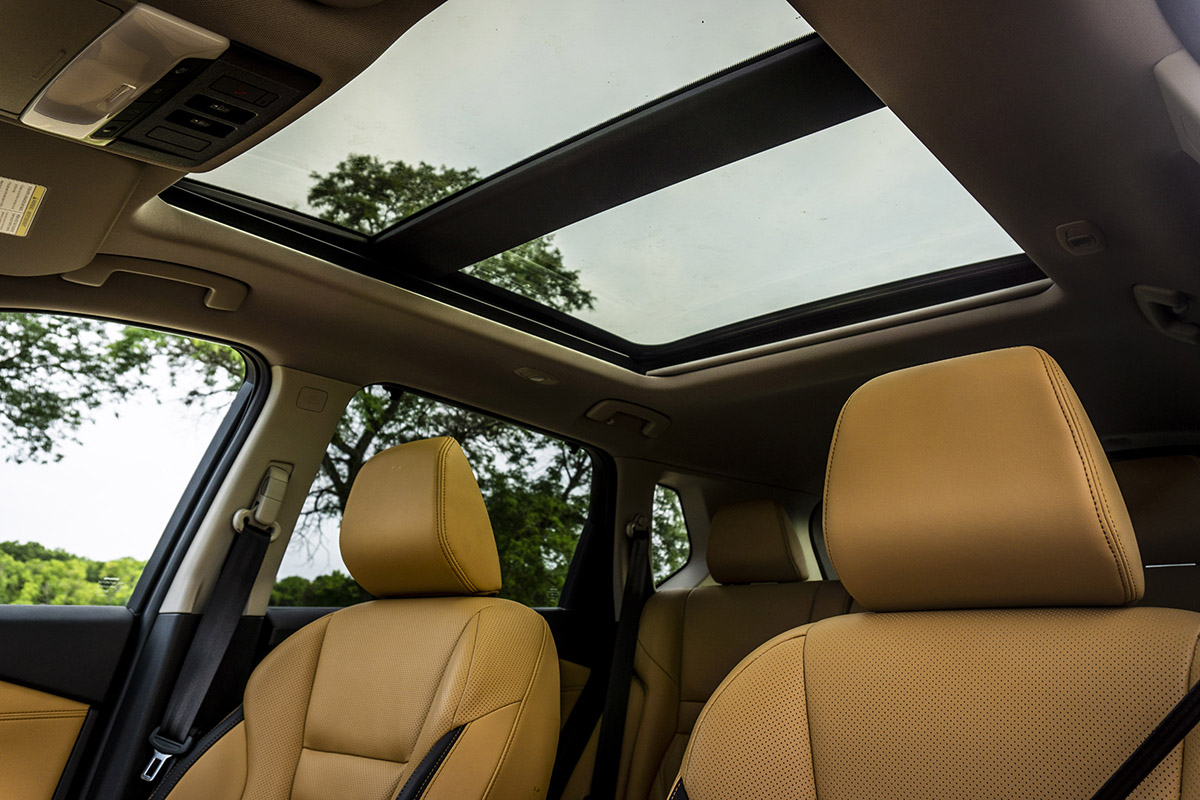 On the road, Rogue's new platform provides a much more rigid foundation and you can feel it. The ride is greatly improved, but compared to the CR-V or Mazda CX-5, it feels a little heavy. Steering is predictable and solid with very little feel or feedback reaching the leather-wrapped steering wheel through its electronically assisted system. Mileage is on par with most vehicles in the category as well (do you sense a theme here?) at 25 MPG city and 32 MPG on the highway.
If you're looking for a compact SUV that's different, thrilling, and makes you feel like an outsider, then Rogue won't make you very happy. On the other hand, if you're looking for a compact SUV that is as good as anything in the category with a few extras, then Rogue may be just what you need.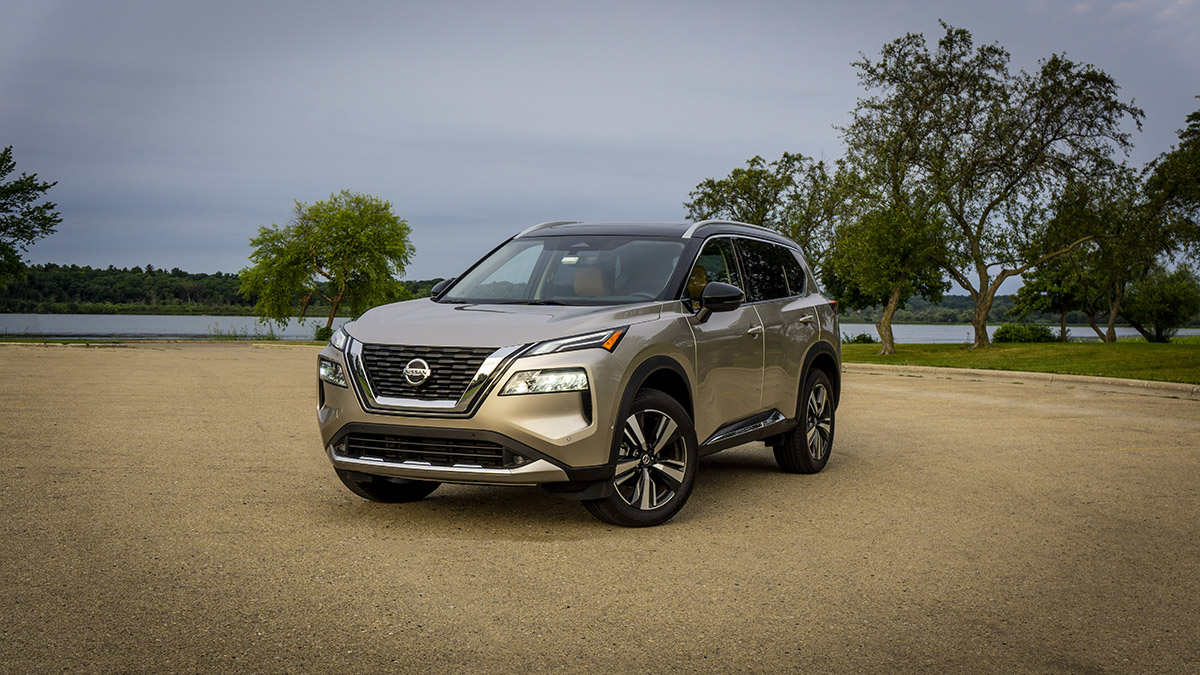 2021 Nissan Rogue Platinum
Four-door, five-passenger compact mainstream SUV
Base Price: $26,050
Price as tested: $39,685
Major options: All-Wheel Drive ($1,400), Platinum Trim ($9,380), Two-Tone Paint ($350), Illuminated Kick Plates ($400), External ground lighting ($350), Interior Accent Lighting ($350), Frameless Rearview Mirror ($310), Destination Charge ($1,095)
Engine: 2.5-liter DOHC 16-valve inline 4-cylinder with Direct Injection
Transmission: Xtronic CVT with enhanced Intelligent All-Wheel Drive
Power: 181 horsepower
Torque: 181 pound-feet
Curb Weight: 3,633 pounds
0-60 MPH: 8.1 seconds
EPA MPG: 25 city/32 highway/28 combined