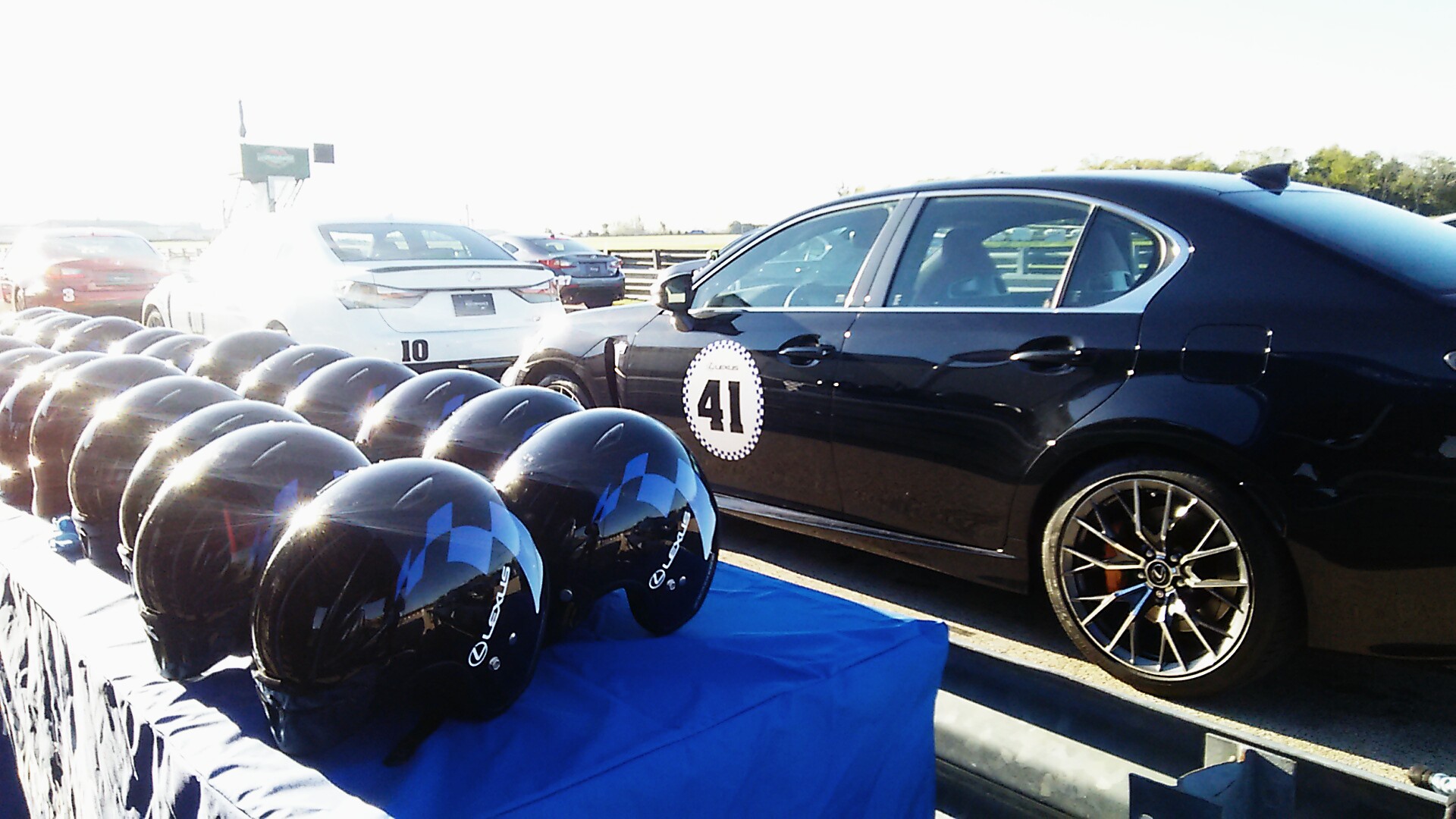 On the list of Circumstances under Which I Want to First Test Drive a Car, I can now definitively say that the option for "in urban road construction, minutes after rush hour starts, as a steel sky unleashes a deluge on the city" is very close to the bottom. Considering I was driving a 2016 Lexus IS 200t F-Sport, though, there wasn't much I could rightly complain about otherwise. The XM stereo was tuned to Little Steven's Underground Garage and The Stooges sounded damn fine on the 17-speaker Mark Levinson Audio System. Blind spot monitors alerted me to drenched bicyclists screaming through traffic trying to find shelter. And as long as I was driving, I didn't have to deal with my oversight of not having an umbrella for when I finally parked the car.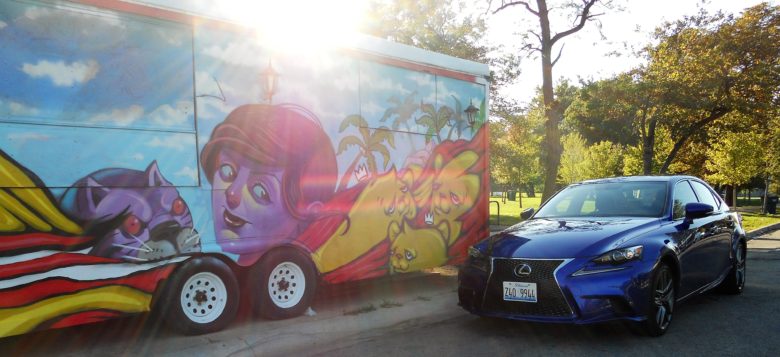 Full disclosure: I'm not a regular driver. Especially now, living in Chicago, my front door just steps away from the El. Reasons I could potentially have for needing a vehicle are few and uncompelling. So when Lexus offered me a spot at their half-day Performance Driving School in Joliet, Illinois, I jumped at the opportunity to hone my underused skills with experts. I'll never admit to having done any stunt driving or road racing before; the legal statute of limitations may have run out, but I'd prefer not to ever give my darling father a heart attack, no matter how many years after the (hypothetical) fact we may be. My time at the track, therefore, would be a completely novel thrill which is not an emotion I've ever connected to the Lexus brand before now.
Growing up, my sister and I would sometimes ride in my wealthy uncle's Lexus sedan when we would visit him in the summers, overcautious and quiet in the champagne leather back seats, as self-consciously controlled as when dining in a restaurant where children clearly did not belong. Its luxury was inscrutable. I understood that the vehicle was expensive and of a specific grace and quality, but didn't know why. It felt safe. A trip in the car was without any kind of danger, but was absolutely devoid of any sense of flair. There was simply no adventure to it.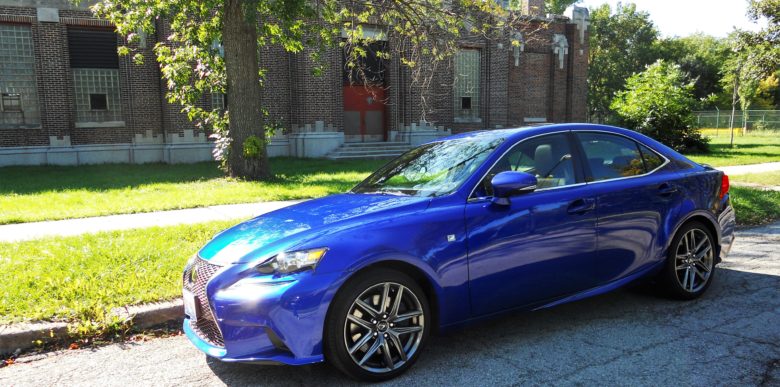 The same can't be said of the newly designed F Performance series. From the potholed stop-and-go of city streets to the clockwork comfort of the Eisenhower Expressway to the thrill of testing instinct and control on the track, these vehicles occupy that sweet spot in the Venn diagram overlap between comfortable and provocative. To truly appreciate the capabilities of these cars, you really have to get them away from stoplights and traffic and law enforcement radar.
Which brings us to the Autobahn Country Club in Joliet, a members' motorsport club located about an hour southwest of Chicago boasting three circuits (the 1.5 mile North and 2.1 mile South circuit that can be driven together as a Full track, and a half-mile kart track), a cozy clubhouse with fireplace and bar that opens into a hangar space, and spaces for members to store their vehicles. Autobahn regularly plays host to performance driving schools, events of their own and manufacturer-sponsored, as the Lexus event was, and the facility is perfectly suited for the school. If you've toyed with the idea of taking a car to the track, I cannot recommend more highly my experience with the Lexus Performance Driving School and the opportunity to treat yourself to a real test of skill and vehicle.
It was a singularly beautiful early-October day when I made the early-morning drive from the city, and I and my classmates were allowed entry to the club just as the sun was rising. A jam band at my university had a bit of a local hit with a small, mellow tune about their preferences for waking up. The Profits sang "I like sex at 6 in the morning," and while it was 7 a.m., it was that tune that popped into my head when I approached the Members' Clubhouse at the Autobahn CC and saw, in person for the very first time, the sex on wheels that is the Lexus LC 500 in Caviar Black. A twin pre-production model (don't believe it, check the serial number with oodles of zeroes) would be used as a special treat for a number of lucky participants for a hot-lap ride-along at the end of the day. As striking as the thing is when parked, it's almost feline in motion. A number of other cars from the Lexus Performance fleet welcomed us to the day, promising fun from their front seats.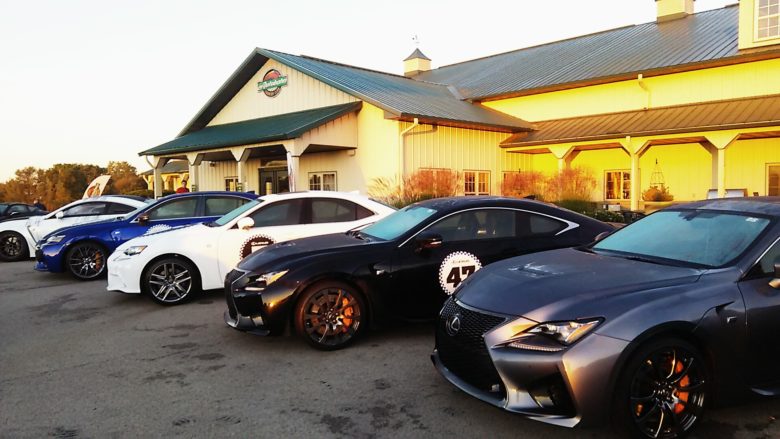 After a hot breakfast and a short talk on performance driving and track safety, we were off to the races, so to speak. My group's first exercise? Straight into the deep end of the pool, driving the 467 horsepower GS F on the south track behind instructor, Indy 500 veteran, and multiple motorsport hall-of-famer Pancho Carter. We sped into 100-degree and tighter turns at speeds that made my knees weak. It's actually probably the best way for somebody with my driving skill to start a day of performance driving. I'd been a bucket of nerves the night before worrying about this very situation, but I'd come to drive, and drive I would do. Having a seasoned professional on a radio coaching us through each turn and straightaway, narrating not only how we should be responding but how the cars would react, provides a personal angel/demon combo for your shoulder when you're just getting started. My first couple of laps were admittedly shy, but once we'd been round the circuit a number of times and I had a better feel for myself and trust in tight handling and powerful control of the car, I got up to speed and my knuckles became significantly less white as I started having more palpitations of the good kind than those of the bad.
I'm sure there's an old rodeo joke about stopping a horse. I don't know it. Insert it here, but add another 305 horses and give yourself about 10 feet to stop them, then see how the punchline goes. The joke probably doesn't get many laughs, and most people don't want to ever be in a situation where they find out just how well their ABS works. My driving partner and I were floored by how responsive and powerful the braking system is on the IS 350 F Sport and RC 350 F Sport we tested at a slalom, braking, and evasive maneuvering station.
In fact, the whole day really drove home the amazing control these cars afford a driver. Learning to drive in frigid Midwestern winters, I remember weeks spent in driver's ed classes talking about icy roads and exercising the mantra to "steer into the skid" into my driving brain. Never in my life did I dream someone would hand me a luxury vehicle and smile as they declared a desire to see someone spin it out, a coy dare as welcome as a handshake. Hello, skid pad. Hello, throttle. Hello, fun. The most striking thing about the experience of attempting to get a car to fishtail wasn't how reckless it felt, though: it was how difficult it was to get the RC F to that point. It's one thing to push through years of avoiding losing control and another entirely to feel like the car won't let it happen. For our final experience behind the wheel, our instructors let us loose on the half-mile go-kart track for some timed autocross driving in the GS F. Finally, we strapped in with our instructors for a hot lap on the track we had driven at the beginning of the day. I was hoping to clock our top speed for comparison to the laps my partner and I drove, but the heads-up speedometer display is hard to read when your head is being delightfully rattled off your shoulders.
Although the adrenaline factor is a perfectly respectable reason to attend an event like this one, attendees come away with a better understanding of their driving skills for real world driving, and, in this case, with a great feel for the power and potential in the Lexus lineup. Top notch instructors, vehicles, and facility all made my school experience one for the ages. It was as good a first time at the track as I could have ever hoped for, one that ensured a very soft spot in my heart for this surprising stable of Lexus performance vehicles. And, I drove back to the city that afternoon a much more capable and confident driver.
2016 Lexus IS200t
Four-door midsize sports sedan
Base price: $37,325
Price as tested: $46,300 includes destination charges
Major options: F Sport package including 5-spoke, 18-inch wheels with summer performance tires, performance tuned suspension, LED headlamps, customizable instrument cluster, heated and ventilated F-Sport seats, and backup camera. Mark Levinson Audio system with 5.1 surround sound, 17-speakers, 835 watts. Navigation system, blind spot monitoring with cross-traffic alert, premium paint, adaptive cruise control with pre-collision warning, F Sport heated leather steering wheel
Engine: 2.0 Liter, inline 4-cylinder with twin-scroll turbocharger and Direct Fuel Injection
Transmission: 8-speed automatic with steering wheel mounted paddle shifters
Horsepower: 241 @ 5800 rpm
Torque: 258 lb.-ft. @1650 rpm
Curb weight: 3717 lbs
0-60: 6.8 seconds
Top speed: 143 mph
EPA city/highway: 22/33 mpg