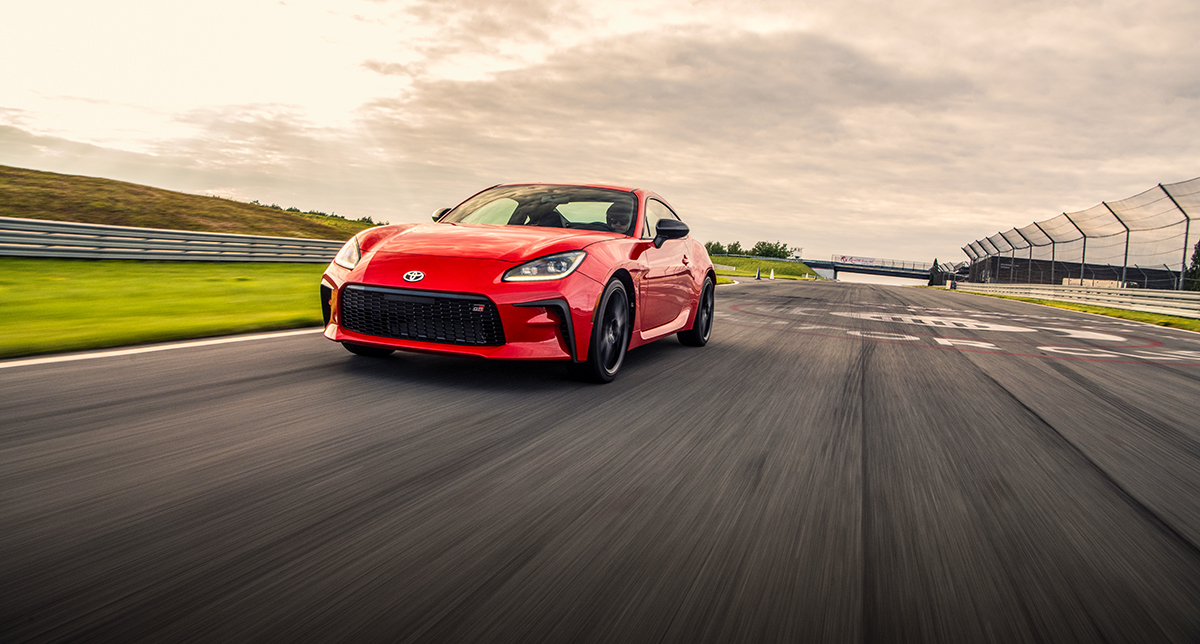 I've always liked the idea of the Toyota 86 (nee Scion FR-S). Small, lightweight, modestly powered sports cars like this have been my thing since I was a kid riding shotgun in my dad's 1968 Porsche 911T. But like that Porsche, the original 86 was just a little short on power, producing a mere 200 horses and 151 lb.-ft. of torque from its peaky 2.0-liter boxer engine.
Toyota says the go fast men and women at Gazoo Racing have their fingerprints all over this new GR 86, upping the power and making a number of other improvements to the aerodynamics, platform, suspension, interior, and drivetrain in an effort to take the 86 from good to great.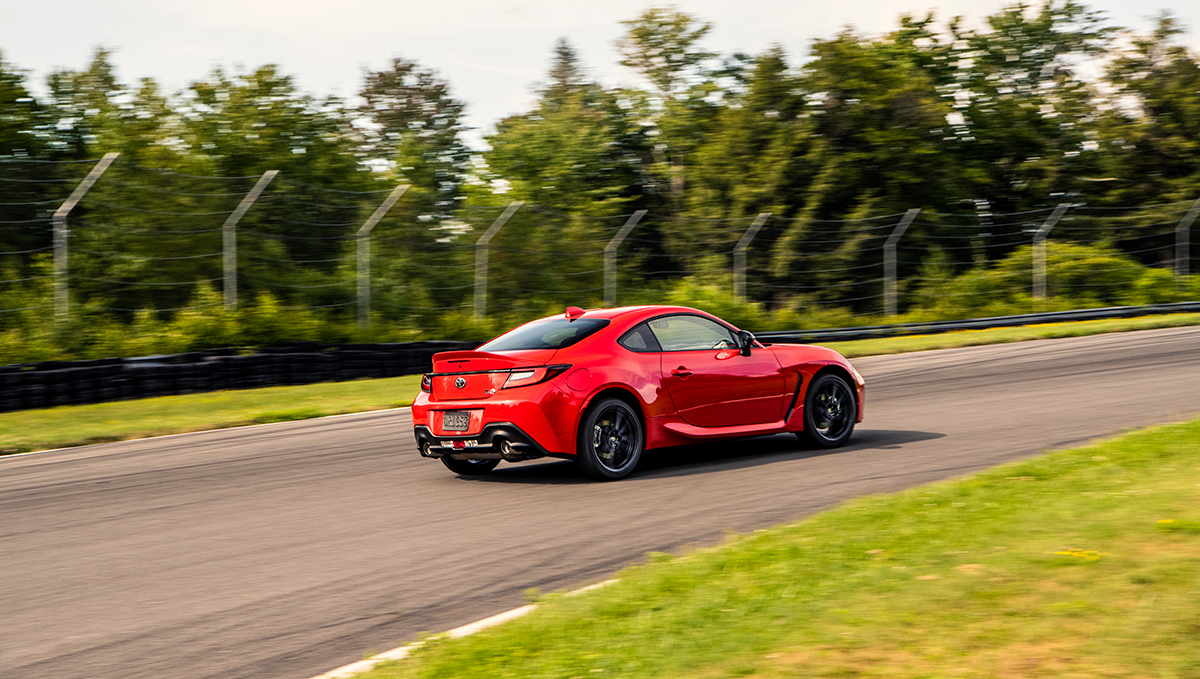 It starts with all new sheetmetal that is cleaner and less tortured in its surfacing. Everything about it is simplified and more purposeful. Little things like removing the bumps from the lower grill and ridding the front fenders of its vents, make its appearance more timeless. Then there are big things like using aluminum for the roof and hood to help to lower the car's already impressive center of gravity.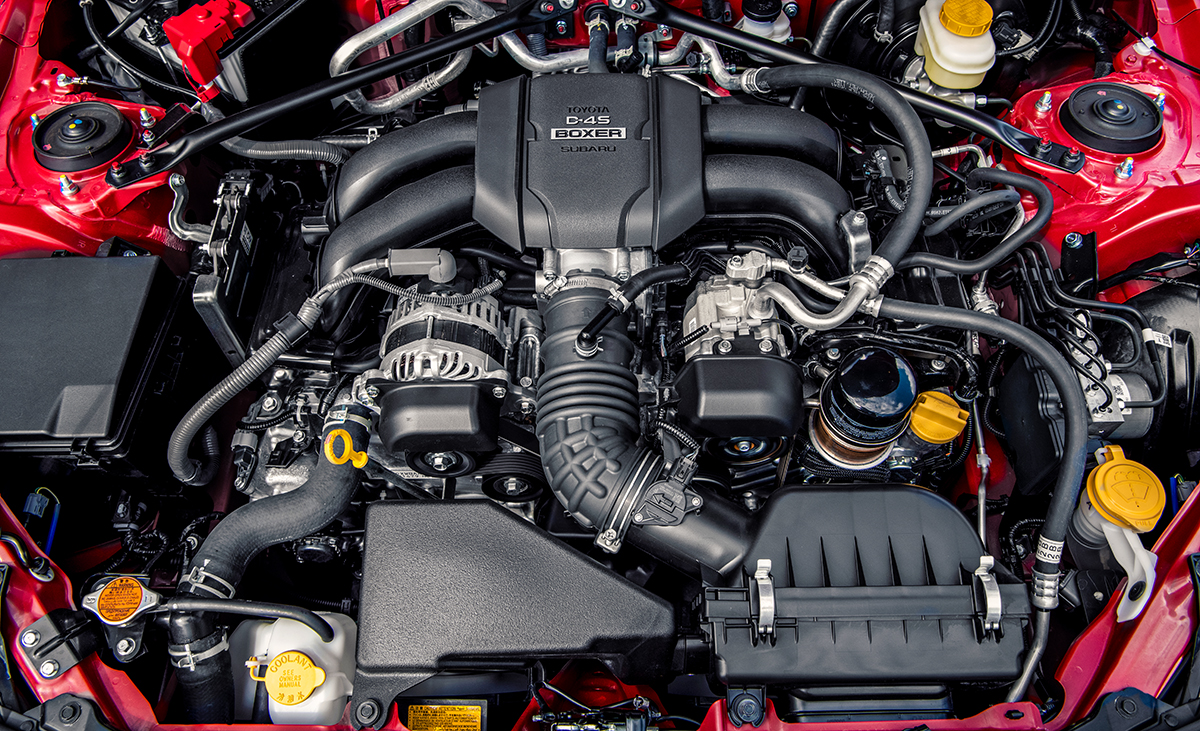 The engine has been reworked to increase horsepower by 11%, up to 228, but more important, peak torque jumps 18% and is available at 3,700 RPM versus 6,600 RPM for the previous engine. This means acceleration is substantially quicker 0-60, dropping to 6.1 seconds for a manual transmission equipped car, cutting nearly a full second off its previous time. This was accomplished by increasing displacement to 2.4 liters and reworking engine intake, and retuning the dual injection system for higher performance. It makes a big difference off the line and when accelerating out of low speed corners on the track.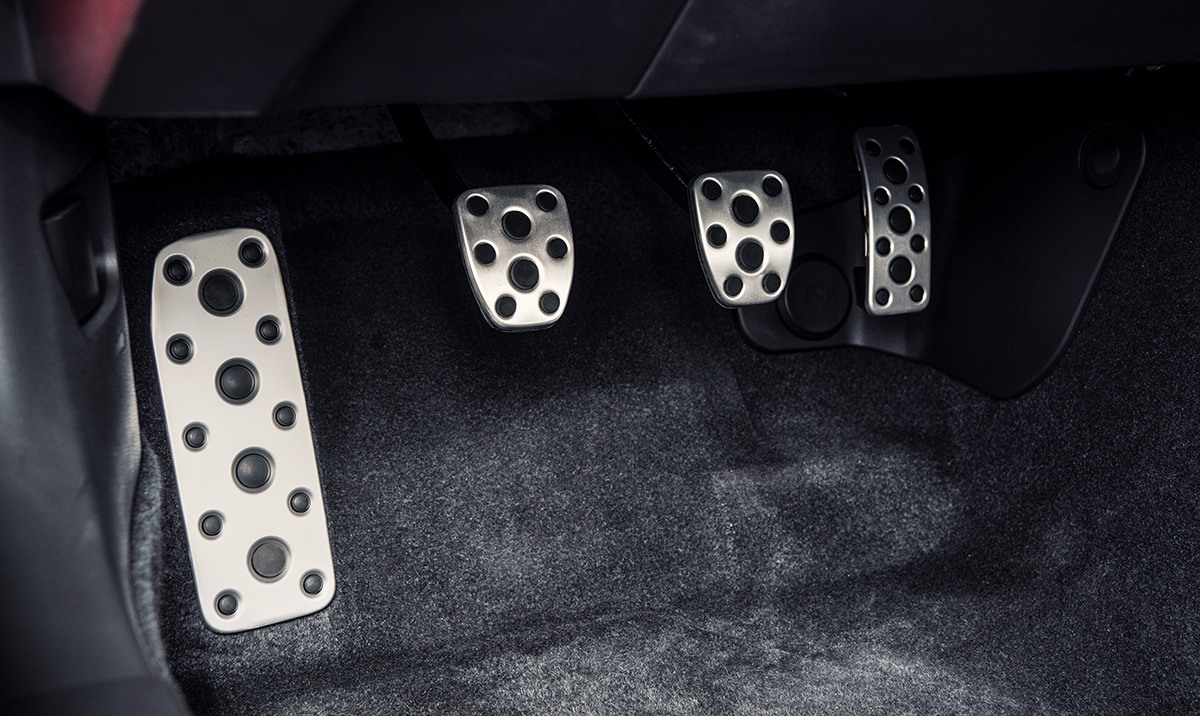 GR86 is available with either a 6-speed manual or 6-speed automatic with paddle shifters. The gear ratios for both remain essentially unchanged but the final drive ratios have been lowered a few tenths to take advantage of the added power. The manual now uses low-viscosity transmission oil for smoother shifting and a carbon synchronizer to improve feel. One thing I did notice when driving the manual equipped GR 86 on the track is the pedals have been adjusted to make heel-and-toe downshifting easier.
There's a drive mode select switch for both. The manual includes a track mode which turns off the electronic nannies allowing you to consistently drift the car through the corners. The automatic has multiple drive modes including normal, sport, snow, and track. There's still a big gap between first and second gear on the automatic which makes it much less quick off the line than the manual, but other than that, it shifts smoothly and quickly with the paddle shifters, and when left to its own devices, doesn't hunt for gears even when pushing it on the track.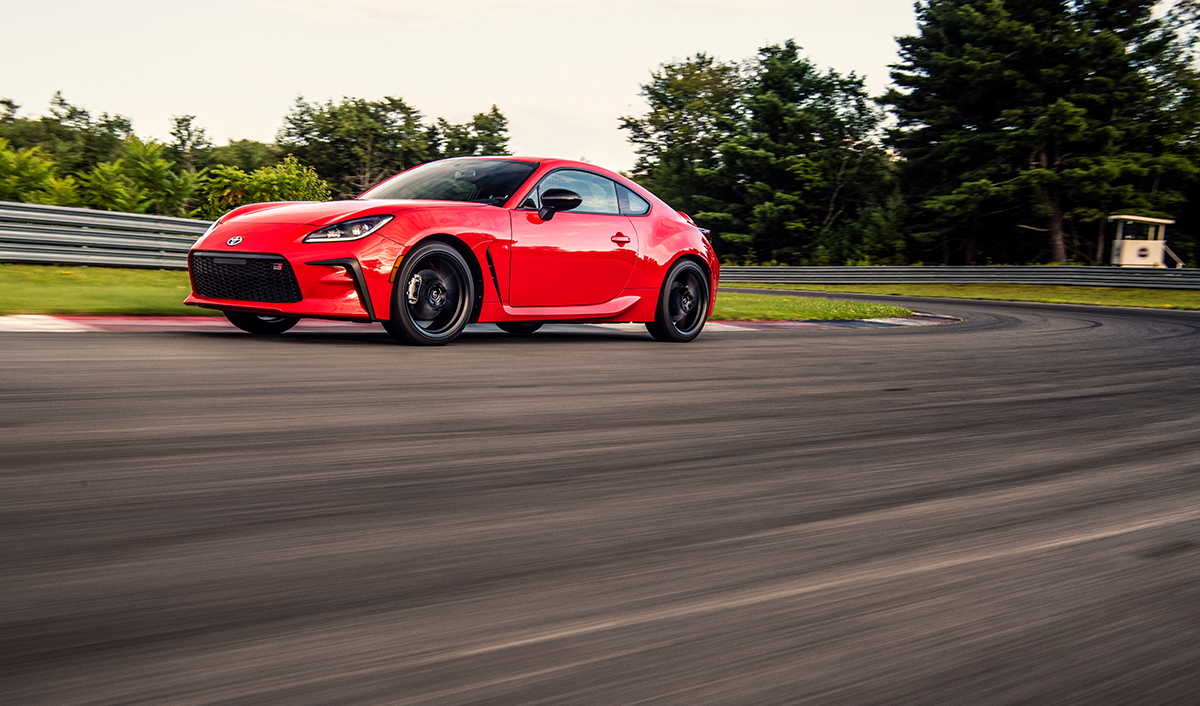 Overall driving dynamics for the GR 86 have been improved thanks to a stiffer underbody structure and a retuned suspension. Toyota has upped the amount of high-strength steel in key areas including the full-ring structure through the b-pillar that now connects the upper and lower chassis increasing torsional rigidity. They also added cross bracing between the front suspension joints and the frame to reduce lateral bending. The result is a more solid platform that allows for more precise tuning of both the steering and suspension.
On the street, the difference in handling between the two generations is marginal. But on track when you're nearing the limits, it's transformational. The front shocks have been retuned with rebound springs added to help keep the tires more firmly planted on the pavement. The rear double-wishbone set up delivers more control, with stiffer springs and a frame mounted stabilizer bar reducing body roll. The steering is light, but communicates well. It's an EPS system with a column mounted motor and more rigid steering gear mount for more precise control.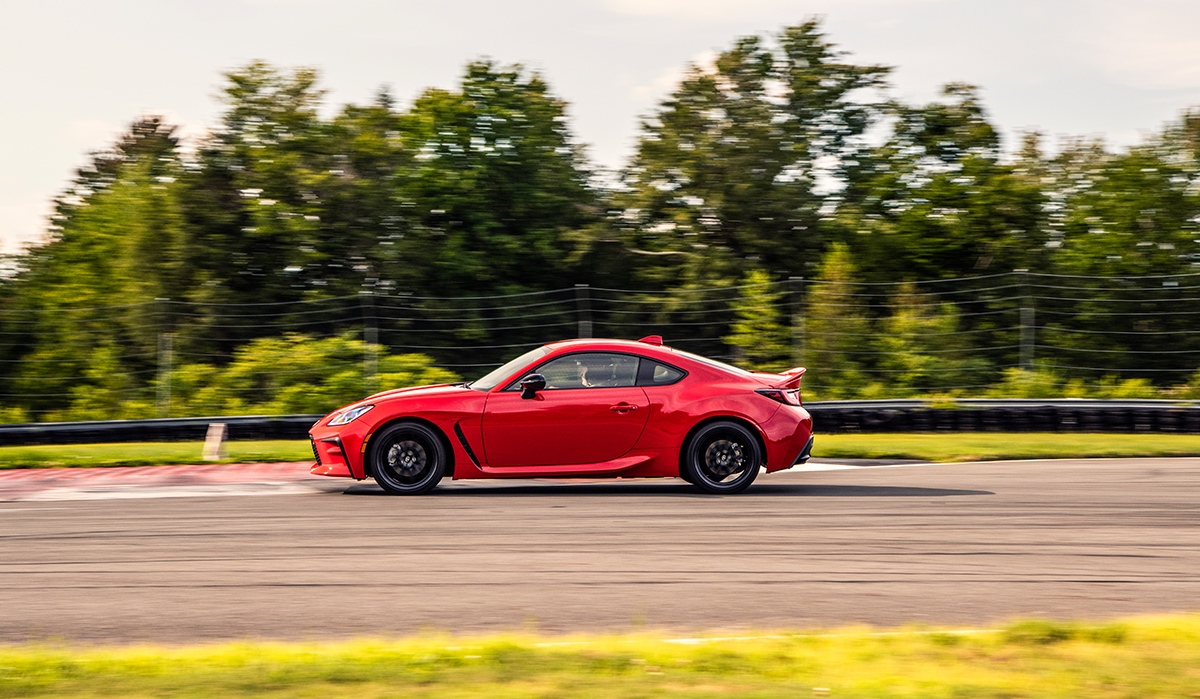 The GR86 is available in two trim levels, the base features 17-inch wheels, Michelin Primacy performance tires, and a cloth interior. Move up to the premium grade and you get 18-inch wheels with Michelin Pilot Sport 4 high performance rubber and a leather trimmed interior with Alcantara faux suede surfaces.
For a small car, there's plenty of leg, hip, shoulder and head room up front. The manual seats are easy to adjust and the leather-wrapped, three-spoke sport steering wheel and shift lever that are standard on both trims are properly placed for high performance driving. There's ample storage space with a split center console, and generous door pockets for a car this size. The rear seat is useless for anything other than a briefcase and keeping insurance rates reasonable. All in all, it's a very comfortable place to get down to business.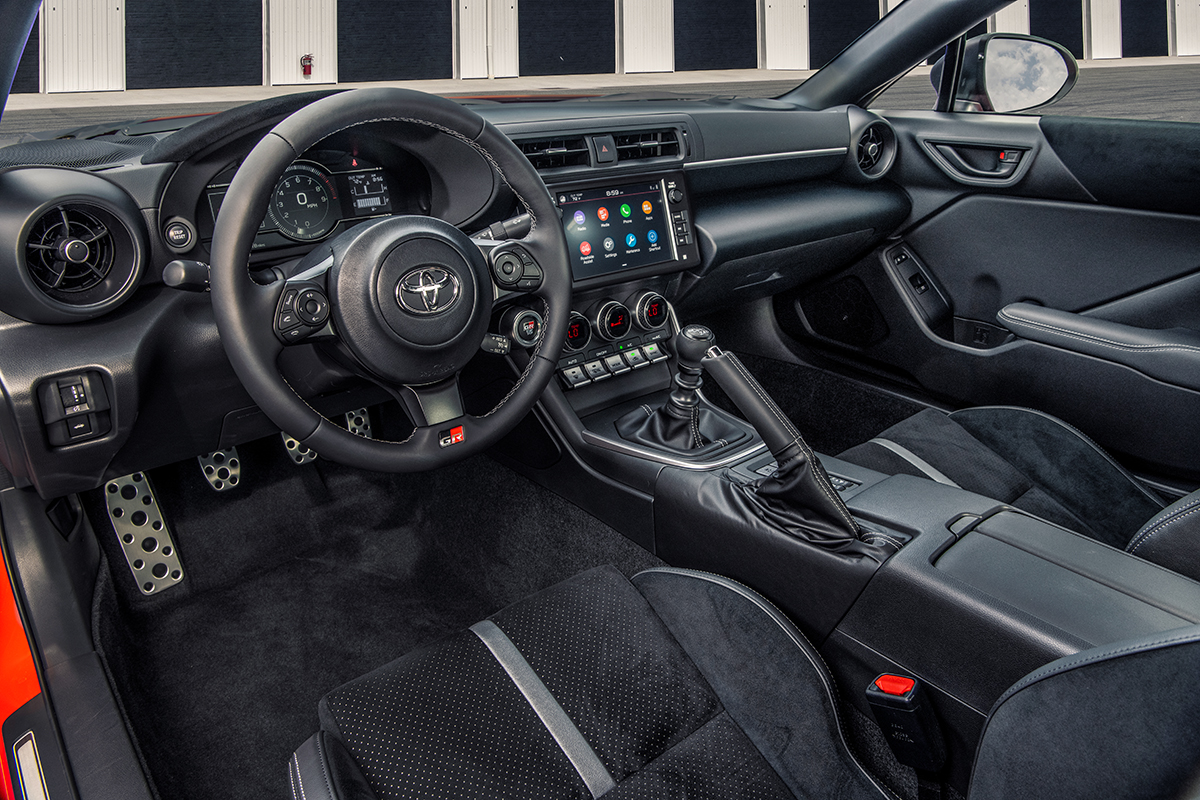 Technology is appropriate for a car like this. The 8-inch touch screen is complemented by a nice mix of hard buttons and dials for the HVAC and audio including knobs for volume and tuning. Apple CarPlay and Android Auto are standard and the base radio has enough power to overcome the cabin noise. In premium trim you get a couple extra speakers and can add a large subwoofer. Fortunately, it's removable when you want to to take it to the track.
Speaking of the track, rear seats fold down, so you can hold a set of wheels and tires in the car. You can drive it to the track, swap out your hot shoes, and then spend the day at the limit without grinding all the tread off your street tires. I drove both the base and premium cars on the track and while there is significant difference between the two, the base is really all you need for a fun day out.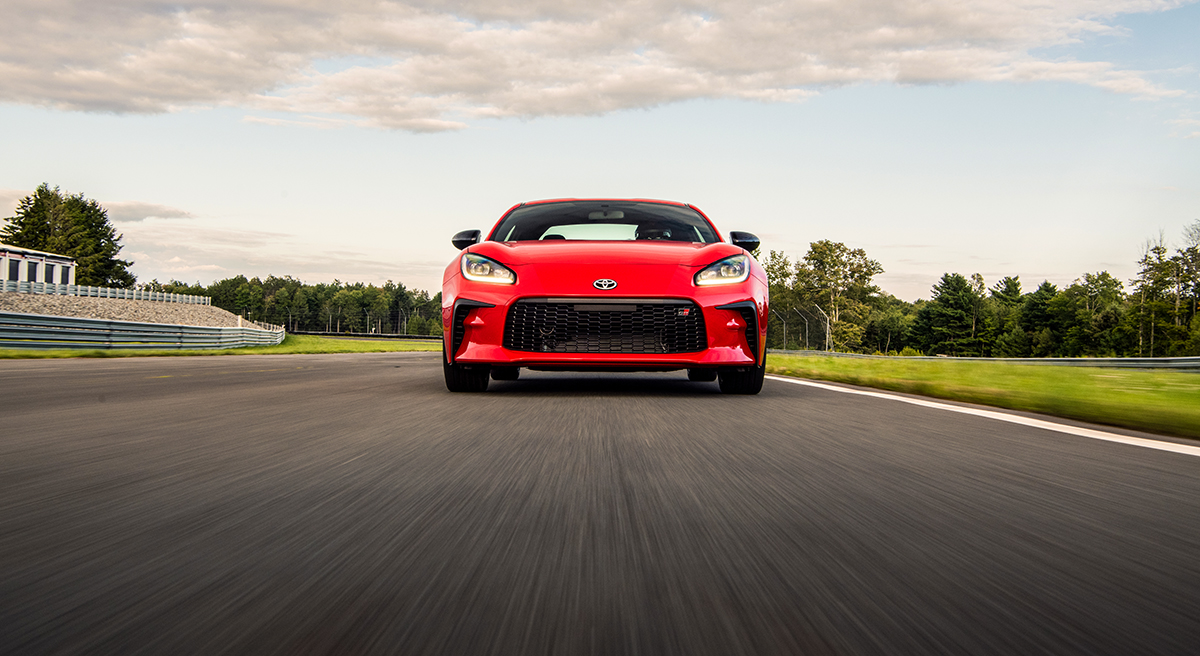 The bottom line is this. Toyota took a good sports car and made it a great sports car. The 2022 GR 86 is proof that you don't need 500 horsepower to have fun and is finally a credible competitor to the Mazda Miata. Toyota says the starting price will be under $30,000 when the GR 86 hits showrooms in November. I for one am glad to see there's still room in this world for an affordable, fun-to-drive, everyday sports car.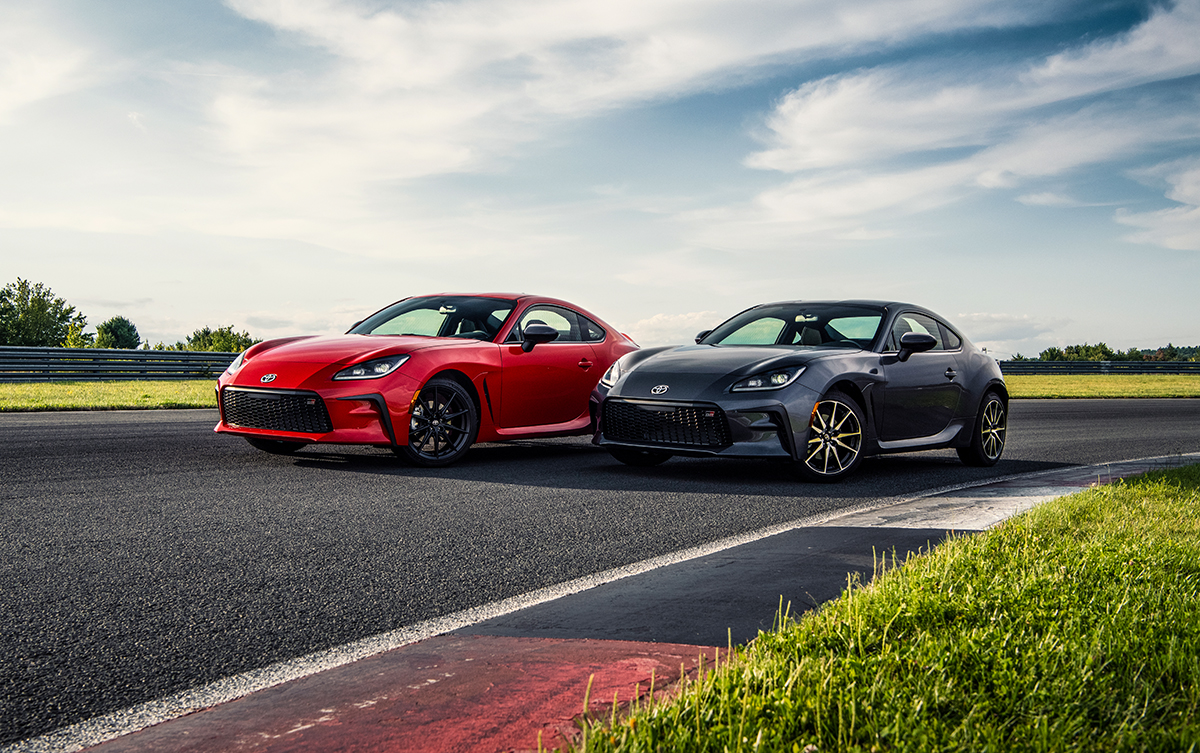 Even though Toyota paid for our travel and expenses to test the new GR86 at Monticello Motor Club in New York, the opinions expressed our are own. Yes, we really do like it.