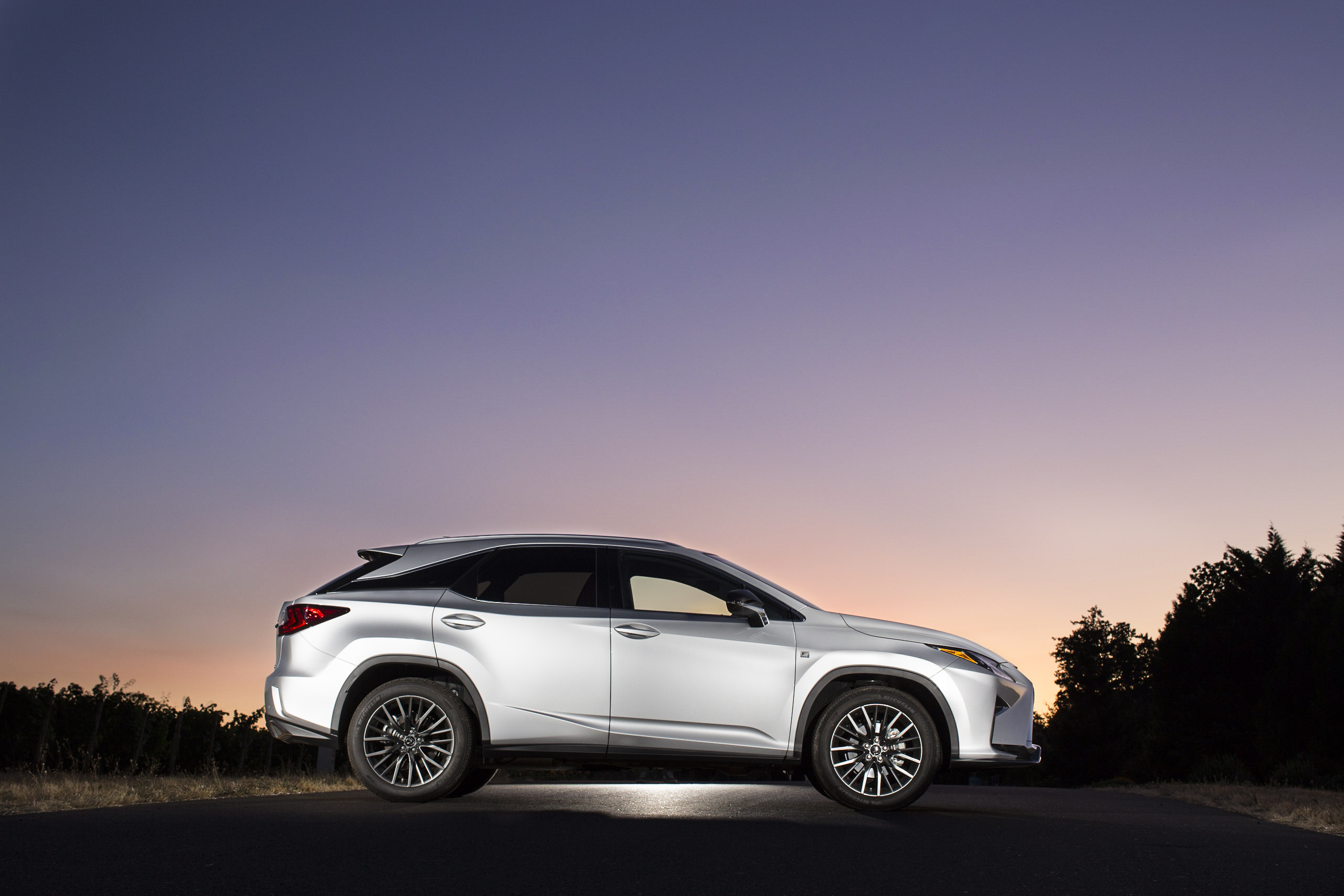 Lexus. The name just sounds smooth and sophisticated. Like champagne being poured into a crystal flute. Lexus. Like raw silk rustling in the wind. Lexus. Like sharpened skates gliding over a frozen lake.
When the brand is at it's best, that's exactly what it is. Quiet, elegant, restrained.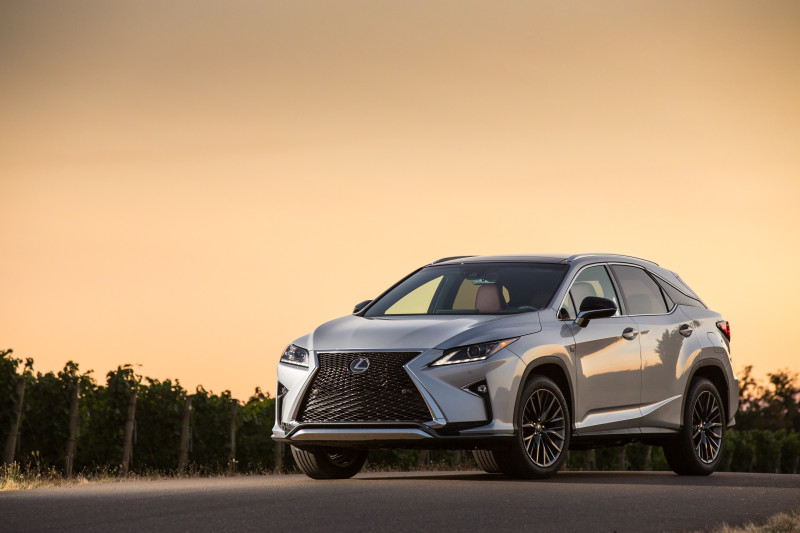 Yes, the LFA, RCF and GSF are kickass performance machines. But when you think of Lexus you really think of meticulously crafted, rock solid reliable, luxury transportation for the masses. And that's exactly how Lexus is positioning the new RX series.
The RX 350 is a midsize crossover and a direct descendant of the RX 300 that started the whole crossover craze. This platform is far and away the best selling in the category, dominating a veritable murder's row of competitors – the BMW X5, Audi Q5, Cadillac SRX, Lincoln MKX and Mercedes GLE – by a wide margin. So saying this reboot of the RX franchise is important to Lexus is like saying Autotune is important to Miley Cyrus. Without them, both might actually cease to exist.
With that background, when Lexus invited me to drive the new RX in Charleston, I immediately accepted their generous offer and eagerly hopped on a plane and headed south. The fact that the test drive included a stay at the Belmond Hotel, dinner at The Governor Thomas Bennet House and golf at the Wild Dunes Resort on Isle of Palms as the weather was starting to turn cold up here in Wisconsin was just icing on the proverbial cake.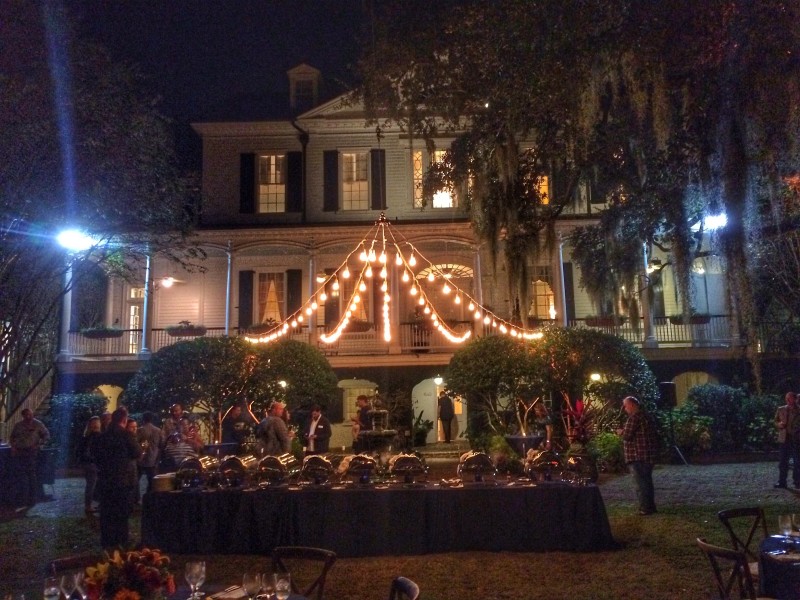 Not content to be just a refresh of its silky, smooth predecessor the RX 350 is trying very hard to become something more. Lexus is no longer satisfied to have its cars be boringly perfect. In fact, Akio Toyoda, Chairman of Toyota, Lexus' parent company took the reigns of the brand a few years ago to inject more personality into its cars and SUVs. And, like them or hate them, he's done just that.
The new RX 350 builds on the crisp, angular design language we've seen in Lexus' most recent launches: the IS, RC, NX and GS. Gone are the soft corners. The rounded hips. The smooth sides. The new look feels as if they hired the Hulk to practice the art of origami with sheetmetal. Everything is tightly creased and folded. In addition, the RX features the most prominent spindle grille yet. Rarely has a design signature been so polarizing. Those who like it describe it as, "bold." Others, myself included, just scratch our heads and say, "really?"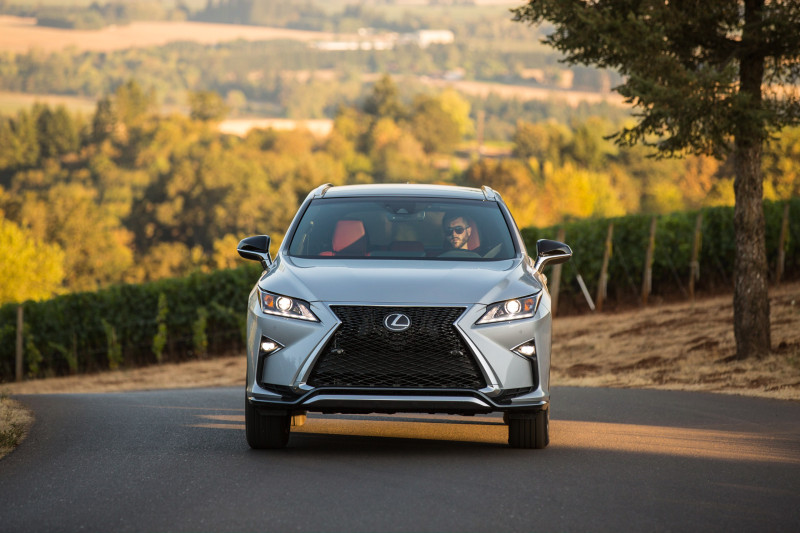 But while people can disagree about the design, there's a lot here for everyone to agree on.
Let's start with the interior because in this category that's 99.79% of the reason people opt for one car over another. The RX 350 F Sport I drove was equipped with every option available, from 20-inch wheels and tires to the panoramic moon roof to semi-aniline leather trimmed seats, and it is as perfectly put together as you would expect. Stepping up into the driver's seat, the first thing I noticed was the optional 12.3-inch screen for the navigation and entertainment systems. It is huge and worth every penny it adds to the price of the car. It's the first infotainment system display that truly allows for split-screen viewing in a way where both elements on the screen are clearly legible.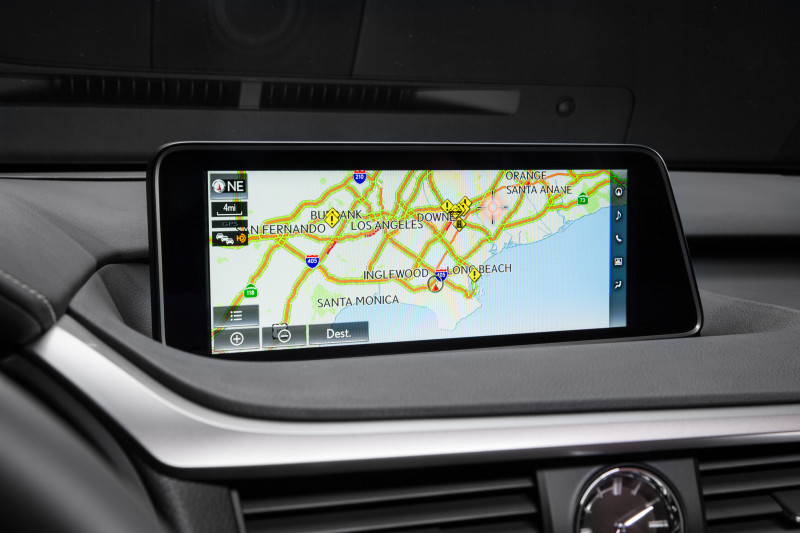 The quality of the display, however, still doesn't make up for the clunky joy-stick like "remote touch" controller. Say what you will about BMW's i-Drive, its rotating controller is much easier and more intuitive to use. Fortunately, there's very good voice activation available in the RX that actually understands human language. So if you say something like "It's too hot in here," the system lowers the temperature by four degrees. One other tip. If you like music, (and really, who doesn't?) order the Mark Levinson Audio system. Don't even ask about the price. It doesn't matter. It's head and shoulders above the standard system when it comes to sound quality and overall performance, so just check the box on the order form and then crank Clapton up to the decibels he deserves.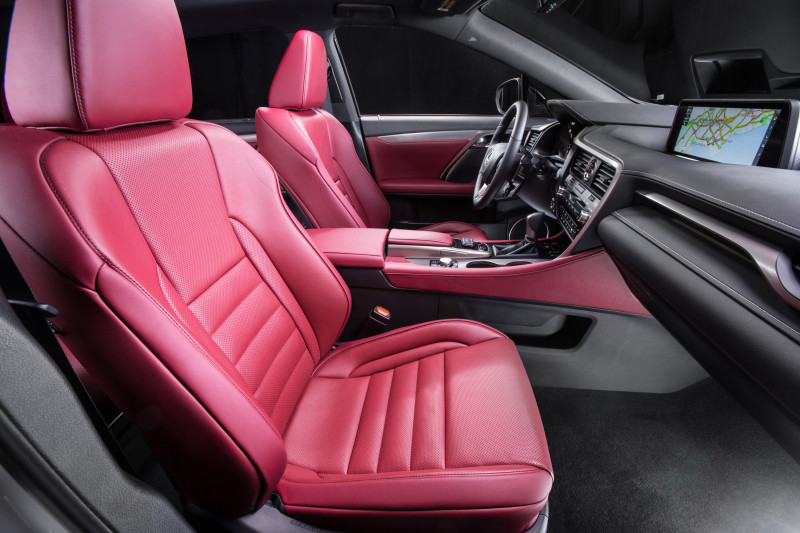 The front seats are down-right sumptuous. Soft and supple, with just enough support to let you know you can fling this thing around a little bit, but not too much, because you know, groceries. Up front they also offer heated and ventilated seats which were perfect for our time in Charleston where it was a little cool in the morning, but things got toasty in the afternoon.
The biggest a-ha for me was in the back seat. On the way to our golf outing our foursome –everyone of us over 6 feet and none of us weighing less than 200 pounds – piled into a 2016 RX 350 F Sport and were comfortable for the 30 minute drive. I didn't have to ask the front seat passenger to move his seat up. There was no awkward inadvertent touching between me and my fellow rear seat mate. In fact the only uncomfortable moment came when the maniac behind the wheel got into a road rage incident with a motorcyclist (a story best told over a very stiff drink). No, this was real comfort, achieved because Lexus has lowered the floor creating significant amounts of new space for those who don't call shotgun quickly enough. I'm not exaggerating when I say this back seat rivals the comfort of most full-size SUVs.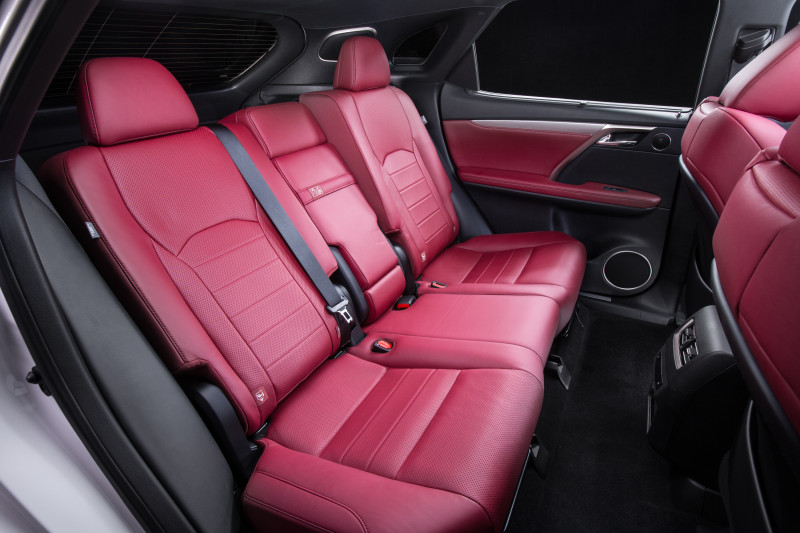 Finishes in the RX have been upgraded as well. In addition to traditional high gloss veneers that have graced luxury cars for generations, Lexus has joined the modern movement offering a variety of open-pored, unvarnished timbers like bamboo, walnut and sapele. In addition to striated black and gray, you can also have your trim finished in caffeinated colors like Espresso and Mocha.
As for driving, the RX 350 F Sport is powered by Toyota's ubiquitous 3.5 liter V6 engine which is tuned to deliver a very healthy 295 horsepower and a more than adequate 267 lb.-ft. of torque. The 8-speed automatic transmission shifts quickly and smoothly making good use of that power both from a standing start and in passing maneuvers on the highway. It is reasonably efficient achieving 19 mpg in the city and 26 highway. The AWD system features Dynamic Torque Control which processes information from wheel-speed and steering angle sensors, then instantaneously routes engine power to the appropriate wheels to help maximize grip.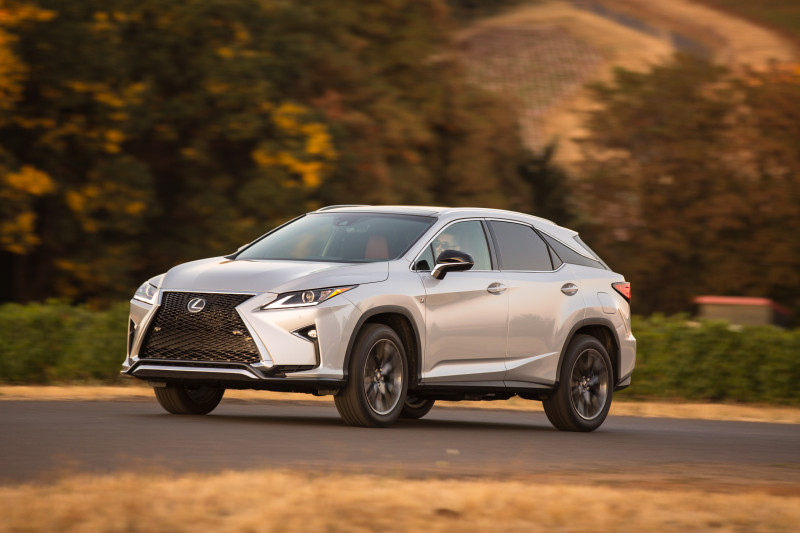 As for handling, the RX performs exactly as it should and as you'd expect. Like all modern luxury vehicles (with the exception of Rolls-Royce), the RX offers dynamic ride control which allows you to switch from eco to normal to sport and sport+, altering the SUV's suspension, throttle mapping and engine output. In normal mode, the RX will eat up mile after mile of interstate making expansion strips and other annoyances virtually disappear. In sport mode things tighten up a bit but still bend a little toward the soft side of the equation. Even when the dial is turned all the way to sport+, however, it's hard to call the RX 350 F Sport, sporty.
Yes, it handles well. Yes, it corners relatively flat, Yes, it goes where you point it in a predictable fashion. But if you're looking for a larger crossover that will have you put your cardiologist on speed dial, this ain't it. You'll have to head over to BMW M or Mercedes AMG to get that kind of performance.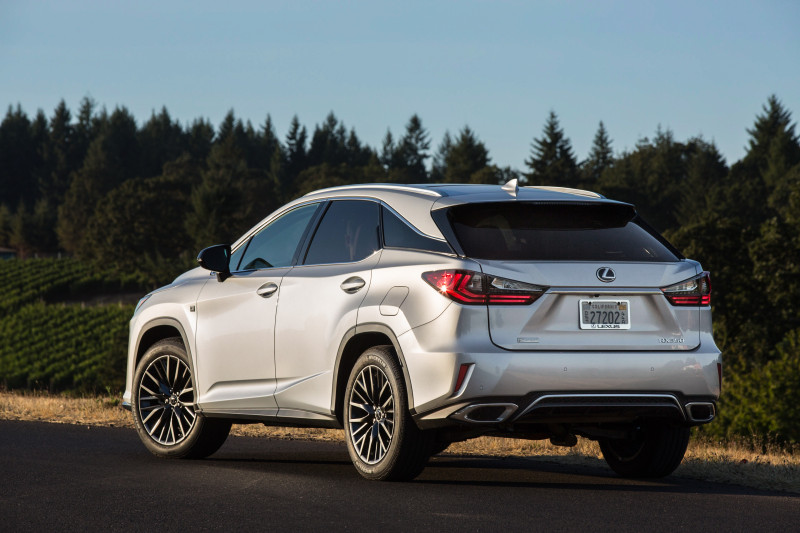 What it is is a Lexus with aggressive styling. The sharp angles are everywhere: from the L-shaped headlamps with 18 individual LEDs surrounding them, to the air intakes on each side of the massive spindle grille all the way back to the tailgate with it's crisp rear deck spoiler and chrome tipped rhomboid tailpipes. Honestly, aside from the grill, it looks okay. There are nice touches, like the floating roof effect created by the blacked out c-pillars. And, I'm a big fan of the hands-free operation of the lift gate. Unlike other manufacturers that make you wave your foot under the bumper blindly hoping to find the magic spot that engages the motor, all you have to do with the RX is hold your hand a few inches away from the logo on the tailgate for a few seconds, and voila, it opens.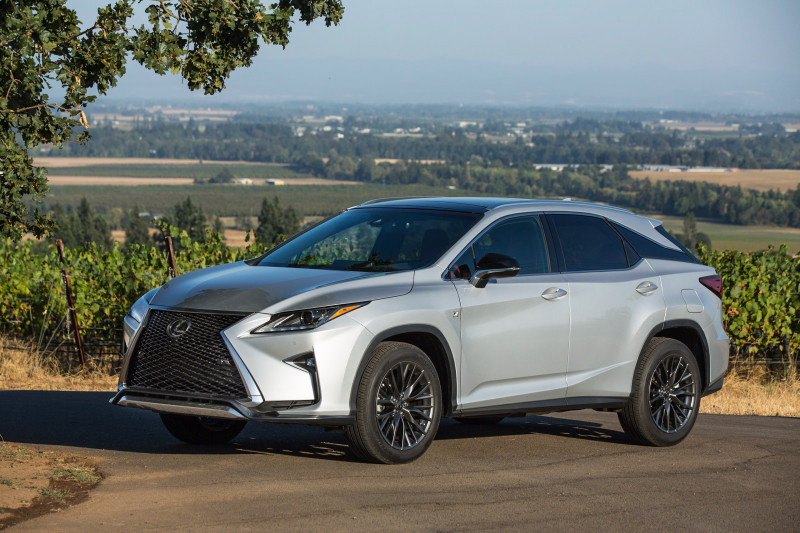 So, it all boils down to this. The new RX 350, in whatever trim you choose to order it, is everything a Lexus should be. It offers excellent driving dynamics, enough power to ensure you're not going to be left at the light by some teenager in a Civic, and all the amenities you expect from a premium luxury car. It's quiet, well built, reliable and comfortable. It doesn't stray too far from the formula that made the original RX 300 the king of the hill in this category. Even with its front end styling that's is damn near Edsel ugly, I'm guessing there are enough people who will love it to keep the RX 350 on the top of the heap for another generation.
2016 Lexus RX 350 F-Sport
4-door, 5-passenger luxury mid-size crossover
Base price: $49,125
Engine: 3.5 L V6
Transmission: Eight-speed automatic Electronically Controlled Transmission with paddle shifters
Horsepower: 295 @ 6,300 rpm
Torque: 268 lb.-ft. @ 4700 rpm
Length: 192.5 inches
Weight: 4387 pounds
0-60 MPH: 7.9 seconds
Top Speed: 124 MPH
EPA MPG: 19 city / 26 highway
www.lexus.com
While the manufacturer paid for travel expenses and provided the vehicles for this story, the opinions and recommendations in this post are 100% ours.
A version of this review first appeared at Pursuitist.com