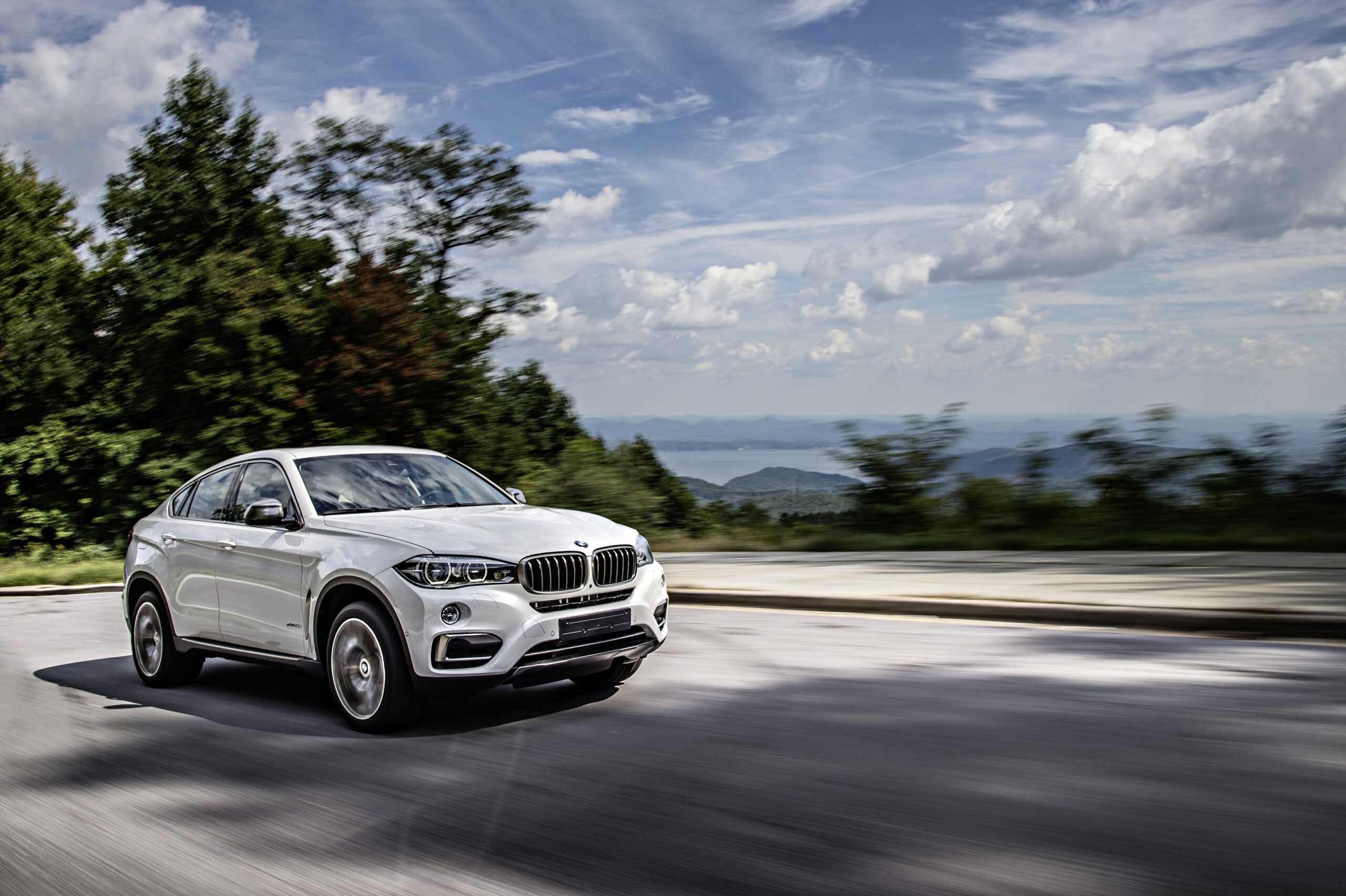 First there was the minivan.
The ubiquitous utility vehicle that roamed suburbia satisfying the needs of millions of American families from the early '80s on. But as we are wont to do in this country, once something becomes popular it becomes uncool and we're off to the next new thing.
So the minivan went by the wayside, and the SUV era began. Providing most of the utility of the minivan without the emasculation factor, SUVs became the vehicle of choice in the driveways of our nation's McMansions with their promise of unstoppable performance and capacious interior.
But there was a problem. SUVs are just so darn truck-like.
For some reason this came as a surprise to SUV owners despite the fact that they were built on a truck chassis, powered by a truck engine, rode on a truck suspension and had barely disguised truck interiors. So now we're in the era of the crossover. Not as spacious as a minivan, as rugged as a truck nor as efficient as a car, it would seem to be an imperfect compromise.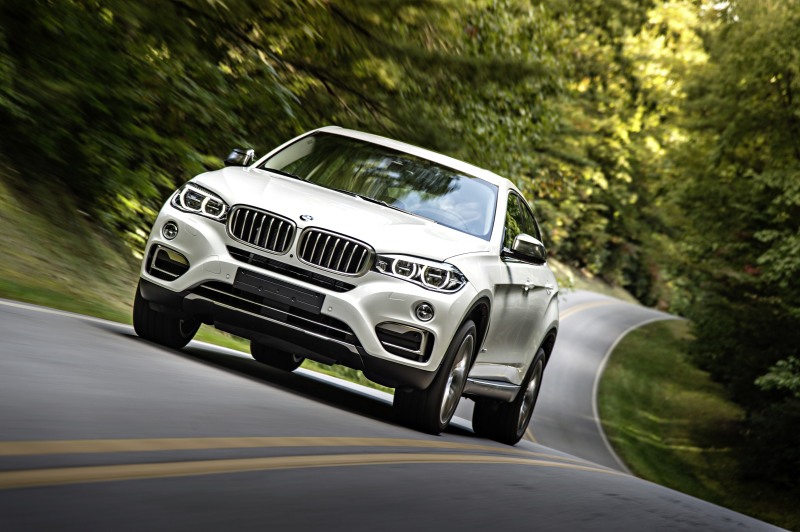 But in the case of the BMW X6, it is the rare compromise that does everything surprisingly well.
BMW flew me to their assembly facility in Spartanburg, South Carolina to learn all about the new X6 and then drive the latest version of their full-size Sports Activity Coupe. And, while I try not to bring any preconceived notions to my drives, I did with this one. What BMW calls "an unmistakably athletic appearance," looks to me like an overly tall, hefty sports car with two more doors than any coupe should ever have.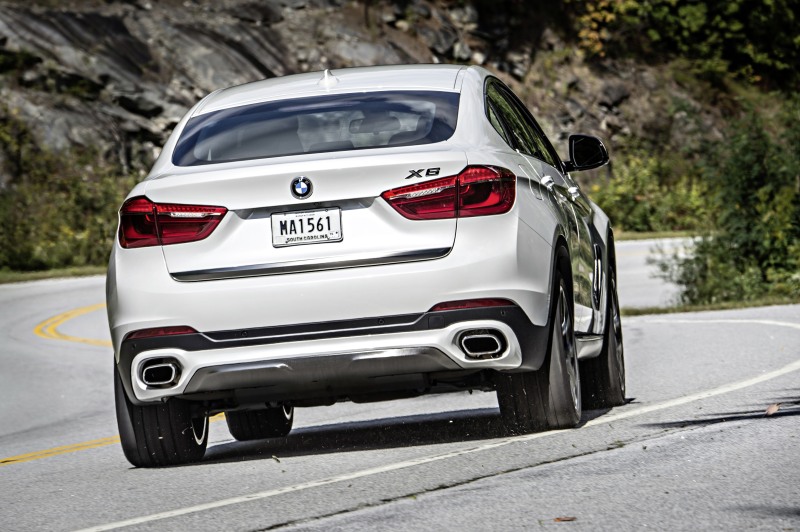 To say I had my concerns about this vehicle would be an understatement, which is why you have to drive a car to truly understand and appreciate it.
I got behind the wheel of my white X6 M Sport with its 445 horsepower, TwinPower Turbo 4.4 liter V8 engine, 8-speed automatic transmission, xDrive all-wheel drive and Dynamic Damper Control and after a day of pushing it through the mountains, slogging on a grueling off-road course and drifting it on the skidpad, I was won over.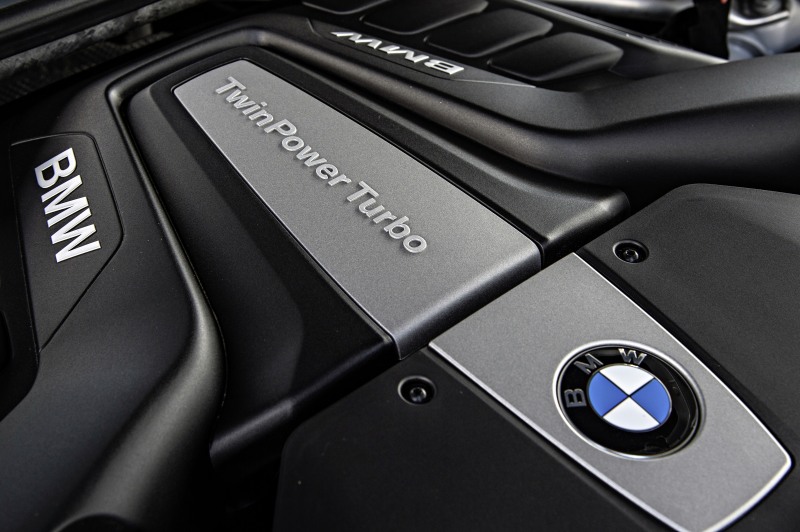 It's rare that you drive a car this big, this heavy and this tall and still feel like you can toss it into the corners like a vehicle half its size. Part of this is due to the 51.5/48.5 front/rear weight bias, part to the torque vectoring provided by the xDrive system and part to the substantial stopping power of the ventilated four-wheel disc brakes. The first part of my day started with a drive on a challenging road loop along the forested, mountainous border that separates the Carolinas. As expected, the X6 was powerful and smooth, getting quickly up to speed from stoplights and cruising comfortably at extra-legal speeds with very little fuss or bother. It is after all a BMW. The surprise came when the roads got narrow and twisty as I drove deeper into the Chattahoochee National Forest.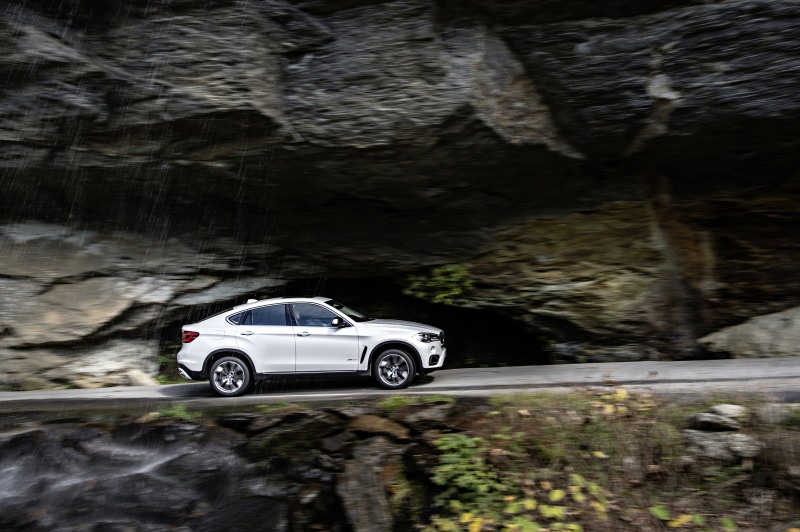 The driving position in the X6 is not typical for a BMW sports car. You sit high and while the driver's seat provides ample support and bolstering, you don't sit down in the bucket like the 3- and 5-series sedans. The driving position gives you a great view of the scenery around you, but doesn't exactly inspire confidence when you go barreling into a 25 mile per hour 130-degree turn at nearly twice the recommended speed as the M4 or i8 do. When you do that in an X6, however, the big crossover digs in surprisingly well and turns confidently, pulling through the corner with no push and very little body roll.
It's an odd sensation because the center of gravity feels so high and at 5,170 pounds there's clearly a lot of inertia resisting your inputs to change direction. Time and again, I said to myself, there's no way a car this tall and heavy can negotiate a corner this quickly, but I kept pushing it faster and harder throughout the day, only occasionally saying to myself, "Ah, there's the limit."
So the X6 is an incredibly capable road car that can comfortably carry 4 adults in all weather, a feat in itself. But, what really sets it apart is its off road prowess.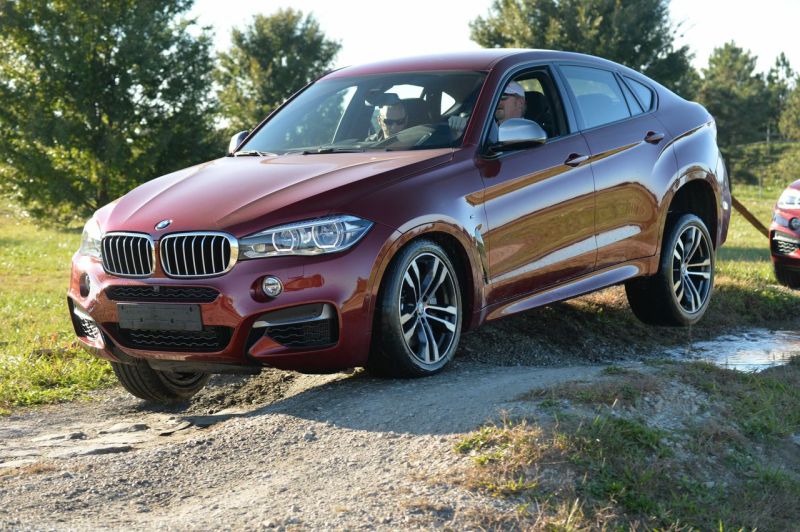 I put the X6 through its paces on an off-road course that featured perilously steep side grades, a deep water crossing along with climbs and descents that would challenge even the most competent off-roader. The X6 not only handled everything easily, but it offered some great features that make it easy to drive off road.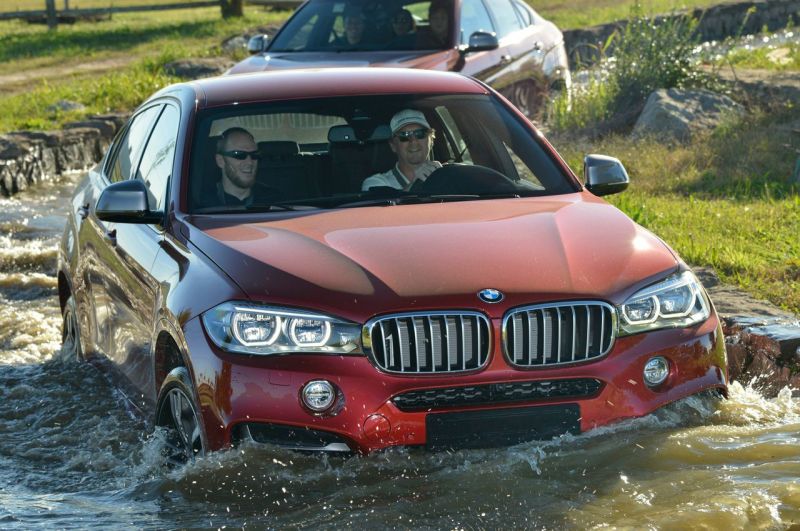 The first is a front-facing camera that you activate through a switch on the center console. Turn it on and a view of the ground just in front of the front wheels appears on the center display screen. This allows you to see items you're crawling over like rocks and logs as well as a steep downhill paths that are obscured by the hood upon initial descent. You're not going to win the Paris/Dakar rally in a stock X6, but if you want to take it to your cabin up north or though the deep snow in the Rockies back to a family hunting retreat, you won't have any trouble at all.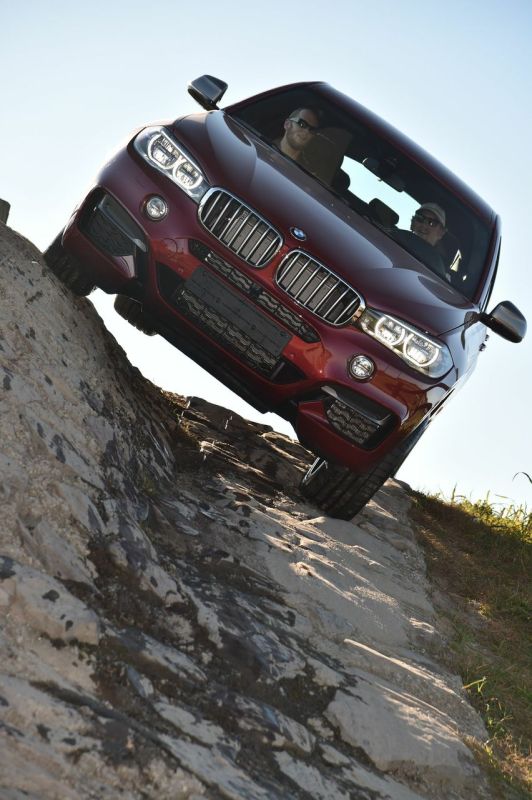 My final activity of the day was to take the X6 out onto the skidpad. If you haven't had the opportunity to drift a two and a half ton, all-wheel drive, family car, I highly recommend it. Something about getting the X6 up to speed, lifting to induce oversteer and then feathering the accelerator to keep the tail hung out without ever having it threatening to come past you is the finest therapy available. You just can't do it without grinning like the Cheshire cat. I'm convinced that if more people spent time on a skidpad after a tough day at work, psychiatrists would have a harder time finding patients to fill their 50 minute hours.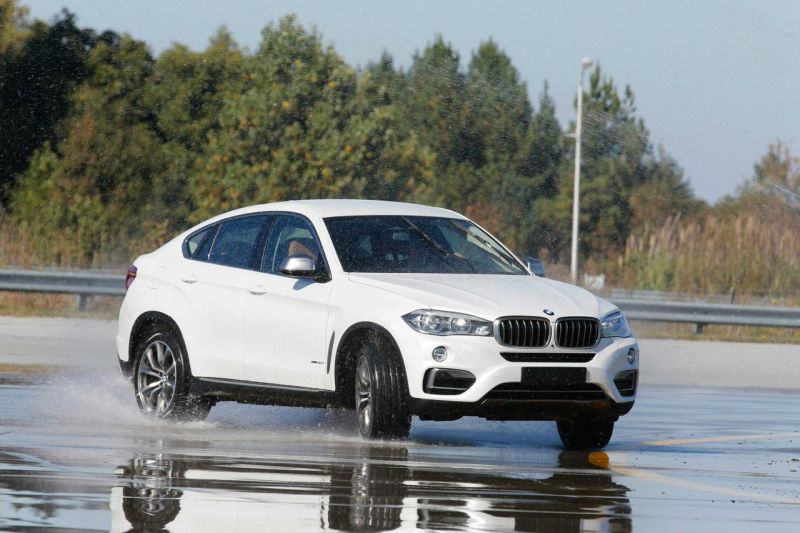 Inside the X6 is beautifully appointed with high quality materials including woods, leathers and brushed aluminum accents. Everything exudes quality from the switches and controls to the instrument panel and steering wheel. There are, however, compromises that are made due to the sloping profile. There's over an inch less headroom in the rear seat than in the front. And while there's more trunk space than in a traditional coupe, if you need your X6 to hold everything an X5 does, this isn't your car.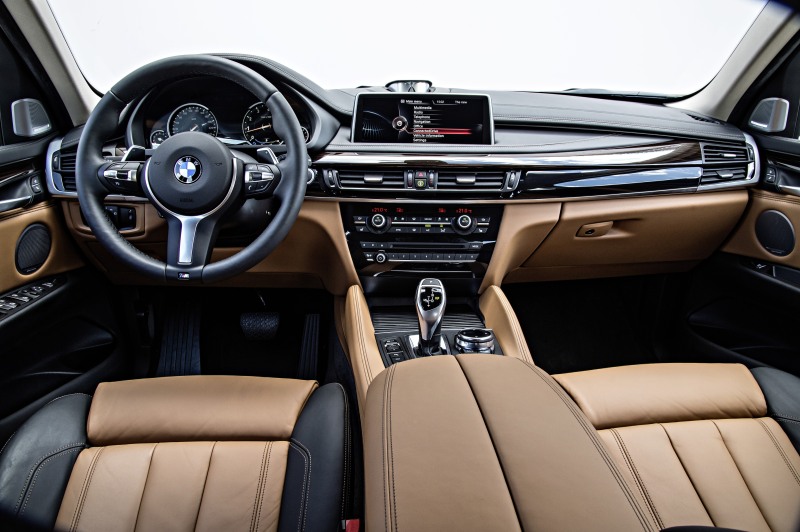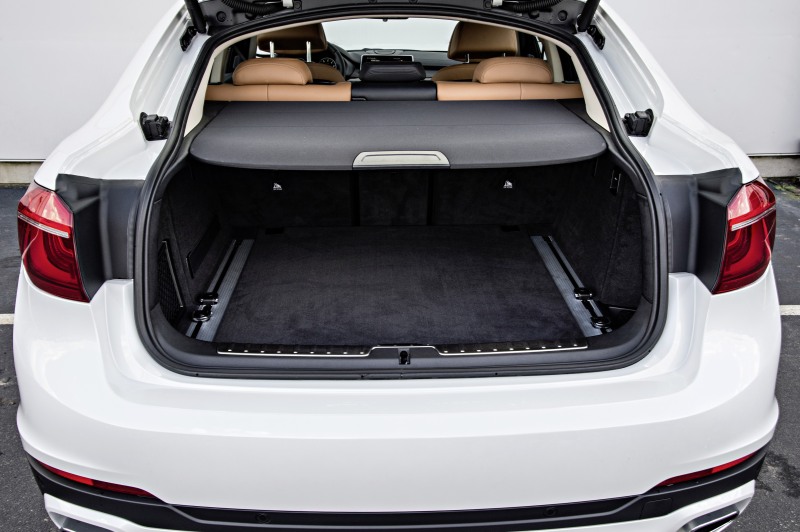 BMW is on a model proliferation rampage, introducing new cars of every size and configuration to fill every potential segment in the luxury performance market. The X6 is a very specific vehicle for a very specific buyer. The X6 is ideal for families with older kids who don't need to haul a ton of gear or empty nesters who want a car that can work as a daily driver during the week but quickly transport them and a couple of friends to a vacation home in comfort and with confidence.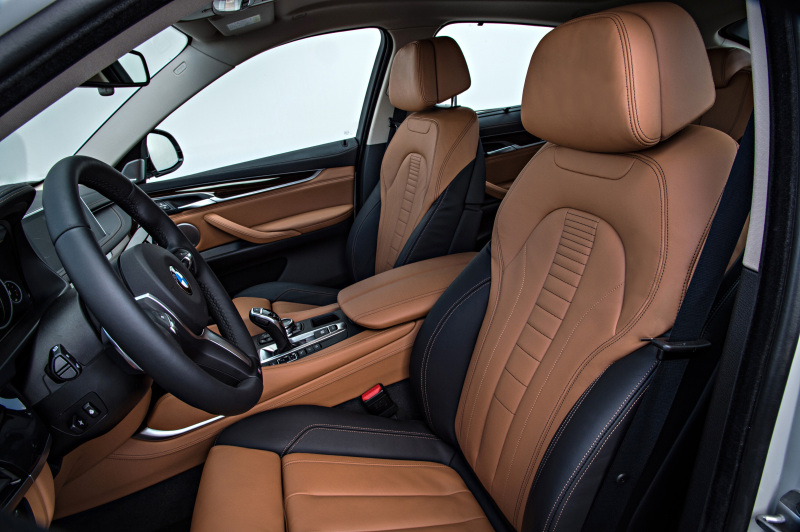 There is a price to pay for all this goodness – it is a BMW after all. X6 pricing starts at $59,600 for the sDrive 35i with a 3.0L single turbo engine. The X6 with xDrive and the 5.0L twin turbo starts at $72,900 and by the time you add the M Sport package, bi-color interior, blind spot detection, active park assist, dynamic dampers and the Executive Package which includes a leather dash, 4-zone climate control and your choice of either a Harman Kardon or Bang & Olufsen sound system, the price climbs to well over $90,000.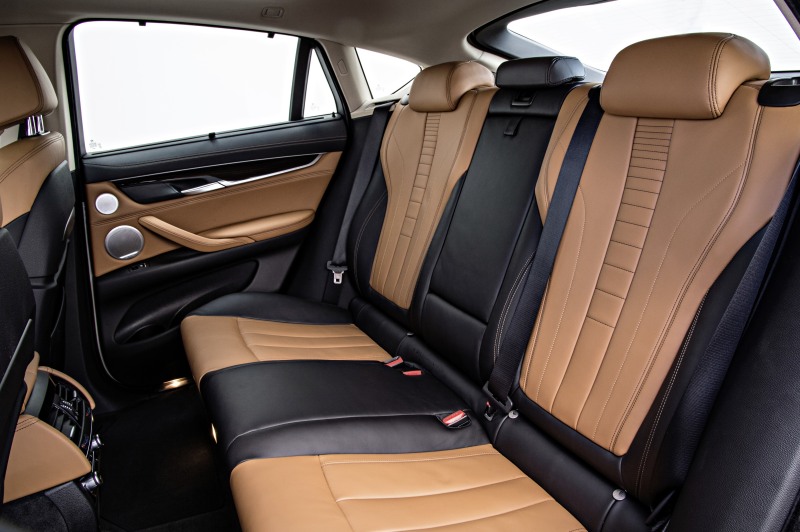 For those with a big enough checkbook, it's a fair price to pay for all the performance, versatility and luxury that the BMW X6 delivers.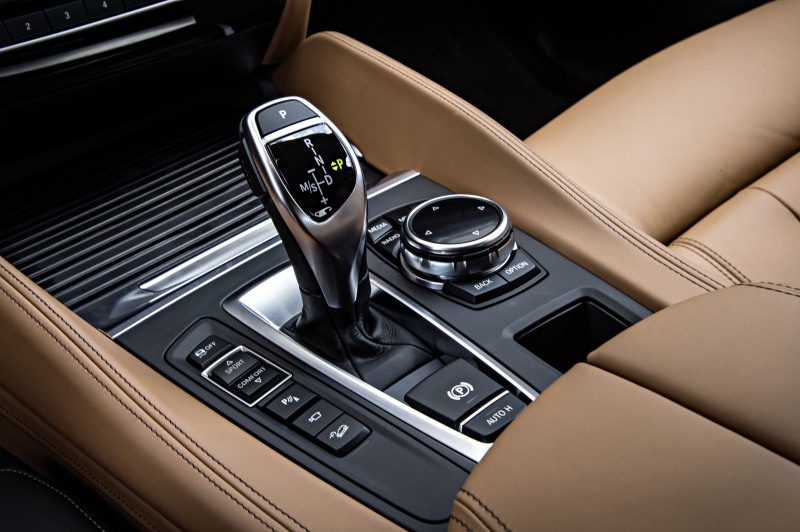 2015 BMW X6 xDRIVE50i
Five-door, five-passenger sports activity coupe
Base Price: $72,900
Engine: 4.4 L TwinPower Turbo V8 with direct injection and variable valve timing
Horsepower: 450 @ 5500 rpm
Torque: 480 lb.-ft. @ 2000-4500 rpm
Length: 193.8 inches
Weight: 4,784 pounds
0-60 mph: 4.7 seconds
Top speed: 155 mph (electronically limited)
EPA MPG: 15 city / 22 highway
Recommended fuel: Premium
www.bmwusa.com
While the manufacturer paid for travel expenses and provided the vehicles for this story, the opinions and recommendations in this post are 100% ours.