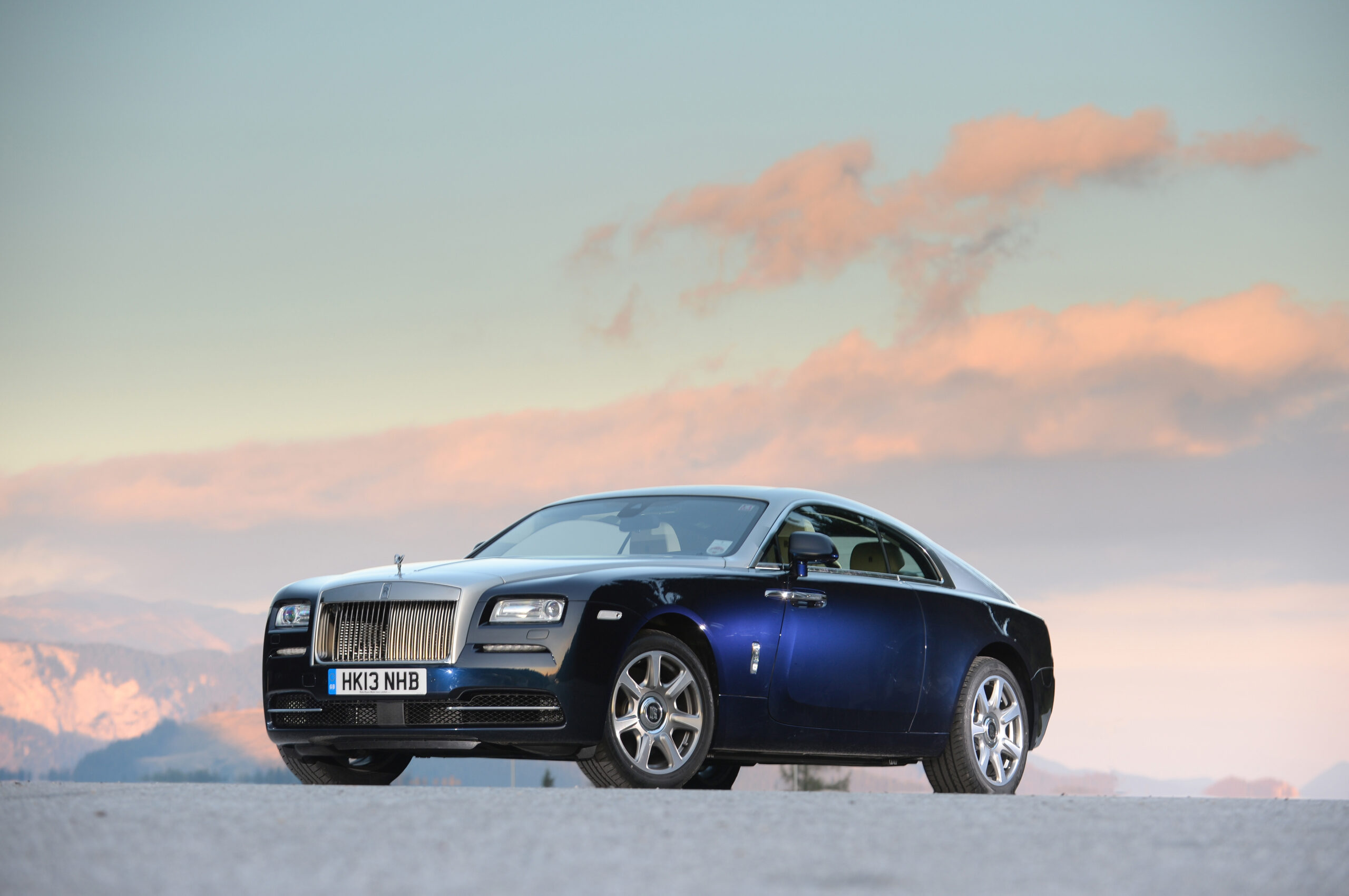 The crystal blue sky and light winds promised perfect conditions for the day ahead as my 737 touched down at Phoenix Sky Harbor airport. Upon passing through security, I was met by a concierge who guided me to the white 2013 Rolls-Royce Ghost and my driver who was waiting to take me to the Phoenician Resort to get my first in-person glimpse of the car that has many in the luxury world buzzing, the 2014 Rolls-Royce Wraith.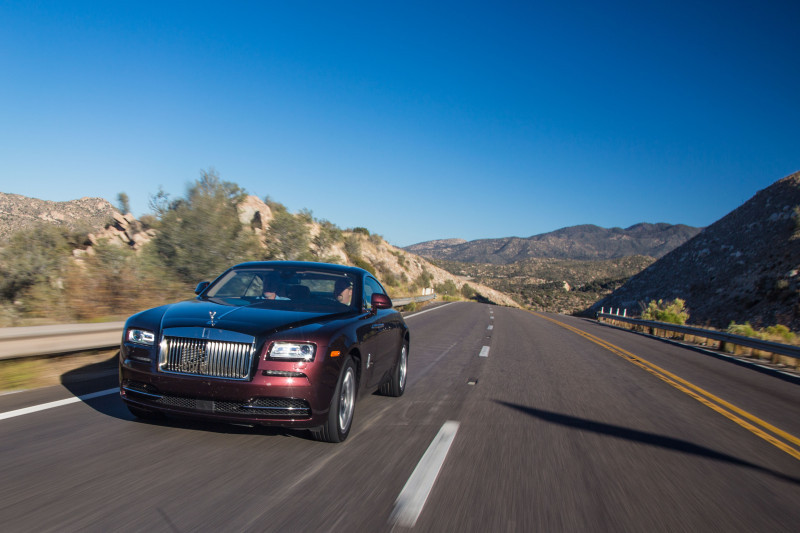 While I had read a great deal about the Wraith and seen many images and videos of it in action online, I was awestruck by the bright blue and silver Wraith that was waiting for us on the lawn of a private terrace behind the resort's condos. Photographs do not do this car justice.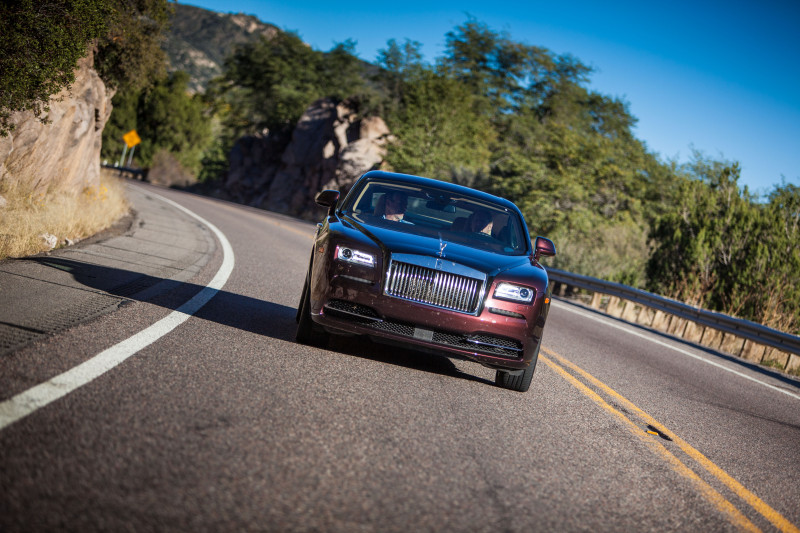 It is long, low, powerful and imposing. From front to tail, the Wraith is every bit a Rolls. But it is also something more. The fastback design of this coupe is a clear departure from Rolls' traditional three box styling. The coach, or as we in America call them, suicide doors attract immediate attention and elicit questions regarding both their visual appeal and functionality.
Let's begin there.
The doors are both long and heavy – substantial might be a better term. However, they open effortlessly with just a pull on the handle and closing them requires only the touch of a button located right next to the A-pillar. Opening as they do, the Wraith is incredibly easy for the front seat occupants to get into the vehicle. They also open wide enough so as to make the rear seats as accessible as any other coupe. And while some consider this unique design to be a gimmick, at least it creates no compromises.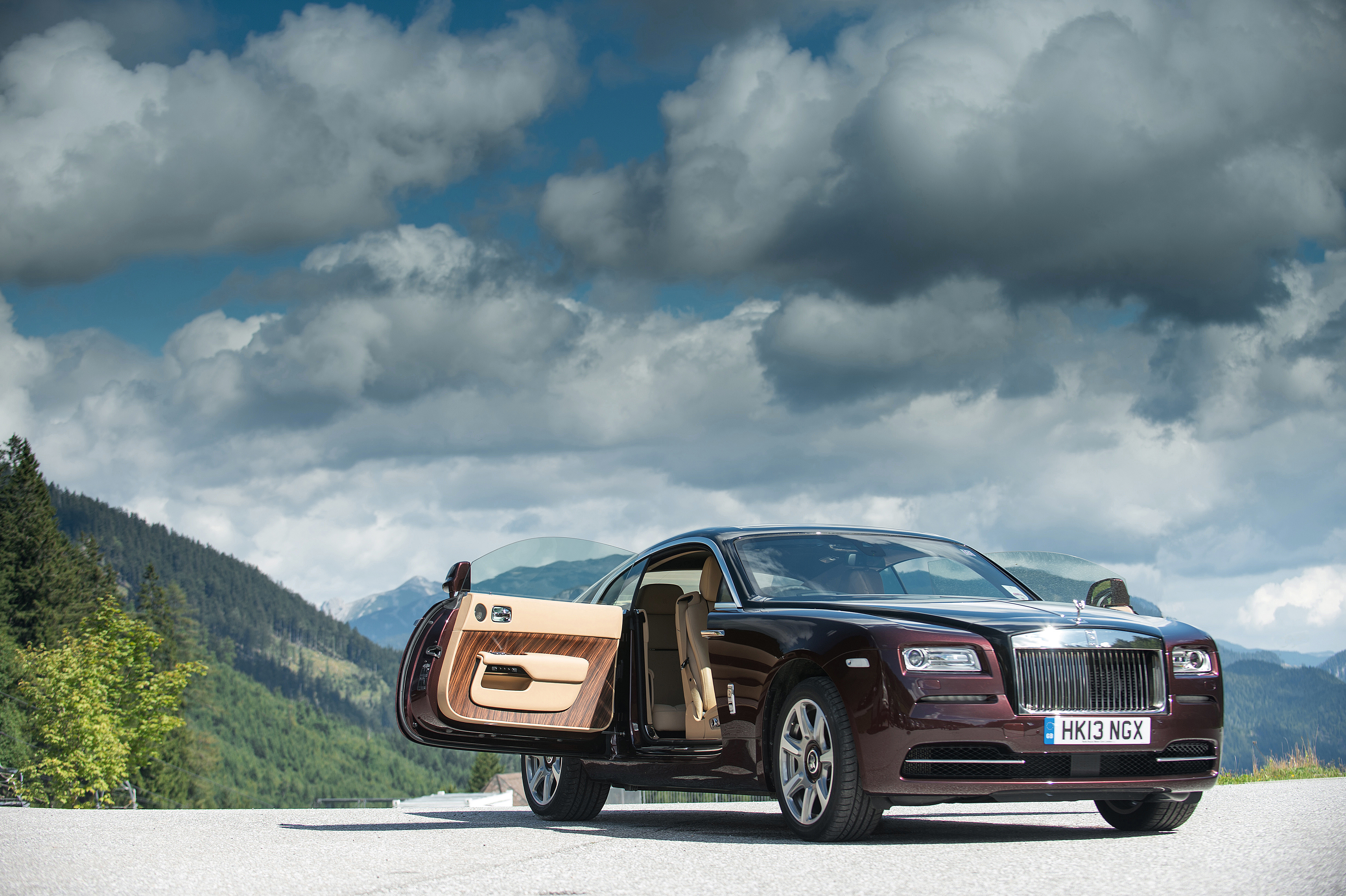 Once inside, the Wraith is everything you'd expect from a car that stickers just north of $350,000 as equipped. The leather and wood are impeccably chosen and flawlessly installed. The Canadel panelling presents an unvarnished, but smooth face to the interior. The open grain and angled cut create an expectation that the Wraith will present a more dynamic and spirited driving experience than the Ghost upon which it is based.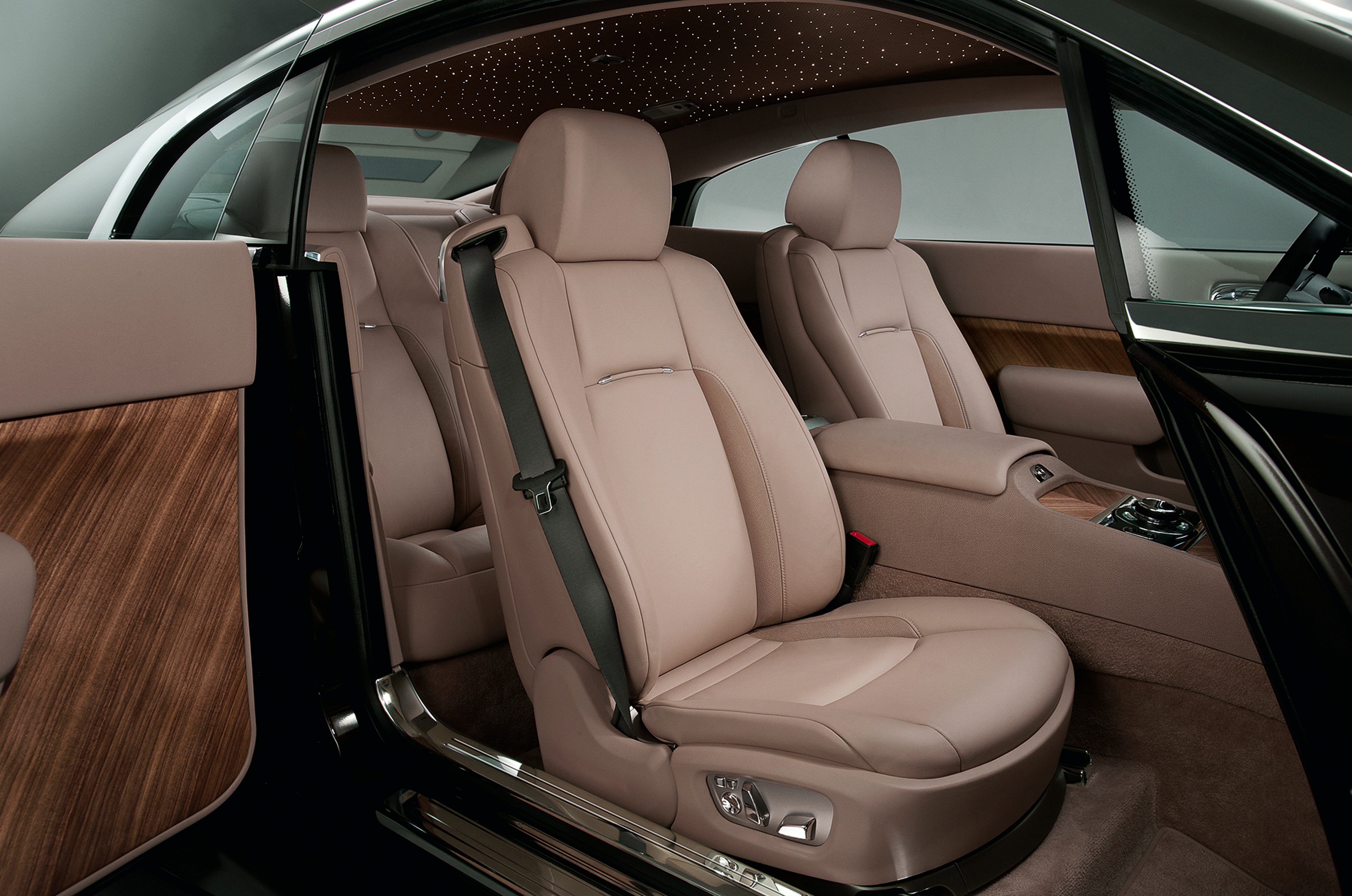 The leather surfaces are a study in consistency and comfort. According to our hosts, the leather is hand-selected from bulls raised in fenceless mountain pastures. Using only male cattle ensures there are no stretch marks in the grain and the open pasture means the hides are free from imperfections caused by barbed wire and other obstructions.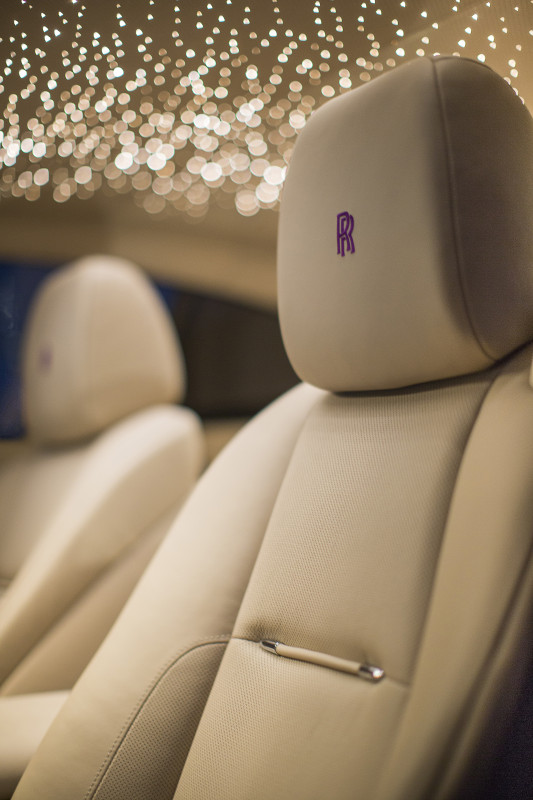 Multi-adjustable, heated and cooled, the seats provide more bolstering and support than those in a traditional Rolls-Royce, which tend to take their inspiration from a manor's sitting room. Given that the Wraith is powered by a 624 hp Twin-Turbo V12 engine, the extra support is understandable and quite welcome when pushing the car through the twisty bits of the Arizona desert roads.
So how does it drive? Very well, thank you.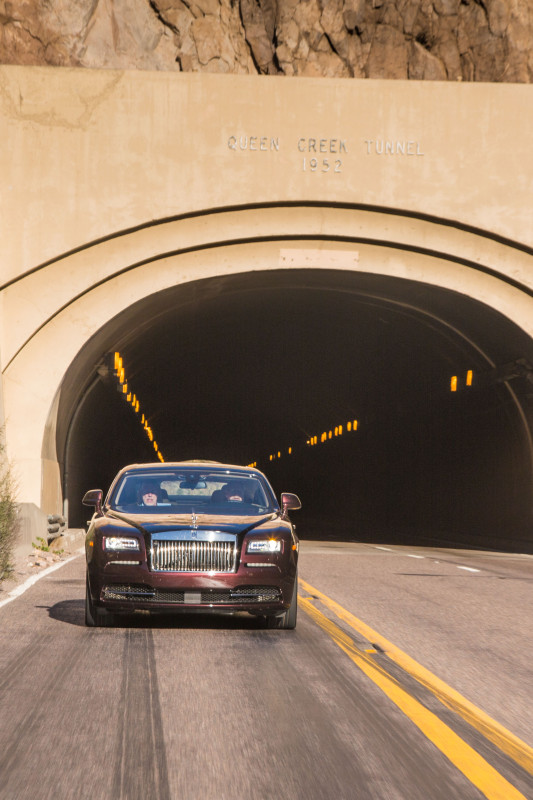 Make no mistake, though the Wraith is powerful, fast and built to be driven, it is no sports car. It is a Grand Tourer in every sense of the term. Its power is effortless and suspension smooth without the floating you'd expect from a car this luxurious. It feels as though it could be driven for days at triple digit speeds without so much as spilling a drop of Earl Grey from your Royal Doulton.
The Wraith is heavy, nearly three tons when loaded with fuel, passengers and luggage. But it never feels sluggish. Part of that is the afore-mentioned engine. The other major contributing factor to its responsiveness is the satellite-aided transmission. Designed and engineered by a former BMW F1 engineer, it uses the car's GPS system to read the road ahead and adjust the transmission predictively, based on your driving style and the road conditions. The result is a car that never seems to set a foot wrong, whether you're entering a sweeping uphill left-hander at well over the posted speed limit or negotiating a lane change in rush hour traffic.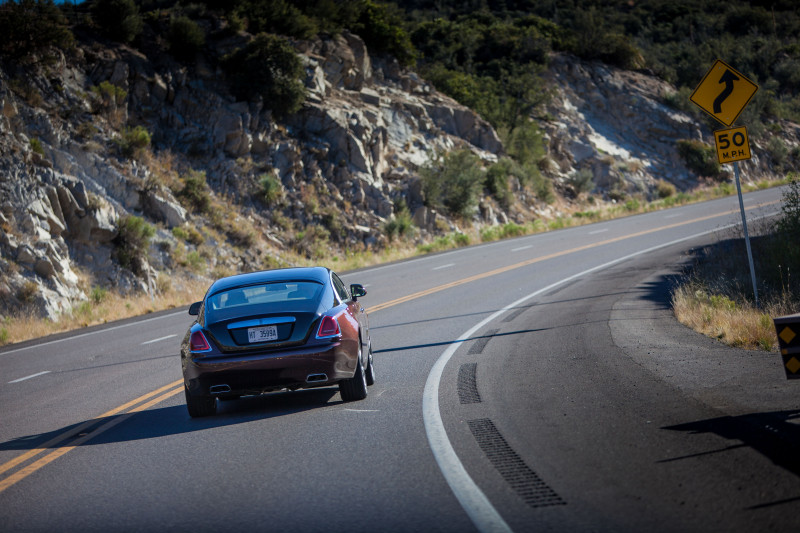 The Wraith is really a first. A Rolls-Royce designed more for the driver than the passengers. And after spending several hours behind the wheel, I'm convinced that if you want to get somewhere fast and comfortably, this is the best long-distance touring coupe ever built.
2014 Rolls-Royce Wraith
2-door, 4-passenger, ultra-luxury grand touring coupe
Base Price: $284,900
Price as Tested: $357,000
Major Options: Fixed glass roof, starlight headliner, Exterior Camera System, 1300W Audio System, 21-inch wheels, and much more.
Engine: 6.6L Twin-turbo V12 624 bhp, 590 lb. ft. of torque at 1500 RPM
Transmission: ZF 8-speed Satellite-Aided Transmission
Suspension: Double Wishbone Front, Multi-link Rear with four-cornered, air-suspension system and electronic variable damping
While the manufacturer paid for travel expenses and provided the vehicles for this story, the opinions and recommendations in this post are 100% ours.