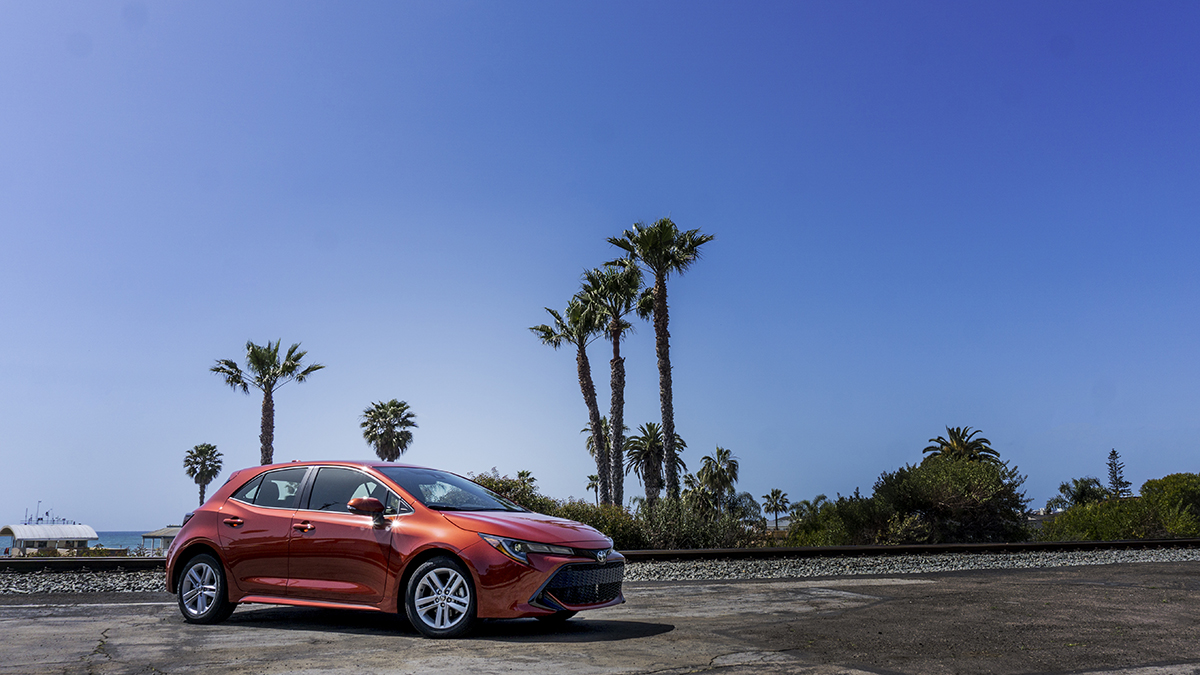 When Toyota's Vice President of Vehicle Marketing & Communications, Lisa Materazzo, stood in front of about 20 automotive journalists – myself included – and declared the new Corolla Hatchback had a "hot hatch persona," she didn't do the greatly upgraded small car any favors. The minute she uttered those words, the competition for this purported pocket rocket became the VW GTI, Honda Civic Si, Mazda 3, and a few other really good compact hatchbacks. There was no sandbagging here.
That's a little too bad, because as good at the Corolla Hatchback is, even in its most sporting XSE trim with a 6-speed manual transmission, it is no GTI.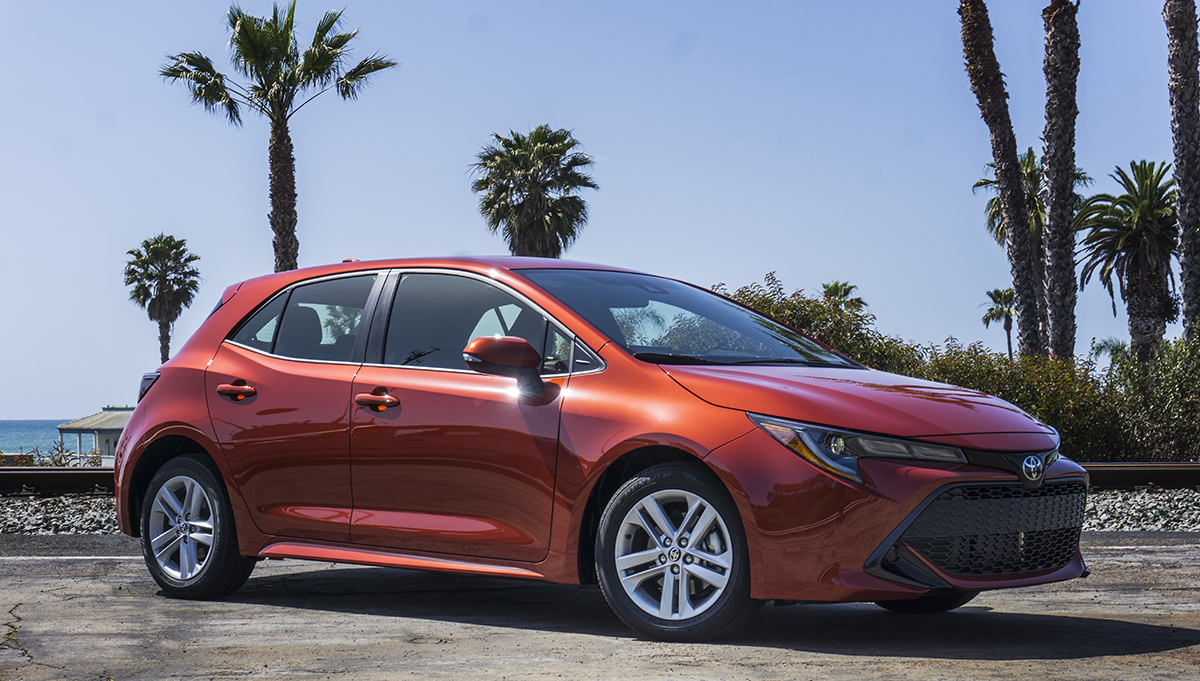 It is, however, a really sporty Corolla that delivers a reasonable fun-to-drive quotient and looks to match. I can almost forgive someone who has spent their life driving Corollas thinking that they've happened upon a GTI fighter when they slip behind the wheel of this hatch. Almost.
Let's start with the good stuff because I'm nothing if not fair, and there's plenty of it.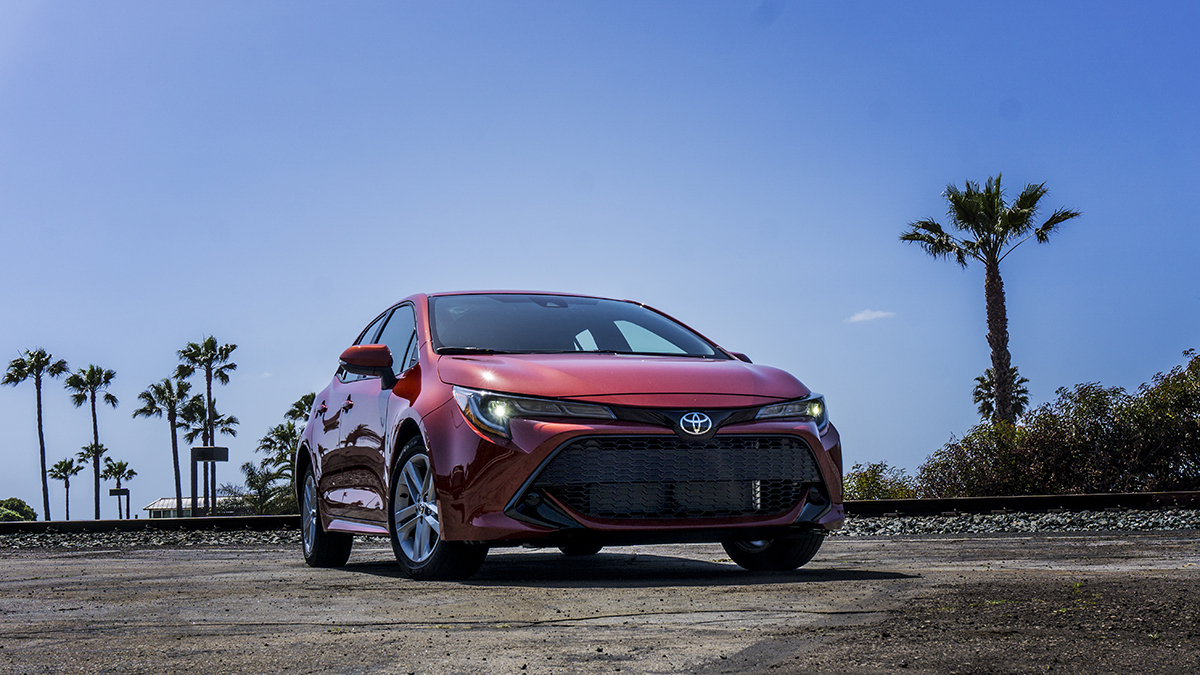 The new platform, designed and built using Toyota's next-generation architecture philosophy, is really good. This is a rigid foundation that makes this Corolla Hatchback feel more premium and more solid than any Corolla ever built. With torsional rigidity increased by 60%, a lower center of gravity, longer wheelbase, wider track, and shorter overall length, all the pieces are in place for exciting driving experience. It has McPherson struts up front, and an independent multi-link suspension with sway bars tucked away in back. 18-inch wheels are standard on the Corolla Hatchback XSE and you get a kicky rear spoiler at the top of the lightweight composite rear hatch that signals the XSE's intentions.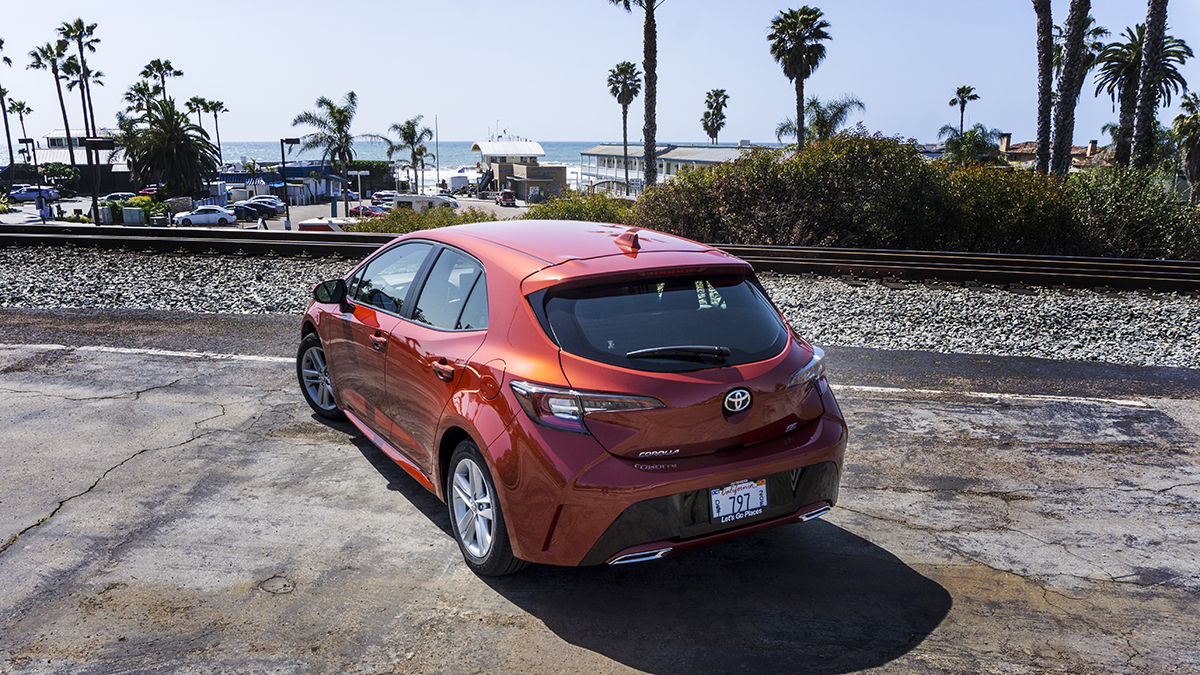 Under the hood, there's an all-new 2.0L four-cylinder engine with variable valve timing and direct injection that's actually smaller and lighter than the previous generation 1.8L engine. It is more powerful and more efficient. It's also smoother and quieter. It drives the front wheels via either an honest to god, three pedal 6-speed manual that features something Toyota calls intelligent shift technology, making it easier to drive for newbies. It features rev-matching downshifts and other electronic wizardry that makes it harder to stall when you're accelerating from a dead stop. If you'd rather not exercise your left leg, the Corolla Hatch has CVT (I know) with 10 simulated gears and paddle shifters. Toyota must be tired of hearing journalists bitch about CVTs because they've added a fixed first gear to this one that allows you to accelerate hard from a stop without the rubber band effect that plague these slushboxes.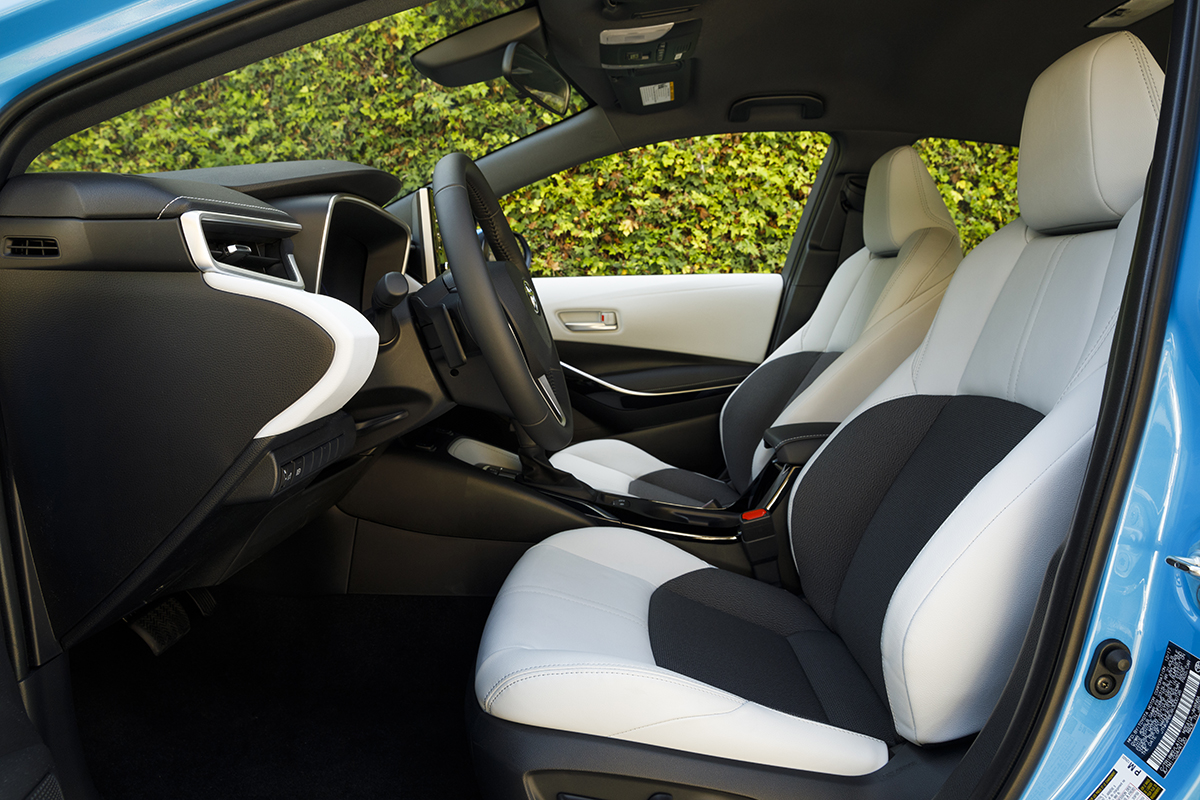 Inside the XSE has a sporting look. The leather-wrapped steering wheel and shift knob (both manual and automatic) feel right and all the surfaces are clean and purposeful. The seats are firm and supportive with a slightly lower hip height so you sit down a little lower. Materials are higher quality than you'd expect from a near entry-level hatchback. The leather and fabric seating surfaces look and feel nice. The simple striking contrast design is bold but in a tasteful way. Perched atop the center console is an 8-inch display with Toyota's latest Entune Audio system which includes for the first time ever Apple CarPlay. It's also integrated with Amazon Alexa so you can control certain things in your car from home and your home from your car. You can move all the way up to the JBL Premium Audio system to get all the goodies, including 800-watts of power, eight speakers, Clari-Fi music enhancement, dynamic navigation, and more.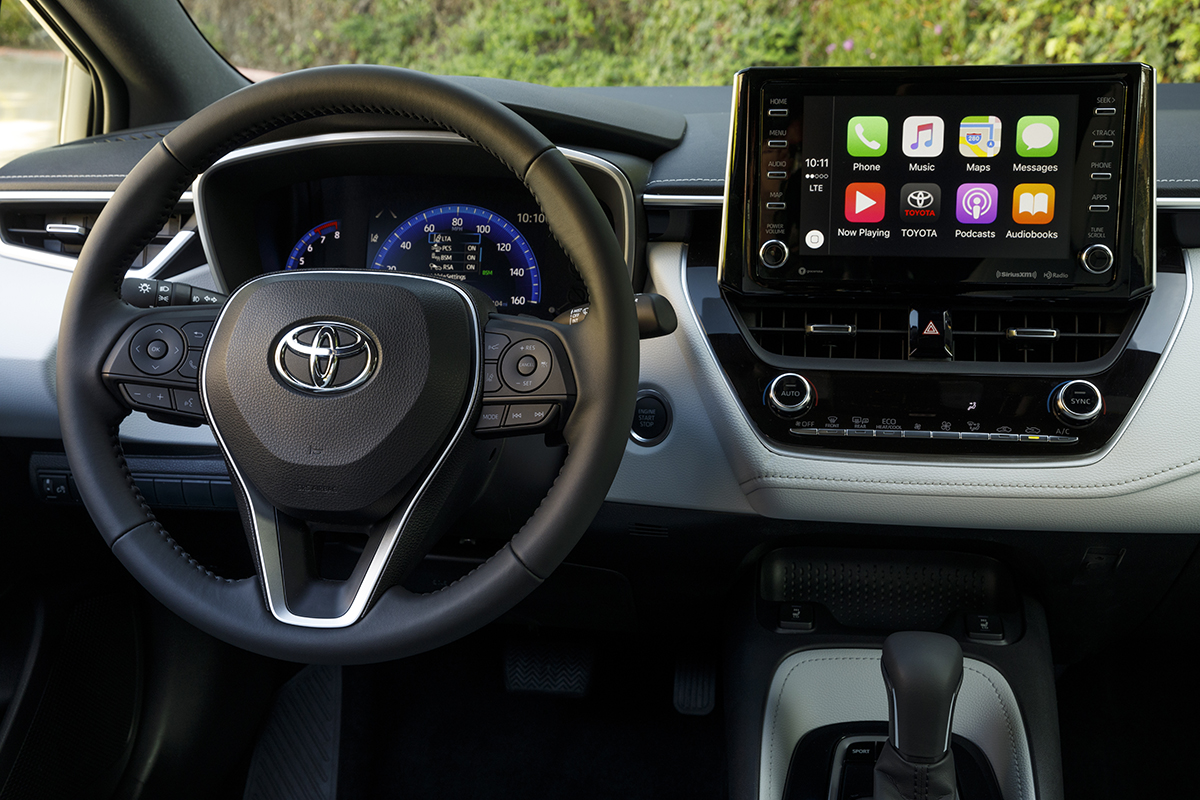 Corolla Hatchback is also loaded with safety features. It will be the first car to feature Toyota Safety Sense 2.0 which includes a lot of technology including a pre-collision system with pedestrian detection for both day and night. It combines forward collision warning with brake assist and autonomous emergency braking. You also get radar cruise control that will slow all the way to zero when paired with the CVT. Lane departure warning with steering assist, automatic high beams, active lane centering that uses cameras to keep you between the lines, and road sign assist that uses a camera to recognize stop, speed limit, yield, and do not enter signs and display them in the multifunction display in the center of the instrument panel.
That's a lot of good stuff, and though we don't know the price yet (based on the current car I'd pin the base at a bit under $20k and that a loaded XSE will come in around $24,000), it seems like the Corolla Hatchback, whether you choose the base SE or the tricked out XSE will provide a lot of value for the money. So what's not to like?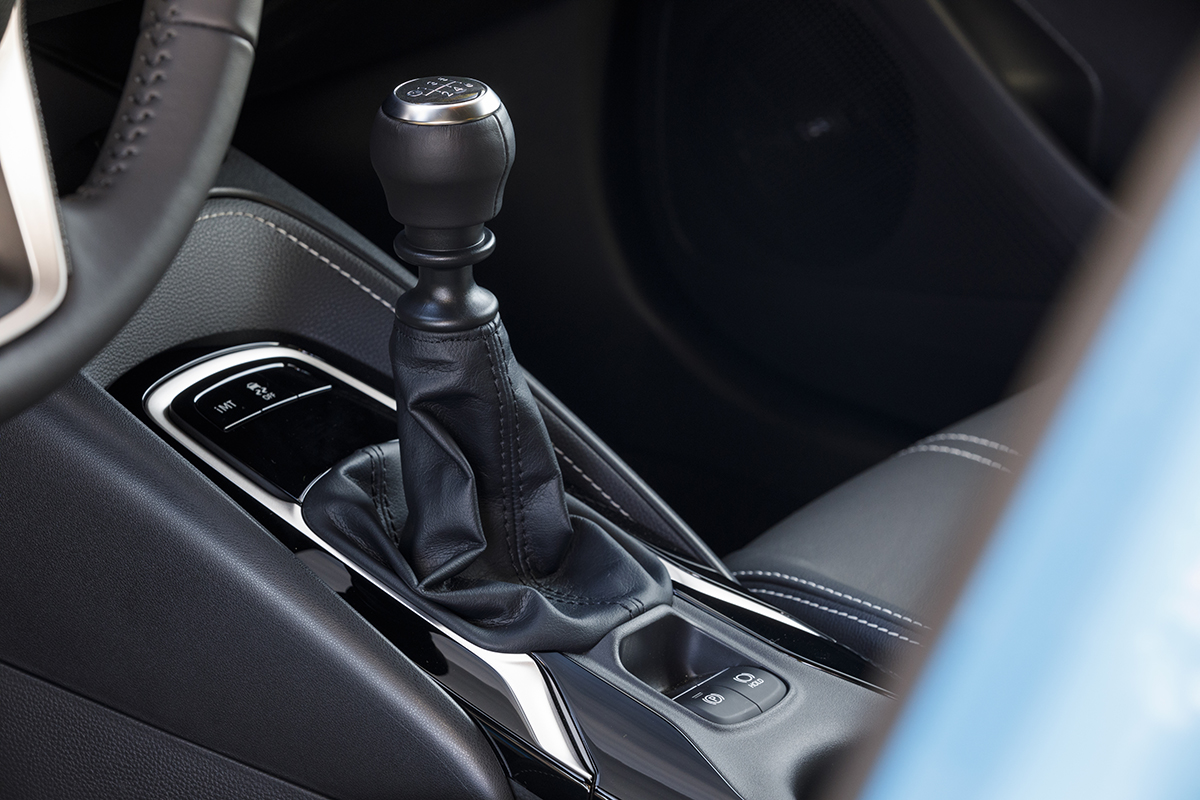 It really comes down to road manners. They're good. They're predictable. They're exactly what I'd expect from Toyota and if they hadn't invited comparisons to the GTI, I'd say they're just fine. But if you compare the Corolla Hatchback XSE to a VW GTI you'll be disappointed. Its non-turbo engine is at a 52 horsepower disadvantage and gets a little bit buzzy when you wind it up closer to the redline. The shift mechanism on the manual is a little sloppy and though the fixed first gear helps 0-30 acceleration, once you're out of that and into the CVT, left to its own devices, it's not very satisfying at speed. The suspension has all the right components, but it too is just a little soft.
Let's be clear. This is a really good Corolla and more fun than any Toyota has ever produced. I'm hoping they'll add stiffer springs, a short throw shifter, and components that help the engine produce a few more ponies to the TRD parts bin. With some of those upgrades, they'll have a real street fighter on their hands. For now, however, it's damn fine Corolla.
2019 Toyota Corolla Hatchback XSE
Four-passenger, four-door compact hatchback
Base price: $19,990 LE Model, XSE $22,990
Price as tested: $25,925
Options: Adaptive front lighting ($415), XSE Preferred Package – Entune 3.0 Premium Audion with JBL 8-speaker, 800-watt sound system, Toyota Connected Services, Dynamic navigation, Qi wireless phone charging ($1,600), Destination and delivery ($920)
Engine: 2.0L double overhead cam, four-cylinder with VVTi and direct and port fuel injection
Transmission: 6-speed manual or CVT with fixed first gear and 10 simulated gears
Power: 168 HP @ 6,600 RPM
Torque: 151 lb.-ft. @4,800 RPM
0-60 MPH: 8.5 seconds (estimated)
EPA MPG city/highway/combined:
SE Manual – 28/37/31
SE CVT – 32/42/36
XSE Manual – TBD
XSE CVT – 30/38/33