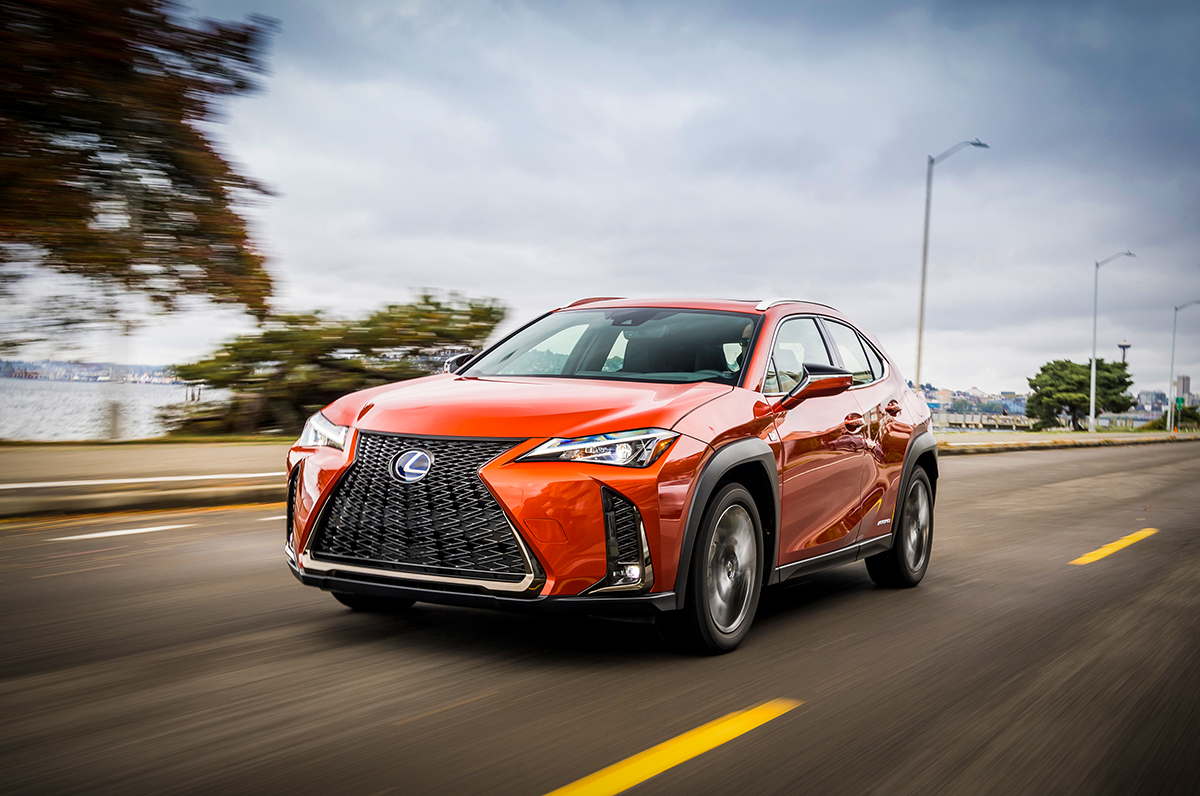 It used to be that luxury cars were ponderous sedans floating across the pavement with the agility of an Apatosaurus. The deVilles, Town Cars, and Electras of my youth were stunning achievements in isolation.
If there was a road beneath your wheels, you never felt it. If there was a corner on the horizon, you had to keep an eye on your coffee lest excessive body roll cause it to slop over the brim staining the pillowy button-tuck velour seats.
Luxury ain't what it used to be, my friends. Today, I offer up the new Lexus UX as exhibit A.
It's very likely this compact crossover could have fit in the trunk of a '72 Deuce and a Quarter and there's not a stitch of velour to be found anywhere in its luxurious interior.
The Lexus UX is the latest entry in a burgeoning segment, the premium compact crossover. Competitors include the Mercedes-Benz GLA, Audi Q3, BMW X2, Infiniti QX30, Buick Encore, and Jaguar I-Pace. To Lexus' credit they offer a distinct vehicle in that crowded field. Love it or hate it, the Lexus design language is in full force here. No one is going to look at your UX and wonder what brand of vehicle you are driving. From the signature spindle grill with its interlocking L pattern, to the all-LED lighting and the swoosh-like running lamp creating an eyebrow above the driving lamps, to the origami-inspired creased and folded sheet metal, the UX is faithful to Lexus DNA.
Underneath the bodywork is a bulked up version of Toyota's GAC platform found in the CH-R. Loaded with sound insulation, structural adhesives, and laser screw welding, this is platform sharing done right. All the additional work provides an even more stable base for the UX's upgraded suspension, steering, and drivetrain. But how it drives is really not the most interesting nor important part of this baby crossover, at least not if you listen to the folks at Lexus talk about it.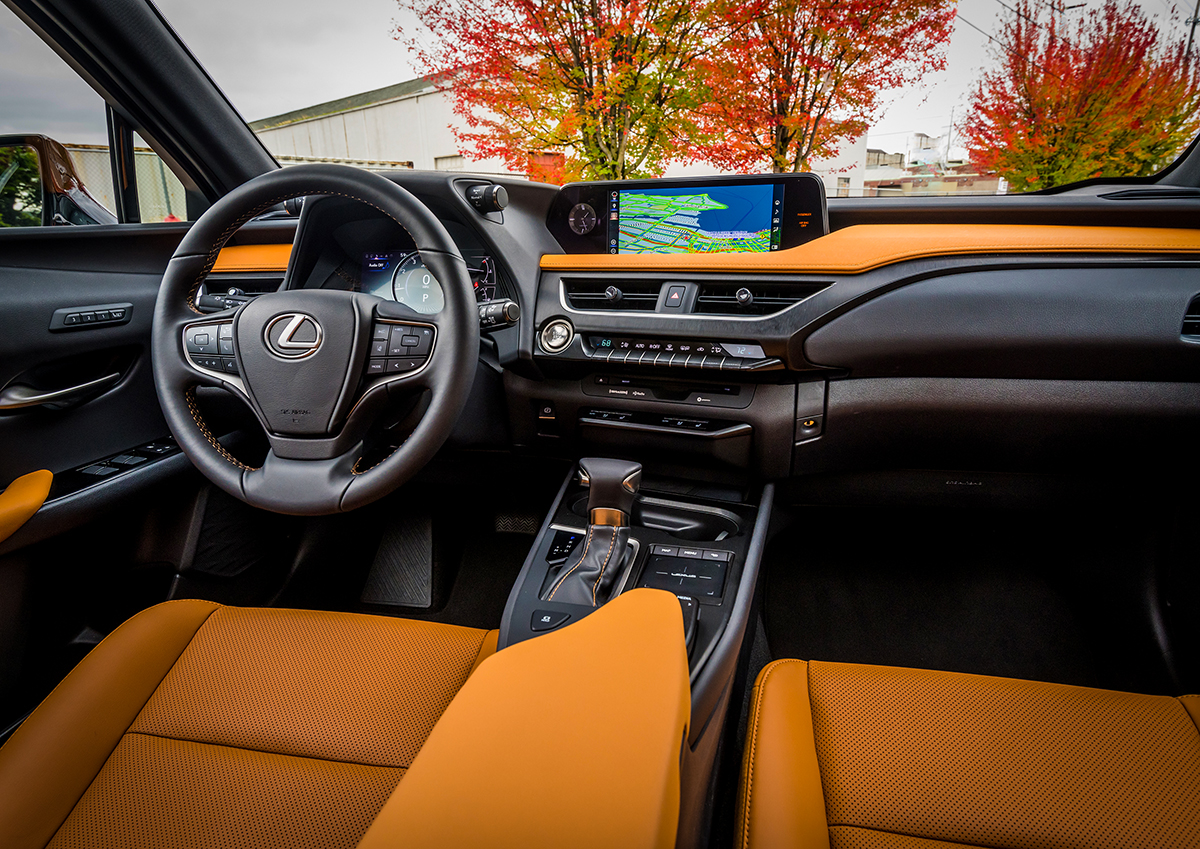 UX stands for Urban eXplorer and as such it's meant for city dwellers who are looking for a comfortable, compact, and maneuverable vehicle to negotiate their crowded environs. That's not to say the UX drives badly. It's just that driving excitement – even in F Sport trim – is not this vehicle's primary mission. It goes quickly enough no matter which engine option you end up with. The steering, though a bit numb, is direct. And, it handles nimbly thanks to a very tight turning radius. But you won't confuse this for a BMW X2. Available with either a gas-powered front-wheel drive or hybrid all-wheel drive powertrain, the enjoyment to be found in this vehicle is not in the driving, but in the comfort, technology, and entertainment jammed into its diminutive dimensions. In fact, when Lexus is ready to deliver an autonomous vehicle to the world, the UX would be a perfect platform for its first.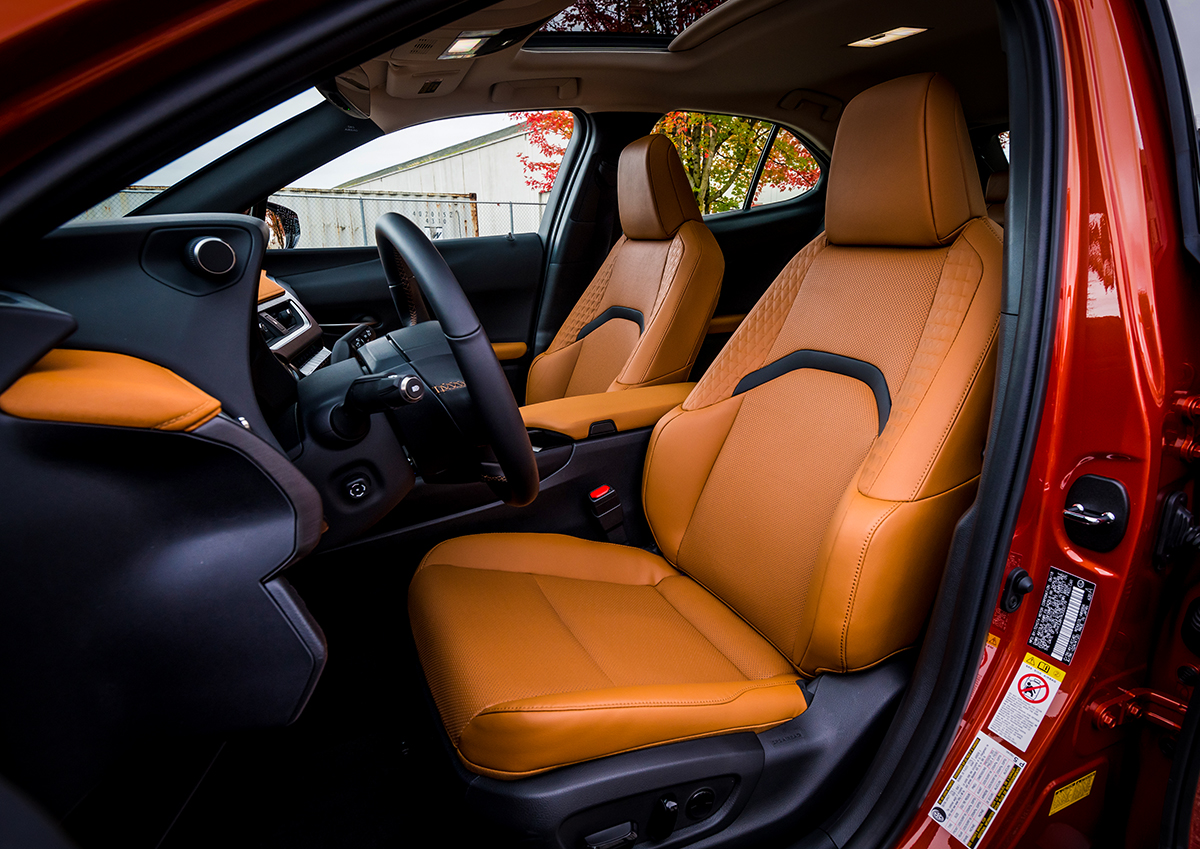 This is a luxury crossover for those who aren't really interested in driving. I don't mean that as a dig. There are a lot of people in this world who look at time spent behind the wheel as a chore. The UX is designed to make that time easier and more pleasurable. The interior, especially in its more premium trim levels is as you would expect from Lexus. The materials are first-class, the stitching is flawless, the fit is well-crafted. The overall layout is excellent with the switches, controls, and gauges oriented toward the driver. Even though it's a small vehicle, the UX has plenty of head, leg, and shoulder room up front for the driver and passenger. Rear seat legroom is another matter unless those up front are willing to give up a lot of their space. There's room for kids in car seats, but four six-foot adults? Probably not. Certainly not in comfort for extended periods of time.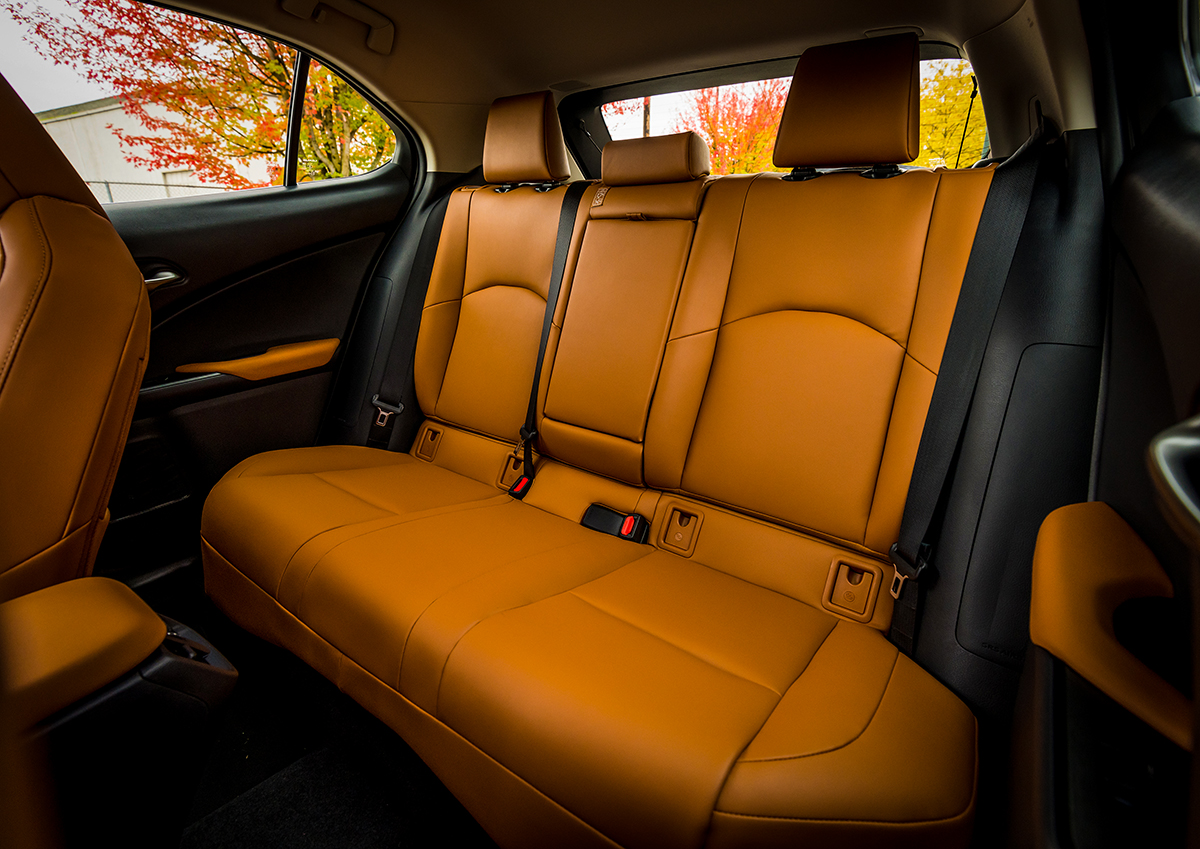 The UX is a tech heavy and tech savvy vehicle. Even in base trim it comes with Lexus Safety Sense 2.0 which includes pre-collision system with pedestrian detection, all-speed radar cruise control, lane departure alert with steering assist, lane tracing assist, road sign assist, auto high-beams. The combination of lane trace and radar cruise control, while not a hands-free system, takes the stress out of interstate driving and allows you to keep your feet off the pedals in traffic jams. Other than it's standard on all trim levels, none of that is truly exceptional in the category. With the UX, however, Lexus is introducing a really interesting new system for the 250h Hybrid model, Predictive Eco Drive Control.
Most of us drive fairly consistent routes every day; a commute to work, our weekly shopping habits, our visits to friends and relatives. The more you drive your UX, the more it will learn your routines and use that information to eke the most out of every gallon of gas and every joule of electricity. So say you have a stop sign at the end of your street. The UX Hybrid learns that and then every time you lift your foot off the accelerator, it optimizes the regenerative braking system to put as much energy as possible back in the battery. It also combines with the GPS to read the road up to six miles ahead, so if there's a long downhill coming up, it will use more battery leading up to it, knowing you can get it back on the descent. It's slick, seamless, and if you really want, you can turn it off, but why would you?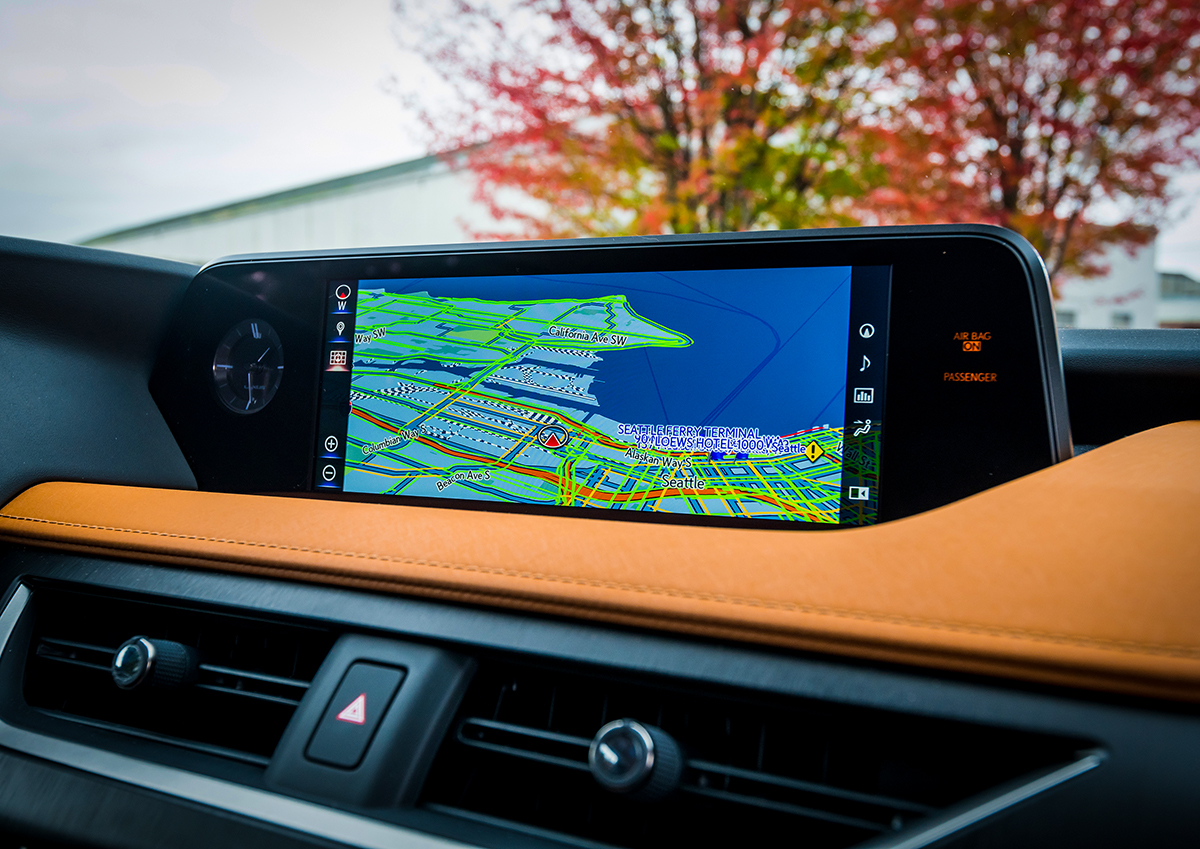 Other technology includes Apple CarPlay with Google Maps, Waze and Spotify as a standard features. Lexus has even worked with Spotify to offer car themed playlists that are updated every Monday and Friday to deliver music for your commutes to and from work as well as weekend road trips. A 7-inch touch screen is standard. The optional 10.25-inch monitor feels massive in the small car and allows you to set up split screen display, so you can view your map and music at the same time. The only drawback of the system, whose menus are well organized and intuitive is the track pad interface. Even though it has been improved, it's still one of my least favorite ways to operate an infotainment system. I can't wait until Lexus comes designers come to their senses and replace this with one that's easier to operate. On the plus side, Lexus now incorporates Amazon Alexa into the UX. This allows you to use all your favorite skills like music, shopping lists, news, and information. If you happen to have wifi enabled smart home features like a garage door, lights, and HVAC system you can use Alexa to operate those from your car.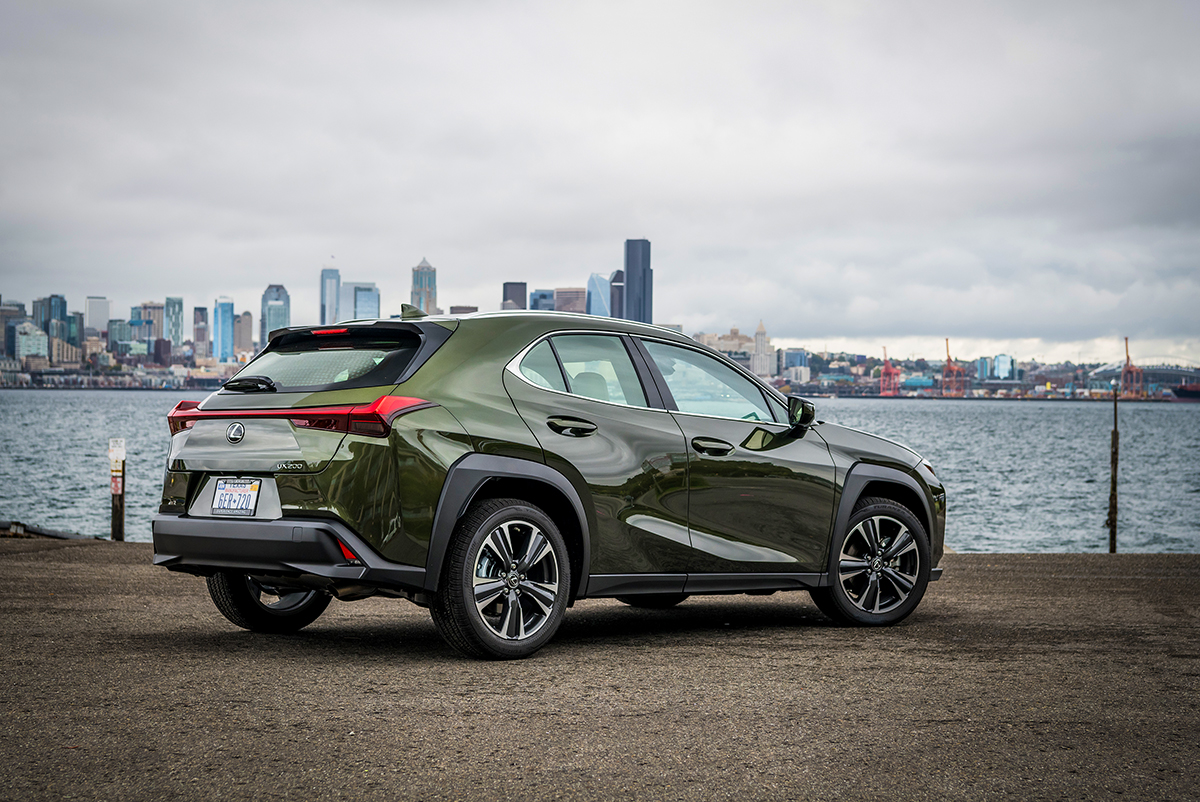 One thing I rarely do is talk about car color, but I have to here. While the cadmium orange car I drove stands out in a good way, the winning color for this car is Nori Green. This is one of the best car colors I've seen in a long time.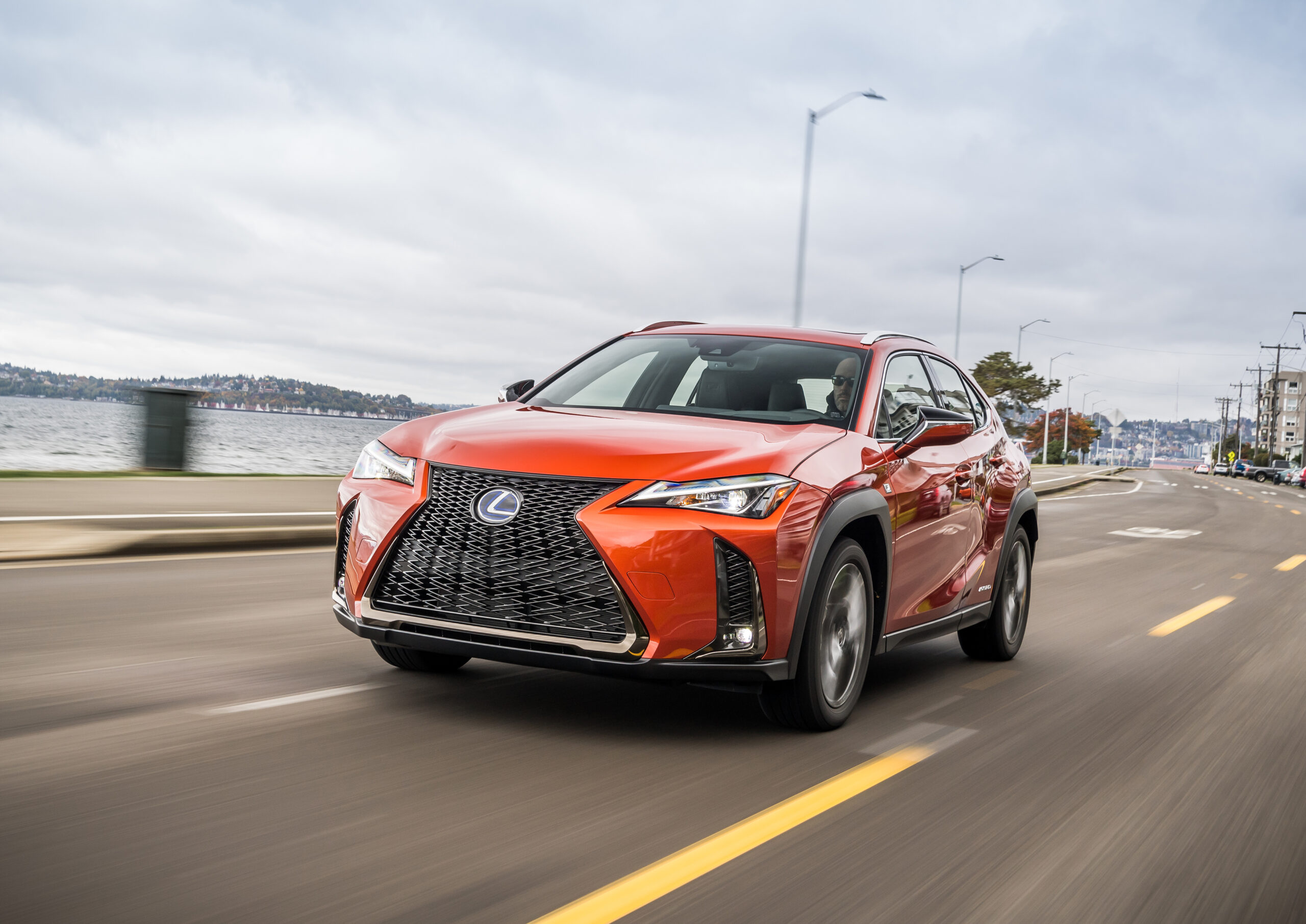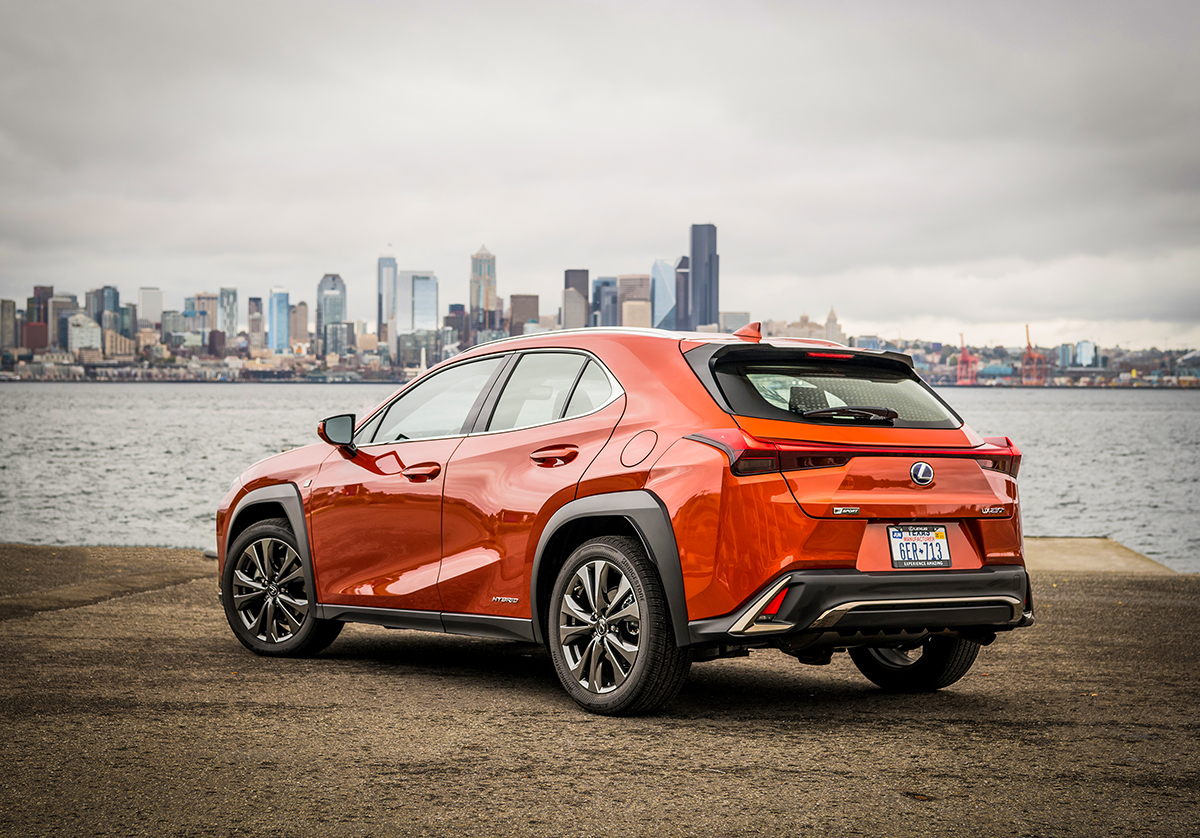 The Lexus UX will hit showrooms in December and starts at $32,000 for a gas-only front-wheel drive model. When you load it all up with the hybrid powertrain, all-wheel drive and the luxury packages, it will top out around $42,000. That may seem like a lot of money for a little car, but looking at the other cars in the category, it's a very competitive price. The UX stands out as a comfortable, competent, compact crossover that delivers a lot of bang for the buck. It's jewel box of a vehicle that is impeccably tailored, solidly built, and destined to deliver years of trouble-free luxury to its owners.