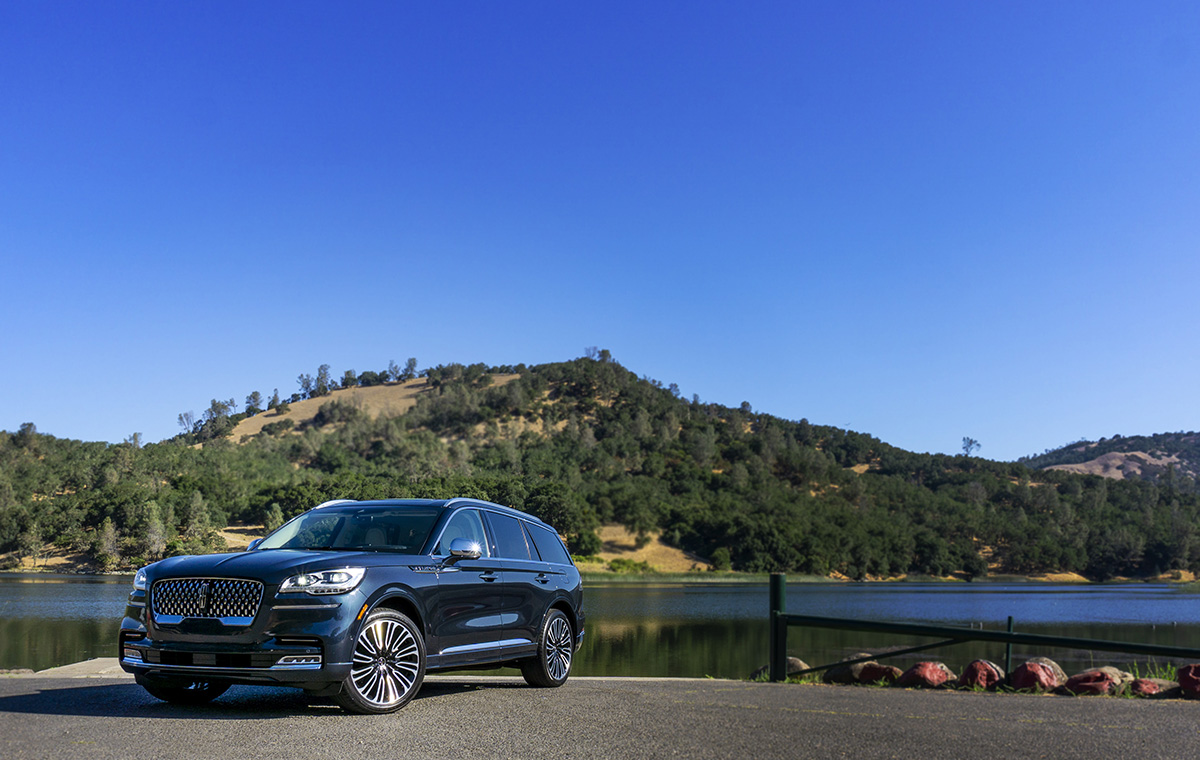 If you're going to visit Napa, this is a pretty good way to do it. Starting with a 15-minute helicopter ride from San Francisco to Napa County Airport and a quick shuttle from there to the Hotel Villagio in Yountville. My mission, drive the latest entry from Ford's luxury car division, the 2020 Lincoln Aviator SUV.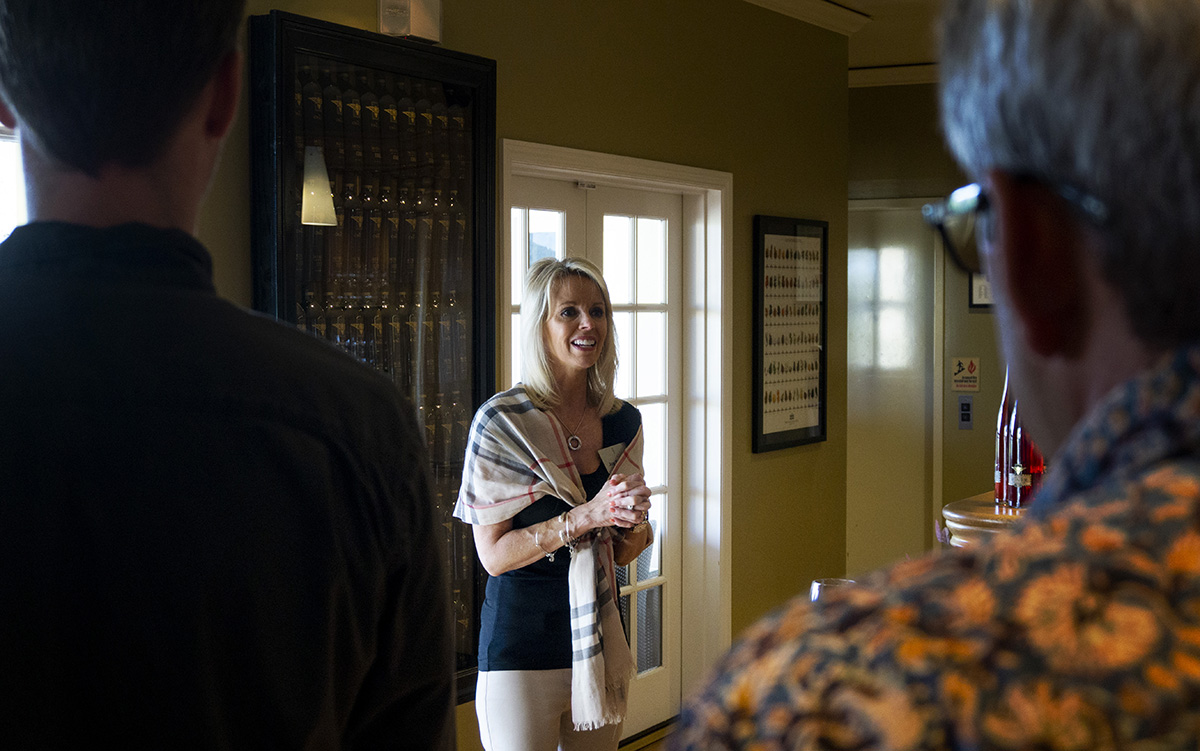 Napa is a study in contrasts. Overall the vibe is cool and understated. While visitors wear organic cotton shirts, huarache sandals from ethically sourced leather, and drive to eco-friendly resorts in their luxury SUVs, the locals keep things real with dusty blue jeans, work boots, and patinated pickups. It's a tough environment for Lincoln, a brand that lost its way a generation ago and has been on the long road back for the past few years. Starting with the 2015 MKC the Lincoln lineup has been improving and showing more promise with each introduction. With the new Aviator, that promise is fully realized. What they have delivered is a world-class, luxury SUV. Granted, I spent my time in the more upscale Reserve and Black Label versions of the Aviator, but when you look at what Aviator offers at these levels in terms of performance, capability, comfort, technology, safety, and design, it deserves to be mentioned in the same breath as competing models from BMW, Mercedes-Benz, Audi, and Lexus with no asterisk or apology necessary.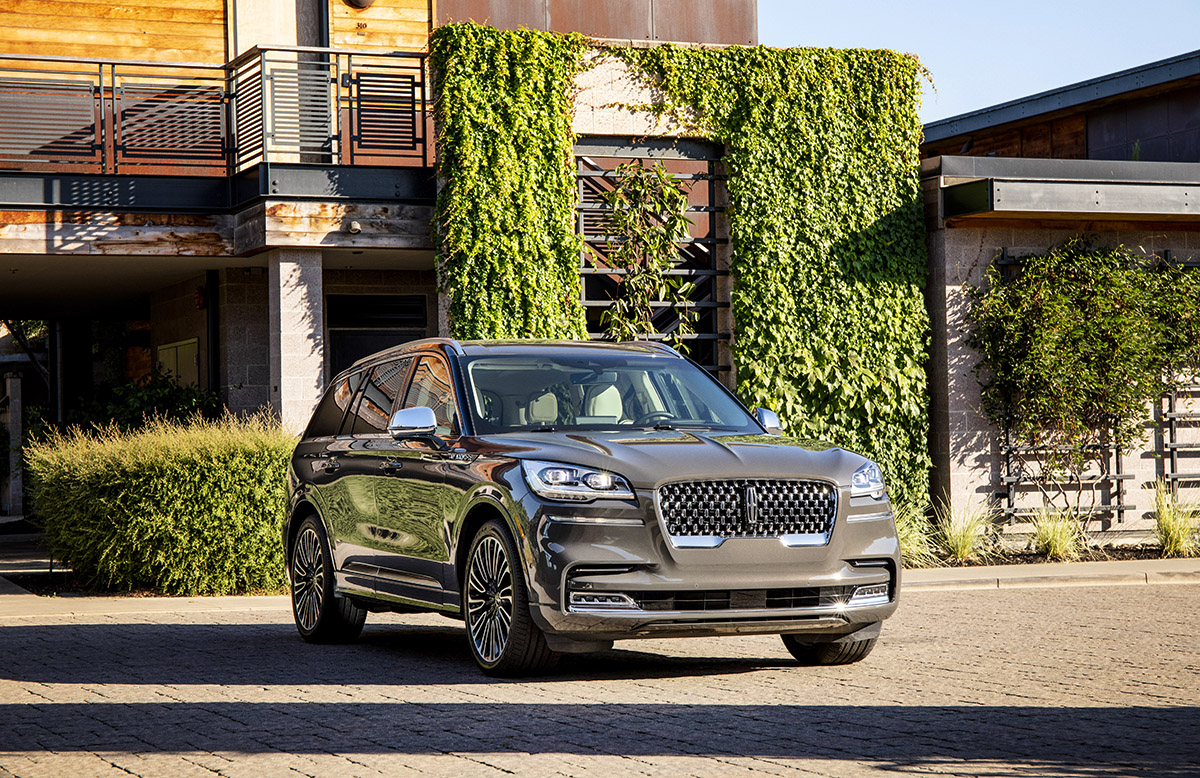 The version grabbing all the headlines is the Aviator Grand Touring, a plug-in hybrid powered SUV that makes 494 horsepower and 630 pound-feet of torque by pairing a 3-liter, twin-turbo V6 with a 75-kilowatt electric motor. It's only available with all-wheel drive and offers startling performance for a nearly 5,700 pound vehicle. Even with all that torque you won't confuse it for an X5M or Range Rover Sport SVR. This is a Lincoln and they're all about "Quiet Flight," so the power is paired with a smooth shifting 10-speed automatic transmission that's used to make things like towing, passing, and just getting around town effortless. The same is true for the Aviator without the plug. Powered by the same 3-liter engine and weighing 780 pounds less, it makes a very respectable 400 horsepower and 415 pound-feet of torque tuned to do it's best work in the low to mid-range. This isn't an engine you want to wind up and hear howl, though it does elicit a throaty growl under hard acceleration. And while the power is noteworthy, that's just a small part of the Aviator's story.
This is a brand new SUV sketched from the ground up to be the ultimate expression of a modern Lincoln. It starts with its shape. While we love sedans and coupes, America has an unquenchable thirst for SUVs. Among luxury SUVs, there's no segment hotter than the large three-row models. They are what people want and where the profits are made. So Lincoln could afford to invest in making the Aviator not just the best Lincoln ever, but one of the best in the category. The silhouette is All-American, big, and brawny, but graceful. Bright accents are tastefully and judiciously applied to highlight the tapered roofline, the deeply concave side door panels, and the signature grille. Large wheels – 19s are standard and our Grand Touring test car wore 22s – pushed well out to the corners give Aviator an athletic and confident stance. The expansive yet horizontal side glass and long hood harken back to the Lincoln Model K Town Sedan of the 1930s. Lincoln's designers have pulled off a very neat trick creating a vehicle that manages to look contemporary and timeless at the same time.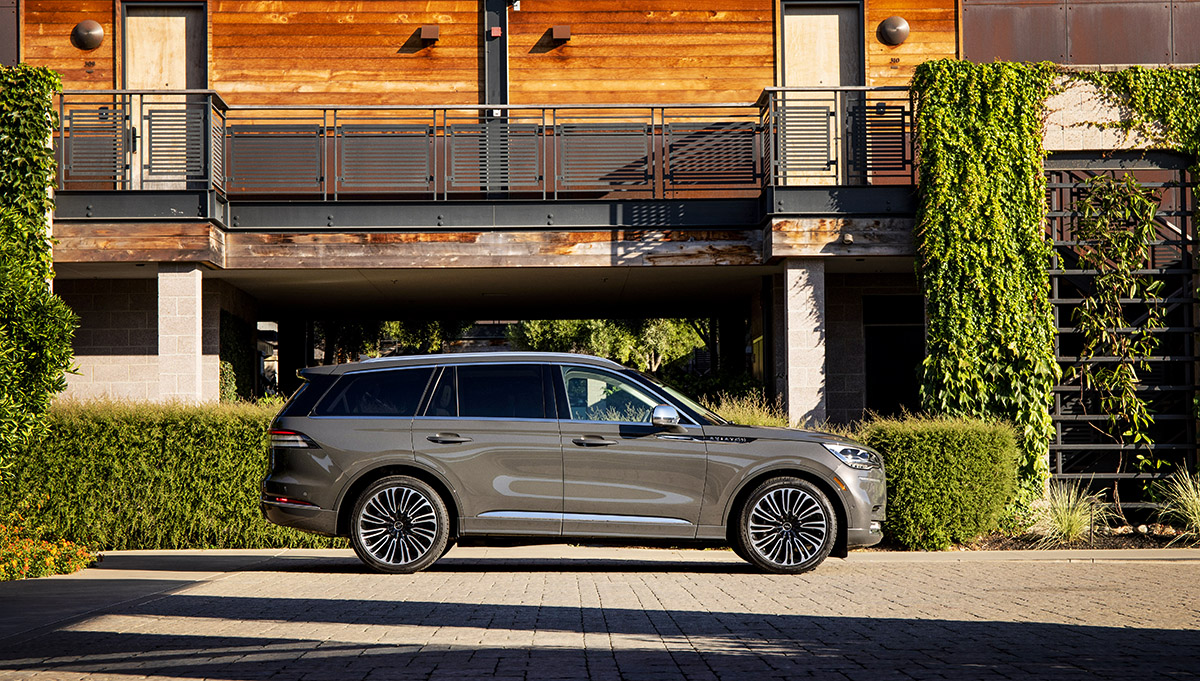 Inside the sense of refinement, luxuriousness, and timelessness continues. The base car, coming in at just over $52,000 has a more utilitarian feel, but move one step up to the Reserve trim and things get special. Order yours with a Black Label package, especially the deep, rich Chalet theme, and luxury awaits. Lincoln's Perfect Position driver and front passenger seats continue to set the industry standard for adjustability and comfort. Even though it was 95 degrees outside, with the air conditioning keeping things comfortable in the cabin, I took advantage of the heated and massaging seats to loosen my back up on a long, freeway portion of the drive route. Second row passengers are treated to the comfort of heated captains chairs (a three-seat bench is optional in base configurations) and the third row while tight, offers enough space for six-footers if you're not going to be back there too long.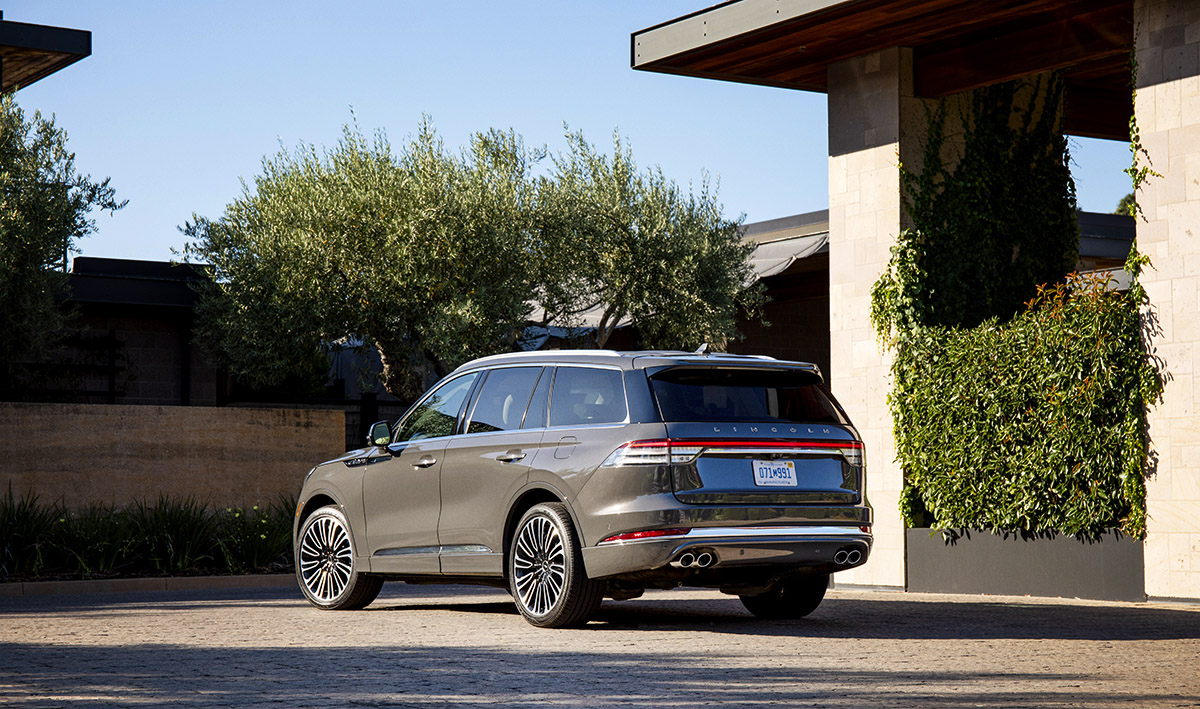 A couple of other interior highlights are the Revel Ultima 3D sound system as well as the available driver assist and infotainment technology. I have been consistently impressed with the quality of sound in Lincoln's Revel systems. They add a bit to the bottom line, but if you're into music, they're worth it. I got a preview of the 3D system back in April and wrote extensively about it here. The short version is you have 28 perfectly placed speakers including four in the roof creating that three dimensional effect and more accurately replicating the sound of a live performance. You can read about it all you want, but the only way to truly appreciate it, is to experience it. That alone is worth a test drive.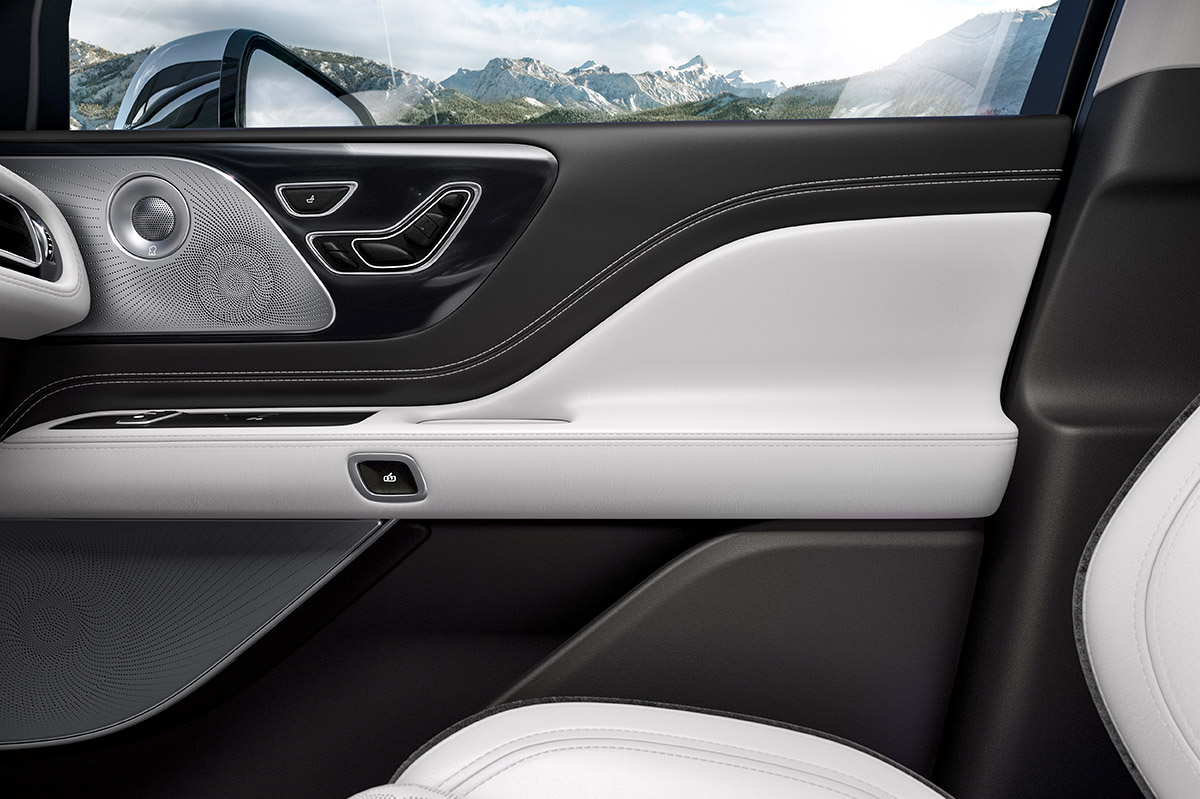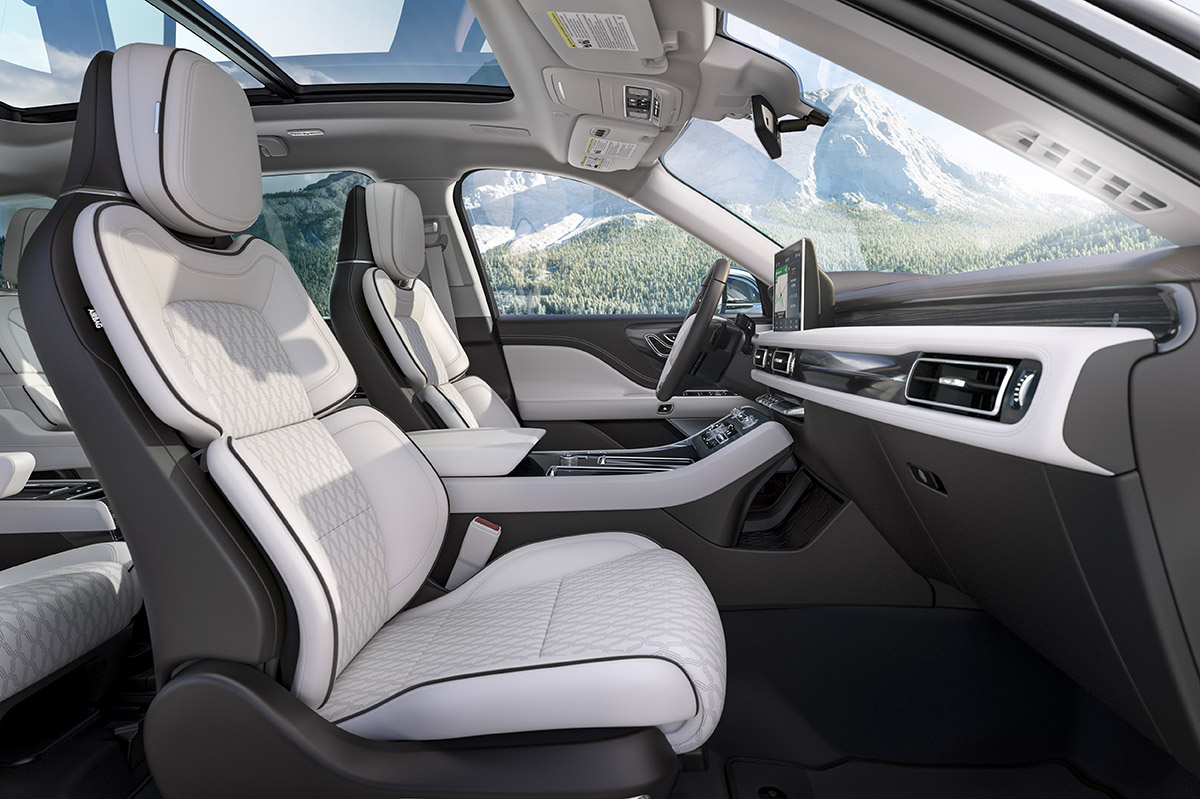 As far as driver assist technology, Aviator has it all. Lincoln's available Co-Pilot 360 Plus packages the most important features into a hands-on, semi-autonomous system that makes driving on the highway or in rush hour traffic a lot less stressful. Dynamic cruise control with stop and go, lane centering, and speed sign recognition come together so you can set Aviator to keep to the speed limit (or a little faster or slower if you prefer) and as the limit changes, the front view camera will read the signs and tell the cruise control system to speed up or slow down accordingly. Of course it tracks the cars ahead of you and won't speed up until traffic allows. Lincoln also includes pre-collision assist with emergency braking, lane keep alert and assist, a rearview camera, auto high beams, and blind spot detection with cross traffic alert on every Aviator. The optional digital instrument panel displays it all clearly.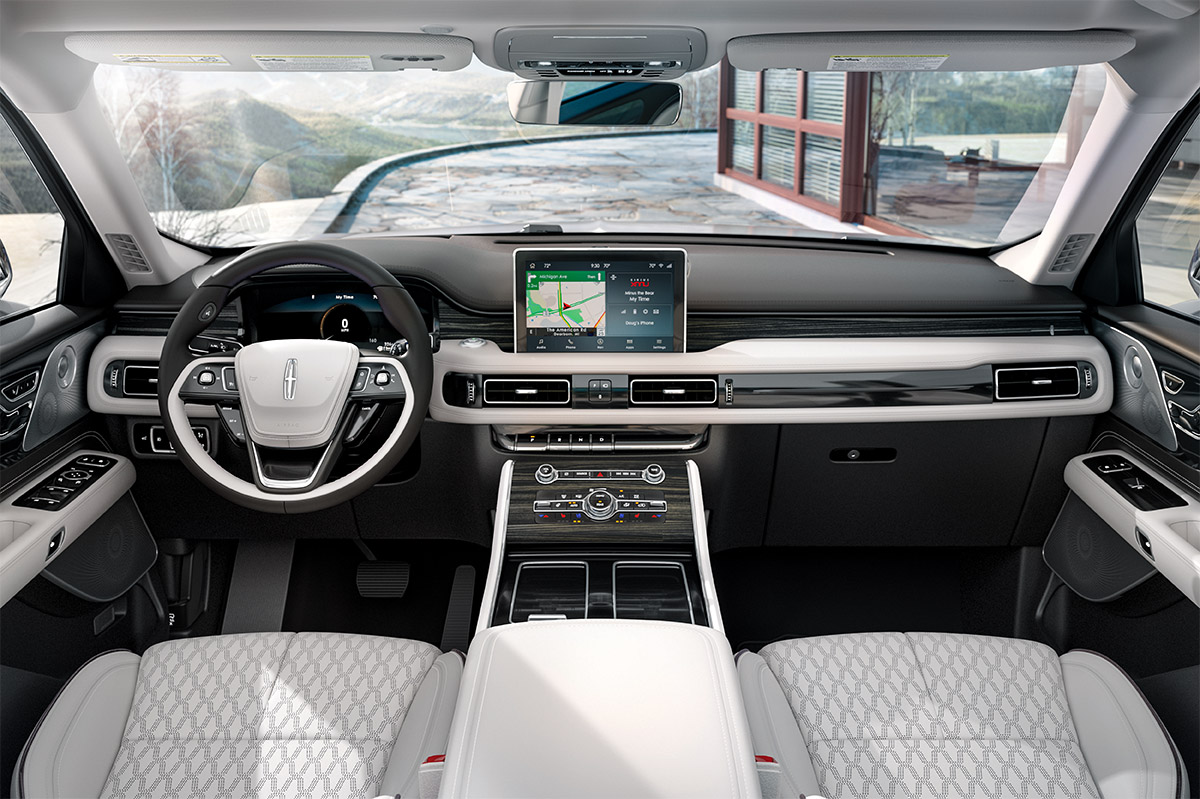 The center stack uses a well thought out combinations of buttons, dials and touch screen controls to allow the driver or passenger to adjust the temperature, entertainment, navigation, and other applications. The only disappointment here, and one of the very few bones I have to pick with Lincoln on the Aviator, is the quality and design of the screen. It feels as if it's just dropped on a shelf above the controls and the materials used to house it are out of character with the rest of the interior. Hard plastic "chrome" surrounds the screen and the housing is also hard plastic. I wish they could have found a way to integrate the screen more organically into the dash area, maybe even using a unit more horizontal proportions like Mercedes-Benz and Lexus do. Otherwise the dials, switches, buttons, and trim bits are excellent including the wood or machined aluminum inserts which complement the chosen Black Label theme.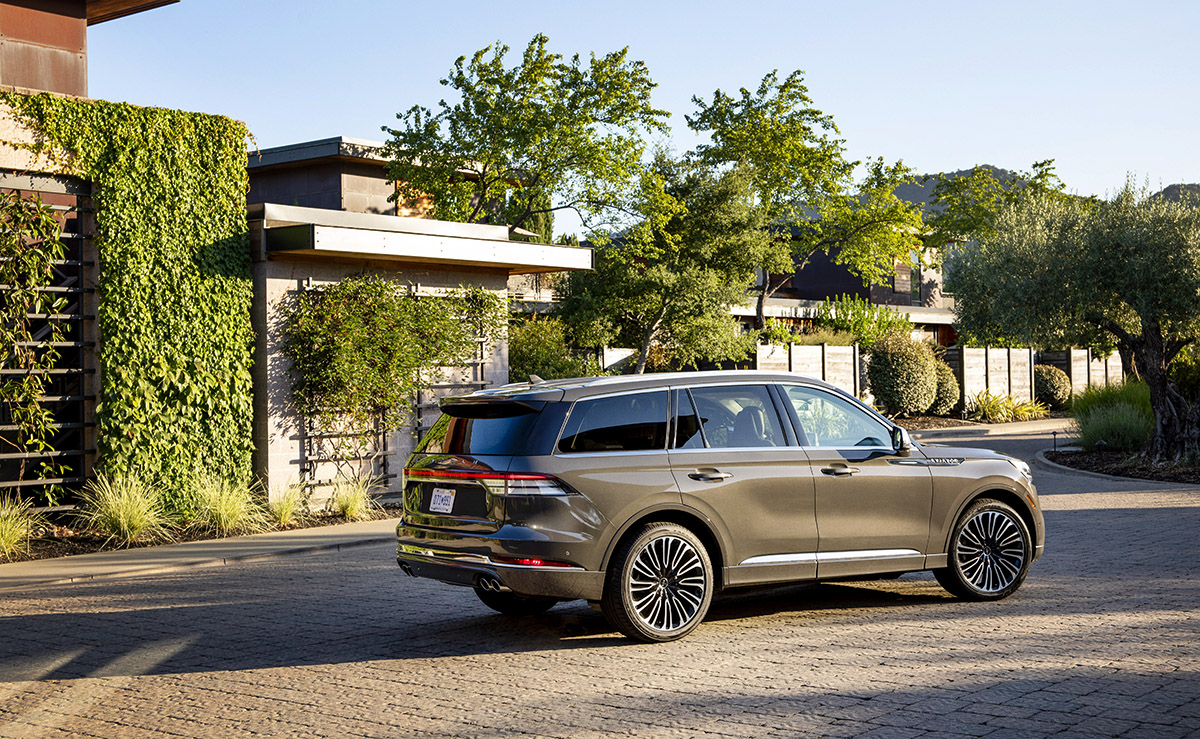 Ride and handling are exactly what you'd expect and more from a top of the range SUV designed for comfort. Again, in base trim Aviator uses conventional coils springs with a well calibrated dampers in an independent set up. But if you have the means, order your Aviator with the Dynamic Handling package. An adaptive air suspension replaces the coil springs and traditional dampers, providing the appropriate ride quality depending on the drive mode you select. It also can be lowered for easier entry and exit, and raised in the case of deep snow. This package also includes Lincoln's road preview with pothole mitigation. The system uses cameras to scan the road ahead and if it sees anything – bumps, potholes, significant broken pavement, etc. – it makes quick adjustments to keep from upsetting the driver and passengers. In the case of potholes, it can keep the wheel from dropping completely into the hole reducing the impact on the tire and rim, something drivers in big cities with bad roads like Chicago, Detroit, and Boston will appreciate.
Pricing for the Aviator Standard starts at $51,100 before options and destination charges. This gets you the 400 horsepower twin-turbo engine and rear wheel drive. Aviator Reserve adds a lot of content including and upgraded interior and Lincoln Co-Pilot360 Plus starting at $56,190. You get all the good stuff in Aviator Black Label for $77,695. Aviator Grand Touring starts in Reserve trim and is priced at $68,800. Option up a Grand Touring Black Label Aviator and the price reaches an eye-popping $90,000 and change. That's a lot, but when you consider a loaded X7 xDrive50i or GLS 550 – both with less power and torque – will easily exceed $110,000, it starts to look very reasonable.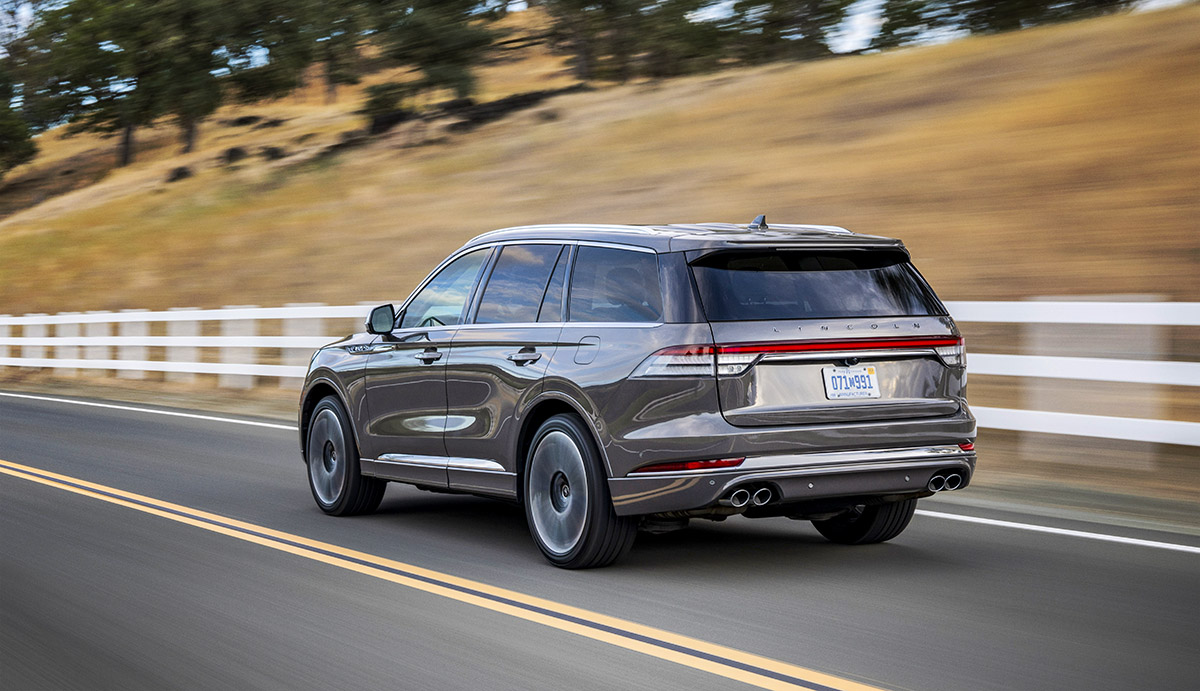 For most brands these four-door, all-wheel drive, six-passenger land yachts have become the statement vehicle in their lineup. In essence, Aviator is really the new Continental. Viewed that way, it's going to become much more than uncle Moneybags' hauler. The Aviator will also see duty as the CEO's company car and the Black Car of choice for executive limousine services around the country. After spending a day kicking around Napa rubbing shoulders with owners of all the other luxury hardware, it became abundantly clear, Aviator is ready to take its place among the best in the business.