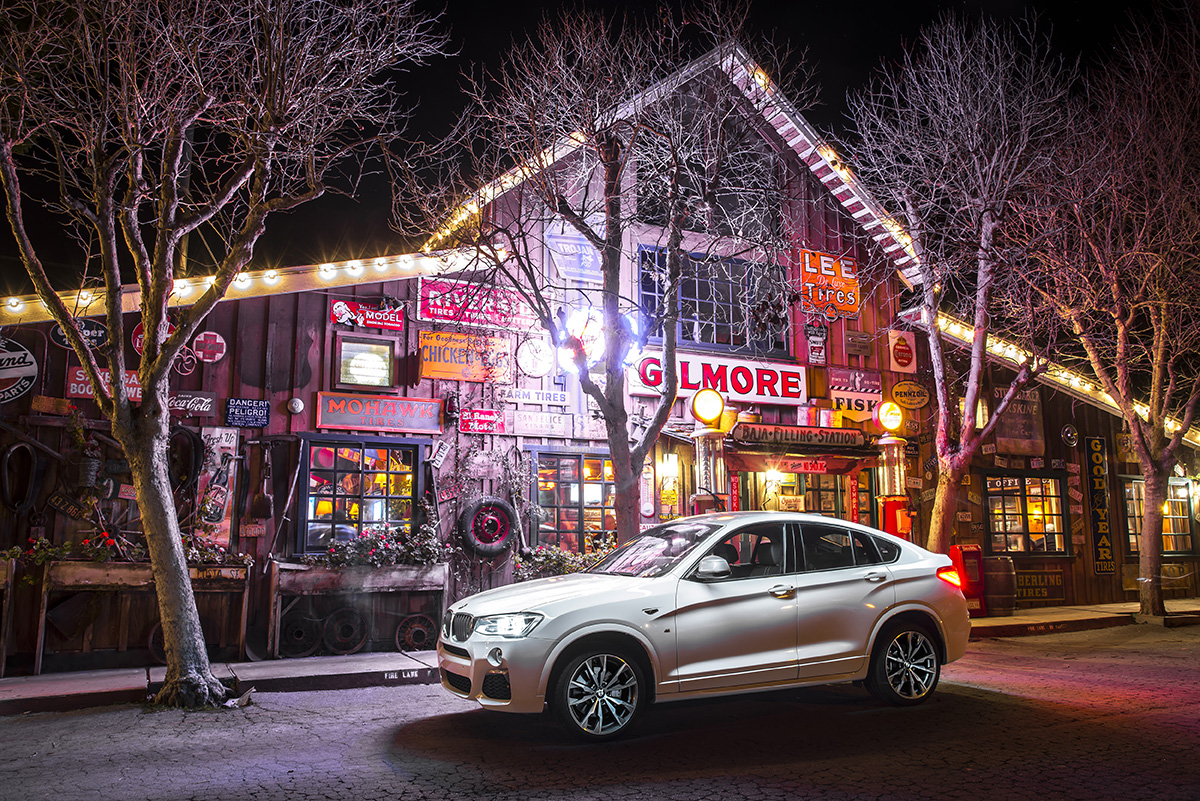 Let's face it. We love our SUVs and Crossovers. So the fact that BMW has filled another niche with an all-wheel-drive, luxury crossover is hardly surprising. In fact, given the way we're trading in our sedans for these high riding, load hauling, go anywhere vehicles, it makes all the sense in the world. The challenge comes from those of us who love to drive, who prefer a sports car to a truck, who'd rather drive than ride. And for us, BMW has created the new X4 M40i.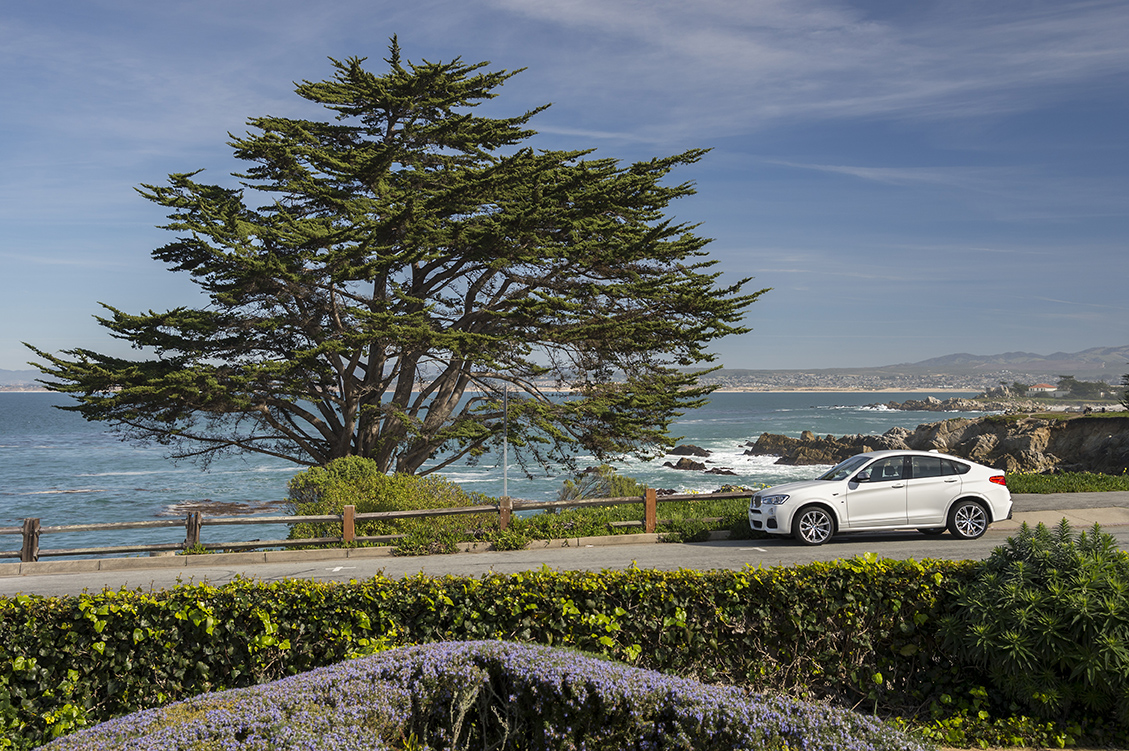 Powered by significantly improved twin-scroll turbocharged, inline 6-cylinder engine, the X4 M40i is surprisingly quick. It hustles from 0-60 in well under five seconds making this one fast grocery hauler. The engine has a pleasing sound, though it's not overpowering. And while it makes its peak horsepower way up between 5,800 and 6,000 rpm, the torque curve is relatively flat, meaning its 343 pound feet of torque is available from 1,350 rpm on up to 5,250 rpm.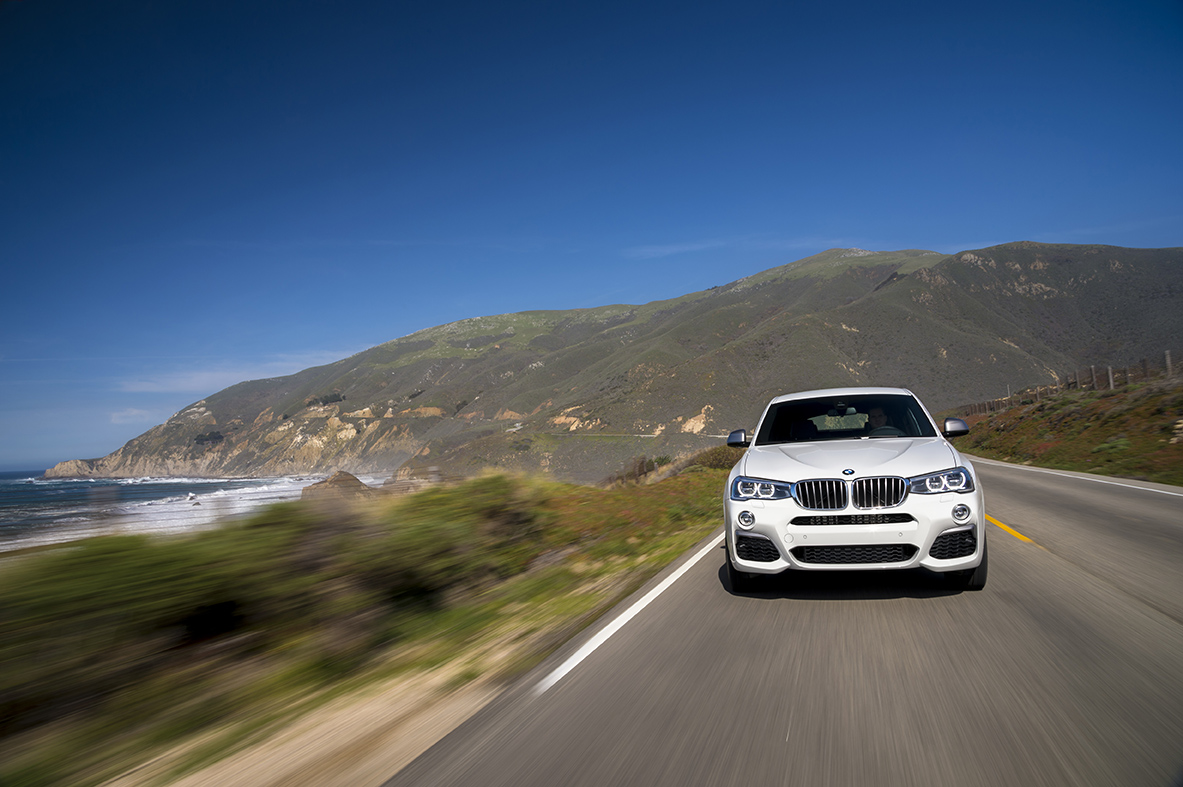 This means the engine provides a very satisfying driving experience whether you're hustling around town doing errands, towing your family's day sailer, or slicing up the corners on the Pacific Coast Highway. The 8-speed automatic transmission is geared more toward sports driving and the paddle shifters allow you to take control when you really want to let it fly. Set the drive control to normal, take it easy on the throttle, however, and the car delivers very reasonable fuel economy of 19 mpg city, 26 highway.
BMW's M division has worked its magic with the X4 M40i's suspension and steering. They have introduced more camber into the front end as well as added stiffer springs and beefier stabilizers front and rear to reduce body roll and improve cornering. The steering feel is much better in this model. BMW has tweaked their Electronic Power Assisted Steering module to deliver more feedback, so when I was powering through a particularly twisty and challenging section of Carmel Valley Road, it inspired 100% confidence knowing the car would go exactly where I pointed it. And with the addition of 20-inch wheels shod with Michelin Pilot Super Sport tires, it stayed there, no matter how hard I pushed it.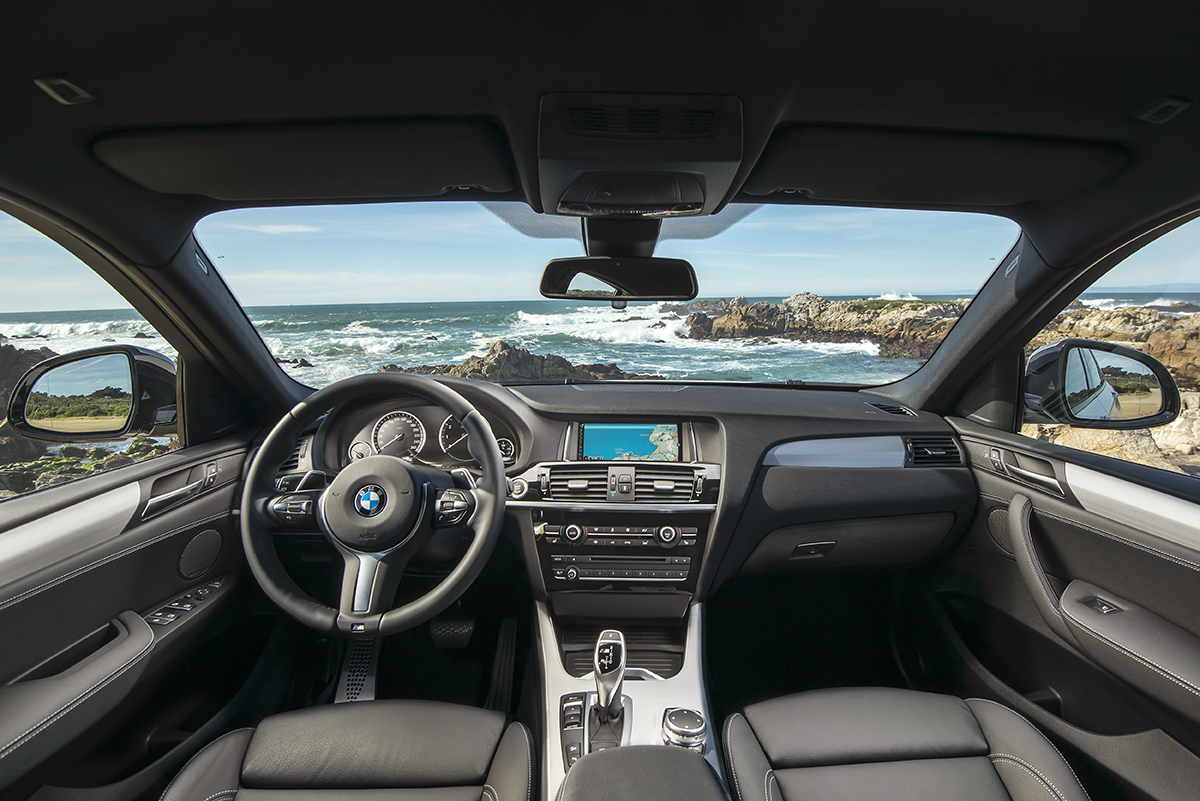 Inside, sporty is the theme of the day. The fat, M-sport steering wheel looks and feels great. The seats strike a nice balance between support and comfort. The dash is designed with big dials and gauges as a sports car should. The overall quality, simplicity and focus of the design and materials adds to this effect. And then there are details like the perforated aluminum dead pedal that helps keep the driver in place when the lateral Gs build up in the corners.
That's not to say the X4 M40i isn't comfortable. It is. There's plenty of room up front and even the back seats have enough room for a couple of 6 footers.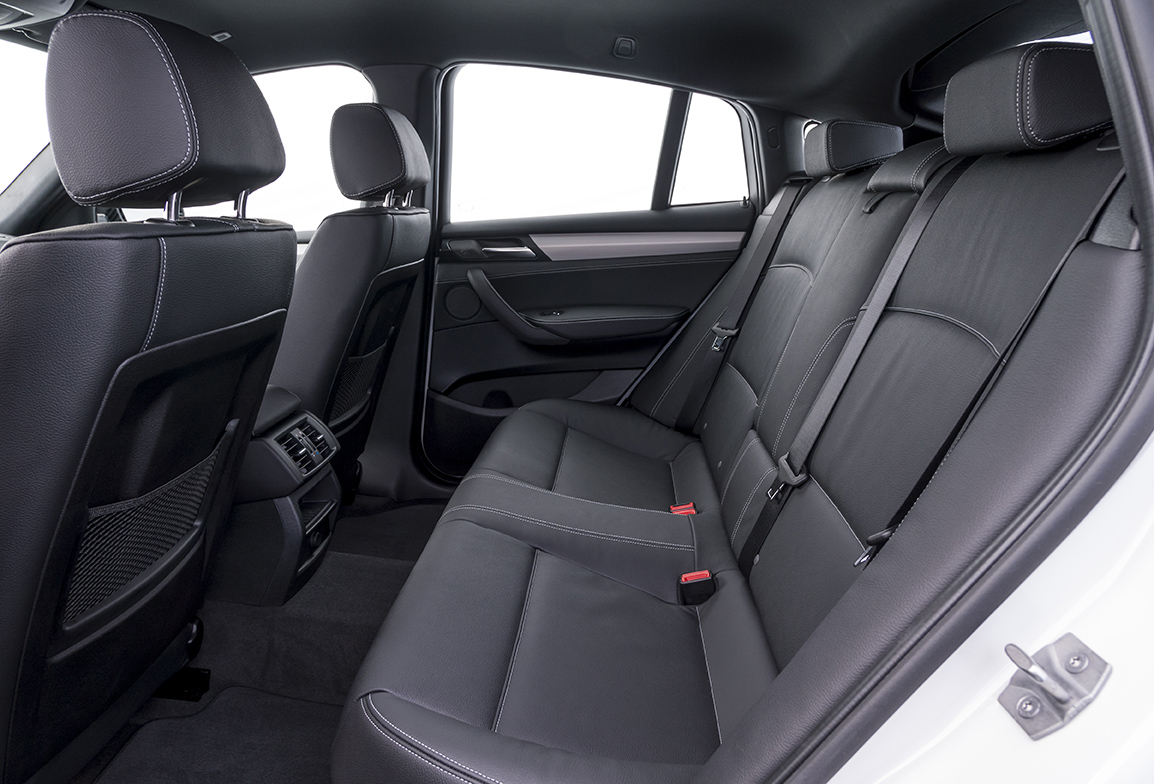 As you would expect, the X4 M40i is available with all the latest comfort, entertainment and safety technologies. From heated front and rear seats, a heated steering wheel, satellite radio and navigation to blind spot detection, collision warning systems and full surround cameras, there's virtually nothing you can't get when you run down the option list. BMW's iDrive is by far my favorite interface for these systems. You can tell by the intuitive nature of the controls and the speed by which you can shift from screen to screen that BMW has been doing this longer than anyone else. They've learned a lot over the years and we're now the beneficiaries of their education.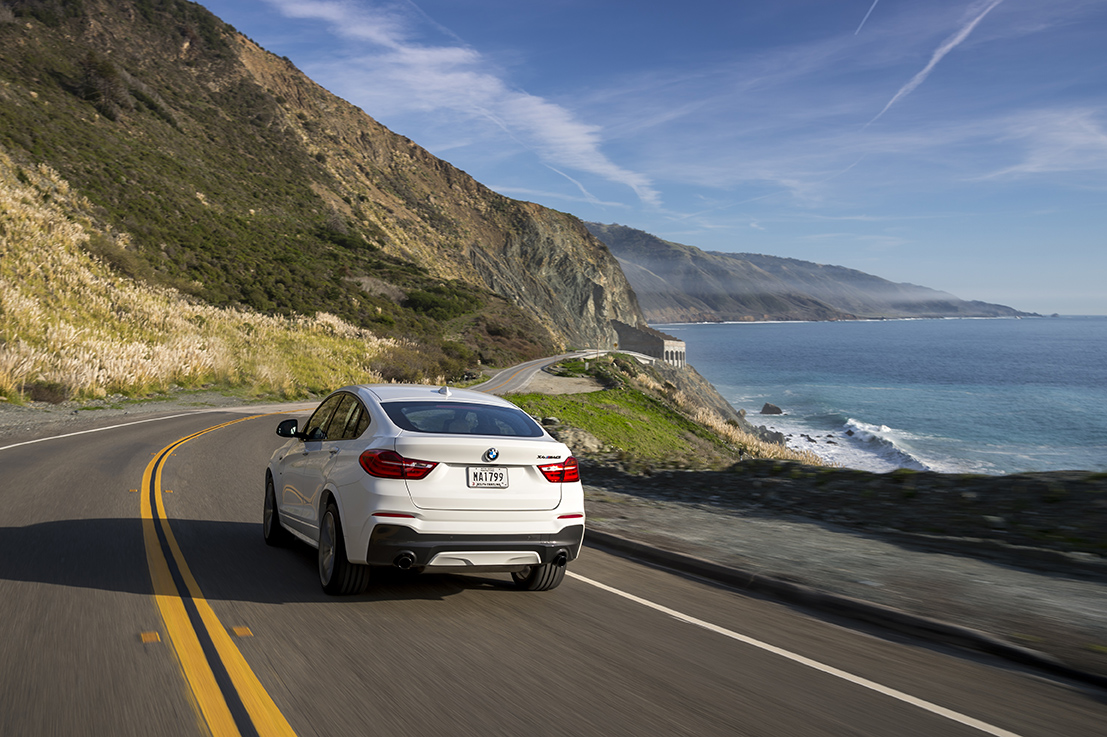 Then of course there's the utility. The split folding rear seats configure a number of different ways providing up to 49.4 cubic feet of storage space. All in all, this top-of-the-line X4 provides a very satisfying driving experience without any significant compromises. If you're looking for a go-anywhere crossover that's as fun to drive as it is useful, then the BMW X4 M40i should be on your shopping list.
2016 BMW X4 M40i
Compact All-wheel-drive Crossover
Base Price: $57,800
Price as Tested: $68,600
Engine: 3.0L turbocharged inline 6 cylinders
Horsepower: 355 @5,800–6,000 rpm
Torque: 343 lb.–ft. @1,350–5,250 rpm
Transmission: 8-speed automatic with paddle shifters
Curb weight: 4235 lbs
0-60: 4.7 seconds
Top Speed: 150 mph (electronically limited)
Mileage: 19 city mpg, 26 hwy mpg
While BMW paid travel expenses and provided the car for this story, the opinions contained are our own.