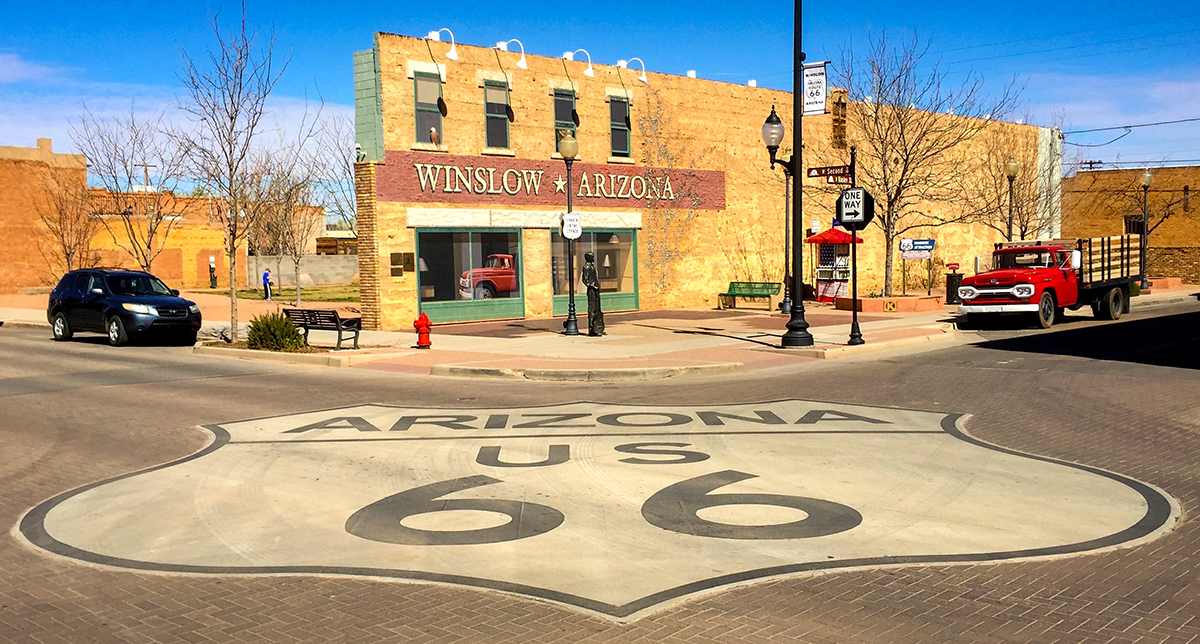 The song
"Take It Easy" was the Eagles first single and a bona fide hit that has stood the test of time. Not a bad way to kick off a 40+ year musical career. It doesn't hurt when one of rock's great songwriters, Jackson Browne, gives it to you. Browne and Eagles' frontman Glenn Frye were friends and neighbors in the early 1970s in Los Angeles. According to Browne, Frye heard the song as Browne was in the process of writing it and loved it. But it wasn't finished and Browne was struggling with the second verse which famously begins, "I was standin' on the corner in Winslow, Arizona." After hearing Browne tell this story of his car breaking down on Route 66, leaving him stranded in the small Arizona city. Browne recalled a woman in a Toyota pickup driving past, checking him out. Taking a little poetic license Frye wrote the next line, "It's a girl, my lord, in a flatbed Ford slowin' down to take a look at me." Unfortunately for Toyota their name doesn't rhyme with "lord."
Featuring layered guitars, an infectious beat, and some of the sweetest four part harmonies in rock history, Take It Easy shot all the way to number 12 on the Billboard Hot 100 chart in 1972. It remained on the charts for just 11 weeks, but its impact is still felt today not just musically, but in the guise of Standin' On The Corner Park in Winslow, where a statue of Glenn Frye now stands and a late '50s or 1960 Ford F-500 flatbed truck sits. The park was created in 1999 to help attract tourists to the town that fell on hard times after I-40 routed most tourist traffic a mile north of town from Old Route 66. The park features a mural by American artist, John Pugh as well as the statue of Frye by sculptor Ron Adamson that was added in 2016 shortly after Frye's death in 2016.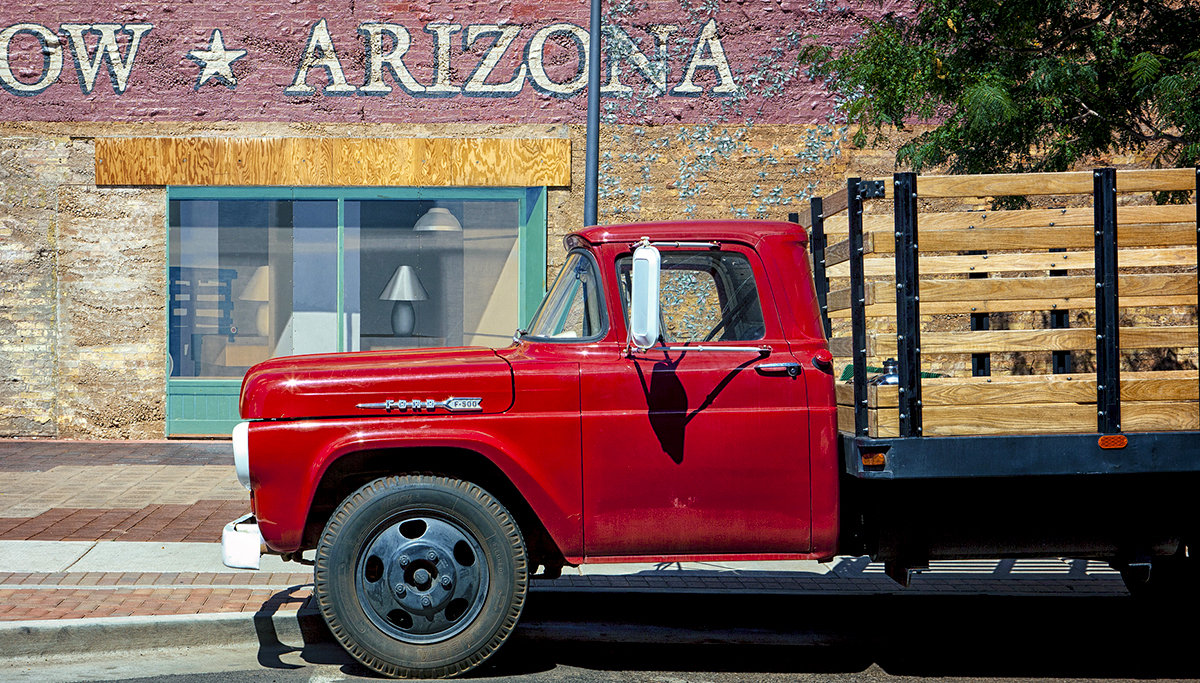 The truck
While Frye never specified the year and model of the truck, creators of the park found a Ford F-500, restored it and parked it on the corner of 2nd (old Hwy 66) and Kinsley in downtown Winslow. A third generation F series, the truck was produced sometime between 1957 and 1960. Thanks to the badge on the truck's hood, we know that it is powered by a 223 cubic inch Mileage Maker inline 6. A workhorse on farms and ranches throughout the U.S., this particular F-500 has been restored with a 12-foot steel bed and removable stakes that would have been used on a truck intended to haul hay around a ranch. Now it does an even more important job, connecting the town with its little bit of rock history and drawing tourists from all over the world.