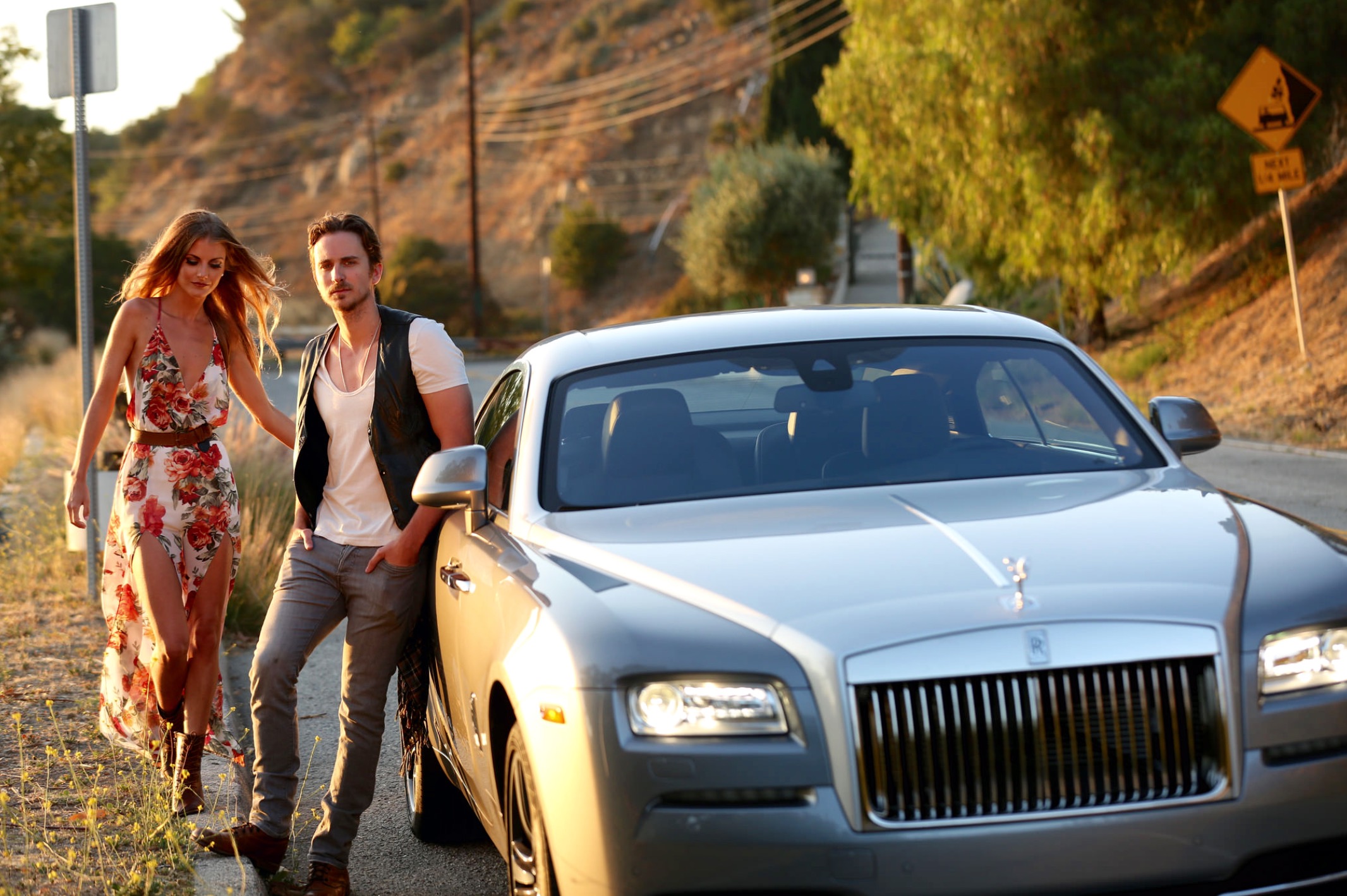 Tyson Sullivan is a Texas-born actor who has been getting rave reviews for his portrayal of Hondo, a villainous white supremacist on the Cinemax series Banshee. While the characters he plays often lean to the dark side, Tyson is as laid-back and easygoing as they get. We caught up with him the other day to talk about cars, his new-found fame and a little run in he had with the law when he was a teenager.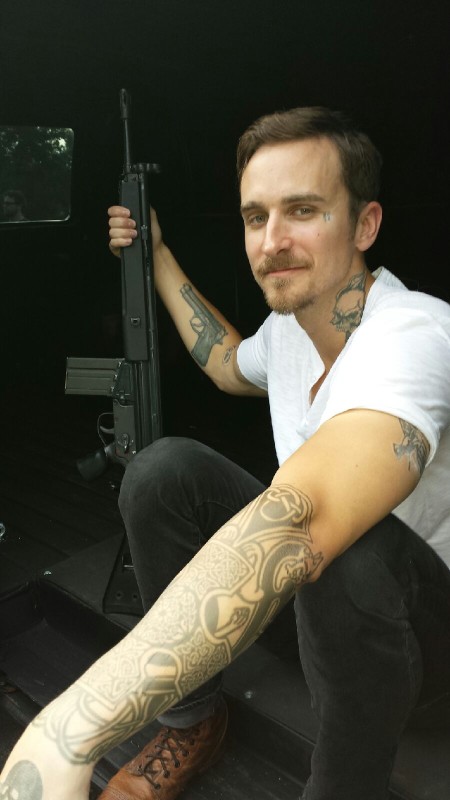 Hello Tyson, thanks for taking the time to talk with me.
No problem. Anytime I get to talk about cars and driving is a good day in my book.
What kind of car did you learn to drive in?
The first car I ever drove was a Jeep Wrangler. My first stick shift car was an old Toyota delivery truck for my buddy's dad's company. That's the car I really learned to drive in, but I always harken back to that Wrangler because it has a lot of sentimental value for me. It was black with the half doors that I never had on. I put a 4-inch suspension lift on it with 33 x 12.5 mud terrain tires, CB radio, all the stuff a high schooler loves. Perfect for Dallas, Texas where I grew up; the land of jacked up trucks, Wranglers and Camaros.
We used to love to go muddin' in that Wrangler, pull off the highway onto who knows whose land, and just drive. We'd look around for cops and take off as soon as they showed up. I got busted one time and they called my parents to come pick me up. It was pretty embarrassing in front of all my friends.
What do you drive now?
I drive a supercharged Range Rover which has enough power for me to get into trouble with. It's a fun one because it's a big car, but it can get moving pretty quick. I like it because it's really comfortable, but here in L.A. I don't have to worry about pot holes or anything else that might be in front of me. Inside it's very nice, but it's crazy what this car is capable of.
Do you like taking road trips?
I love driving. All car guys seem to have a love for getting in the car and driving. Your mind just shuts down and you go to a different place. Surfers call it being in the wave. It's the same thing with driving for me. My wife and I went on a trip once, in my '02 Pontiac Trans Am Firehawk. We drove from L.A. to Dallas without turning the radio on the whole way. It was just the two of us and one of the most memorable trips we ever took.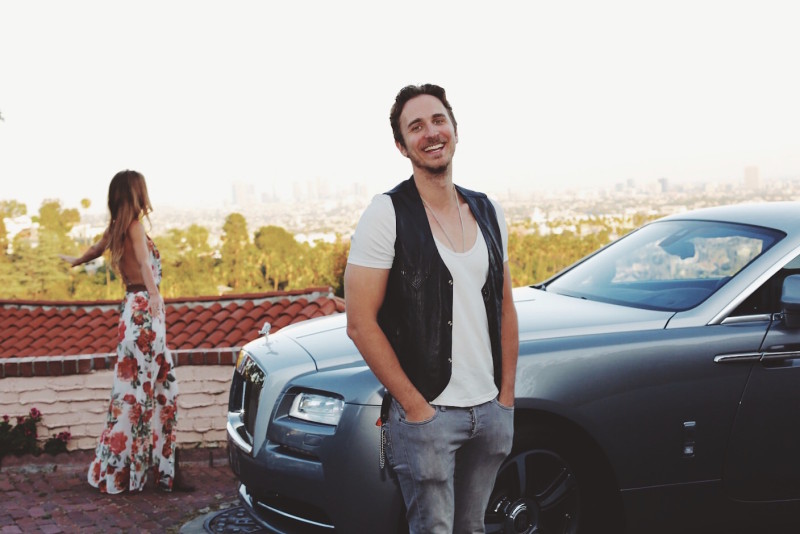 Our most recent road trip was a few weeks ago when Rolls-Royce gave us a Wraith to drive around for a week. We figured we had to go someplace cool and picked Palm Springs. I couldn't have picked a better riding car to do that trip in. It ruins you for every other car. I drove that around and got back in my Range Rover which is a great car and I could feel the bumps now as opposed to gliding over the road like you're halfway flying.
Why did you pick Palm Springs for your trip in the Wraith?
It's a good distance but not too far. There's a really nice road closer to Palm Springs where you get off the interstate and it's really pretty driving along a mountain ridge. Palm Springs is a lot of fun. We stayed at this little place called Avalon. It's more of a boutique hotel with three pools and beautiful villas. It's really first class.
Where else did you drive the Rolls?
One evening we went to this really hot sushi spot called Katsuya. It's not a place I'd normally go to, but when you have a Rolls-Royce you ought to go somewhere that's a little more Hollywood, right? It's really hard to keep a low profile in this car. When you pull up in a Rolls, the paparazzi assume there has to be somebody famous in that car and they figure out pretty quickly who you are. Every time you park that car somebody is taking pictures.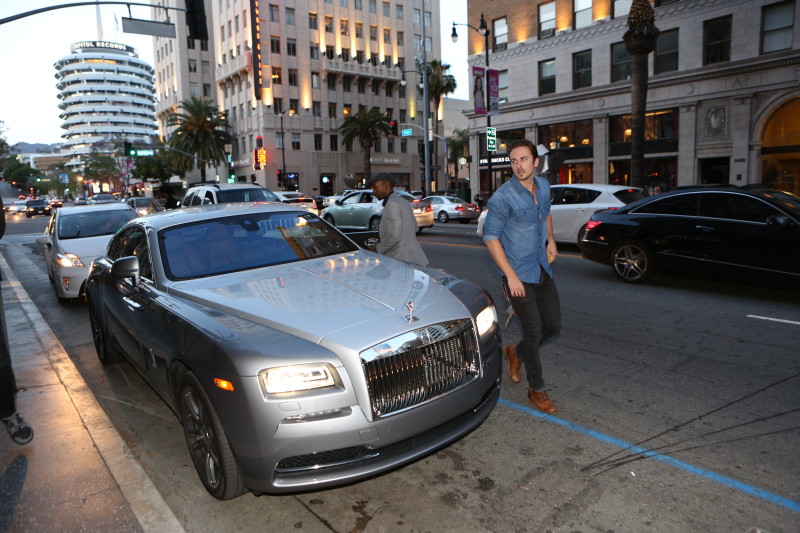 What surprised you most about the Wraith?
You always hear about the ride, but you can't really know what it's like until experience it first hand. We live up in the hills and the roads going up to my house are pretty bad. It flattened the bumps out like they were nothing. I don't even know how it does it. You know it's wizardry to me. Another piece of wizardry is the bird's eye view camera. It just makes parking it so easy. Then there's the fit and finish. It's crazy nice. My car was a beautiful silver on gray with a black interior. But for a car that costs $350,000 dollars, it didn't feel like it had its nose turned up at you. Overall it has a casual, comfortable feel.
Okay so onto other subjects. You're a car guy; manual or automatic?
Oh, manual all day long. No question. I have a buddy who's a stunt driver and every time we'll go out, he'll bring cars with paddle shifters, and I get that it's faster, but there's something about a manual. The car has a soul and when you're shifting through the gears. You can feel it. You're more connected to the car and the road.
There are a lot of great cars out there right now, any that you're just aching to drive?
I love what the American car companies are doing. I love the Z06, the new Ford GT, Shelby 350 Mustang, Dodge with the Hellcat, the Cadillac CTS-V and I was really stoked when I saw Lincoln is coming out with the the new Continental.
What's the one feature you can't live without?
Bluetooth. The car is my office and I have to have that to stay connected. The Bluetooth radio makes it feel like I'm driving in the future.
What's the first thing you do when you get in a car?
The first thing I do is put on my seatbelt (that's for my mom!). But once I put on my seatbelt, I turn on some good tunes. Right now I'm listening to a lot of late '60s, early '70s music, Motown, rock, etc., for a new show I'm working on. And what you listen to really affects your driving. It sets the mood and can really enhance the experience.
Those are all the my questions. Thanks so much for joining us at Rides & Drives. Keep the shiny side up!
My pleasure, I really enjoyed it.