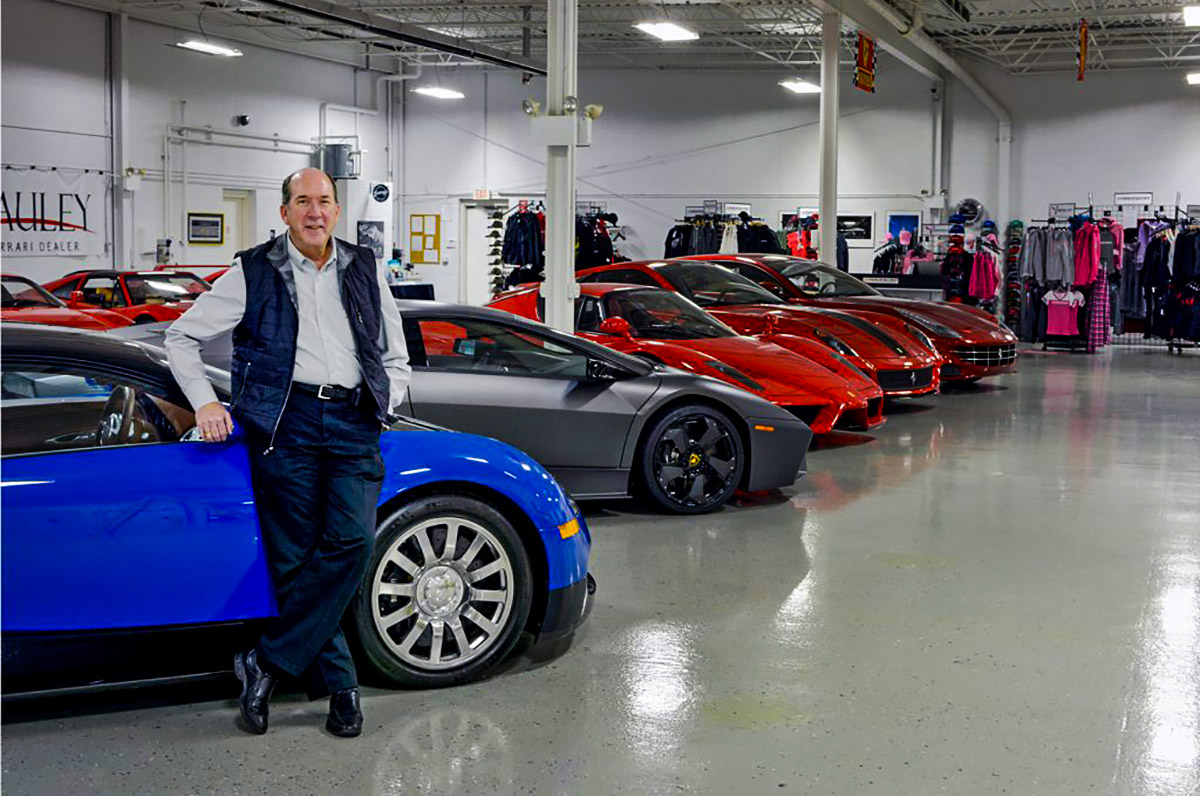 Like so many other enthusiasts and collectors, Ken Lingenfelter was hooked on cars from a very young age. Of course, having a father that was employed by General Motors certainly didn't hurt, nor did growing up in the heart of the American automobile industry. We were fortunate enough to catch Ken during a relatively slow day at Lingenfelter Performance Engineering and got a chance to speak with the entrepreneur, racer, philanthropist and collector recently about all things automobile; from his early experiences to why he has one of the greatest car collections in the world.
Having grown up with your dad working at General Motors, do you remember if there was one particular event that sparked your interest in cars?
Yes, I do, actually. What was interesting was that my dad was in management at the Fisher Body plant so he'd come home for dinner and take me back to the plant after dinner because he would work late. So, I was always walking around the assembly line with all these cars, I'm 67 years old so this was a long time ago. The time that sticks out is when I was about 10 years old, he took us to an open house at the General Motors Tech Center in Warren, Michigan, and I'm not quite sure what GM did to their guys back then, but they were extremely loyal. We had Frigidaire stuff all over the house because GM owned Frigidaire. My dad was very focused on his career and General Motors. At that show at the Tech Center they had the '63 split-window Corvette. That car just did something to me, took my legs out right beneath me. Looking through that back window into the cockpit of that car is something I can remember to this day. They also had the Mako Sharks out there. As a result, I was already a car guy at age 10 but from that point I was going to be a Corvette guy for life. Even today, I have about the prettiest '63 split window fuelie in the collection that you'd ever want to see. I still love looking through that back window. It's pretty amazing to me.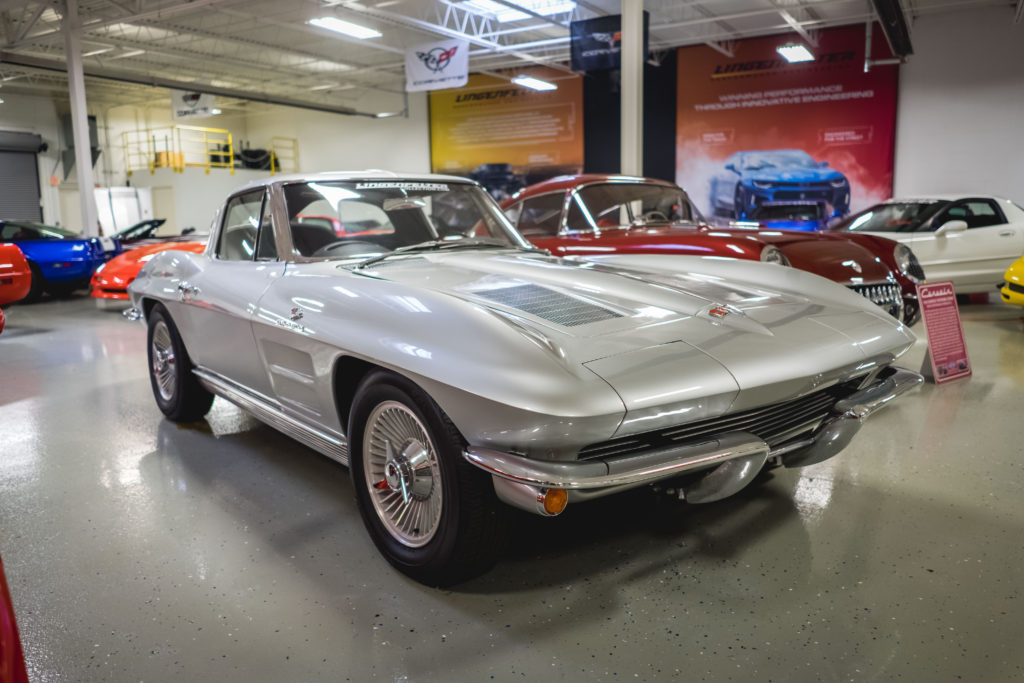 Do you remember the first car you owned?
Oh yeah. I was real enthusiast all the way through, couldn't wait to get my driver's license. The first car was a '67 Olds 442, fawn beige with no vinyl top. It was a pretty good car back in the day, it wasn't brand new, but it was a car that worked for me. From that point it was Camaros, since that's what I could afford. The next really serious car I got was a '69 396, 375hp Camaro with solid lifters. This was a race car basically. My dad really didn't understand what this car was that I bought. Otherwise, I'm pretty sure he wouldn't have let me buy it. It was quite a car.
One quick story. My parents were transferred to Michigan because my dad was even more involved with General Motors. We moved to Dearborn, Michigan which was Ford country. At my high school, Dearborn High School, you asked what department your dad worked in, not where he worked. Everybody worked for Ford. I was the only guy with a Chevy in the lot. There was one guy that had a 302 Boss Mustang, as I would walk down the hall, he would kind of bump into me and try to give me a hard time and always was like "come on Lingenfelter race me." Finally, at one point, I had had enough of it and I grabbed him, and he grabbed me. It was, you know, "After school!" At 2:30 school let out and everybody in the school had learned we were going to drag race right out in front of the school. So, at 2:30 everybody lined up along Outer Drive, which is really no place to drag race but when you're a kid you do stupid things. We raced and I smoked him so bad in front of everybody that it was almost embarrassing. I'm sure it was embarrassing to him. From that point on I had established myself in high school [laughing]. Of course, I got expelled. I got back in after about 5 weeks of my dad, my parents, pleading with the people at the school. Not my finest hour [laughing]. Interestingly enough, the kid driving the 302 Boss Mustang didn't get in anywhere near the trouble I did. Who knows what was going on there?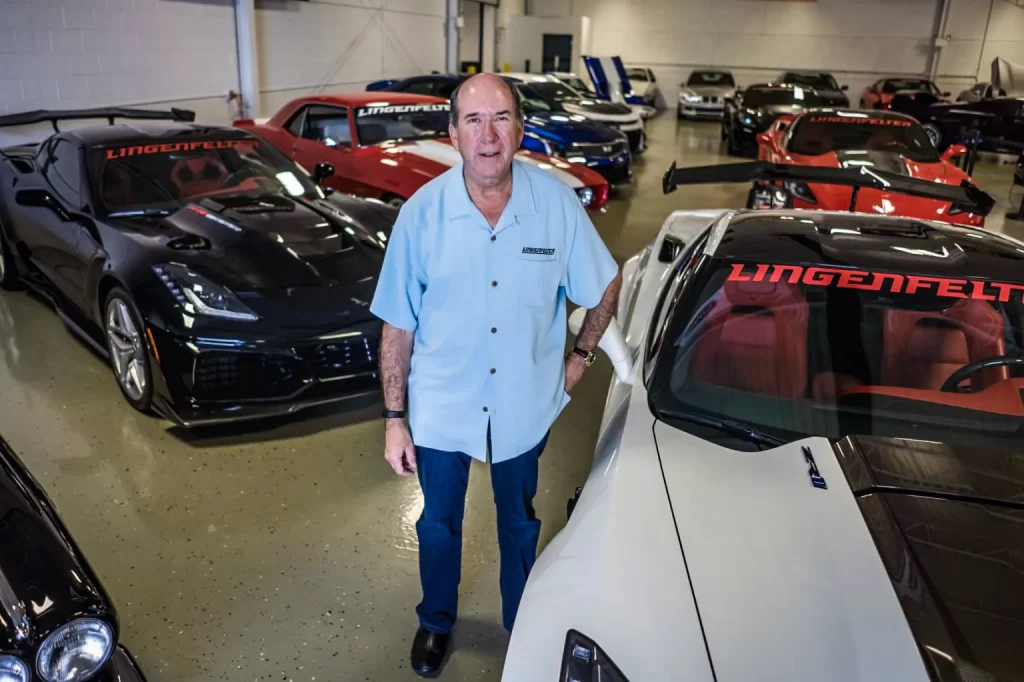 What was it that made you want to collect cars?
I had a pretty successful business career. And, as a result, there were a lot of cars that I wanted to try and never really got an opportunity to do it as a teenager. These were muscle cars at the beginning so as they came up, I bought one then I bought another and another. My business career put me in a position where I had several buildings, so I had the ability to have a place for them. 10, 15 and got to 20 maybe 25 cars and then I needed a bigger facility. By that time, I had sold the businesses I had started and was in a position to expand on it.
I bought more cars, about 50, and the facility I bought could handle the 50 I bought but not more, so I put an addition on the building. Now the building is about 45,000 square feet. There are 250 cars total in the collection, I keep about 170 in the facility. I like to say it's 30 percent muscle cars, 30 percent exotics and the rest are Corvettes and some of my old race cars. My whole family were racers. My wife and I kind of put our heads together and said we have all these cars; we need to share them. We thought maybe if we share them, people will donate to charity to see them. So, we started that model 10 years ago. As a result, we're not open to the public, but we are open for charity fundraisers. We have done numerous events every year, everything from black tie events to pizza and beer with car guys. It was a great way to show the cars and a great way to raise some money for charity.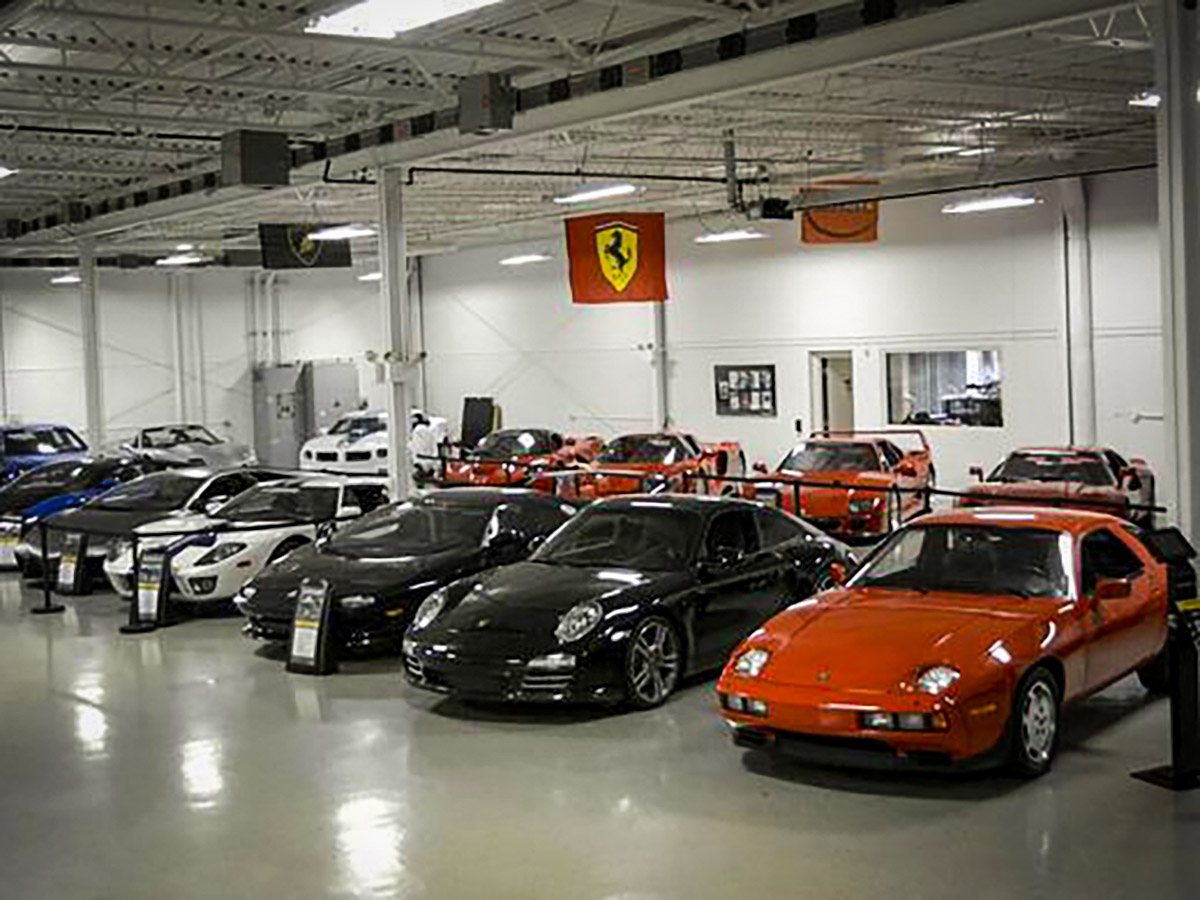 Is there a particular car that you would like in your collection but has eluded you up to this point?
I've got to tell you, that's an ongoing list. As you know, I own a performance company, so I have a daily job. We're building performance cars. We build several hundred performance cars a year. We don't do as much racing as we used to do. We do race in the Optima Series. Not ourselves but we do supply a lot of engines for cars that race in the Optima Series. Are you familiar with Bring A Trailer? I start almost every day going on there, they've always got a new group of cars I have to check out. I think I've bought 10 cars on Bring A Trailer over the last few years. There are still cars out there that I would like to get and enjoy.
You founded and built one of the largest title insurance companies in the country, starting at age 22. What lessons have you taken from your time doing that to Lingenfelter Performance Engineering?
There's no question about it. I worked for a title company from the age of 16 so I learned quite a bit about it by the time I started my own. We grew that business to be the largest title agency in the country. There were underwriters that were larger than us, so that's what eventually happened. My company sold to a large underwriter. We had several thousand employees when I sold it. We went through everything; we went through high interest rates, the economy going up and down. There were a lot of lessons I learned, many of them the hard way. As an entrepreneur you find a way to work through them. I'm sure I'm using that skill in my performance company every day.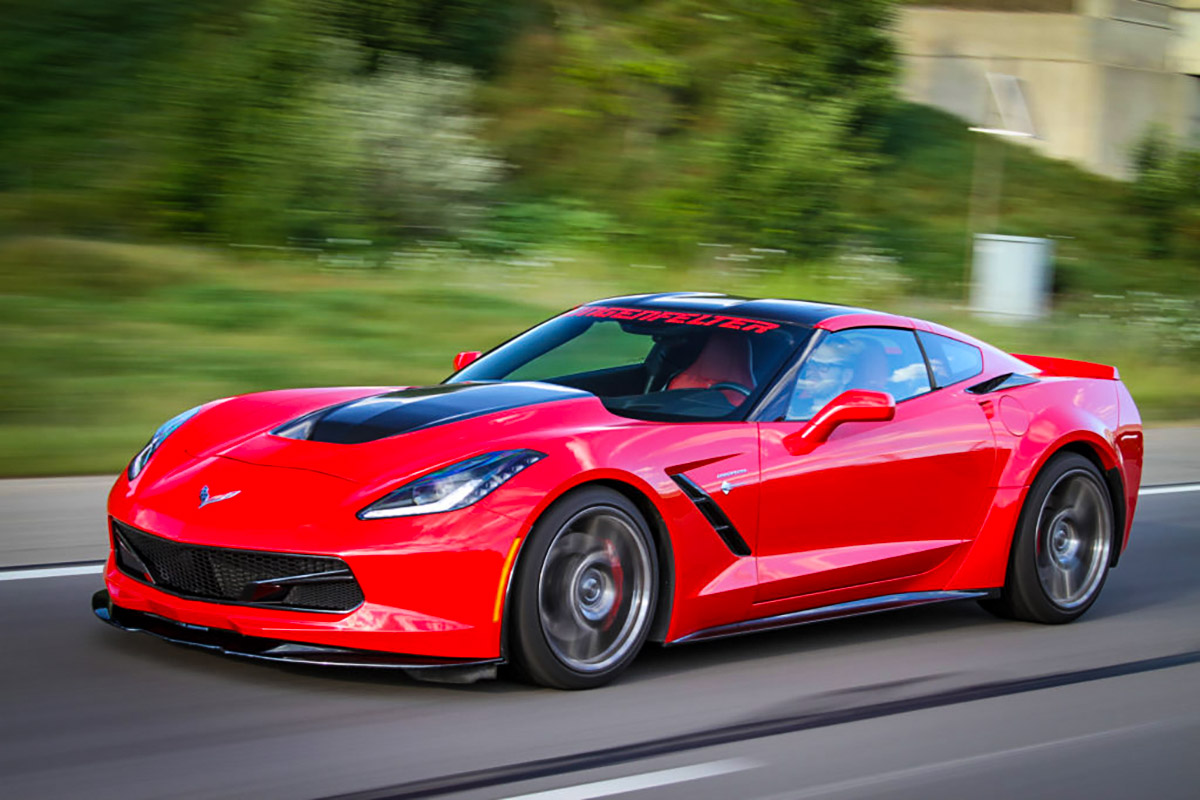 In your opinion, why are younger Americans not as interested in cars or racing as the previous generations?
I wish I could put my finger on it. I've got 5 children and none of them are interested in cars or the collection. I think they just think that their dad just never grew up and they might be right about that. It's just a different time. One of the things that drew me into the automotive world, and I was already a car guy, was in school they had an auto mechanics class. We were taking motors apart and putting them back together. Unfortunately, many schools dropped classes like that over time. I don't think that helped matters.
Obviously, you have one of the greatest car collections in the world. If I opened your garage at home, what would I find? What is your everyday driver?
My daily driver for the last 2 summers has been a 2019 ZR1 Corvette. It's got a manual transmission, big wing on back. The noise that thing makes, the comfort I can get in the interior and the fact that I can drive it like a regular car day-in and day-out, but if I take it out to the drag strip or road course it screams around the track. I'm absolutely enchanted with that car. We've got 3 of the new ones [Corvettes] coming, I think next week. I will be very anxious to get behind the wheel of one of those. They are stunningly beautiful. And bang for the buck, once again, with Corvette is great.
Again, I'm enough of an enthusiast on this stuff. During the winter the idea of me not having a sports car with a manual transmission to drive is hard for me to accept. For the past few years, in the fall, I've bought either a [Porsche] 911 4S or Turbo. They've got all-wheel drive. I put snow tires on it, and I drive it through the winter. I've been selling them in the springtime and going through the same process every year. It gives me the chance to try a whole bunch of different ones out. I did try a PDK once, they're a really great automatic transmission. But I decided that I really needed to stick with a manual. So, you would see a manual 911 4S, 2017 right now. To be honest, I may not sell that one. As you know, the manuals are going away. You'd also find a new Chevy Tahoe with a supercharger on it. Once again, it's got to make noise and go fast for me to enjoy it. That's also a very good winter car. I've got a number of Ferrari's, but I don't drive them enough. They're amazing cars! I have every intention before the month is out order a new [Ferrari] Tributo. They're the new mid-engine Ferrari. I'll get some seat time in that for sure later this summer. That will be a driver, it won't just sit in the collection for people to see.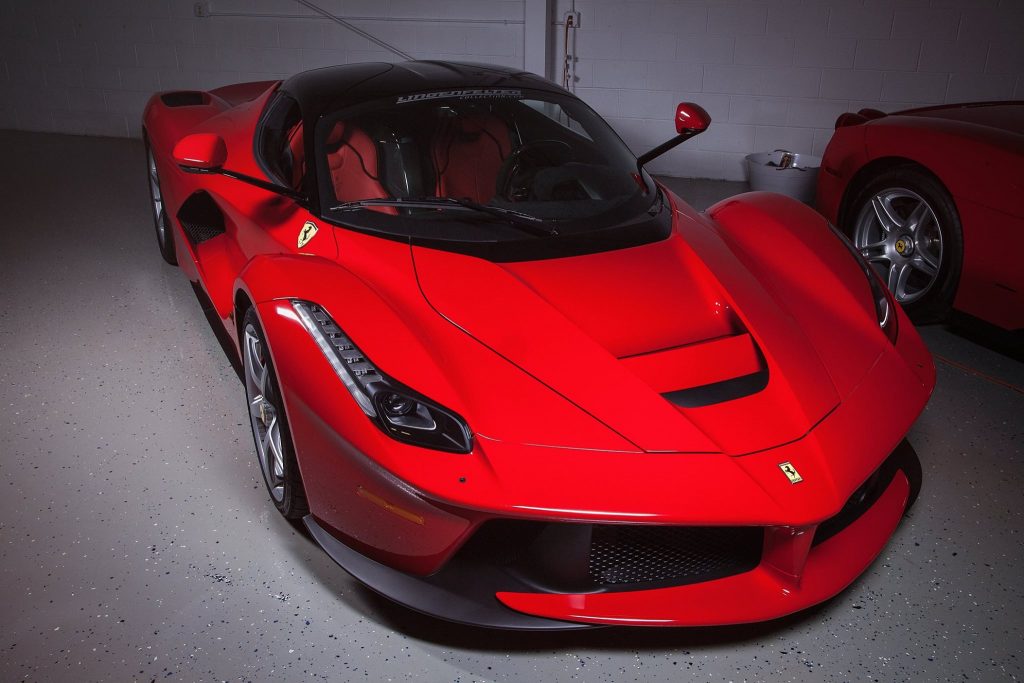 What do you like to do away from the cars and the business? Do you have any non-auto related hobbies?
Being a dad of 5 kids, obviously I try very hard to stay connected to every one of them. Four of my kids are daughters, so they're always a little bigger handful. In my estimation any way. I would say that's the majority of my time away from the performance company, being a husband and a father.
Do you have a favorite road you like to drive or a favorite road trip destination?
There's a race I used to do that I don't do often enough anymore but I intend to do again. It's called Sand Hills Open Road Challenge, it's up in Nebraska. It's very similar to the Silver State that takes place near Las Vegas. Believe it or not, they close a road between Arnold [Nebraska] and the highway, 27 miles, and we race that road one direction for time with a navigator, go have breakfast and race it back the other way to compete. It's an open road race. I don't know how you compare that to just about anything. It's a blast! I do want to get back into racing that again.
Thank you, Ken, for spending time talking about cars and your childhood with us. We aren't usually the jealous type but we're certainly envious of what you've been able to do and the cars you've been able to collect. As a matter of fact, we are guessing that you are living out the childhood dream of every man of a certain age. We are packing our bags for a road trip to Brighton, Michigan as we speak. Please keep the light on for us…