Moto Journalist, racer, author and blogger, Mat Oxley has been involved in the sport of motorcycling for nearly 45 years and lucky enough to cover the MotoGP scene for over 30. He has seen nearly all of the riders come and go and has had a front-row seat to see the trials and tribulations of many of the greatest racers of our time. As a racer, Mat was an Isle of Man TT winner, competed in the Suzuka 8 hours endurance race and finished 2nd in the 24 hours of Le Mans. We were fortunate enough to get 15 minutes of his time and his unique perspective on the sport before he headed out to cover the MotoGP race in Misano.
Obviously, motorcycles are a big part of your life. What is your first recollection of being around motorcycles?
My big brother bought a motorcycle to get to college. Because we lived in the country it was too difficult to commute by public transport. Almost immediately he became obsessed with bikes and going fast. This was 1974 or 1975, I suppose, and I got sucked in too. And I'm still there!
You got your first bike at age 17, a CB125S. What was it that drew you to motorcycles and eventually racing?
My brother had a bike, so I had to have one! I got the CB125 when I was 17 in June 1976 and was also immediately hooked by the whole thing: the speed, the buzz, the friends. We were a fairly unruly lot and got into a fair amount of trouble. My brother started racing and I followed a year or two later, in 1979, not because I wanted to get anywhere, but simply because we knew we would either die or lose our riding licenses if we carried on doing what we were doing on the road.
How did the gig with Performance Bikes Magazine come about?
In my final years at school I read all the bike magazines and realized that the people writing the magazines had the best job in the world! So every six months or so I wrote letters to all the magazines, asking for a job. I ran away from school on my bike (I went to a boarding school – nightmare!) and I didn't want to go to university, so basically, I did any kind of job for a few years to get some money to start racing. Then I got my first journalist job when I was 21, a year or so after my first race. First it was The Biker magazine, then Motor Cycle Weekly, then Motor Cycle News, then the editorship of Performance Bikes. I loved doing that – PB had a kind of punk, anti-establishment ethos – but I already knew that what I really wanted to do was cover Grand Prix racing. I started working as a Grand Prix journalist in 1988 and I'm still here – this is my 32nd season and I can't see me ever doing anything else.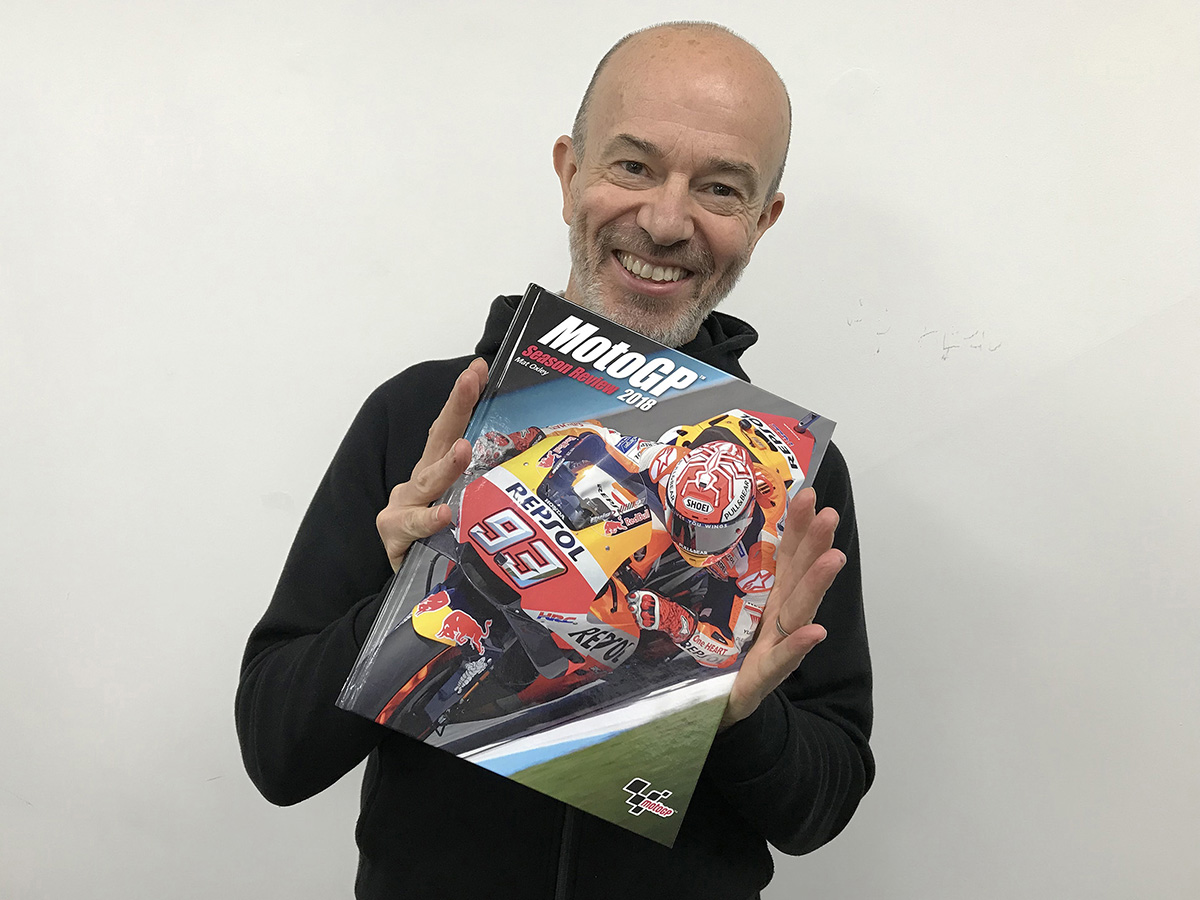 Tell me more about your involvement with Motor Sport Magazine
That started ten years ago or so. The magazine is mostly cars but has built up a good online following for its motorcycle stuff. They are dream employers – they let me write whatever I want. As a journalist you can't ask for any more than that.
How did the opportunity to write the biographies on Doohan and Rossi come about?
The publishers Haynes asked me. I said no at first. Writing a book seemed like too much work! Eventually I said yes but I was a bit terrified at first – when someone asks you to write 50,000-75,000 words on something it's scary. But then you get into the groove and it's fun; so long as you have the right approach: lots of self-discipline, do your research properly and then pace it out properly. A good subject also helps; so Doohan and Rossi were pretty easy to write. I've never written a book I didn't want to write – just doing it for the money would be impossible, because it demands a lot from you and if you added up the dollars the buck-per-hour rate would be horrifically low.
Where does the inspiration to write as much as you do come from?
For some reason I'm endlessly fascinated by bike racing – the riders, the engineers, the machines and the danger. I'm not really interested in anything else, ie the politics, the contracts, the business side of racing etc. I always assumed my interest in the racing would dry up one day, and I still do, but not so far. I'm totally absorbed in the race but at the same time I try to write from an outsider's point of view and try to not take it too seriously. After all, it is literally people riding around in circles.
Which race venue do you most look forward to visiting every year and why?
Different venues have different attractions. Some of them it's the racetrack itself – I like fast and scary tracks like Mugello, Phillip Island, Silverstone. Others it's the area – the beauty of the landscape, the quality of the restaurants, the place we stay or the crowd and the atmosphere at the track. Some of my favorites are Mugello (for all the above), Jerez, Barcelona Sachsenring (track and atmosphere), Silverstone (the track itself), Aragon (the local area and the track) and Red Bull Ring (the beauty of the mountains).
What is the hardest part about covering motorcycle racing?
Although traveling the world to work is wonderful, it's also a pain in the ass a lot of the time. The traveling can be exhausting (especially long haul, once you're no longer young and tough). At the track the hours are very, very long. It takes me about a week to recover from every race weekend, just because they are so intense. I'm not knocking it, it's the best job in the world, but it's not all glitz and glamour. Of course, the worst thing is riders getting badly hurt or dying.
Who would you say is, or has been, your favorite MotoGP/500 GP rider over the years and why?
Lots of them, for various reasons. I like the brave riders who are bit rock and roll and don't treat you like shit! These are probably my favorites, in alphabetical order: Bayliss, Doohan, Marquez, Rainey, Roberts Senior, Rossi, Schwantz, Simoncelli.
In your opinion, why isn't the sport of motorcycle racing as popular in the US as it is in the rest of the world?
Bike racing isn't popular in most countries. It's only popular in countries where a good number of the population ride bikes and therefore have some kind of feeling and understanding for what it must be like to race a bike: ie Spain, Italy, South East Asia etc. If you've never ridden a bike it's difficult to get a buzz from watching people race bikes. That's the basic reality.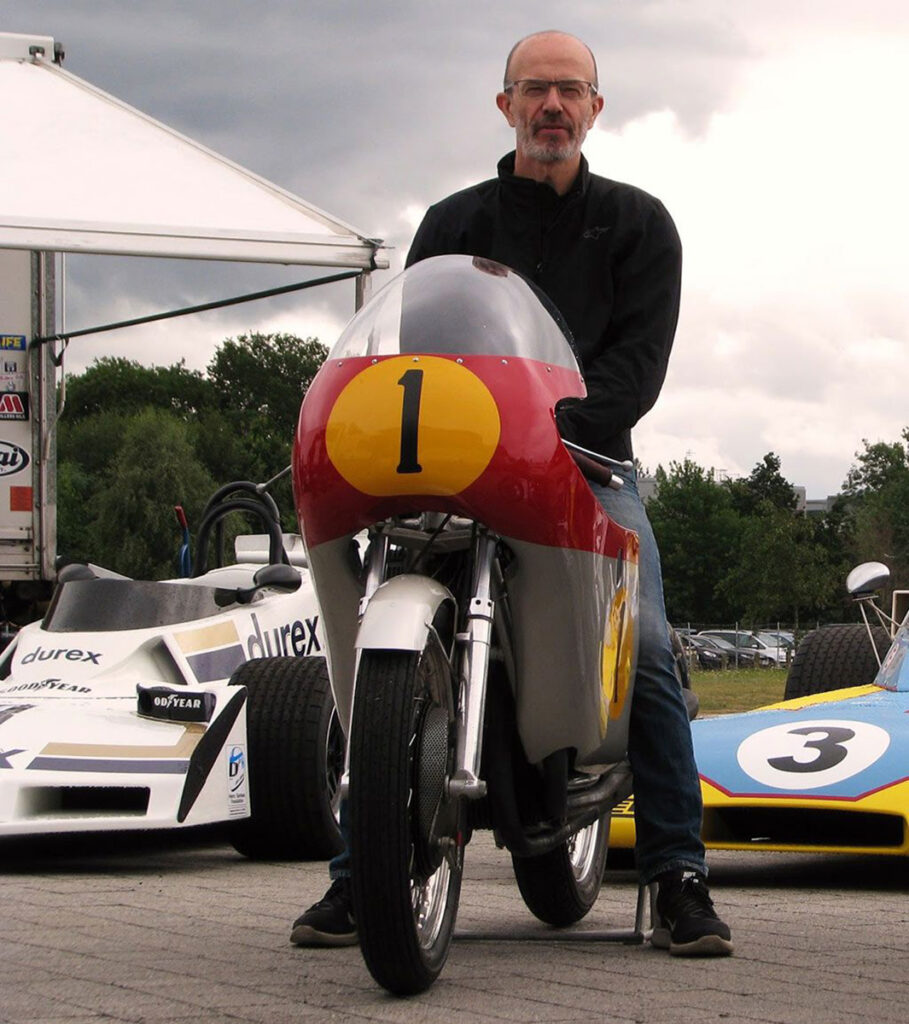 You used to race back in the late 1970s and into the early 1990s, what's changed in the sport over the years since then?
Everything! Mostly it's much, much safer. The MotoGP paddock is like a high-end shopping mall, dominated by a few dozen upmarket hospitality units, whereas back in the day the richer end of the paddock was a few caravans and the poorer end looked like a refugee camp. Everything is much more corporate today, which is good and bad. Good, because there's much more money involved, so today's MotoGP paddock consists of at least 2,000 people earning a living from racing, whereas 30 years ago it was a few hundred at the maximum. Bad, because the money has sucked the romance out of racing. However, given the choice between a decent feed in a hospitality unit and "the romance" of starving for days on end, I know which I'd choose!
Where do you think the sport of motorcycle racing headed?
Looking far into the future, nothing is forever. People have been racing motorcycles for 120 years or so. No reason to believe they will still be doing so in another 120 years. In the nearer future, whether we like it or not, more EV racing. In the nearer, nearer future, I don't think MotoGP has ever been in a better place than it is now. The racing is great, the characters are great, the bikes are great, everything is well organized and safe. I'm somewhat concerned about going to 20 races and beyond, because all the riders are carrying injuries. It's not like F1. WSB (World Superbike) will get stronger when all the national series get aligned to it. Cheaper race series need to be created to encourage youngsters etc.; this usually means less cc and less horsepower. You don't need 100bhp to have fun racing; 50bhp is more than enough until you can afford something bigger. I continue to love and hate the Isle of Man TT. Nothing like it in the world but you can't love it when riders die.
If I gave you a free week's vacation, all expenses paid, with the only caveat that you had to ride a motorcycle during that time, where would you go and why?
Probably southern Europe – Italy or Spain – because they're not too busy, the roads are great, the scenery is beautiful and the locals love motorcycles. The holiday would involve riding to cool hotels, eating good food, drinking good wine, swimming in a pool with a beautiful view and reading good books. I'm past getting crazy!
What do you like to do away from work/motorcycles?
I have two young kids – 12 and nine – so they fill up most of the rest of my life. But given an evening off I usually head into the centre of London to eat dinner with my wife and friends. My life revolves around my stomach! Music is a great love – from classical to mostly 60s/70s rock and mostly earlyish hip hop.
Any final thoughts?
Even now, after almost 45 years of riding motorcycles I rarely feel happier than when I put my helmet on, climb on my bike and ride down the road.
Thank you Mat. We look forward to reading your eloquent thoughts and insightful reviews for the rest of the 2019 season and beyond.