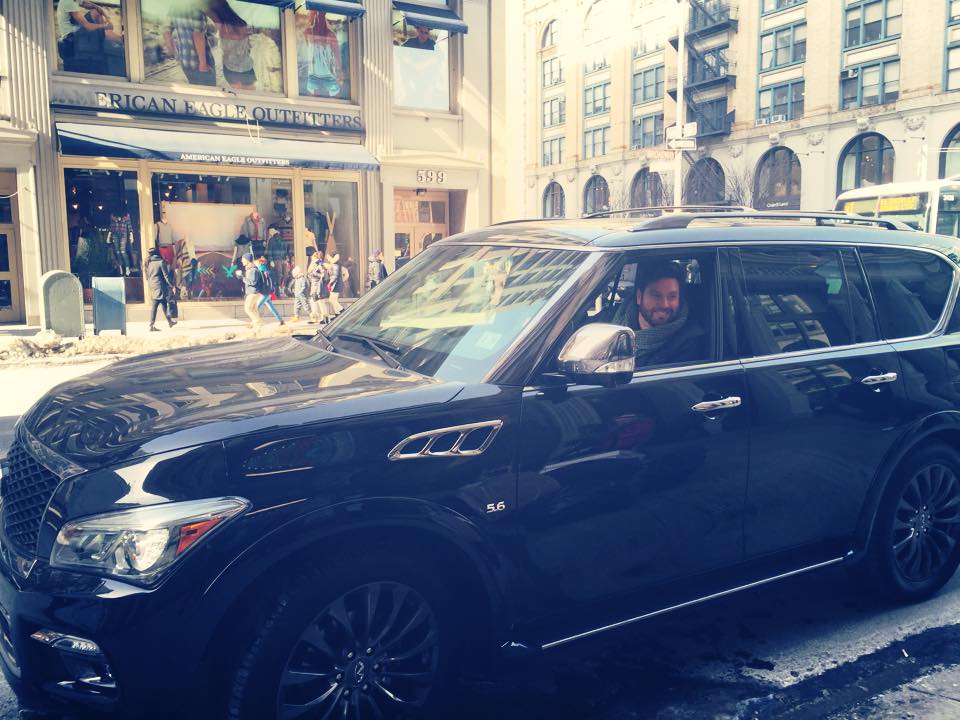 While many may know Scott Conant from his appearances as a judge on the hit TV show Chopped on Food Network, he has long been established as one of the country's top head chefs and restaurateurs thanks to his deft touch with Italian cuisine.
After graduating from the Culinary Institute of America, Mr. Conant cooked in some of New York's finest restaurants before creating a name for himself when he opened L'Impero in 2002. It garnered a three-star review from The New York Times, the title of "Best New Restaurant" from the James Beard Foundation and praise from Gourmet and Food & Wine, which named Conant one of America's Best New Chefs in 2004. Conant opened Alto, an elegant Italian restaurant in midtown Manhattan. Always looking to raise the bar, Conant eventually moved on to bring his own vision of sophisticated, savory Italian cooking to life with Scarpetta, which he now operates in Las Vegas, Miami and Los Angeles. In December 2014, Conant opened CORSAIR by Scott Conant at Turnberry Isle Miami resort in Aventura, which serves rustic, seasonal cuisine inspired by the farmhouse cooking of America and the Mediterranean.
In addition to Chopped, he has appeared on the Today Show, The Chew, CBS' The Talk, Live with Kelly & Michael and Good Morning America. Conant has also published three cookbooks: New Italian Cooking, Bold Italian and The Scarpetta Cookbook.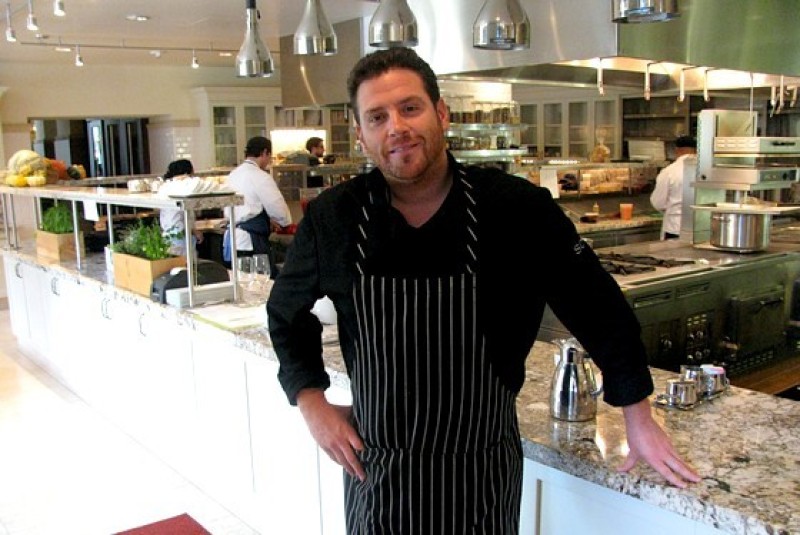 Most recently he's been seen in commercials for Infiniti, and that's why we've asked him to be the inaugural guest for this new Pursuitist feature called, "Behind The Wheel With…" where we ask questions about cars, driving and other interesting subjects as we motor down the road of life.
Thanks for taking the time to speak with me.
My pleasure, I hope I have something interesting to talk about! (laughs)
I was intrigued that you're a spokesperson for Infiniti and are starring in a commercial for the QX80. Obviously, that's the car you're driving now. Can you tell me what you like about it and why it works for you?
First of all, the space. My wife and I have two little girls and it's really convenient to have all that space in the car. We take a lot of trips up to New England and with the kids, all their stuff, the iPads, food, etc. you need the room. Sometimes it gets a little crazy but that's what traveling with kids is all about. It's really nice.
What's the one feature in your new car that you can't live without?
There are a couple but the one I like the most is adaptive cruise control. When I'm on the highway driving and I come up behind someone it slows the car down automatically. That's really nice. Also having the cameras around the car for a car that size is important. It makes it easier to drive and park especially in this Manhattan.
What's the first thing you do when you get in your car?
I'm a big music lover so the first thing I'll do is put on whatever I'm listening to at the time. I like the convenience of being able to connect my phone to the car. I can take my music with me wherever I go and that's great.
What do you listen to when you're in the car?
It depends on my mood. I was just on a drive up to Connecticut for Easter to my mother's house and I was listening to some Sammy Davis, Jr. and also some Ray Charles. That seemed right for the trip. But I'm a big Bob Dylan fan, so I normally listen to him and Willie Nelson on shuffle mode. It makes my wife crazy and when my mother-in-law is in the car she goes out of her mind!
Do you own any other cars?
I don't. Having a car in Manhattan is a luxury. I park mine in a garage right across the street from my apartment and it's really expensive. While I'm doing just fine, thank you, you have to be in a different income bracket to own multiple cars in New York.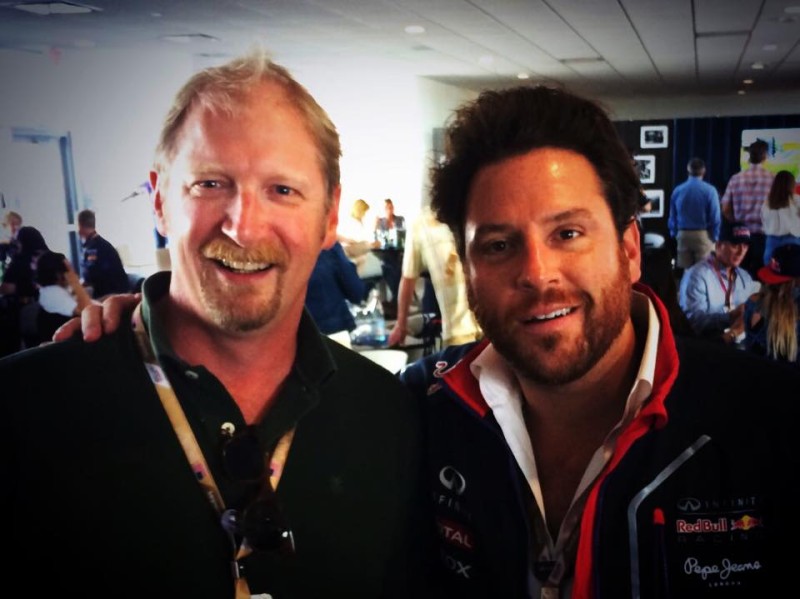 We met at the US Grand Prix in Austin, thanks to Infiniti. Was that the first formula one race that you've attended? What did you find most interesting about it?
It was. I found it completely fascinating and now I feel like I'm hooked. I'm a sports fan in general and a huge baseball fan. I can see myself traveling to those races because it's so much fun. There's so much passion and so much energy from the fans, the teams, the drivers. And I love the fact that it's an international sport.
What was your first car?
My first car was a 1985 Buick Regal that I bought from my brother in 1988, when he bought a Chevy Camaro replica pace car. Being an Italian-American kid in Connecticut at that time we all thought that Camaro was really cool. Big fat tires and tinted windows. We used to love cruising around in that thing.
What's your dream car?
When I first became successful, years ago, I actually bought my dream car, a Maserati Spyder, you know a two-seater convertible. I just loved it. And two months after I bought that car, my wife told me she was pregnant. I tell my daughter all the time that I made the greatest deal of my life when I traded in my dream car for you. It was a great trade. I'll take her over the car any day!
What's your favorite place to take a road trip to?
I love driving. When I was a kid, I would just jump in the car and drive around. Even today I still do it. It's a great place to think and stay calm and stay grounded. So yeah, there are a couple of places I like to go. Litchfield County in Connecticut is just gorgeous. It's a great place to go for a drive. I also like to drive up the Hudson on the Taconic Parkway. It's got a lot of tight curves and it's a little bit scary sometimes, but with the right car it's a really fun drive.
What's your most memorable experience behind the wheel of or in a car?
Well, I'm not going to tell you about some of the crazy things we did when I was a teenager! Now driving with children is a whole new experience. The things they say is always makes me laugh. When we first got the QX80, my daughter climbed in and looked around. She said, "Daddy, this car is so nice, it should have a bathroom in it!"
Also, sometimes people recognize me when I'm driving and they'll try to take my picture while we're on the highway. I still find that really odd. It's not like I'm like Justin Beiber, so I don't have to worry about the paparazzi, which I'm very thankful for, but I'm still surprised when people ask for a picture.
When you're on the road and want to stop for lunch or dinner, what do you look for?
Food becomes a destination for me. It's part of the journey. If I'm going someplace, I'll do some research and look for something special. You know, that great diner that serves a classic local dish or maybe a new restaurant that everyone's raving about. Also, when I travel, if I go to the same place repeatedly, I become a victim of habit. When I drive out to the Hamptons there's this great taco stand on the way to Sag Harbor. I stop there all the time. But I'm not going to tell you the name because I don't want it to become too crowded!
So besides filming commercials with Infiniti what else is new in your professional life?
I'm working on a new restaurant in New York called, "Conant". I'm trying to find just the right space in Manhattan, and refining the concept. It's hard, because when the restaurant has your name on it, every detail has to be perfect.
I also have a new space in lower Manhattan called the SC Culinary Suite. I do recipe development there, photo and video shoots, tastings, product launches and other events. It's also available for private parties, charity events, corporate dinners, all kinds of stuff. We can do dinners for up to 36 people and cocktail parties up to 65.
Are there parallels between the restaurant business and the car business?
There are always those common themes that I look for and the one thing I find, especially in the design, is thoughtfulness. That's the one word that keeps coming back to me. The thoughtfulness of the performance, the thoughtfulness of the design, the thoughtfulness for the driver and passengers, all the details make for a great overall experience. That's what we try to do at the restaurant.
Those are all the my questions. Thanks so much for joining us at Rides & Drives.
My pleasure. Thank you and be well.
A version of this story first appeared at Pursuitist.com