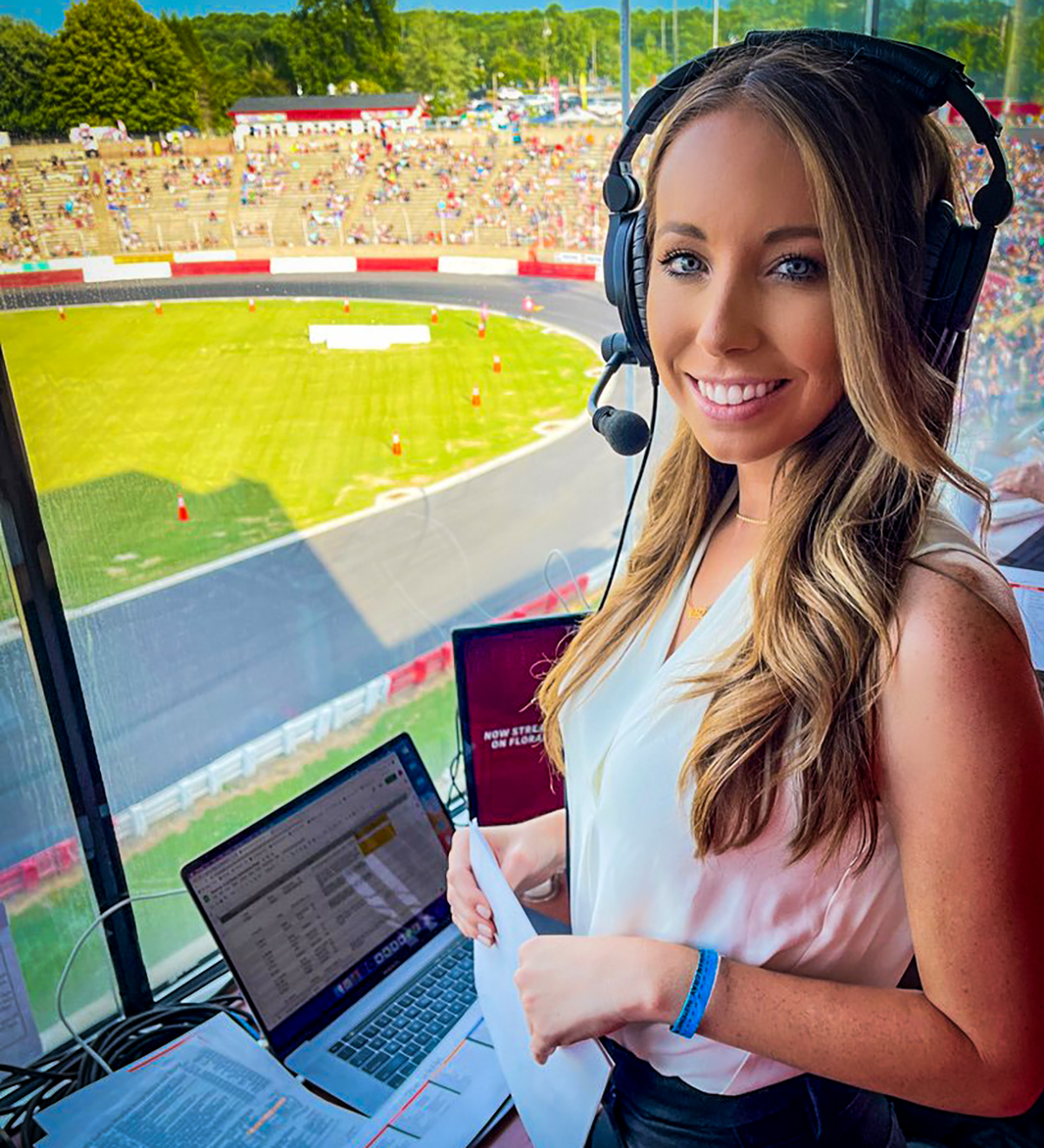 Like so many other fans and drivers, Jacklyn Drake was exposed to the automotive and motorsports world by her parents at a very young age, growing up racing almost anything from go karts to midgets to late models. That love for racing has never left Jacklyn as she pursued her career in motorsports reporting which has led to a very interesting, and hectic, life. We got Jacklyn to take a few moments out of her chaos to provide us with a small glimpse into the world of NASCAR racing coverage and what it took to get there.
Let's start with the obvious question; have you always been fascinated by cars or is this a newer phenomenon?
I have always enjoyed cars! At a young age my parents and grandparents would take me to car shows pretty often, we continued to go as I got older. I even remember dancing in my stroller to the bands that would play at the shows!
Speaking of cars, do you remember the car you learned to drive in?
I learned to officially drive (although I feel like racing can prepare you pretty well) in a dually truck, but my dad taught me to shift in his red Dodge 3500.
What was the very first car you owned?
My first car was a 1999 Chevy Silverado – short bed with a 454. It was fast, but only got 5 mpg! Ha!
You come from a family of racers/drivers, how has that helped you in your career?
All of my family is very supportive and understanding when it comes to the challenges of being involved in motorsports, especially as a woman. My mother raced at a young age and is such a strong person. She helped me tremendously during some very trying times of the sport. Of course, my dad and brother also coaching both on and off the track and never bending their support or vision on how far I could take my goals.
Did you know you always wanted to get into racing and the showbiz world, or did you have other career aspirations?
I graduated high school with intentions of going to college to be a 2nd grade elementary teacher! I interned and loved teaching children, but my dad reminded me how slim teacher salaries could be. I decided to shift my focus, graduated with a degree in science and started working in racing doing marketing then started pit reporting and event hosting a few years later!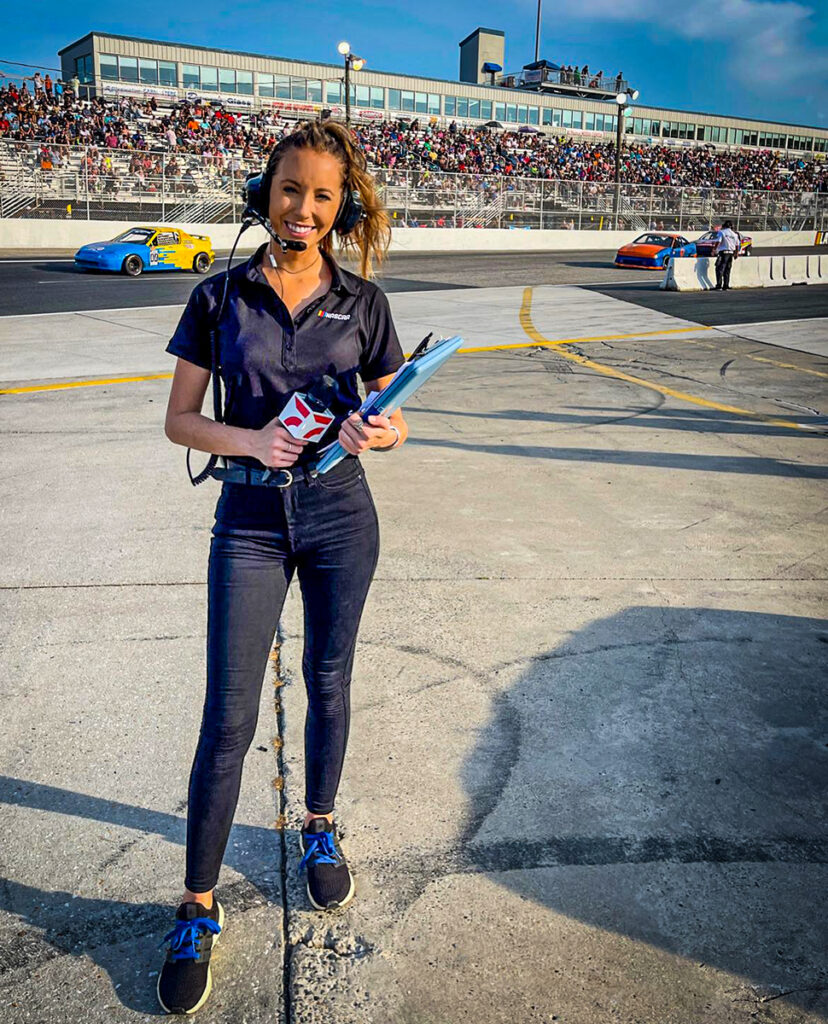 Tell me a little bit about the toughest challenges to juggling everything you have going in your career.
I'm constantly searching for the "perfect juggle" of work, travel, personal life, family time, rest and performing at my best. It has taken me many years to find a balance and even some days I don't feel like I have it figured out. It's been especially difficult with my family located out of state, and never feeling like there's enough time with them. When I first moved to North Carolina, I had no job and little money. So barely getting by and trying to make something stick in a competitive field while continuing to stay positive was also a challenge. In all I've learned to just do your best and it tends to always work out. What you give becomes what you receive.
That brings us to your current gig with NASCAR. How did the opportunity with NASCAR come about?
I connected originally with an executive at NASCAR on LinkedIn after blind messaging over my demo reel of an online motorsports show (Monday Night Live) I developed during COVID. A year later those emails and networking led to the right timing, I was called in to interview for a position as a Manager of Media Strategy and Sports Reporting. I pulled my car over on an exit ramp when they called to offer the position – many happy tears were shed!
Do you follow any other motorsports racing; F1, IMSA, Motorcycles?
I've enjoyed following World of Outlaws and USAC in addition to NASCAR of course. This year I've become really interested in Supercross as well.
Living in North Carolina, what's your daily driver?
I'm currently being fuel efficient on my trips to the racetrack in a sporty Honda Accord. 🙂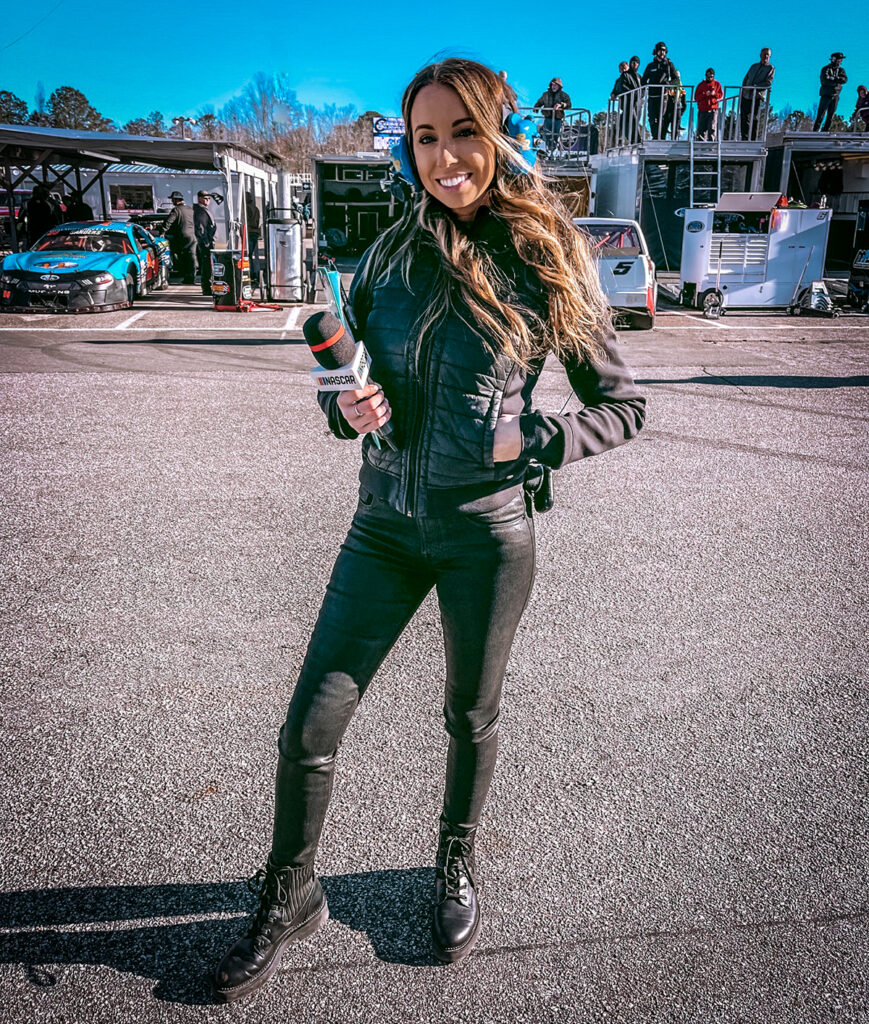 What's your dream car? Why?
I'm a huge fan of American muscle. I would have to say one of the Corvette Stingrays! Hello V8.
Any particular destinations you love driving to, or roads you like to drive on?
As a girl raised in the country, I love driving backroads in my hometown of Maypearl, Texas. They are windy, and sometimes dirt. My best friend Michelle and I used to tear up the roads in my Camaro.
Any race tracks you haven't been to yet that are on your "need to attend" list?
There's many on the list, a few I'd love to get out to Eldora Speedway, the upcoming Chicago street race NASCAR is running in 2023, and an international F1 race. Monaco would be fun!
Thank you, Jacklyn, for providing us a small glimpse into your love and passion for automobiles and motorsports. We're pretty sure we'll see you 'round one of the many tracks sooner rather than later.