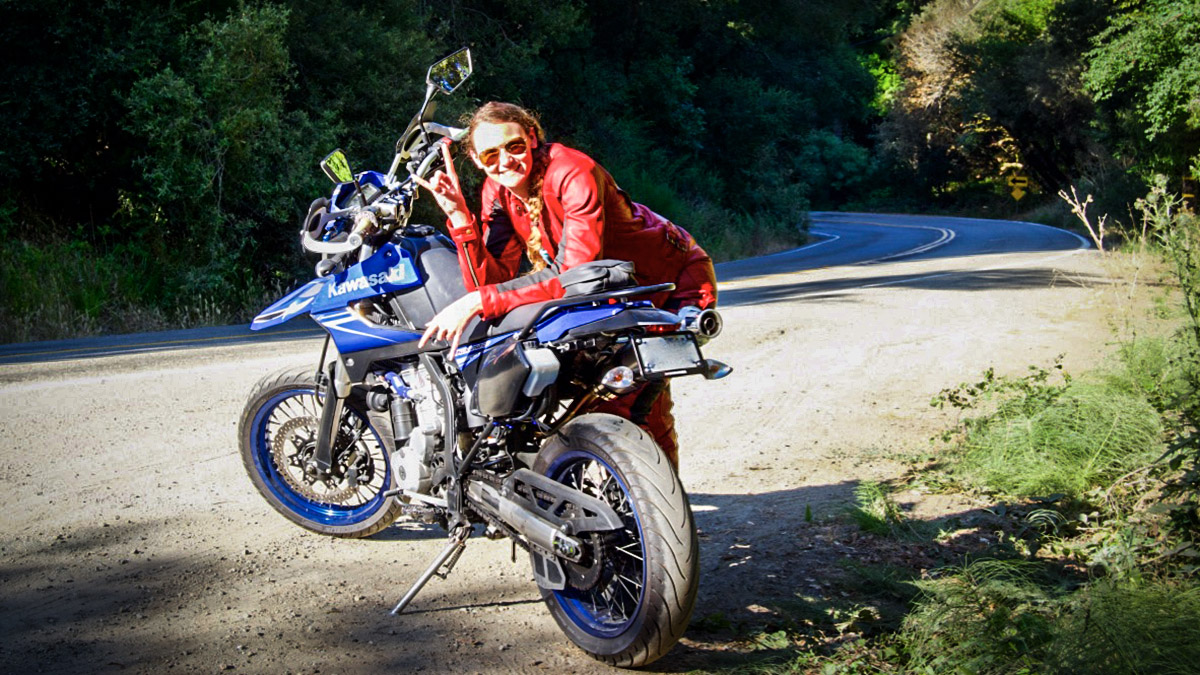 From growing up on the family farm in Brooklyn, Wisconsin to being an environmental, textiles, and design student at the University of Wisconsin to furthering her studies at the Fashion Institute of Technology in New York and finally finding her bliss in California, Raven Rova's Karleen Eberle has certainly seen her fair share of changes in scenery. The one thing about her life that has remained constant is her passion for fashion design and motorcycling. We got her to slow down just long enough to allow us to get a glimpse into her motorcycling and entrepreneurial life.
What sparked your interest in motorcycles?
I've been around them my whole life. My dad is a motorcycle rider, he always had one. My step-dad is super in to cars and motorcycles, too. It's just always been in my family. Of course, I went on motorcycle rides with my dad growing up. When we were young, he had a Honda CB 900 Super Sport. We didn't get too many rides on that because we were little kids but, when I was in high school my dad bought a Harley Davidson, you know, a Softail; big and squishy. When I was in high school especially, we would just go on tons of rides with our dad. So, after a few years of that, I was like "OK, this is great but I want to get my own license and start riding."
What was the first bike you rode?
Actually, it was my Yamaha Riva scooter. I think I got that, you know, while I had my learners permit. That was my official first two-wheeled thing with a motor.
What was the first motorcycle you owned?
I still have it, it's my Kawasaki KLX. It started as a 250 but we thought it would be fun to put a big bore kit on it, we bumped it up a hundred ccs. We did that project last year because by starting your own business, you're kind of broke.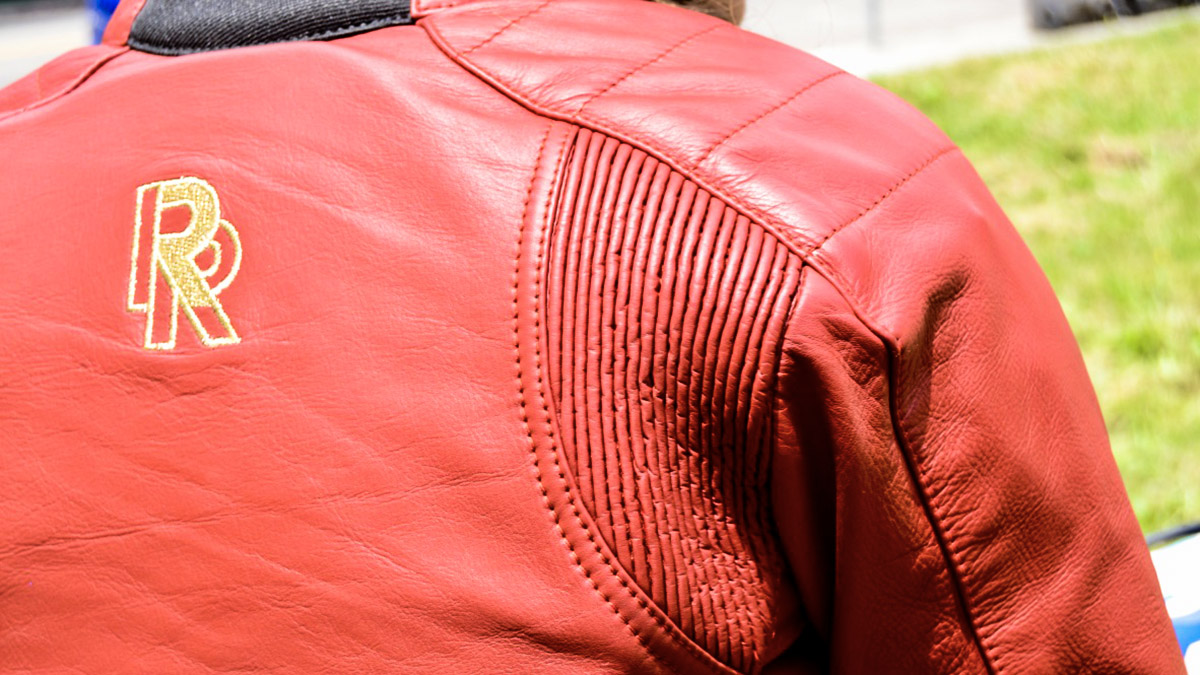 Your background is in fashion design, how did the concept of Raven Rova come about?
Kind of in multiple pieces. I'll try to make it linear and brief, but it wasn't at all [laughing]. So Raven Rova, as a concept, actually started as a story we wrote called MotoRova Futura and I was doing an art show about the future of fashion. Raven and that whole idea of, you know, a person on a quest looking for their tribe, using their motorcycle as part of that quest. That originated as part of an art show concept that we just kept rolling with. Then the actual motorcycle gear component, that kind of happened because a good friend of ours was in a pretty bad motorcycle accident. This was several years ago and it was a big wake-up call that we really needed to gear up. Street clothes just weren't enough. So, it was a combination of those two things, plus some other stuff. I had actually gone back to school for marketing at this point as well, so as I was taking all my marketing courses and doing these semester-long projects, that's when I started researching the motorcycle gear industry. I kind of came at it from three different angles.
Where does the name come from, why did you pick this particular name?
Well, I did some surveys and testing to settle on the name. Raven was the main character in the story we wrote for the art show. Raven sort of embodies that person who is seeking freedom, going out looking for their tribe and just won't accept the status quo. She kind of has the spirit of a lot of motorcycle riders. Raven is the character of that story. MotoRova, we just liked that word. That idea of this connection with your machine to get you around the earth. I can sit and ponder on that for hours and be very happy.
If I'm not mistaken, you crowdsourced funds to launch Raven Rova, tell me a little more about how that went.
A little bit. I launched an Indiegogo campaign on August 25th of 2019 and on August 28th a car hit me, I low sided and ended up with fractured vertebrae. So, you know, the campaign didn't go as far as I wanted it to. That was unexpected. It's been mostly my own money. I was very lucky as I had a wage claim settlement from a previous job that ended on a bad note. So, I had some funds from that. It wasn't a massive settlement but it was enough; a couple thousand bucks that I didn't have to come up with out of my own pocket to get my initial prototype made.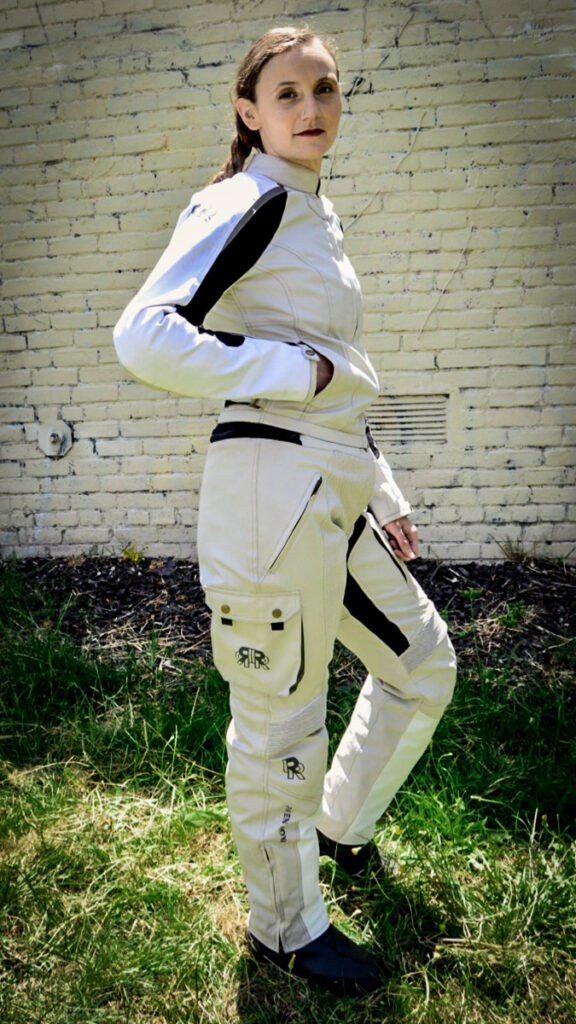 What's the response been from women riders to the brand?
It's been really great! People are really excited, and I think what I'm doing that's unique is, I'm not skimping on safety features at all. I'm really obsessed with medieval suits of armor, and with my fashion background it's like our clothing is our armor, maybe your emotional armor but, on a motorcycle, it's actually protecting your bones. I think people are really noticing that. I'm not skimping on any technical details at all.
Why do you think the mainstream motorcycle apparel companies tend to ignore women riders?
Honestly, I think I've been working on this project for 3, maybe 4 years at this point, and I think even in that short time a lot of women have started their own businesses because they've gotten fed up with the industry ignoring us. I really think it's the numbers' in the United States, one in 10 motorcycle riders is a woman. I've been in the apparel industry for over ten years and I think you're just dealing with minimum order quantities, dye lots of fabric that are really large and shipping product internationally. When you're set up and making a product line, to suddenly pivot and start prototyping new things and having to develop a whole new size and scale. That's a massive investment of time and money. From a business and numbers stand point, I think it just doesn't make sense for some of these bigger companies.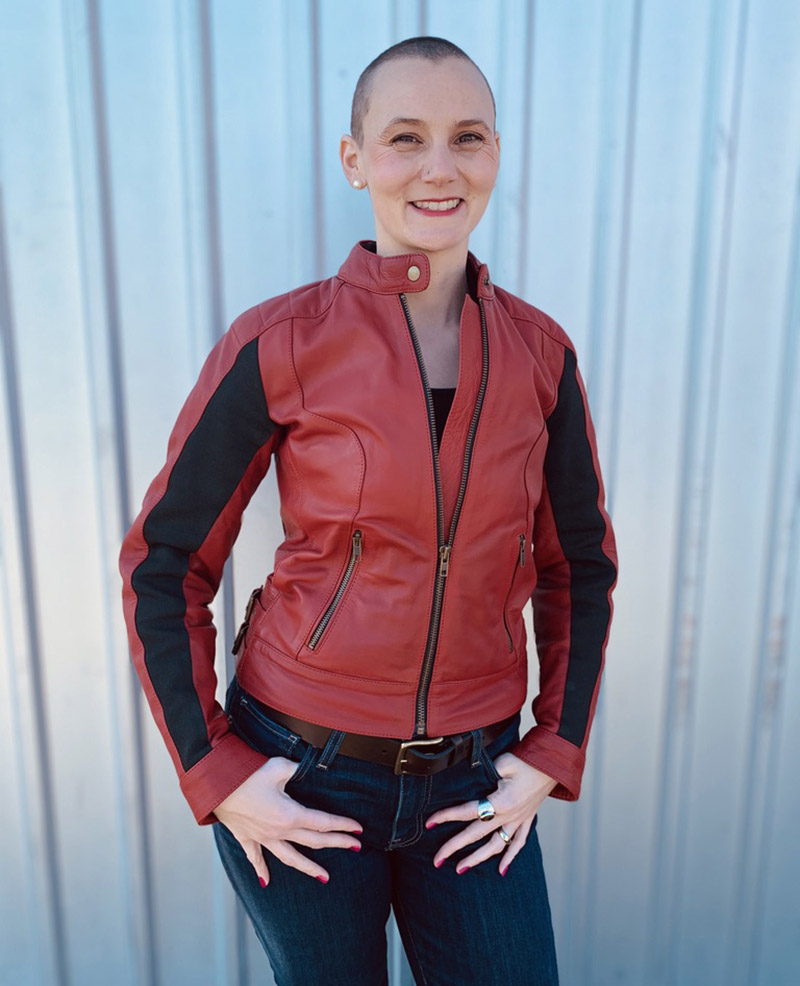 How do we get more women into the sport of motorcycling?
I think it's got to be educating and empowering people. I am amazed when I go for a ride, even if it's just to the café or the grocery store, almost every time a woman will come up to me and be like "Oh wow, you're riding a motorcycle, that's so cool, I want to do it." The first thing I say to them is yes, you can do it and I recommend you go take a class.
Are your products made in the US, where is your manufacturing done?
My manufacturing team is in Pakistan, northern Pakistan, which is one of the top leather-producing regions in the whole world. They've been making motorcycle gear and leather goods since 1969, it's all they make. I'm really lucky because they make gear for a lot of the bigger brands. I don't want to go into any more detail about that. I'd be happy to have in-depth conversations with anyone that is interested, I want to be as transparent as possible. It's a really great company I'm working with, super highly skilled workers, really treat everybody in their company well and have great social responsibility. Plus, they've got the technology; they're making top of the line safety gear.
Where do you go from here, what's next in the motorcycle industry for you?
That's what we're figuring out. Currently I'm working on getting my production order in so I can fill my orders from the crowd-funding campaign and have some more inventory on hand so I can go do some of the industry expos, like the summer circuit. I do have some other exciting things in the works.
I wanted to add that I've spent 10 years gathering size and fit data from women. I did tailoring and custom design for about 10 years. So, Raven Rova gear is developed exclusively for female anatomy. I focus on sizes 8 and above. Currently we offer sizes 6 – 22, all based on data from real live women.
Do you have a favorite place to ride?
I live in the Bay area, in Oakland. For me, most of the time if I want to go out for a couple of hours, I go up into the Oakland Hills; Skyline Boulevard, Redwood Road. I'm just so lucky, I have these amazing twisty roads in my backyard. I can go out on a Wednesday afternoon when the road is clear. That's really been my favorite for the past year.
What do you like to do away from motorcycles and work?
That's a good question because we are definitely obsessed with our vehicles. Actually, I really love bicycle riding too. That was my first two-wheel love. I love swimming, that's one of my favorite things and I like to do a lot of sewing. I make myself really beautiful silk dresses. And, I like to do tie-dye work.
Final Thoughts?
Personally, motorcycle riding has been a huge personal triumph because I have an auto-immune condition called ulcerative colitis. Even being physically capable and strong enough to operate a motorcycle, that took me almost a decade to achieve. I think that's a really important thing to share with people, a lot of people think "I can't do it, it's a tricky, scary complicated machine." But if you like it and want to do it, you can do it.
Thank you, Karleen, for spending some time with us and sharing your unique story. We look forward to seeing many more women riders on the roads and trails, and we're sure they're going to be wearing Raven Rova gear.