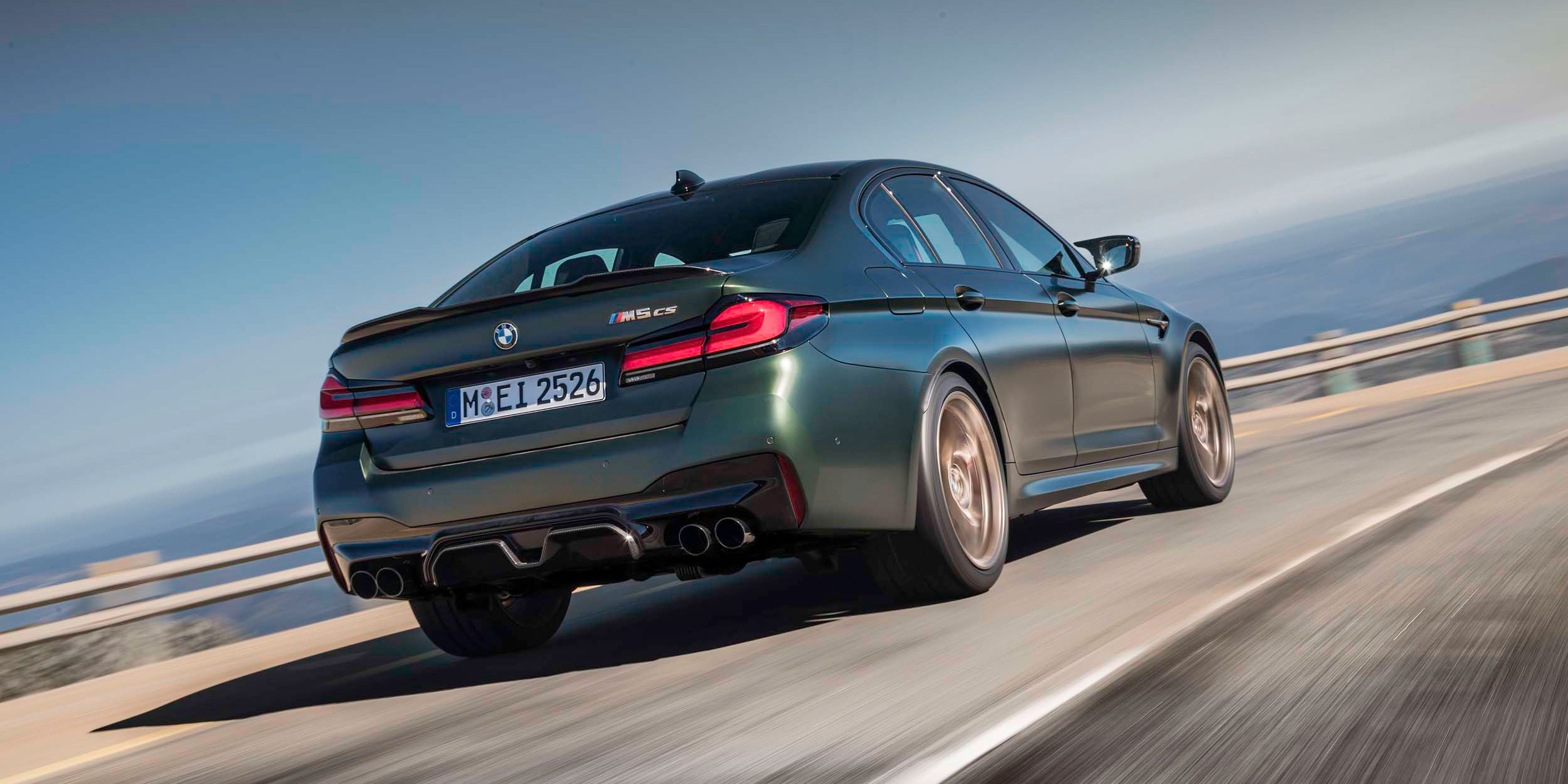 The quickest and most powerful BMW production vehicle ever.
627 hp and 553 lb.-ft. of torque.
230 lbs. lighter than M5 Competition.
0-60 mph in 2.9 seconds. Top speed of 190 mph.
MSRP of $142,000 plus $995 Destination.
Limited to one model year only. U.S. arrival 2nd half of 2021.
Woodcliff Lake, NJ – January 26, 2021… BMW is proud to announce the quickest and most powerful production BMW car ever, the 2022 M5 CS Sedan. Available only for the 2022 model year, the new limited production super sedan builds on the immensely capable M5, itself recently updated for model year 2021, by delivering more power, greater performance, lighter weight and exclusive interior appointments making the new M5 CS truly a one-of-a-kind vehicle in its class.
The combination of increased power and a rigorous weight-reduction program through the extensive use of CFRP materials improves the power-to-weight ratio to elevate the performance and dynamics further enhancing the M5's already very high street and track capabilities.
For the first time, the M5 features a four-passenger seating configuration with M carbon sport seats up front and two individual bucket seats for the rear passengers.
POWER AND DRIVETRAIN
The S63 4.4-liter M TwinPower turbo V8 has been tuned to deliver 627 hp at 6,000 rpm, an increase of 10 hp over the Competition model. The torque band delivers its full 553 lb.-ft from 1,800 to 5,950 rpm, 90 rpm wider than the M5 Competition. The eight-cylinder's engine redline is 7,200 rpm. The high-pressure direct fuel injection ensures precise fuel atomization and fast engine response. The liquid-to-air intercooling for the two turbochargers and oil system