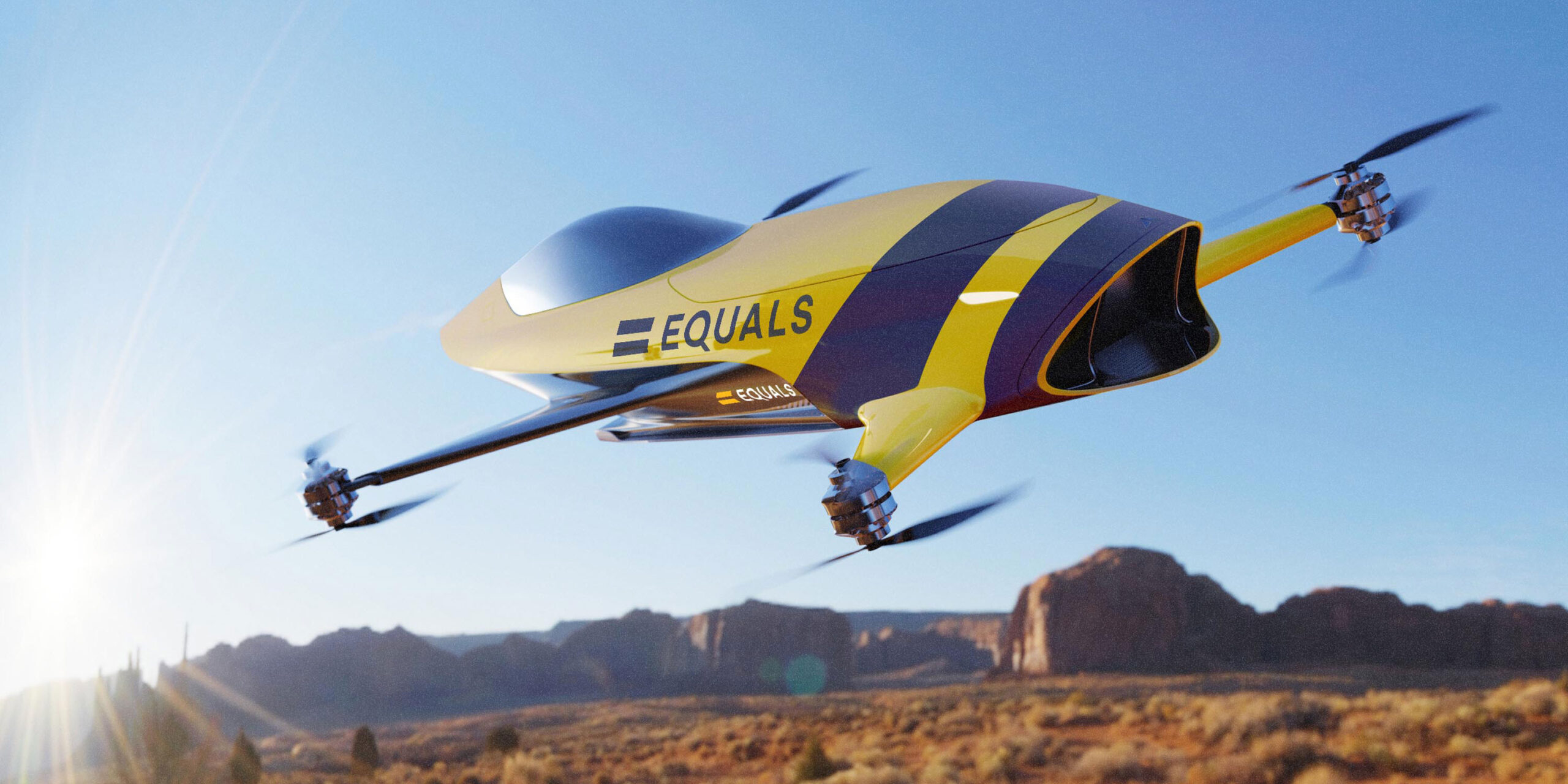 Global public debut of radical new airborne motorsport – Airspeeder
Equals announced as Title Sponsor for Airspeeder race series
Prestigious launch a highlight of the 2019 Goodwood Festival of Speed
Thrilling public displays of Airspeeder racing over the Goodwood weekend
Global race series the biggest evolution of motorsport for generations
First Airspeeder World Championship scheduled for 2020
Airspeeder – a radical new airborne motorsport for the 21st century – will make its global public debut at this week's Goodwood Festival of Speed, the world's largest automotive garden party.
The thrilling new Airspeeder race series, which combines the format of Formula E, the thrills of air racing and the glamour of F1, announces Equals, provider of money management solutions previously known as FairFX, as Title Sponsor ahead of its formal launch at the Goodwood Festival of Speed, hosted by the Duke of Richmond, on Thursday (July 4).
International media and VIP guests will be treated to a spectacular flying display and race around an aerial track at the Goodwood Aerodrome, and adjacent to the Goodwood hillclimb route, during the festival weekend. A static display of the Airspeeder Mk. IV, the world's first piloted octocopter, will take centre stage amid the immersive technology of the Festival of Speed Future Lab.
Backed by Equals, who are solving every day money problems through ingenuity, the Airspeeder series has the opportunity to reset motorsport, using competition as a canvas to develop highly efficient and highly effective airborne vehicles.
Speaking on the title sponsorship of Airspeeder Ian Strafford-Taylor, CEO of Equals said: "We're delighted to have agreed this partnership with Airspeeder who are using cutting-edge technology to deliver a new generation of motorsport. The spirit of ingenuity and engineering behind Airspeeder makes it the perfect fit for Equals, as these are also the drivers behind our new brand identity."
Equals is the new name of FairFX and reflects the company's new vision for using intelligent technology to help people get more out of their money, holidays and everyday life.
Developed by Alauda Racing, an Australian start-up with the long-term ambition to use its technology to develop a world-beating flying sports car for sale to the public, the Mk. IV octocopters will hit speeds of 200km/h and offer a power-to-weight ratio superior to an F-18 fighter jet.
Over Festival weekend members of the public will be treated to jaw-dropping public demonstrations of the Mk. II Speeder racecraft, offering a flavour of what they can expect when the first Airspeeder World Championship – featuring five teams and ten pilots – takes off in 2020.
With global giant DHL already on board as Airspeeder's Logistics Partner, each sky-high Grand Prix will take place at a different landmark motorsport venue around the world, with Mk IV Airspeeder pilots competing in timed trials and heart-pounding white-knuckle head-to-head races 20 meters above ground. Manned demonstrations of the new Mk. IV race speeder, which will compete in the first world championship, will begin in the Mojave Desert this November.
A video showing what motorsport fans can expect can be viewed here.
Matt Pearson, founder and CEO of Alauda Racing, and the driving force behind the Airspeeder race series, said: "Flying cars are no longer a fantasy, they are a reality and Goodwood Festival of Speed is the perfect place to introduce Airspeeder to the world. We've taken design cues from the golden era of racing, and we're sure the tens of thousands of enthusiasts present will instantly appreciate this evolution of motorsport. Totally absorbing, and all electric, it will appeal to a whole new generation of race fans."