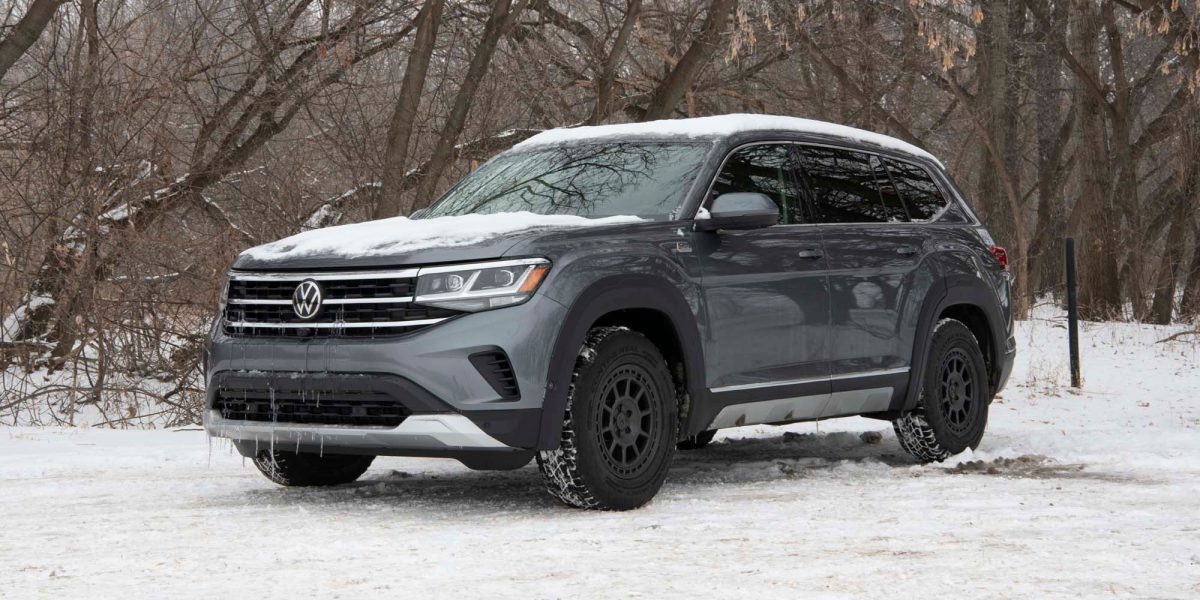 Words by Brian Griebenow
Photos by Jennifer Jensen
ATLAS A BIT FURTHER
If you are in the market for a reasonably affordable carrier of people, or four-legged-people, or cargo, or a substantial mix of the above, then you are likely aware of Volkswagen's largest vehicle, the Atlas.
If you haven't yet, check out our complete review of the updated-for-2021 Atlas here:
https://wearemotordriven.com/reviews/2021-volkswagen-atlas-minor-updates-same-living-room/
The Atlas has become a solid seller for VW.
With two engine choices, FWD or AWD, and 7 trim levels, you would think VW would feel comfortable just kicking back and letting this one sell itself.
Well, think again.
Someone in their marketing department saw an opportunity to reach just a bit further…to folks among us (volks unter uns) who want their hauler-of-whatever to look a bit more robuste (sorry, rugged). Enter the Atlas Basecamp!
I had the pleasure of living with this 2021 Basecamp variant for a few days and in short, if you like the Atlas, you will like Atlas wearing these Basecamp outer garments.
Wait, did he say "outer garments"?
Yes. Yes I did. But, before I detail what makes a Basecamp a Basecamp, how about some general observations and impressions of this 2021 Atlas SEL?
THE ATLAS
To review, the Atlas can be had in S, SE, SE with Technology, SE with Technology R-Line, SEL, SEL R-Line, or SEL Premium trim level. And depending on trim level, you may have a choice of either FWD or AWD, and either a 235 hp turbo 4 cylinder, or a 276 hp naturally aspirated V6 (OK, VR6 for all you VW engine aficionados).
Regardless the variant, every Atlas is large, very roomy, and well equipped in terms of safety, capability, and functionality.
Considering that the base S model starts around $32,000, there's a whole bunch of vehicle per dollar waiting at the left end of that variant list. Or stroll on over to the right end of the list and you'll find the SEL Premium with the V6 and AWD starting around $50,000.
The Basecamp-bedecked Atlas sharing my garage for the past few days is of the V6 SEL Premium variety. (Yes, I did say bedecked. I'll clarify that shortly.)
As an SEL, this one includes niceties like a heated steering wheel with two heat levels. Very nice on those upper Midwest winter days. The SEL's Fender audio system lacks the amazing tinkly highs of the very best systems, but does sound quite good overall.
The panoramic moonroof is reeaallly long, and I'm sure is wonderful if you are into that sort of thing.
A more useful bauble is VW's Digital Cockpit which replaces the traditional round gauges just ahead of the steering wheel with a configurable screen.
Information you can choose to display here includes a round speedometer and tachometer, MPG, fuel range, trip distance, trip time, driver assist systems info, NAV route guidance, destination info, compass, elevation, and audio info.
But the slickest trick is that you can choose to display the NAV map here…straight ahead of the steering wheel…instead of on the main center touchscreen.
VW's entire infotainment system is intuitive, responds quickly, and includes a lot of useful information as well as a few silly just-because-we-can gimmicks like an image of a tire that turns as you steer, to show you the angle of your front wheels in degrees.
I'm not sure what you do with that info, but hey, it's something you can show your friends!
You get the idea.
The Atlas, at any trim level, is a good and useful machine. And it looks good…it has presence. Somewhat boxy, big, sturdy, with tasteful trim.
Does it look tough? Rugged? Does it look capable of tackling a serious off-road adventure?
THE BASECAMP
Without the available Basecamp bits, I'll say no, no, and no. (Did he say Basecamp "bits"?) Yes, I did. And (finally) here's why.
VW does not offer a model called the Atlas Basecamp. Rather, your VW dealer offers a Basecamp package, or kit, that can be installed on your Atlas right there in their shop.
Or, for that matter, you can order it, pick it up, and install it yourself if you have the tools, time, and talent. Oh, one restriction…the Basecamp package will fit any Atlas with the factory trailer hitch, except the R-Lines.
The Basecamp body styling package kit is VW part number 3CN071329DSP.
That includes fender flares with integrated splashguards, satin silver front and rear valances, side door skid plates, and Basecamp™ front fender badges.
These components, designed and manufactured by Air Design, are pre-painted and ready to install. This kit runs about $2,500 plus installation and local shop material costs. And Air Design USA warrants all of the styling bits against defects for three years or 36,000 miles.
WAIT, THERE'S MORE!
To complete the Basecamp transformation, VW worked with aftermarket wheel manufacturer Fifteen52 to offer 17" Traverse MX wheels in either radiant silver or frosted graphite, and wearing beefy 245/70-17 all-terrain tires.
Adding this recommended rolling stock upgrade raises the total conversion cost to right around $4,000.
To my eye, this wheel design perfectly compliments the overall look of the Basecamp package. The smaller wheels and taller sidewalls do not turn the Atlas into a Jeep, but they do steer its overall look at least onto the shoulder if not quite off the road.
THE EXPERIENCE
While my time in the driver's seat of this 2021 Atlas V6 SEL Premium with the Basecamp package did not take me rock crawling or stream fording, it did provide me enough variety to assess the Atlas as a daily errand runner.
Initial impression?
Good looking hauler, well proportioned, clean lines, and the Basecamp kit gives it a purposeful, sturdy look without turning into a macho cliché.
My first impression of the interior was disappointing. Hmm, this looks cheap. I largely blame the abundance of readily visible hard plastic, particularly along the lower dash, the sides of the console, and the lower door panels.
But, sadly, the seats manage to also look cheap despite being two-toned and perforated.
I was sure the seating surfaces were vinyl, what VW calls "leatherette". I had to check the Monroney to verify that they were indeed leather, standard on the SEL Premium.
Note to Volkswagen…how about calling your leatherette "vinyl" and your leather "vinylette"?
More importantly, though, the Atlas' interior is roooooomy.
I'm a fairly long-legged six-footer. After a comfortable first drive, I climbed into the rear (middle row) seat behind the driver's seat and found several inches of knee clearance. Since these middle-row seats slide fore/aft and even recline, I slid that seat forward to allow just enough knee room.
Then I climbed into the third-row seat and was shocked to find just enough knee room way back there. That, volks, is impressive passenger space, enough for seven tall adult humans.
So, how does the Basecamp drive?
THE DRIVE
I found the naturally aspirated 3.6 liter V6 to be adequately torquey, and it pulls away smoothly with a subtle growl.
The 8-speed automatic does its job just fine and I found it refreshing that VW did not feel obligated to bother with shift paddles as this is not a sports car.
One minor complaint, wind noise. While it's not terrible, when you ramp up to freeway speeds it sounds like you've turned on the defroster. Bottom line is, it drives like a VW Atlas.
Remember, adding the Basecamp package provides an outdoorsy look. It does not enhance its off-road capability…much. Only the tires are slightly better off the road than the standard Atlas rubber.
But here's the thing. Those tall, pudgy tires drive just fine on the road, and in fact they soak up bumps nicely and provide cushioning against urban challenges like potholes.
This top-of-the-line V6 SEL Premium, with the Basecamp goodies can be had for about $54,000. Not inexpensive, but also not lacking in any area except perhaps interior materials.
But look to the left end of the list and you can find a quite nice Basecamp-equipped entry-level Atlas S for as little as $36,000.
If you appreciate German vehicles—and who doesn't—and you want plenty of room for your peeps, your pups, and all their stuff, your VW dealer might have the perfect Atlas for you.
And if you prefer to look like you're headed for a trout stream instead of a country club, the Basecamp package has you covered.