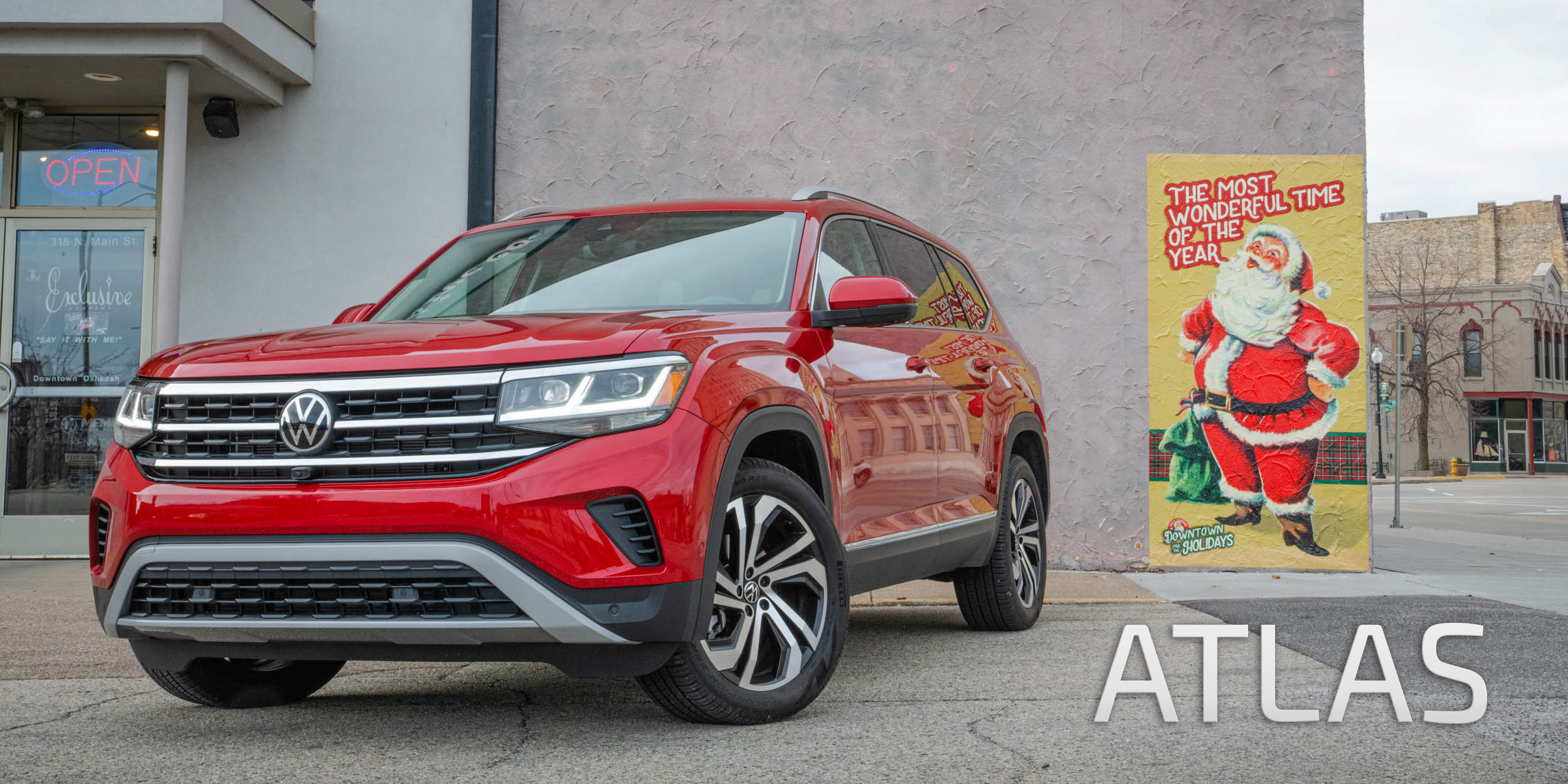 Words and Photos by Jennifer Jensen
ROOM FOR ALL
Volkswagen's Atlas is large. Actually, it's more like a 2XL sweatshirt that you can slip into and live in for a long weekend.
That's why it was going to be the perfect vehicle for our family to take on our annual Christmas tree hunt.
The Atlas provides three rows of seating…real seating for full-sized people. And in our case that is a very good thing as our 21-year old son is 6 feet tall, our 19-year old daughter is 6 feet tall and her boyfriend is 6-feet four.
I was very excited to have a vehicle that would easily fit all of us for this year's tree outing but it wasn't meant to be.
Our daughter got called in to work and our son's girlfriend got sick. So our party of six became a party of three. We could have taken a Golf and been just fine, but the Atlas was our ride for the week and we weren't about to waste it.
REFRESH
Volkswagen has made some design changes for the 2021 Atlas.
Both the front and rear end have been redesigned to offer a more bold appearance. The bumpers are new and now look like those found on the Atlas Cross Sport. There is now a three-bar grille that extends into the headlights. The head and taillights are now full LEDs.
The new front end is a little more imposing and will certainly give pause to anyone who might see the Atlas filling their rearview mirror.
Other exterior changes include Adaptive Front Lighting on SEL and SEL Premium models and standard roof rails across the board. Black rails for base models and silver for SEL and above.
VW also added rain-sensing wipers and automatic headlights as standard across the entire Atlas lineup.
ON THE INSIDE
The interior of the Atlas has always been the highlight of this large SUV. There is just so much space.
The Atlas sits on VW's MQB modular platform and here it is basically stretched to the max. As I mentioned a little earlier, there is room for everything and everyone.
Cup holders abound, as do other nice accouterments.
Front row seats are blessed with heating and cooling, the second row also has heated seats. Sorry third row passengers, but you will have to keep each other warm without any vehicle aid.
Second row passengers have their own climate controls.
Our SEL Premium also had a heated steering wheel, which is quite nice on cold Wisconsin winter mornings.
There are dual USB ports for both the front and second row seats along with a 12-volt outlet for both rows as well.
Access to the third row remains a simple function of pulling a single lever. The second row then slides forward and tilts up allowing pretty simple ingress to the back. The nice thing is that third row passengers can push the lever, and the second row, out of the way just as easily as from the front.
TECH
Atlas SEL models and above receive VW's Virtual Cockpit which just keeps getting better.
The instrument panel can share a multitude of vehicle information and present it in no less than 21 different variations. One of my personal favorite features is using navigation and changing the entirety of the IP to a map.
The center-dash mounted touchscreen, 6.5-inches in the base model and 8-inches elsewhere, is a capacitive screen similar in technology to that of a smart phone. That makes it far more responsive than resistive touchscreens that require pressure. It also means you can use pinching and swipe motions and it works quite well.
Another fun feature VW adds are pop-up menus that appear on the bottom of the screen when it detects your hand in close proximity.
You can also pair more than one phone with the system and easily switch between those devices.
CHOOSE YOUR OWN ADVENTURE
Another feature carried over on the Atlas is the Active Control for the 4Motion all-wheel-drive system.
Using a dial on the center console, you can choose from Onroad, Snow, Offroad and Custom Offroad.
Each of these selections changes several operational parameters such as engine response, transmission, steering, Active Cruise Control, Hill Descent Assist, and Hill Start Assist.
Depending on your selected drive mode, the transmission may shift earlier or later, the all-wheel-drive system may engage quicker and throttle response may be quicker or slower.
In Onroad Mode drivers can also choose between Normal, Sport, Eco and Custom to alter engine response, steering response, throttle and Adaptive Cruise.
The Adaptive Cruise has been updated for 2021 to allow for full stoppage and start again.
POWER
Two engine options are on hand for the VW Atlas.
The base engine is a turbocharged 2.0-liter four-cylinder that is good for 235 horsepower and 258 lb-ft of torque.
The optional power unit is a naturally-aspirated 3.6-liter VR6 putting out 276 horsepower and 266 lb-ft of torque.
This is going to be really hard for me to write, but I actually like the turbocharged four-cylinder over the VR6. The turbo four feels more powerful off the line and is far more responsive to throttle inputs.
There is something amiss between the gas pedal and the VR6's response. It's like the engine has to think about what you are asking of it before responding. Sort of like many working adults before they get their morning cup of coffee.
Another change for 2021 is that the 2.0-liter four can now be paired with 4Motion all-wheel-drive. Formerly only the VR6 could partner with 4Motion.
No matter which engine you choose it will be tied to an 8-speed automatic.
The transmission does a good job matching a gear with your driving needs. There was no real hunting or pecking and the engine was always eager to deliver its power when needed. At least once it is on boil. The VR6 just feels anemic in a way the turbo-four doesn't.
OH CHRISTMAS TREE
So our party of three ventured out the day after Thanksgiving to go choose and cut our own Christmas tree.
It has become a family tradition and one that we look forward to every year.
I selected a Christmas playlist on my phone and the Atlas' Fender audio system played through it with excellent clarity and depth of sound.
Our drive to the tree farm was about 45 minutes and the Atlas rode quite nicely.
The suspension does a good job of soaking up road imperfections. However, I noticed that if you hit a big obstruction such as a poor railroad crossing or a big pothole, there is a large amount rebound that unsettles the ride considerably.
This is a little surprising as it has always been my opinion that VW does an admirable job designing suspensions.
I kept Lane Keep Assist on while driving to the tree farm and have to say I was quite impressed with how well it does to gently nudge you back into your lane should you begin to wander. There was no Ping-Pong effect like on some other systems.
We arrived at the tree farm completely refreshed and ready to walk through the thousands of trees to try to find our perfect one.
With saws in hand we went walking and had a great time picking apart each others selection in trees. Our house doesn't have vaulted ceilings so we need to stick with trees under 8-feet tall. And of course we always find a perfect tree that is 10-feet or greater.
Eventually we found one that we all agreed upon and our son cut it down in record time. We hauled it to one of the many walkways to be picked up by a tractor and brought to the main house.
Once paid for and wrapped with twine, one of the workers helped carry the tree to the waiting Atlas. We put it on top and started running bungee cords from roof rail to roof rail.
That's when the size of the Atlas became clear to me.
Our bungee cords wouldn't go from one side to the other. We had to pair them up to gap the expanse between the rails!
Fortunately we had plenty of cords on hand for the task, but it was a shock to me that a single bungee cord couldn't reach both rails.
Our drive home was just as calm and serene as the drive there. The optional panoramic roof allowed us to keep an eye on our tied down tree to make sure it didn't go anywhere.
It was easy to carry on a conversation with our son in the second row all while listening to more Christmas tunes through the Fender audio system.
SUMMARY
With all the changes VW made for 2021 you would be safe to assume there was a price hike to go along with them. I am pleased to share that there was not.
The starting MSRP for an Atlas remains unchanged from 2020 at $31,545. Our SEL Premium topped out the range at an as-tested price of $50,410 including a $1,020 destination charge.
While at times the Atlas doesn't feel as upscale as some other VW products, it certainly would fit the bill for many families looking for reliable and roomy transportation with room for everyone.