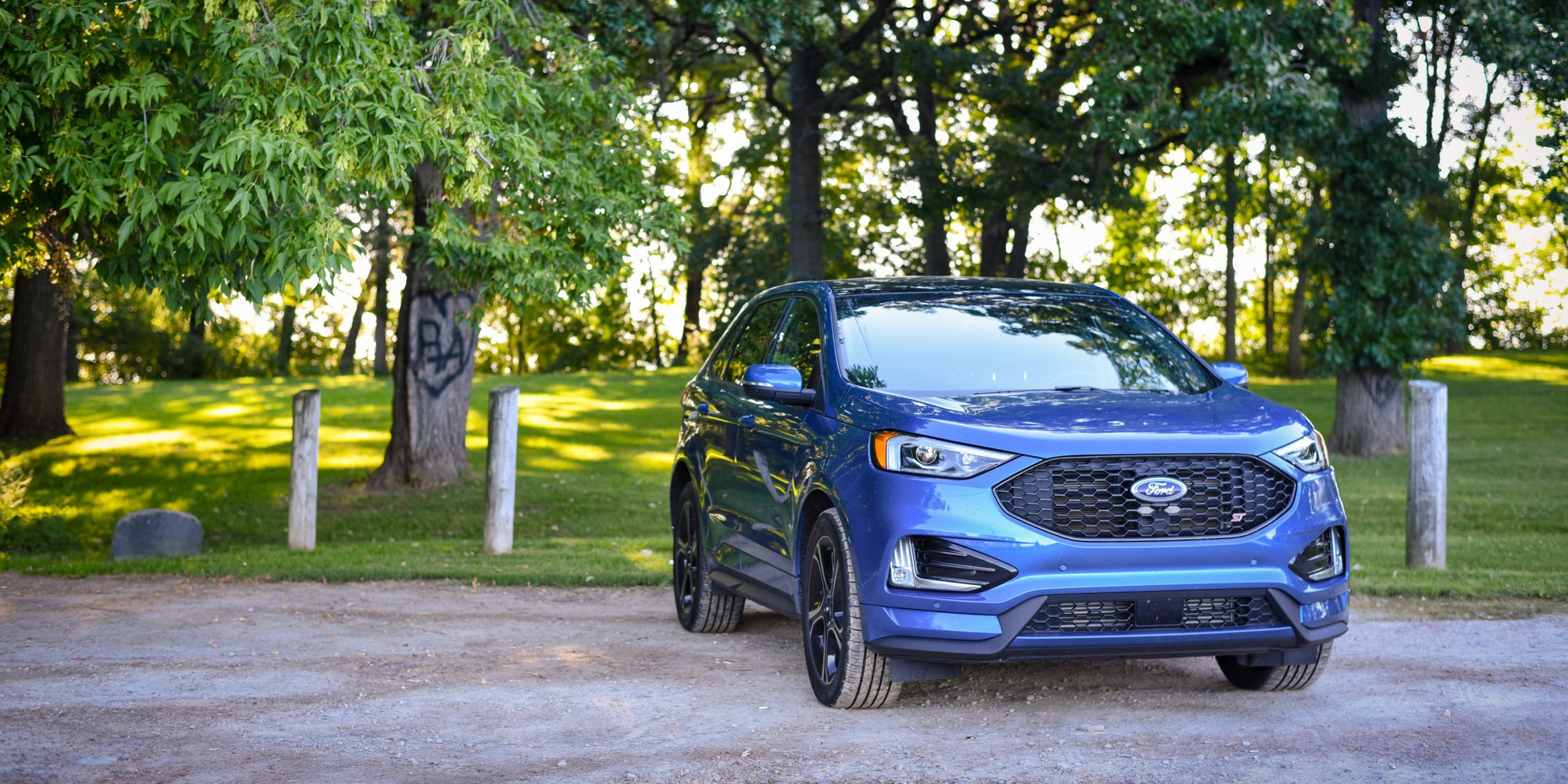 Words and Photos by Jennifer Jensen
Dropping a child off at college can be a trying experience. Depending on your relationship with said child, it can be joyous, gratifying and prideful, or it could be a moment of relief and something everyone in the household has been looking forward to for awhile. I am happy to say that dropping our daughter off at college put us in the former category. We cried with her when she was accepted into her first choice, rejoiced with her when she received her scholarship and aid package and were beaming with pride when we dropped her off on freshman weekend. Truth be known, our son is also in college and two years ahead of our daughter, but he still lives at home.
Helping us overcome all of the emotions of that day was Ford's Edge ST. This is Ford's first soiree into hot rodding a crossover, but what else are they going to do since they announced the Mustang will be the only car remaining in the US fleet.
To that end, the Edge ST is more powerful than the previously offered Edge Sport. The twin-turbo 2.7-liter V6 pushes out a healthy 335 horsepower and a stout 380 lb-ft of torque. Both of these numbers are increases, 20 hp and 30 lb-ft, over the Edge Sport. But increased oomph wasn't the only calling to pin the ST badge on the Edge. Suspension tweaks include increased spring rates front and rear, strengthened anti-roll bars, and mono-tube dampers on the rear. These adjustments provide a favorable ride without much "floating" but no jarring either…just a well-damped cruise that neither rewards nor punishes.
But we wanted to see how the Edge ST would handle family events, specifically the aforementioned college move in day.
Because our daughter is a freshman she moved in several days before the upper classmen. St. Norbert College provided loads of helpful information including maps and directories for everything we first-timers would need to know. Not only that, but the college president brings in a crew of friends to help unload incoming freshman's vehicles. Now that is service!
The night before the big move our daughter had everything packed in her room and ready to load. We propped open the back door to our house and had the Edge ST parked just outside. The "kick your foot under the bumper" feature is a nice one to have but it takes practice to figure out the speed and location your foot must enter the zone to be properly activated.
We folded down the second row of seats to create a substantial 74.4 cubic feet of cargo room. Just what we needed! It only took four or five trips to move everything from her room to the back end of the Edge. The only thing we couldn't fit was her pile of clothes, which perched easily in the back seat of her car. With everything successfully loaded we locked the vehicles and went to bed.
The next morning came too quick. A hearty breakfast, showers and we climbed aboard to head off to St. Norbert.
You don't sit in the Edge ST, but rather on it. The leather and suede covered seats are perched high, as is the chassis, so the overall feeling is that of controlling the car from above instead of from within. Everything falls readily to hand, the controls are sensible and Ford's Sync 3 works very well. Apple CarPlay functions seamlessly and there is room all over the cabin for water bottles, coffee cups, spare cables and just about anything else you need to bring along.
The Edge ST does provide a "sport" mode, which changes gear mapping for the standard eight-speed automatic transmission. Just hit the big "S" in the middle of the rotary gear selector and you will be greeted with a bit more aggression from the Edge. One annoyance is the teeny tiny tachometer located on the left side of the perfectly-acceptable-in-size speedometer when in sport mode. This tachometer is frankly illegible. This is unacceptable, particularly when a manufacturer provides paddle shifters to control the transmission. If you choose to take over and shift for yourself, the tach will leave you wanting for something easier to discern.
As previously mentioned, the ride is actually quite good. Steering is not as immediate as I want in a sporty vehicle but it does provide a fair amount of feedback from the road. There is an optional ST Performance Brake package that increases the size of the front rotors, paints the calipers red and outfits all four wheels with summer tires. Our tester did not have that option but I have no complaints about the brakes during our regular testing.
That twin turbo V6 gets things moving smoothly and provides ample passing power when at highway speeds. The torque helps launch the Edge ST off the line and helps provide a sub six-second 0-60 time. Mileage suffers a little from the Edge's portly weight and it would certainly benefit from a larger fuel tank to help get past the 300 mile barrier between fill ups.
The radar cruise control and lane keep assist systems made the Edge ST an almost hands free driving experience on the mostly interstate drive to St. Norbert. Give the wheel a little jiggle every minute or two and the Edge ST will steer itself calmly and with little fuss.
We arrived at the designated unloading zone feeling refreshed and not drained at all from the drive to campus. The unloading crew immediately set to work emptying the contents of the Edge into grocery carts and pushing those off to our daughter's new home away from home. Once empty of all her belongings we were directed to a parking lot so we could spend the day helping her set up her dorm room.
I held my emotions in check for the entirety of the day and after the final step of getting her a parking pass for her car and sticking it on her window we gave our final hugs and let loose the tears of 18 years of parenting. We skulked back to the Edge and felt the cabin a familiar and welcoming environment to regain our composure before heading back to a home with one less person in it.
To me, the Edge ST doesn't fully fit the bill to make it worthy of wearing the "ST" badge. It can't begin to shake a stick at higher-priced performance offerings from Europe such as the SQ5, Porsche Macan, or Jaguar F-Pace S. It is certainly more capable than other Edge models that the Blue Oval currently offers, but the wick could be turned up substantially more to meet the discerning tastes of performance enthusiasts who happen to have kids.
As a mildly sporty crossover the Edge ST does a very admirable job delivering on its promises. There is room to spare and enough tech to keep passengers…and the driver…entertained. But this could very easily have remained the Edge Sport. For moving day the Edge was a fantastic companion with all that room in the back end and a Sync system that performed flawlessly. But come on Ford, if you are going to slap the ST badge on something, why not make it count.