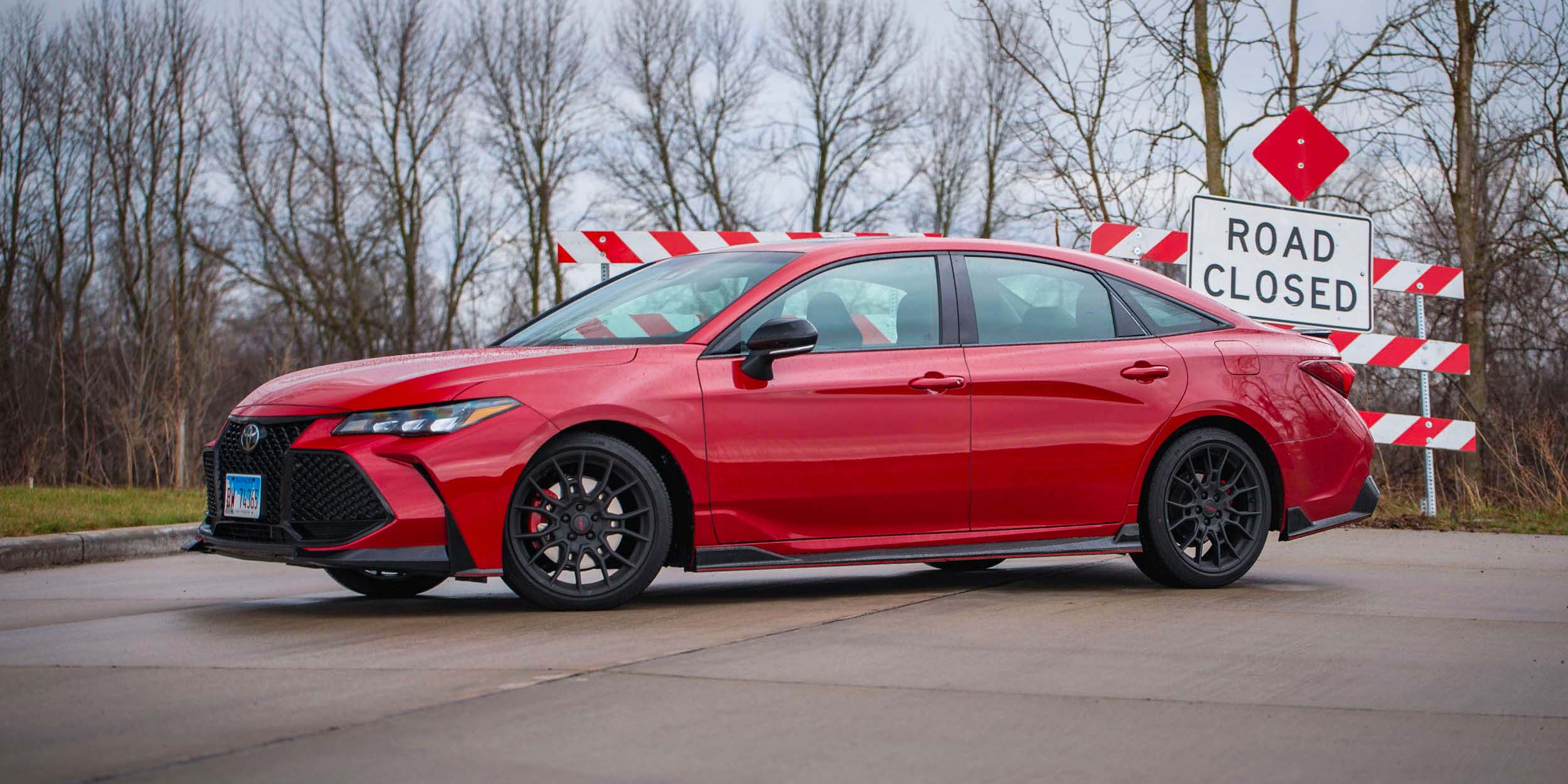 Words by Jennifer Jensen
Photos by Jessica Voruda
AVALON
The Toyota Avalon is a nice car. A large, nice car.
Since it first came rolling onto the scene in 1995, the Avalon has become synonymous with cocoon-like cruising. Secluded from the noise and detractions of the outside world, Avalon owners enjoy the serenity of their cabins with nary a complaint.
Toyota's reputation of good quality and long-lasting reliability are extra feathers in the caps of Avalon owners.
However, sales of this full-size sedan have been on a steady decline over the past few years and Toyota decided to spruce up the 2020 model by sending it to their engineers at Toyota Racing Development, or TRD.
TOYOTA RACING DEVELOPMENT
TRD takes Toyota's standard products and turns the volume knob up to 11. Whether it is making vehicles perform better in harsh off-road environments or making them faster on the street, TRD is there to get the job done.
But why Toyota would choose the Avalon for a TRD treatment is beyond me. So I asked.
The Median: "What is the demographic for this particular trim level of Avalon?"
Toyota Expert: "Our target buyer is a married Gen Xer in their mid-40's who enjoys road trips, seeks out fun roads to test their skills, and enjoys music/engine/exhaust sound."
The Median: "What is the competitive set for a vehicle like this? Who do you consider to be rivals for the TRD?"
Toyota Expert: "There are no direct competitors that we targeted for this vehicle. Rather the TRD version is our effort to expand our well received sporty XSE and Touring versions of the new Avalon. Our focus was to enhance the driving experience through suspension tuning, exhaust sound, bigger brakes, stiffening the body structure, aero enhancements and edgier styling inside and out."
So there you have it. Attract a younger crowd who like to have a little fun behind the wheel while the car seats stay latched in the capacious back seat area.
WHAT'S DIFFERENT
So what did the wizards at TRD actually do to the Avalon to warrant the TRD moniker being slapped on the rear end?
They started by thickening the underbody bracing, lowered the ride height, and stiffened the coil springs and anti-roll bars. Then they put on bigger front brakes with two-piston calipers instead of the standard Avalon's single-piston calipers and put on lightweight 19-inch wheels.
The body features a new front splitter, side skirts, a rear diffuser and a trunk lid spoiler. There are even air diffusers that are part of the external mirror housings.
Inside the Avalon TRD is a black and red theme park. The seats have a leather-like outer surface with a suede-like inner…all black with red highlights. There is red stitching everywhere around the cabin and the TRD logo is branded in the headrests and the floor mats.
Honestly, it looks pretty cool. Even the red seatbelts!
WHAT HASN'T CHANGED
Unfortunately there is no uptick in power or a change in transmission options. Not that I was expecting a manual, but some extra oomph from the naturally aspirated V6 or an honest-to-goodness DSG would have been welcome.
Instead Toyota saw fit to leave the running gear alone. So, like every other Avalon wafting around the road, the TRD has a 3.5-liter V6 pumping out a decent 301 horsepower accompanied by 267 lb-ft of torque.
That power is pumped to the front wheels only and managed by an eight-speed automatic slush box.
Though there is a TRD-tuned cat back dual exhaust specific to the Avalon TRD to help liven up the soundtrack.
ON THE ROAD
Let's see if all that under-the-skin work pays off with a more sporting drive.
My first impression is that the firmer suspension brings a lot more feedback through the steering wheel and into the cabin than I would expect from an Avalon. While that sounds like a good thing, I'm not sure it is.
Understanding that a more performance-oriented driving experience is the intent of this trim line doesn't make it any better. It is not a harsh ride by any means, but it is not the cosseting ride I would expect from an Avalon. My own preconceived notions getting in the way? Maybe.
There are three driving modes including Eco, Normal and Sport, but they don't do much to change the driving experience. The updated suspension is not adjustable so it's mostly just throttle mapping and exhaust noises that change.
I will say the exhaust sounds quite nice. There is a nice throaty growl to it when you plant the throttle. I just wish there was another hundred horsepower on tap to back it up!
However, when you are cruising on the highway and you want all the outside noise to just fade away, that cool sounding exhaust suddenly becomes a constant drone that you can't turn off or tune out.
The uprated brakes do a nice job of hauling the Avalon down from speed, but this is no lightweight little two-seater. So that extra swept area with a bonus piston to squeeze on those front brakes should maybe be standard fare across the Avalon lineup.
I know I'm talking out of both sides of my mouth here, but it doesn't feel like enough was done under the hood to back up the chassis and suspension tweaks. And the chassis and suspension tweaks were not taken far enough from the standard car to really set the TRD apart as a playful partner.
BONUSES
But, as I started out in the beginning of this article, the Avalon is a nice car. It is large, roomy, comfortable and relatively quiet. There is ample room for four or even five adults plus all their stuff. The trunk can hold something like 300 bags of groceries, maybe 350. It's huge!
There is also a laundry list of standard and safety features. The Avalon is packed with options.
The interior design is clean and simple with an intelligent layout (even though the two different shaped cup holders still remind me of EVE from Wall-E). The large 9-inch touchscreen is easy to use and the surrounding controls all make sense.
The Avalon TRD has a base price of $42,300 with our test car pricing out at $45,394. There is a lot on offer with the TRD and the price is commensurate with that.
But for me, the TRD was a letdown. I had hoped that Toyota would really step things up in the Avalon and make this a sports sedan. Instead it is an Avalon that went to the gym a few times but still eats ice cream for dessert every night.
I would almost prefer that Toyota step things up in the luxury department and make the Avalon a true cocoon car. Instead of trying to add performance, make it a magic carpet ride that elevates its driver away from the gritty world around them and provides an absolutely serene driving experience as originally intended. With all the craziness going on in the world right now, that Avalon may woo those 40-year-old buyers more than you think.