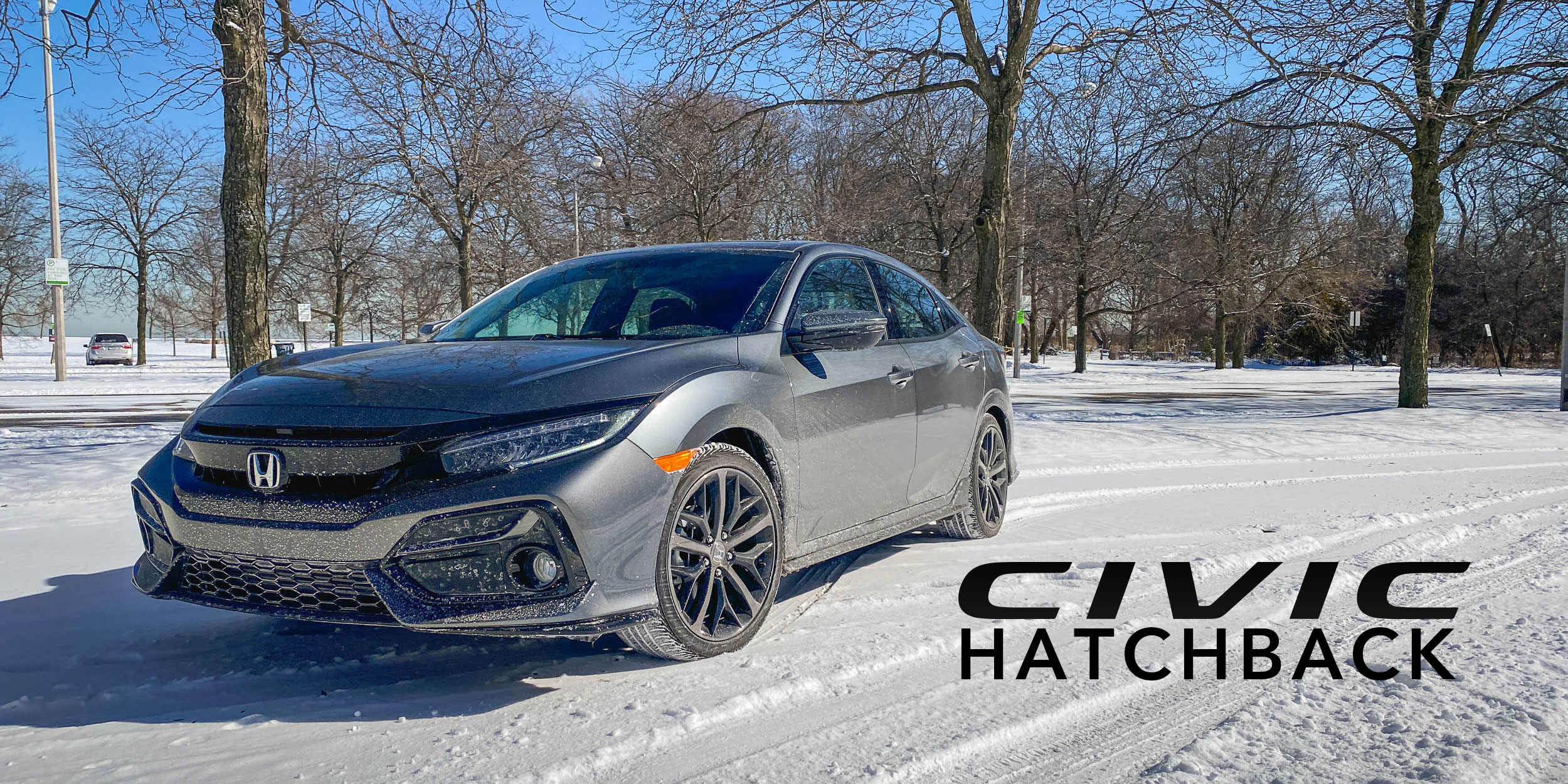 Words and photos by Jill Ciminillo
The Honda Civic is one of those stalwart vehicles I never hesitate to recommend when someone says they're looking for something affordable and reliable.
It's not sexy special, but it does well in urban spaces, and it has started to grow into its looks.
If you want a little more pizzazz and functionality, the Civic Hatchback is another nice option.
Base models for both cost less than $23K. If you want to go top-tier, you'll max out under $30K, and that's pretty solid for a vehicle with all the bells and whistles.
REFRESHING DESIGN
The eighth and ninth generation Honda Civics were nothing to write home about. In fact, I'd say they were pretty blah inside and out with stubby, non-descript design language.
But the 10th generation, which began in 2015, started to change the conversation. Honda added some hard lines, interesting bumped-out taillights and upgraded materials. It was in part because of these upgrades I started to despise the Acura ILX.
Why spend an extra $10K for a badge when you could have a nice, attractive and well-equipped Honda instead?
The sedan got refreshed for 2019, and now the Civic Hatchback has its turn. Front and back bumpers are revised, all trims get new wheels and new interior trim treatments.
The test vehicle was the Sport Touring model, which is on the top of the Civic Hatch totem pole. I really liked both the black dash accents and the checkerboard fabric strip on the front seats. The overall effect was sporty and upscale.
While the leather used in Hondas isn't top grade, it was soft, and the seats themselves were comfortable.
The biggest interior change can be seen on EX level trim and above: Honda got rid of the stupid volume slider and added a dial as well as some other hard-touch buttons that give you easy access to home, phone, map and audio screens.
One annoying design carryover is the location of the USB ports, which are right next to your knee in a tiny open cubby hole under the center stack. Yes, there is a way to feed the cord up to a tray in front of the gearshift, but living in the city, I don't like to leave any cords showing when I park outside, so having to unplug, store and re-plug on a daily basis would get old fast.
There is one USB underneath the slidable cup holders, but this is only to charge. If you want to use Apple CarPlay, you'll have to get used to awkward reaches.
POWER UP
The 1.5-liter, four-cylinder engine in the Honda Civic Hatchback is a carry-over, so the power equation doesn't change. If you're not familiar with the specs, the non-sport models deliver 174 horsepower and 162 pound-feet of torque. Sport models add a skosh more power at 180 and 177 respectively.
After having driven both the Si and Type R, it's hard to say 180 horsepower is fun and sporty. But it's not bad, and I never once felt like I was moving too slow to merge with traffic – unlike some pricier, sportier vehicles I've driven recently that have egregious turbo lag.
One of the nice things Honda has done, however, is keep a manual transmission in the Civic Hatchback. It's not on every trim, but it is available not only on a more base-level trim but also the top-tier Sport Touring trim. This means you can get a manual transmission and all the latest and greatest premium features – think leather seating surfaces, navigation and heated front seats.
Yay.
Unfortunately, I had the available continuously variable transmission ($800), so I couldn't tell you if this made any kind of a difference in sportiness, but Honda puts out a good manual, so I imagine that it would.
OTHER CHANGES
Curiously, though things like Honda's safety suite are standard at the base LX trim, Apple CarPlay and Android Auto are not. Honda does add it to the Sport trim (+$1,100 more than the LX) as standard for 2020, however. So, that's something.
The Sport trim also adds an upgraded 7-inch touchscreen display, passive entry and push-button start.
One of my silly favorite upgrades happens to be the redesigned cup holder. I perpetually carry a 24-ounce glass water bottle everywhere I go, and it usually ends up on the floor because the test vehicle's cup holder can't, well, hold it.
In the Honda Civic Hatchback, you'll get two normal-sized cupholders that slide back to reveal a larger, deeper cup holder to keep those larger Big-Gulp-Sized cups in place. Thank you.
Another nice change for 2020: The hatch adds more sound insulation in the floor, trunk and fenders. That makes the interior cabin much quieter at cruising speeds – though you will still get some tire and road noise – not to mention engine noise under hard acceleration — creeping in.
THE VERDICT
Our test vehicle was the very well-equipped Honda Civic Hatchback Sport Touring model, which didn't have any additional options or accessories. The as-tested price was $29,780.
It performs well in city traffic, has a nice wide-open cargo area for trips to Home Depot for those DIY projects you've been putting off and, with 32 mpg in combined driving, gets decent fuel economy.
At the end of the day, the Honda Civic Hatchback is kind of like your husband who manages to find toilet paper in the middle of a pandemic. It doesn't have movie star good looks or high horsepower that gets your heart thumping. But it is attractive, nimble and reliable and still manages to create warm fuzzies every time you look at it.