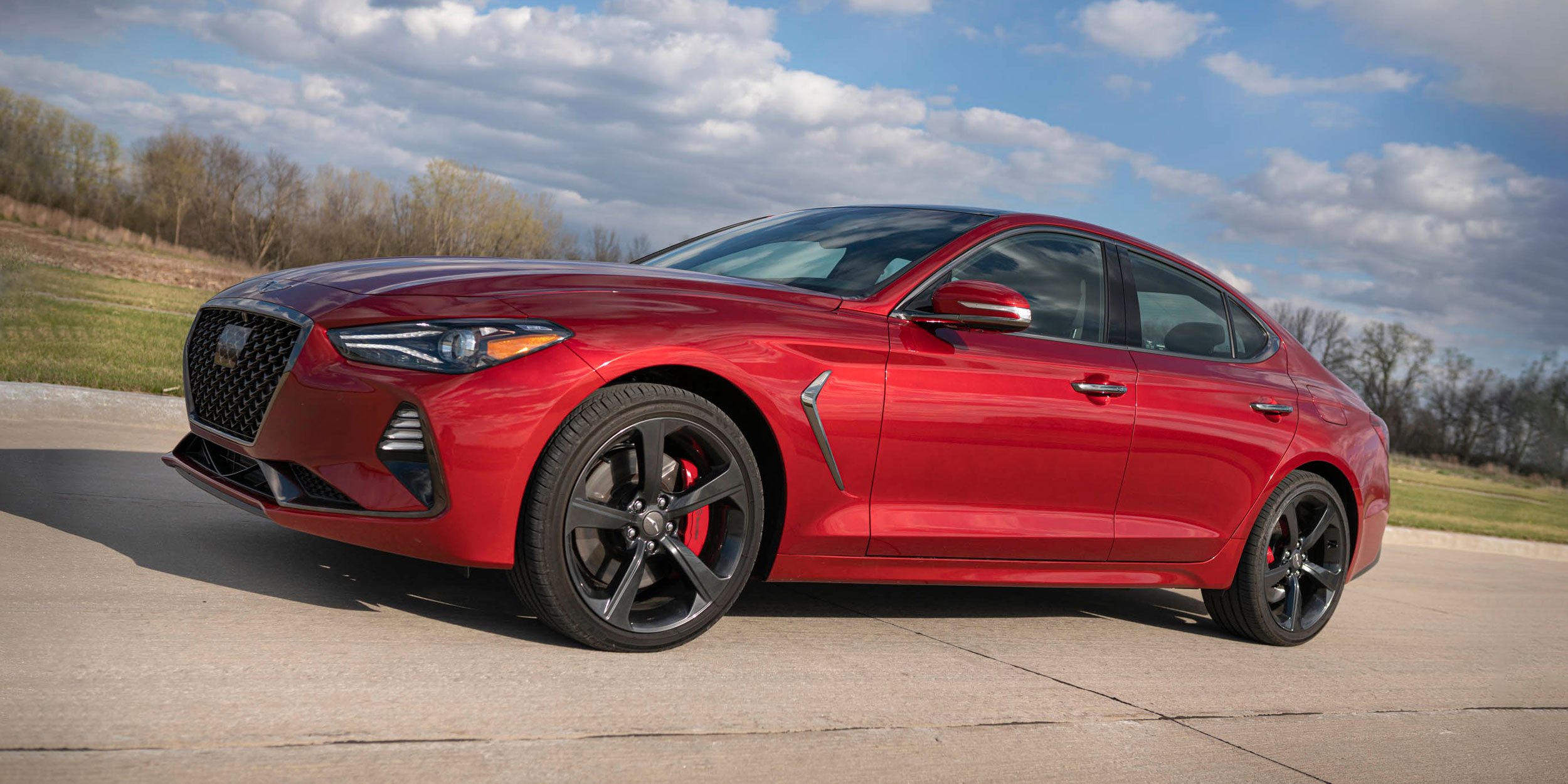 Words by Jennifer Jensen
Photos by Jessica Voruda
IN THE BEGINNING
This past fall we had the pleasure of spending time with the Genesis G70 2.0T rear-wheel-drive.
We enjoyed our time with it and were pleasantly surprised with how fun it was to drive. Add in attractive packaging and a sumptuous interior and we chalked up the four-cylinder G70 as a winner.
MORE POWER
Enter the 3.3T. A more powerful version of the sedan we already enjoyed.
That 3.3T translates into a 3.3-liter twin-turbo V6 that bests the four-cylinder G70's powerplant by 113 horsepower and 116 lb-ft of torque. For those keeping score that means this gem of an engine delivers a healthy 365 horsepower and a stout 376 lb-ft of torque.
That extra power can be felt everywhere across the rev range of that sweet six.
Like the four-cylinder model, the twin-turbo six can be had with either rear-wheel or all-wheel drive. However, the V6 can only be paired with an eight speed automatic unlike the four-cylinder, which can be mated to a manual.
Paddle shifters are on hand and Genesis even tosses in rev-matching for fun. And get this, if you are in manual mode and shifting on your own, the G70 will not shift for you if you hit redline. I love that!
COMPARISONS
If you are a sport sedan fan some of these numbers may sound strikingly similar to another sporting four-door sedan available today…the Kia Stinger GT.
That's because these corporate cousins do share the same drivetrain and underpinnings. But the Genesis is shorter in both wheelbase and overall length. It is also lighter than the Kia.
This results in a more playful partner on the road while not punishing the occupants.
MORE COMPARISONS
Inside and out the 3.3T is a clone of the 2.0T variant and that is no bad thing.
Quilted Nappa leather adorns the seats and doors, contrasting stitching is everywhere, the knobs are wrapped in aluminium trim and the cabin is a generally nice place to be. It looks and feels upscale and like it will last for years to come.
While the interior is sensible and intelligently laid out, the exterior is also quite attractive, at least to my eyes.
The bold Genesis front grille is present and it looks quite becoming on our test car, especially with the added Sport Package ($1,300) that darkens the chrome grille, window surrounds and taillight covers. It is quite striking against the bright Havana Red paintwork.
There is a hockey stick shaped vent behind the front wheels that is highlighted with chrome looking brightwork. The 19-inch sport alloy wheels are also blackened on our test car making it appear even more aggressive.
DYNAMIC DELIVERANCE
Genesis touts the strength of the chassis underpinning the G70. The company uses high-strength steels, aerospace-grade adhesives and generous amounts of aluminium in strategic places to lower the center of gravity and make a platform that is stiff in all the right places.
Having a strong foundation means the suspension can be fine tuned and the G70 offers up five driving modes: Comfort, Sport, Smart, Eco and Custom.
These driving modes alter steering and throttle response along with suspension damping and firmness. Sport mode also closes the side bolstering on the seats to make sure you stay firmly in place. Or maybe it's to show you how much the car cares about you with a little hug.
Comfort mode is lovely for soaking up most of what our bumpy Wisconsin roads offer while sport mode is a tad too firm for anything but the smoothest blacktop or concrete surfaces.
Custom allows you to configure all of these settings into a tailor made package. So you can have the relaxed ride of the comfort suspension with the thrills and chills of the sport engine and exhaust finished off with a normal steering response. Nice.
ALL THE FEELS
Speaking of steering, the G70 delivers with excellent bite at turn in and a smooth follow through on aggressive corners. The car uses a rack-mounted, motor-driven power steering unit, which Genesis claims helps improve steering feel. I would have to agree.
Head into a corner and the car enters with neutral grace. It doesn't transfer weight in any odd ways and just holds the line as you push through. The G70 features Dynamic Torque Vectoring Control that can push 100% of the power to the rear wheels in the all-wheel drive model. That means by the time you reach the end of your corner you can rocket out like an arrow from Robin Hood's bow.
If you need to stop all that forward momentum, there are massive Brembo brakes on all four corners. They felt a little soft under my foot, but they did a very nice job of hauling the car down from high speeds, um, I mean the speed limit.
The balance of the chassis is excellent as well. I just wish sport mode wasn't so rough riding.
What really made me smile was the way the G70 3.3T could carve corners and then nonchalantly drive home from the back country roads without nary a complaint.
This really is one of those Jekyll and Hyde cars that can serve the family's needs throughout the week and then go shred tires on a weekend. The best part is, it's a four-door family sedan.
NICE TOUCHES
The Genesis really trumps the competition in bonus features. There are such niceties as heated and cooled front seats, heated back seats, a smart trunk that opens all on its own if you have the key on your person and stand by the back trunk for five beeps of the system (about 5 seconds). There is no waving your foot under the back bumper, it just opens. Magical!
Smart Cruise Control that features stop and go technology is standard. As is a very good Lexicon 15-speaker sound system that delivers aural delights.
Speaking of aural delights, the G70 also has Active Sound Design. This is not a stereo setting per se, but it takes the engine note in the cabin and allows you to custom tailor how much engine noise you hear. These engine tunes change with the different driving modes or you can turn it off completely to leave the cabin quiet and insulated.
WRAP IT UP
The Genesis G70 3.3T starts out at $46,650 a very fair price for everything on offer here. Our tester added the Elite Package ($1,450: low beam assist, rain-sensing wipers, park distance warning, heated steering wheel, ventilated front seats, wireless charging pad) and the Prestige Package ($2,850: heads-up display, surround view monitor, Nappa leather seating surfaces with luxury quilting, heated rear seats, power trunk, microfiber suede headliner) along with the aforementioned Sport Package ($1,300: electronically controlled suspension, 19" sport alloy wheels, copper headlight bezel accents, dark tint taillight covers, dark chrome grille and window trim, black Nappa leather seating surfaces with sport quilting) bringing the grand total up to $53,245 including a $995 destination charge.
That is a very competitive price package when you take into consideration everything the G70 has as standard. Especially when you start comparing apples to apples with cars from this competitive set.
The Genesis G70 is a fantastic package no matter if you opt for the four-cylinder or six-cylinder model. The combination of luxury, safety and performance features at a very competitive price level make this car a winner in our book.
WATCH OUR VIDEO REVIEW OF THE 2020 GENESIS G70 3.3T HERE:
https://www.youtube.com/watch?v=iYSuvnqghzg