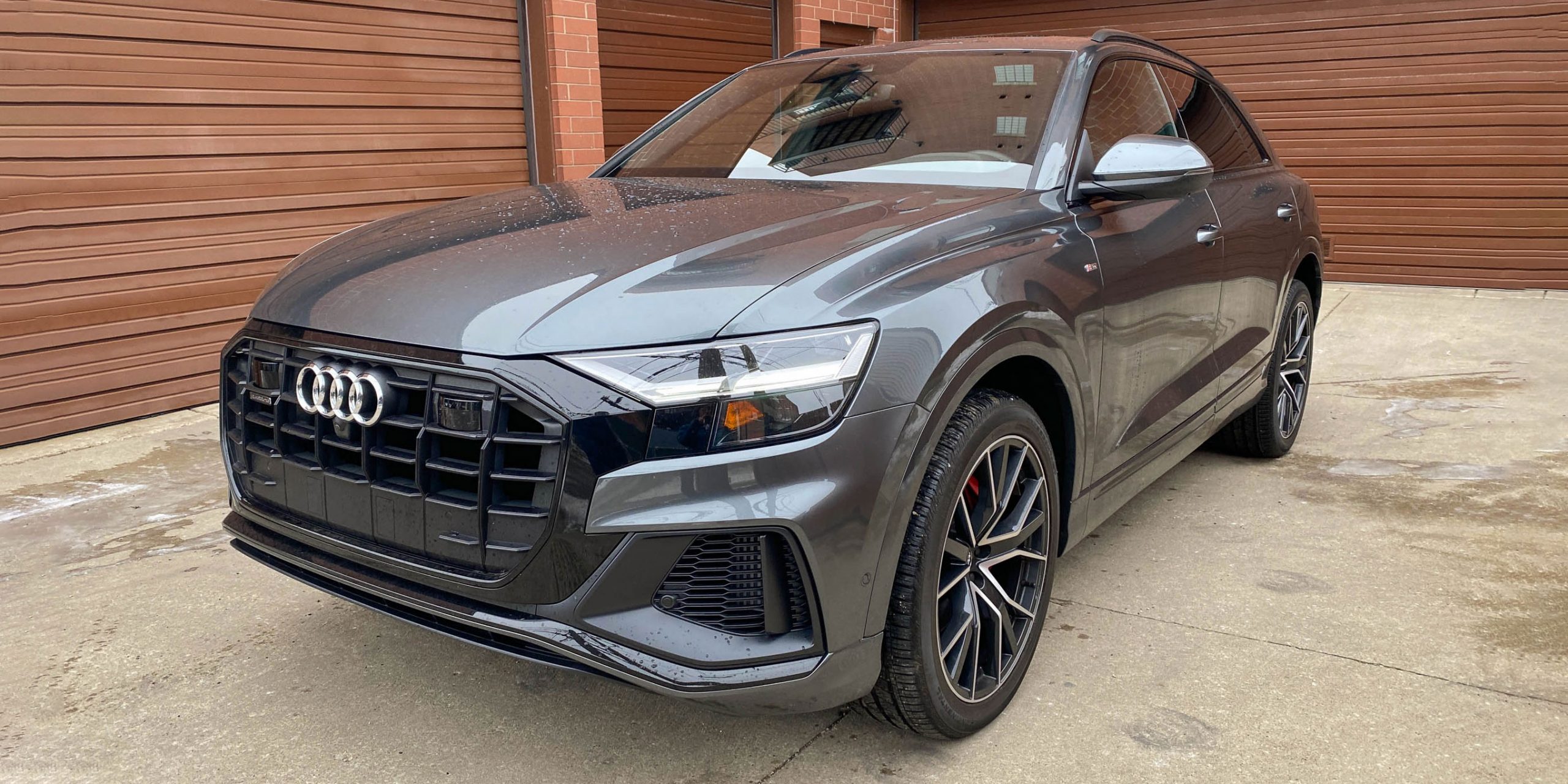 Words and Photos by Jill Ciminillo
The 2019 Audi Q8 looks smaller than it is.
Actually, when I first saw it parked near the valet at O'Hare Airport in Chicago, I thought it was a Q3.
It could be the severe sloping rear hatch or the oversized wheels. But until you stand right next to it, the Q8 looks small.
It does not, however, drive small — a fact I quickly realized when I tried to back into my petite city garage.
In a normal-sized car, this is a feat requiring vehicular acrobatics with a three-point turn in a small driveway surrounded by fences, telephone poles and a brick wall. There isn't much room for error, and the three-point turn became more of a five-point turn as the wide body and poor turning radius had me missing my usual turn-in points.
The Q8's parking sensors squawked at me the entire time, screaming at the top of its lungs: You're too close to this wall or this post or this garbage can!
You can turn off these sensors and squawks, but since it was taking some time to get used to the Q8's larger-than-expected proportions, I left them on for the test week. I was both happy to have them and annoyed by them at the same time.
ON THE MEAN STREETS
Outside of parking lots and city garages, the Q8 manages to be quite comfortable.
I live on a main east-west artery in Chicago that is pockmarked from heavy usage. I often feel like I'm on a slalom course as I head down the street, using this pothole or that gravel patch as my pivot points. And when I don't quite avoid the divots, I feel like I'm on a rural road that has never seen paved surfaces.
So, I bob and weave and avoid the ruts as best I can in most cars.
But it wasn't completely necessary in the Q8. With the wide stance and overlarge tires comes a surprisingly smooth ride over bumpy surfaces. At first, I proceeded down my street with caution, testing the suspension and ride comfort.
By the end of the week, I was driving the speed limit with minimal avoidance tactics because I knew the Q8 would smooth out the worst of the bumps.
HITTING THE HIGHWAY
Off the city streets and onto the highway, the Q8 with the 3.0-liter V-6 engine has plenty of get-up-and-go. Acceleration isn't sports-car fast by any means, but is "right-sized" for this 5,004-pound SUV.
Merging with highway traffic is a breeze, and any passing maneuvers are executed without too much effort. I don't mean to imply there's any lag here — there isn't — the Q8 just doesn't fly.
It's heavy, and it shows when accelerating, but once you're at a cruising speed the weight melts into a planted ride that is more on the comfort end of the spectrum.
I was particularly fond of the Dynamic Mode on the Q8 and left it there most of the week. In addition to increased throttle response, the exhaust note gets a bit deeper and louder.
Another item to note: The Q8 is equipped with Audi's new Mild Hybrid Electric Vehicle technology (MHEV). This is stored under the rear cargo floor, and it's supposed to help smooth out the vehicle's automatic stop/start engine – you know that thing I hate in every vehicle that has it.
When coming to a complete stop, the engine still shuts down and the HVAC is still muted. There is also still a slight lag from the time you take your foot off the brake to the time you put your foot on the gas and the vehicle begins to move. I didn't mind it as much at a stop light, and it definitely had a smoother engine-on engagement, but I found when I was coming off of a side street and trying to break into traffic, I'd remove my foot from the brake early so that the engine was already alive and kicking before I made my turn.
Otherwise, I was cutting it bit too close for my comfort.
IN THE DRIVER'S SEAT
While most of my time in any vehicle revolves around running errands in the city, I did have a few solid highway jaunts to get a feel for driving position and seat comfort.
As a driver on the petite side of the spectrum, I found I was able to get a good driving position with height adjustments and moving the seat to the far-forward position. I fully appreciated the telescoping steering wheel, so I didn't feel like I was caged into the driver's seat.
All the gauges and controls are within easy reach, and the dual touchscreen display, which replaces Audi's rotary-dial Multi Media Interface (MMI), is a visual delight. It's rare that any two-screen system works on a vehicle, but this one does with the top screen clearly managing infotainment and the bottom screen taking on the HVAC.
Overall, the system worked well. The "buttons" on the screen give your fingers haptic feedback with a slight vibration when you touch them. This is startling at first, but eventually feels satisfying — kind of like pushing an actual button.
One thing I did notice, however, is that when my fingers were particularly cold, the screen didn't always recognize my touch, and I had to stab at the button a couple times or do a long, hard press.
BY DESIGN
Though the Q8 is large, it does not have a third row — that's for the Q7. It does have some cushy leather seats, tons of legroom and a plethora of storage space, though.
At one point I had two suitcases, two backpacks and a garment bag in the cargo area. And I could have fit more.
That makes the Q8 one of those rare vehicles that will fit passengers and their luggage for a long road trip.
Plus, the back seat offers a lot of the creature comforts you'd find in the front: available heated rear seats, individual temperature controls and a pair of USB charge ports.
OTHER TECHNOLOGY
Other than the new MMI, which is a huge win in the Audi Q8, I really appreciated the wirelessness of the phone environment. I've waxed poetic about this in the BMW M340i, so I won't belabor the point here. But I will say it's really nice to get in the vehicle, put your phone on the charging tray and leave it there.
The wireless Apple CarPlay also works well in the Q8. I didn't notice any lag between voice commands or push-button commands and the actual execution of the task – and this hasn't always been my experience with other wireless CarPlay systems.
At this time, you still have to wire in for Android Auto.
The test vehicle was a Premium Plus model and included things such as a 360-degree top-view camera system, Bang & Olufsen Premium 3D Sound System, 4-zone climate control and automatic reverse braking.
One other notable tech feature was added to the test vehicle: adaptive cruise control with traffic jam assist. I was able to use this feature on a couple of my highway treks, and I found it to be very smooth.
The idea with this system is to keep your eyes on the road and hands on the wheel, but let the vehicle do the speed modulation. It'll slow down if someone cuts in front of you or if you catch up to slower traffic, and then it'll speed up again when the coast is clear. It has smooth-and-even braking as well as acceleration.
The system does have a bit of a steer assist to keep you in your lane, and while I found it to be 99% correct, there were a couple of times with construction lane lines that it tried to push me in the wrong lane. That's why keeping your eyes on the road – and hands on the wheel – is incredibly important. The car is not always correct.
THE VERDICT
The 2019 Audi Q8 is a really nice vehicle. I love the new MMI, and the dual screen on the center stack makes sense, works well and is really attractive.
One thing that really surprised me, however, is the Q8 is more luxury and less sport – which isn't what I normally experience in an Audi. Even moving the drive mode over to "Dynamic" didn't really change that characteristic, and I felt a disconnect between the car and the road.
Which isn't always a bad thing over Chicago potholes.
But in general, I'd say the Q8 is best suited to suburban driveways and highways because the large body and bad turning radius make tight city spaces a little tough to maneuver.
If you like large SUVs, be sure to check out our review of the new BMW X7 on our sister site, Auto Exotica.