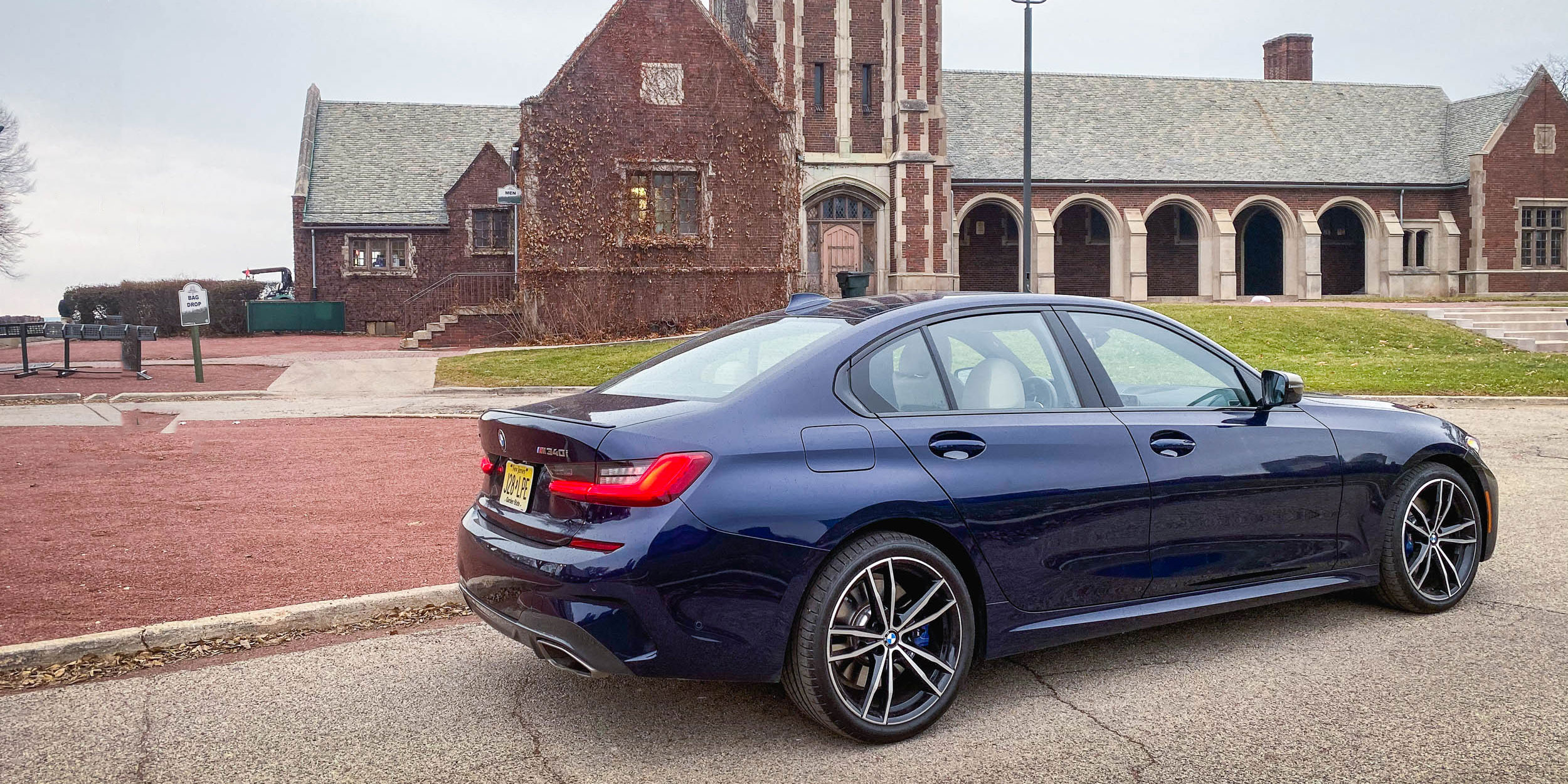 Words and Photos by Jill Ciminillo
It's a silly reason to fall in love with the "Ultimate Driving Machine." And it has nothing to do with actual driving.
But within minutes of sitting in the driver's seat, I was smitten with the completely wireless environment for charging my iPhone and using Apple CarPlay in the 2020 BMW M340i xDrive.
Simply pair your phone, agree to use CarPlay on your phone, drop your phone on the wireless charging pad, and that's it. Easy peasy.
The fact that the 2020 BMW M340i xDrive is also one of the smoothest driving vehicles I've had in a while was just icing on the proverbial cake.
EFFORTLESS HANDLING
Effortless is probably one of the best ways to describe how the BMW M340i handles. I took it on a road trip from Chicago to Indianapolis, and simply could not find enough on or off ramps to satisfy this suspension's desire to work. I couldn't help but use said ramps as mini racetracks, finding the "racing" line, touching the apex and accelerating hard as I came out at the end.
Acceleration is another effortless area for the M340i. BMW's smoother 3.0-liter, twin-turbo, inline 6-cylinder engine delivers 382 horsepower and 369 pound-feet of torque and it never left me wanting for more.
It provided heart-thumping fast highway merges, and in typical straight-six fashion, managed to be comfortable for the long haul over the straight flat highways of Indiana.
This is one of those vehicles that begs for fast curvy roads. I wish I could have accommodated it.
There is deterrent to the fun-factor, however: When BMW redesigned the 3-Series in 2019, it scrubbed the manual transmission. What the heck? The only transmission available in the M340i is the 8-speed sport Steptronic. (Insert sad trombone.)
TRAFFIC JAMS & TECHNOLOGY
Since I was driving in Chicago rush-hour traffic, I played around with the available Extended Traffic Jam Assistant (ETJAS) until I got out of the city. ETJAS is designed to allow drivers to drive autonomously (hands-free and pedal-free) at speeds up to 37 miles per hour. It uses a combination of cameras, radar and ultrasonic (parking) sensors to detect the road and vehicles around you. During my traffic-laden departure from the Windy City it worked very well. There were no jarring accelerations or decelerations, and best of all, the car didn't crash.
While it may seem like a given that the system was smooth in execution, this is not always the case. Some vehicles with similar features are very herky-jerky, accelerating briskly as a car in front pulls away from you in traffic and then slamming on the brakes at the last minute. In many of the vehicles we have reviewed it seems like the system is not quite sure how to react calmly to the world around it. If you have ever been in the passenger seat with a teenage driver as they venture out the first time, you know the feeling.
ETJAS did none of that. It maintained an even distance with smooth, automated inputs controlled by the vehicle.
That smoothness unfortunately did not translate into the lane keep assist programming. I found myself fighting against the tug of the steering wheel on more than one occasion. This fight was more prevalent in construction zones with multiple lane lines, so maybe I can give it a pass. But take note BMW, there is definitely room for improvement.
MAP HAPPINESS
Like almost every vehicle coming from the Bavarian Motor Works, the M340i has tech features galore. The wireless charging and Apple CarPlay mentioned at the beginning are just the tip of the iceberg.
One of the new design features is the instrument cluster behind the steering wheel. It features a map between the speedometer and tachometer. The great thing about this is, it doesn't disappear when you connect to Apple CarPlay. The bad thing is BMW's well-known and easy-to-read analogue gauges are gone. The new instrument panel is nowhere near as classy and can, at times, be hard to read.
Having the map remain in the IP, however, is handy, especially when traveling to places unknown. While that may seem like an obvious statement, this is not the case with other automakers that display a map in the cluster. As soon as you connect to CarPlay or Android Auto, a compass appears instead and the car's map is no more.
GESTURE CONTROL
Another interesting tech feature on the 3-Series is the gesture control, which comes as a part of the Executive Package ($2,100).
I have sparred with this feature in other BMWs, and I haven't always won. For example, at times I have inadvertently changed radio stations when all I wanted to do was adjust the heat, or I have turned off the radio when I was talking to my passenger (yes, gesticulating with my right hand).
But the gesture control in this BMW M340i seemed less excitable, and I only managed a couple accidental mutes when I was reaching for the HVAC.
I generally like the idea of this feature, but it still needs some considerable refinement to be truly effective.
OTHER COOL FEATURES
BMW is also one of a few automakers that will turn your phone into a key for the car. This allows you to ditch the traditional key fob and use your phone to unlock and start the car. Ironically, though BMW doesn't offer Android Auto, this "digital key" only works with phones running Android 8.0 and above.
One of the features I appreciated the most during my time with the car was the available 360-degree camera. In addition to giving you a view that completely surrounds the vehicle, it automatically changes the view depending on where the system senses you might be cutting it a bit too close.
For example, if you're pulling into a parking space and engage the camera to make sure you're centered in the lines, the camera will flip to a front view as it senses you're getting close to the curb or another vehicle parked in front of you.
Other available tech features include a head-up display, power tailgate, WiFi hotspot, Harman Kardon surround sound and Park Assistant Plus.
BY DESIGN
The 3-Series received a complete redesign for the 2019 model year, and it adds almost 3 inches in length. While the exterior is refined, the shape is still recognizably BMW. Strong horizontal lines, BMW's signature kidney grille and twin headlights are all hallmarks that make the car easy to spot on the road.
The grille design on our BMW M340i was particularly eye catching with a diamond-shaped pattern punctuated by silver vertical slashes. It lends a touch of elegance to the front end, something that seems to be disappearing from autodom as a whole. I am grateful there isn't a fish-mouth-style grille on this car.
The interior also gets an upgrade in terms of design and trim materials, all while maintaining a handsome appearance. Gauges and controls are all easy to see and reach. The extra length translates into a bit more interior room as well.
The 3-Series does still have the iDrive controller in front of the armrest, but with a redundant touch screen, I never used it.
EVERYTHING'S AN OPTION
Everything is an option on the 3-Series – including most paint colors. I understand that it allows you to completely customize your vehicle, but the price tag increases exponentially with every option.
As seen in this particular M340i, you can almost buy an additional vehicle with the price of options alone!
The base price of a 3-Series is about $41k, if you opt for a BMW M340i, you're looking at an entry price of $56k. This vehicle added nearly $13k in options, bringing the as-tested price to $69,570. That is a serious pile of cash for a 3 Series.
IS IT WORTH IT?
I really love the drivability of the 2020 BMW M340i xDrive.
It is alternatively fast-and-fun or smooth-and-comfortable in all the right places. And while $56K is certainly a premium to pay, as a luxury vehicle it is a little more palatable – until you start adding safety and tech options.
It makes something like the Genesis G70 – which does still have an available manual transmission – look a lot more attractive. Especially considering the base $38,445 price tag including options. BMW needs to take a good long look at the competition coming from all sides if they want to stay ahead of the pack.