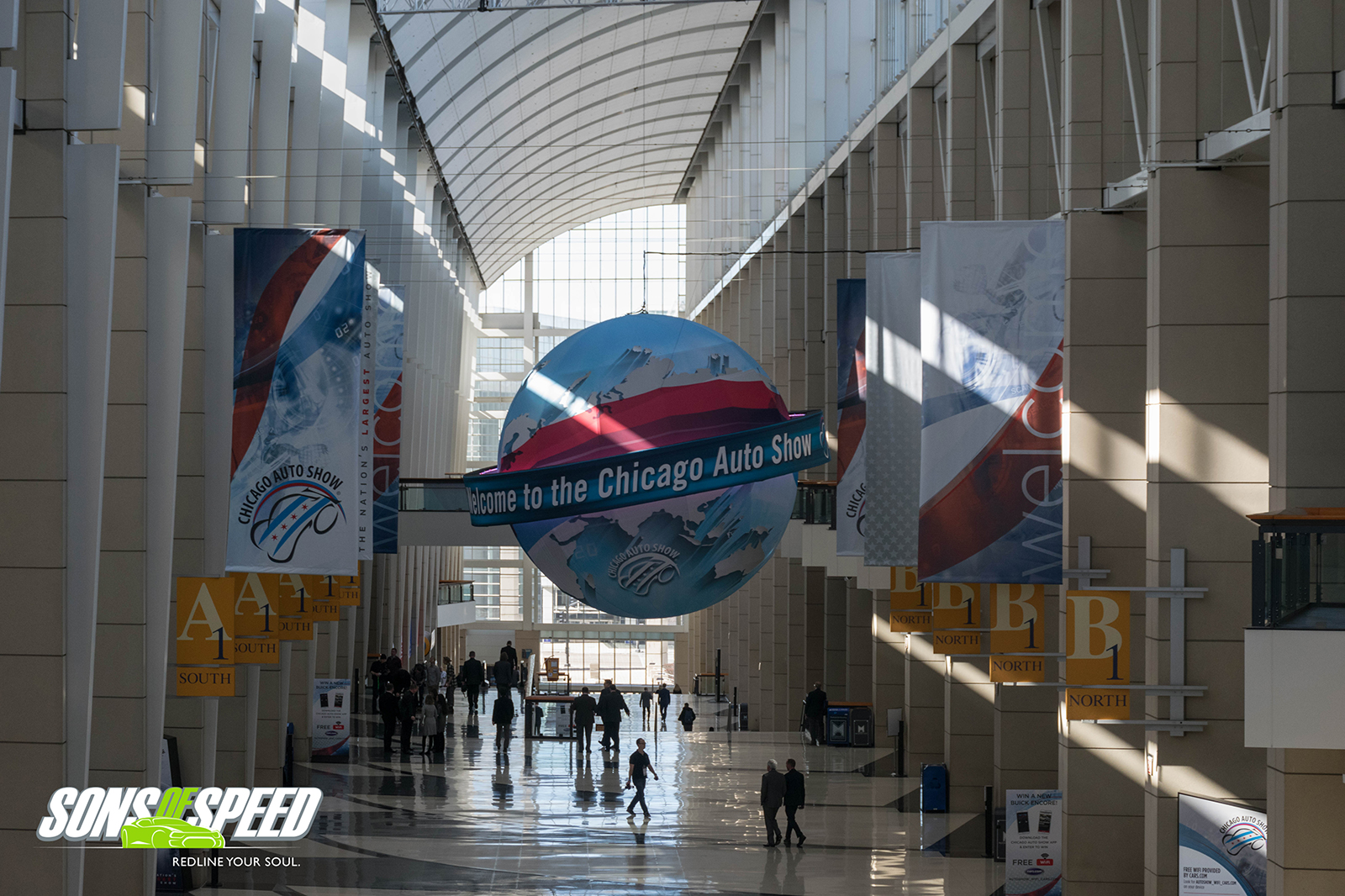 After a somewhat disappointing Detroit Auto Show earlier this year, our hopes were high that we might see a few more special announcements at the Chicago Auto Show. While there weren't many surprises, we did have a chance to talk to a few manufacturer reps and peruse the best the 2016 Chicago Auto Show had to offer.
Ford Focus RS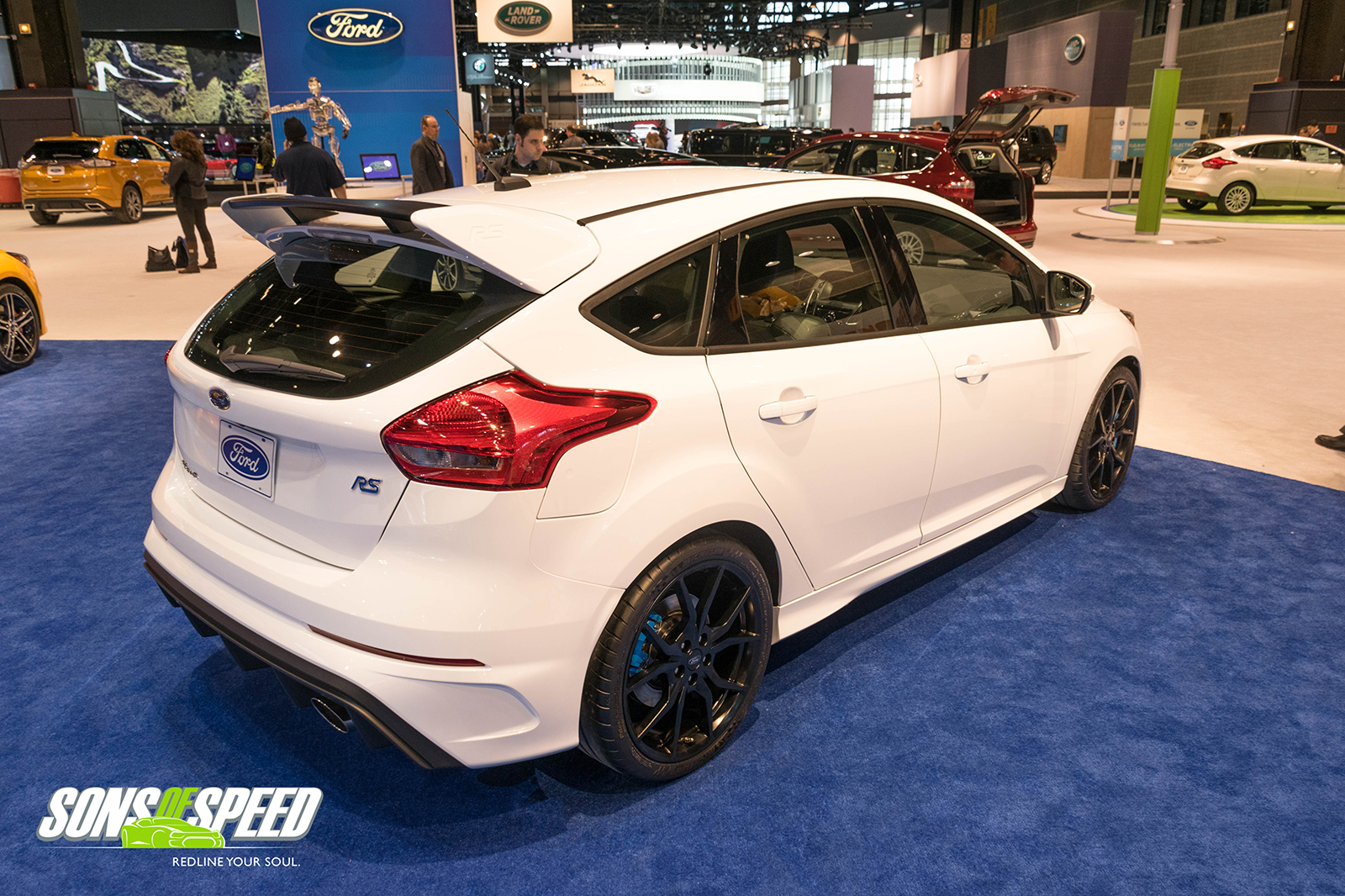 In case you've been living under a rock for the last year, we will remind you that the hottest thing in AWD hooliganery for less than 40K is the just-entered-production 2016 Ford Focus RS. We caught up with Ford's Omar Odeh to talk about Ford's forthcoming hottest hatch:
Chevrolet Camaro 1LE Package
Chevrolet took the occasion to announce the release of a 1LE track package for the SS and, for the first time, the V6 Camaro as well.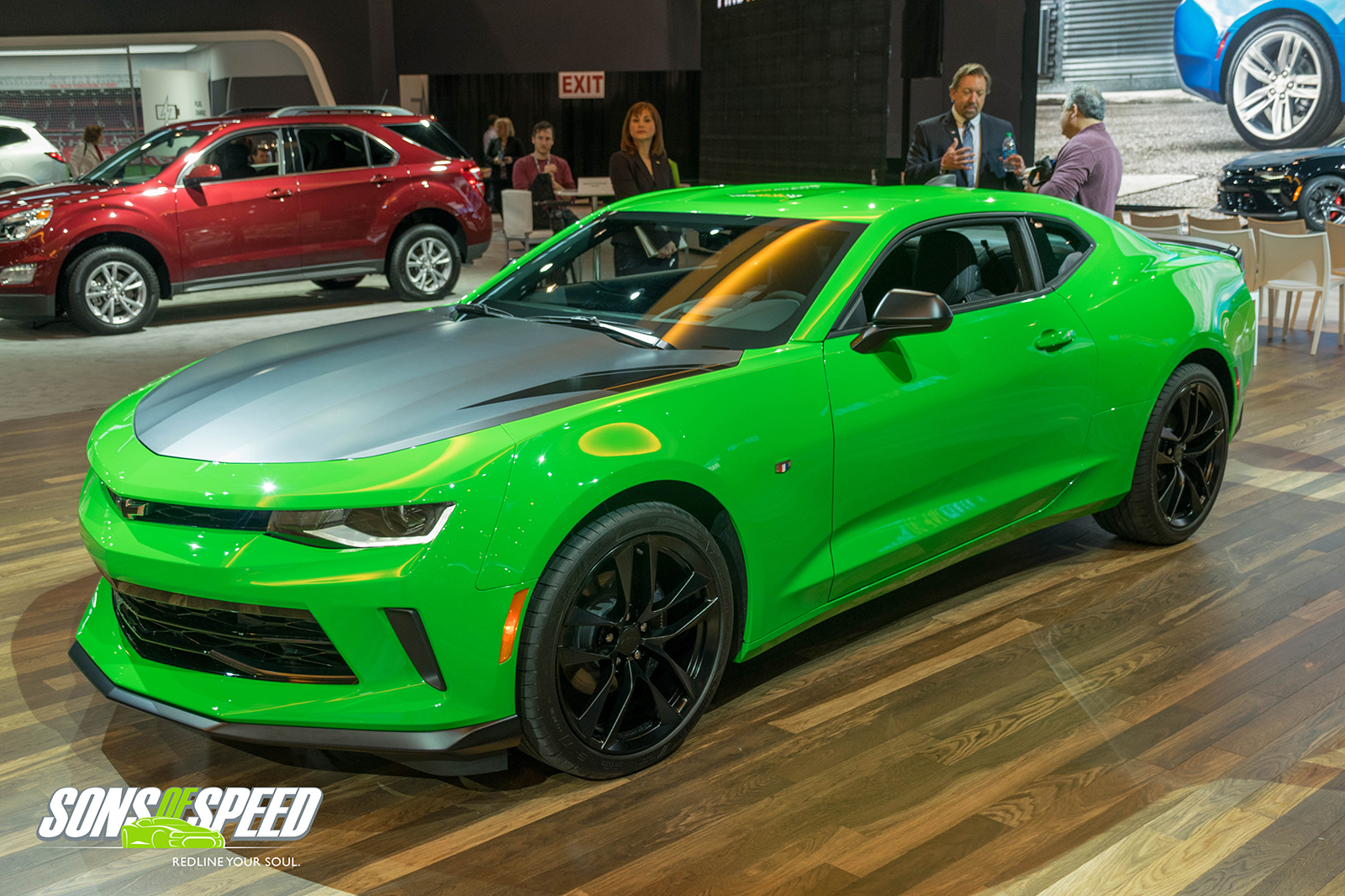 2016 Camaro V6 with 1LE Track Package
On the V6, the package includes:
The SS's FE3 suspension;
Lightweight 20-inch forged aluminum wheels with Goodyear Eagle F1 245/40R20's up front and 275 35R20's at the rear
Brembo 4-piston calipers
Mechanical limited slip differential with a 3.27 final drive ratio
Track cooling package (engine oil, diff and trans coolers)
Suede steering wheel and short-throw shifter
Dual mode exhaust
SS fuel system for high load cornering capability
Satin black hood, front splitter and unique three-piece rear spoiler
Unique high flow upper and lower grille with satin black accents
Available Recaro seats and PDR video/data recording system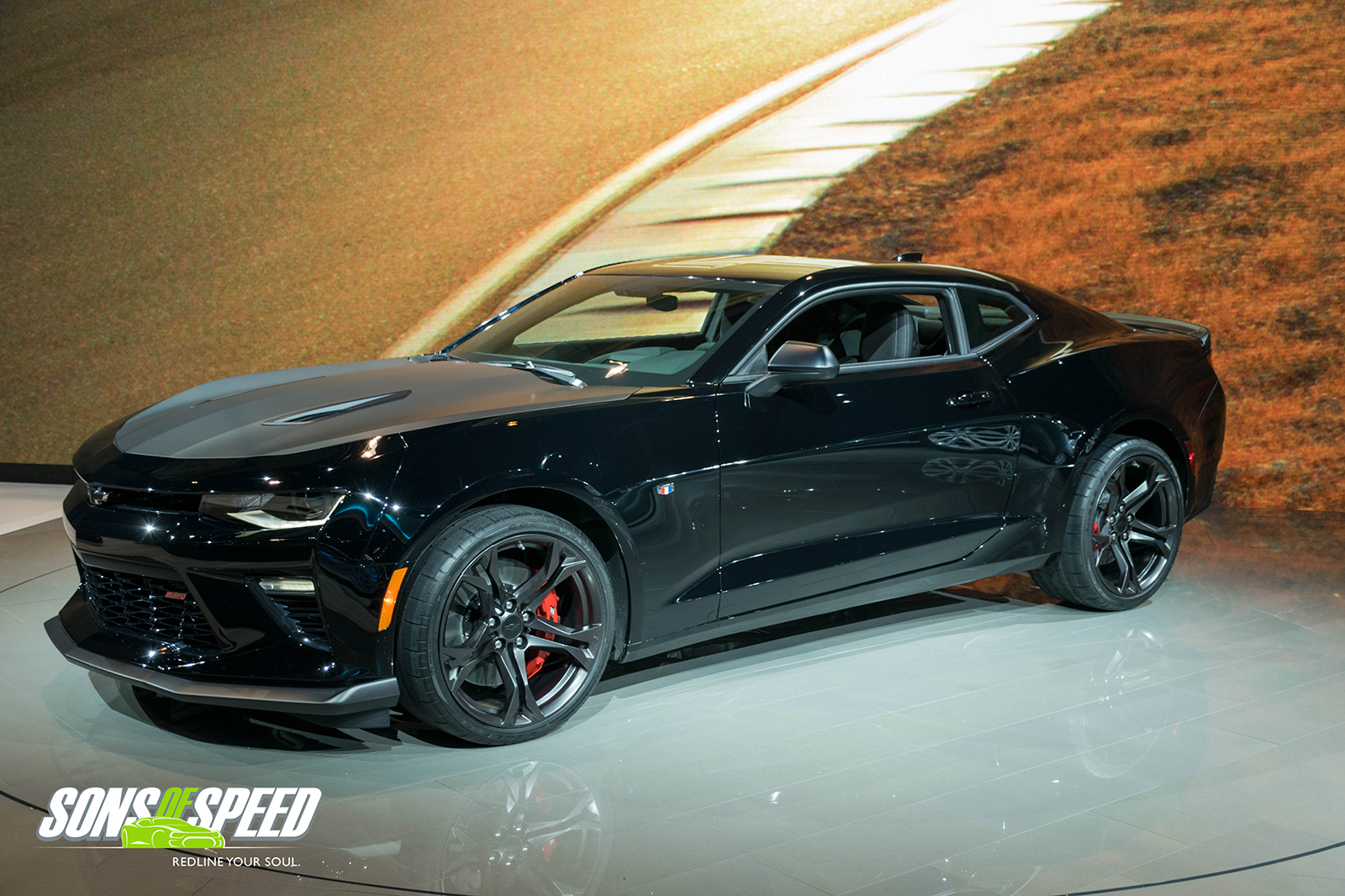 2016 Camaro SS with 1LE Track Package
On the SS, the 1LE package will include:
Magnetic Ride Control
Segment-exclusive electronic limited-slip differential with 3.73 ratio
Unique forged aluminum wheels with 285/30ZR20 front and 305/30ZR20 rear Goodyear Eagle F1 Supercar tires with a compound and construction developed exclusively for the Camaro
Brembo brakes with new six-piston monobloc front red calipers – featuring the 1LE logo – and two-piece rotors (14.6 inches (370mm) diameter in front – 7 percent larger than the SS
Track-cooling package, with engine oil, differential and transmission coolers
Suede steering wheel with shorter-throw shifter
Dual mode exhaust system
Recaro front seats with aggressive bolsters optimized for shifting and steering comfort
Satin black hood, front mirrors and unique three-piece rear spoiler
Satin Graphite front splitter and rear diffuser
Available PDR video/data recording system.
In a seeming answer to the age old "which is better on the track" question, the 1LE package will NOT be available with an automatic transmission. With the Focus RS being manual only as well, this makes two American track machines eschewing the banal boredom of an automatic for the thrill of banging gears on a road course. Well played, Chevy.
While no pricing has been announced, it should be relatively close to the $3,500 package cost of the 2015 Camaro, although the 2015 list of goodies was shorter.
We spoke with Chevrolet's Todd Christensen about the new packages as well as the future for Camaro and Corvette.
In addition to Shark Gray and Laguna Blue, we later learned that Night Race Blue and Daytona Sunset Orange are also leaving the Corvette's color palette for 2017.
The Best of the Rest
Ford GT and GT350
Show-goers will be able to set their gazes upon the gorgeous and, for most of us, unattainable Ford GT, flanked by the GT350R and the Focus RS in Ford's very impressive performance lineup. R2D2 was making an impromptu appearance when our cameras were snapping away – although that somehow seems fitting.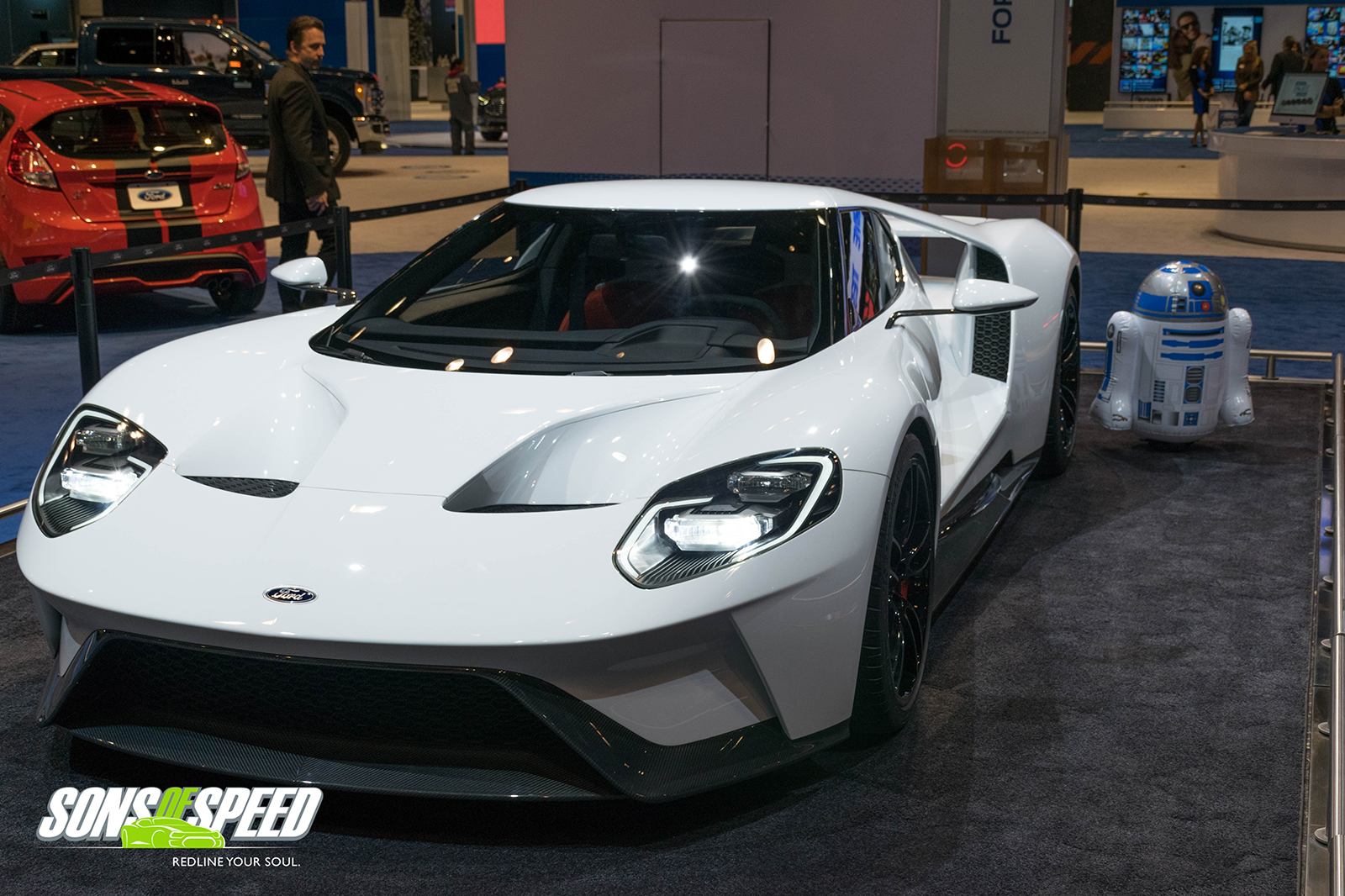 You'll also be able to sample the Mustang GT350 sitting off to the GT's right, wearing a distinctive shade of metallic gray. Once we got the hood open (there are benefits to being with the press), one thing we noticed is that the car already comes with a cold-air intake. So at least there's one $500 upgrade you won't have to do while you mull over the outrageous $90,000-over-sticker markup the dealer is trying to get away with.

Subaru STI Concept
First introduced last year at the New York Auto Show, Subaru is showing off its STI Performance Concept. While the big wing and splitters are definitely at home on a road course, this design shows what a marriage between the two-seat BRZ and the five-seat Impreza could look like – and it looks phenomenal. As for proportions, think Nissan 370Z. Even the matte blue paint wears well on this STI.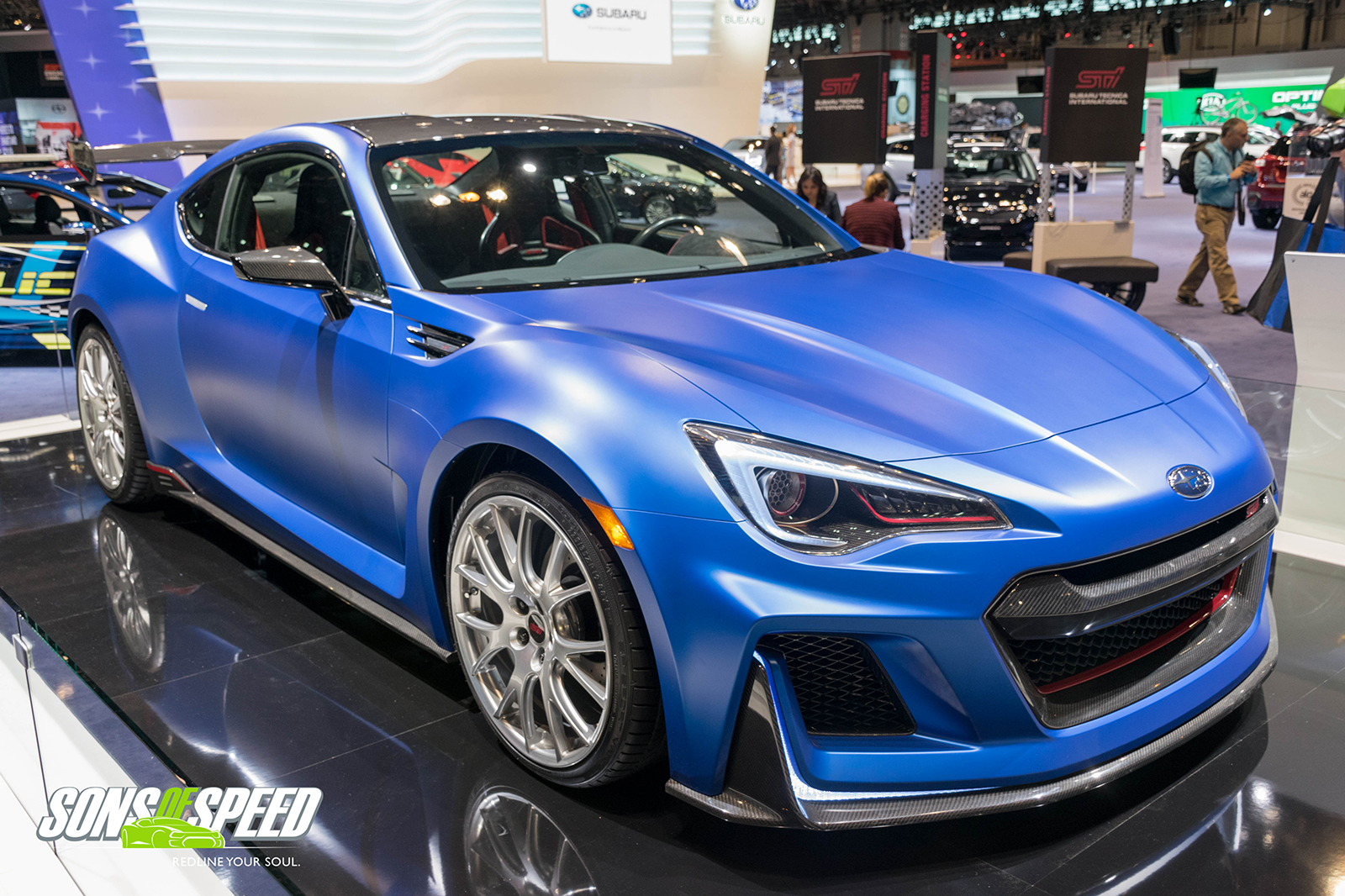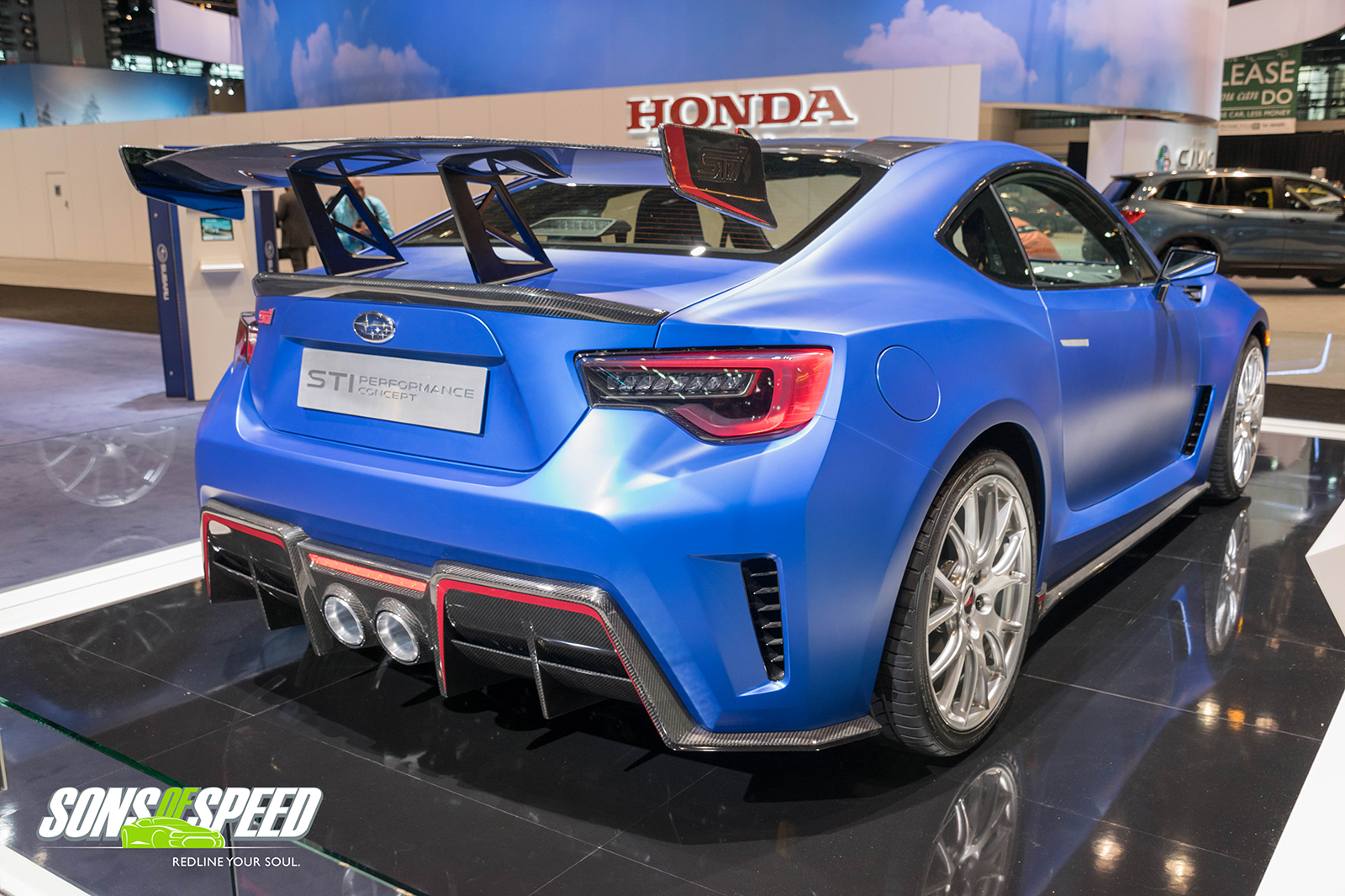 Mazda Miata Concepts
Mazda used the Chicago Auto Show to showcase a few MX-5 concepts it first unveiled at the SEMA show back in November. First, the Speedster concept loses the windshield, adds custom wheels, Brembo brakes, K&W adjustible coilover suspension components and Blue Ether paint. With the loss of some items and the use of lightweight replacements (like carbon fiber seats), the curb weight drops to 2,080 lbs.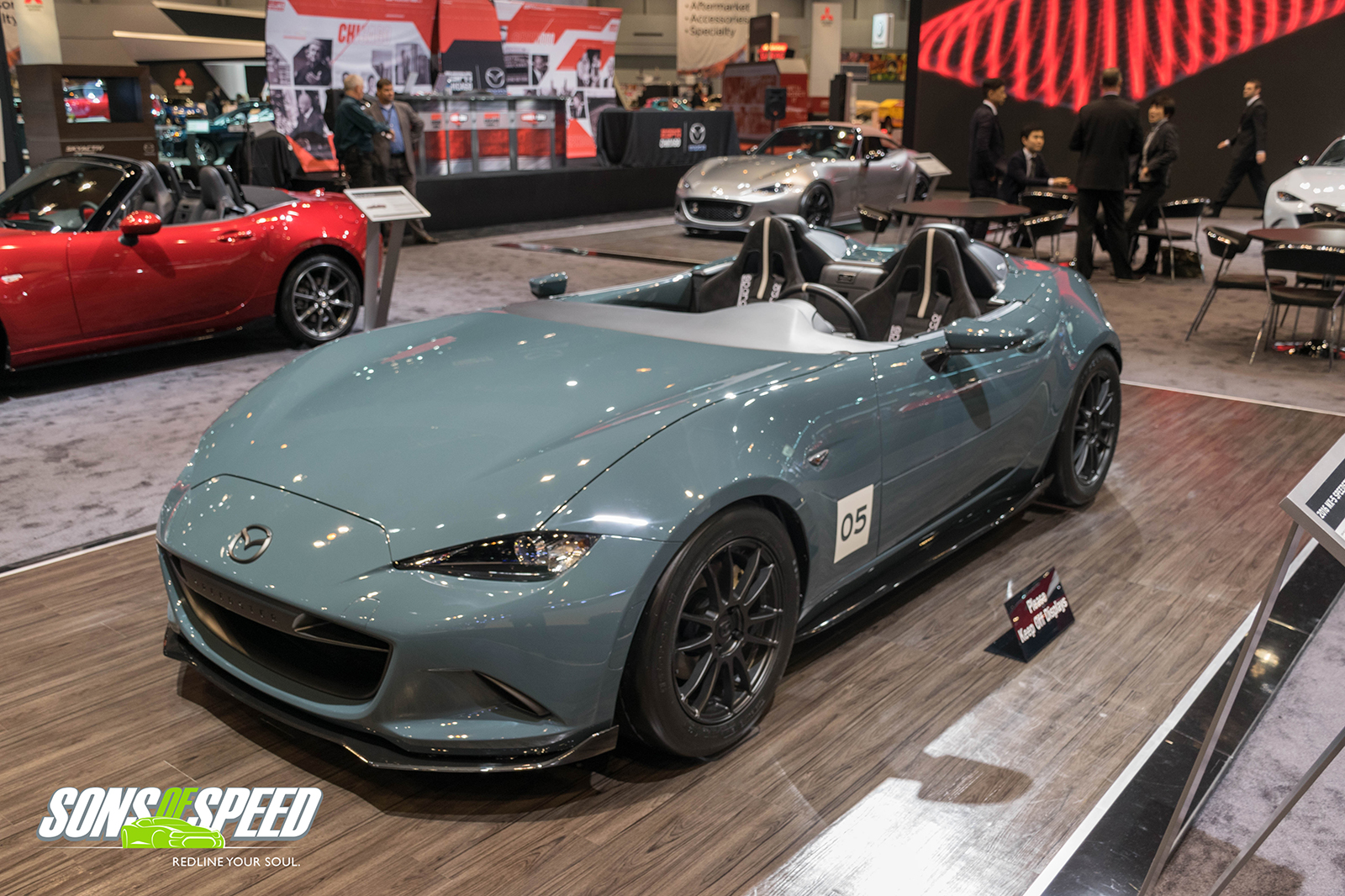 The MX-5 Spyder does away with less of life's necessities, but it does include a fast-back style top and a beautiful interior, and weighs in at a still-svelte 2,301 lbs.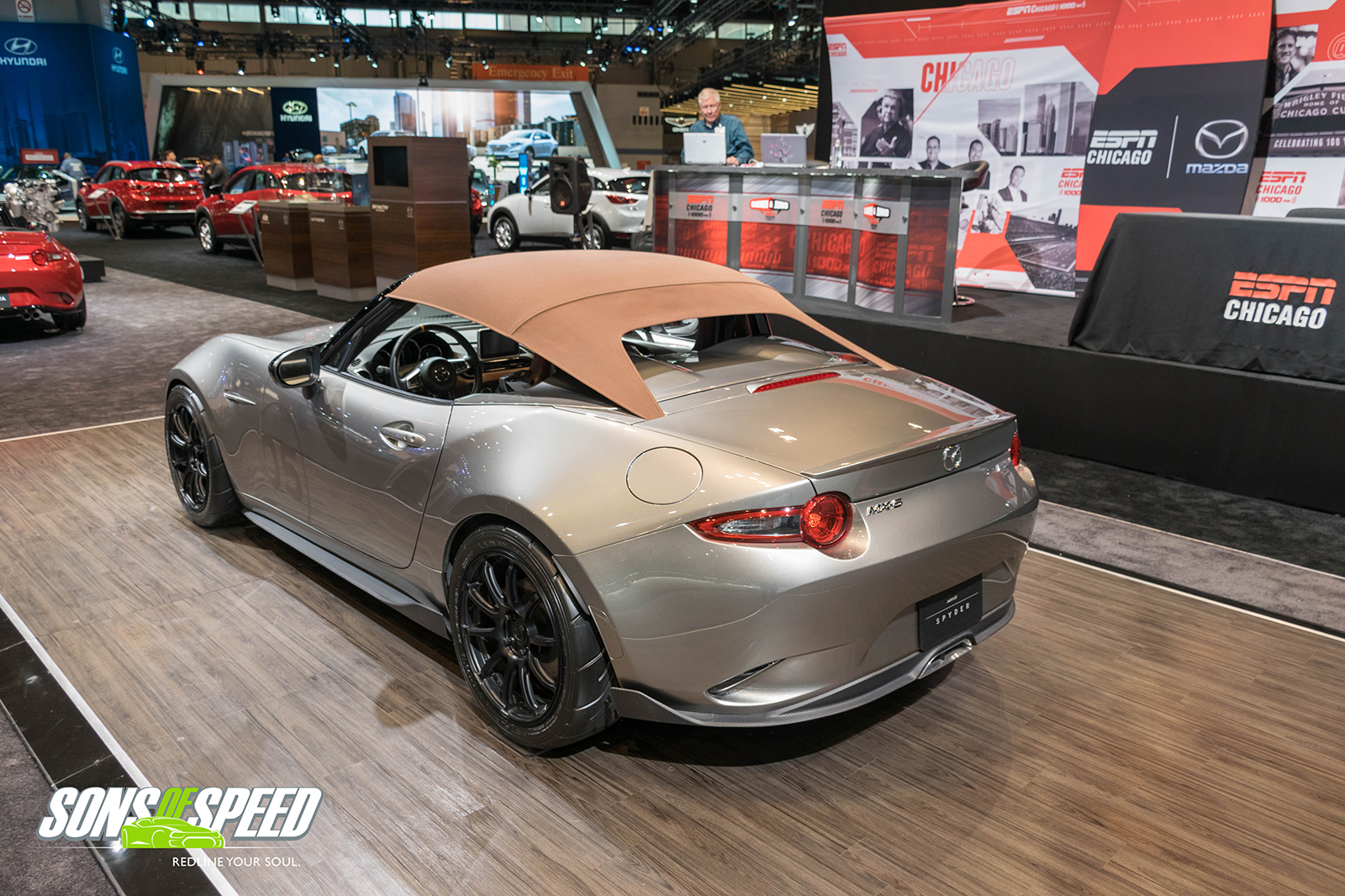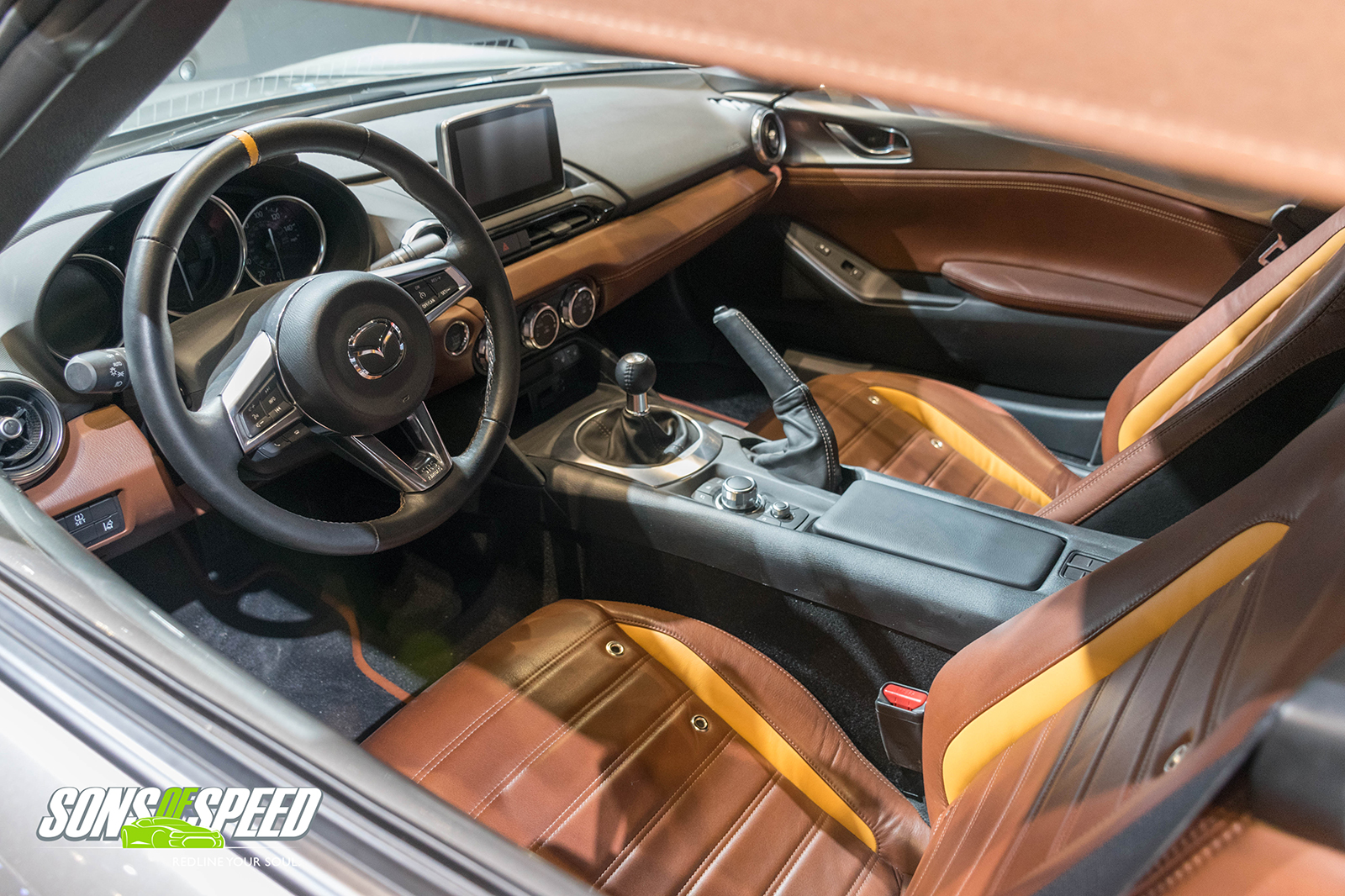 Genesis Vision G
Continuing with Chicago's status as the Second (to receive concept cars) City, Genesis (Hyundai's now luxury breakout brand) brought its Vision G concept coupe that it first introduced at the Los Angeles County Museum of Art in August. As a side note, how is the Chicago Auto Show losing out to an art museum for vehicle announcements? Maybe because this particular Genesis is visually a work of art that almost makes you think it's made of liquid metal. Very Bentley-esque, this coupe is large and substantial, which makes us wonder what a Genesis-like price tag for such a boulevard cruiser might look like. Power for the concept comes from Hyundai's 5.0L Tau V8 engine making 420 hp and 383 lb-ft of torque. This puts the Vision G in close proximity with the soon-to-be released Lexus LC 500. Now there's a battle we wouldn't mind seeing.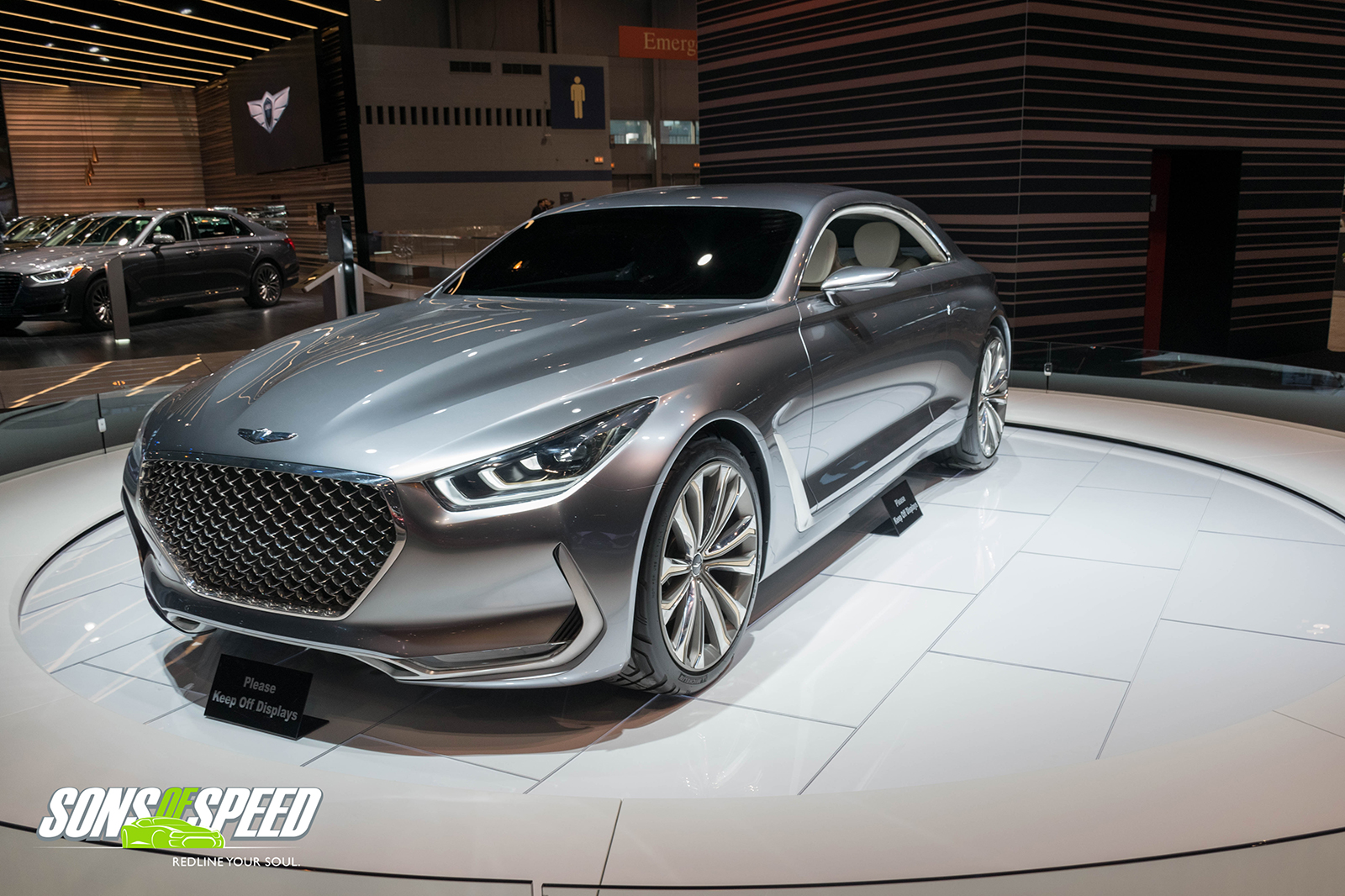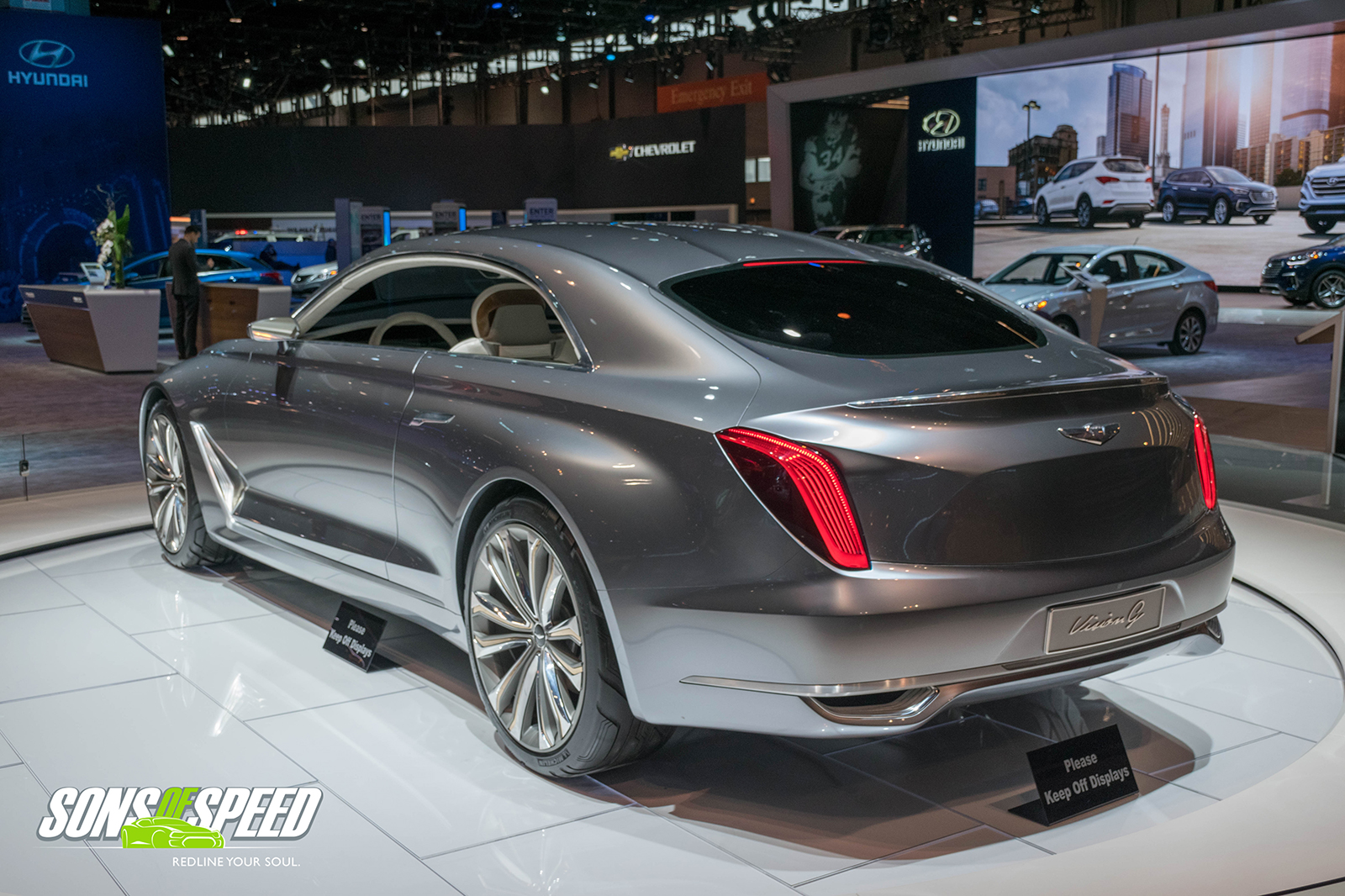 Lexus LC 500
As we noted in Detroit, one of the best of that show was the aforementioned 2017 LC 500 coupe with the 467hp 5.0L V-8 (making 389 lb-ft of torque) from the RC-F driving the rear 275/35RF21 wheels. Easily the best looking of the production ready introductions this year, it will feature an active exhaust for a "more aggressive exhaust note" (think RC-F). Lexus says it "enhances the engine's raucous melody into an aural thunder." It still has those Frankenstein bolts sticking out of either side of the steering column assembly, though.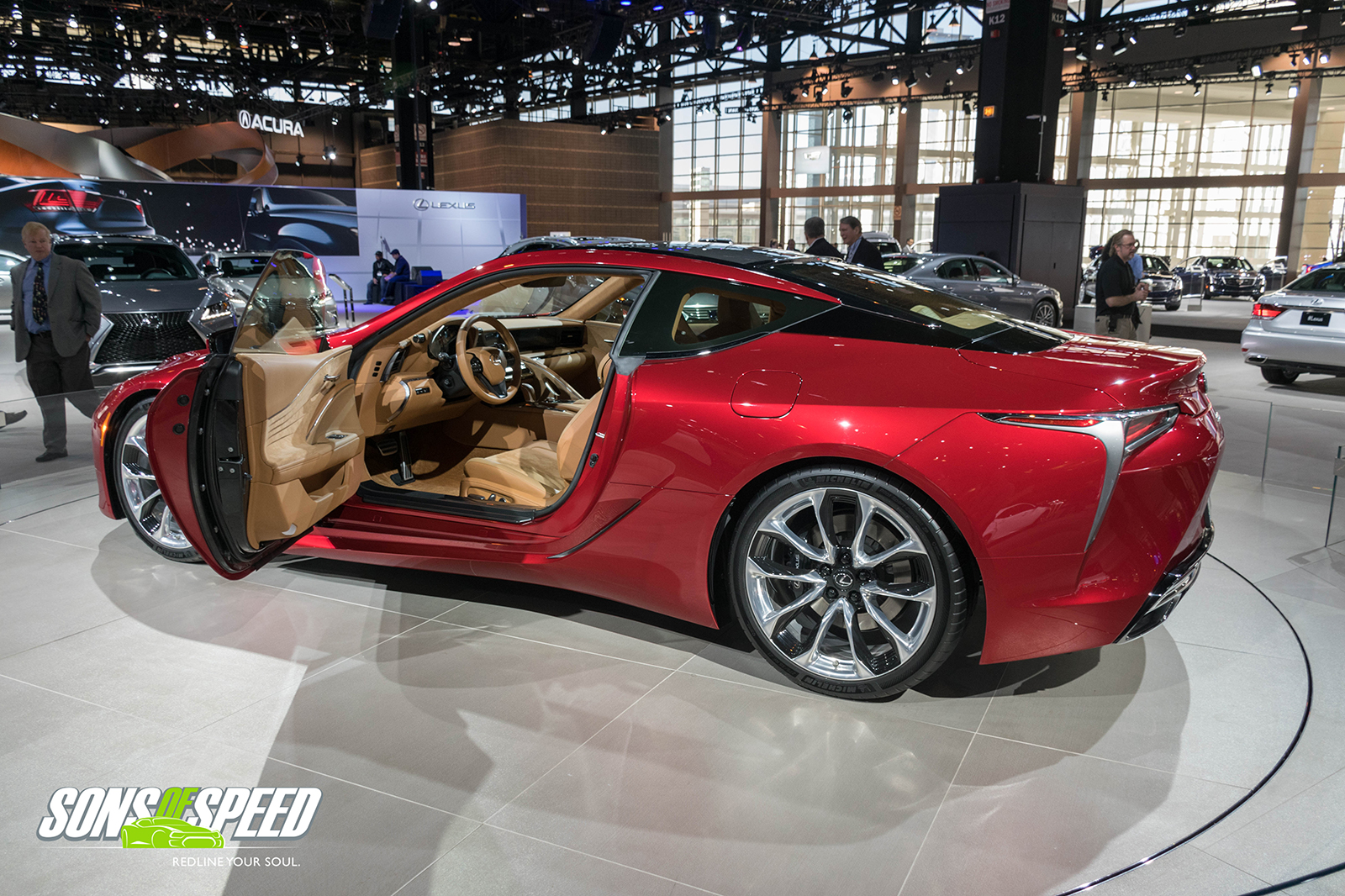 Lexus RC-F Race Car
This assault on the eyes starts life as a 2015 Lexus RC-F that is treated to a 3M Burt Orange wrap, a MV Design body work kit, 6-point roll cage, racing wheels/tires, Brembo 6-piston monobloc calipers up front with a 2-piece floating disc assembly and smaller 2-piece floating rotor out back, KW suspension coilover kit, upgraded exhaust and intake, and racing seats. Of course, you can't miss the huge wing either. The package was put together by Gordon Ting/Beyond Marketing and was, of course, first displayed at SEMA.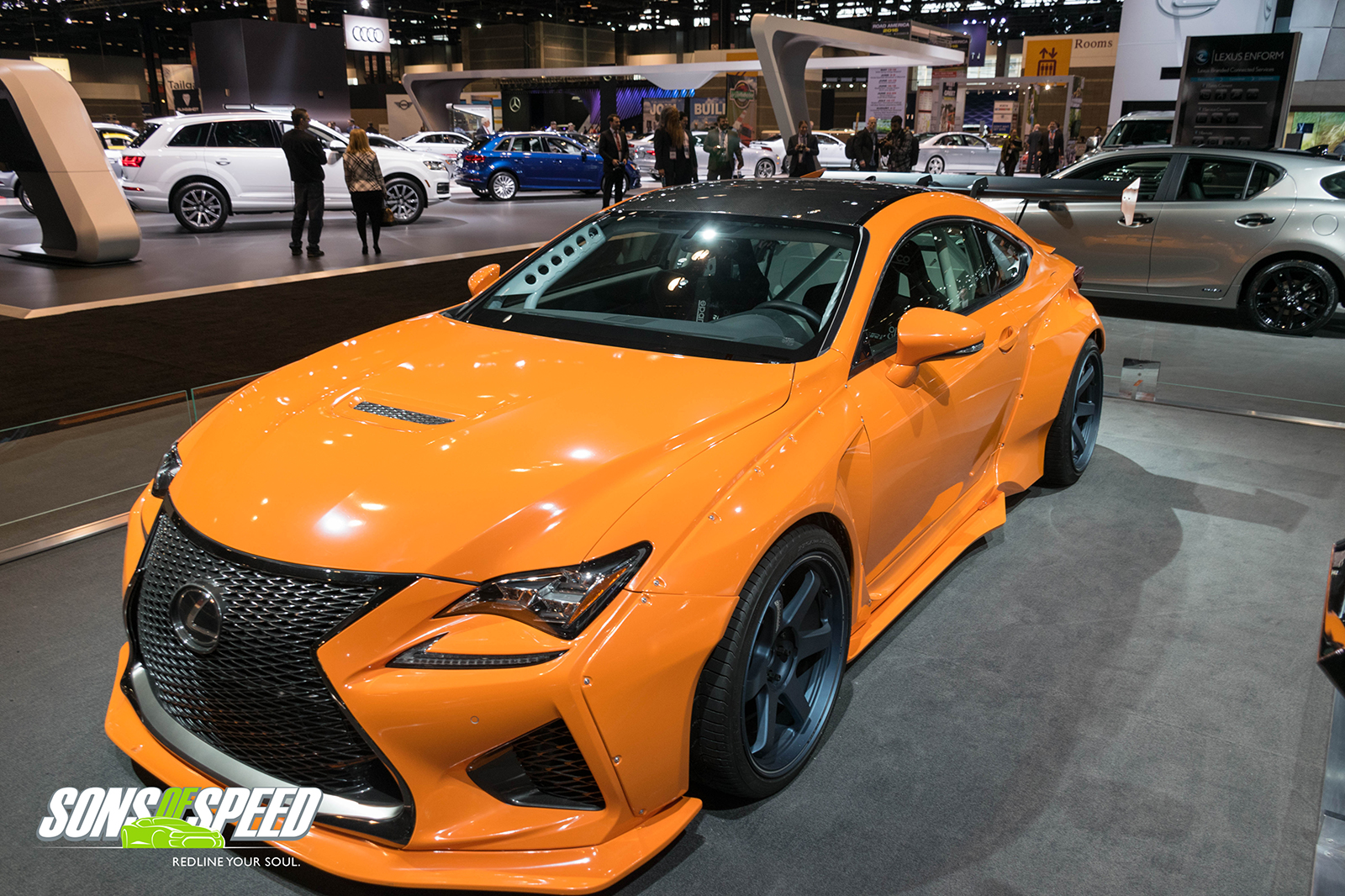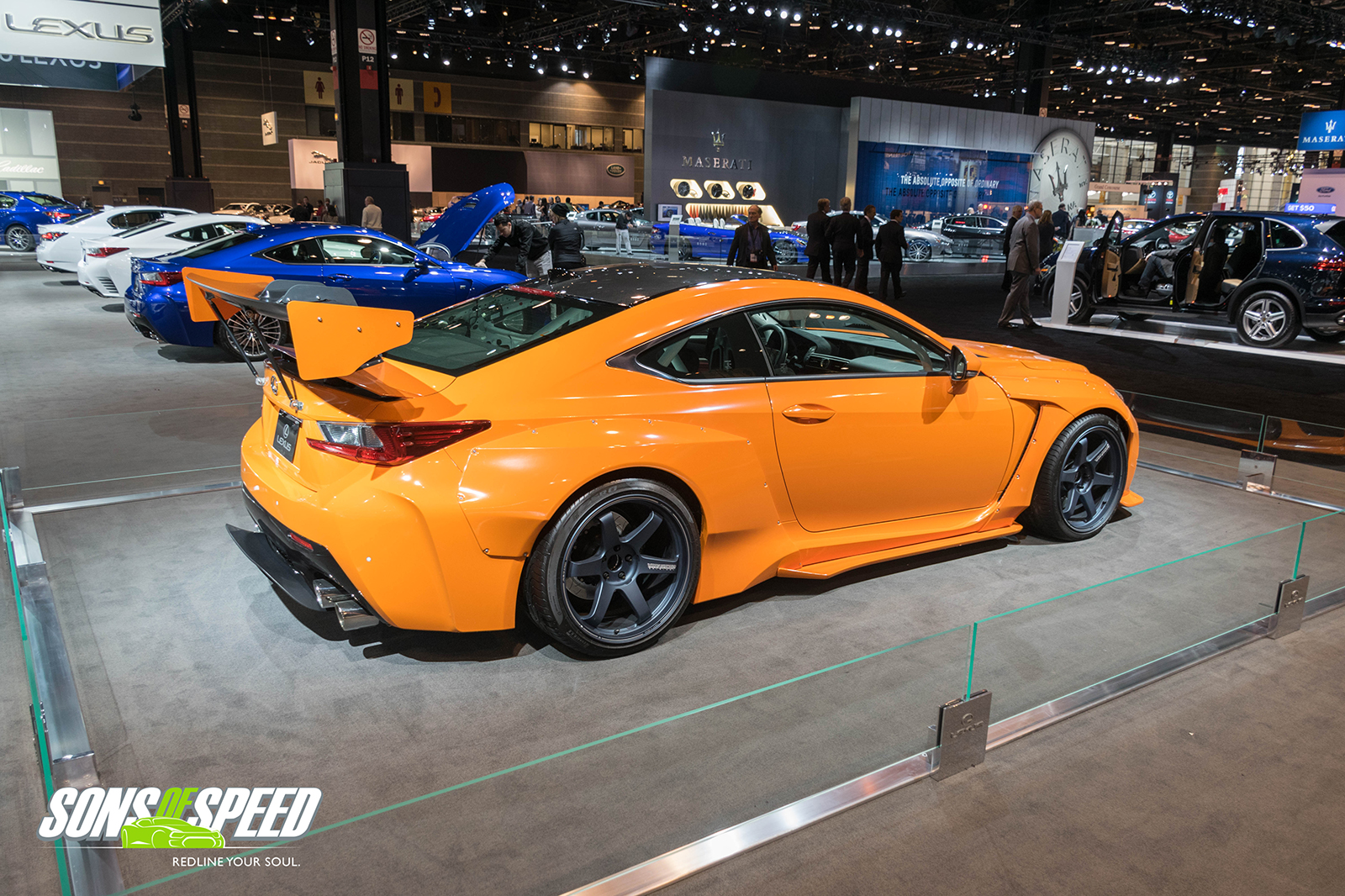 Super Car Gallery
The Super Car Gallery has been enjoyed by most show attendees from behind the glass partitions, but we were allowed in for an up-close look at some of today's most exotic and expensive super cars. If you have to ask, you can't afford it.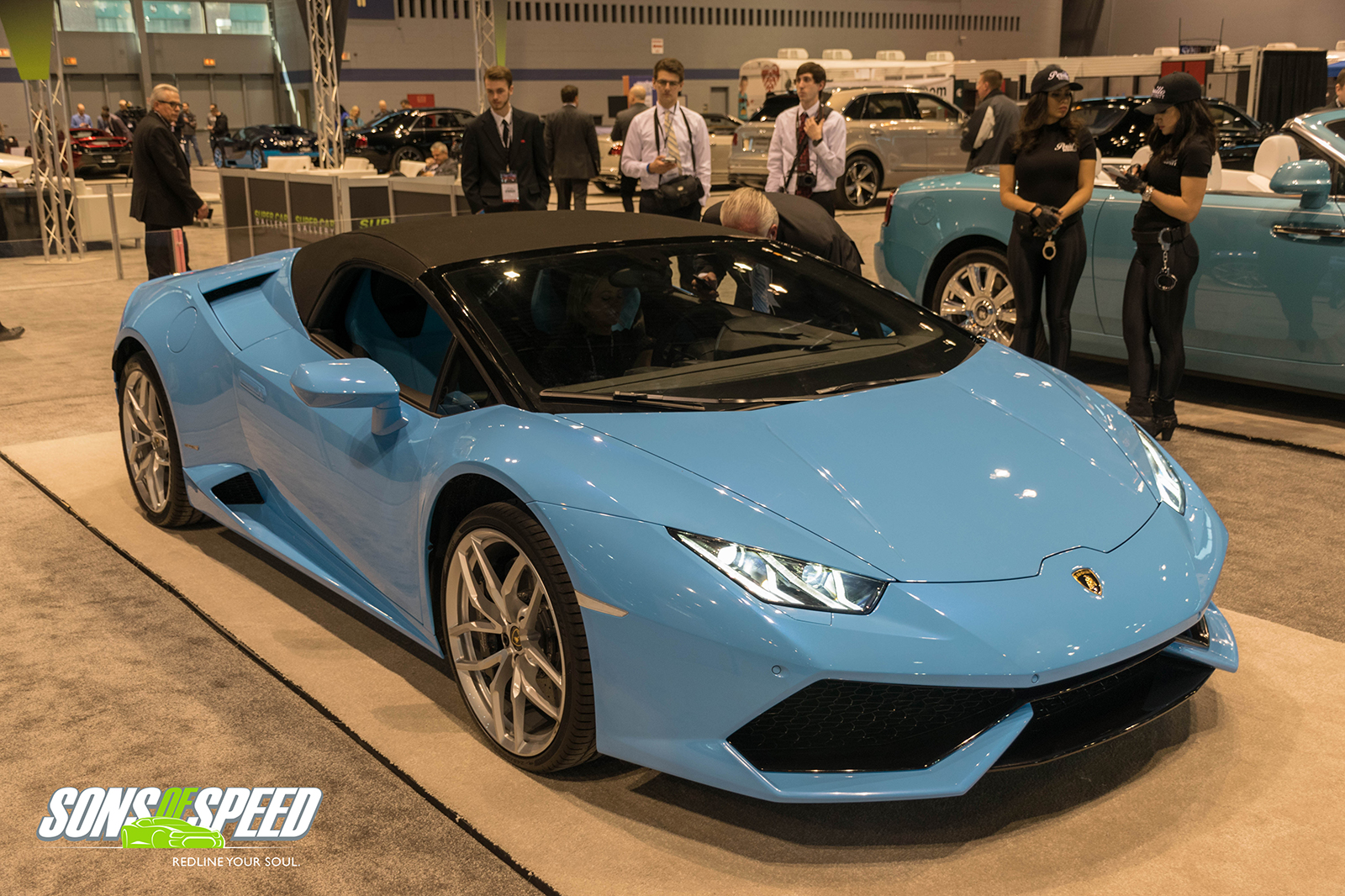 The Lamborghini Huracan Sypder features a V-10 making 610 hp, which is good enough to get you to 201 mph.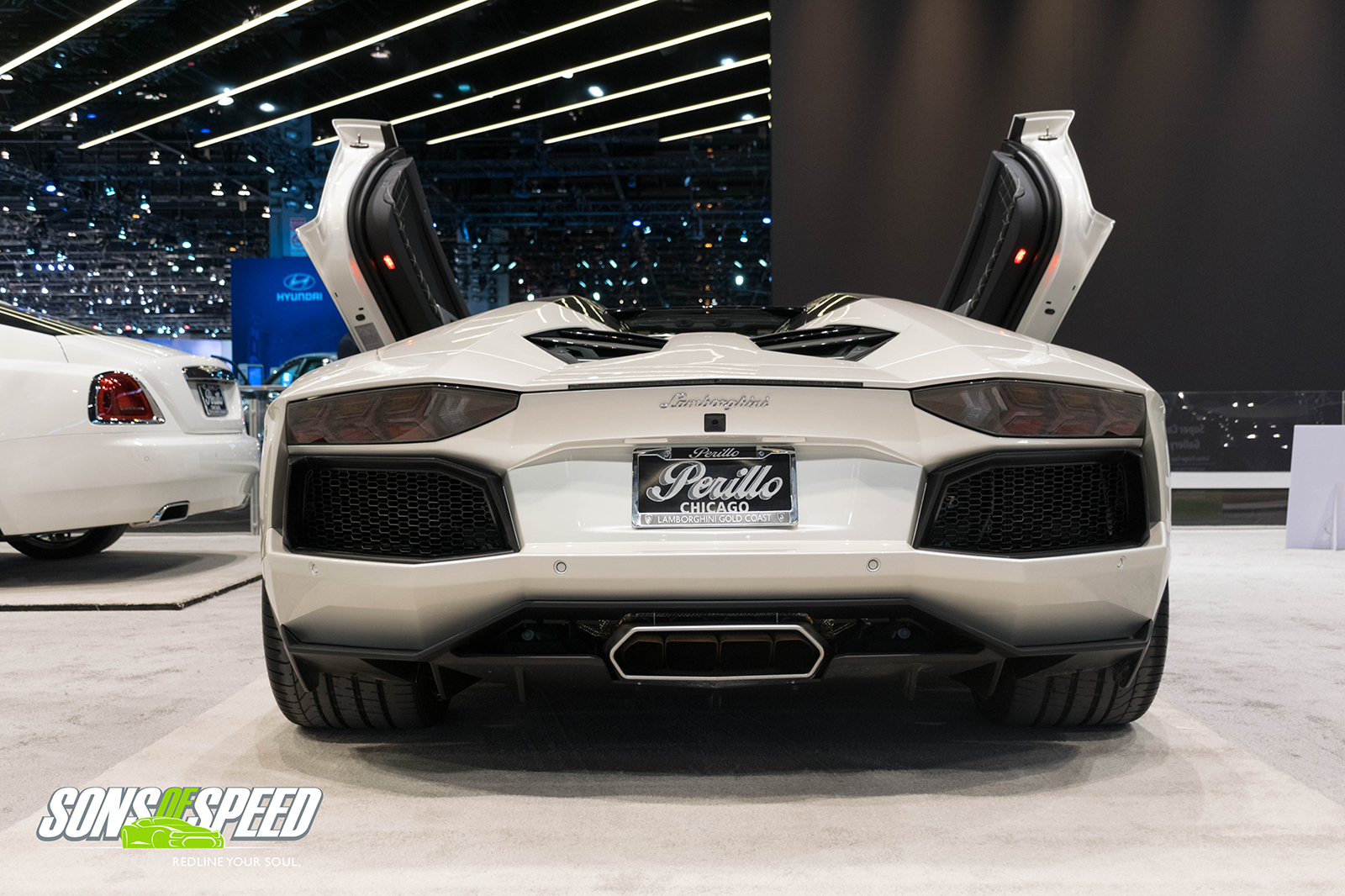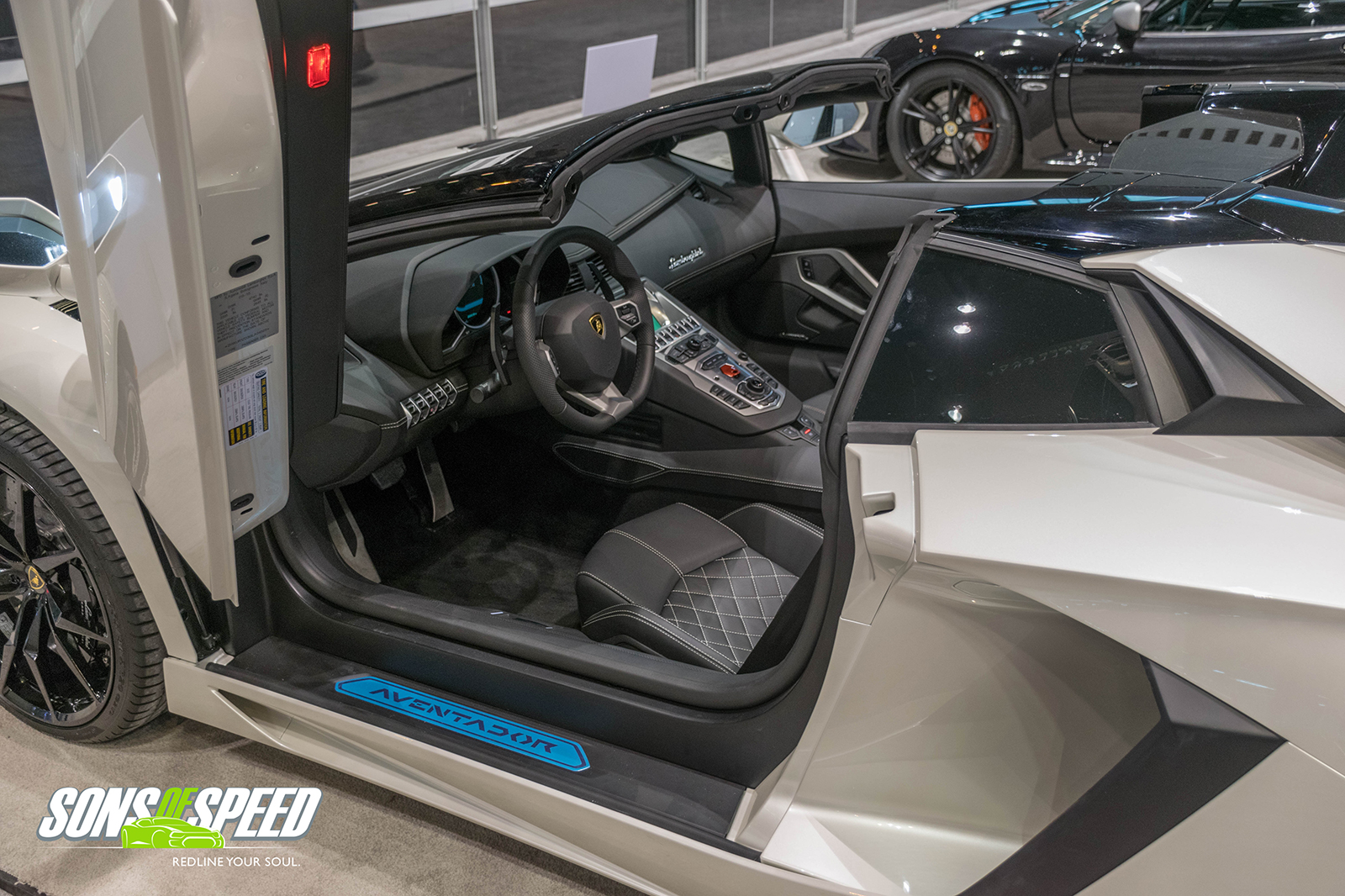 The Huracan's big brother, the Aventador, was also on hand, still sporting the best looking doors on any sports car.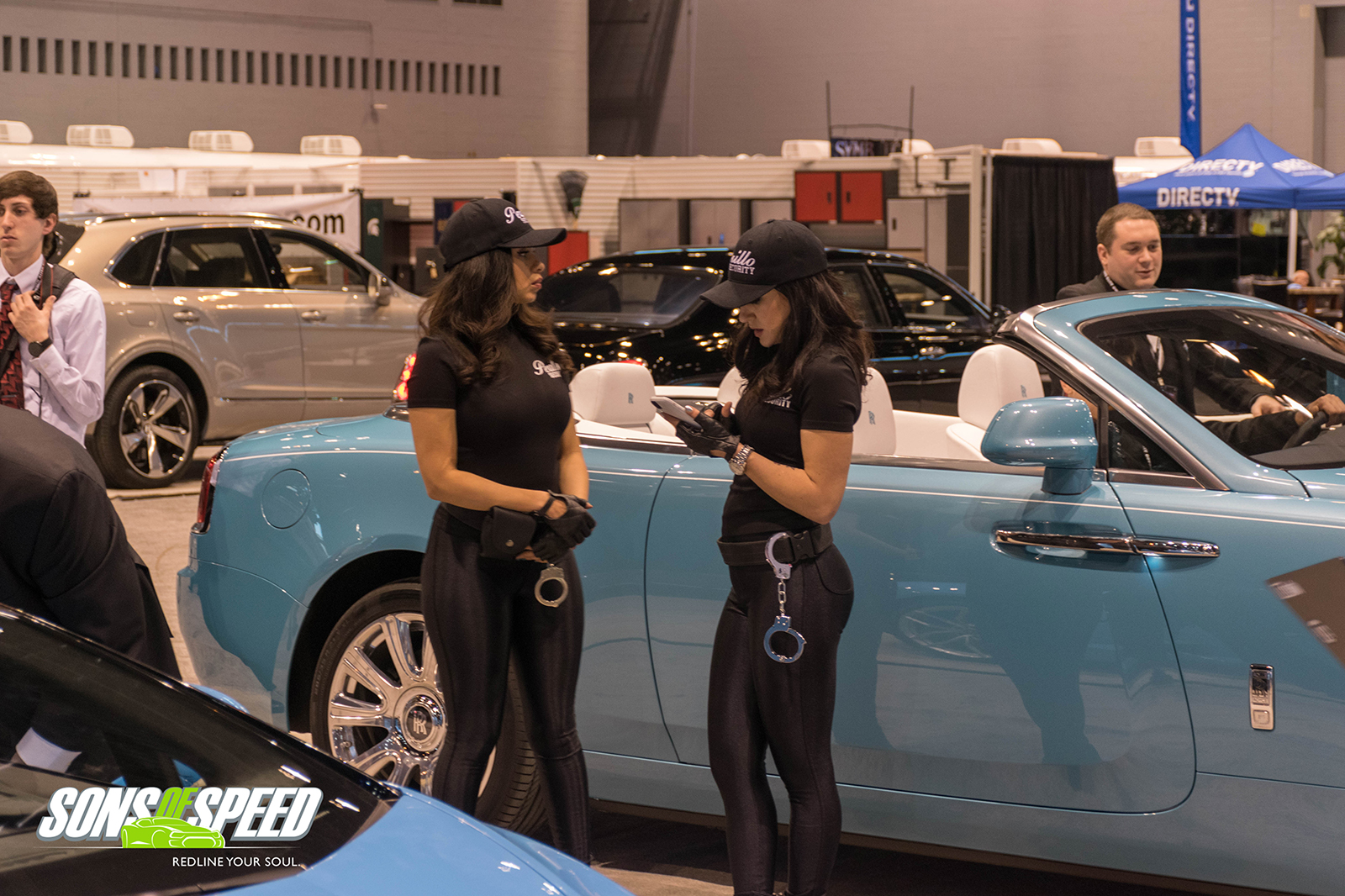 If you step out of line, security is ready for you. We stepped out of line 3 times.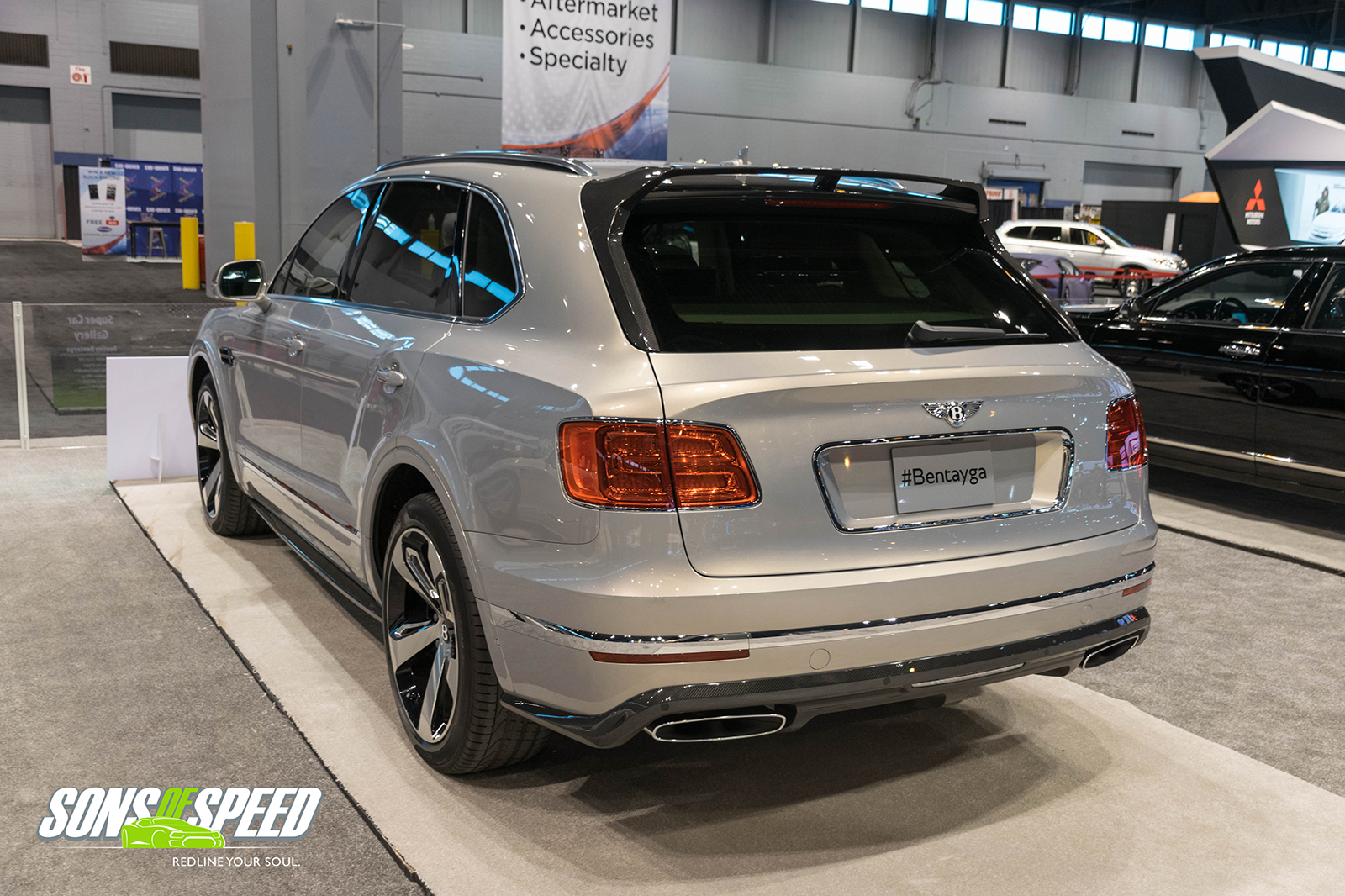 The Super Car Showcase is the only place to see Bentley's new SUV, the Bentayga. Yes, it's a stupid name.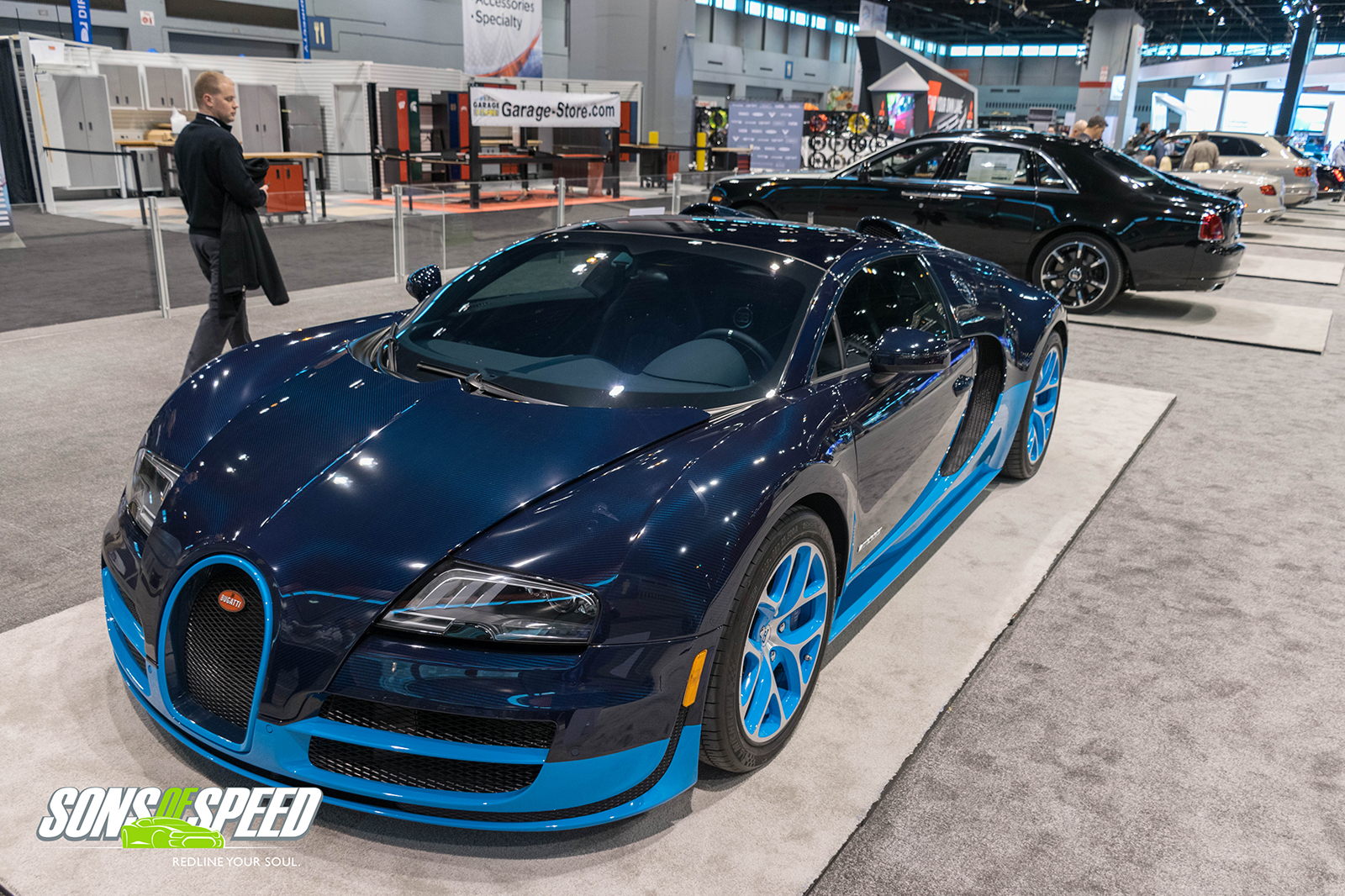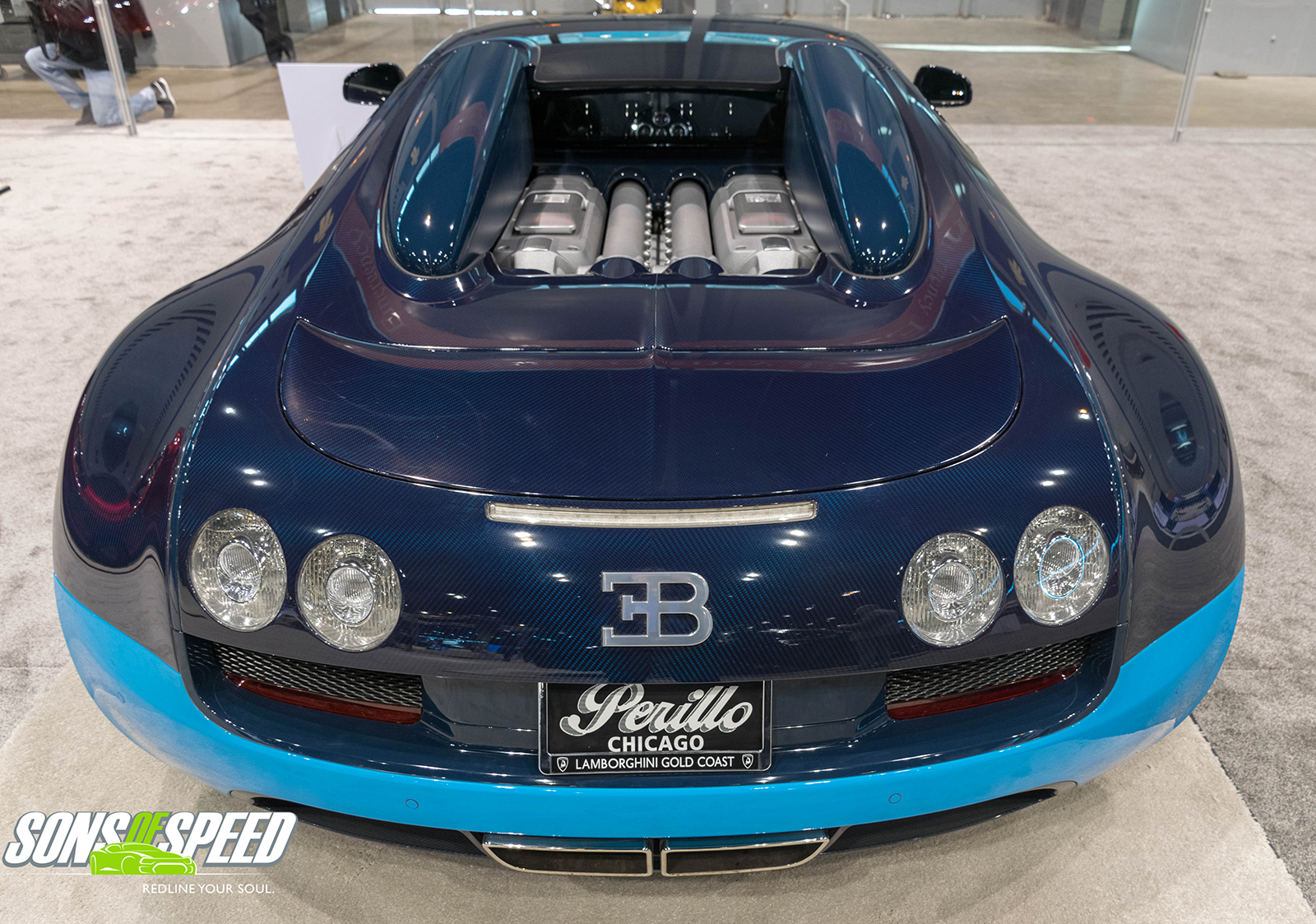 If you don't have $2.6 million in the cushions of your couch, don't bother.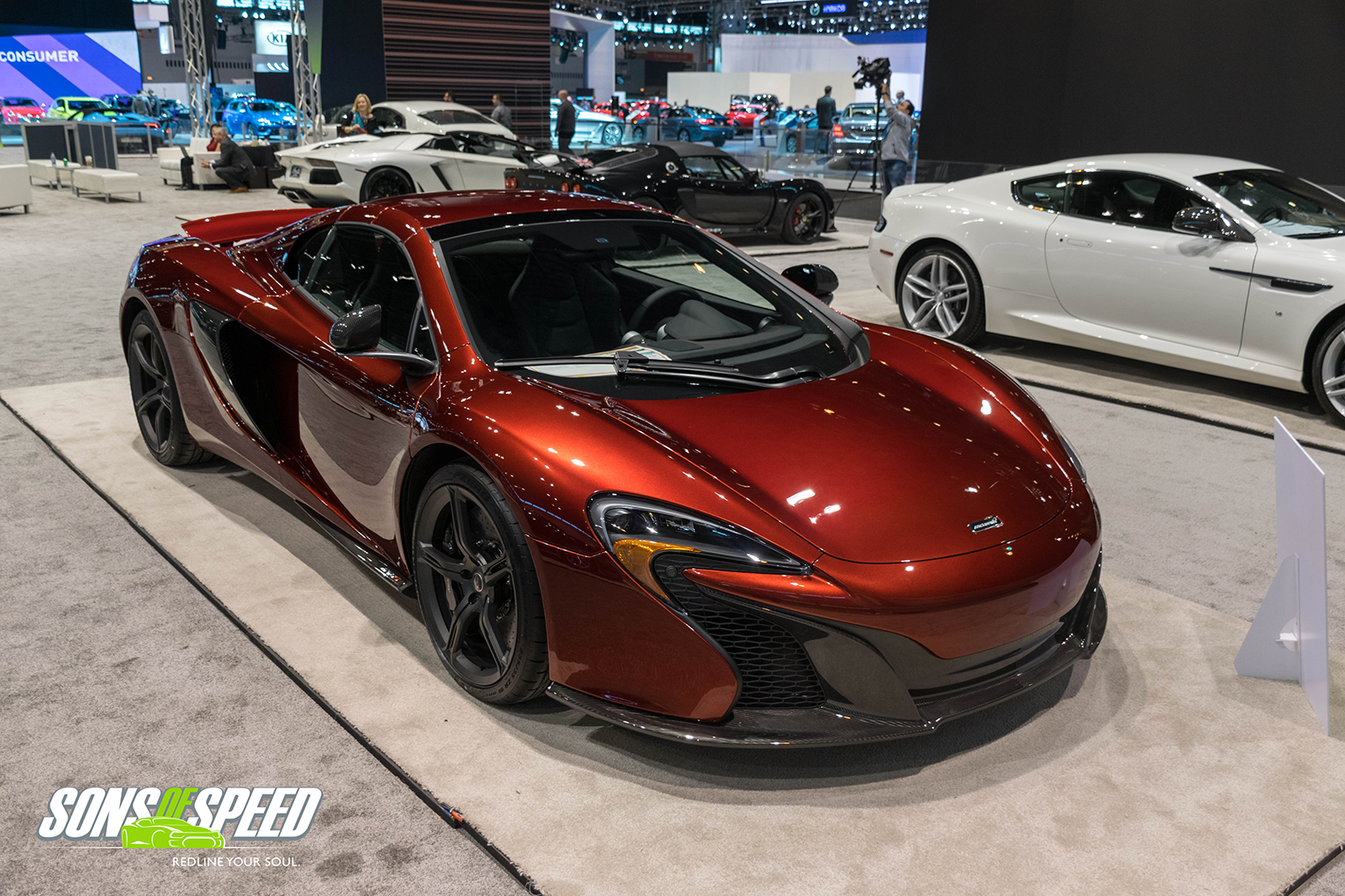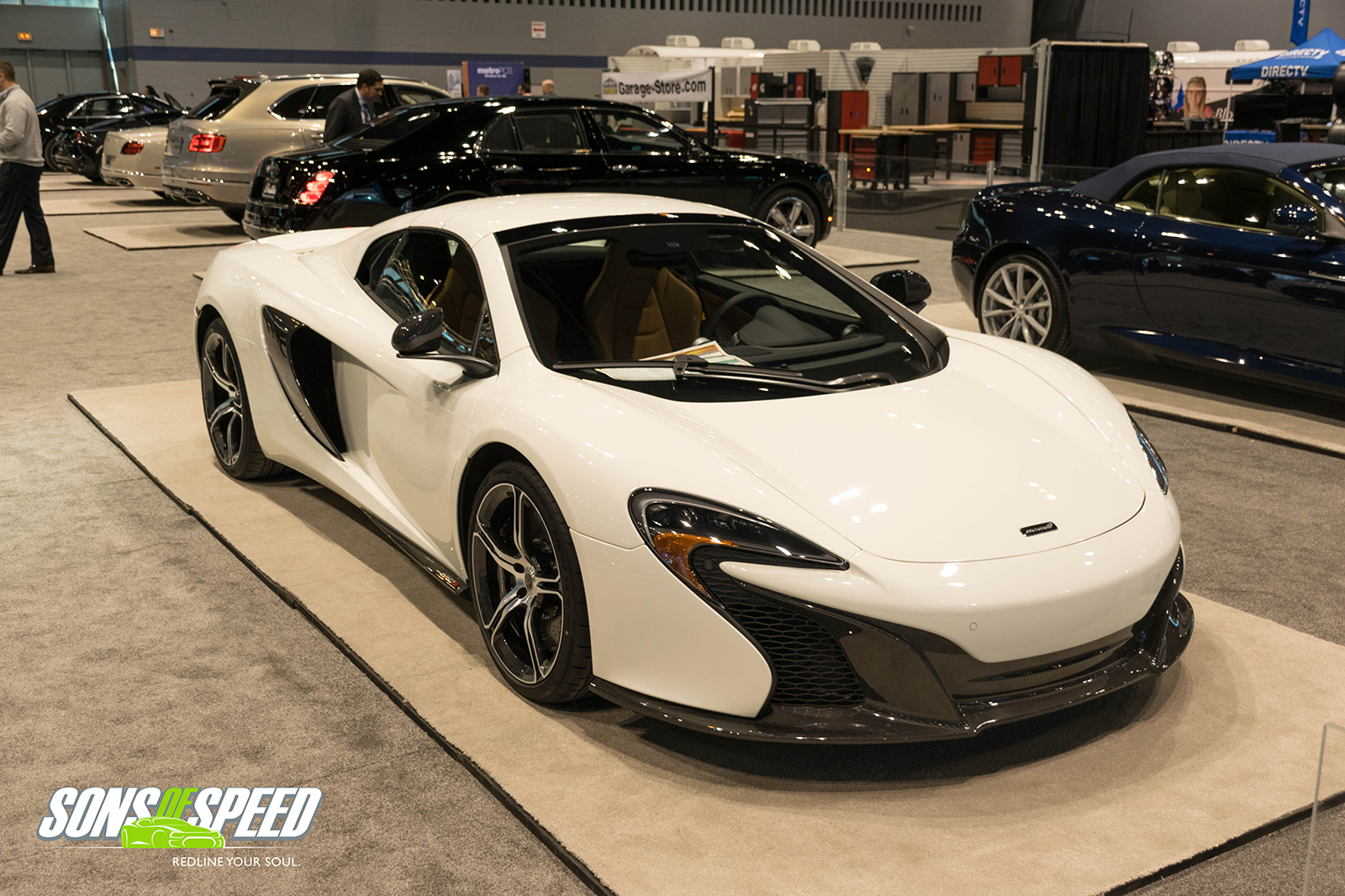 You'll also see a pair of McLarens (above) and Aston Martins (below).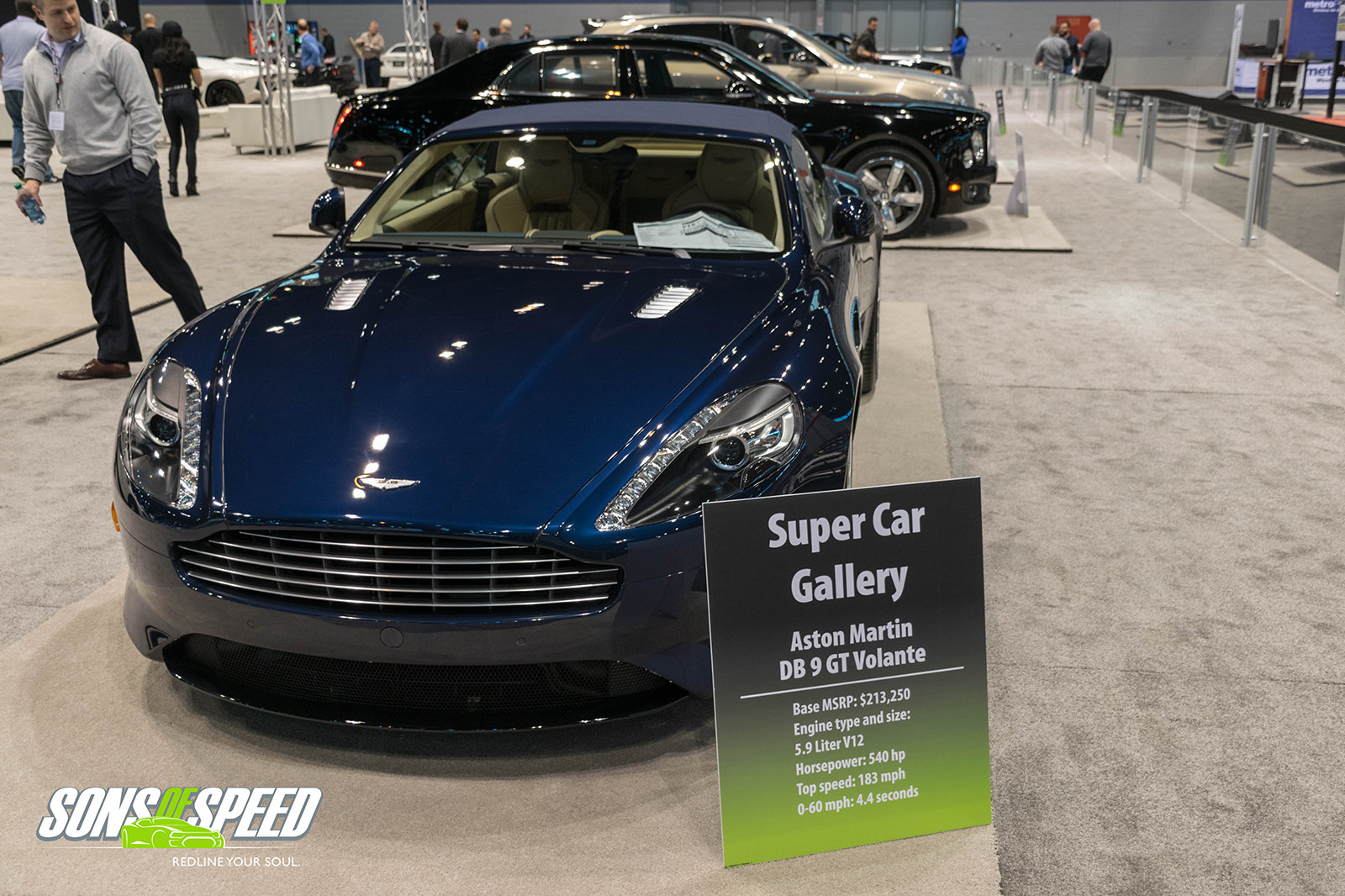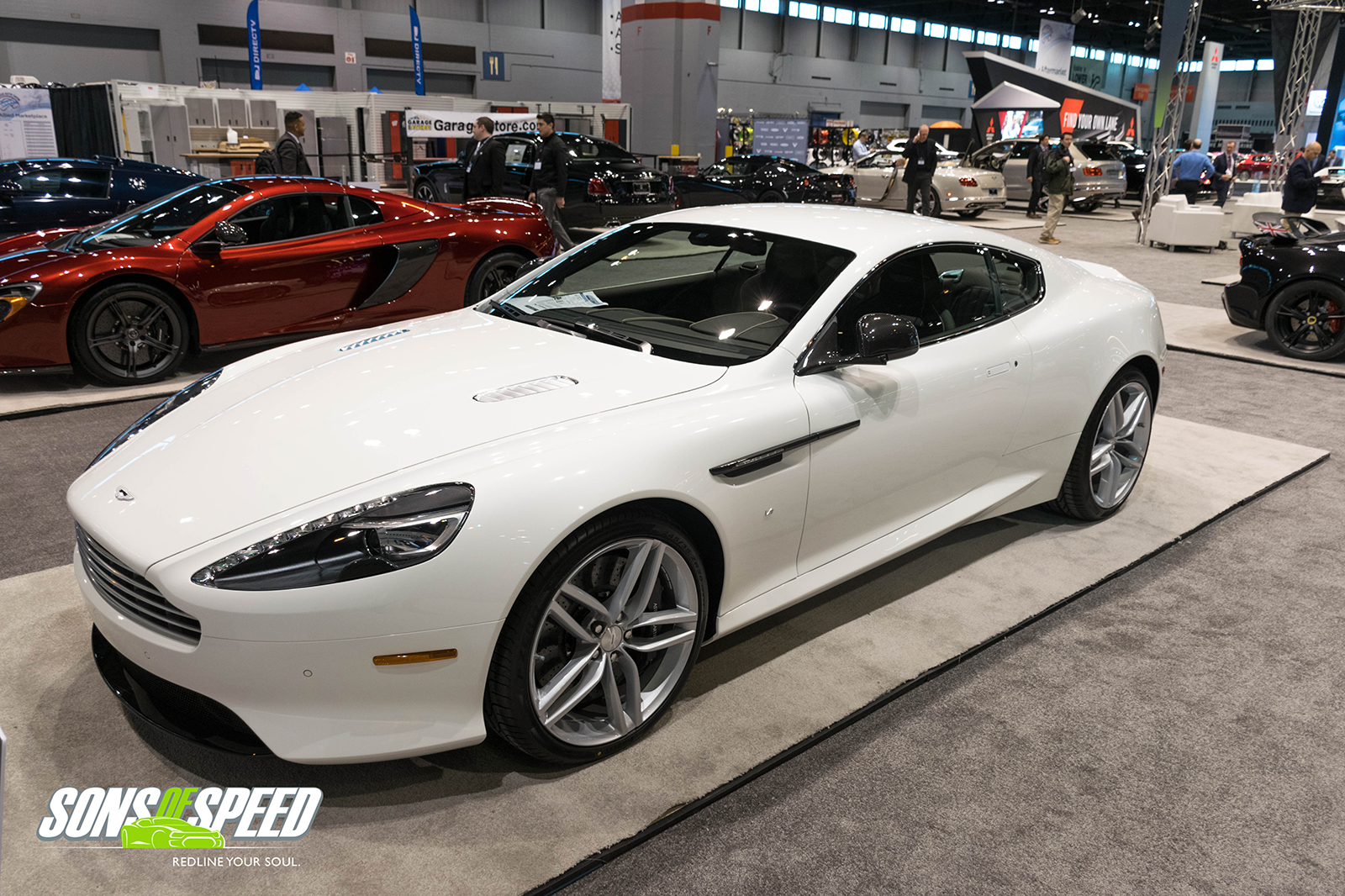 VW Golf R
The CAS is also where you can see the new VW Golf R, perhaps the only direct competition to the Focus RS aside from the Subaru Impreza STi. The R sports VW's 4Motion AWD, a sport-tuned suspension and a 292hp 2.0L turbo inline 4-cylinder engine, but the best addition to the 2016 R is the newly available six-speed manual transmission (we're seeing a very encouraging trend here). Also new this year is a driver assistance package that includes adaptive cruise control, forward collision warning, auto-braking, lane departure warning, blind spot monitoring with rear traffic alert and park distance control. It's kind of like driving with a worrisome and annoying mother-in-law who won't fail to notice your every fault.
We can't help but think that the launch of the manual-trans-only Focus RS was at least in part responsible for the 6-speed manual option, and that's why competition is very healthy for enthusiasts like us.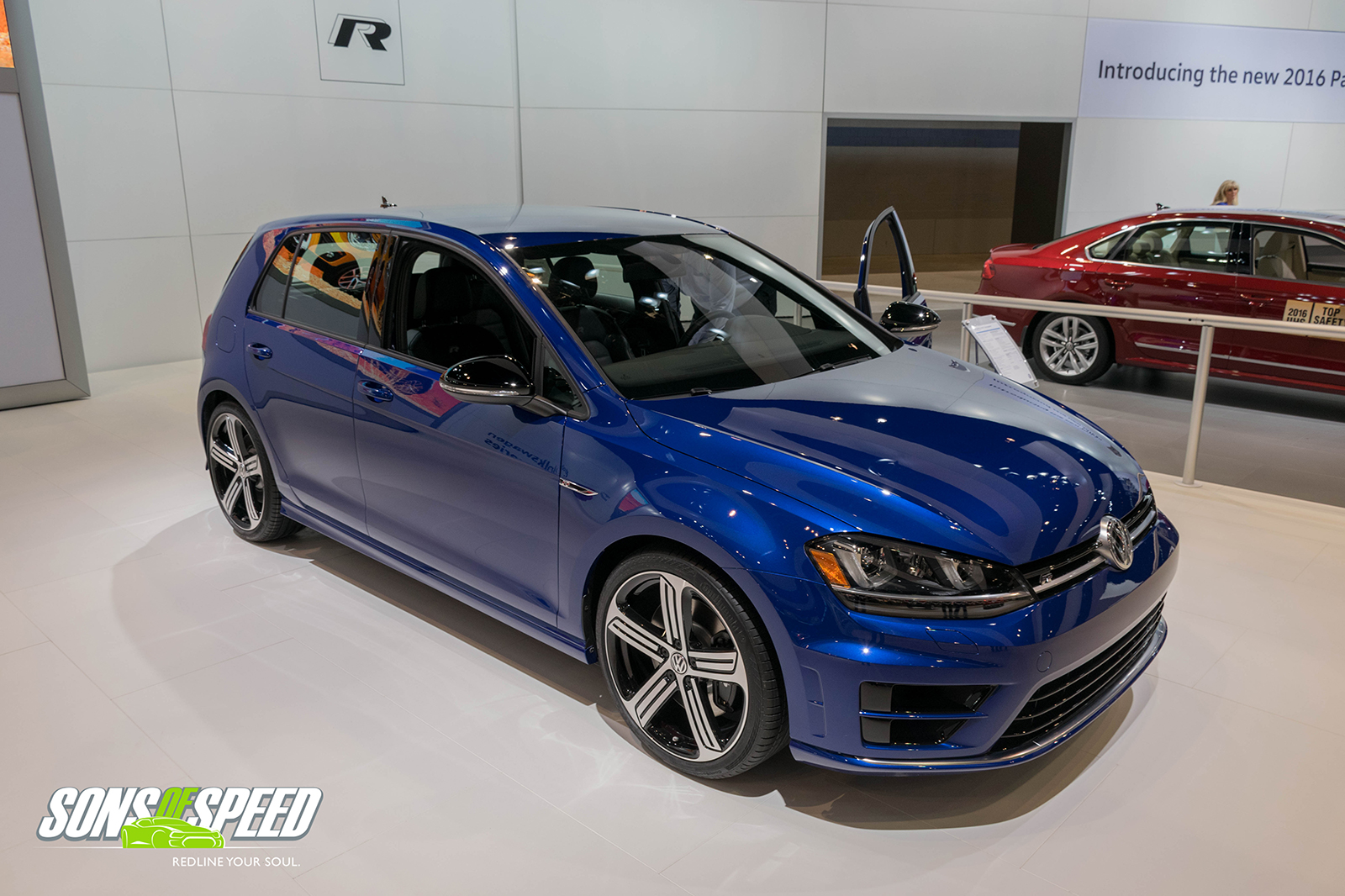 Jaguar F-Pace
While we don't normally report on SUV's here at Sons of Speed, one display had us doing a double-take as we strode by, that being the upcoming Jaguar F-Pace SUV. Aside from its stupid name (why can't Europeans name SUVs? The Taureg, the Bentayga, the F-Pace… seriously?), this thing is drop-dead gorgeous and will make some formidable competition for Land Rover, Porsche, Volvo, BMW and Audi. Set to unveil initially with two V-6 engines (one naturally aspirated 340hp and one supercharged with 380hp) and later add a 4-cylinder turbo-diesel, the F-Pace features seating for five, AWD, a lightweight aluminum architecture, a wi-fi hotspot, F-Type derived torque vectoring and what Jaguar is calling the "world debut" of an "Activity Key: waterproof, wearable technology for active lifestyles, allowing keys to be securely locked in the vehicle." I guess so long as you don't lose your phone or iWatch. Due to be released sometime later this year, prices should start in the $40,000's for the diesel up to $68,000 for the highest performing V6.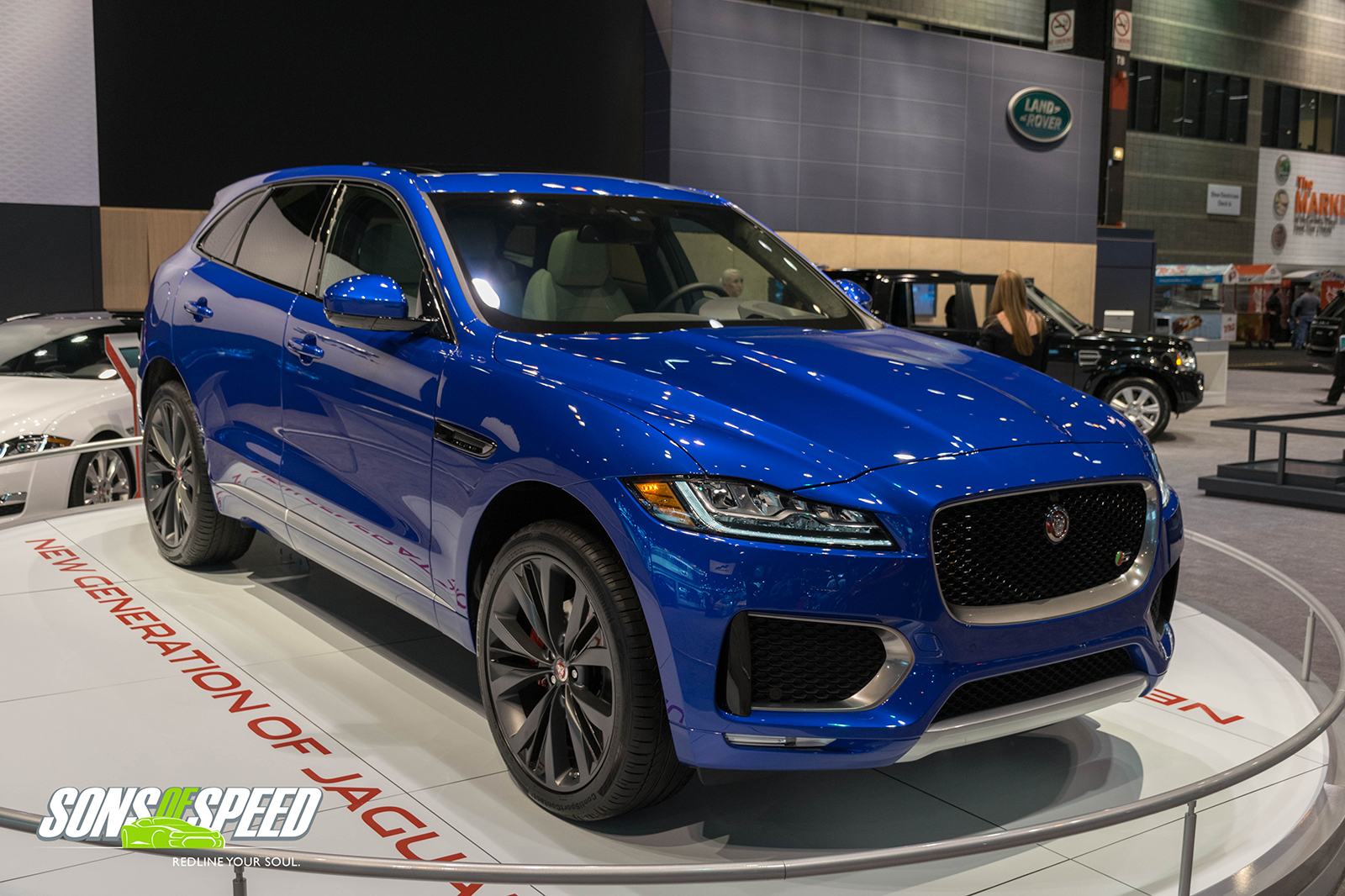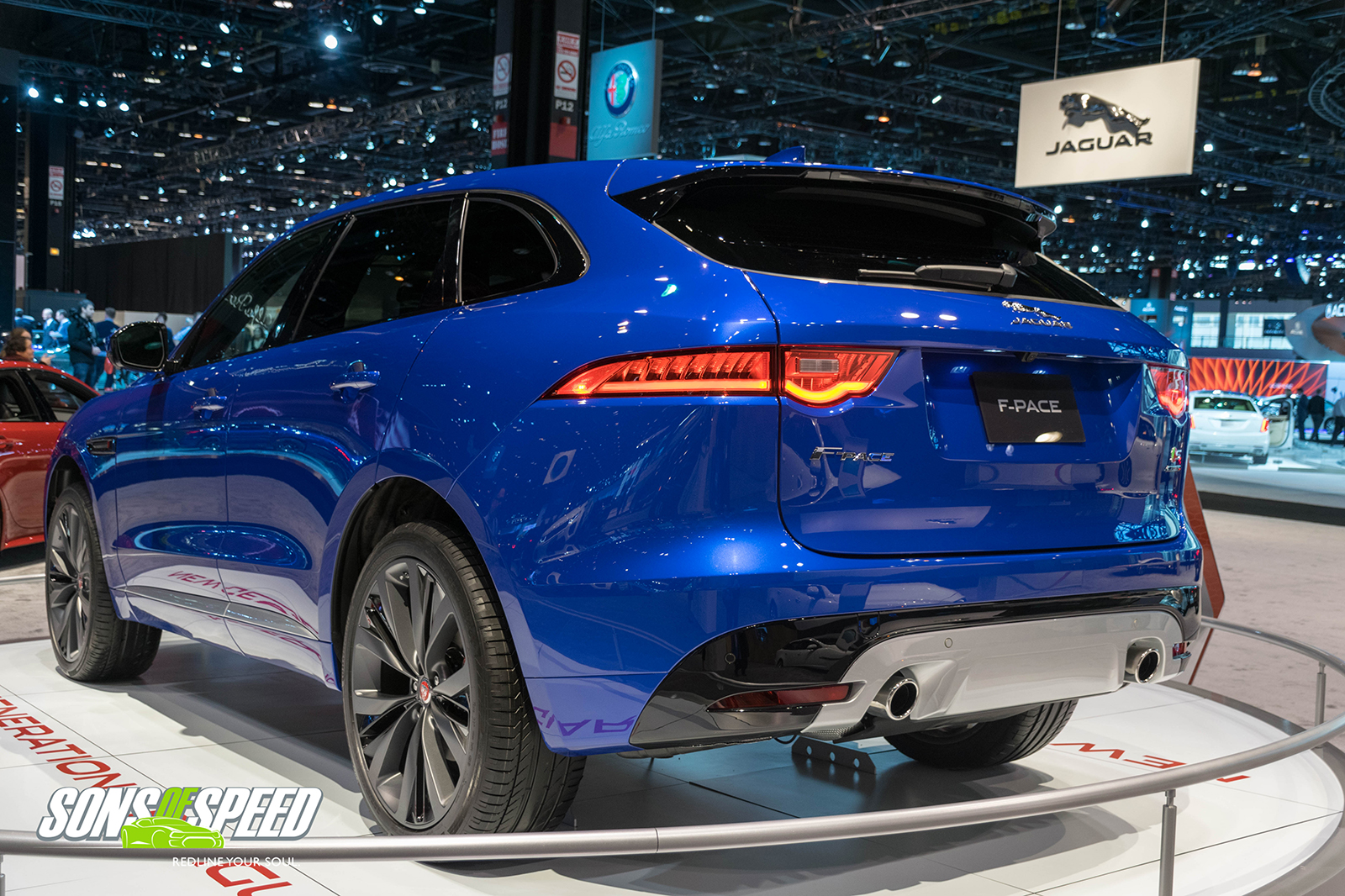 Nissan Winter Warrior
Anyone from the snow-belt can appreciate tires like this: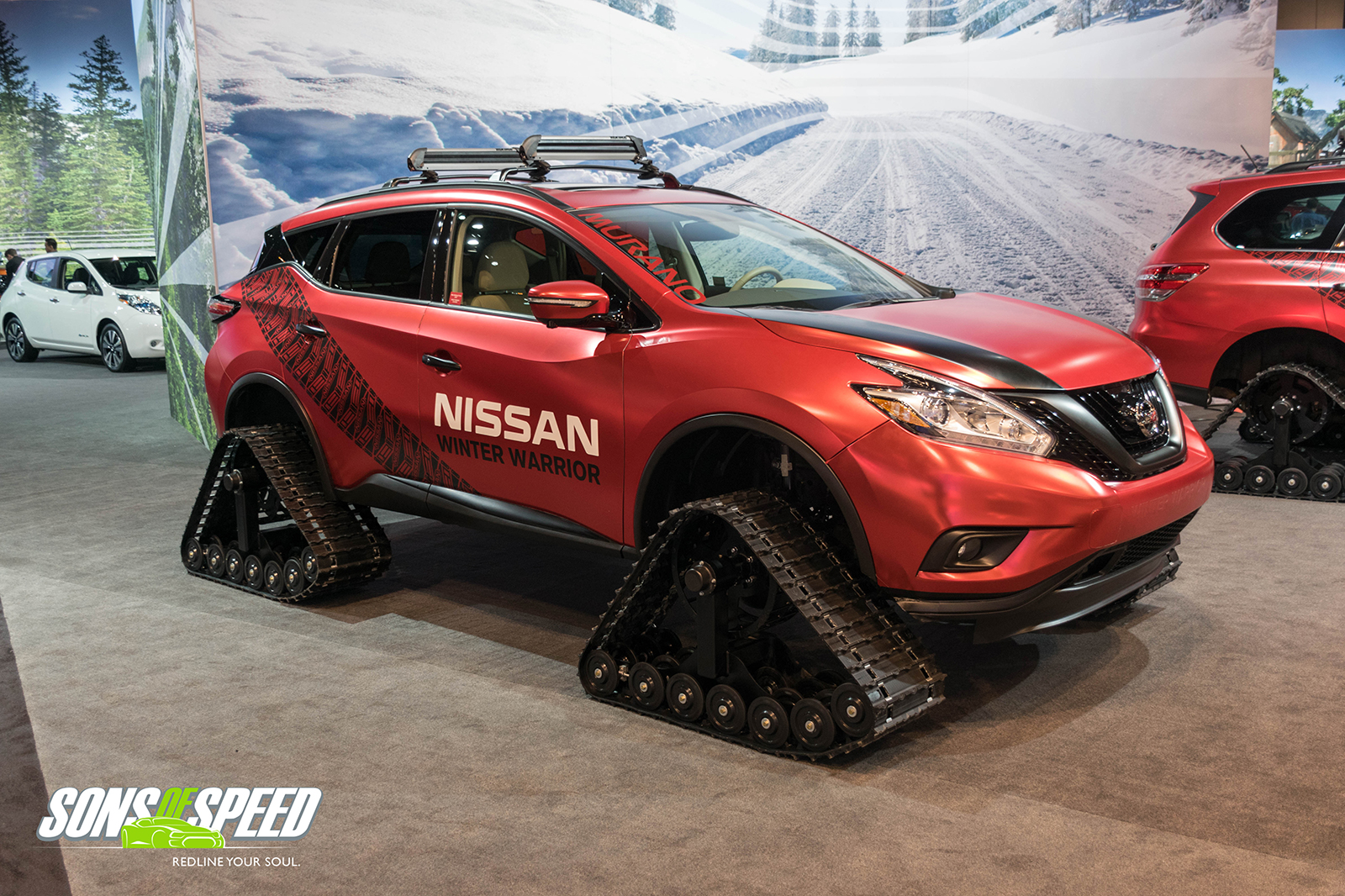 Toyota Back to the Future Homage
Toyota paid homage to the Back to the Future trilogy with a reimagined 1985 Tacoma pickup like Marty pined after (and after some tinkering in 1955, received) along with a futuristic looking Prius (I know, redundant) sporting a Mr. Fusion powerplant. Good to see Toyota having some fun. Now, if they'd get to work on getting us a new Supra, we'd be even happier.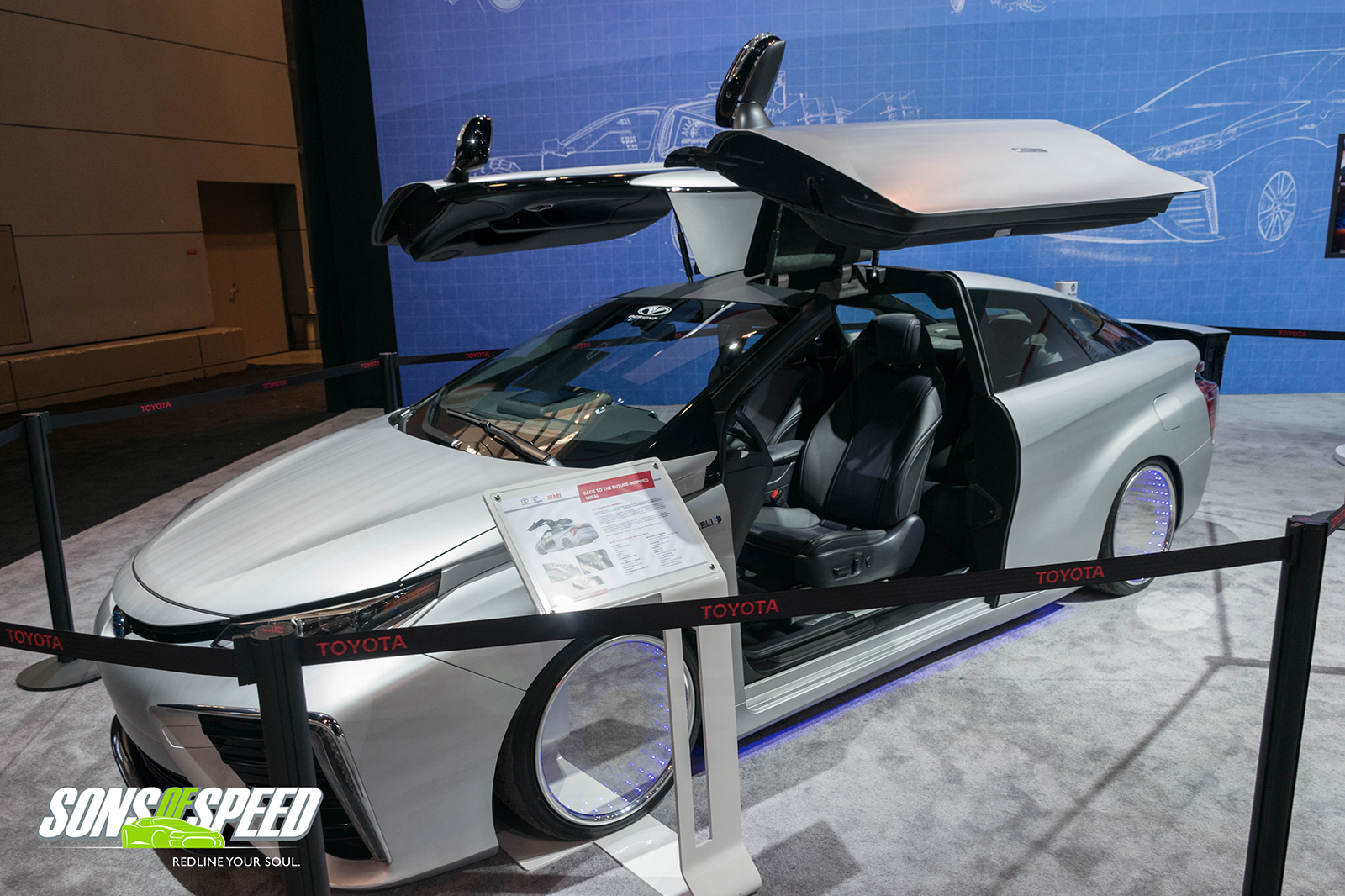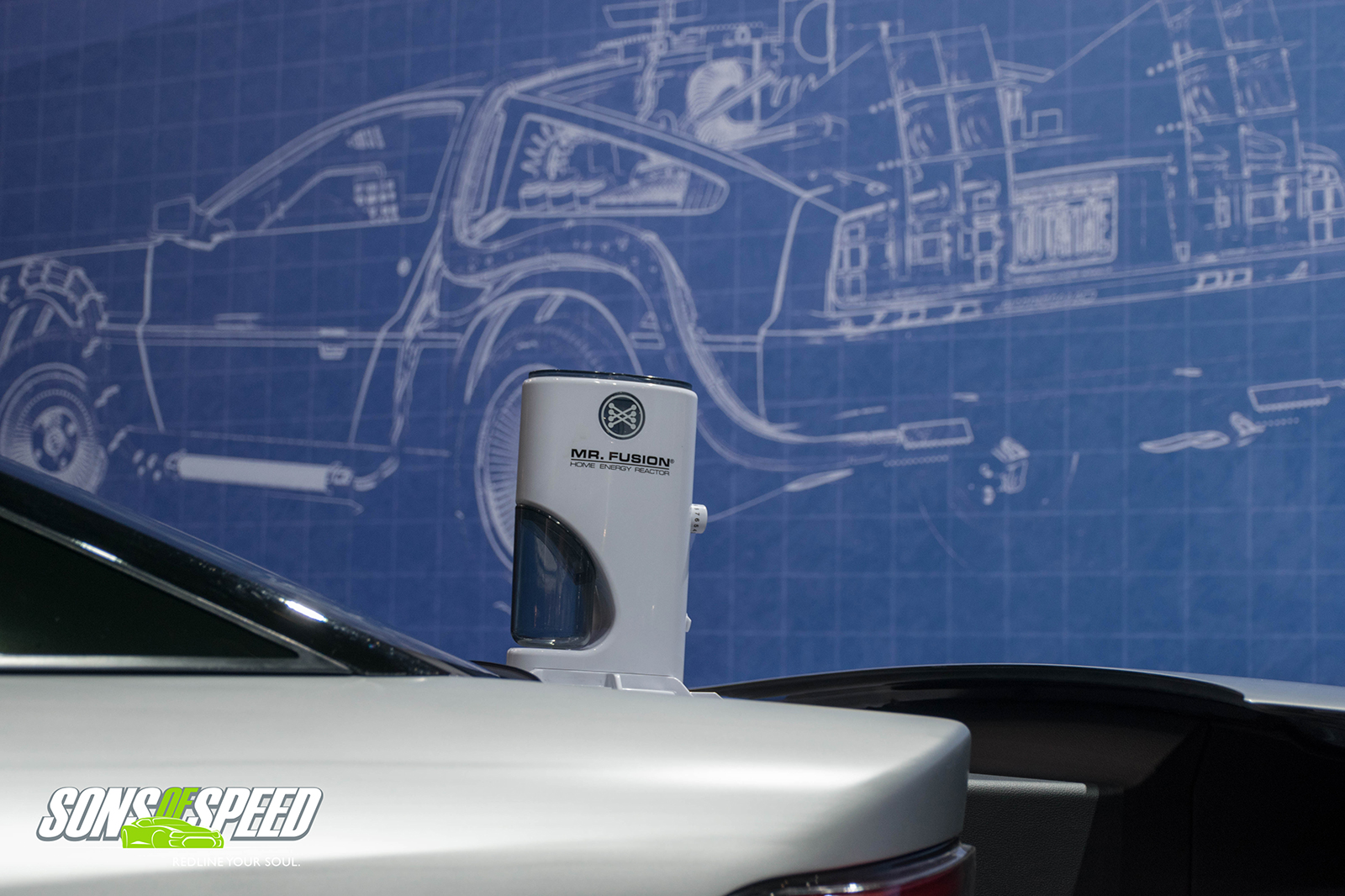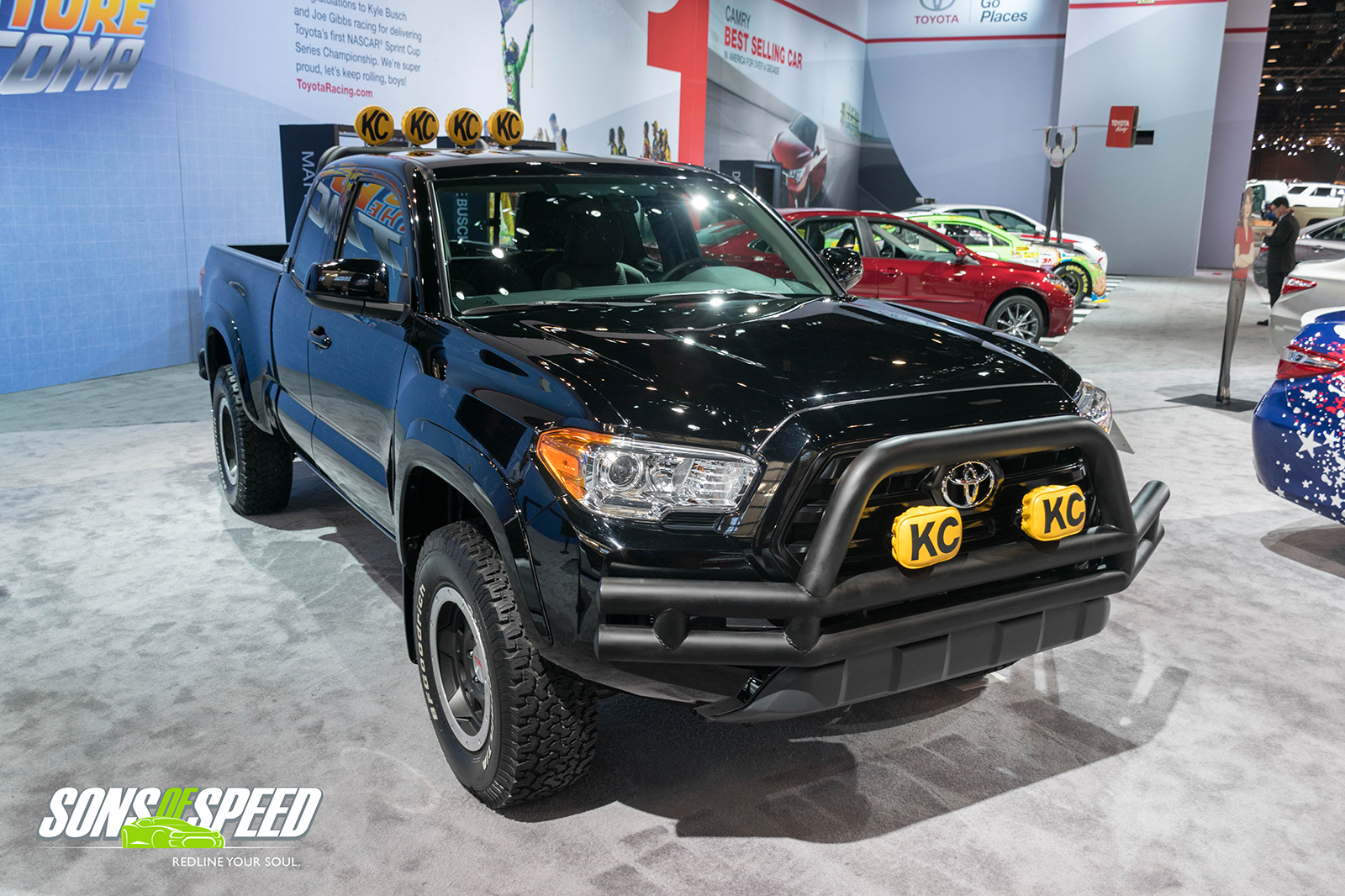 Acura Precision Concept and NSX
Finally, Acura brought its Precision concept car from Detroit, along with the forthcoming production NSX. The Precision concept gives us an idea where Acura design might be headed in the future, while the NSX is the pinnacle of Acura's current lineup. At $156,000 to start (and $205,700 fully loaded), you should start seeing roadgoing NSX's this spring.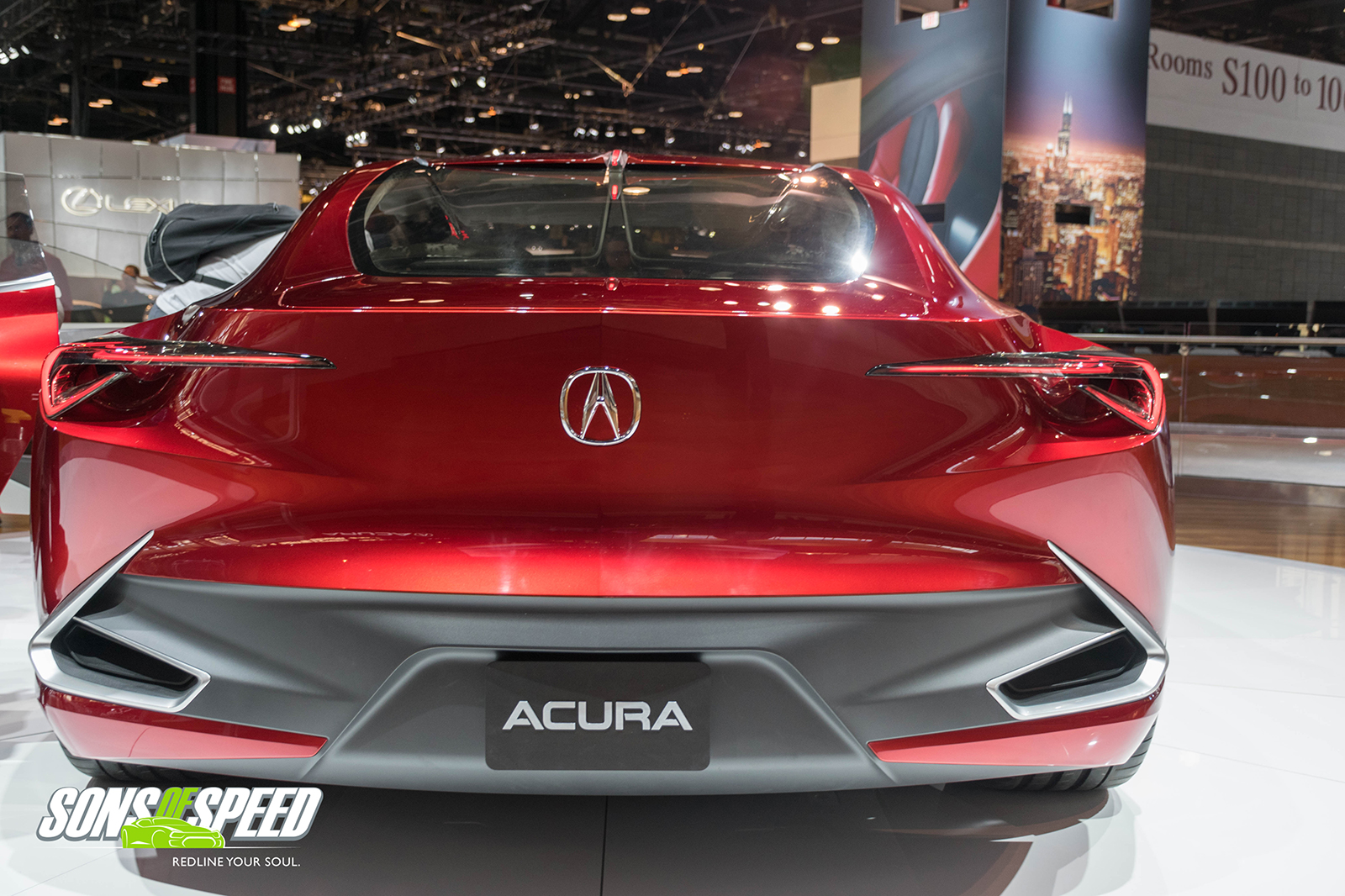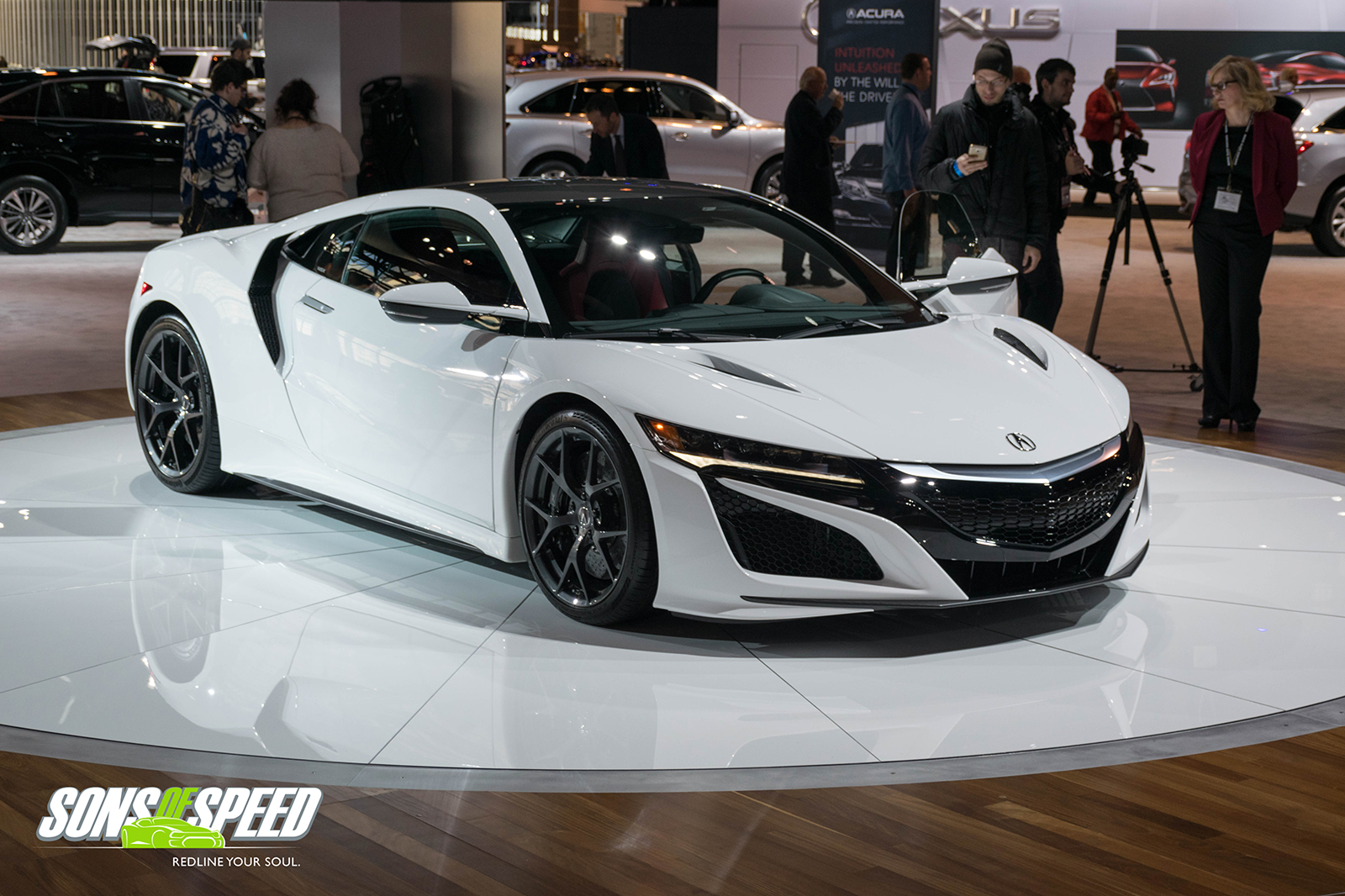 Revisiting the Worst Design Feature
From the Detroit show, we reported on the Genesis flagship sedan design that had us scratching our heads: the metal, cheese-grater speaker grill on the front door. We asked a Genesis rep about it, and after thinking about it for several moments, agreed we had a valid point about the grater not being ideal for hot weather and bare knees. He also mentioned that the designs were still not completely finalized, so if you don't see the cheese-graters on the production versions of the Genesis sedans, we're taking all the credit.
In Conclusion
It seems that gone are the days of every manufacturer showing off wild and exciting concept vehicles, and that omission seems to have dulled the excitement surrounding this year's Chicago Auto Show. If you're planning to visit the show to look at production cars you might want to buy in the near future, you won't be disappointed as nearly every car for sale in the U.S. will be there, but if you brave the cold weather to glimpse each manufacturer's vision of the near and distant future – no matter how far fetched – you'll likely leave a bit disappointed. And frozen.