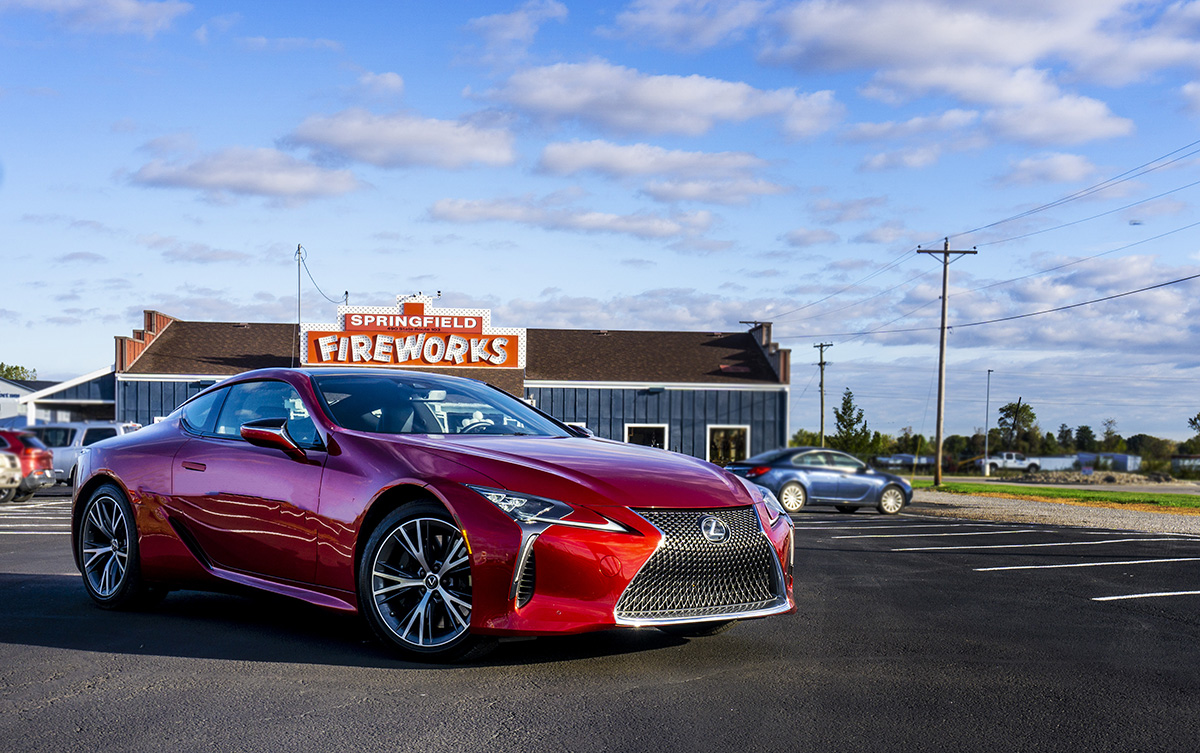 If you're going to drive from Ann Arbor, Michigan to Gainesville, Georgia in a day you have to get up before the sun. Especially if you're planning on taking a detour through one of America's great driving roads, The Tail of the Dragon. So up we got at 5 AM and pointed the speeding ticket red 2019 Lexus LC500 south on US 23 and headed for Ohio.
The purpose of this journey, in addition to getting some serious seat time in a serious GT car, was to join Lexus Motorsports for a weekend of IMSA racing in one of the tougher endurance challenges in North America. The Motul Petit Le Mans is a 10-hour sports car race with four classes of cars running simultaneously at Michelin Raceway Road Atlanta. Lexus began racing their RCF coupe in the GT Daytona class in 2015 and this year joined forces with AIM Vasser Sullivan Motorsports who have elevated the program to a championship contender. But we'll get to that in a bit.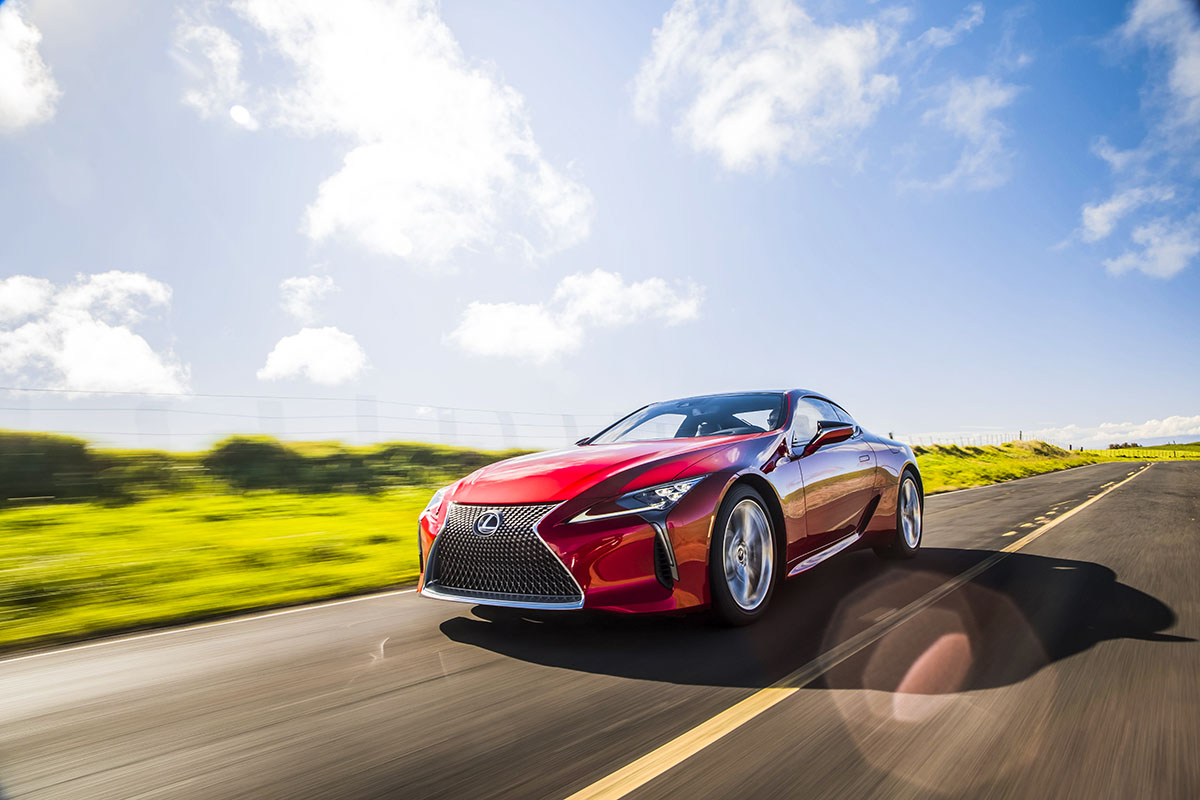 First let's talk about the LC500, a car I was introduced to two years ago at its launch in Hawaii, which, as beautiful as it is, is a lousy place to test a sports car thanks to low speed limits and strict enforcement. I've driven it since, once at an event at Road America where I found out it is a much better track car than I had anticipated, and again for a week around town to see how it was to live with. This trip, a 1,500-mile banzai weekend run from Ann Arbor to Atlanta and back for the Petit Le Mans, would test the LC500 at what I had suspected it would be best at, long distance, high speed (relatively) cruising.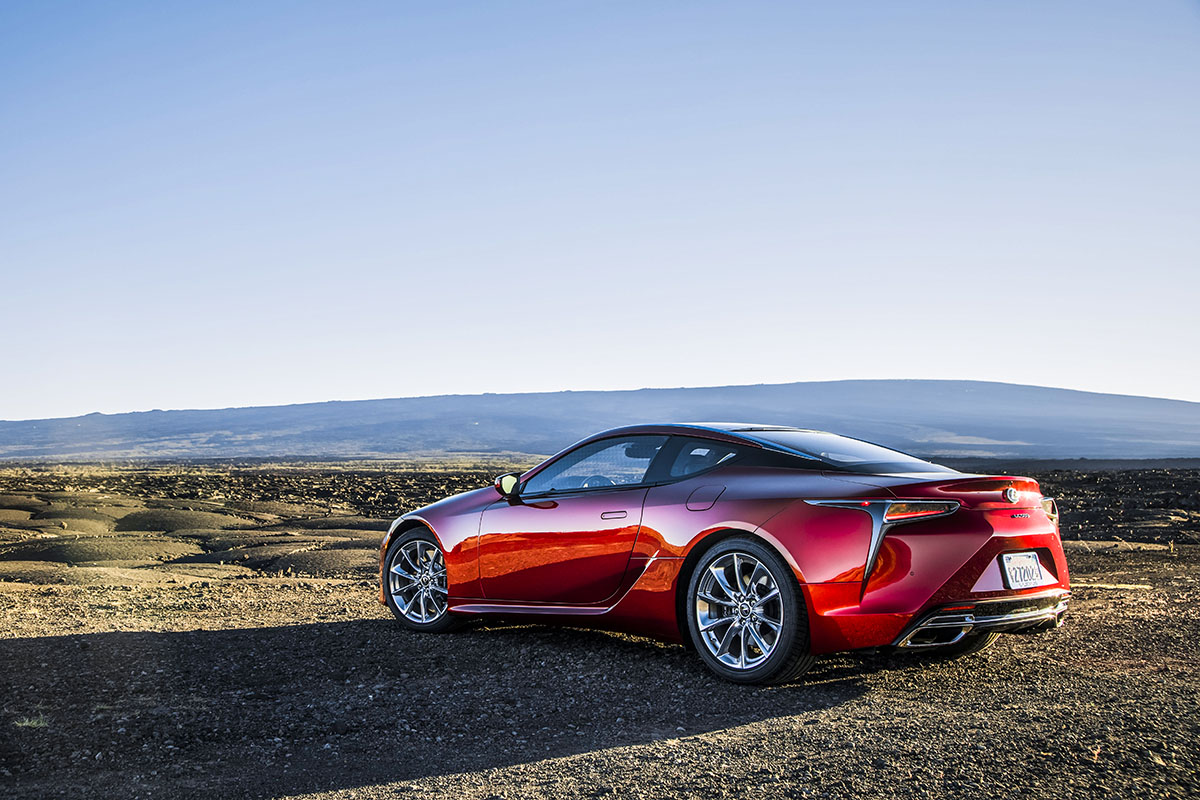 My partner in crime for this journey was Rides & Drives technical consultant, George Riehl, an automotive engineer who works for a large independent test and development company. He has one of the great jobs in the business. Essentially he's paid to break things – mostly transmissions and engines – and tell manufacturers how to make them better. He's also an amateur racer, avid race fan, bourbon aficionado, and like me, very laid back traveler. He was also my subject matter expert at the track, helping to translate what would be happening in the garage, pits, and on the track into language I can understand.
The first seven hours of the trip were unremarkable freeway miles starting on US 23 in Michigan and then picking up Interstate 75 just south of Toledo and staying on that all the way to Knoxville, Tennessee. Being a native Michigander, the less said about Ohio, the better. The road started to get interesting in Tennessee with plenty of elevation changes and even a curve or two. Not surprisingly, the LC500 is nearly perfect for this kind of travel. Running between 10 to 15 miles per hour over the posted speed limit with occasional bursts beyond that (hey, we had somewhere to be) the Lexus is quiet, comfortable, and rides like butter in comfort mode. Aside from the firmer damper settings one of the reasons you want to avoid Sport mode on the freeway is the engine noise. While the finely crafted 5.0-liter V8 provides a sweet symphony when you're blasting through backroads, it droned on tiresomely at the constant 2,000 or so RPM the engine was turning. Plus, the ten-speed transmission keeps the engine in a more economical mode returning 28 miles per gallon on the long, flat freeway.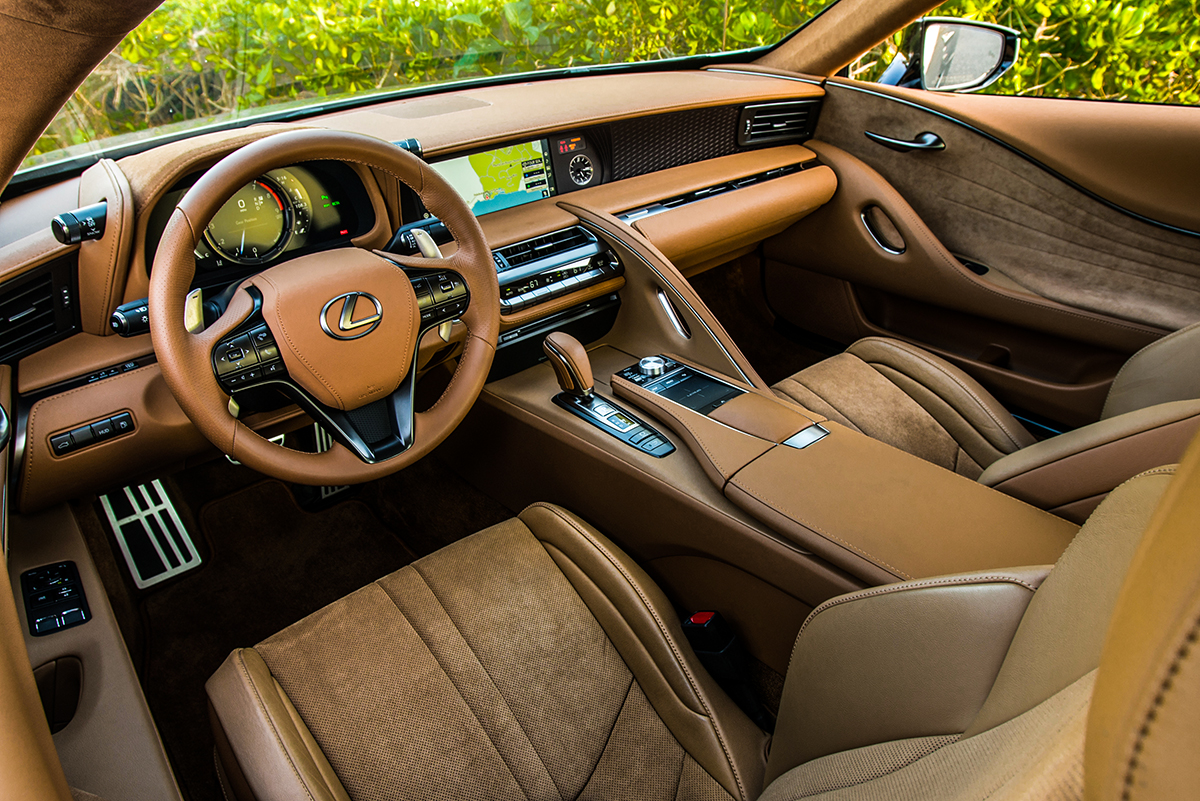 Now available with Apple CarPlay, I connected my phone to the LC500 and used Waze to keep us apprised of any construction and law enforcement activity ahead. This worked well providing us ample notice to get back to legal speeds before encountering the Ohio and Tennessee state troopers who patrol this road heavily. Three or four times, however, CarPlay froze on us and hand to be rebooted. I'm not sure whether the issue was with my older iPhone 6 or the Lexus end of the cord, but it was a bit annoying. Also annoying, and previously noted in my full review of the car is the trackpad for the infotainment system. The interior of this car is damn near perfect except for this abomination of an interface. The sport seats are comfortable and supportive. The surfaces live up to Lexus promise of Takumi craftsmanship. The instrument panel graphics are gorgeous and fun with the sliding center ring. Every other touch point just feels right. The sooner they replace this system the better. Rant over.
Getting off the interstate in Knoxville, and continuing south on Route 129, I could feel my pulse start to quicken in anticipation of the famous road that lie just 30 miles ahead. Tail of the Dragon is 11 miles of immaculately paved roadway comprising 318 turns that runs through Great Smoky Mountains National Park. It is a prized run for both sports car enthusiasts and motorcyclists. How good is it? Motor Trend just brought the new Supra and Shelby GT350 here for a head to head competition. It's right up there with other legendary stretches of road like Angeles Crest Highway, Highway 9W in New York, and M-119 in Michigan. It's a bucket list drive and a great road to test how well the LC500 could make the transition from grand tourer to sports car.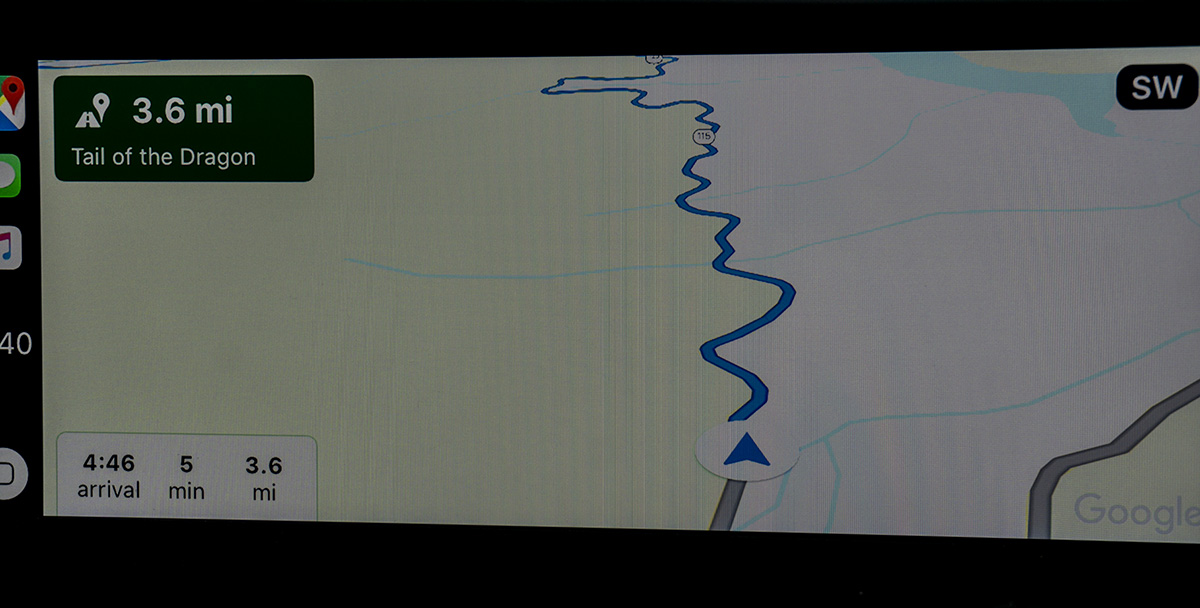 Somewhere between Maryville and Chilhowee, the road began to tighten up. I gave the drive mode switch two clockwise twists entering Sport+ mode, then flicked the shift lever straight down engaging the steering wheel mounted paddles. I pulled the left paddle twice dropping from fifth to third and buried my right foot into the accelerator. The 4,300 pound sport coupe rocketed forward toward the first set of sweeping curves. Trying to be a smooth as possible for the next five miles, I bent the curves to my will braking hard, downshifting using fewer than half of the 10 speeds, turning in, powering out, all while staying tidily in my lane.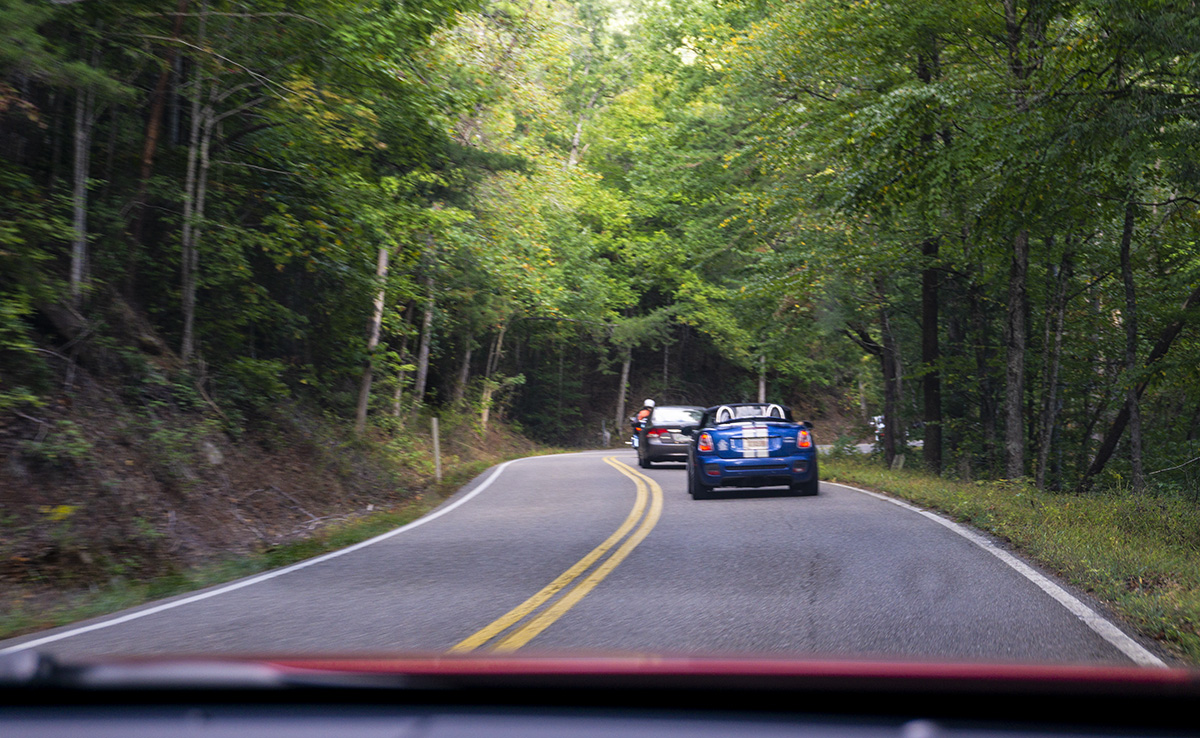 When you drive The Tail, it's not only a breach of etiquette to cross the centerline, it's dangerous. The corners are so tight and the straights are so short oncoming cars and bikes appear out of nowhere. The good news is there are plenty of pull-off areas for slower cars to move to the right and let more aggressive drivers through. Most people have an eye on their mirrors and are thoughtful enough to oblige. After my half of the dragon was complete, I turned the controls over to George to get his assessment of the Lexus.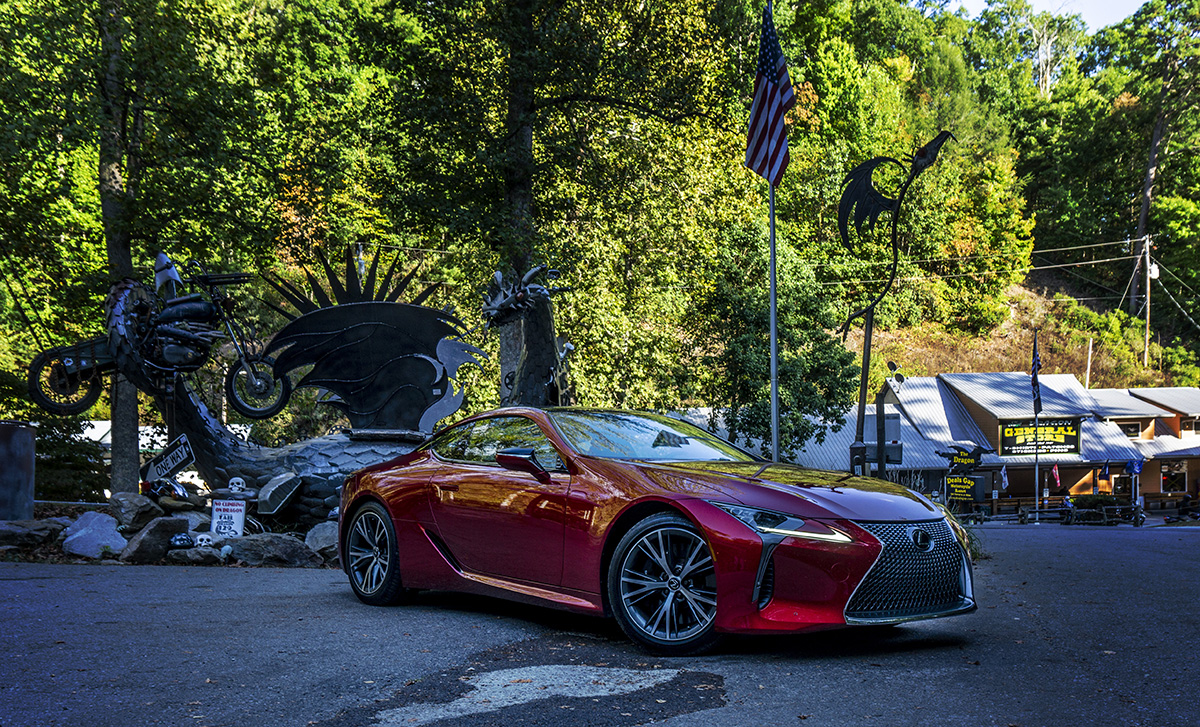 George proceeded to push the LC500 harder, braking more aggressively, and accelerating even quicker than I had. From the maniacal grin on his face I knew he was intent on finding its limits and bringing it to its knees. Fortunately for me, he never did. The LC is well balanced and surprisingly nimble. Looking at the spec sheet and knowing the history of the brand, the tendency is to underestimate the LC500. It's heavy. It "only" makes 471 horsepower. It's a Lexus. It's not supposed to conquer one of America's great driving roads without a real struggle, but it did. Sure, there were times when the 20-inch tires were screaming for mercy and we could smell a lot of brakes when we stopped at Deal's Gap to catch our breath, but the LC never lost its cool.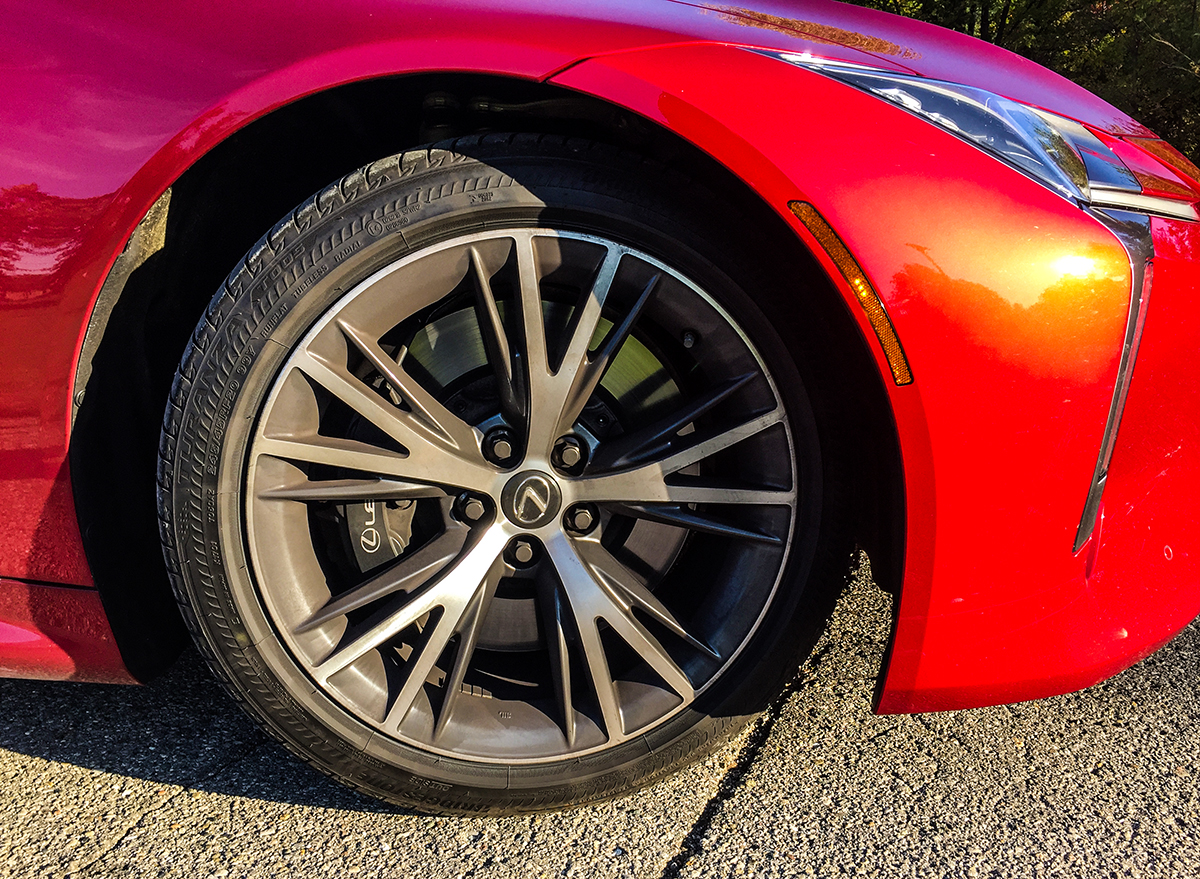 It's not as pure a sports car as say the Mercedes-AMG GT or Jaguar F Type SVR, but if you want a coupe that can cruise comfortably for long distances and be able to rip up the best driving roads in the world, your choices are very limited. In addition to the LC your options include the likes of the BMW M850i, Aston Martin Vantage, Bentley Continental GT V8 and not much else.
The Dragon slain, it was another two hours to Gainesville, Georgia giving the brakes a chance to cool and our heart rate the opportunity to drop back to normal before checking into our hotel and calling it a night.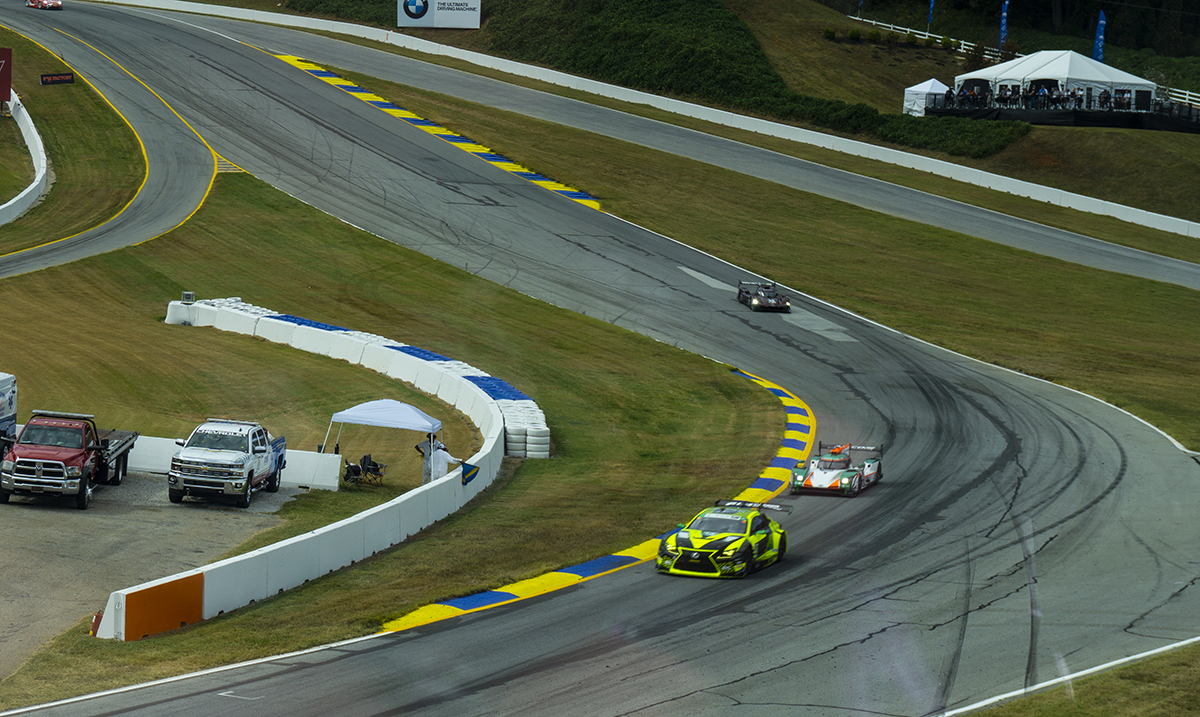 Friday morning the temperatures were perfect for early October in Georgia and the sun was shining for our first day at the track. We checked in with the folks at Lexus, got a look at the RC F GT3 car, and then toured the facility. While not as storied as Watkins Glen, Road America, or Laguna Seca, Road Atlanta is one of the more exciting places to watch cars race in the country. It is a technical track with lots of elevation changes, a long back straight and two shorter straights providing the best opportunity for passing.
The 2.54 mile 12-turn circuit first opened in 1970 and has hosted TransAm, CanAm, Formula 5000, Camel GT, and other signature race series, featuring drivers that included Dan Gurney, Peter Gregg, Mario Andretti, Bobby Rahal, Paul Newman and Mark Donohue. After falling on hard times, going through a bankruptcy and a number of ownership groups, Road Atlanta was purchased by pharmaceutical executive and motorsports legend Don Panoz in 1996. He has since overseen the completion of a number of improvements to the track and facilities including the infield pit and paddock, a 100-foot infield tunnel for better access, and the upgraded media and viewing tower. Just 35 miles northeast of Atlanta, the facility is easy to get to and even on race day traffic was well managed and efficient.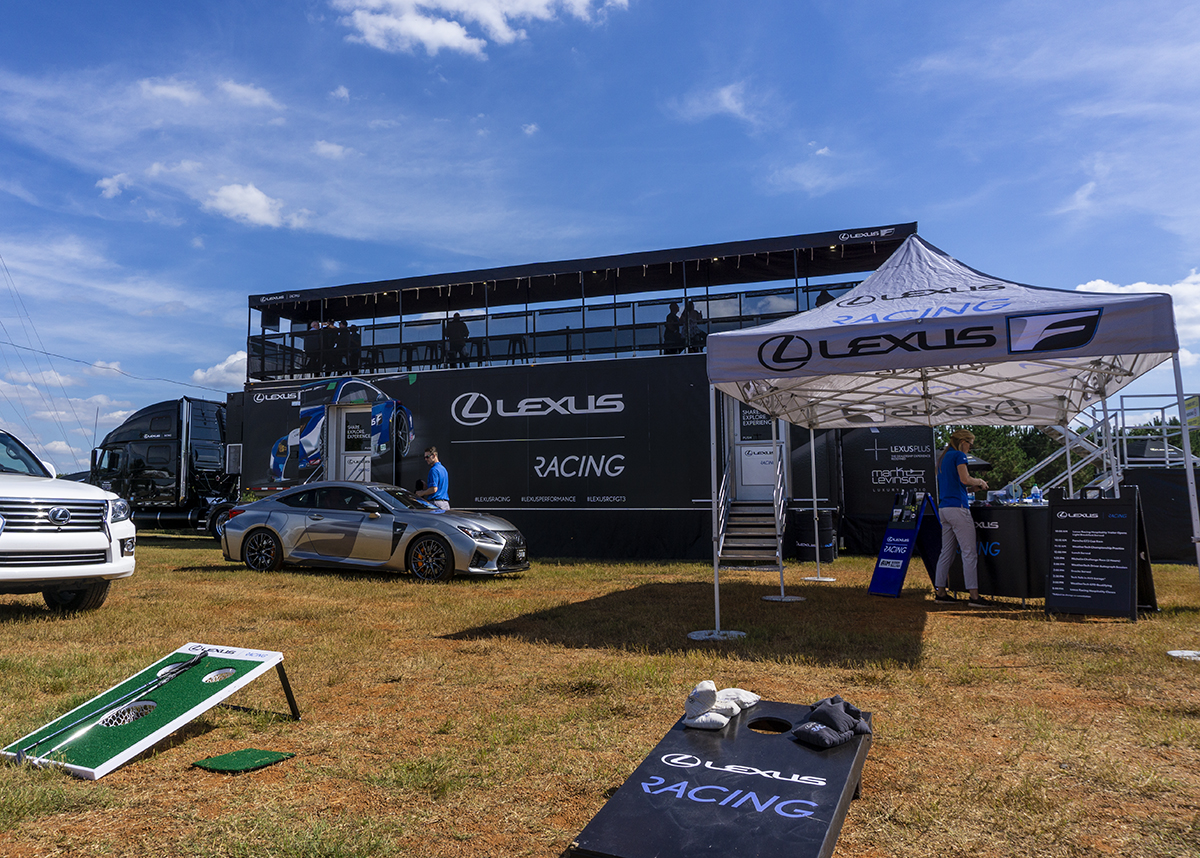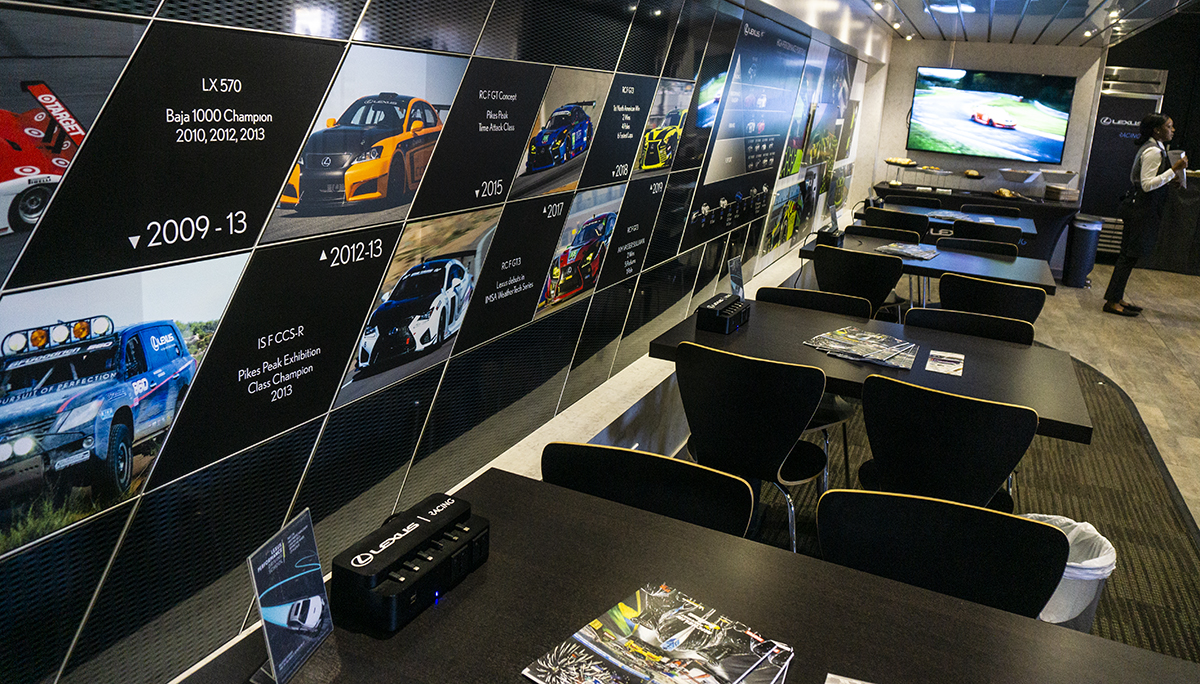 With 100,000 or so people attending the race weekend, the crowd was both enthusiastic and varied. Even In the heart of NASCAR country, the passion for sports cars was evident. Tribes of Corvetteers, GTers, NSXians, and Porschese set up camps around their favored brand's hospitality suite. Lexus had their luxury trailer and viewing area inside turn one with preferred parking and plenty of food and refreshment for invited guests and were kind enough to put us on the list so we could grab a quick burger and beverage before our technical briefing back in the paddock.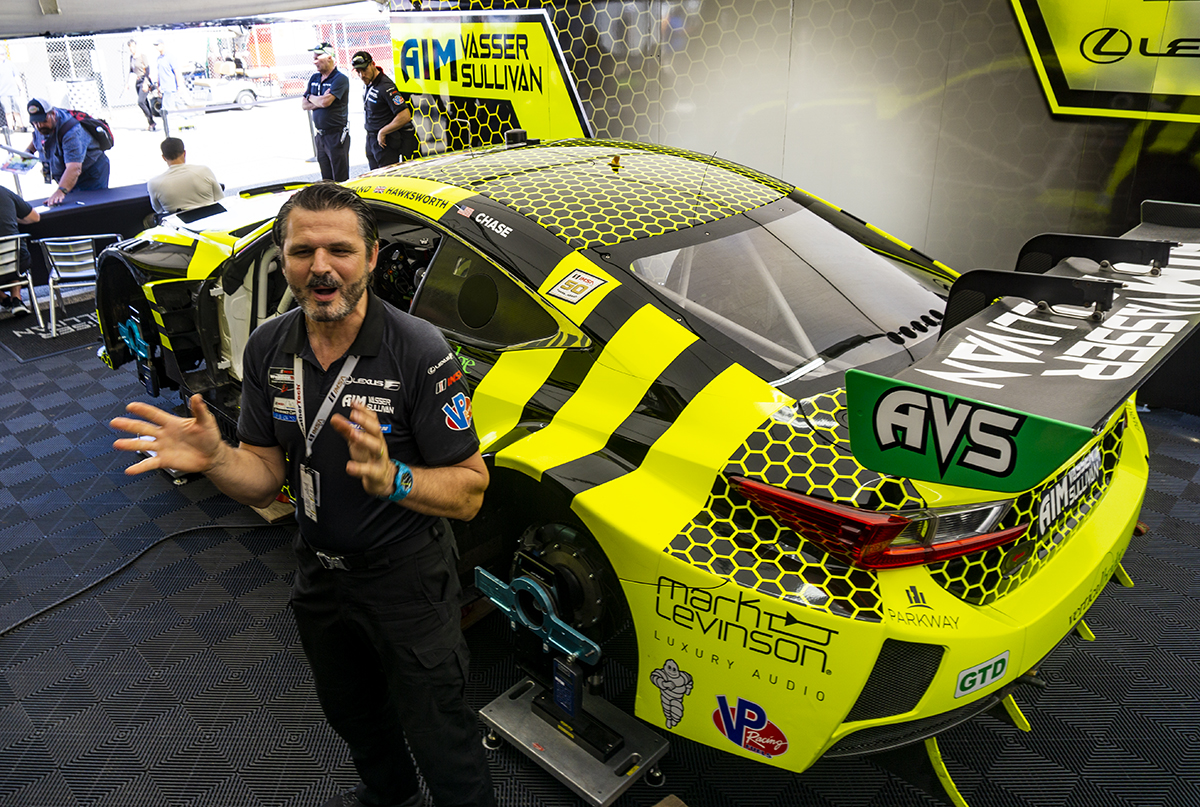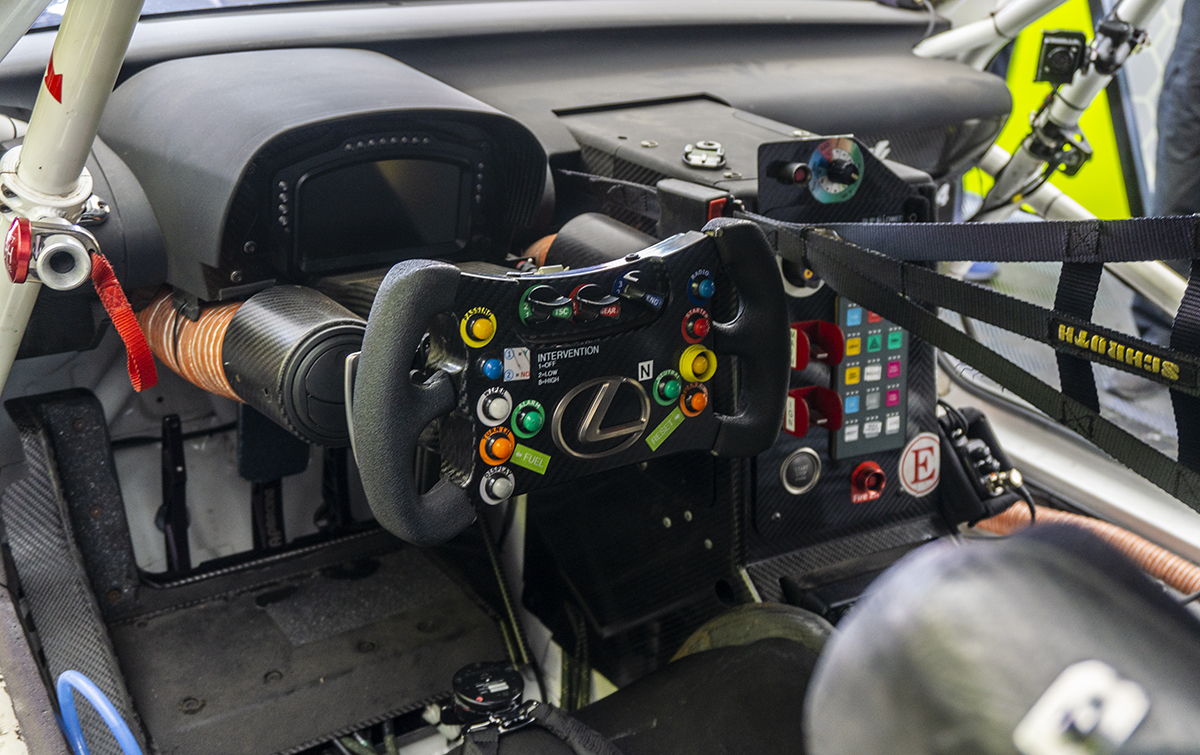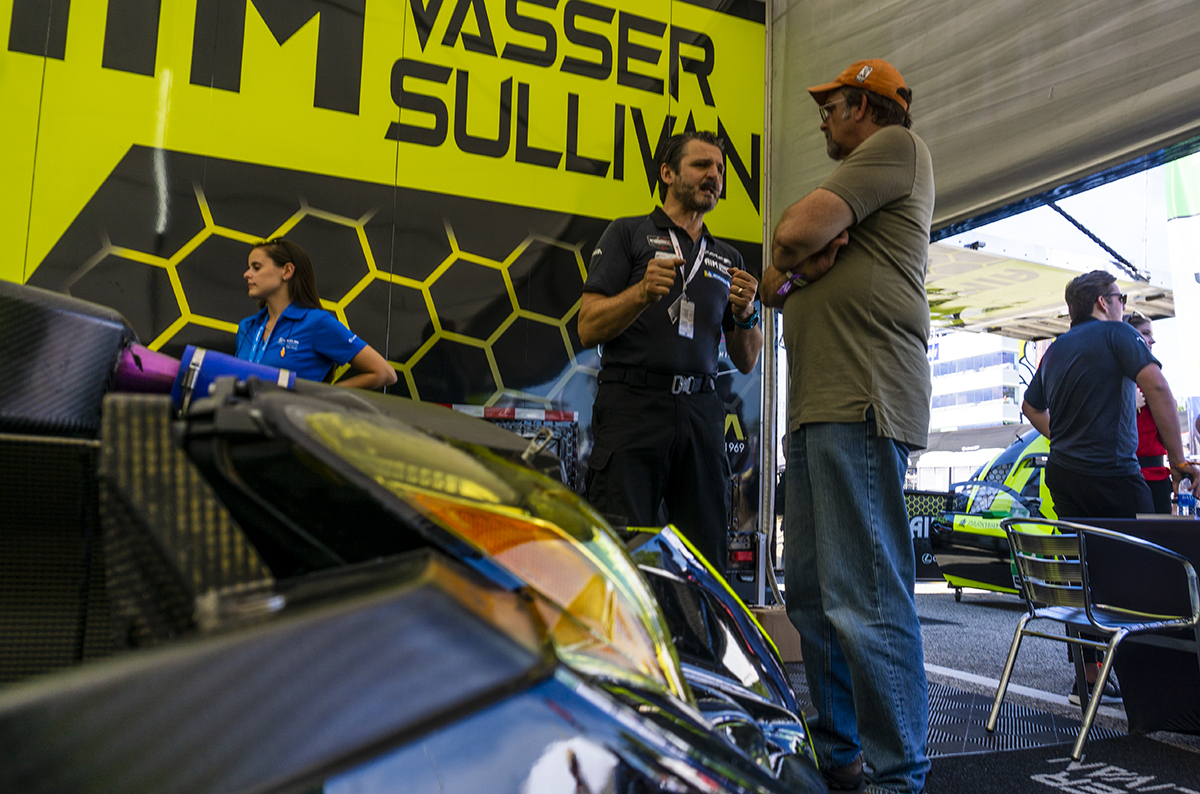 The Lexus RC F GT3 car, like others in its class is based heavily on the production car. The main part of the chassis is production based, as is the engine block, many of the sensors, lights, and several other component systems. While clearly a hard core race car, it's not so far removed that there's no relevance to street car. Lexus is intent on demonstrating to skeptical enthusiasts their sports cars can compete with the likes of Porsche, Lamborghini, Chevrolet, BMW, and Mercedes which is why they're focused on the closer to production GTD class rather than Prototype racing.
As if to prove their point, George and I were given seats in a Lexus GS F (basically the sedan version of the RC F) and driven around the track by a pro driver who proceeded to use all 467 horses put out by the 5.0-liter V8 in a failed attempt to scare the bejeezus out of us both. I've done a few of these hot laps in everything from a JCW MINI to a BMW M3 GT3 racer so I wasn't that worried. Just impressed by how quickly a "family sedan" hustled around the track. Between the RC F, GS F and LC500, Lexus has a very credible lineup of performance cars.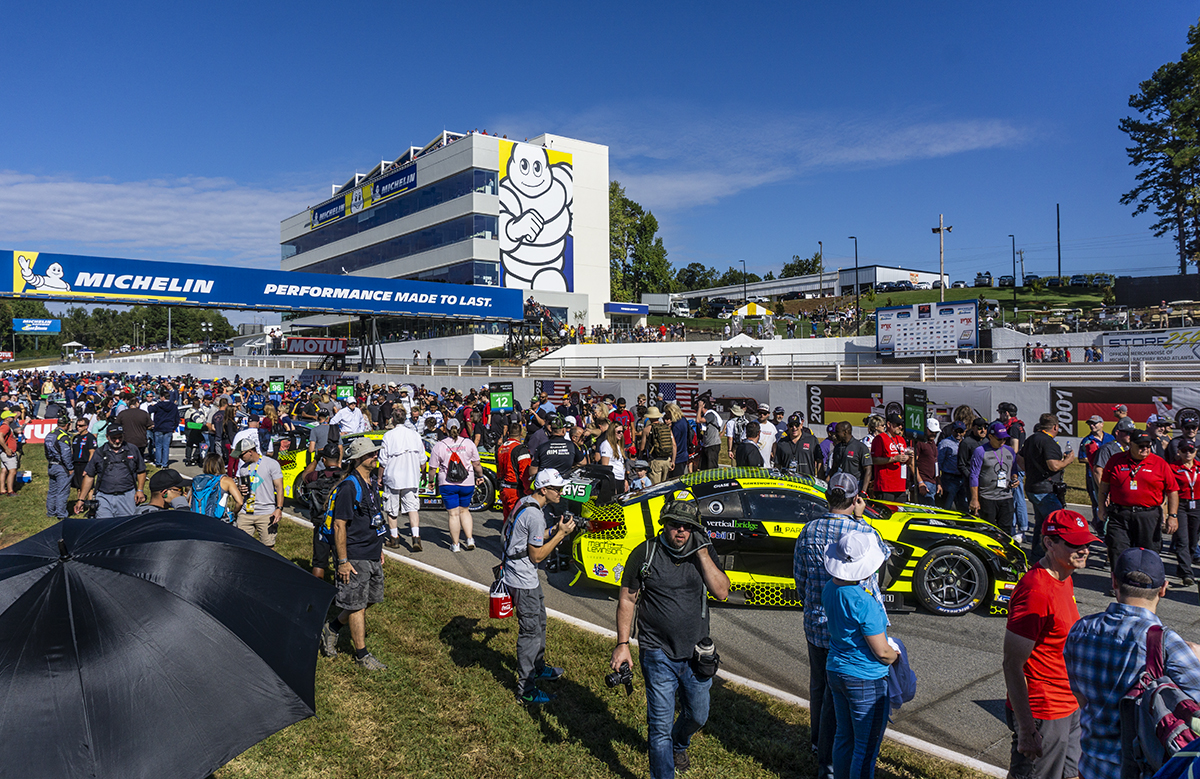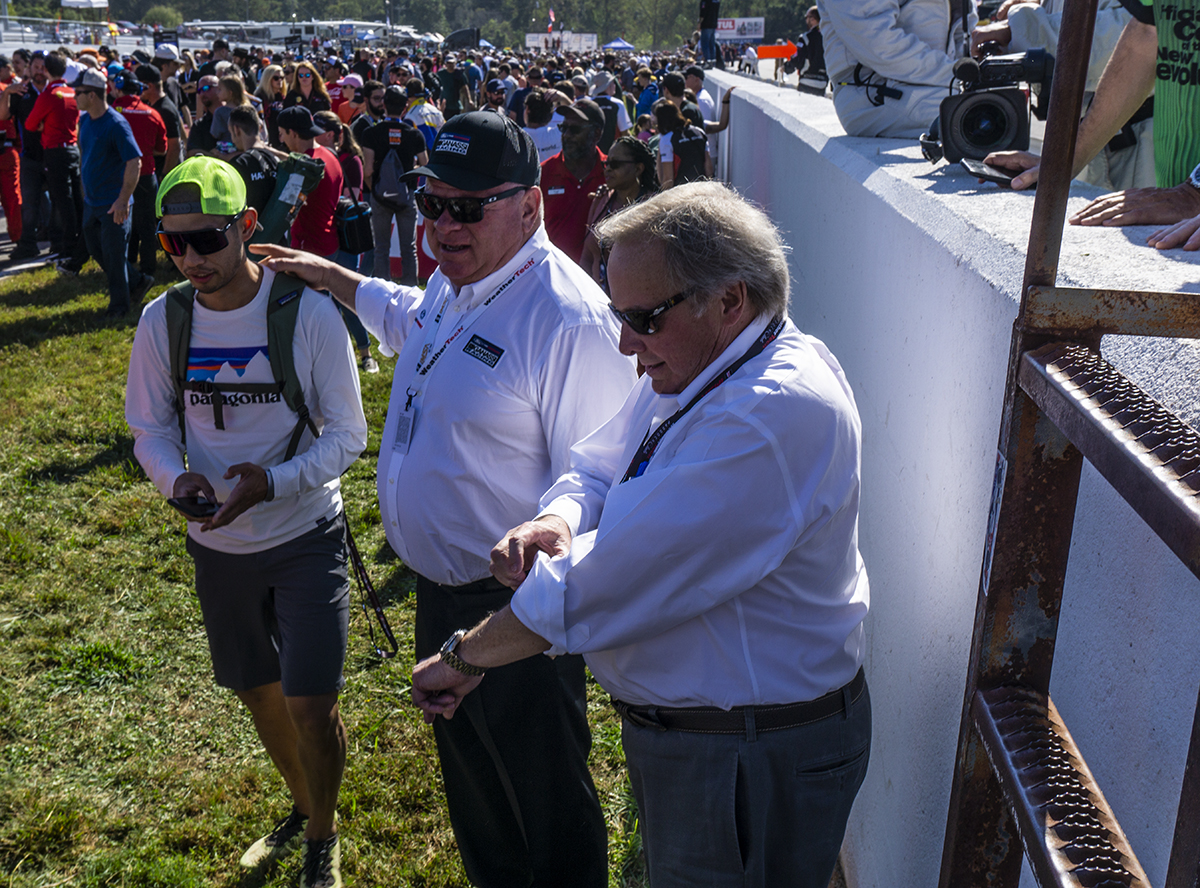 The Petit Le Mans is the fourth and final race in the IMSA WeatherTech Endurance Cup that also includes with the 24 hours of Daytona, 12 hours of Sebring, and 6 hours of Watkins Glen. At 10 hours, it's a tough test and since the race kicks off at noon, track conditions can change significantly as temperatures rise through the afternoon and then fall after sunset.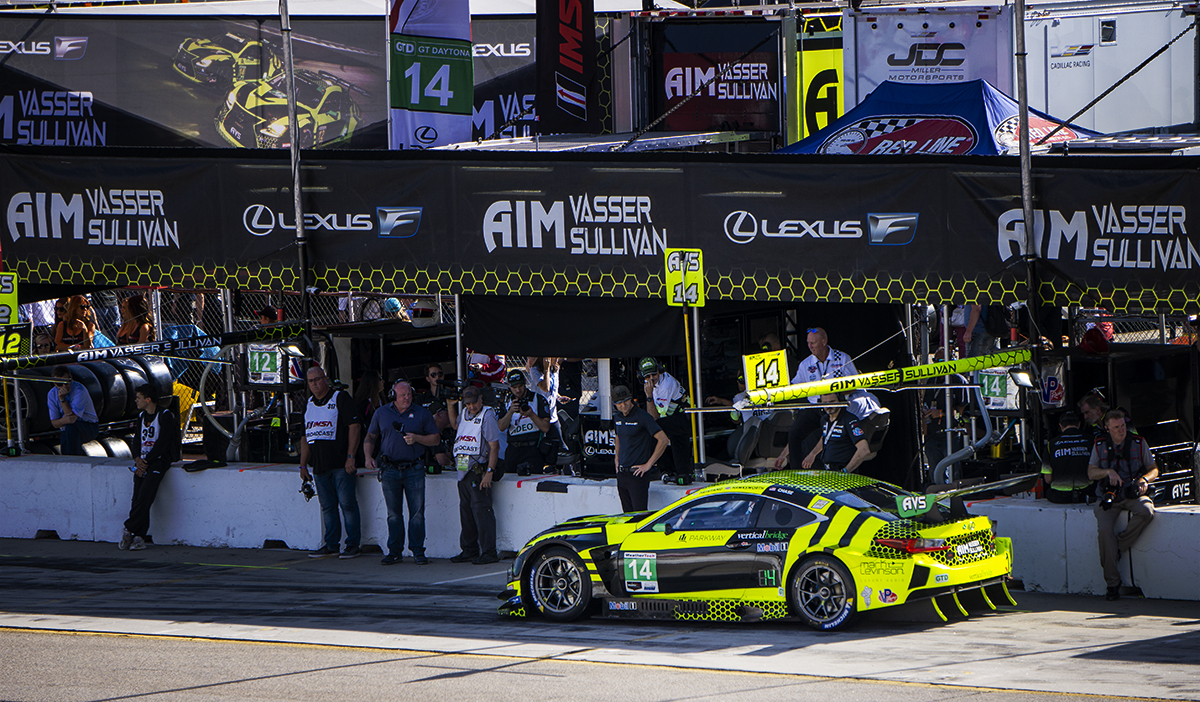 There are four classes of cars in the race, Daytona Prototypes (DPi), Le Mans Prototypes (LMP2), GT Le Mans (GTLM), and GT Daytona (GTD) with laps times that range anywhere from 1:09 for the DPi cars to 1:20 for the GTD class. This differential can create challenges as the faster cars begin lapping the slower classes, especially on a track like Road Atlanta where passing isn't easy. Unfortunately for my hosts, the inevitable occurred on lap 121 when the #10 Wayne Taylor Racing Cadillac Prototype tried to pass Aaron Telitz's RC F on the inside of turn 2, hitting the Lexus and spinning it into the wall severely damaging the car.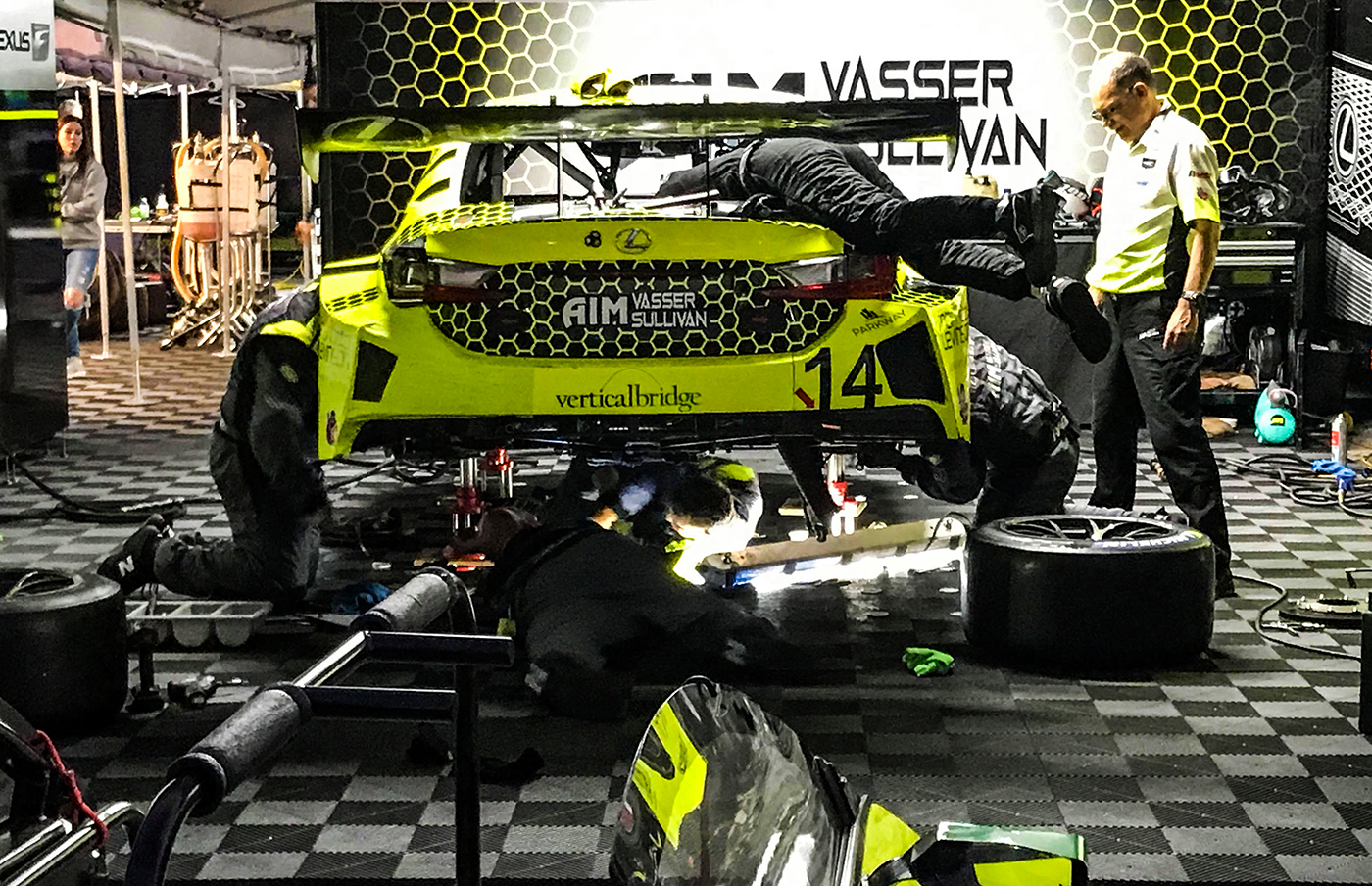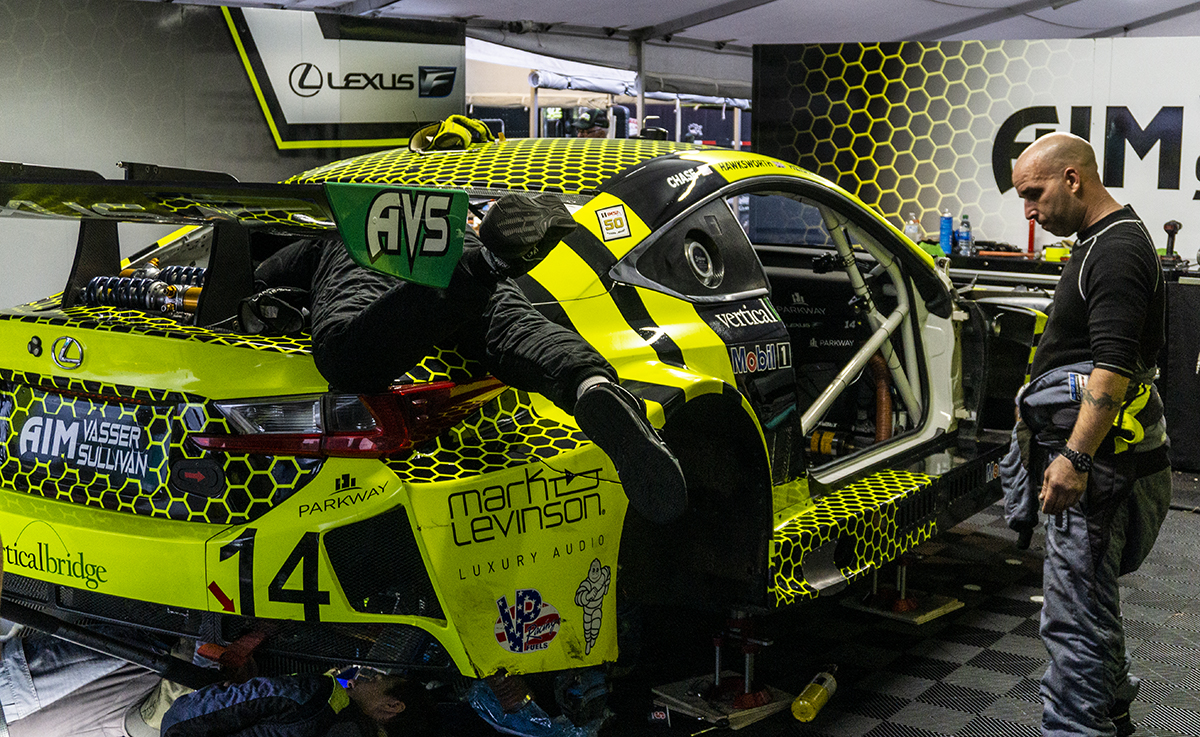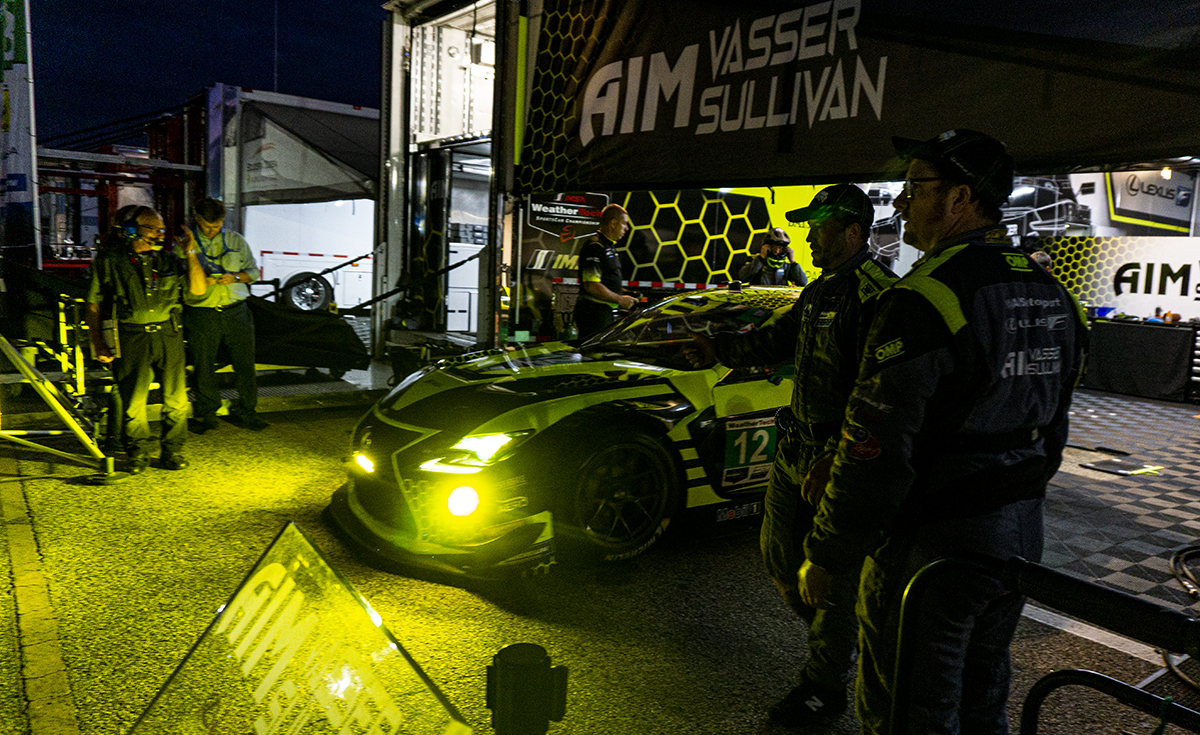 A few hours later, the second RC F GT3 was behind the pit wall after an off-track incident put a hole in the rear differential causing it to lose all its oil. The mechanics earned their pay rebuilding both cars and getting them on the track to finish 9th and 11th, 101 and 199 laps behind the leader. While not the result the team had hoped for, the cars were competitive when they were on the track and Lexus has already committed to campaigning the cars for another season.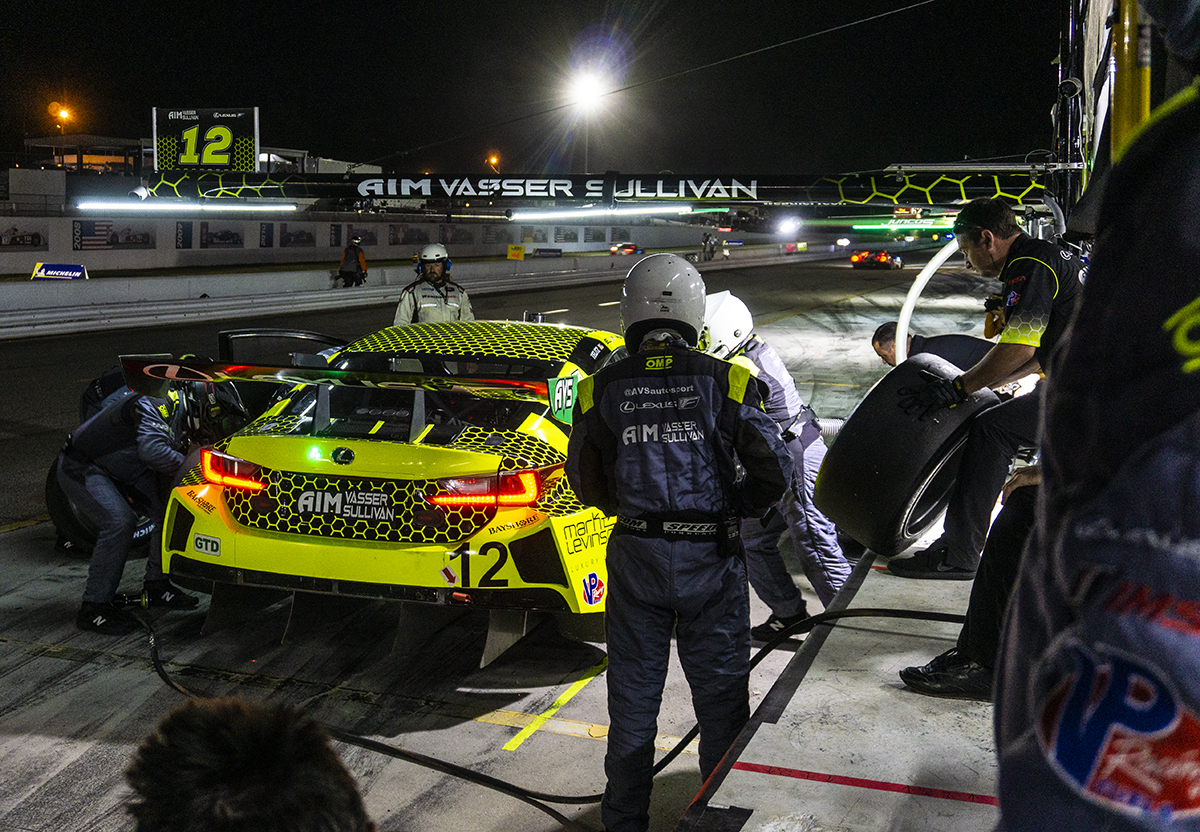 We stuck around to see the checkered flag fly, then watched the victory ceremony while we waited for traffic to clear. After a few hours sleep it was back on the road in the LC500 where we made quick work of the 730 mile Sunday drive back to Michigan in the LC500. The highlight of the day was Interstate 40 between Clyde, North Carolina and Wilton Springs, Tennessee. It's a winding stretch of road that won't challenge you like the Tail of the Dragon, but provides a lot of entertainment and gorgeous vistas. The LC500 transported us comfortably, quickly, and surprisingly efficiently as we arrived in about 10 hours and averaged over 26 miles per gallon. A memorable ride for an unforgettable weekend of great roads, great driving, and great racing.