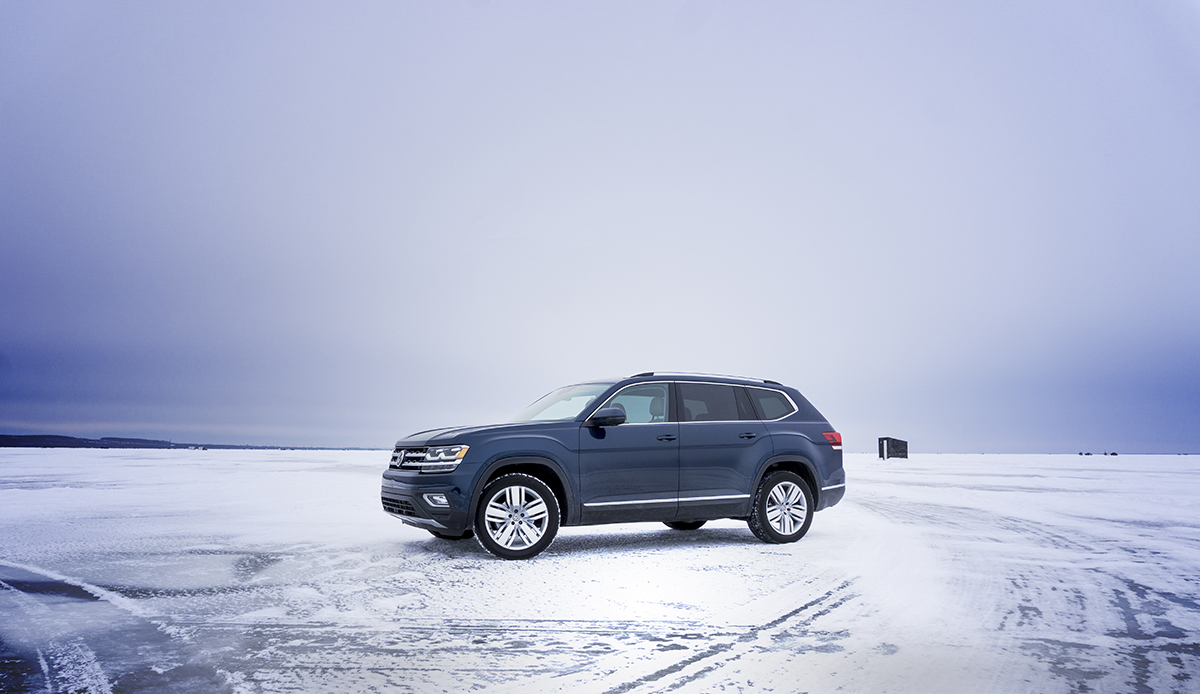 People in Wisconsin are a hardy bunch, either that or crazy, I'm not sure which. Every year in February, thousands of them tow a variety of makeshift shacks onto the thick ice of Lake Winnebago, cut a four-foot square window in the ice and sit and wait. Some wait for days, some wait for weeks, and some years. They're not waiting for their wives to forgive them for shooting the family goat, nor the Packers to finally get some help for Aaron Rodgers. They're waiting for a fish. A big fish. A very big, nearly prehistoric fish.
They're waiting for a Lake Sturgeon.
Lake Winnebago is one of the few places in North America where the Lake Sturgeon population, after being decimated in the early 20th century, is large enough to afford a recreational fishing season. It runs 16 days, but the size and number of fish that can be taken are severely restricted. Every fish that is "harvested" from the lake must be at least 36 inches long and registered at one of the seven stations around the lake. Once the quota is reached – this year the limit was 1,380 female or 1,200 male fish, whichever comes first – the season ends regardless of how many days are left in the 16-day season.
Wearing thermal underwear, a long sleeve t-shirt, and heavy knit woolen sweater under my insulated Carhartt overalls, I drove to Lake Winnebago in a 2018 Volkswagen Atlas – an appropriately large vehicle for the task. My goal was to investigate this strange phenomenon, talk to a few of the participants, and learn more about the rites and rituals involved. The jumping off point for our spearfishing education was the self-proclaimed Sturgeon Capitol of the World, Stockbridge, Wisconsin, a small town on the eastern shore of Lake Winnebago. Just 110 miles from Rides & Drives World Headquarters in Madison, this would be one of my shorter road trips. But lack of distance wouldn't detract from its memorability.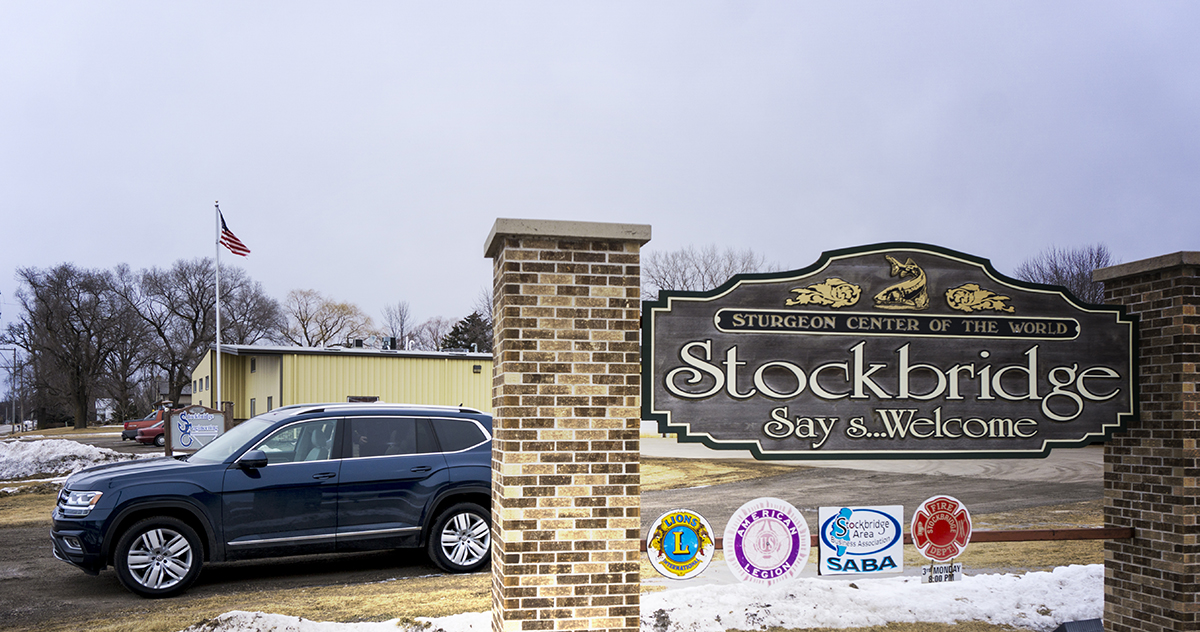 The VW Atlas is the newest vehicle from Wolfsburg and a full-size, three-row, seven-passenger SUV designed to compete with the likes of the Honda Pilot, Mazda CX9, and Chevy Traverse. With two available engines – a 2.0L turbocharged 4-cylinder unit making 235 HP and a 3.6L V6 pumping out 276 hp – both mated to an eight-speed automatic transmission, the Atlas is available in either front- or all-wheel drive with the V6. What you notice first about the Atlas is just how American it is. It is big, boxy, and masculine in a way VWs haven't been before. The design is so straightforward and clean lacking the subtle sophistication of the Tiguan and Touareg. Even the name, Atlas, is short, clean, simple, and powerful.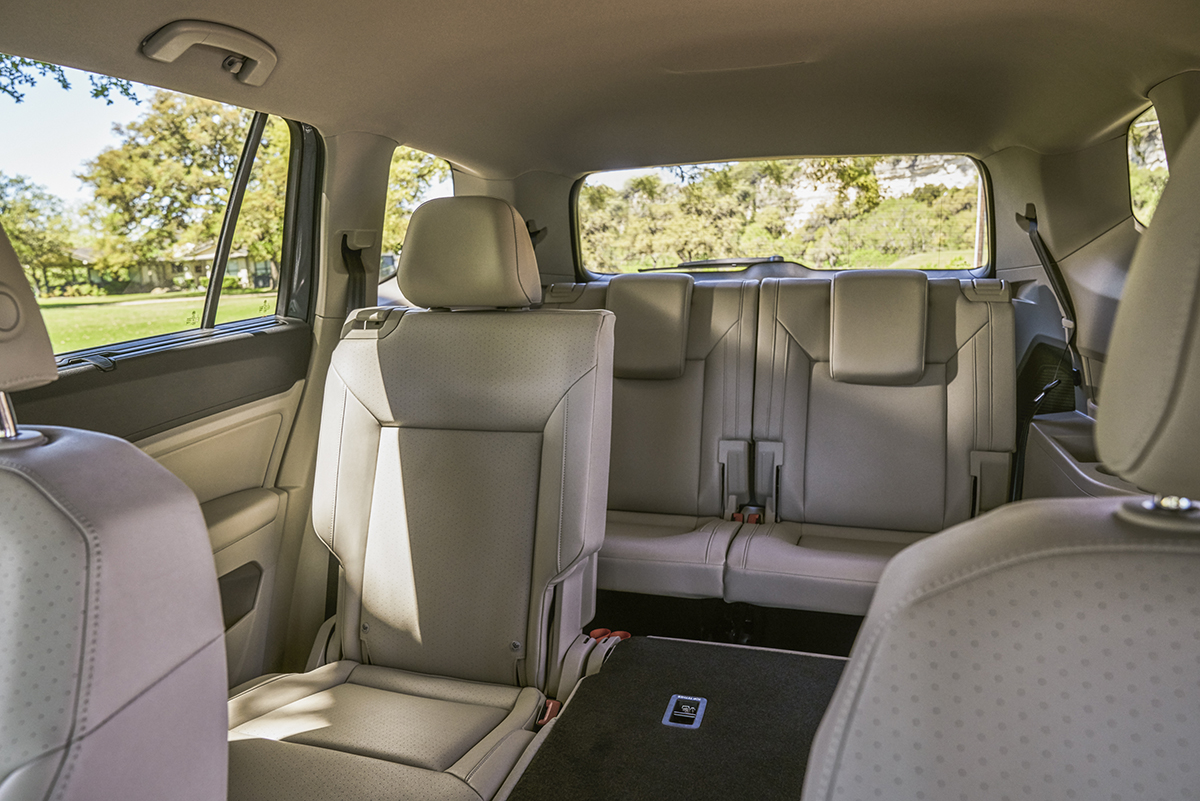 Open the door and step up into the interior and things become more Germanic. The design is purposeful and clean. Unlike some manufacturers who use complex design to create a sense of quality, VW relies on simple, well-executed details. Optioned up the Atlas I had featured an all-digital cockpit, large center touch screen, with easy and intuitive buttons and knobs. There's also a Panasonic premium audio system that has been tuned by Fender audio engineers to with the goal of creating a more "live" sound. I'm not sure it lives up to that promise, but it does sound good no matter where you sit in the Atlas.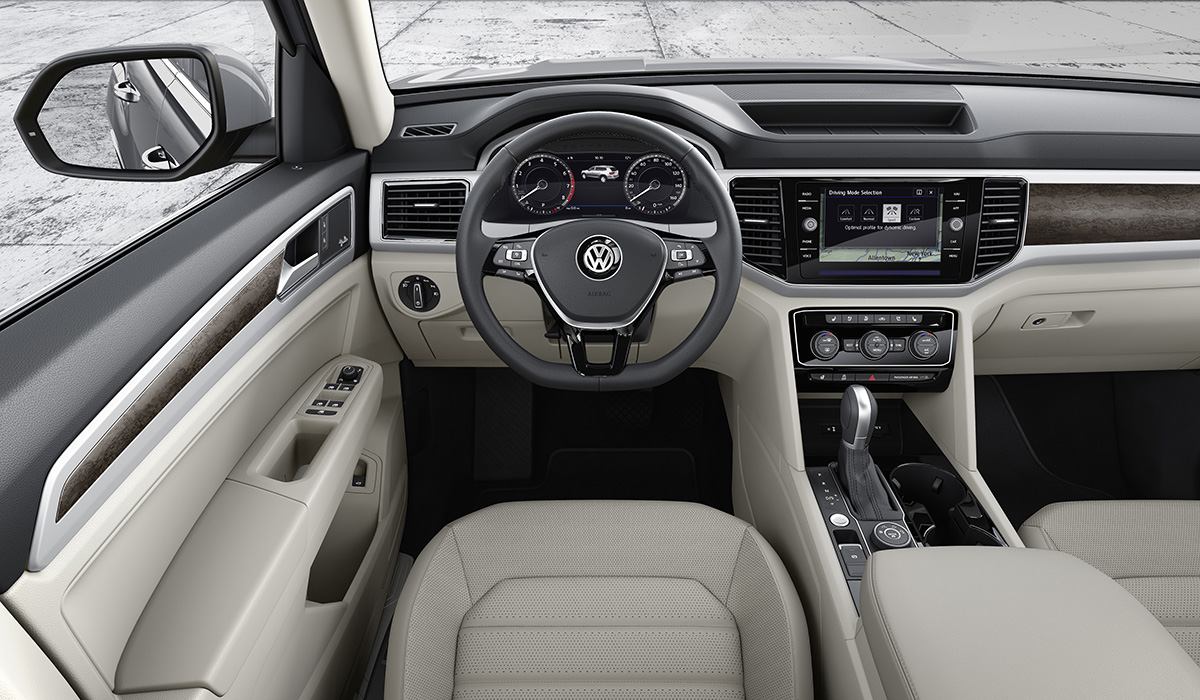 Comfortable heated leather seats and more room than I would possibly need for this trip, we set off on a typical February morning for the easy drive north. The all-wheel-drive Atlas was smooth, quiet, and solid over the weathered Wisconsin roads. We didn't encounter any bad weather on the drive up, so there was no need to use the Atlas's multiple AWD terrain modes. In normal mode on dry pavement, the rear wheels are decoupled from the drivetrain, so the Atlas functions as a traditional front-wheel drive SUV. But the millisecond things get hinky, the rear wheels engage and you have the confidence of four-wheel drive with up to 50% of the power vectoring to the rear axle. You also have snow and off-road modes for the four-wheel drive system and you can select sport, normal, eco, or individual modes for driving on the pavement.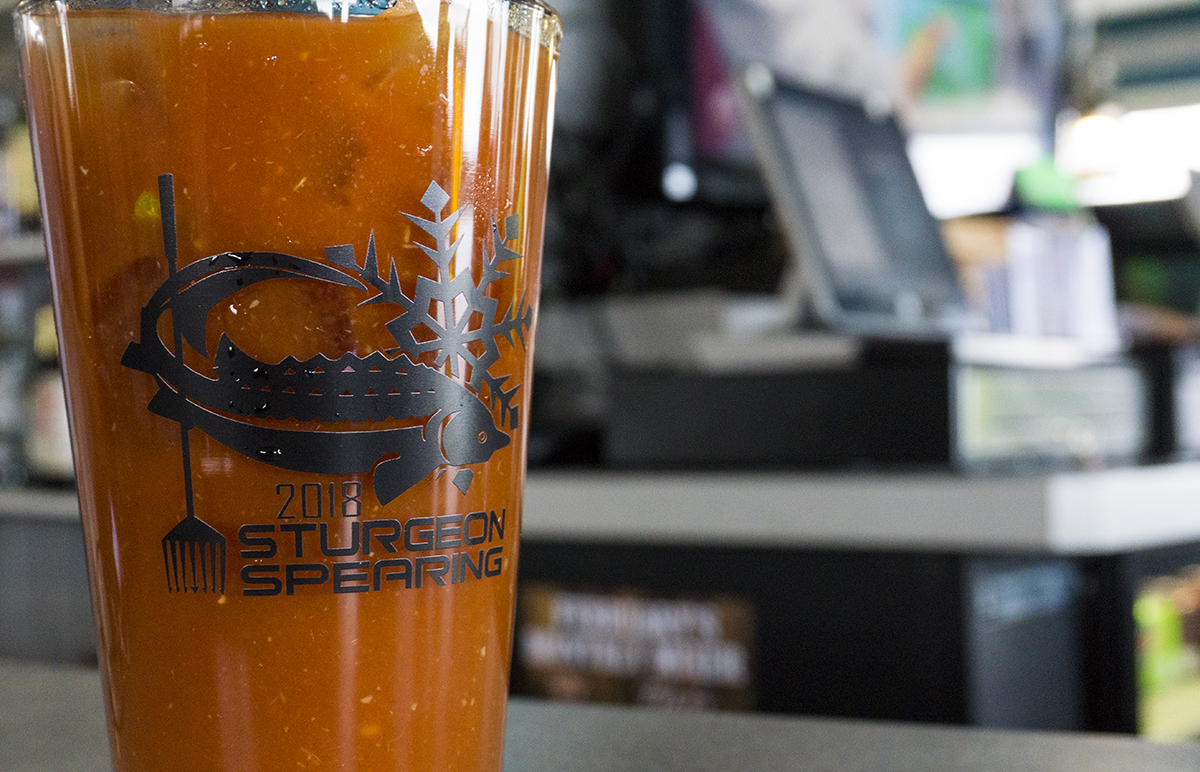 If you know anything about Wisconsin culture you know that every outdoor activity begins inside a bar. We love our beer, brandy, schnapps, and other adult beverages here. Because you're only allowed to be on the ice from 7:00 AM to 1:00 PM, the official drink of Sturgeon spearing appears to be the Bloody Mary, and the Harbor Bar, ground zero for sturgeon spearing, makes a good one. Their house recipe includes all the usual ingredients with a healthy dose of freshly grated horseradish, giving it a nice kick. The garnish of a pickled Brussel sprout, mushroom, olive, and dill pickle spear are understated considering some of the more aggressive garnishes you'll find at other bars in the state in the state.
Sitting at the bar, we struck up a conversation with a local who was taking the day off from spearing. In his words, you go crazy if you spend too much time on the ice. He had a video on his phone from last season where he pulled in about a 50-inch sturgeon. The process is pretty simple. Cut a big hole in the ice, hang the lure a few feet down into the water, and wait. And wait. And wait.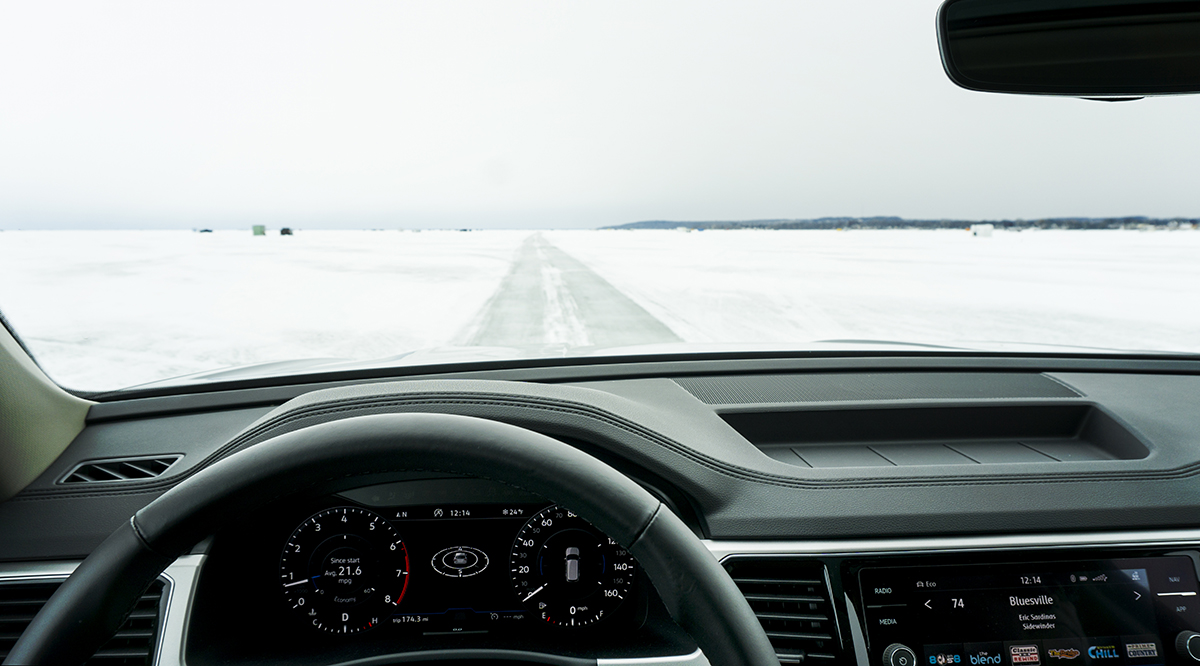 We drove out onto the ice to get a closer look at a few of the hundreds of houses that turned the surface of Lake Winnebago into a small village. There are a variety of designs, from simple homemade plywood structures to high tech store bought houses. Some load up the amenities to include heaters, televisions, and other distractions while others keep it simple bringing a lantern, cooler, and maybe a portable radio. It's fun to see the different approaches.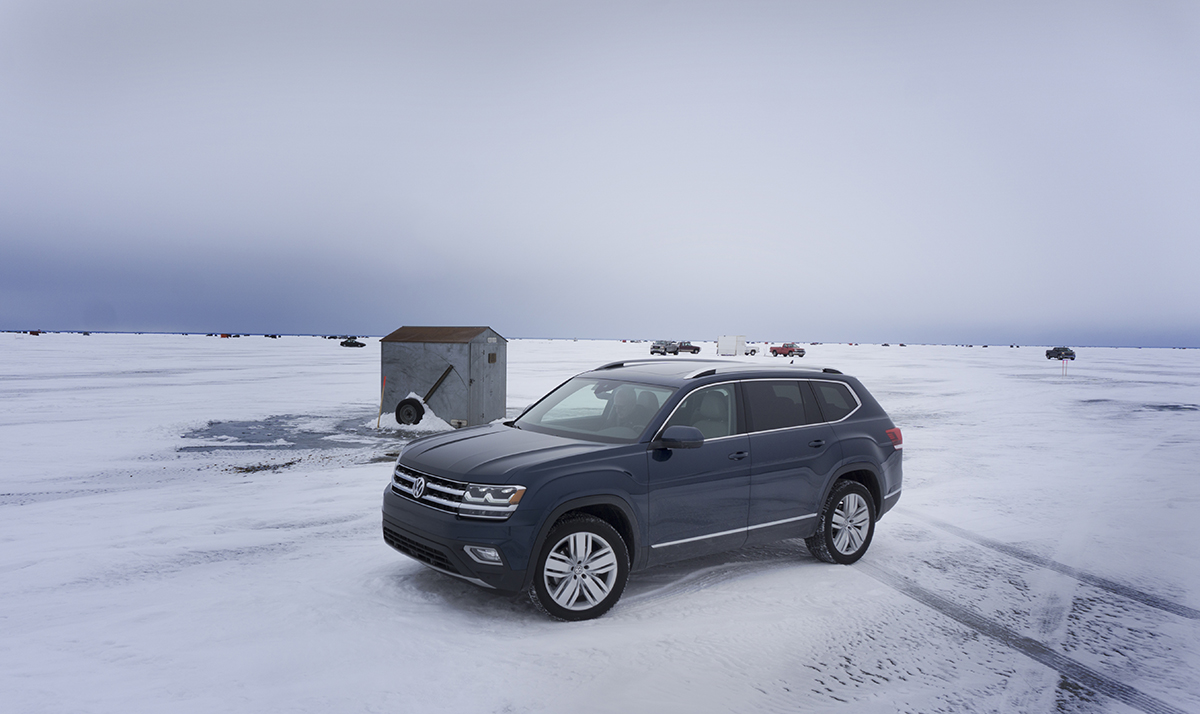 At the end of the day, we drove around to the other side of the lake just south of Oshkosh to, yes, another bar where we saw a very large sturgeon hanging from a pole. After investigating more closely, we learned the fish was 75 inches long and weighed 121 pounds. The owner of this trophy fish, Logan Lynch of Eldorado (pronounced eldo-RAY-do), Wisconsin, told me this was the first he had caught in six years of trying. Drinking Busch Light from a can as the snow started to fall heavily around us, he told me he planned on smoking the sturgeon and enjoying it all year long.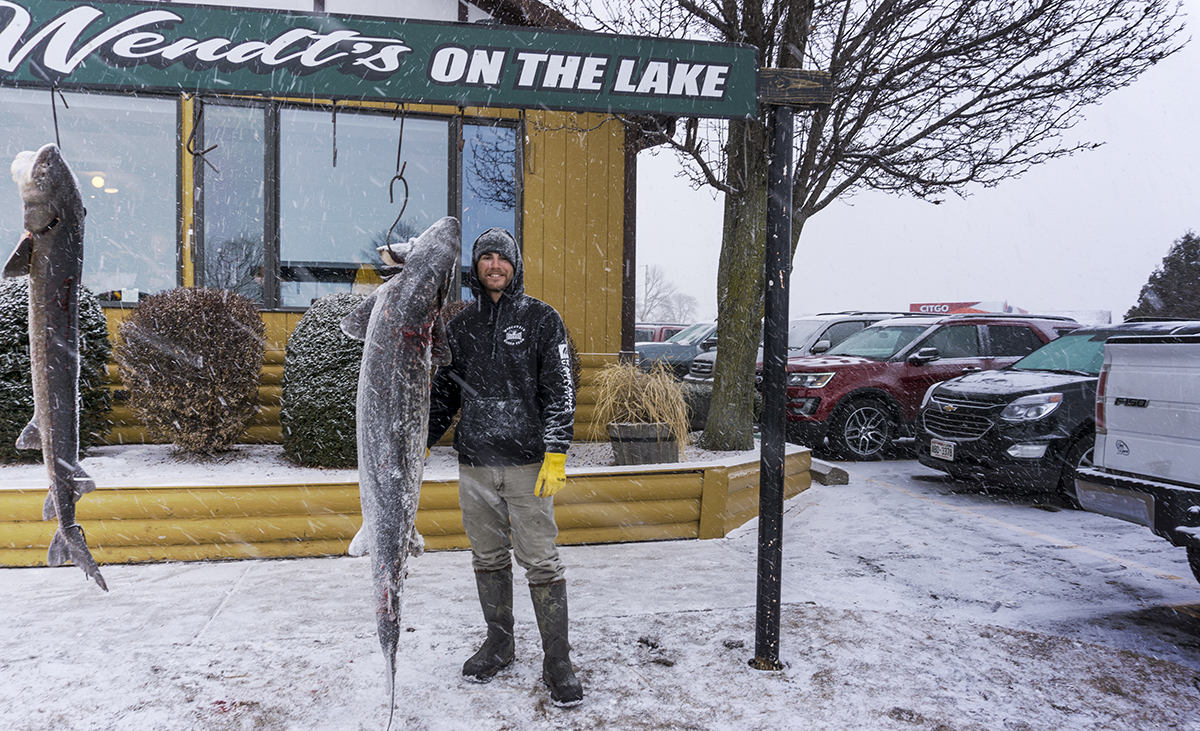 Satisfied that we'd seen enough of this spectacle, we piled back in the Atlas for the hour and a half drive to Madison. We cranked up the heat, found Bluesville on the Sirius/XM Radio, set the adaptive cruise control to 75, and enjoyed an easy ride back to civilization. It had been an eventful day, but not an uncomfortable one thanks to the size and capability of the Atlas. After a few days and a nice excursion with this large mid-size SUV, it's pretty clear that this is the Volkswagen America has been waiting for.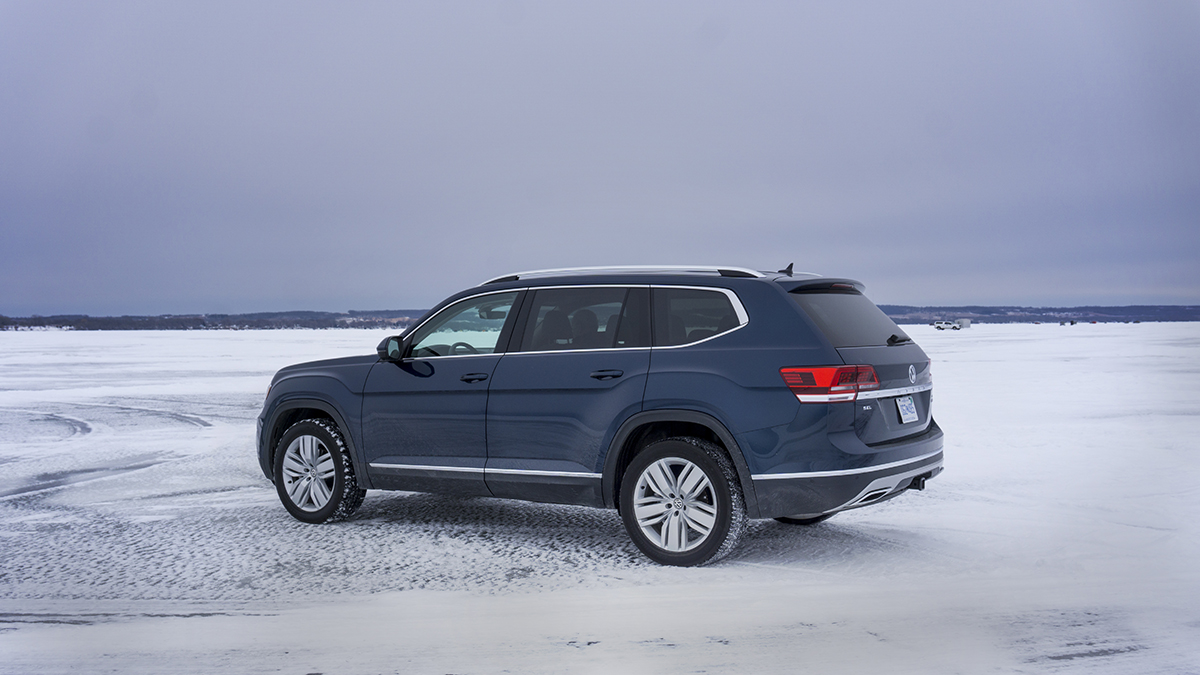 2018 Volkswagen Atlas
Four-door, seven-passenger, mid-size SUV
Base Price: $30,750
Price As Tested: $49,665
Major Options: V6 engine, 4Motion All Wheel Drive, VW digital cockpit, leather heated and ventilated front seats, heated rear seats, power liftgate, 8-inch touchscreen with navigation, 12-speaker Fender premium audio system, surround view camera, adaptive cruise control, blind spot monitoring, lane keep assist, park assist.
Engine: 3.6-liter, 24-valve, direct injected V6
Transmission: 8-speed automatic with manual shifting and 4Motion permanent all wheel drive
Power: 276 HP @6200 RPM
Torque: 266 lb.-ft. @2750 RPM
Curb weight: 4502 lb
EPA MPG: 17 City, 23 highway, 19 Combined