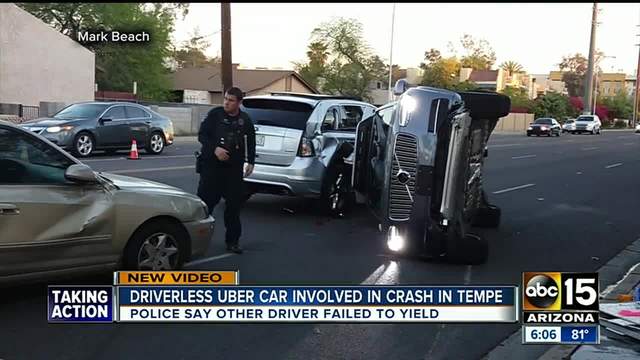 Self-driving cars are an important technology that have the potential to save millions of lives in the decades ahead. Last year alone according to the National Safety Council about 40,200 people died in motor vehicle crashes in the United States. 90% of those deaths are due to driver error, led by both drunk and distracted driving at 40% and 16% respectively. Right now every car company and several tech companies are working on developing driverless cars. Based on general media reports, however, you'd think Google, Tesla, and Uber are on the forefront. With the potential to reduce or eliminate 36,000 or more deaths a year, this technology is much too important for Uber to be in the driver's seat.
As you may have read, an Uber branded autonomously equipped Volvo XC90 was involved in a serious crash in Arizona last week. Initial reports indicate that the other driver was at fault, and as with any developing technologies there are bound to be issues. Thankfully the car involved was Volvo's SUV as it one of the safest on the road. But there are a three good reasons why Uber is the wrong company to be the face of driverless cars.
1. Uber is company with dubious ethical standards. They appear to have stolen their self-driving technology from Google. Uber implemented technology to shield its activities from regulators. Before moving its self-driving tests to Arizona, Uber was operating illegally in California. Allegations of sexual harassment and other cultural issues are troubling to say the least.
2. The only reason Uber is pursuing autonomous technology is to rid itself of one of its biggest costs of doing business, drivers. Profit motive isn't necessarily a bad thing, but when in the hands of unethical leaders (see previous paragraph) shortcuts can be taken and people can get hurt. One only has to look at the history of American enterprise to see example after example of companies that have put profits before people. The NFL's coverup of the effects of CTE on its players, the Exxon Valdez oil spill, GM's ignition switch debacle, and the Upper Big Branch Mine explosion are just four instances of businesses that ignored the health of their workers, the environment, and the public under pressure to produce profits.
Every company involved in the race to develop driverless cars expects the technology to help their financial performance in the long run. And no matter how much Elon Musk professes it to be so, even Tesla isn't working on AutoPilot out of the goodness of his heart. It's about making cars that people want. And if people want driverless technology, they shall have it.
Uber's motivation is slightly different. Nobody's asking for driverless taxis. Uber's business model requires that they get the drivers out of the cars for them to become profitable, the sooner the better. Which leads to reason number three.
3. Uber doesn't have enough cash to get the job done. Currently, Uber is flush, with about $8b in the bank and access to a couple of billion more. That's enough cash to last them about 5 years at their current run rate. While Ford, BMW and others have promised to have fully-autonomous cars on the road in 2021, those will be limited fleets used for designated geographies. Uber needs to implement driverless cars throughout its fleets in order for it to survive and unless the company starts showing a path to profitability in the near future, investment money could start drying up.
Questionable ethics and financial pressures are a toxic cocktail. One that could have dire consequences for not just those who ride in autonomous Ubers, but for the entire driverless car industry. It's time for Uber to take a step back and let the industry leaders take us into the autonomous future.