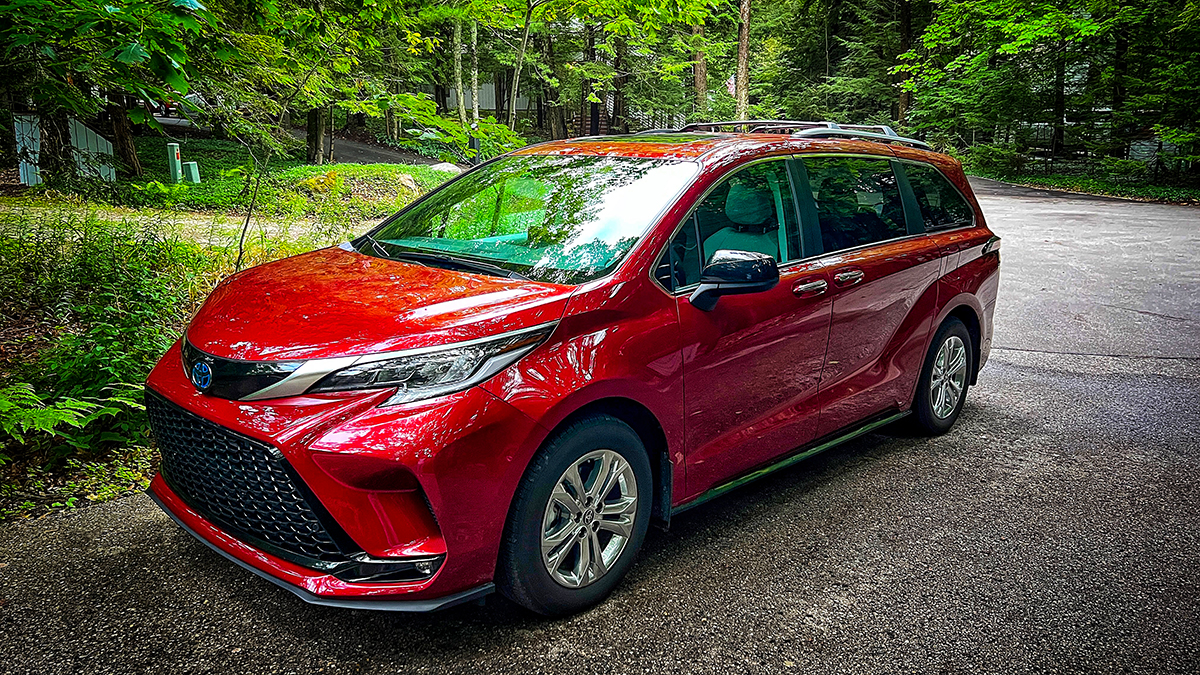 People are dumb.
No, I'm not talking about these Darwin Award winners or the 31.5 million individuals who follow Kanye West on Twitter.
One need look no further than the 983,000 3-row SUVs that have been sold this year versus just 100,000 minivans to understand the relative intelligence of our population. Suburban, Wagoneer, Expedition, Sequoia, et al., are massively capable 4-wheel drive SUVs that rarely haul anything but children. Most will never have a ball mount in the receiver. More mud will accumulate in the carpeting than the wheel wells. And they'll spend more time idling in the elementary school pickup lane then trundling down a two-track through the backwoods.
Large SUVs are nothing more than glorified station wagons designed to project an image of toughness, while sacrificing so much of what their owners actually buy those vehicles for.
Got kids? Ever go on vacation? Is it your turn to ferry a carpool of future Mike Trouts to little league? Do you have a Costco membership? You need a minivan. Not only are they far superior to 3-row SUVs in every functional interior dimension, they're easier to get in and out of, the ride is smoother and quieter, and they'll save you a ton of money on gas. Especially if you're driving a hybrid model like the 2022 Toyota Sienna I recently piloted on a family vacation to northern Michigan.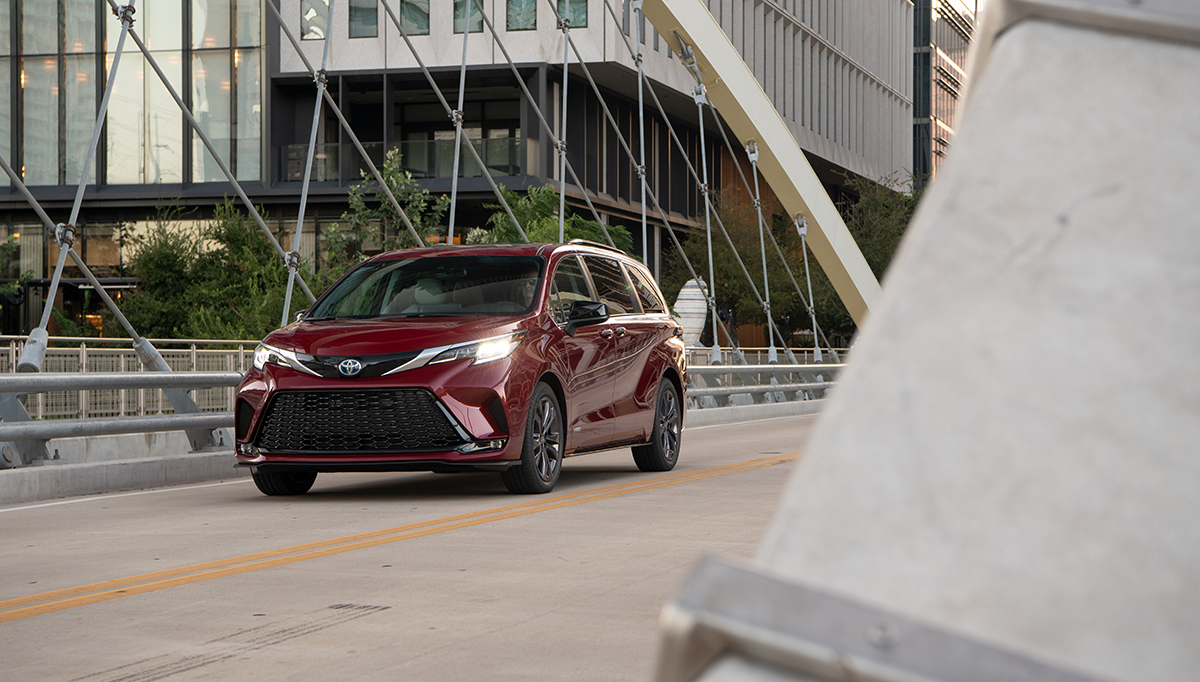 The Toyota Sienna, now in its fourth generation, was redesigned in 2021 and built upon the TGNA-K platform which also serves at the foundation for Venza, Crown, Avalon and Camry. Every Sienna is powered by a gas/electric hybrid engine and is available with either front-wheel or all-wheel drive. This means, Sienna drives more like a car than any 3-row SUV, even those built on unibody platforms.
Practicality comes in the form of a big box that, like all Toyotas, is creased and folded in a way that's just a bit overwrought. Nothing about the styling feels organic – with the flared rear fenders evoking Supra, the pinched nose from Prius, and the gaping lower grille from Avalon. The blacked out accents, revised front and rear bumpers, and 20" split 5 spoke wheels on the XSE trim help a bit, but to be honest, I prefer the design of Chrysler Pacifica.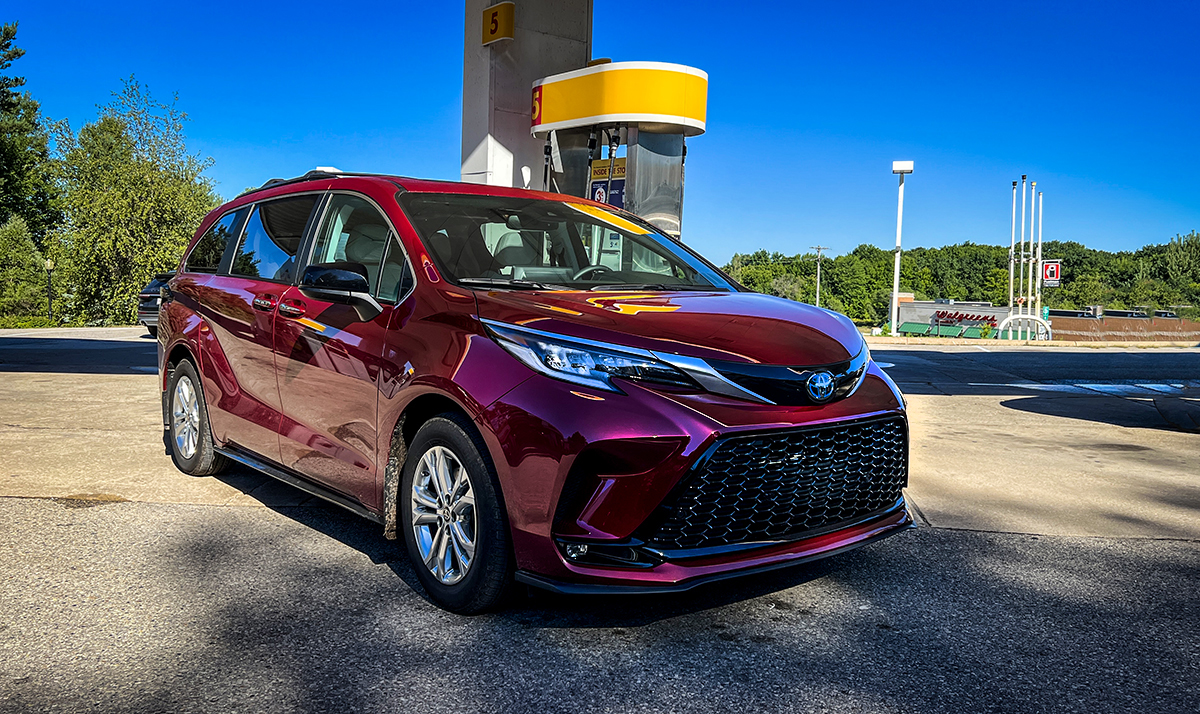 While styling is important, the magic really happens in Sienna when you open the electric sliding rear doors which you can activate with a tug on the handle, a click of the remote, or if your hands are full, a kick of your foot under the rocker panel. This cavernous opening on either side allows easy access to the third row. In its base configuration, Sienna seats eight with a second row bench seat that slides up to 25 inches for and aft to allow second and third row passengers the ability to negotiate legroom and come to and amicable compromise. Truth be told with the second row properly placed, there's plenty of legroom in both rows even for adults. Move up to XLE, XSE, Limited and Platinum trims and captains chairs replace the bench accommodating one fewer passenger, while maintaining the same adjustability and adding more comfort.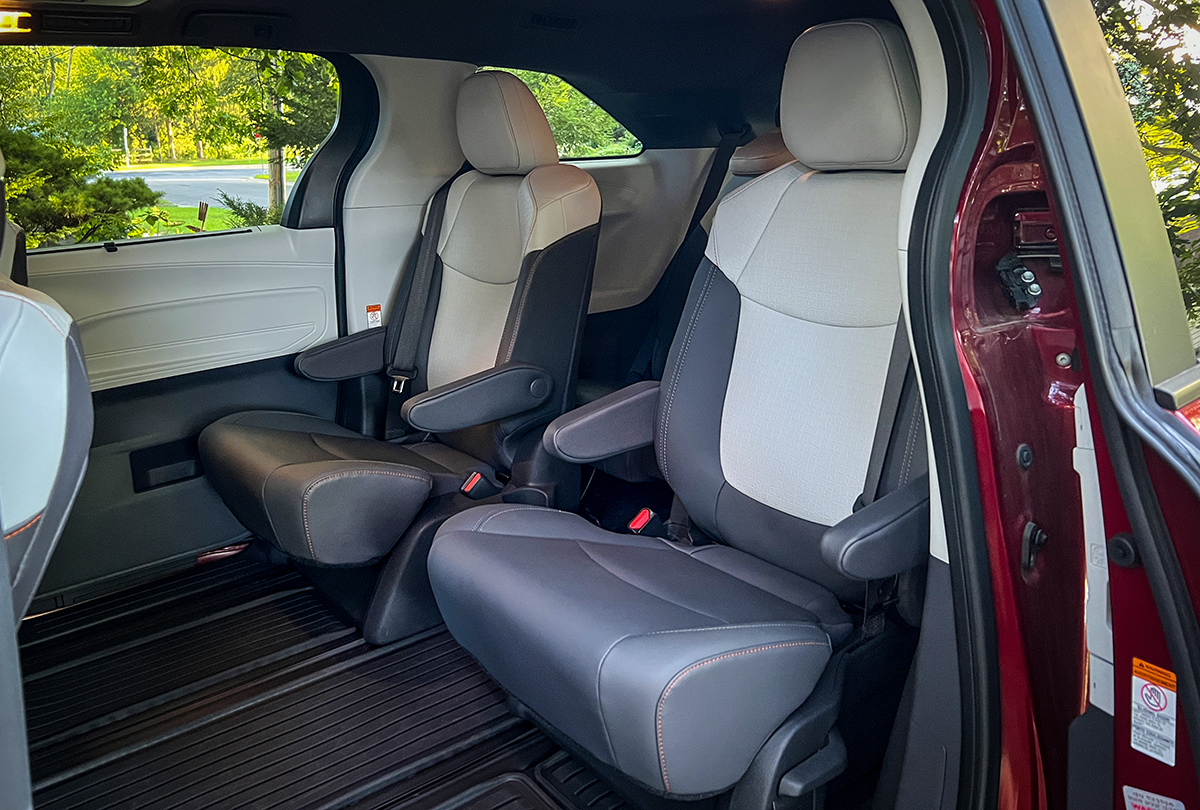 Comfort is Sienna's strong suit. No matter which row you end up in the seats offer proper padding and support. In the XSE trim, front seats are heated and ventilated, second row seats are heated, but those in the third row will have to rely on their own body temperature to warm the seat.
Storage is another hight point in Sienna. The front console has a large open bin beneath the surface for purses or totes. There are so many places to hold cups and bottles, I'm surprised Toyota hasn't done a co-branding deal with Starbucks or Coke. With the third row in place, there's a deep well behind the seat creating 33.5 cubic feet of storage space which is plenty for four large roller bags. With the third roll folded space behind the second row is a cavernous 75.2 cubic feet. Best of all the floor is completely flat, which combine with the low lift-over height, makes it easy to slide large items in an out.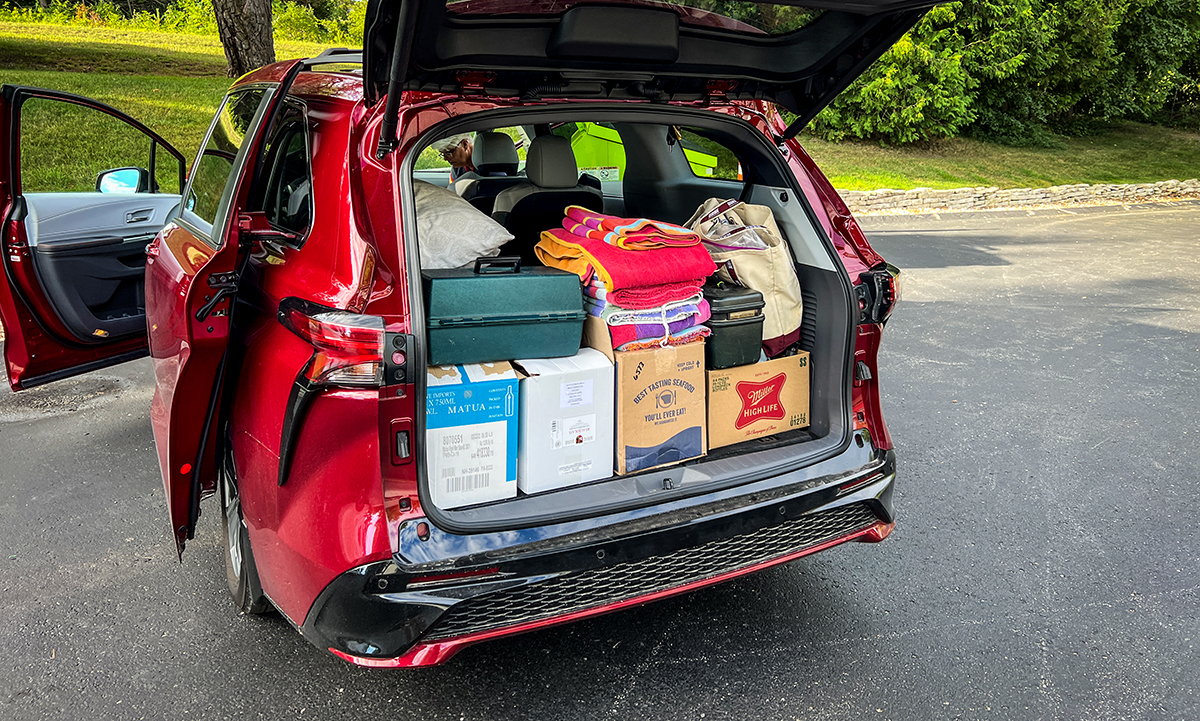 Technology still needs an upgrade as the 2022 Sienna has yet to receive the upgrade to Toyota's new multimedia system that was introduced in the new Tundra and being implemented across the lineup as vehicles are refreshed. The 2nd gen system in the Sienna is intuitive and easy to use, but the small screen and lack of features, like wireless CarPlay and natural voice interaction. There is no digital instrument panel option either at this point. Sienna drivers will have to be satisfied with analog gauges an a small center TFT display sharing information on trip data, mpg, and other key stats. Sienna also lacks USB ports in the third row, which seems like a whiff since every passenger is likely to have a device they'll want to keep charged preventing a meltdown on a family road trip.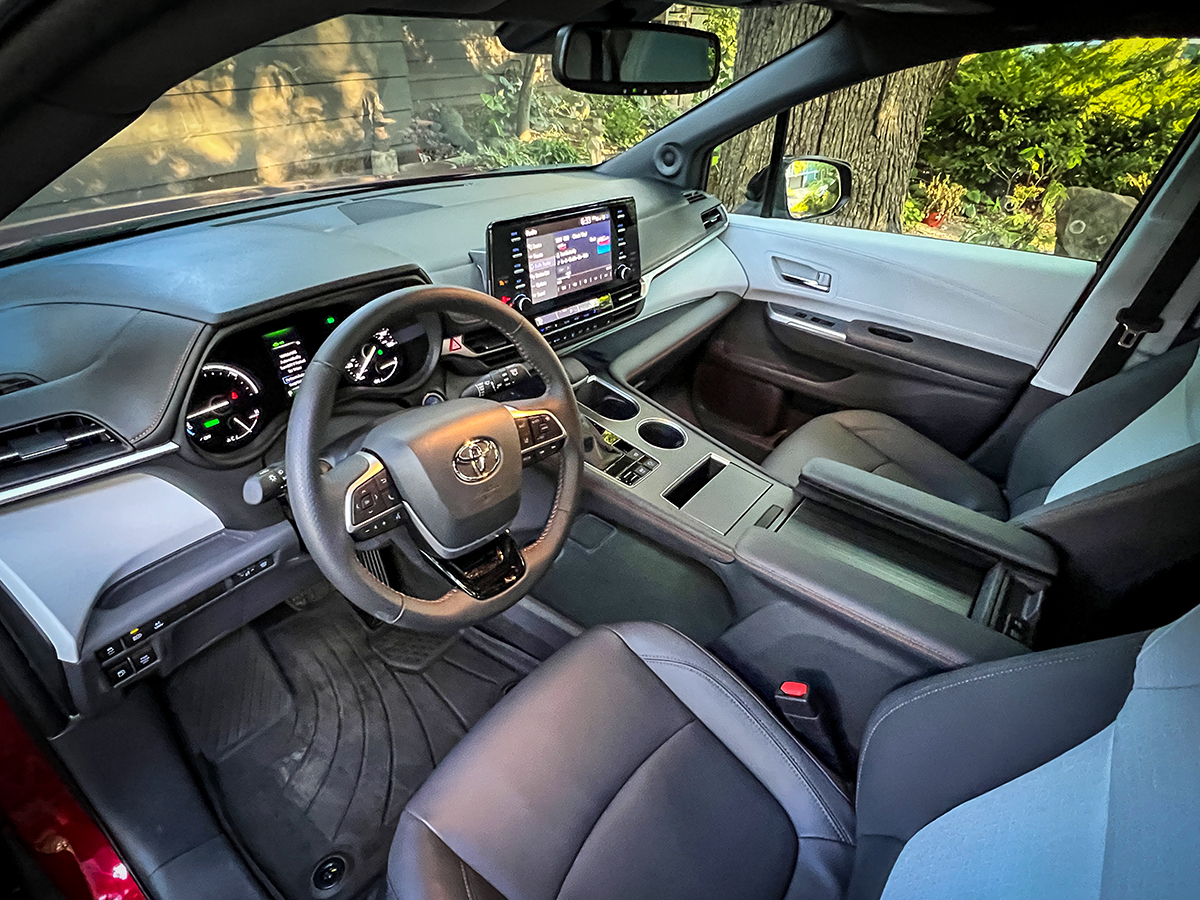 That's important because you can go hours and hours between stops thanks to Sienna's 2.5-liter 4-cylinder engine and hybrid electric motors provide the kind of mileage one used to expect from a compact economy car. The front wheel drive version is rated at 36 MPG in both city and highway driving. All-wheel drive cuts into that number by just 1 mile per gallon an in over 900 miles of family vacationing, I saw 35.5 miles per gallon on the trip computer using regular, 87-octane gasoline. That means you get over 600 miles of range out of a full tank of gas, something that no three-row SUV can match.
Power output is, let's just say, adequate. 245 horsepower is enough to push the 4,775 pound Sienna up to highway speeds on any entrance ramp, but the CVT transmission means if you stomp on the accelerate to use all the available power, there's a lot of noise an vibration coming through the firewall. The system is good for 3,500 pounds of towing so you can bring a boat, camper, jet skis or snowmobiles with you on vacation. Available all-wheel drive means you can do it all when the snow flies.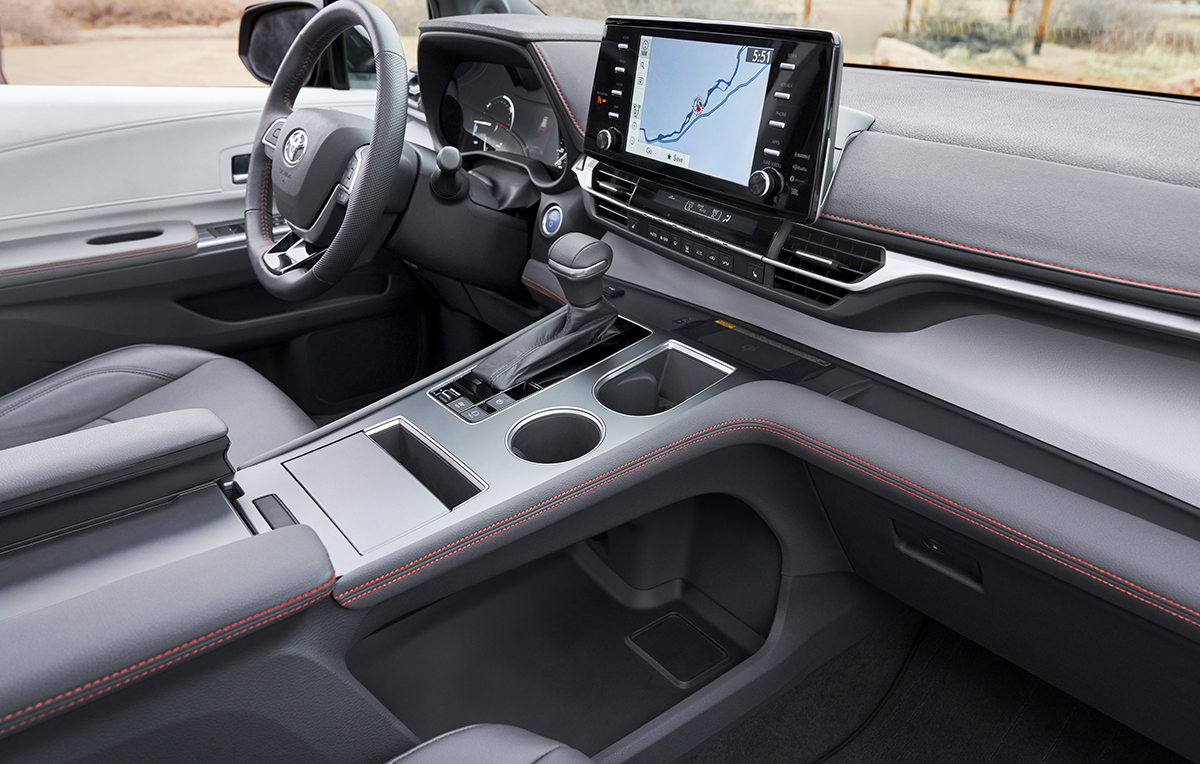 Ride and handling are… exactly what you expect from a minivan: numb, isolated, and perfectly acceptable. The Macpherson struts up front and multilink independent rear suspension soak up imperfections but has a tendency to waft over hills and roll in the corners. Toyota claims the XSE suspension is "sport tuned," but I can promise you, this ain't no Supra.
Look, I know image matters and some people would rather sacrifice efficiency and convenience to drive something that speaks to their inner adventurer. But if you have a few kids and like to hit the road, then do yourself a favor and at least look at Sienna or another minivan in addition to gas-guzzling SUVs like Sequoia, Expedition, or Wagoneer. Not only will you be cutting your fuel costs significantly, you'll also be driving a vehicle that holds more, is easier to load and unload, and offers a more comfortable and quiet ride. Practicality comes at a price, and in Sienna's case, it's worth it.
2022 Toyota Sienna XSE All-Wheel Drive
7 or 8 passenger minivan
Base price: $35,385
Price as tested: $48,255
Engine: 2.5L DOHC 4-cylinder gas engine with permanent magnet synchronous electric motors
Transmission: eCVT
Total system power: 245 HP
Towing capacity: 3,500 pounds
EPA MPG: 35 city / 36 highway / 35 combined