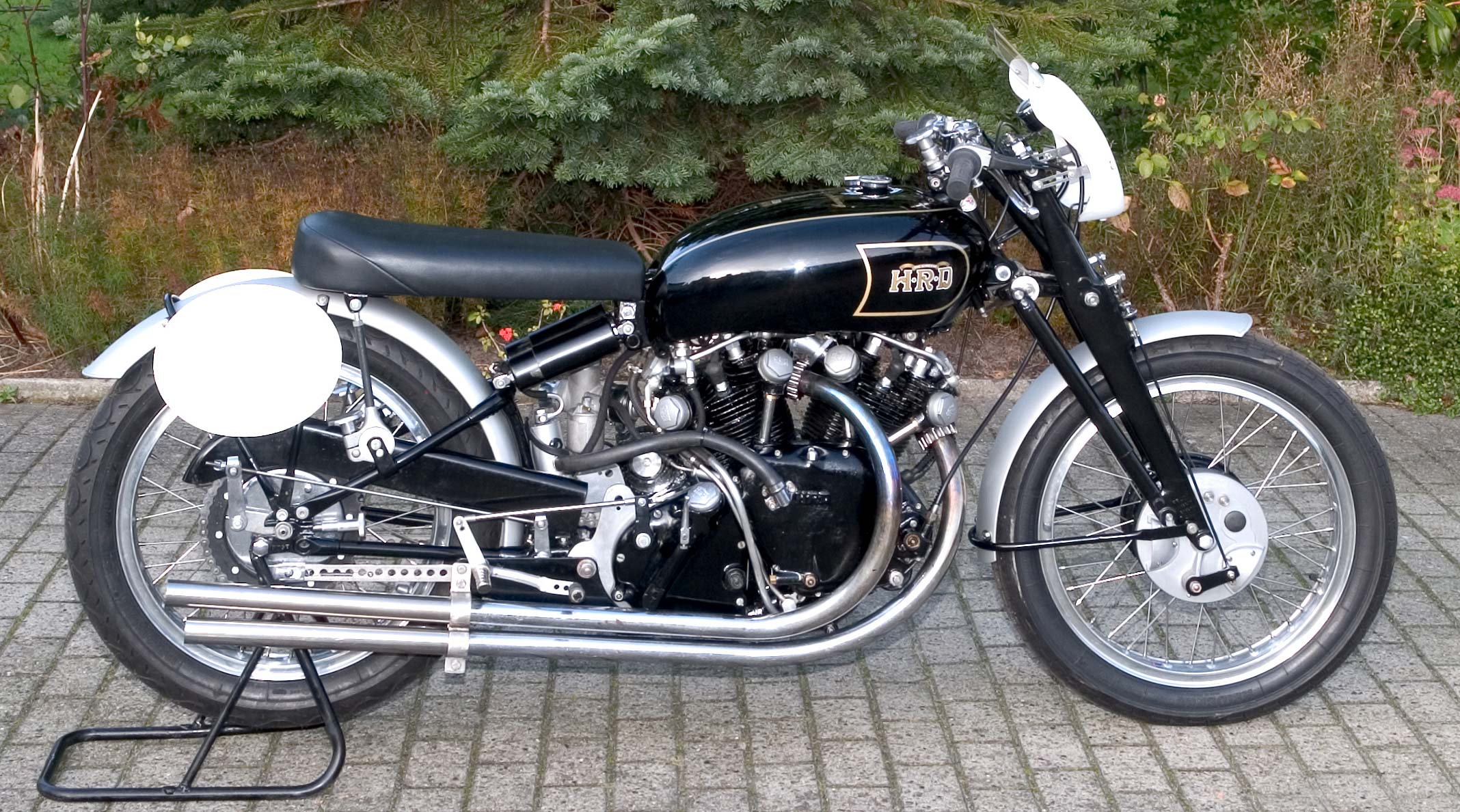 The Song
Very few songwriters can spin a tale like Richard Thompson. Fewer still can do it while playing the guitar as he does. His song, Vincent Black Lightning, epitomizes that. And it also happens to be about one of the most interesting and exotic bikes ever made.
The story of a British rogue and his girlfriend, this isn't as literary as it is cinematic, each stanza setting the scene for a beautiful film; that one hasn't been made about James and Red Molly is still a mystery to me. The story is set when Red Molly finally works up the courage to speak to James. You can almost picture them on a gritty neighborhood street in South London.
Said Red Molly to James that's a fine motorbike
A girl could feel special on any such like
Said James to Red Molly, well my hat's off to you
It's a Vincent Black Lightning, 1952
And I've seen you at the corners and cafes it seems
Red hair and black leather, my favorite color scheme
And he pulled her on behind
And down to Box Hill they did ride
The Artist
Born in 1949, Richard Thompson grew up in a musical household and began playing guitar at a very early age. His influences were varied from traditional Scottish folk and Jazz, to blues and rock and roll. One of the early members of the folk group, Fairport Convention, Thompson's virtuoso guitar playing was one of the key reasons the band got signed, according to producer, Joe Boyd, "And there was this group of very nice Muswell Hill grammar school boys and a girl playing American music. Leonard Cohen songs, and Richard Fariña songs, and Bob Dylan songs, all being done in a kind of West-Coasty rock style. And then came the guitar solo, and Richard just played the most amazing solo. He played a solo with quotes from Django, from Charlie Christian, you know, an incredibly sophisticated little solo. And that really amazed me, the breadth of his sophistication… and so, you know, at the end of the gig I was in the dressing room saying 'would you guys like to make a record?'"
Thompson started writing songs for the band and it wasn't long after that in 1971 that he left Fairport Convention and began a personal and professional relationship with Linda Peters, soon to become his wife. They wrote and performed together through the 1970s acquiring a bit of fame, but it wasn't until the mid-1980s that Thompson's popularity outside of folk aficionados and music industry insiders grew significantly. Recorded for his 1991 album "Rumor and Sigh," Vincent Black Lightning is the most popular song in his catalogue though if you haven't spent time listening to his others, you should. Thompson is one of the great treasures of British music and as such was appointed Officer of the Order of the British Empire in the 2011.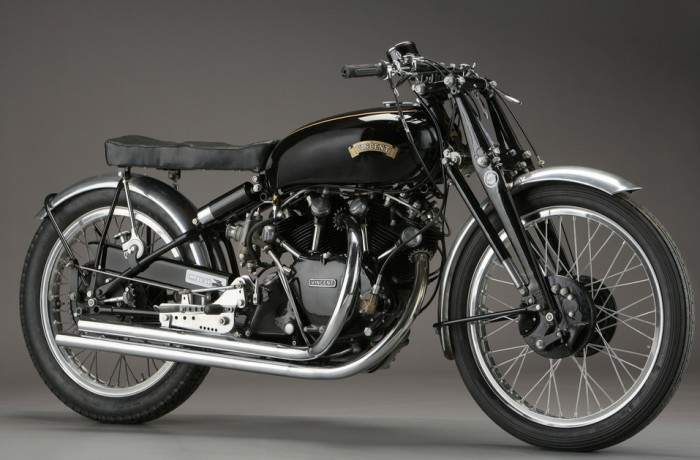 The Bike
Arguably the first superbike, the 998cc Vincent Black Lightning was introduced in 1948 and was basically race-ready right off the factory line. It featured magnesium components, racing tires on lightweight rims, and foot controls that were set back forcing the rider to lean forward in a racier position. The overhead-valve engine was tuned with racing cams, larger air intakes, special carburetors, and a host of other upgrades to increase the engine's performance and reliability. Making a whopping (at the time) 70 hp, the bike was capable of top speeds over 150 miles per hour and a supercharged Black Lightning set the land speed record a Bonneville of 156.58 mph in 1950. In production for just four years, only 31 Black Lightnings were produced before the company's financial problems forced cutbacks. Vincent finally shuttered their doors for good in 1959, but thanks to Richard Thompson and some dedicated owners, the legend lives on.
Says James, in my opinion, there's nothing in this world
Beats a '52 Vincent and a red headed girl
Now Triumphs and Nortons and Beezers won't do
They don't have a soul like a Vincent '52
He reached for her hand and he slipped her the keys
He said I've got no further use for these
I see angels on Ariels in leather and chrome
Swooping down from heaven to carry me home
And he gave her one last kiss and died
And he gave her his Vincent to ride