It was supposed to be one of those idyllic August weekends in Wisconsin. Three days of beautiful scenery, bratwurst, and great racing because the IMSA Continental Tire Road Race Showcase was coming to Road America and I had media credentials thanks to the MINI JCW Team that would be competing in the race.
With two classes of cars in the field – Grand Sport and Street Tuners – this is my favorite kind of racing, slightly modified street cars on a great race track, prepared by professional teams, in the hands of excellent drivers. What attracts me to this series is that unlike F1, IndyCar, and NASCAR where the cars don't resemble anything you can drive on the street, these are street cars with stock motors going head to head, proving which sports car is the sportiest.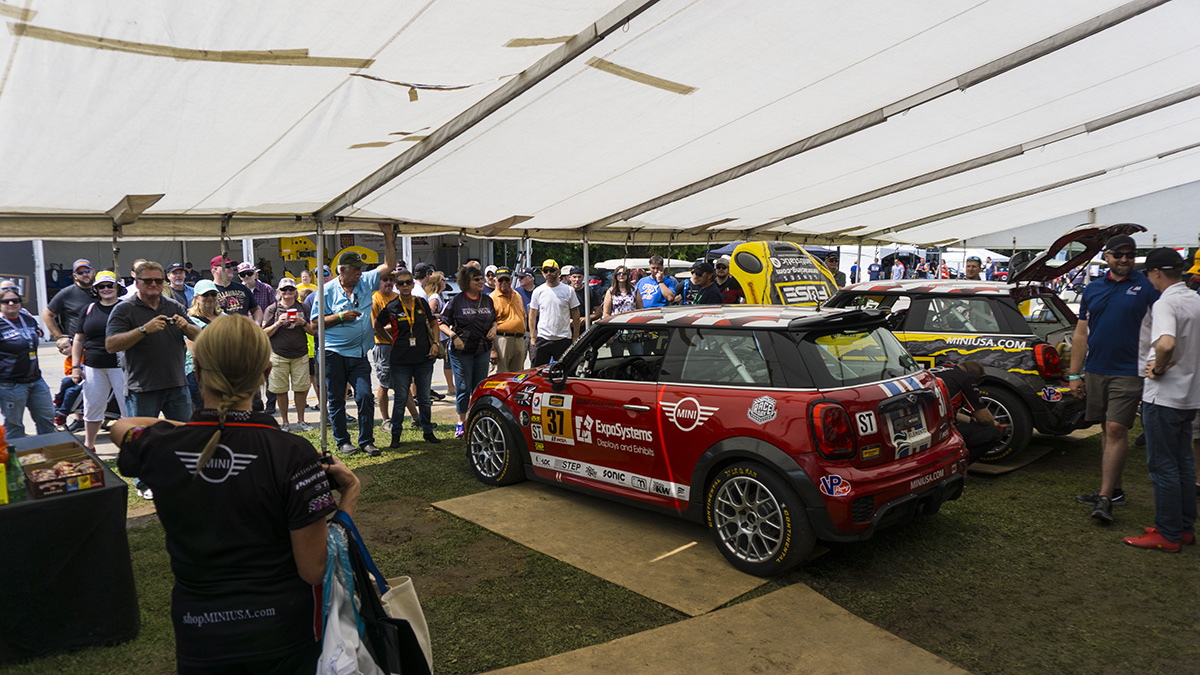 The GS class features bigger, more powerful cars like Ford Mustang GT, BMW M3, Aston Martin Vantage, McLaren GT4, Porsche 911, Porsche Cayman GT4, and Chevy Camaro GS.R. The ST class, in which the MINI JCW Hardtop competes, includes small displacement, lightweight sports cars that in addition to MINI include Mazda MX5, Porsche Cayman, BMW 328i, Nissan Altima, and Audi S3.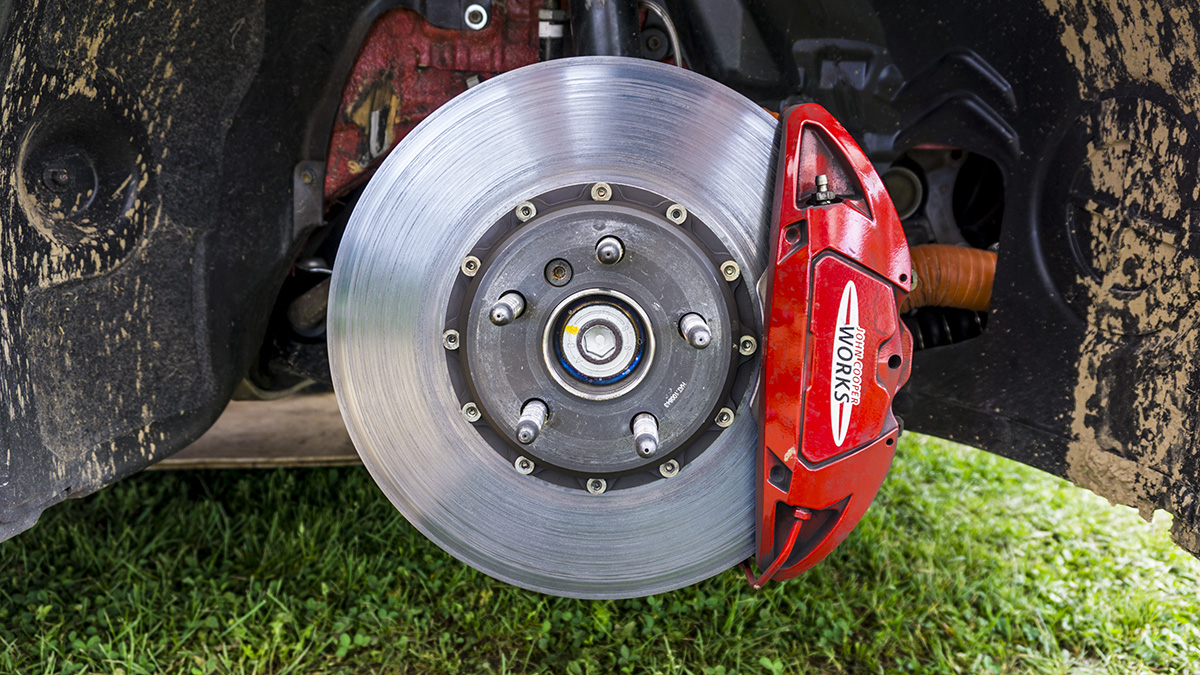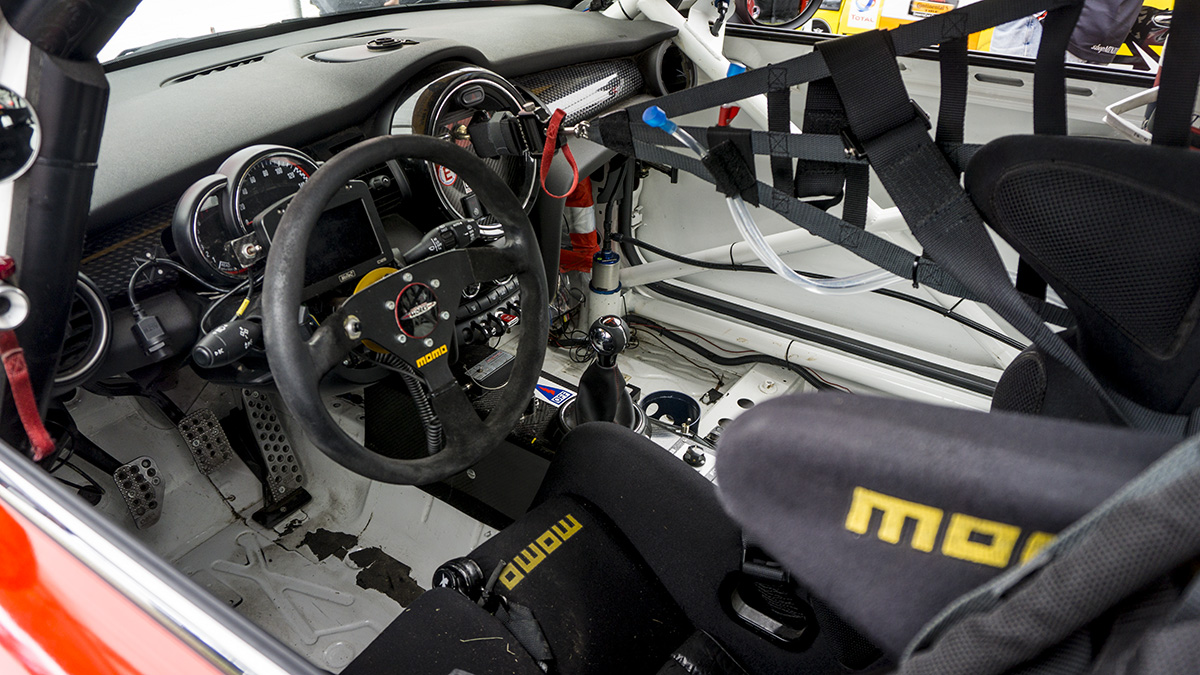 Slightly modified means just that. On the MINIs, the team ripped out the interior and installed a roll cage, a driver's seat, safety harnesses, fire extinguishers, and a racing fuel cell. The only other modifications are aftermarket brake rotors to ensure they last the entire two hours, and suspension components that can be adjusted for different tracks. Other than that, the cars are stock. They even use the factory air cleaner and exhaust.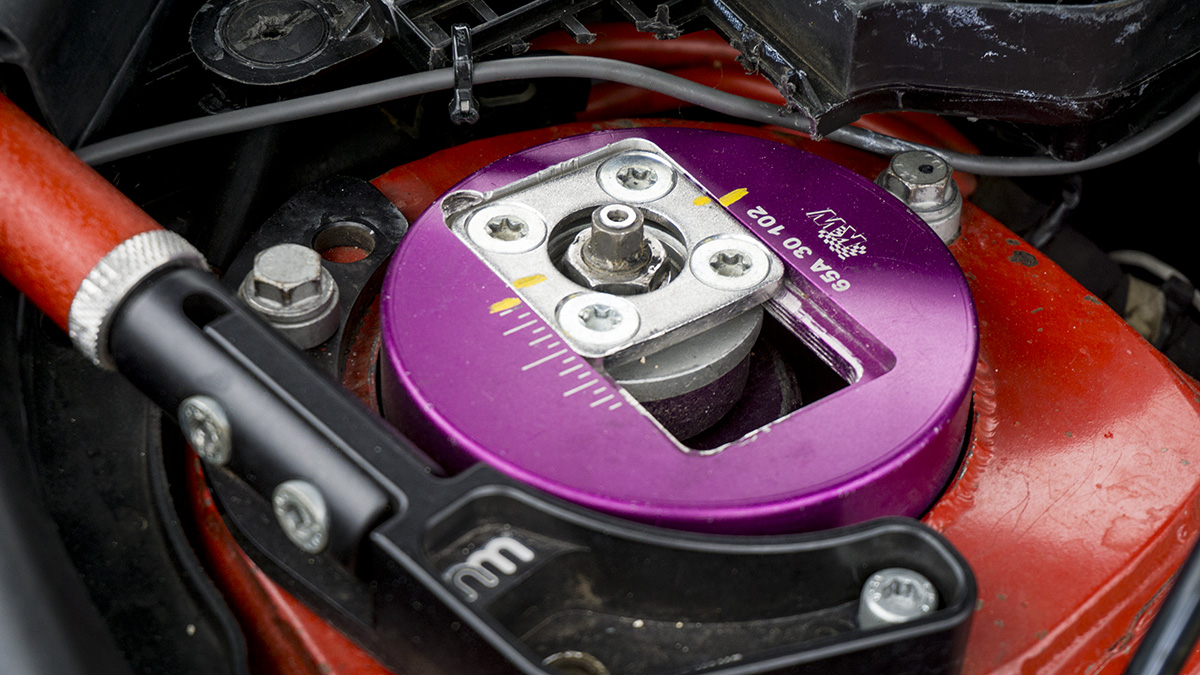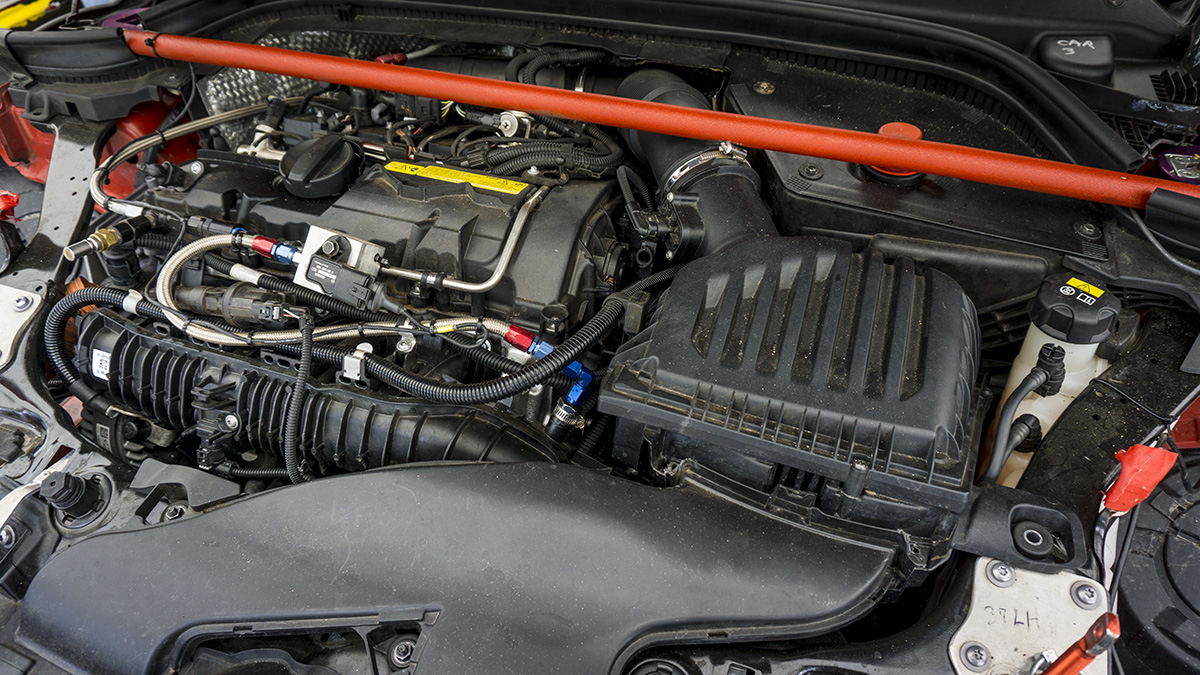 Unfortunately, Thursday and Friday were mostly washouts thanks to storms that rolled through the area. There were some limited practices in the rain, but it didn't give the teams much of a chance to set up for what looked like it was going to be a brilliant sunny race day.
The Saturday morning qualifying went off without a hitch as the clouds had cleared overnight. On a completely dry track, my hosts at the MINI JCW Team qualified second, third, and fourth, just getting edged out of the top spot by three-tenths of a second by a BMW 328i from Bimmerworld Racing. At 11:30 AM, with qualifying complete it was time for team co-owner/chief engineer Rob Ridgely and his mechanics to prepare the cars for the 4:30 PM race, while I had the opportunity to sit down with team co-owner Luis Perocarpi to talk about the series, his involvement with MINI, and his personal history in the sport.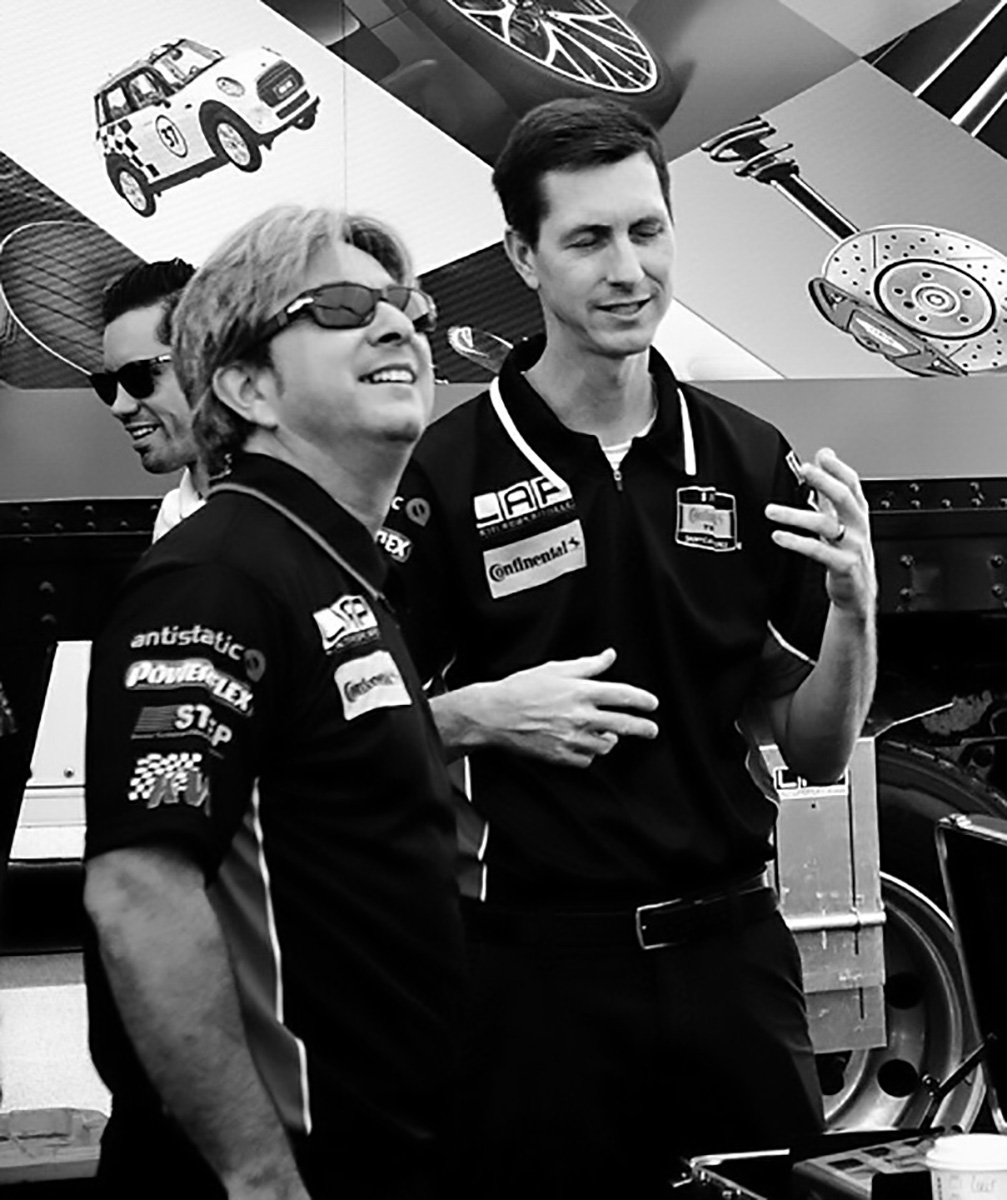 Luis is the kind of guy you like to see succeed in racing. Born in California after his parents had immigrated from Chile he was a car enthusiast from early on. "I've always had a fascination with cars." he said, "I loved my Hot Wheels, and my bicycle was my first race car." Some of this no doubt came from his father and uncle who were car guys and racers.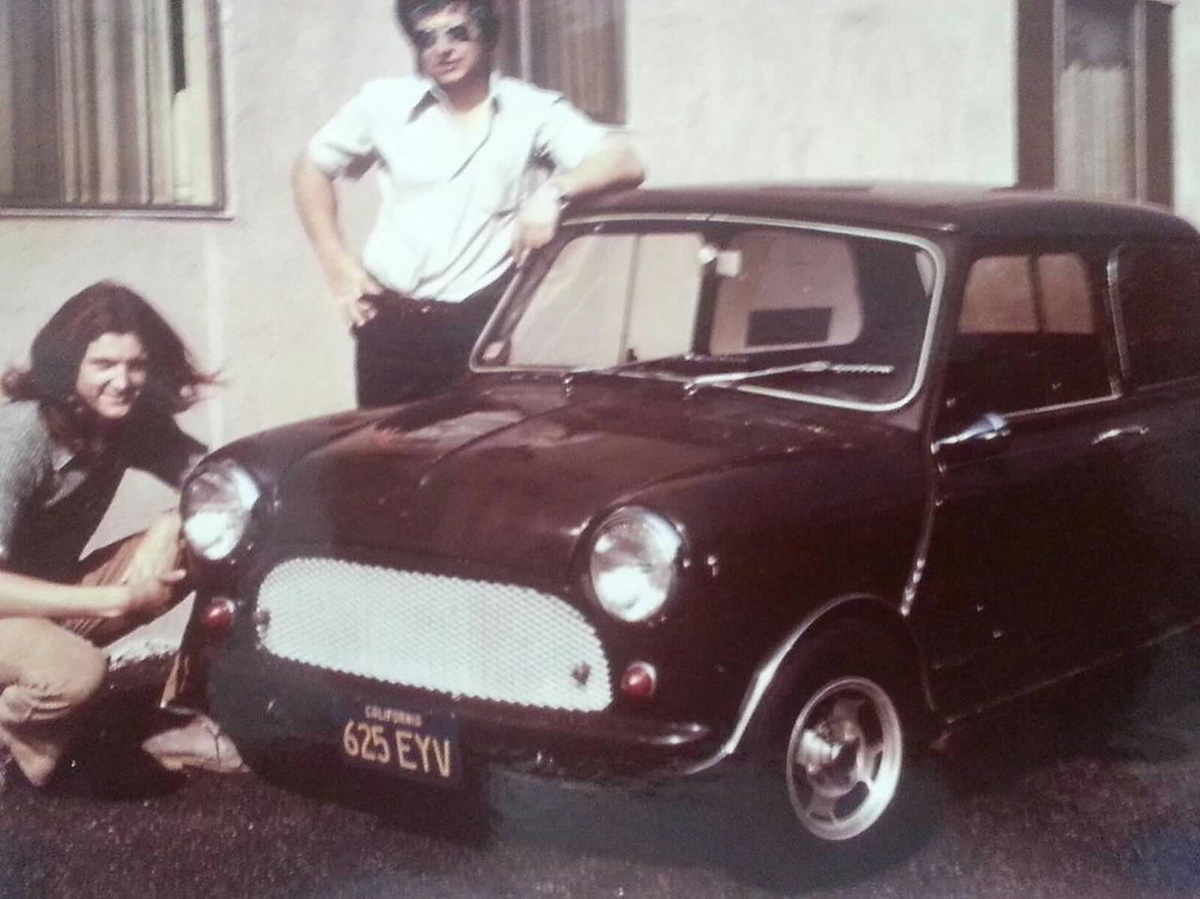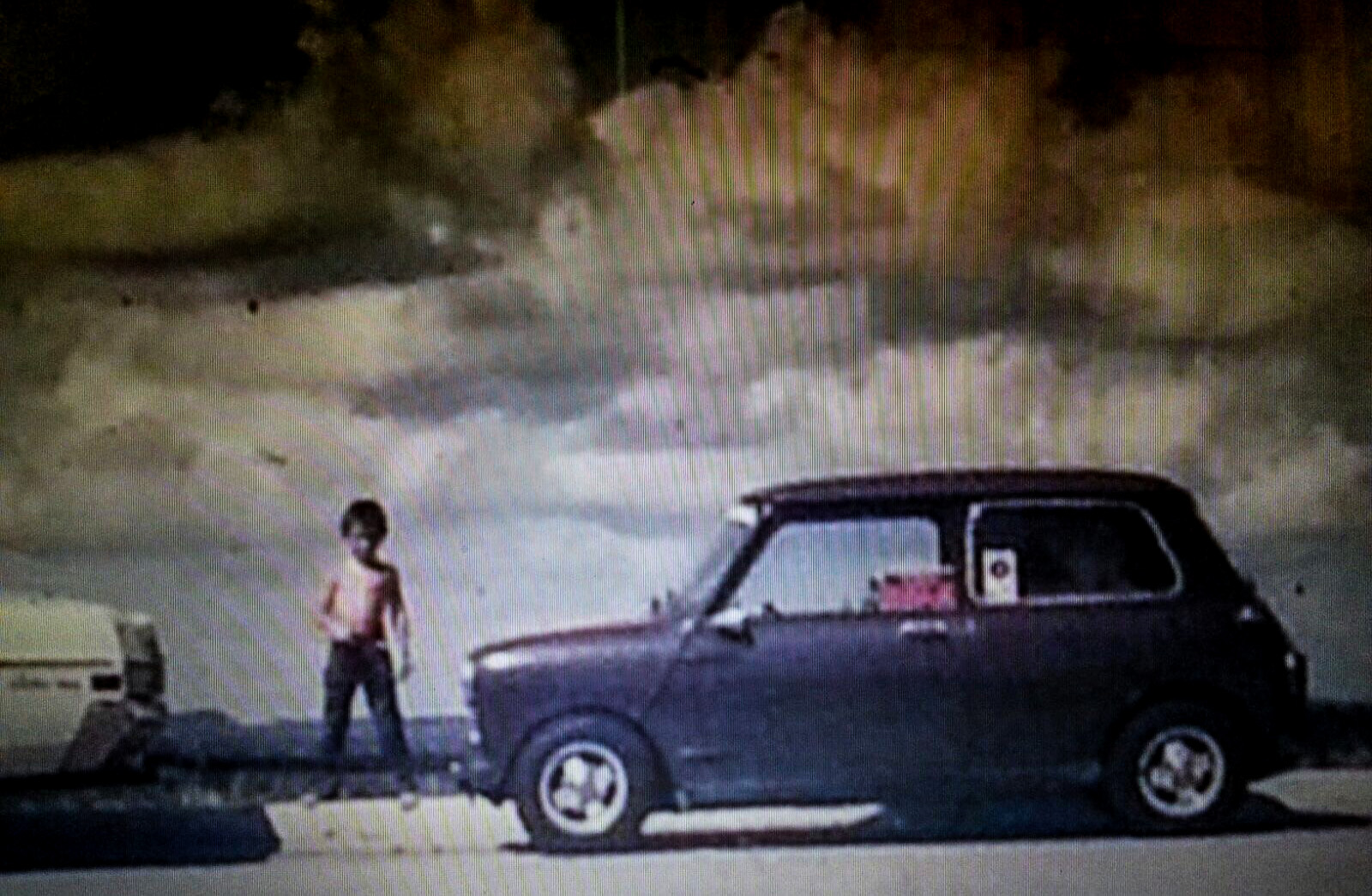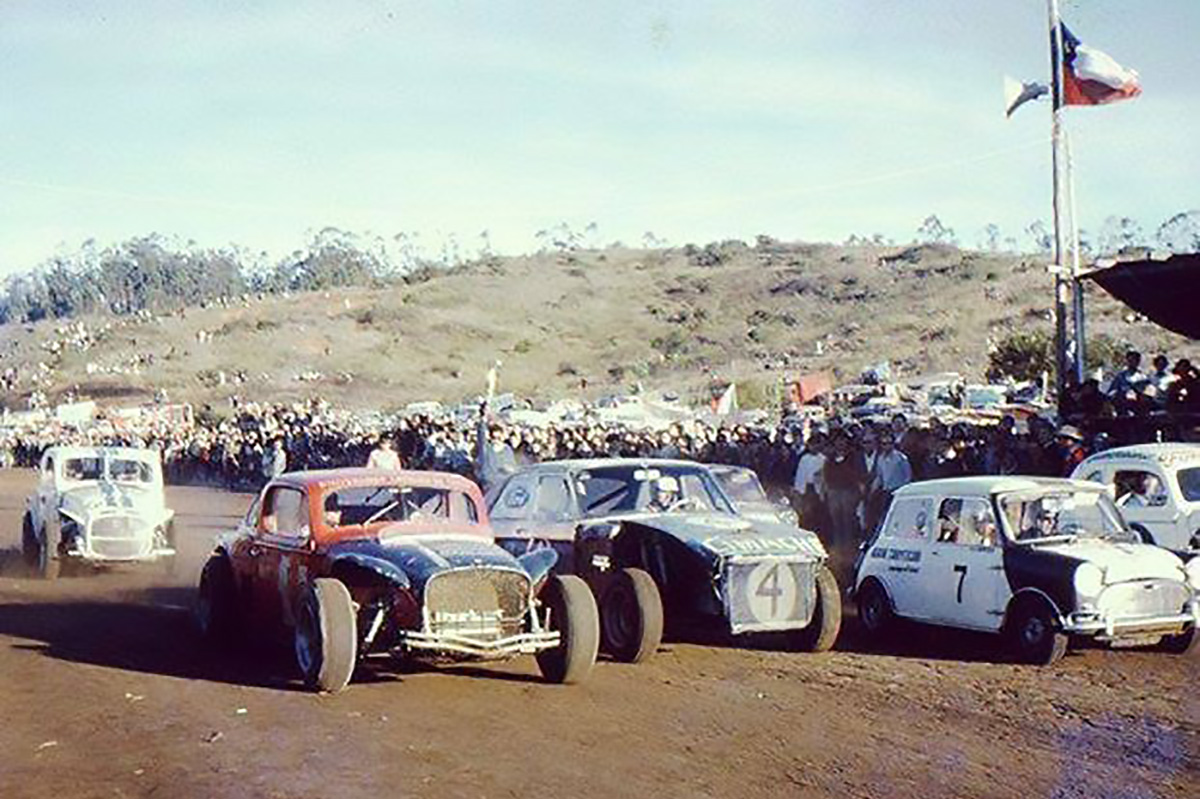 When Luis was 10 his family moved back to Chile and began racing classic Minis on street courses around the country in the 1980s. "There was no money for paved tracks then, so we had to race on dirt roads." By then the bug had hit him hard and he moved back to the United States after graduating from high school to become a race driver. Finding success at every level in which he competed, he, unfortunately, didn't bring either the checkbook or sponsorship dollars in addition to wins to secure a higher level ride. This led him to refocus his career behind the scenes and he went to work for HVM racing in Indianapolis as a mechanic. But life on the road was tough and seeing the toll it could take on his family, he fulfilled a lifelong ambition of starting his own racing enterprise in 2008, LAP Motorsports, where he could prepare cars and provide support services for other teams including Patrick Racing, Team Rahal, HVM, Herdez Competition and Minardi Team USA. Success came quickly with cars that won championships in a number of series including a Baja 1000 SCORE International Off-Road Championship and 2013 Grand Am GT Class Championship.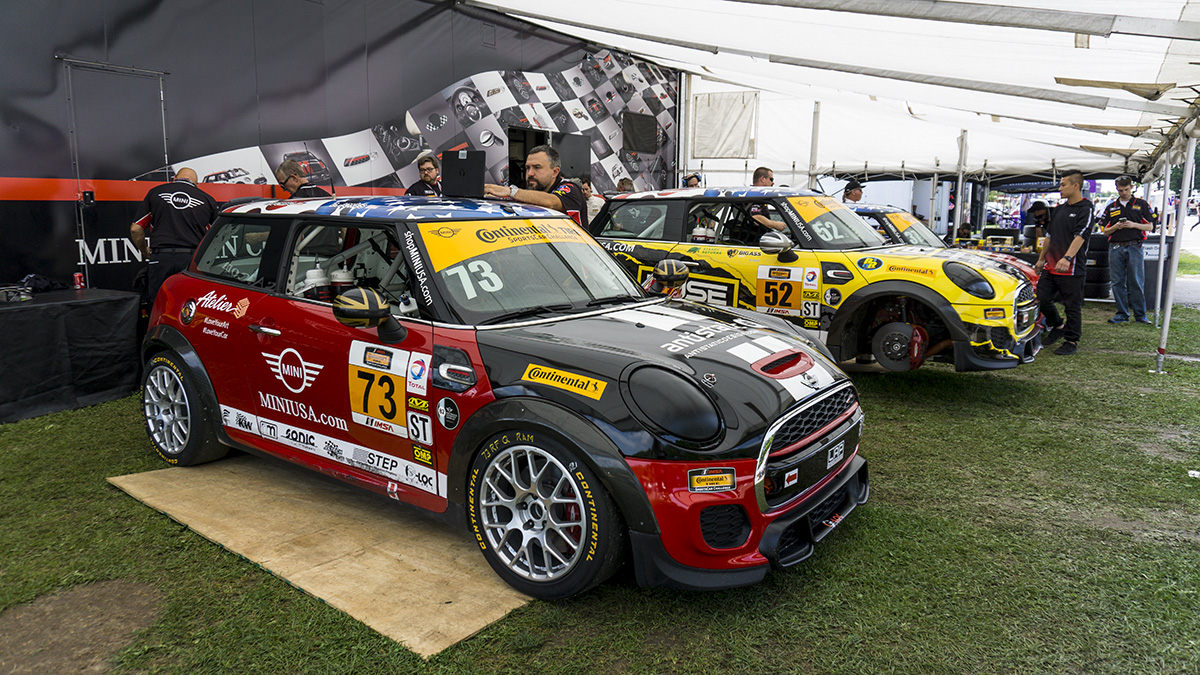 In 2015 when MINI decided to get back into racing after introducing the updated F56 Cooper Hardtop, they came knocking on Perocarpi's door, not knowing about his intimate past with the brand. "That was just a happy accident," he said. MINI provided the cars and he prepared them, learning how to make them competitive within IMSA's Balance of Performance rules. "A lot of people have misconceptions about MINIs. They're not just about handling. These cars are quick. Like a go-kart on steroids."
2015 and 2016 the team campaigned hard but had little to show for it, finishing no higher than fourth. This year, however, began with a bang as the team broke through at Daytona finishing first ahead of a passel of Porsches. They finished just off the podium in 4th place at Sebring and from there the season has been up and down, the highpoint being a one-two finish at Watkins Glen. COTA and Lime Rock weren't kind to the team with none of their cars able to crack the top five, but still they managed to climb to second place in the manufacturer's championship – the award Perocarpi cares most about – coming into Elkhart Lake.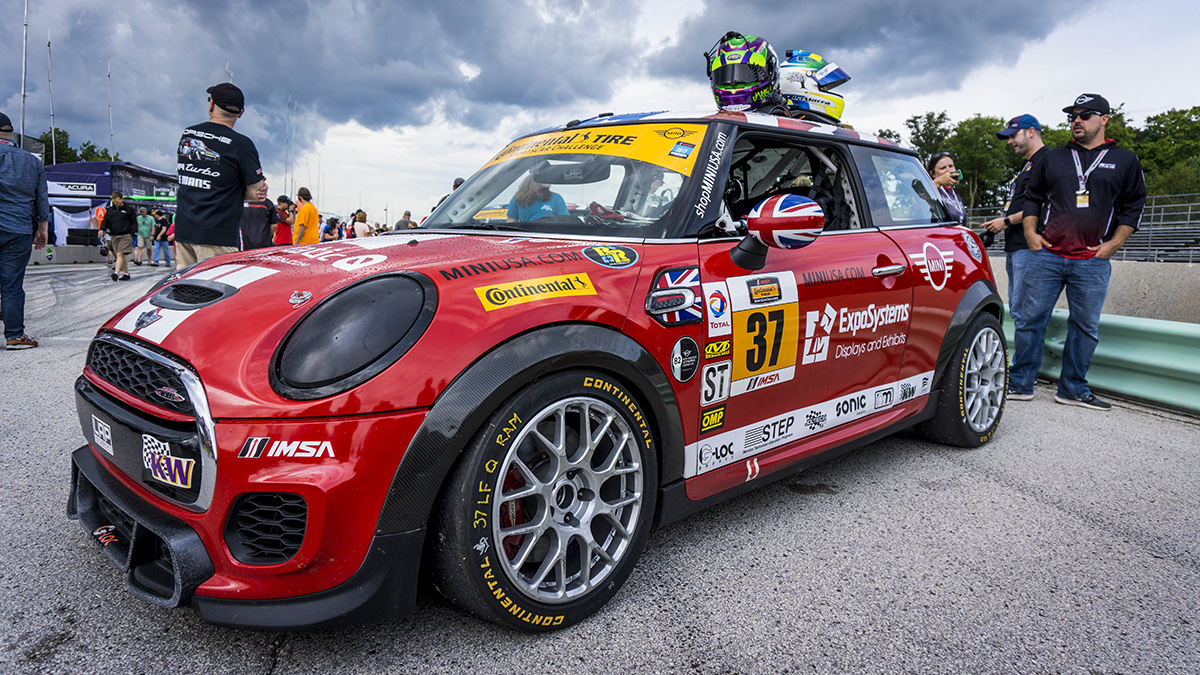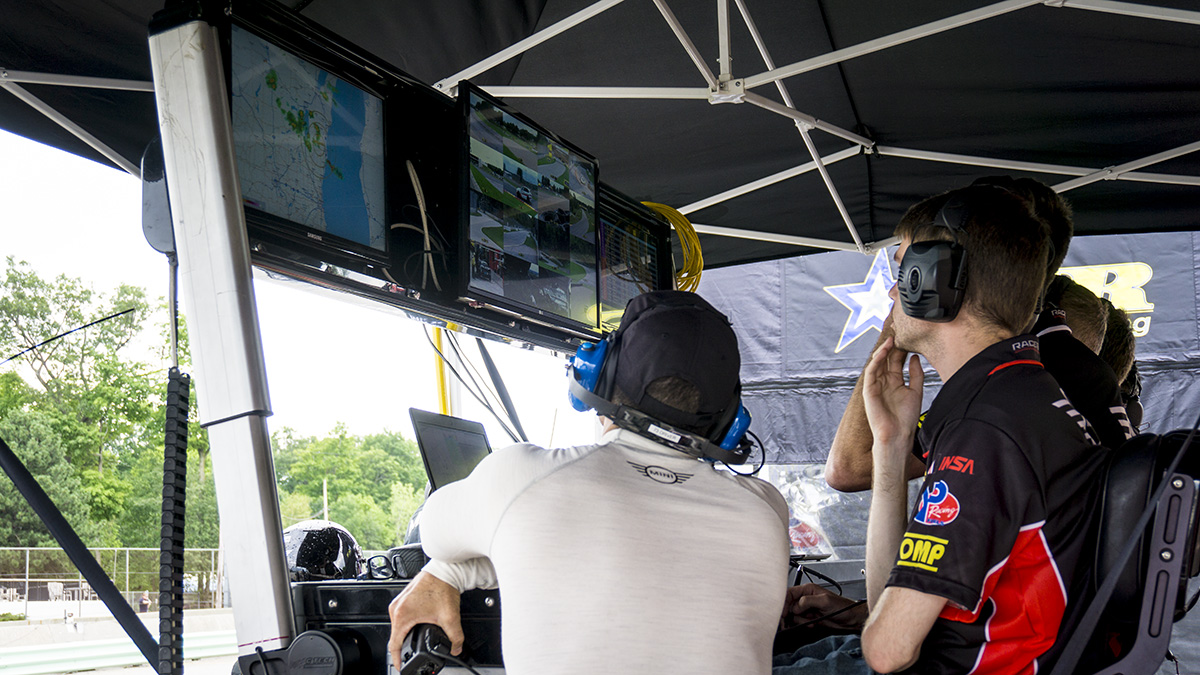 The race started under cloudy skies, and as I stood in the pit box monitoring the weather with the crew, it became clear that rain would fall at some point during the two-hour event. Two of the three MINIs started well maintaining their positions up front, while the third experienced a brief electrical gremlin during the opening laps dropping well back into the field. Then things settled in and the lead cars started to separate themselves from the pack.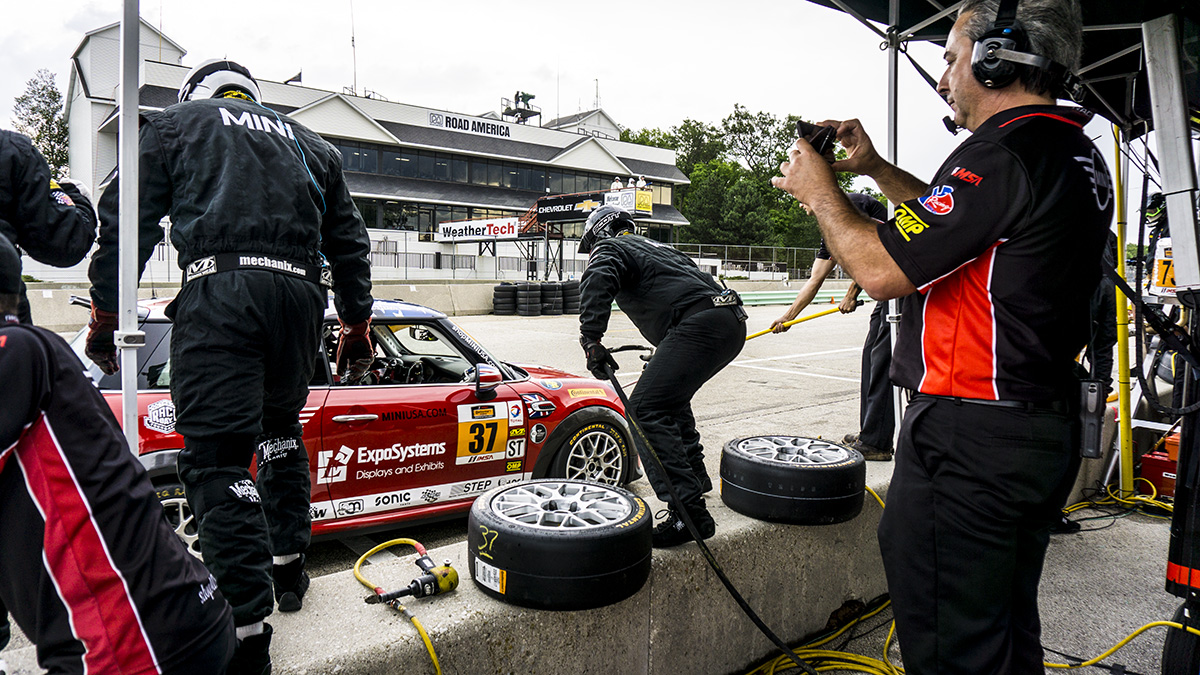 After about an hour, the team called the cars in for their mandatory pit stop and driver change. Driving like a champ, Nate Norenberg managed to get the number 52 car back up to fourth place before the stops, while his teammates, Derek Jones and James Vance ran first and third. Pit stops were completed without a hitch, but then all hell broke loose.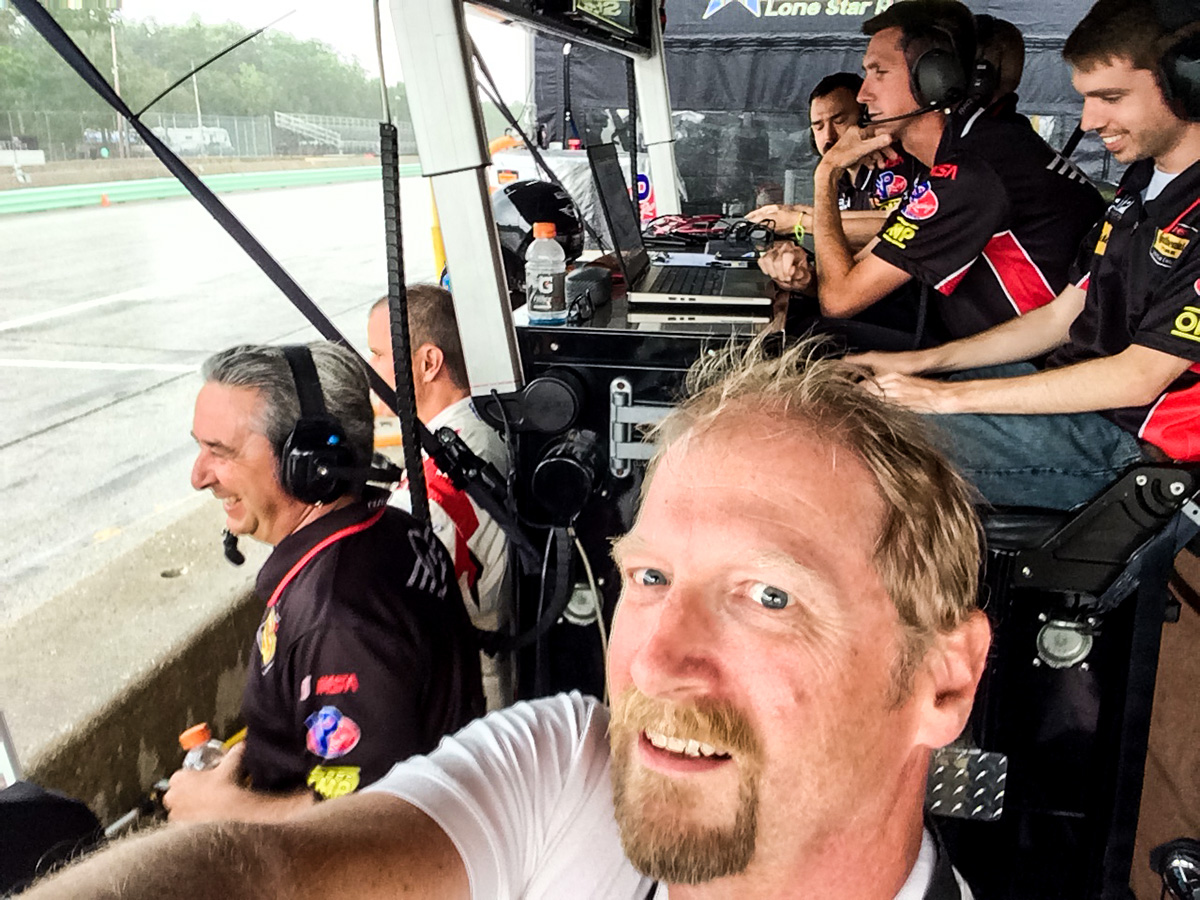 The storms we had been monitoring came crashing over the track with high winds and lightning. For the safety of drivers and fans, the race was red flagged at that point. Unfortunately for the MINI JCW Team and Tyler Cook's BMW which had been running second, four cars hadn't pitted before the race was stopped, so now MINI sat fourth, sixth, and seventh with the BMW sandwiched in fifth. The red flag flew with 40 minutes left in the two-hour race and the hope was they would be able to get back to green flag racing before the clock ran out. In a decision that baffled Perocarpi and angered the drivers, the race director decided to throw the checkered flat with at 6:17 with 12 minutes of race time remaining. They didn't add time as they could have, even though there were at least two hours of daylight left, cheating the fans and the drivers of the racing we had been promised. It also awarded the trophies to three cars – two MX-5s and a Porsche – that were significantly slower than the lead cars and effectively knocked Derek Jones and Mat Pombo out of the season drivers' championship race.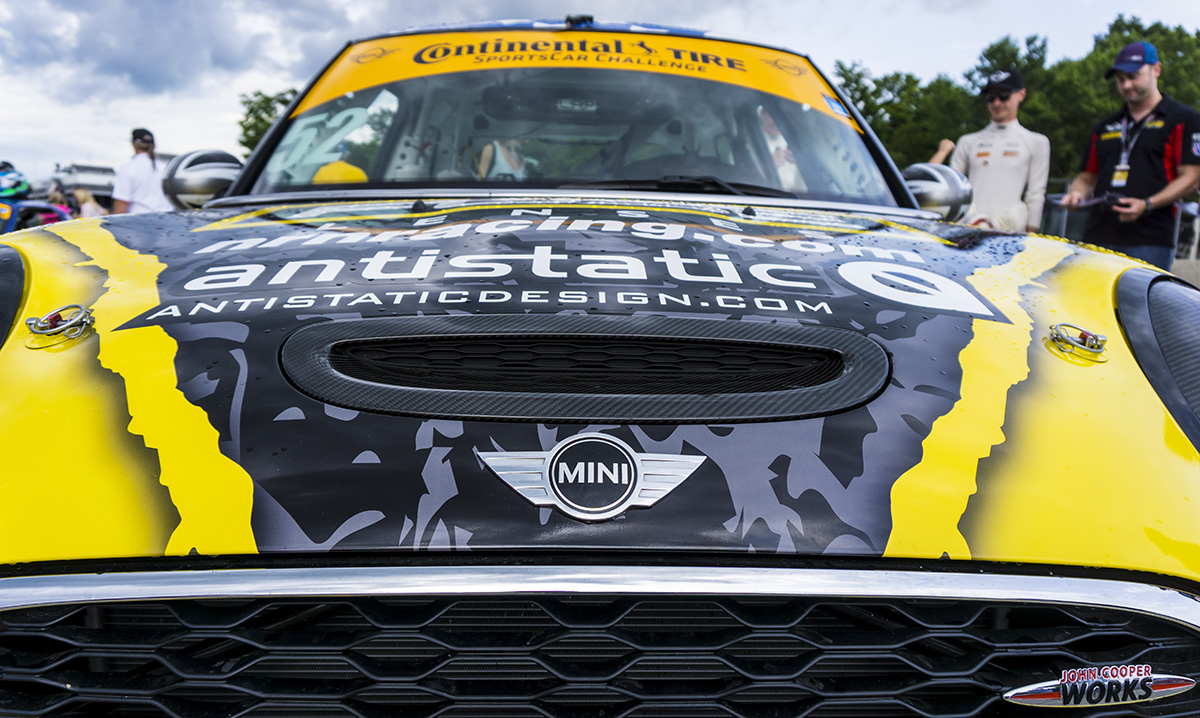 It was the kind of finish that gives racing a bad name, especially since three of the six drivers holding trophies during the victory ceremony never turned a wheel in the event. As fans, we deserve to see things settled on the track and with plenty of time to run the final 37 minutes, IMSA made the wrong decision. No one knows what the final result might have been given the opportunity to run 12 or 15 more laps, but at least it would have been fair. Here's hoping they learn from their mistake and things go a whole lot smoother at Virginia International Raceway in a few weeks.