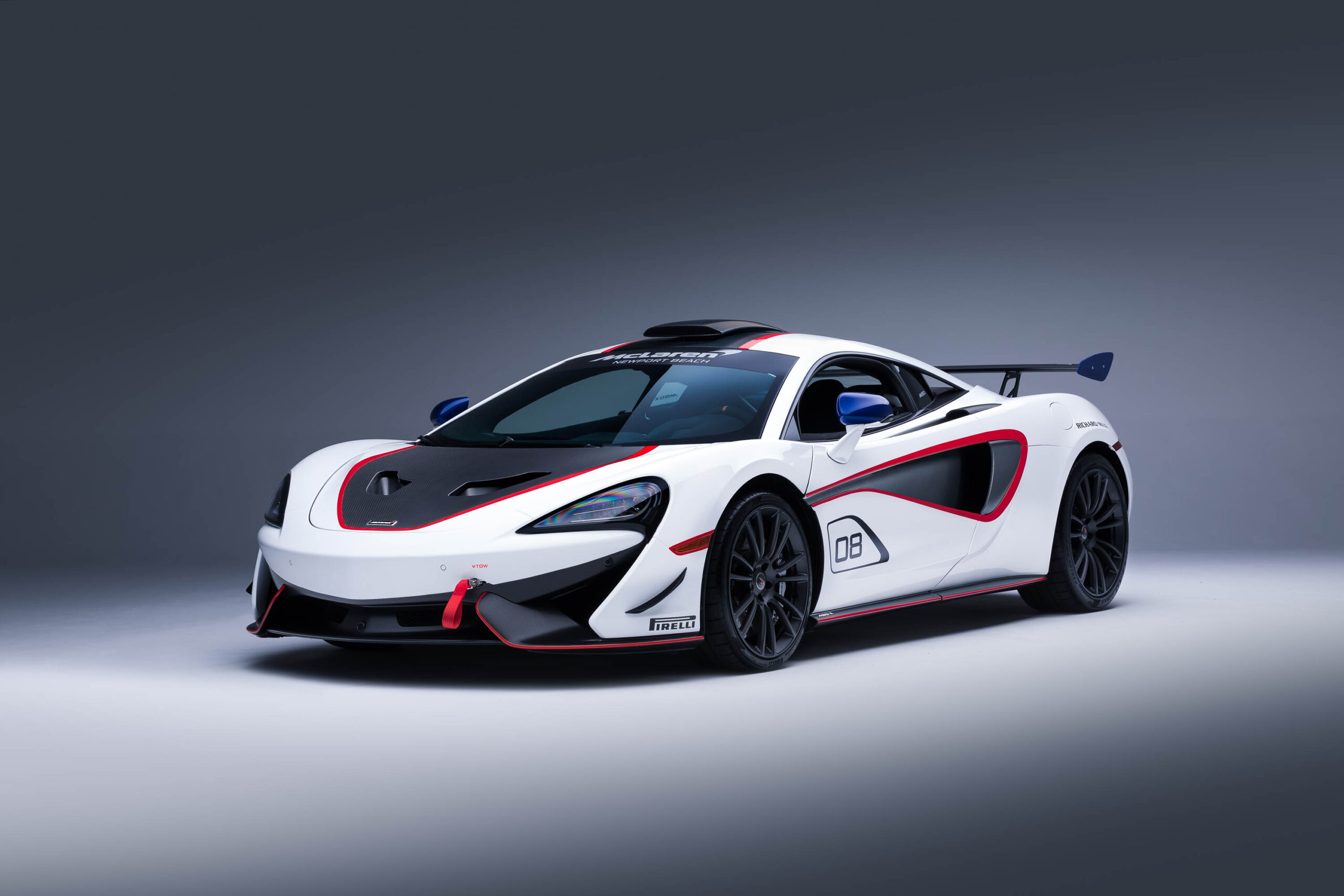 10 MSO X cars inspired by the McLaren 570S GT4, created as bespoke project by McLaren Special Operations
Designed and engineered with race car emulation as the primary focus, but still road-legal
High downforce rear wing and bespoke, track-biased interior
Unique exterior colour schemes, each echoing famous McLaren endurance racing liveries
Commissioned by US McLaren retailer, McLaren Newport Beach and delivered from customer concept to reality in just eight months
10 unique McLaren sports cars that emulate the look and feel of a McLaren 570S GT4 race car but are fully road-legal have today been delivered to their new owners at a special McLaren customer support event near Las Vegas, USA. Commissioned as an MSO Bespoke project – the service from McLaren Special Operations (MSO) that allows almost limitless enhancement and personalization of McLaren cars – the 10 MSO X cars were ordered by the US market's largest McLaren retailer, McLaren Newport Beach.
Designed to mirror the external appearance of the McLaren 570S GT4 race car as closely as possible, the MSO X are are deliberately finished in accordance with race car design practice and all have liveries inspired by McLaren F1 GTR endurance race cars of the mid-1990s.
The revised design of the MSO X cars optimists circuit aerodynamic efficiency, with the each car featuring a 570S GT4-inspired, pylon-mounted rear wing that provides approaching 100kg of extra downforce. A fully functional 'goose neck' carbon fibre roof snorkel for enhanced induction airflow, inspired by 1997 F1 GTR Longtail, additionally delivers a unique cockpit sound. The transformation is completed by inclusion of front dive planes, an MSO Titanium Super Sports Exhaust, Pirelli P ZEROtm CORSA tyres and a 570S GT4-style bonnet with specially constructed air intakes that work in conjunction with the roof snorkel and rear wing as a complete MSO aerodynamic package. Extensive use of satin finish fibre across the entire bodywork, including roof, bonnet, side skirts and engine cover, as well as a unique rear bumper with 'cut-outs', helps to reduce weight.
"The MSO X collection is the perfect example of the rich vein of bespoke service offered by McLaren Special Operations. Customers come to us with their thoughts and ideas and MSO works with them to set boundaries within which they can then let their imaginations run wild. What could be better than a McLaren buyer playing the role of 'race engineer' in briefing the MSO team and directing them to test and validate those ideas to create a race-bred road car such as this?" -Jolyon Nash, McLaren Automotive Executive Director, Global Sales and Marketing
The interior of each MSO X car features a track-oriented, minimalist design and is visibly different to any other McLaren Sports Series road car. The carbon fibre sill panels and a bespoke carbon fibre bulkhead that features stowage space for a race helmet. The centre tunnel storage bin has been removed to save weight and the raised, carbon fibre centre console that features in the 570S GT4 further accentuates the racing intent. The MSO X cars are also equipped with a colour matched harness bar to hold the 6-point racing harnesses for track driving (in addition to regular three point belts) and McLaren Track Telemetry with a full suite of cameras.
Befitting the fact that the MSO X cars are designed to be driven on the road to reach a track, McLaren's reputation for road car usability is at least partially retained, with parking sensors, rear view cameras, vehicle lift and race air conditioning on all vehicles.
The MSO X commission progressed from an initial design discussion to all 10 examples being sold and delivered in just eight months, as McLaren Newport Beach Dealer Principal, Pietro Frigerio, explains: "The aim of this project was to have a serious track car that could still be driven on the road and this finished project screams 'race car' to the casual onlooker. To have the MSO X project go from renderings at the Goodwood Festival of Speed last July to the 10 magnificent supercars that we handed over to our excited clients today, is nothing short of amazing."