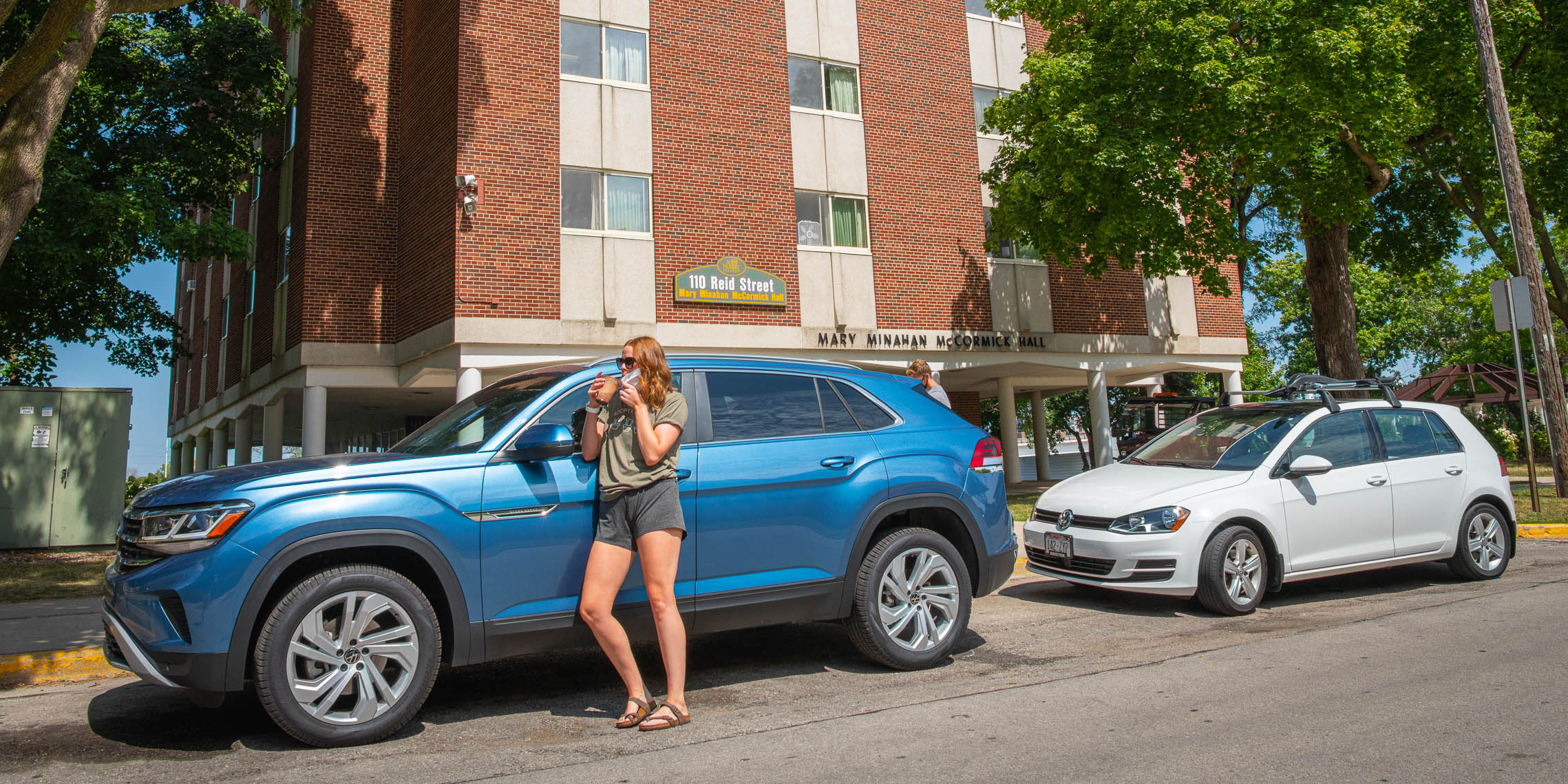 Words and photos by Jennifer Jensen
VOLKSWAGEN SUVS
Those of you who have been with us for awhile know that I am a Volkswagen fan.
We have had several VW's grace our garage over the years including Mk VI and Mk VII Golf R's, a 1992 Cabriolet, along with other Beetles and Golfs.
Several years ago we were shopping for a new family vehicle and we finally narrowed it down to a VW Touareg TDI. That was about two weeks after "Dieselgate" hit. Needless to say, we were not able to add to our VW fleet with that elusive Touareg TDI.
The Touareg was an interesting proposition.
Designed and engineered with Porsche, the underpinnings of the original Touareg were pretty much the same as those under the original Cayenne.
Those underpinnings were pretty damn impressive too. Strong bodies and frames with serious all-wheel-drive systems and suspension meant you could actually take your SUV off road.
The Touareg was initially offered with your choice of a VR6, a V8 and, for a short period of time in 2004, a V10 TDI that delivered 309 horsepower and a massive 553 lb-ft of torque fully available at 2,000 RPM.
That first generation Touareg sold from 2002 until 2010 with a facelift in 2006.
The second generation Touareg was more attractive inside and out and a little further separated from its Porsche cousin. It sold in the US until 2017 and powertrain options were a 3.6-liter V6 or a very desirable (to me at least) 3.0-liter diesel V6.
That diesel was good for a modest 240 horsepower but a very healthy 406 lb-ft of torque.
But the Touareg was doomed in the US. Not because it wasn't a good vehicle, but because it was too good.
All that goodness came with a big price. That gen 1 Touareg developed with Porsche was expensive. And that price of entry only went up year over year.
At the end of its run here in the States (in 2017) you could spec your Touareg up to almost $70,000. That was a big obstacle when other premium brands were offering their SUVs for thousands less.
ENTER ATLAS
Volkswagen unveiled the production Atlas at the LA Auto Show in the fall of 2016. It went on sale in May of the next year as a 2018 model, just in time to fill the large hole left by the exiting Touareg.
The Atlas is a completely different design than the Touareg. It is larger in just about every dimension and was designed with the North American market in mind.
That means it is priced more competitively with SUVs from the likes of Toyota, Honda, Ford and Jeep.
CUT IT OFF
For 2020 VW added the Atlas Cross Sport to its lineup.
The Cross Sport differs from the Atlas in one key area, seating. While the Atlas provides room for seven, the Cross Sport has seating for five.
The Cross Sport also has a much greater rake to its roofline and rear pillar. So you can think of the Atlas Cross Sport to the Atlas like the BMW X6 to the X5. The Cross Sport sacrifices some interior space for a more athletic and sporting design aesthetic.
But does it still work as an SUV? That's the question we set out to answer in the best possible way…moving our daughter, Cameron, into college!
MOVING DAY
Cami is a college sophomore this year. With all of the craziness around COVID-19 we didn't even know if she would be back on campus this fall and we were very excited when her school announced their plans for the year.
The college decided that it was best to have students on campus with several safety precautions in place. So with much enthusiasm (from us and from her) I brought the Atlas Cross Sport home to begin the loading process.
The back seats in the Cross Sport are incredibly easy to lower to create a flat load floor. There is a big handle on the side of the seat and you literally just pull it and the seat backs flop down like a college student after a Saturday night frat party.
Hold the handle up and you can lift the seat back right back up and lock it into place. The nice thing about this arrangement is that the back seats recline with the same handle. Convenient.
With the seats laid flat I opened the gargantuan back hatch and we started loading. There are 77.8 cubic feet to play and we filled it up rather quickly.
Mattress pads, lamps, side tables, refrigerator, several large totes, a rug, an obscene number of pillows and a headboard all went into the back of the Cross Sport with no issues…save one.
I wanted to double stack items at the very back of the cargo space but because the rear pillar line cuts in so sharply from the roofline we couldn't stack items on top of each other. The standard Atlas would not have had this issue.
WEIGHED DOWN
The VW Atlas Cross Sport has two engine options, a turbocharged 2.0-liter four cylinder or a 3.6-liter VR6. Our tester had the four cylinder.
That four-cylinder has 235 horsepower along with 258 lb-ft of torque. I was a little worried that this engine might not be stout enough to take care of not only two adults, but a vehicle loaded to the hilt with Cami's stuff.
My concerns were unfounded. The engine provided plenty of pep with a fully laden vehicle all while returning good fuel economy.
The optional VR6 has 41 more horsepower and 8 more lb-ft of torque. I don't know if that would have been enough to tell the difference.
The 8-speed automatic does a great job of interpreting your intentions to present you with the proper gear for what your right foot desires.
ON THE INSIDE
When I first drove the Atlas for the 2018 model year I will admit to not being impressed. I felt the size was great, but the gauges and center console left a bit to be desired. Everything on the inside seemed dwarfed by the overall size and dimensions of the cabin.
Enter the 2020 Atlas Cross Sport with VW's digital cockpit. This changes everything!
Standard on the SEL trim level, the digital cockpit places a 10-inch configurable display in the instrument cluster. Using controls on the steering wheel, you can change that screen to show exactly the information you want.
In addition to that screen is an 8-inch capacitive touchscreen on top of the center console. This screen is vibrant and very intuitive to use. Options pop up on the screen as you move your hand to use it. Proximity sensors detect your hand motion and present you with additional options beyond what is appearing on the screen. That means the screen can use every square inch to provide the info you need when you need it.
Another fun feature for the center-mounted screen is that if you turn off the screen (audio, nav, etc.) a clock appears there. The cool part is that you can choose between several different clock faces sort of like an Apple Watch. Nifty!
MECHANICALLY INCLINED
The Atlas Cross Sport can come as a front-wheel-drive vehicle or with 4Motion all-wheel-drive. Our SEL tester had power going to all four wheels.
The current generation of 4Motion measures wheel speed several times every second trying to determine if there is any wheel slip. It works as a precognition system that reads road conditions, driving style and even weather to determine which wheels to provide power to.
The clutch is electronically controlled and can engage in a fraction of a second to send up to 50 percent of available power to the rear axle.
Electronic Stability Control takes over if there is slip on individual wheels by sending power to the wheel that has grip and slowing down the one losing grip.
To help save fuel, the system can decouple the rear axle when there is no demand for all four wheels to be providing drive. You can even watch this all in real time on the digital cockpit display.
BEHIND THE WHEEL
As we drove to Cami's college with the back end fully loaded, I was impressed with the active cruise control system, lane keep assist and the overall ride quality.
The seats proved to be comfortable and supportive for the long haul, and the cabin was a relatively quiet place to be.
We didn't have the optional Fender audio system but the audio experience was fine none-the-less. In fact, pretty much everything about the Atlas Cross Sport was solid.
ALL MOVED IN
Once we arrived on campus Cami's boyfriend and his roommate were there to help empty out the Cross Sport. It all happened so fast and I was able to preserve my back by not lifting anything heavy. Nice.
We moved all of her things into her dorm room then had to make a quick run to Target to pick up a few new items she hadn't planned on. We settled Cami in her new room, gave her hugs and then we were off again.
The Cross Sport's back seats quickly flipped back up in place, the cabin set to a comfortable 72 degrees and the sound system played calming tunes to soothe our emotions.
We settled onto the highway and turned smart cruise back on. Our conversation turned to reflecting on our own college years and the move in process. The Atlas Cross Sport provided a wonderful chariot for our journey there and back again.
COMPETITIVE
The Atlas Cross Sport starts at $35,545 far less than the base Touareg from a few years ago. Our SEL tester had an as-tested price of $42,700, still far less than a Touareg would have cost you back in 2017.
Add in Volkswagen's 4 year, 50,000 mile warranty and it's easy to see why the Atlas and Atlas Cross Sport are flying out of US VW showrooms.