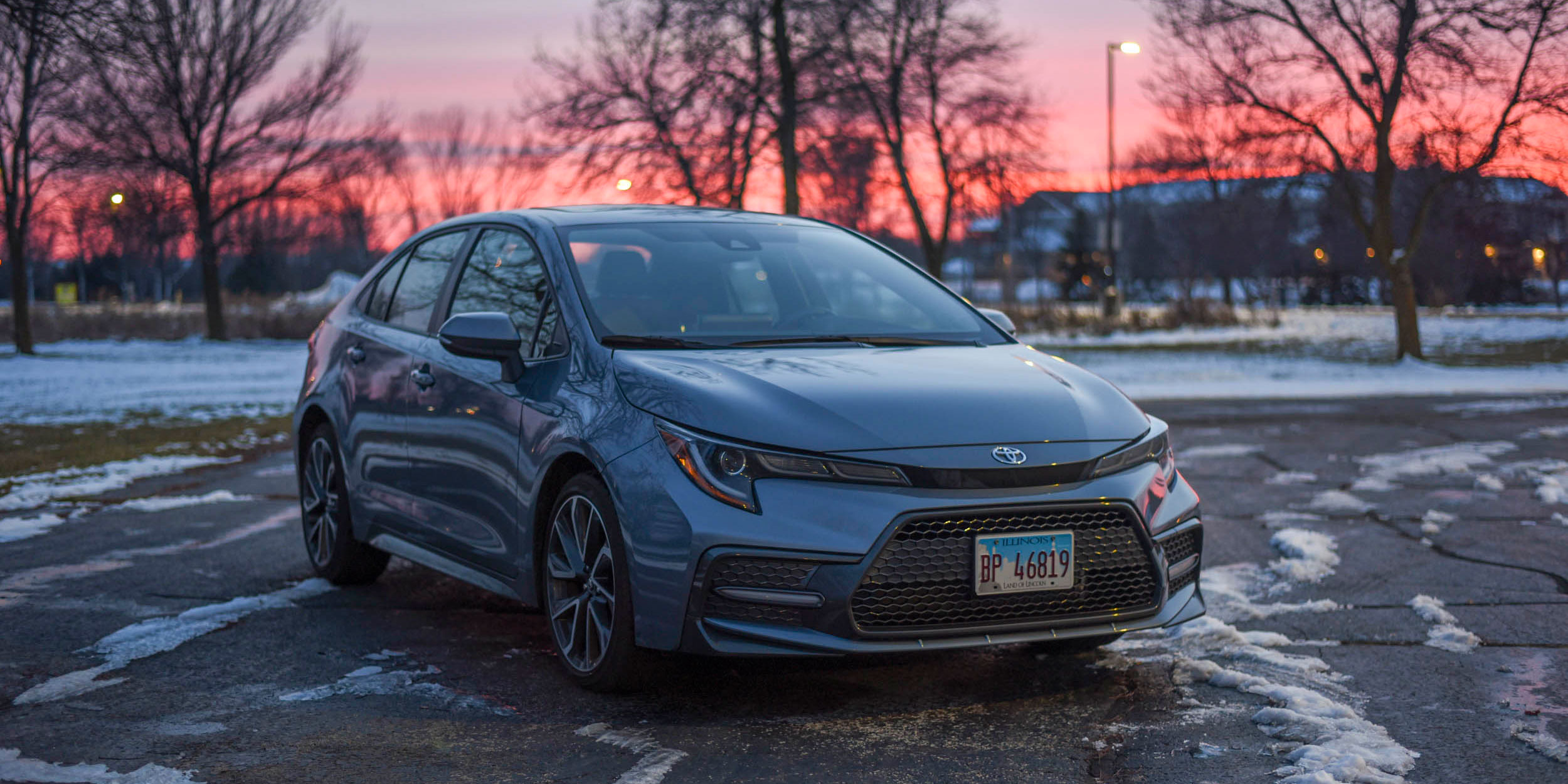 Words and photos by Jennifer Jensen
FIRST IMPRESSIONS
At first blush I hated the 2020 Toyota Corolla XSE.
I had to move the seat almost all the way back so I could get in and then I banged my head on the low roofline. Once ensconced in the relatively comfortable driver's seat, I adjusted the seat and steering wheel to my liking. The end result was the perfect alignment of my head with the B pillar. Not ideal for seeing traffic around me.
After I started the car I wanted to clear out all of the preset radio stations. This is something I regularly do with each new press car we receive. However, I couldn't find a way to do that. All I could do was set a new station over a previously set station. Cumbersome.
Then I wanted to connect Apple CarPlay without linking my phone through Bluetooth…another common activity I do in a new car. The only USB port I could find was under the armrest in the front. But that didn't do anything other than charge my phone.
After much rooting around on the dash (it's all black), I managed to find another port off to the side of the center console. That did the trick, even though it took way too long to discover. Let's just call it a rough start.
THE BODY
The Corolla now comes in your choice of sedan or hatchback. The sedan is a couple of inches longer than the hatchback but back seat legroom is considerably less than in the outgoing Corolla sedan. I couldn't fit behind myself in the back seat.
The body itself is longer, lower and wider than the old Corolla and the sheet metal is far more attractive. It's a good-looking small sedan from the side and the back. The front reminds me of a Cylon from Battlestar Galactica with its wide mouth and slanting eyes.
You will either love or hate the front-end view of the Corolla, but at least they are trying.
POWER
There are two four-cylinder engine options in the Corolla.
The first is a 1.8-liter carryover that puts down 139 horsepower and 126 lb-ft of torque. Our tester XSE model had the larger 2.0-liter pumping out 169 horsepower and 151 lb-ft of torque.
Both engines are paired with a continuously variable transmission (CVT) though you can option the 2.0-liter with a six-speed manual transmission in the SE model. We are going to try to get our hands on the manual to see if it's more fun than the CVT.
There is also a hybrid option in the sedan for the first time in the U.S.
The hybrid powertrain uses a 121-hp Atkinson-cycle 1.8-liter inline-four mated to a pair of electric motors. The drive motor generates 71 horsepower. This combination provides a highly efficient package…as in 52 miles per gallon combined.
UNDER THE SKIN
The Corolla now rides on Toyota's TNGA (Toyota New Global Architecture) platform. TNGA is a modular unibody platform that was first used in the Toyota Prius back in 2015.
This modular platform can be made to work with not only different sized vehicles, but also with front, rear or all-wheel-drive configurations. The TNGA platform underpins other models such as the Camry and Avalon. It is also used in Lexus models as well.
Toyota says that the TNGA platform is more rigid providing a better base to work with.
However, the biggest change in driver involvement has to be the switch from a torsion beam rear axle to a multilink setup. There is so much more road feel from the back end and the rear just stays glued to the road over just about any road surface.
INSIDE
The interior of the Corolla is an okay place to be. Our XSE model had a neat blend of black with blue highlights including some blue stitching on the dash and door panels and blue striping on the seats.
The materials are not top drawer, but they are not displeasing either. They just are.
There is an 8-inch color touchscreen display on all variants except the base L model. Apple CarPlay and Amazon Alexa are standard. Android Auto is not yet available.
The touchscreen works okay, but is not great. Interactions are slow and lazy. On the plus side, there are direct interactive buttons on both sides of the screen to navigate you to where you need to go.
Safety Sense 2.0 is standard across the board. Included in this iteration of Toyota's safety package are: pre-collision with pedestrian detection, adaptive cruise control with lane centering, road sign recognition and auto high beam headlights.
Other standard safety features are airbags all around, blind spot monitoring and even a rear seat belt warning.
THE DRIVE
I have never been a fan of CVTs as they feel unnatural and "rubber-bandish". But Toyota worked hard to try to make this CVT feel a bit better to drivers who actually pay attention to what's going on with their car.
The CVT actually has a physical first gear before being handed off to the bands and pulleys of the CVT itself. Toyota claims this helps the car feel more natural and progressive off the line. Does it work? Sort of.
I experienced a fair amount of jerky behavior, particularly at low speeds.
The 2-liter engine, like most of the Corolla, is okay. It works so hard to get things moving and sounds just gross doing it.
The handling is okay but not overly inspiring. This is not a car to take to your favorite twisty canyon road for some corner carving.
I was somewhat surprised at how bouncy the ride felt. With the new multilink rear end the tires stay attached to the road but inside there is a fair amount of bounce.
Steering is dull with very little feedback. If you are loping along that is a good thing as the car is slow to react. But if you want to drive a little more aggressively, this is not the steering setup for you.
Brakes, like everything else, are okay. They provide nothing great in the feel department. Are you seeing a trend here?
CONCLUSIONS
The Corolla starts under $20,000 and our loaded-up tester rang the register at $28,794 including a $930 delivery fee. If you can keep a handle on the options the Corolla can be a relative bargain with all of its standard safety features and Toyota's reputation for bulletproof reliability.
Here's the deal. If you think of your car as an appliance to get from Point A to Point B and you never want to worry about anything going wrong with said appliance, the Corolla might be the perfect car for you. The Corolla is okay.
Like those Cylons from Battlestar Galactica, the Corolla is an unfeeling appliance that just does what it is told.
If you, like us, view your car as something more than mere transport, then there are much more involving options out there in the same price range. There are vehicles that go above and beyond being just okay.