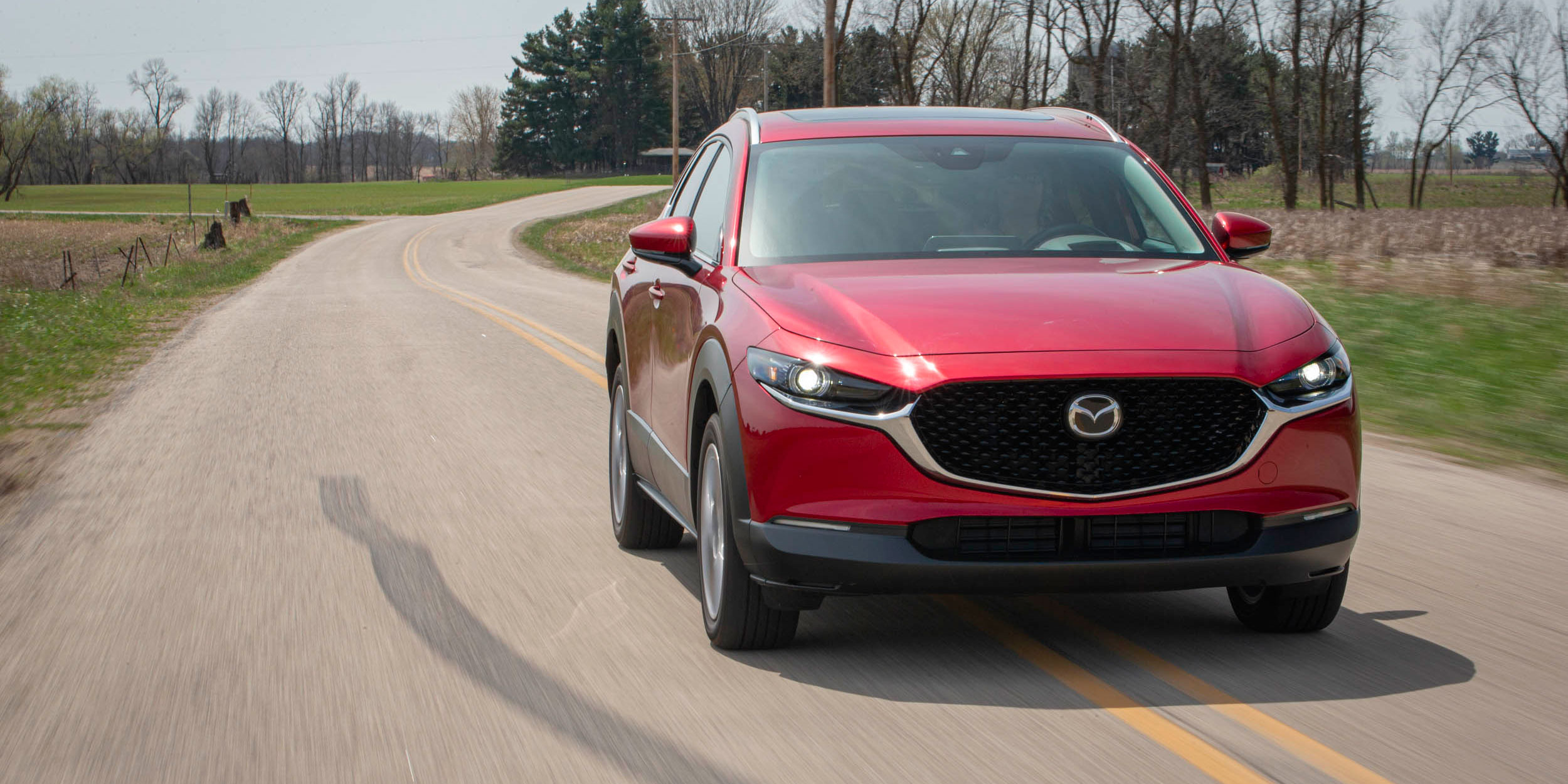 Words and Photos by Jennifer Jensen
INNER BEAUTY
Have you ever been in a car that is so attractive on the inside that you don't want to get out? You just want to sit there enjoying the artistic design and appreciating all the details.
The Mazda CX-30 is one such vehicle. And it's funny, because there really isn't that much to look at.
The interior lines are clean and, dare I say, elegant. There is an existential architecture to the design that leaves me looking for all the fine details of how each line crosses or connects with the next.
The multi-colored leather only grabs my attention more. The black and dark brown is subtle, but once you see it you can't go back.
Contrasting stitching highlights the doors, center console and dashboard even further. More studying for my eyes.
With more and more car functions going the way of touchscreens that disappear when you turn off the vehicle, most car interiors are left with big black voids. Not the CX-30.
Sure the big 8.8-inch screen on top of the dash goes dark when the CX-30 is shut down, but the lines remain. Oh, and that's not a touchscreen so hands off.
Mazda also does a nice twist on the digital age in the gauge cluster. There are three large round dials with an analogue tachometer holding position on the left and analogue fuel and water temp gauges sharing a spot on the right.
The center dial is your speedometer but while it looks analogue, it is not. That allows other items to pop up in the most prominent dial right in the center. Genius.
BEYOND SKIN DEEP
Like other currently produced Mazda vehicles, the CX-30 is quite a looker on the outside as well.
The CX-30 is the second model to use Mazda's current iteration of "Kodo Design." While this design language has been a part of Mazda for quite awhile now, this latest iteration emphasizes the "soul of motion."
What the heck does that mean?
According to Mazda, "Kodo is a unique expression of power and beauty seen in instantaneous motion at the very moment motion begins." They describe it like the effect of wind or the flow of water.
Regardless, it looks good! It is not very often that a small crossover so indelibly holds my attention that I have to turn around and look at it again one more time when walking away.
Perhaps just to see another detail, or how the lines work from a different angle.
Then again, maybe it was the Soul Red paint that made our CX-30 test vehicle positively glow under just about any light. If you painted a John Deere riding lawn mower that color I would still turn around for another look. Wow!
PUTTING IT TOGETHER
So the CX-30 is attractive both inside and out, but what about the meat and potatoes?
The driving force is a 2.5-liter four-cylinder with Skyactiv technology.
Skyactiv is Mazda's technology derived to harness as much power and efficiency from an internal combustion engine as possible. Mazda uses much higher compression ratios than most other manufacturers along with some other tech to compress the air/fuel mixes in each cylinder to a very high degree.
In the Premium Package CX-30 like our test vehicle, Mazda also incorporates cylinder deactivation to increase fuel efficiency. Over our time with the CX-30 we didn't notice any difference in engine performance with all this engine management going on. It just worked.
Total output from the four-cylinder is 186 horsepower and a matching amount of torque at 186 lb-ft. It is also naturally aspirated and connected to a six-speed automatic. Not eight speeds, not a CVT, just six well spaced gears that make the most of the power on hand.
The CX-30 can be had as a front-wheel or all-wheel drive platform and our Premium Package had all-wheel drive.
Because Mazda can't simply follow the crowd (that's a good thing), their all-wheel drive is also unique. It uses a coding system derived from video games to detect where and when power will be needed. Analyzing driving styles in addition to driving conditions the system predicts if there will be wheel slippage and apportions power appropriately.
This system is designed for all weather conditions and not really meant for off road driving like you might think. In fact, there is a little button on the left side of the dash that shows a truck on a hill. If you push that button the game system algorithm is turned off and the AWD system is more like conventional all-wheel drive systems.
That's a whole slew of thinking on the part of your chariot. What does that do for the driver?
BEHIND THE WHEEL
It supports the driver, that's what it does.
We spent time doing grocery runs, trips to and from the office and a bit of country road traversing. The CX-30 delivered on all of its on-paper promises.
The ride is fantastic. This is an area that Mazda is excelling of late. There are no adjustable springs or dampers, just one setup that supports you and the car all the time. And it works. In fact it works quite well.
Because the CX-30 is a taller Mazda 3 we expected a decent ride, but the CX-30 surprised in its agility and handling prowess. It doesn't lean too far when cornering hard even though the ride height is fairly tall.
The 2.5-liter four provides sprightly performance, but not quick acceleration. It feels like this chassis could easily handle another 150 horsepower. Then again, Mazda seems to be more about balance than abundance.
One thing that is abundantly clear is that all of that thinking going on with whiz-bang computers under the skin goes completely unnoticed.
The steering feel is light, but not so light that you don't feel changes in the road at your fingertips. It also allows for ease of maneuvering around tight-spaced parking lots. A place the CX-30 feels perfectly at home.
The brakes are better than average and provide good feel and ease of modulation.
MORE TECH
What doesn't go unnoticed is Mazda's unique way of using that previously mentioned 8.8-inch screen.
Mazda engineers feel that using a touchscreen takes driver's eyes off the road for far too long. I tend to agree which is why I personally feel every car and truck should have a HUD, but I digress.
Mazda uses a combination of a large rotary dial and supporting buttons to navigate through their infotainment system. It is incredibly frustrating at first, but once you get used to it the Mazda system is leaps and bounds ahead of anything Lexus is doing with their infuriating touchpad.
The best feature of this system is the favorites button. You can store radio stations, navigation destinations and even phone numbers in favorites and then easily access these with the button on the center console.
The worst part about using Mazda's system is using something like Apple CarPlay or Android Auto. Why? Let me ask you, when you use your smart phone, are you hitting a bunch of buttons or are you just touching the screen? Yeah, that's what I thought.
So using a touchscreen-based program on a non-touchscreen system is just a bit ludicrous. It changes the whole way you interact with something you are already very used to.
ELEGANT SIMPLICITY
The CX-30 is a very nice all around package with an elevated ride height, comfortable interior, ample room for two and lots of stuff, or room for four and a little less stuff. It offers decent performance, very good handling, and a fair amount of fuel efficiency.
It offers something I don't know if any other small crossover can…elegant simplicity.
You can design a CX-30 to fit your specific needs with lots of different packages on offer, but the list of standard features is massive and that includes a host of safety features as well.
The CX-30 starts at around $22,000 and our CX-30 Premium all-wheel drive model would price out at a little more than $30,000. Not bad for such a solid package that offers so much.
See our full review below.