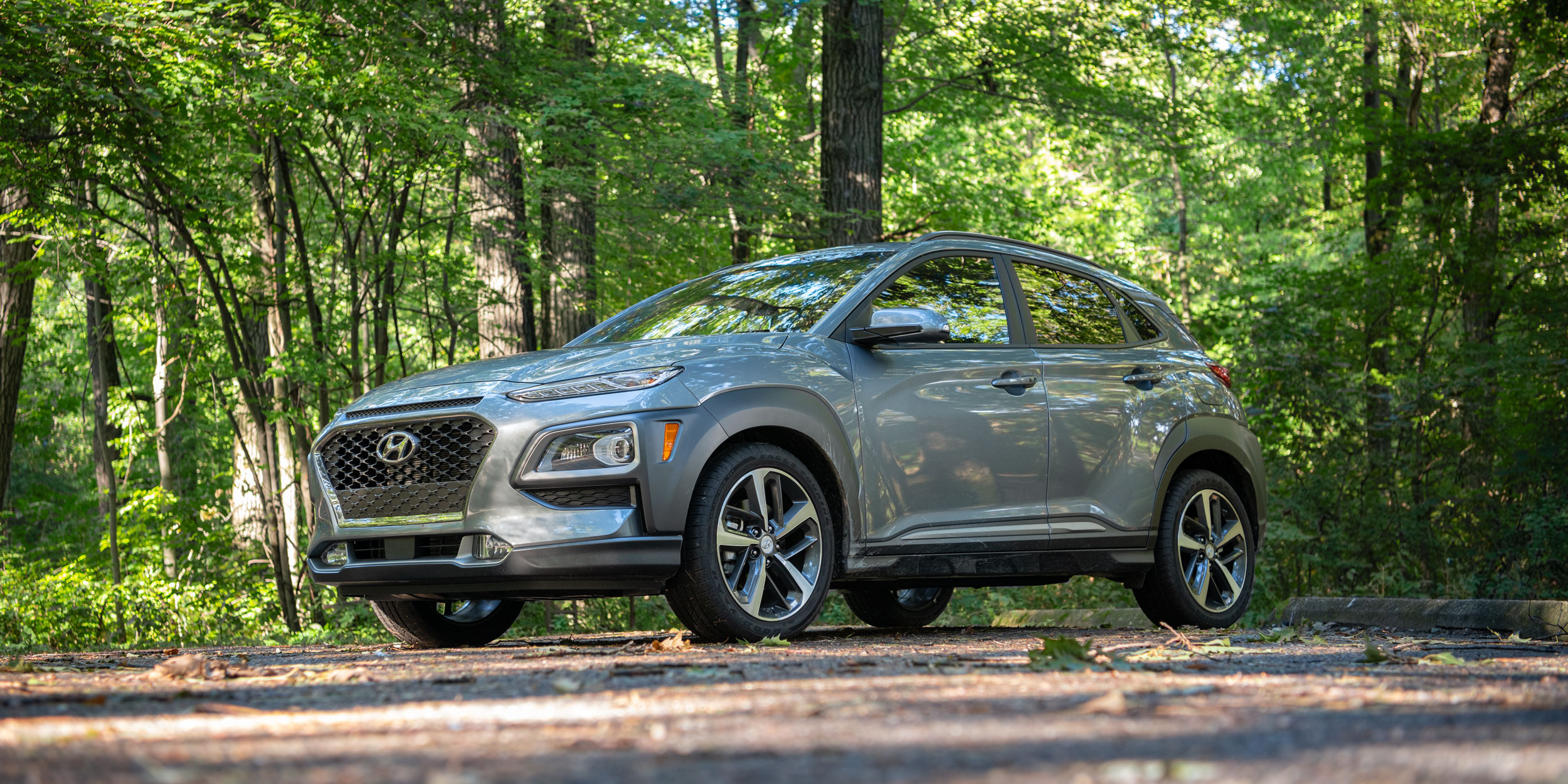 Words and photos by Jennifer Jensen
EXPLORING NEW ROADS
I had never been to this area before. Devil's Lake State Park promised twisting and winding roads with some nice elevation changes that I hoped would provide a nice backdrop for some photos and video.
The park didn't disappoint.
I turned the wheel of the Hyundai Kona and was rewarded with prompt response from the motor-driven power steering.
We dove down the serpentine road. The 1.6-liter turbocharged four-cylinder put all 175 horses to work and the Kona dug in. The infographic in the gauge cluster clearly displayed that the on-demand all-wheel-drive system was sending power to all four wheels.
There was some body roll as the Kona leaned left, right then back again swerving down the twisting road. The lean was less than I thought it would be in a tallish SUV. That's Subcompact Utility Vehicle, not Sport Utility Vehicle.
In fact, the Kona handles quite well for a crossover. Weight is part of the balance as the Kona is a relative flyweight in the crossover world coming in at just around 3,000 pounds depending on trim level.
The road eventually stopped its back-and-forth wagging and flattened out to a wide view of Devil's Lake.
The relaxed road afforded me the opportunity to enjoy the comfortable ride and really check out the interior. It's actually quite a nice place to be.
THE KONA
Hyundai introduced the Kona at the 2017 LA Auto Show for the 2018 model year.
Named after the west-coast region of the Big Island of Hawaii, Hyundai says the Kona crossover is for "Urban Adventurers." Does that mean it's meant more for tackling cityscapes than hilly and rocky landscapes? Pretty much.
It certainly looks the part. Though people's opinions seem torn. The Kona is a love it or hate it vehicle stylistically. We met people on both sides of that fence during our time with the cute ute.
I happen to like the style.
The Kona sits higher than a typical sedan but lower than a full-on SUV. Its five-door body style is semi aggressive and looks like it was shaped by the winds blowing around the Hawaiian region for which it's named.
There is body cladding around the wheel wells meant to provide a tough off road appearance. But the Kona is more "soft-roader" than a rock crawler.
The Kona comes standard with front-wheel-drive but is optional with all-wheel-drive.
The system is an on-demand type that sends power to the rear when slippage is detected at the front. It works well and you can watch the system at work with the previously mentioned display in the instrument panel.
The front end has a squinty look to it and on our top trim Ultimate AWD edition there are three different levels of lights. Fog lights, driving lights, daytime running lights and headlights. It's a little Lite-Brite and an interesting look that takes a hot minute to adjust to.
The back end is a little more cohesive with some interesting facets like wheel well cladding that wraps around the reflectors and backup lights. That design element adds to the windswept look.
Crossovers and SUVs have a fairly simple design aesthetic so everything else is just frosting on the cake. The Kona adds quite a bit of frosting. Hyundai was gracious enough to offer some colors that really highlighted the frosting. However, the color palette has been pulled back for 2021, which is a shame as the Kona looks great when dressed in vibrant paint.
SIMPLICITY
Inside the Kona you will find a well laid out cabin that provides ease of use and interaction.
There is a good old-fashioned PRNDL that falls readily to the hand. Above that is a row of buttons for the HVAC with two large knobs that could easily be manipulated even if you were wearing gloves.
Sitting atop the dash is an 8-inch touchscreen for infotainment including an optional Infinity audio system (which sounds good, not great) and navigation.
The touchscreen works very well. Reaction time is fantastic especially when compared to some touchscreen systems in other cars (Volvo, we're looking at you).
There are also direct contact points for pretty much everything you would need quick access to.
The Kona comes with about 1,992 standard safety features and a few more extras. All of the switches to enable or disable those systems are by your left knee. Easy.
That simplicity is a theme carried throughout the Kona. It takes all of about two minutes to figure out how to use everything in the cabin. In an age of overcomplicated human interfaces the Kona is a welcome friend.
For example, there is no auto stop/start. Sweet.
You know what else is missing? Paddle shifters! Thank you Hyundai for recognizing that this is a crossover and nobody is going to drive it using paddle shifters.
It's kind of ironic because the turbocharged four-cylinder is actually paired with a double clutch gearbox not a standard automatic. So it would make some sort of sense to put paddles in the Kona. However, I am glad that they were absent.
THE DOWNSIDES
Not everything is perfect.
For starters, the doors don't open as far as I want them to. This is true for both the front and rear doors and could be a problem when you are putting a child in a car seat. I guess it comes in handy in tight parking spots, but I shouldn't have to fight the door to get out.
There also isn't an abundance of room in the second row. The back hatch feels the same way.
We did the grocery bag test and could fit six standard paper bags side-by-side across the back. There was enough space to turn a couple bags sideways to put in front of the other six, but if you had four adults to take on a holiday weekend there might not be enough room.
The Kona slots between the Hyundai Venue and Santa Fe and in many ways it feels like Goldilocks' "just right." Hyundai has done a very good job setting up their SUV line up. Pick what suits your needs and within each model line you can choose the option level to best satisfy those requirements.
Another downside is the head up display.
This is normally a feature that I love but here the execution is the problem.
While the HUD itself provides good information and seems to work just fine, it is displayed on a pop up screen that rises out of the dash like a possessed corpse in a horror film. It also returns to its grave each and every time you turn the vehicle off.
The complexity of this up and down motor system is one of those things that is bound to break at some point and then it will just be a pain in the butt.
Fortunately, Hyundai has one of the best warranties in the business so there is that.
TAKING CARE OF BUSINESS
The Kona does do a lot to take care of you.
Standard across the board on all Kona models is Hyundai's SmartSense safety technology that includes forward collision-avoidance assist, lane keeping assist and driver attention warning.
There are airbags everywhere and as you move up trim lines more and more safety features are added. Such niceties as Blind-Spot Collision Warning, Lane Change Assist, Rear Cross-Traffic Collision Warning, Parking Distance Warning, Pedestrian Detection, and High Beam Assist.
That warranty coverage includes a 5-year/60,000 mile bumper-to-bumper warranty, 10-year/100,000 mile powertrain warranty, 7-year/unlimited mile anti-perforation warranty, and 5-year/unlimited mile roadside assistance. None too shaby.
BACK TO THE PARK
Driving through Devil's Lake was a joy in the Kona.
The roads are good but not great and the suspension does an admirable job of soaking up the imperfections.
The all-wheel-drive model has a different rear suspension than the front-wheel-drive versions.
While the 2WD has a rigid torsion beam at the back end, the AWD has an independent, dual-arm multilink design that was designed to help provide stability over rougher surfaces…like if you do decide to venture off the beaten path.
There is also a Drive Mode button that provides the option between normal and sport. Flick it to "sport" and the Kona will hold each gear a little longer to keep the engine on boost, makes the steering a little sharper and, well, that's about it.
But the Kona is actually a pretty rewarding drive.
The base Kona is powered by a 2.0-liter naturally-aspirated engine good for 147 horsepower and 132 lb-ft of torque. That powerplant is paired with a 6-speed automatic and I'm guessing it's all a bit lethargic.
The 1.6-liter turbo is athletic enough and provides plenty of pep to motivate the Kona as quickly as you would probably want. It also provides decent economy. Over several hundred miles of mixed driving we averaged 29.3 miles-per-gallon.
The brakes are assured in their actions and there is little road noise.
Everything about the Kona is nice, including the price. The Kona starts at a little over $20,000 and tops out $10,000 later.
If you need a solid and safe vehicle that has just enough room without going over the top, the Kona provides a very nice option.