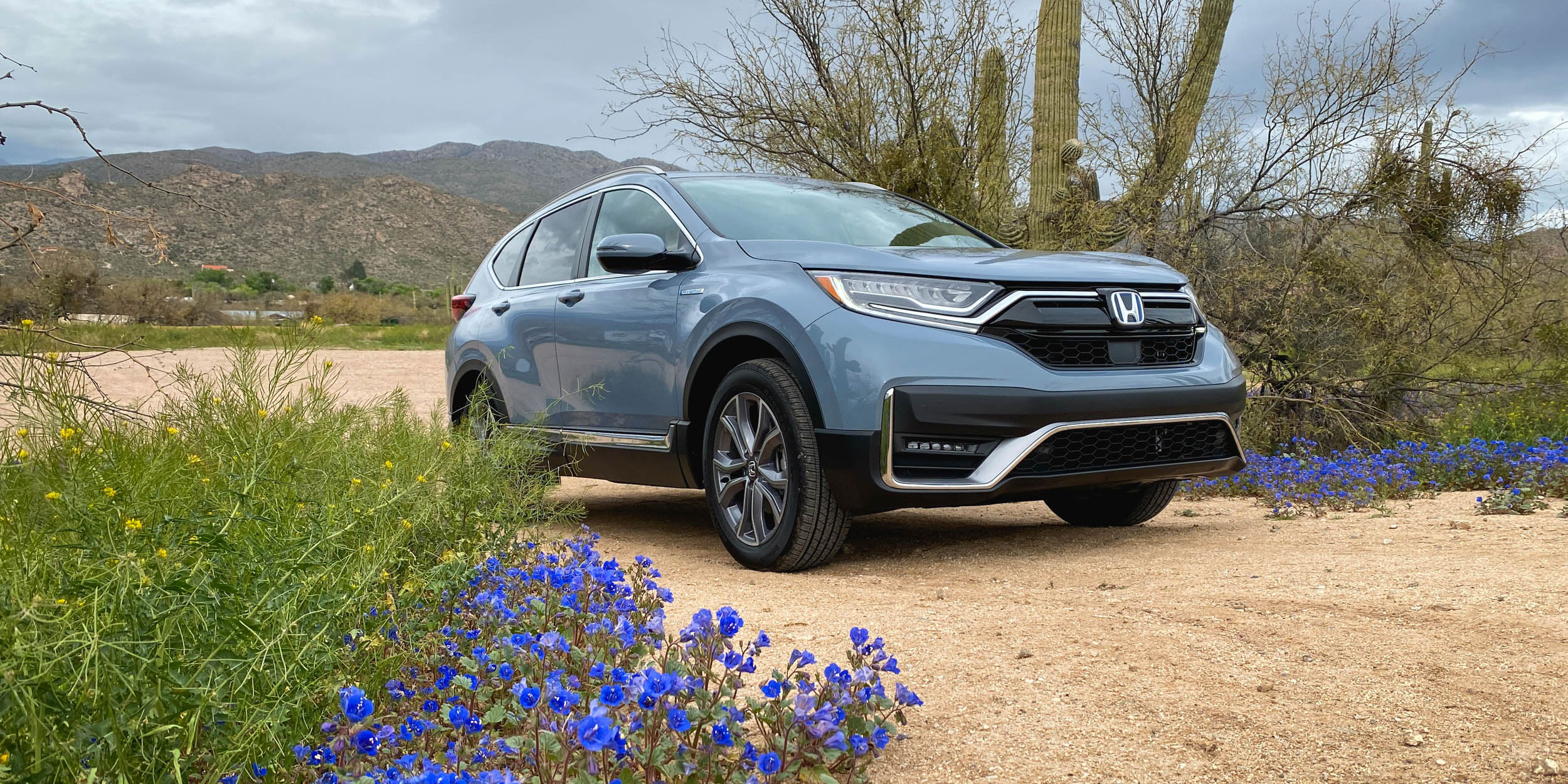 Words and photos by Jill Ciminillo
TUCSON, Ariz. – I handed the keys of the 2020 Honda CR-V Hybrid to a member of the support staff who hadn't driven it yet. She sat in the driver's seat, looked at the lit-up gauge display behind the wheel and looked back at me with a perplexed expression.
"Is it on?" she asked. When I replied yes, she followed up with: "Is it always this quiet when you turn it on?"
As long as there's some juice in the battery, yeah, it is.
"Well, how do you know if it's ready to drive?"
Simple. Honda has a message on the display that explicitly says: "Ready to drive."
If you've never been behind the wheel of a hybrid, it can be a curious experience because of the sheer lack of engine noise. It's easy to be unsure if the vehicle is in accessory mode or if it's actually ready to drive.
Honda exacerbates that confusion because its hybrid system is really good.
In fact, I'm going to make a bold statement here, and say it's probably one of the best hybrid systems I've ever experienced.
HONDA'S HYBRID SYSTEM
We drove on a lot of surface streets during the press preview, which gave us ample time to get a feel for the system. I didn't try to drive differently or "hypermile." But I didn't try to be a speed demon either.
The first thing I noticed is how seamless this hybrid system is. Often when you drive a hybrid, you can feel a shudder or a shake when the engine turns on. This is punctuated by a vibration through the gas pedal and the sound of the engine.
Because a hybrid system is usually paired with a small displacement engine, that engine sound isn't the good kind.
With the Honda CR-V Hybrid, however, the transition between EV-only mode and hybrid mode is largely imperceptible. If you pay attention, you can hear it, maybe feel it. But if you're talking to a passenger or have the radio on, you'll likely miss it.
That's impressive.
Honda makes use of a two-mode hybrid system, which is comprised of a 2.0-liter, four-cylinder engine, a starter motor and a propulsion motor. Total system power output is 212 horsepower and 232 pound-feet of torque. That's 22 horsepower and 53 pound-feet more torque than the gasoline-only version.
So, while the regular CR-V is a nice and popular vehicle – representing nearly 60% of all Honda sales – the Hybrid is better. A lot better.
Acceleration in the CR-V Hybrid is smooth and quick, and it doesn't feel like it struggles or works too hard. The only time you hear the engine at all is under hard, hard acceleration – the kind you do when you need to beat the guy at the stop light who's going to cut you off because he's in a lane he shouldn't be.
On top of that, the CR-V Hybrid gets nearly 50% better city fuel economy.
More power and better efficiency? Yes, please!
THOSE AREN'T PADDLE SHIFTERS
One more note about the CR-V Hybrid system. You may notice "paddle shifters" in the photos below, but that's not really what they are. Instead, they allow you to control the amount of regenerative braking + for more and – for less.
I used the + shifter a lot, and while it wasn't the same as "one pedal" braking in a pure electric vehicle, I could feel the vehicle slow down much faster as the brakes took in all that extra energy.
It's not initially intuitive to hit the + to slow down, but once you get used to it, tapping the paddle becomes second nature as you take your foot off the gas and get ready to apply some braking.
HONDA CR-V HYBRID VS TOYOTA RAV4 HYBRID
Honda has done an exceptional job with the CR-V Hybrid, and they know it. So, the automaker provided us with a comparably equipped Toyota RAV4 Hybrid to drive in back-to-back comparisons – as well as check out fuel economy.
Prior to the comparison test, it had been more than a year since I drove the RAV4 Hybrid. And I liked it. Thus, I assumed it would be a close call between the two hybrids and which one felt better.
It wasn't. At all.
First, let's look at the ride. We had a slew of speed bumps to traverse to exit the property, and the CR-V Hybrid managed them confidently and smoothly. The RAV4 Hybrid was rougher around the edges, and you felt a thunk with each bump.
Interior quietness was also noticeably different. I drove with the windows down in both vehicles, and the CR-V Hybrid was quiet inside and out, whereas the RAV4 had a buzzy engine sound that flowed in through the open windows.
FUEL ECONOMY CHALLENGE
Finally, in terms of fuel economy, it wasn't even close.
We did the same 11-mile city loop in each vehicle, with speeds mostly staying in the 40- to 45-mph range. To be fair, I engaged the cruise control at every opportunity on both vehicles, and luckily, I didn't encounter any traffic on either drive. Other than a few stop signs, I drove both vehicles at a constant even pace. I did not engage economy mode on either vehicle.
The RAV4 Hybrid did well, getting 42.9 mpg, which is better than its EPA estimated 41 mpg city.
The CR-V Hybrid did better – by a lot. Though this hybrid is only rated at 40 mpg in the city, it managed an amazing 53 mpg in the exact same loop.
You do have to take that with a grain of salt, since I'm using the vehicle's reporting system and not some scientific formula. But 10 mpg is a huge disparity.
As far as I can tell, the biggest difference was the EV-only driving, which means there was probably also a significant contribution in the area of EV-boosted driving.
The CR-V Hybrid managed to stay in EV mode (all on its own) on the mile-long driveway leaving the property. The RAV4 Hybrid engine popped on fairly quickly. It was the same when I got back to the property. The RAV4 Hybrid couldn't maintain the EV mode for the entire driveway, yet the CR-V Hybrid did.
While I must admit I like the looks of the RAV4 Hybrid better – inside and out – the CR-V hybrid wins big in terms of handling and efficiency.
HYBRID VS NON-HYBRID
The CR-V Hybrid is very similar to the design of the gasoline-only model, but it does have a few key design differences. The most noticeable on the exterior is the hybrid badging and blue accents on the Honda emblems.
Another key difference is a 5-LED fog light design, which appears on EX trims and above.
The final exterior differentiator is the rear bumper. It is re-styled to hide the exhaust.
There are interior differences as well. The digital cluster is hybrid specific with the option to show hybrid power transfers, and there are multiple drive modes (Sport, Econ and EV). The biggest difference: there is a push-button gear selector instead of a traditional gear lever.
THE TRIMS
I love the Honda method of trims. Each trim builds on the last one, so there aren't any package options. Plus, with standard all-wheel drive and Honda Sensing, there aren't really any extras to add. If you want more, just level up.
In fact, the only "options" are more along lines of "accessories" and include things such as bike mounts and door visors.
The trim lineup is as follows (prices don't include the $1,120 destination fee):
LX ($27,750): LED headlights, passive entry, push-button start, cargo cover, automatic high beams, 17-inch wheels, automatic climate control, multi-angle rear-view camera with guidelines.
EX ($30,260): LED fog lights, driver's side memory seats, blind-spot monitoring, 18-inch wheels 7-inch touchscreen display, Apple CarPlay/Android Auto, two rear USB ports, dual-zone automatic climate control, heated side-mirrors.
EX-L ($32,750): Heated steering wheel, ambient lighting, leather seats, power tailgate, 4-way power passenger seat, auto-dimming rearview mirror, HomeLink.
Touring ($35,950): front and rear parking sensors, 19-inch wheels, wireless charging, navigation, roof rails, rain-sensing wipers, hands-free tailgate, premium audio.
It's also worth noting that the hybrid version costs $2,700 more than the gasoline-only version at every trim.
THE FUTURE
The CR-V Hybrid joins the Insight and Accord hybrids in the Honda lineup, and this is just the beginning of the brand's electrified future. Honda plans to have at least two-thirds of its global vehicle sales be electrified (including hybrid and all-electric vehicles) by 2030.
If what's coming is as good as what's already here, I'm excited for the next decade at Honda.