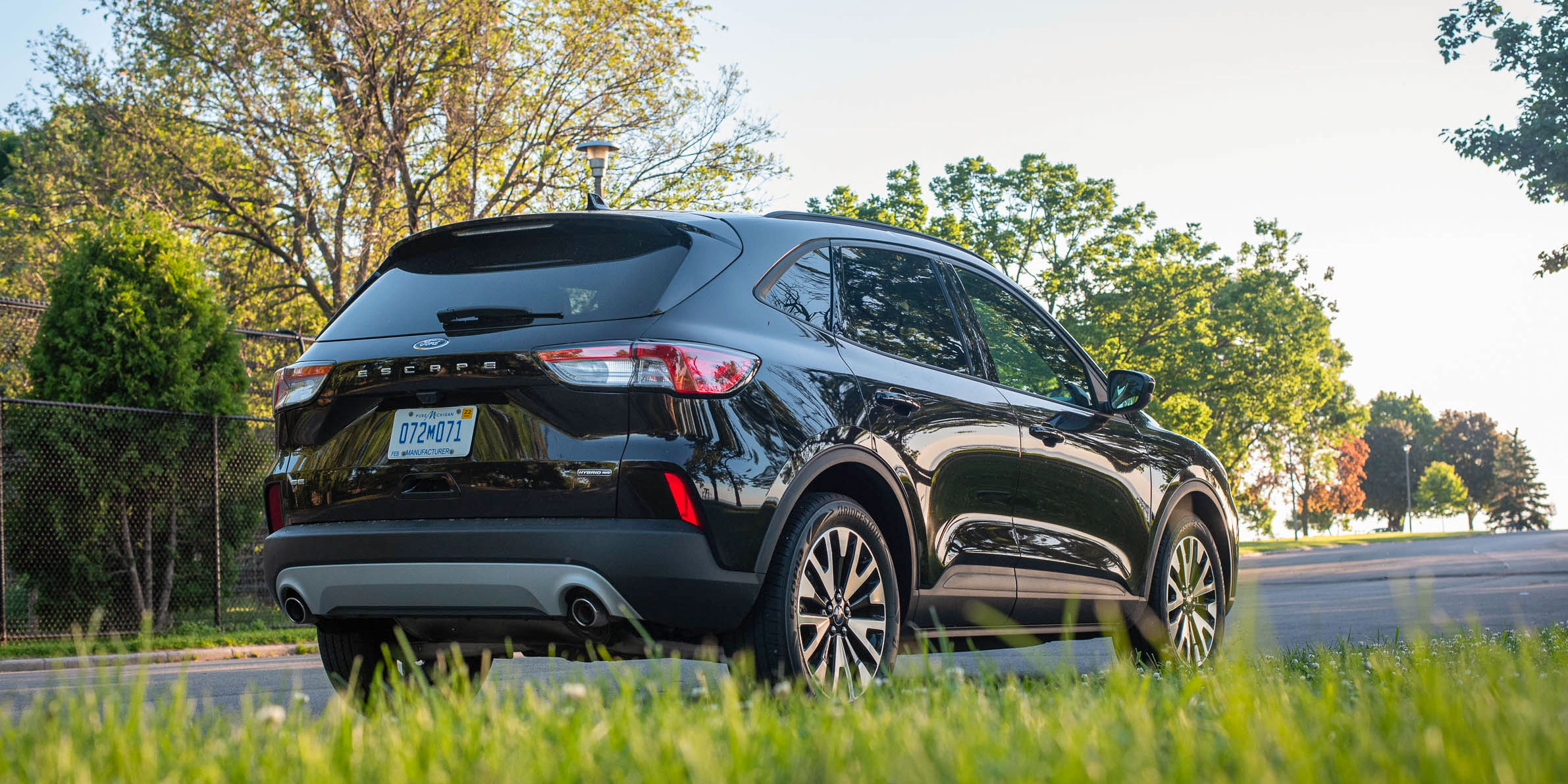 Words and photos by Jennifer Jensen
HISTORY
It's hard to believe that the Ford Escape first came out in 2000 for the 2001 model year.
Mazda and Ford worked together on the original Escape with the Mazda being badged as the Tribute. The only common body pieces between the two were the roof and the floor.
That first generation Escape was a smashing sales success and it quickly became the best-selling small SUV in the US even though it was plagued with recalls. Fifteen in fact.
Recalls aside, it is worth mentioning that Ford did offer something completely unconventional on that first generation, a hybrid. That option is now back for 2020.
TODAY
The Escape is all-new for 2020 and there are packaging options to satisfy just about every taste out there.
Escape is offered in S, SE, SEL and Titanium with each level adding more standard equipment.
A 1.5-liter EcoBoost four-cylinder with 180 horsepower and 177 lb-ft of torque is standard across the board. A 250 horsepower 2.0-liter EcoBoost four-cylinder with 275 lb-ft of torque is optional on the Titanium level.
The 1.5-liter engine features cylinder deactivation, a first for Ford products in North America. When engine loads are light, the engine will shut down one of its four cylinders to help increase fuel efficiency.
That cylinder shuts down and starts back up in only 14 milliseconds making it imperceptible to the driver.
Those two gas-powered engines are paired with a new 8-speed automatic transmission.
Ford's Escape comes standard with front-wheel-drive though all-wheel-drive is optional.
NEW TECH
Standard across the Escape model lineup is a selectable drive mode system. Drivers can choose between normal, eco, sport, slippery and deep snow/sand.
Each of these drive modes optimizes a number of items in the Escape such as throttle response, shifting, all-wheel-drive, and steering to make it ideal for the selected driving situation.
All Escape models have a 12.3-inch completely digital instrument cluster that feeds all kinds of information to the driver. There is an 8-inch touchscreen (on SE and above) on the center console to interact with the navigation and infotainment.
Ford's SYNC 3 works with Apple CarPlay Android Auto, Alexa and Waze.
Also standard on the Escape is FordPass Co-Pilot360. This comprehensive safety suite includes blind spot monitoring, cross-traffic alert, pre-collision assist with automatic emergency braking, pedestrian detection, forward collision warning and dynamic brake support.
On top of all that is FordPass Connect that provides a WiFi hotspot for up to 10 mobile devices.
So there is plenty of modern technology in the new Escape. But the really nice thing is that none of this tech is in your face. It is all integrated very well and, better yet, it all just work.
DESIGN
On the outside the new Ford Escape has a bit of jellybean look to me. It's round on all the corners, has a sloped roofline and sits lower, longer and wider than the last Escape.
While it is not unattractive it certainly looks better in person than in photos.
All of those soft edges do help make the new Escape the most aerodynamically efficient Escape Ford has ever produced so that's no bad thing. It also lost weight, to the tune of about 200 pounds compared to the outgoing model.
On the inside the Escape is very well laid out. There is ample room in both the front and rear seating areas. There is storage everywhere and the cabin is just simple and easy to work in.
The HVAC interface is no-nonsense with two big knobs and a graphic of a person to decide where you want to point the air. Simple and I like it. There are no menus to navigate through to turn the AC on and point it at my face!
The PRNDL is a rotary knob versus a stalk and in this application seems to be okay. It certainly makes the center console appear larger than it really is.
Our tester had the optional panoramic roof that let abundant light into the all black cabin. I imagine the cabin would feel even more spacious if you chose the Sandstone color instead of black.
This particular Escape also had what is called "ActiveX" seating material. It's sort of like fake leather but softer to the touch. I liked it quite a bit until I jumped into the driver's seat after the Escape sat in the sun for a few hours.
I was wearing shorts and was almost burned by the hot black material. The back of my thighs were pink for the rest of the day. If this were my Escape I would stick with cloth.
Burned legs aside, one of my biggest complaints about the Escape is the quality of materials inside.
Cheap abounds with hard plastics all over the place. The door panels have little triangle shapes in the mold, which make them look interesting, but they are very hard as are many of the touch surfaces in the Escape.
Then there are items like non-auto window switches. In fact, the driver's side window in our SE Sport had an auto down feature but not auto up. None of the other windows had auto anything. What the heck Ford?!
HYBRID
While there are two gas engine options in the new Escape, there are also two hybrid options: a plug-in hybrid or a full hybrid. It is the first time a hybrid variant has been available since that first generation two decades ago.
Our tester was a 2020 Ford Escape SE Sport Hybrid all-wheel-drive. Quite the name. It was also not the plug-in model.
Under the hood is a 2.5-liter Atkinson-cycle inline-four cylinder that works with two motor/generators that produce a combined output of 198 horsepower and 152 lb-ft of torque.
Mated to this hybrid drive is an electronically controlled continuously variable automatic transmission (CVT). That transmission works hard to fool you into thinking it is a standard automatic but it was never intrusive during our time with the Escape.
In addition to the driver-selectable drive modes, hybrid Escapes also have four EV modes: Auto EV which leaves things to the vehicle to determine if you are going to run on gas or electric power, EV Now which puts the Escape in electric only mode, EV Later which puts the Escape into gas-powered mode saving your electric mileage for later, and EV Charge which lets you charge the EV system to bank EV miles for later.
Add those EV mode choices to the different drive mode options and you could sit behind the wheel for five minutes picking out how you want your Escape to operate on any given day.
DRIVE
On start up, the hybrid Escape is as quiet as you would expect. You can drive around 30 miles on electric power alone so the gas engine rarely comes on right away.
I was hoping the hybrid powertrain would make the Escape a little pocket rocket but the hybrid system is tuned more for efficiency than performance. The hybrid Escape is slower than the more powerful 2.0-liter gas-only four-cylinder.
There is ample power to get you off the line and it does so effortlessly and quietly. The Escape was so quiet around town that I was surprised when the gas engine first powered on. It does so with all the quietness of a garbage truck picking up last weeks empty bottles.
Get hard on the throttle and the gas engine makes all kinds of racket and it ruins the serenity of the cabin.
The brakes are of the regenerative variety and they work well.
The different drive modes do change enough of the Escape's dynamics to notice it, but we wound up sticking with either Normal or Eco to get the best out of the hybrid system.
RANGE
That hybrid system delivered range in spades!
On a single tank of fuel we saw a range of well over 500 miles. Ford claims up to 550 miles for a single tank and I don't doubt it.
As with other hybrids, there are ways to monitor how efficient of a driver you are. I don't know what it is about these monitoring systems, but it always becomes a game of how far I can go.
The Escape hybrid has a dial in the instrument cluster that shows if you are using battery or gas-powered engine. It also provides a summary of electric driving every time you turn off the engine.
During our time of mixed driving over the course of a week, the Escape hybrid averaged better than 42 miles per gallon.
CONCLUSION
With pricing that starts under $25,000 spanning all the way to almost $40,000 there is an Escape for just about any budget. Our test model came in at a hair under $35,000. The quality of materials felt like they didn't justify that sticker, but the range and overall performance more than made up for it.
Overall, the fourth generation Ford Escape is a very well thought out package that provides lots of space for passengers, lots of options to choose from and a solid ride. It can get a little pricey when you start checking option boxes but as an every day proposition the Escape is a solid choice.