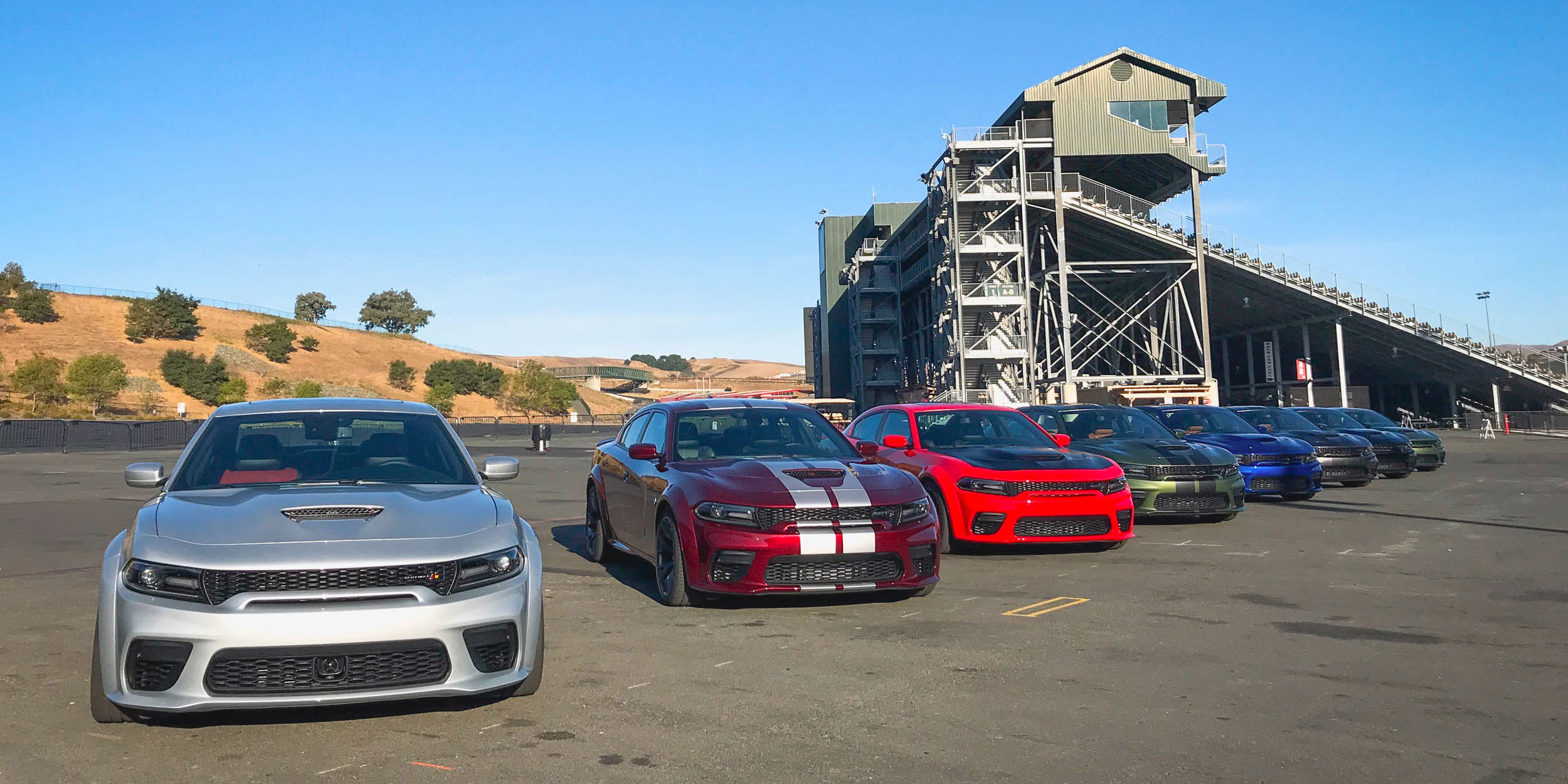 Words and Photos by Jill Ciminillo
NAPA, Calif – When you have the opportunity to spend a day at Sonoma Raceway with the 2020 Dodge Charger Widebody, you say yes. Immediately.
Why? Because Fiat Chrysler Automobiles makes some of the best track-ready, street legal, affordable performance vehicles in existence. Full stop.
The new Dodge Charger Widebody is no exception.
WHAT'S A WIDEBODY?
Taking a page from the Challenger book, Dodge adds the flared-fender variant to the Charger lineup for 2020, leveling up the performance on this sporty sedan.
Dodge added 3.5 inches of body width with integrated fender flares, 20-inch by 11-inch wheels, "monster" Pirelli 305 tires, Brembo 6-piston front calipers, a new mail-slot grille, front splitters that integrate into the widebody flares and electric power steering.
Both the Scat Pack and SRT Hellcat will get this Widebody treatment, and in fact, the SRT Hellcat will only be available as a Widebody for 2020.
But does it really make a difference?
Yes. Yes it does.
The extra girth combined with wider tires creates a more planted stance. This translates into the SRT Hellcat Widebody being 2.1 seconds faster on a 2.1-mile road course than the non-widebody version it replaces, and the Scat Pack being 1.3 seconds faster.
Oh, and it's also worth noting that launch control, launch assist and line lock features are standard on all Dodge Charger Widebody models, with the race cooldown technology also being standard on the SRT Hellcat.
UNDER THE HOOD
Those who are familiar with the Charger lineup are likely already familiar with the engines, but for everybody else:
The Scat Pack comes equipped with the 392-cubic-inch Hemi V-8 engine that delivers 485 horsepower and 475 pound-feet of torque.
The SRT Hellcat comes equipped with the 6.2-liter Hemi V-8 Hellcat engine cranking out 707 horsepower and 650 pound-feet of torque.
And both variants are a heck of a lot of fun with 0-to-60-mph times of 4.3 and 3.6 seconds, respectively.
BUT HOW DOES IT DRIVE?
If you asked me to choose between the Challenger and Charger Widebody, that would be a tough decision.
I love the Challenger for its retro classic looks, but the Charger has to be my favorite in terms of overall handling. It's nimble and balanced, and in comparison it makes the Challenger feel lumbering and slightly nose heavy.
Then there's the choice between Scat Pack and SRT Hellcat. While you might be tempted to opt for horsepower, I've come to appreciate what a smaller engine, and less weight, can bring to twists and turns.
The Sonoma Raceway is a road course with more curves than straightaways, and the Scat Pack provided a certain level of finesse. It felt more like moving through a choreographed ballet, making it easy to hit the apex with brisk accelerations flowing out of the corners. Steering inputs were were met with smooth and graceful motions, and I got the sense of gliding through the track.
In contrast, the SRT Hellcat almost felt like a bull in a China shop.
Because of the sheer amount of power available, some of that finesse gives way to brute force and more aggressive driving tactics. The SRT Hellcat accelerates harder and stops with equal ferocity. A lap around the track is no less fun but more like a frenetic hip-hop dance that leaves you utterly breathless.
No matter which version you opt for, you'll get ultra sticky tires and brakes that will not fade.
What you won't get is a manual transmission. The only transmission available is an 8-speed TorqueFlite 8HP70.
That is a second reason to opt for the Challenger over the Charger.
DESIGN
The problem with the Dodge Charger Widebody is that it looks like a family sedan with only a raised hood to tell you there might be something special under the skin.
That can be a good thing, however, because those who know, know. Those who don't will just leave you alone or, rather, be left in the dust.
Plus, though the exterior may make the Charger Widebody look like a family sedan, you will feel ready for the racetrack as soon as you slip behind the wheel.
The well-bolstered seats gripped even my slim frame, and the meaty steering wheel is just waiting to be manhandled.
We drove a few different models with interiors ranging from cloth houndstooth seating surfaces all the way to slick camel-colored leather. My favorite had to be the Scat Pack with red suede inserts on the seats. They look amazing, and the suede is so soft I wanted to rub my face against the seatbacks.
Whether we were on the track or the winding roads surrounding Napa, I found the interior to be all-around comfortable. The seats held me firmly in place when I needed them to and were comfortable all of the time. All of the controls on the dashboard are also within easy reach.
I can easily see the Dodge Charger Widebody as an every-day driver or a dedicated track car. It is able to accomplish both roles with an alacrity seldom seen in a vehicle this size.
Heck, add a manual transmission and this would be a sedan I'd love to haul a family around in – they just better not get car sick.
IN SUMMARY
One of the things I love about the Dodge brand is it doesn't try to be all things to all people. It is a performance brand that appeals to only about 3% of the population. And Dodge is ok with that.
The Dodge Charger Widebody is designed for someone who wants fast-paced, heart-thumping acceleration. It is made for someone who delights in flooring it on the off-ramp and knows the car will hold that sweeping curve like a glove – and likely throw any passengers up against the windows in the process.
It is for someone who enjoys driving and wants all the creature comforts of family sedan but who doesn't want to change tires or brakes for a trip to the track for some high-speed fun.
The Charger Widebody is a handsome and deceiving car with more power, more fun and more grip than most people will give it credit for.
That is its own kind of fun.
Editor's Note: Driving impressions in this review are from an invitation-only automaker launch event that allowed special access to the vehicle and executives. Dodge covered our accommodations, meals and transportation costs.