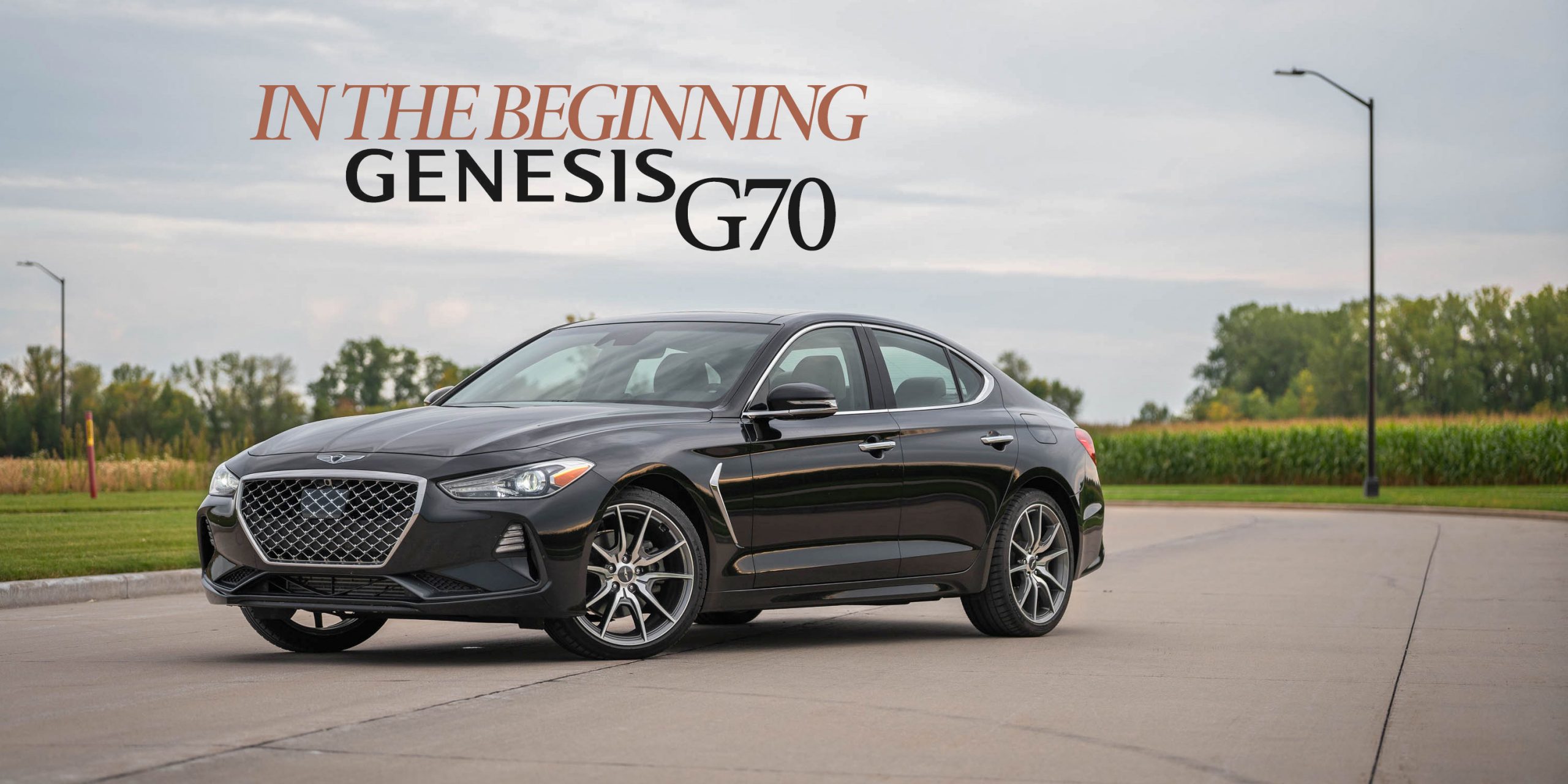 Words by Jennifer Jensen
Photos by Jessica Voruda
Genesis has come a long way since its creation, and I'm not talking about books of the Bible here. Originally envisioned as the upper echelon of the Hyundai brand, Genesis became a marque all its own in 2015. So Genesis is to Hyundai what Lexus is to Toyota, or Acura to Honda, or Infiniti to Nissan…you get the idea.
Hyundai is serious about its venture into luxury performance. Like The Avengers, Hyundai has assembled a world class team to make sure Genesis has the cards stacked in its favor. How about design powerhouses like Peter Schreyer, Filippo Perini, Alexander Selipanov, SangYup Lee and Luc Donckerwolke? Yep, they're all there. Automotive dynamos like Mark del Rosso, Albert Biermann and Fayez Rahman are all on hand to make certain the company operates well and the chassis' are equally as finely tuned.
The G70 is not the company's first soiree into the luxury market as "Genesis" as the G80 and G90 came before. But both of those models were sedans that leaned heavily towards the side of luxury over performance. The G70 is the first Genesis to take aim at the sport sedan segment taking cars like BMW's 3 Series square in its sights.
Genesis certainly got the looks right. The exterior lines are taut showing off the car's muscular haunches and delivering a clean presentation that has only minor blemishes for air intake or relief. The cutline behind the front wheels looks good from certain angles, but is detracting from others…at least to my eyes. The design is nice without being overwrought. The front end is a little busy, but it is aggressive and fits the G70's purpose. The interior, however, is where the G70 truly shines.
Take a look at the accompanying photos and make your own judgment call. Is the G70 trying too hard to emulate other vehicles both in its class and above? Or is this simply a really well laid out interior with nice details that will stand the test of time…or at least your time of ownership. Personally, I like it. The leather may not be as soft or buttery as that of a Bentley, but at first blush it looks very nice. The knobs and dials may not be as heavily weighted as those in an Audi, but they are nice to touch and, more importantly, they just work. Things that "just work" is the theme on the interior of the G70. There is no MMI, no touchpad to feverishly (or furiously) navigate through menus and submenus to change a radio station or turn on the heat. There is a large center-mounted, and highly mounted, screen, a row of buttons and a row of dials. You say you want it warmer in the cabin, turn the knob for heat. Cooler? Turn it the other direction. Simple, easy to use and it all just works.
The Lexicon surround sound system pumps out tunes with clarity and energy. The wireless microphone system for Bluetooth calls also delivered clear conversation on both ends of the line. Another feature that just worked without any extra work. Are we seeing a trend here?
The Genesis comes in some interesting performance flavors. Rear-wheel-drive or all-wheel-drive, turbocharged inline four-cylinder or twin-turbo V6, manual or automatic…yes, you read that correctly, you can get the G70 with an honest-to-goodness manual transmission. However, if you check the box to row your own gears you will be limited by engine and drive choices. You can only get the manual with the four-cylinder in rear-wheel-drive guise.
We were blessed to spend time with the rear-wheel-drive 2.0-liter turbocharged four…with an 8-speed automatic. We were a bit let down to not have the manual on offer, but the auto is a very good one that responds well to driver input. That four-banger puts out a healthy 252 horsepower and 260 lb-ft of torque. Weighing in at roughly 3,500 pounds, the four-cylinder provides enough grunt to get the G70 moving swiftly. I am certain we would prefer the punch on offer from the twin-turbo six, but there is absolutely nothing wrong with this engine other than a touch of turbo lag below 3,000 RPM.
The 8-speed delivers lower gears with a firm press of your right foot and it does so without being in "Sport" mode. Normally when I get into a car with sporting intentions I will dumb down the drive modes as far as possible to get a baseline and then eventually crank it up to "Sport". With the G70 I found myself staying in "Comfort" as the transmission didn't mind tossing lower gears my way when speed was a requirement.
The G70 delivers a firm yet supportive ride no matter driving mode you select. The suspension does an admirable job of smoothing out pothole pocked Midwestern roads even on the previously mentioned 19-inch wheels. There is some slack in the steering and lack of immediacy even from the sticky Michelin summer tires, but it is nowhere near as bad as some of the G70's competitors. The Genesis tackles roads with an athleticism that belies both its size and badge.
Where the Genesis puts the "smackdown" on its competitors is in the value department. Our tester added the "Elite" package for $5,000 (full LEDs, fully integrated navigation, parking assist, surround sound audio, heated and cooled front seats and lots more), the "Prestige" package for $3,000 (heads up display, low beam assist, Nappa leather, heated rear seats and more) and the "Dynamic" package at $1,000 that adds 19-inch alloy wheels with Michelin summer tires and, most importantly, a limited slip differential. Yet even with all these add-ons the final window sticker on our test car came in just under $45,000.
While the Genesis G70 is certainly not an Audi A4, a Mercedes C-Class or a BMW 3 Series, that is no bad thing. If you are in the market for a sport sedan that won't break the bank while over delivering on the promises of its looks and what is offered on paper, do yourself a favor and take a spin in the Genesis. I think you may be surprised.