Dodge builds a cool looking AWD coupe, but for whom?
Last year, Dodge dropped a new iteration of its aging Challenger that seemingly no one was asking for: the AWD, V6-only and automatic transmission-only GT. Of course, just because no one was asking for a particular version of a popular car doesn't mean making one is a bad idea. And apparently Dodge took this to heart and produced the world's first all-wheel-drive muscle (or, more accurately, pony) car. But as we first laid eyes on the beautiful electric blue coupe Dodge dropped off at our office for a week-long test, we couldn't help but ask the most obvious question presented by the GT: who is this car really for?
Of course, we are not questioning the Dodge Challenger in general, mind you – we know the Challenger has been a huge hit for Dodge since it was first introduced as a concept way back in 2006. In fact, we were right there with every other fan of the 1970 E-body Mopars clamoring for Dodge to build a carbon-copy of their beautiful concept vehicle. And to its credit, Dodge delivered – staying amazingly true to the concept, which in turn stayed amazingly true to the original car from which it drew its iconic design. That original 2008 SRT-8 was clearly built for fans of some of the most desirable and collectible Mopar muscle cars ever made, and Dodge hit a home run by wrapping the modernized sheet metal of the original design around a modernized Hemi V8 engine. Even the pistol-grip 6-speed manual driving the rear wheels echoes the original, making the entire car an updated carbon copy of the original. And thanks to over 50 years of pony and muscle car sales, we also know who the less powerful V6 versions of the Challenger are for, namely those who like the styling of the SRT Challenger but not its accompanying nose-bleed insurance rates or thirsty V8. The V6 engine certainly didn't hinder the steady stream of "nice car" complements thrown our way.
Those base Challengers, however, have featured a relatively potent power plant still routed through the rear tires. At 305 horsepower, the 3.6-liter "Pentastar" V6 in the base Challenger makes 5 more horsepower than the 2005-2009 Ford Mustang GT V8, but of course lacks the throaty exhaust note and torque that only 8 cylinders can make. The entry-level Challenger also lacks an optional manual transmission – it is only offered on the V8, so it's no surprise then that the GT being only in V6 form, does not offer a manual either. This continues an inexplicable trend against offering manual, AWD cars (looking at you, Cadillac ATS and upcoming Genesis G70). That said, the GT does offer paddle shifters for its 8-speed automatic, but manual shifts are executed on their own terms, not yours, and the paddles curiously share duty with the radio's volume and seek controls such that only the top half of the paddle changes gear – very strange.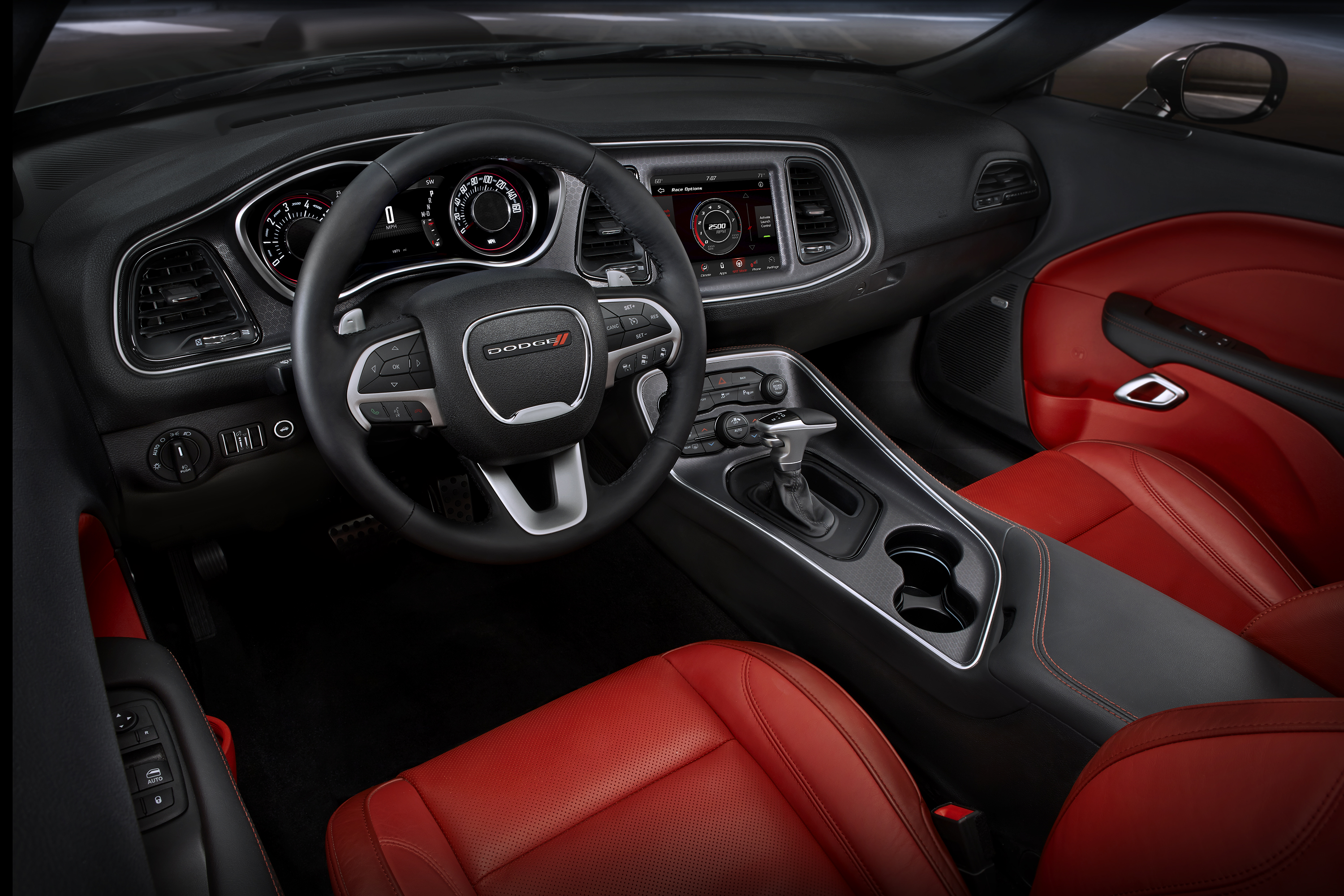 The V6 pulls hard with a satisfying engine sound, but no real exhaust note of interest. With only 268 lb.-ft of torque at a lofty 4,800 rpm, you never really feel that kick-in-the-pants push you get from the larger Challenger engines. It steadily moves through the gears while building speed, but getting 60 mph will take you over 6 seconds. The ride is surprisingly on the stiffer side given that this Challenger (weighing in at 4,108 pounds) isn't meant to perform well at a road course but is expected to provide a comfortable ride on a long trip. When you call a car a GT (which in car lingo stands for Grand Tourer), people expect a supple ride. Instead, you get the same "Performance Suspension" as in the SXT and R/T trims.
We can't go any further without discussing what makes the GT unique – its AWD system. Borrowed from the Charger AWD, the system includes an active transfer case and front-axle disconnect which is intended to provide both all-season performance and enhanced fuel economy. Dodge tells us its trick AWD transitions between rear-wheel drive and all-wheel drive with no driver intervention. Under normal driving conditions, the front axle is disengaged with 100 percent of the engine's torque is directed to the rear wheels. When sensors indicate the need for additional traction, the system automatically engages the front axle, instantly transitioning Challenger GT into all-wheel-drive mode. While the Chicago weather was frustratingly pleasant and dry during our test week (which can only be said when you want to play with something like the GT in the snow), the system worked seamlessly for us and eliminated any wheel spin in the dry and damp. Adding AWD dings the EPA fuel economy numbers by 1mpg in the city, 3 on the highway and 2 overall. Still, getting 27mpg on the highway while not worrying about keeping the GT on the highway seems a fair tradeoff to us.
Outside, the GT shines – both figuratively (as evocative of iconic 1970 design) and literally, as the IndiGo metallic blue paint seems to simultaneously blind with brilliance and shift into plum crazy purple at the right angle and light. We also appreciate the paint for what you don't see as orange peel is thankfully not present (*cough*Chevy*cough*). The GT's 19-inch wheels wearing 235/55 all-season tires suit the car extremely well, but the car could use a lowering kit as the gap between the tire and wheel well says "SUV" more than muscle car. The chrome fuel door, spoiler, chrome dual exhaust tips and twin snorkel hood complete the "muscle" look, though we wish for a cap-less fuel filler.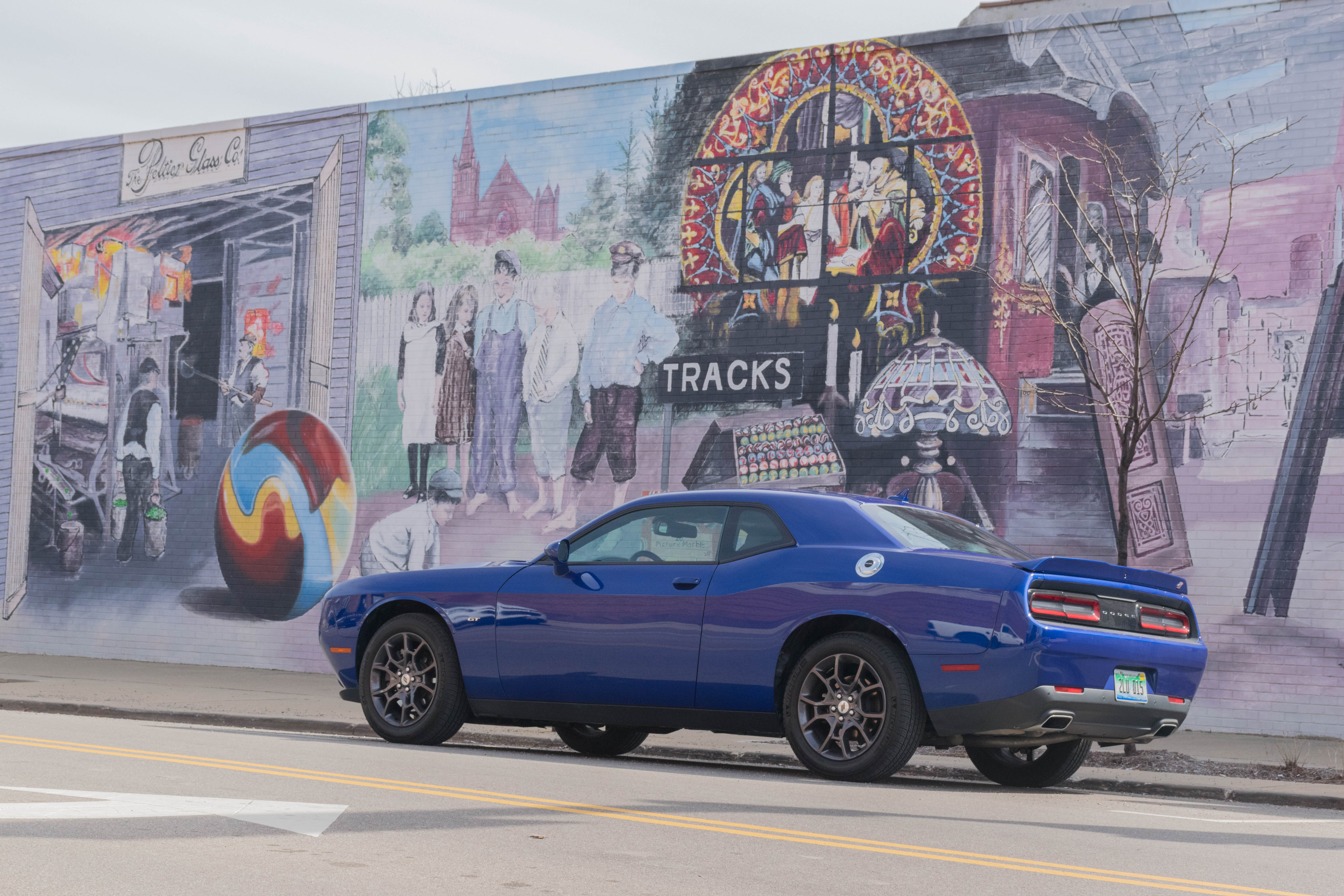 Inside is a mixed bag. The sport seats are very comfortable, even for broad shouldered drivers and front-seat passengers, and headroom is ample (without the optional sunroof), but overall interior space seems small and out of proportion given the Challenger's overall size. Despite being 9.4 inches shorter, for example, the Ford Mustang manages to provide 3.1 more legroom inches than the Challenger. In fact, the front passenger in a Mustang might mistake his legroom for the back of an extended length sedan. Why more legroom in a shorter car? The Mustang simply makes more efficient use of its interior space, moving the dash and firewall away from the front passengers. By contrast, the GT presses the dash much too far into the cabin, eliminating the leg room you'd expect given those large outside proportions. Things aren't any better in the back seat, where tall passengers will find ingress and egress hampered by a front seat that doesn't seem to want to move much and compressed leg room once you squeeze back there. However, the Challenger is the only car in its class to offer 3 rear seatbelts, so if you have 3 small children and want a muscle car, this is the one to get. Headroom is also restricted for tall rear passengers, a victim of the iconic Challenger roofline. Beautiful design has to make some compromises, and this is one we can live with.
Where the Challenger's interior shines is in the dash design and its first-class U-Connect system. Featuring the slickest glass this side of an iPhone, the Challenger's screen feels natural under your fingers. Finding the controls to dim the super-bright 8.4 inch screen at night, while shielding our eyes from the Mag-light-like candlepower, was however a bit like a scavenger hunt. We went through every menu in the system before realizing the screen's brightness is controlled together with the dash's overall brightness, which sits on a small wheel to the left of the steering column. Why it isn't tied to ambient lighting is a mystery. Other plusses inside include the very supportive heated and ventilated seats, heated steering wheel and remote start – which in cold weather also activates both the driver's heated seat and wheel – very practical.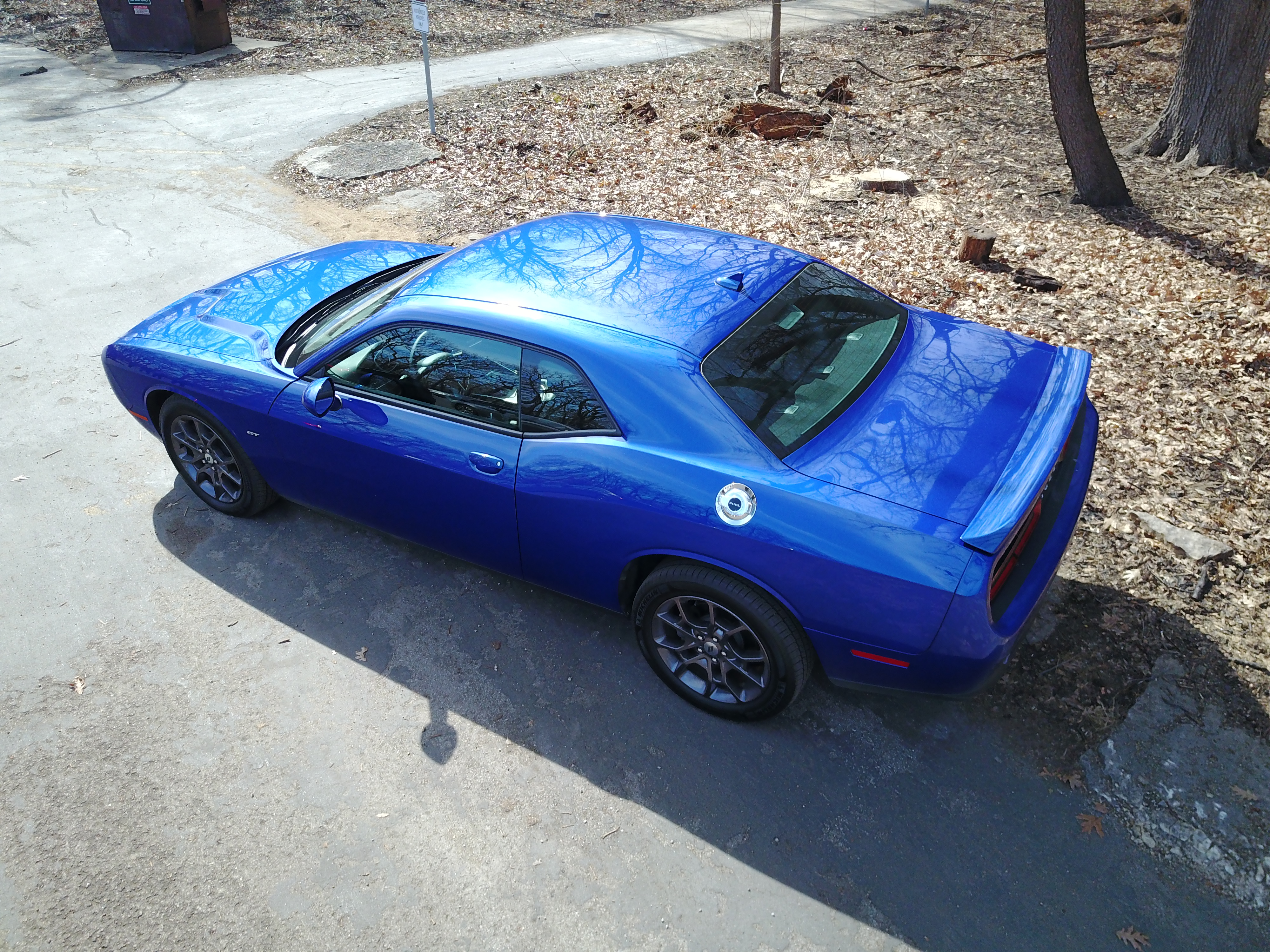 Not everything is well thought out in here, however. For example, the power windows feature auto down but not up. Also, the gear indicator is very hard to see, and when you have 8 to choose from, it can be hard to hear and feel exactly what gear you are in. A much larger indicator in the center screen would be a welcome addition, as would hard buttons to control the heated seats and steering wheel (which can only be controlled by finding the right menu in U-Connect). The parking brake (a pedal brake at that!) was so hard to engage, we thought it was broken. What's wrong with a good old fashioned hand brake, especially in a muscle car? But the worst part about the interior is where Dodge put the door handles. Put anyone who's never been in a Challenger before in the car, close the door, tell them to exit and watch the hilarity ensue. Your arm rests on the door comfortably, and at the end of your hand where you expect the door handle to be is … nothing. We watched passenger after passenger make the same "grab for the invisible handle and then search for the real handle" move every single time. If everyone thinks the handle should be above the arm rest, then that's where it should be. Instead, it's below the arm rest, taking up otherwise valuable door storage space.
Now this might seem like we're nitpicking, and it's certainly nothing Dodge can't easily fix, but these are not flaws you expect to find in a car costing nearly $40,000. Granted, our test car was loaded up with $5,500 worth of options*, but had these little issues been corrected, the interior would have been nearly perfect. Hopefully, Dodge is taking note for the inevitable redesign of the Challenger which – given its current 10-year run – has to be coming soon.
Moving out back, overall trunk space is good, although the actual opening is tight and hard to get into. Compared to the tray-table sized opening of a Camaro, the Challenger is great but it's smaller than what you get in a Mustang.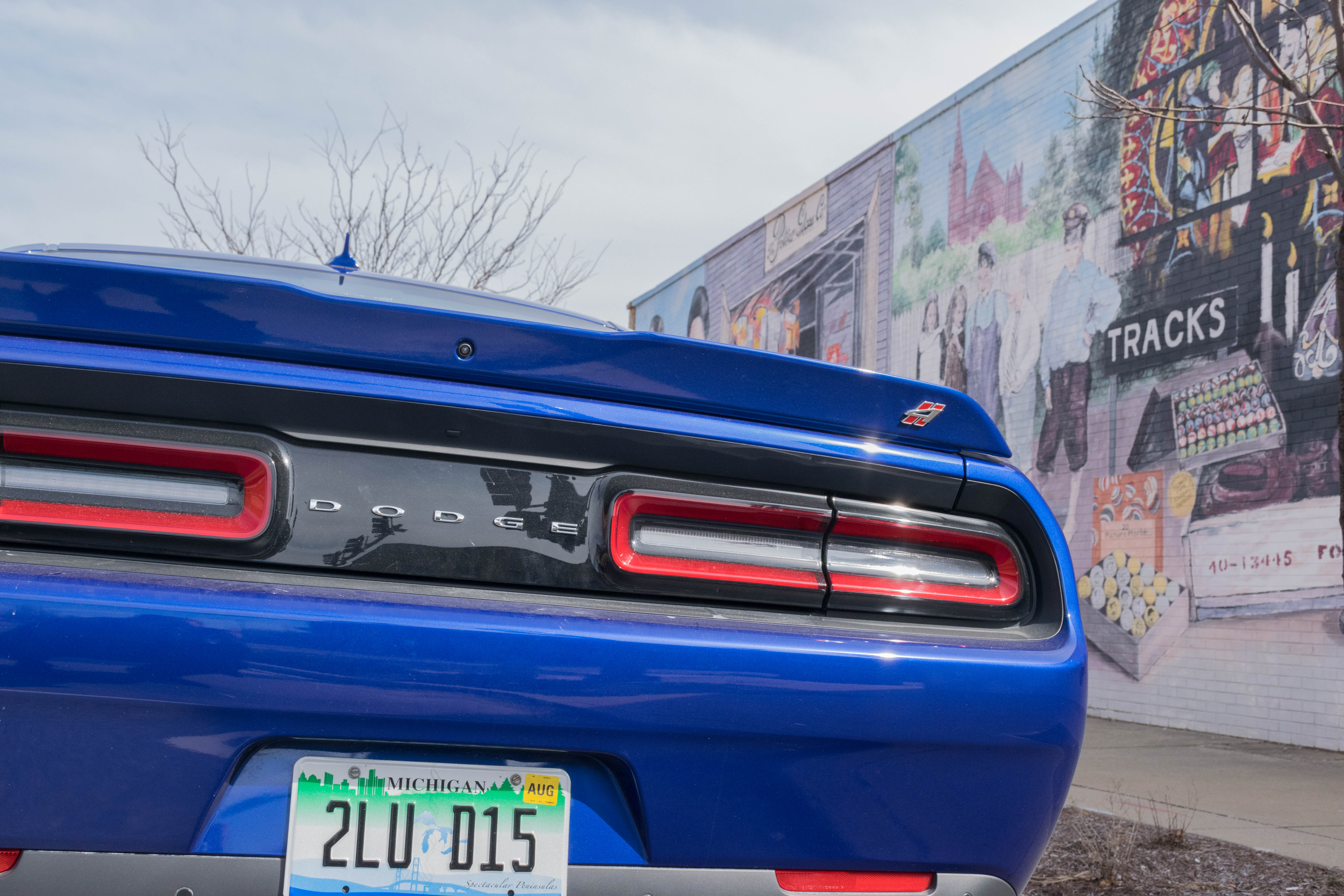 We took the Challenger away from Chicago's flat and uninteresting city terrain in search of something that twisted both left and right, and we ended up at Starved Rock State Park about an hour and a half southwest of the city. Thankfully, we found our twisty roads and had a chance to see what 4,106 pounds (plus me, gas and some camera equipment) felt like sloshing from side to side. And sloshing is very close to what it feels like as the all-season 55 series tires felt and sounded as if they were folding themselves over in the corners. Weight was thrown from side to side like a sumo-sized slalom skier, and a few minutes of this was all it took to prove the obvious: this is not a corner carver. Would a widebody Hellcat do better? Yes, but I would have worried instead about trading asphalt for grass and trees in one of the hairpins. Despite the protesting tires and physics holding back the GT, the AWD system meant I was never concerned for my or the car's well-being either.
Which brings us back to our original question – who did Dodge really build the GT for? Most muscle car buyers expect – and, indeed, want – rear wheel drive, and most AWD buyers want more utility and room. After much discussion, debate and impromptu focus grouping, we concluded that the GT best appeals to drivers who want to be part of the muscle/pony car culture but have a very practical approach where fuel efficiency, bad weather driving and overall costs all come into consideration. Sure, a rear-wheel drive V8 is always great fun, but if you don't need the power and want to keep the cost of fuel, insurance and even maintenance in check, the Challenger GT does make a whole lot of sense. Of course, there are other AWD cars with around 300 horsepower that have similar stats but they all take a slightly different approach: for twisty mountain roads there is the Subaru WRX STi for around the same money (and even comes in a manual), and there is also the Cadillac ATS if you're looking for more luxury and overall refinement. But the Dodge Challenger GT proudly stakes it claim as an all-weather, all-season boulevard cruiser, and not only does that job better than the STi and ATS, it looks a whole lot better doing it, too.
* Options included: Technology Group ($1,195 – automatic cruise control (which won't stop you below 15 mph), automatic high-beam headlights, rain sensitive wipers, forward collision warning), Driver Convenience Group ($1,095 – high intensity discharge headlamps, bling spot and rear cross path monitoring, remote start), GT Interior Package ($995 – leather steering wheel, 9 speakers with subwoofer and upgraded stereo, Nappa/Alcantara performance seats), UConnect with nav ($795) and a compack spare tire ($295)