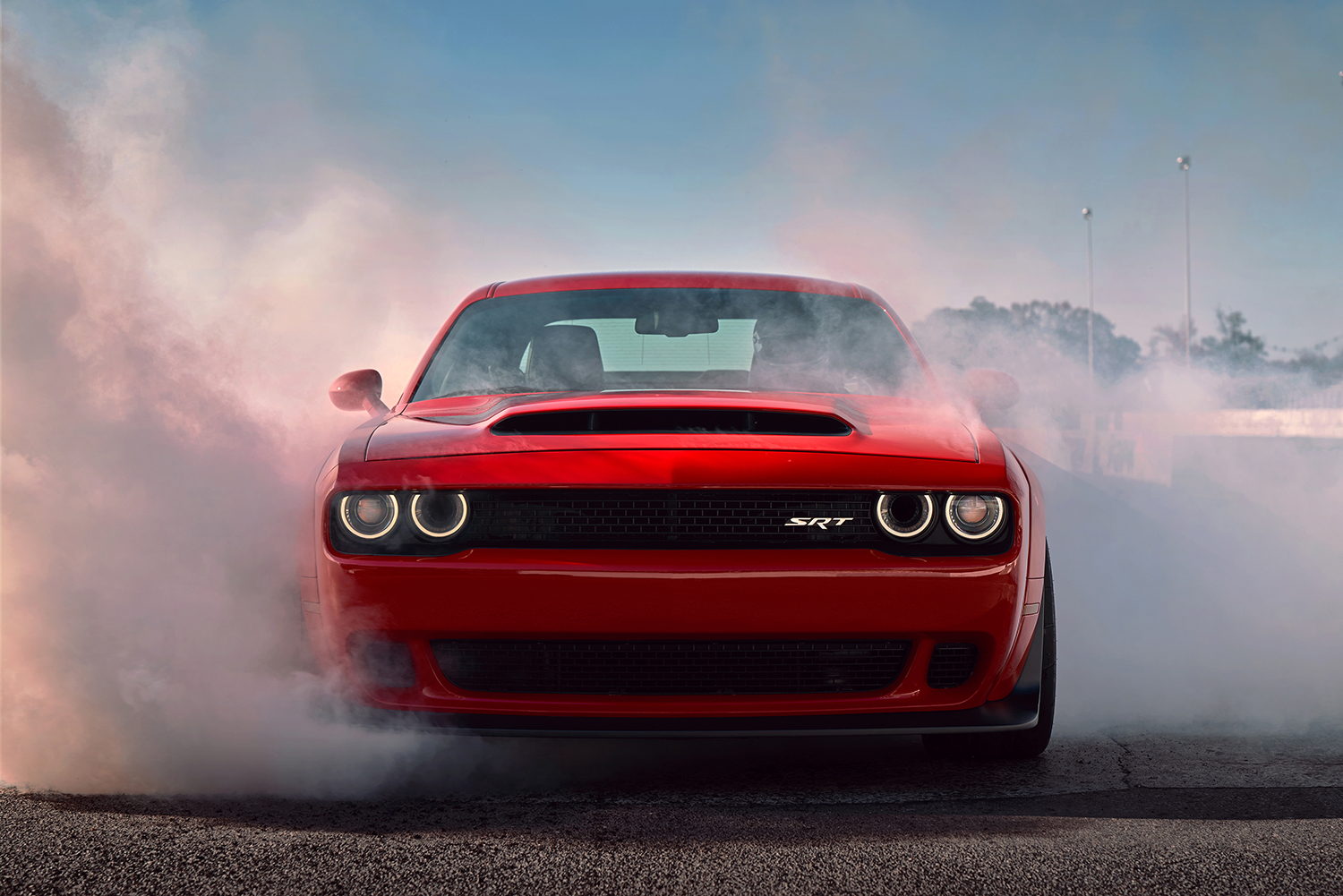 Unless you've been living under a rock on a deserted island for the past few weeks, you've no doubt heard about the absolute beast from hell that Dodge unleashed at the New York Auto show – the aptly named Demon. By now you know it can do 0-60 in a production car record 2.3 seconds and the quarter mile in another record setting 9.65 seconds, but there's so much more to the Demon than just those two incredible figures, so let's cover all the ways Dodge's newest drag strip beast blazes its own trail with a slew of production car "firsts."
You've probably seen highly modified cars at the drag strip standing on their rear bumpers or wheelie bars, but the Demon is the first ever production car to lift its front end off the ground at launch and keep them up for nearly 3 feet down the track! That is some serious torque and rear end grip.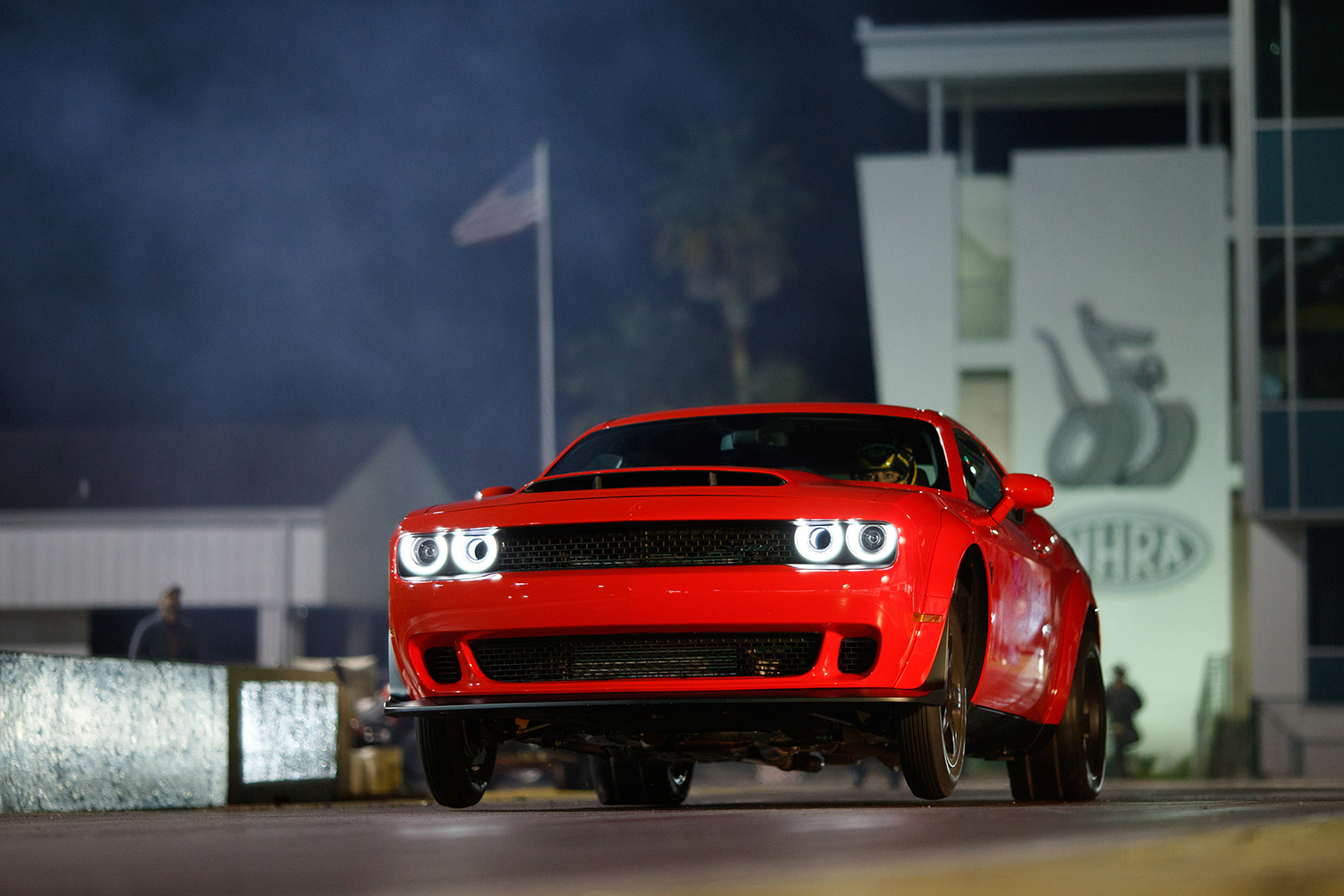 And those front tires? The ones doing the levitating are the optional front runner drag wheels that will be sold with the optional "Demon Crate" package. While Dodge will provide the narrow 18" x 4.5" wheels, the owner decides to use either the standard wide or still street-legal skinny tires at the track. Included with the crate package is a custom made foam case fitted into the trunk that holds the front wheels and tools necessary to change the front wheels at the track. Other crate goodies include a high-octane engine calibration (and a button to active it) allowing the Demon to run on fuel rated over 100 octane, a high performance air filter, hydraulic floor jack and several other Demon-branded tire changing tools.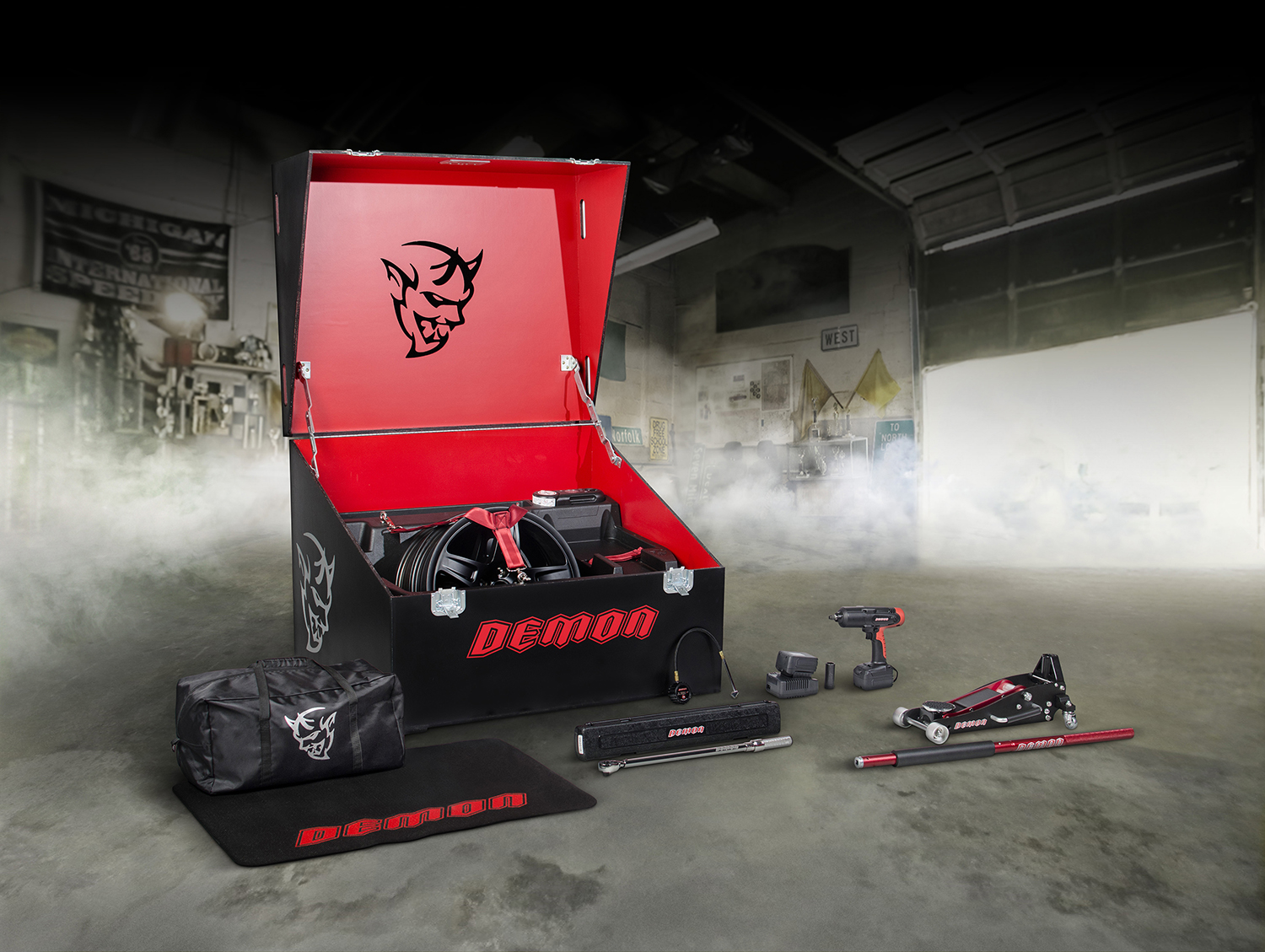 But the real story is the monster Hemi motor lurking beneath the air-grabber hood. Running on race fuel, this 6.2 liter makes more horsepower – 840 of them – than any other production car V-8 ever made, along with an asphalt buckling 770 pounds-feet of torque. It gets there with an absolutely huge 2.7 liter supercharger, pumping out 14.5 psi worth of boost along with a deck-honed block and beefed-up internals designed to handle this awesome power. Feeding this beast are dual fuel pumps, larger fuel injectors and lines, and a larger air box with three different air intake sources: the Air-Grabber hood, which of course is the largest functional hood scoop of any production car, the carry-over headlamp-replacing "Air-Catcher" from the Hellcat , and an inlet near the wheel liner. Fans of early Mopar muscle will recognize the Air Grabber name from late-60's Roadrunners and GTXs, where full throttle acceleration caused a panel on the hood to pop up and feed fresh air into the carburetor, and while the Demon's Air Grabber doesn't perform the pop up magic trick from the 60's, it is big enough to swallow a bird.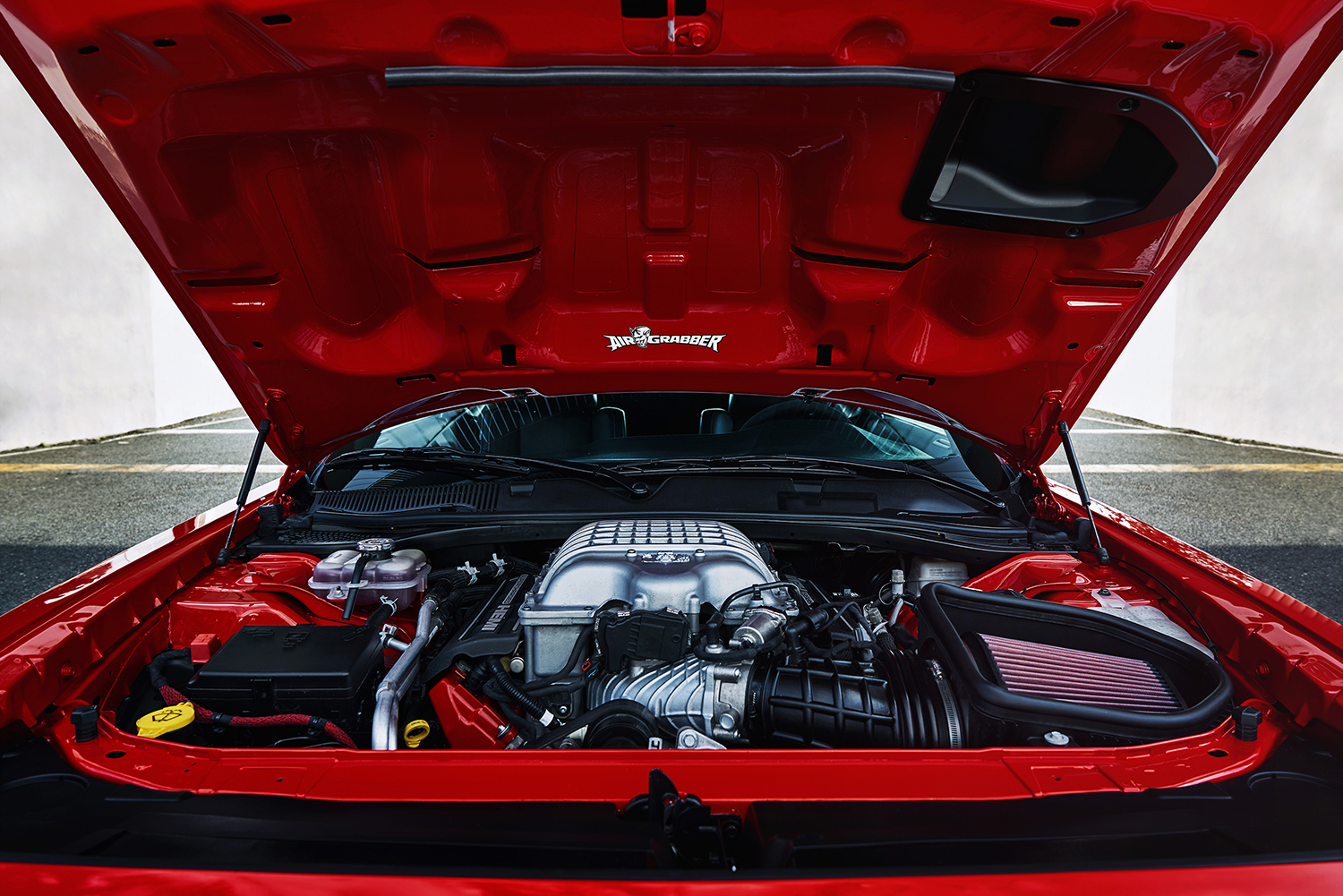 All this power and forced-induction creates a hellish amount of power-robbing heat, so the Demon features some cooling tricks up its fiery sleeve, including two production car firsts: a "Power Chiller" liquid-to-air intercooler system, and an After-Run Chiller that keeps cooling the supercharger even after you've shut down the engine.
And best of all? This absolutely insane motor is actually covered by Dodge's standard five-year/60,000 mile limited powertrain warranty, while the rest of the Demon enjoys the three-year/36,000 mile bumper to bumper warranty. Dodge distinguishes the Demon's powerplant by painting it red instead of the standard Hemi orange.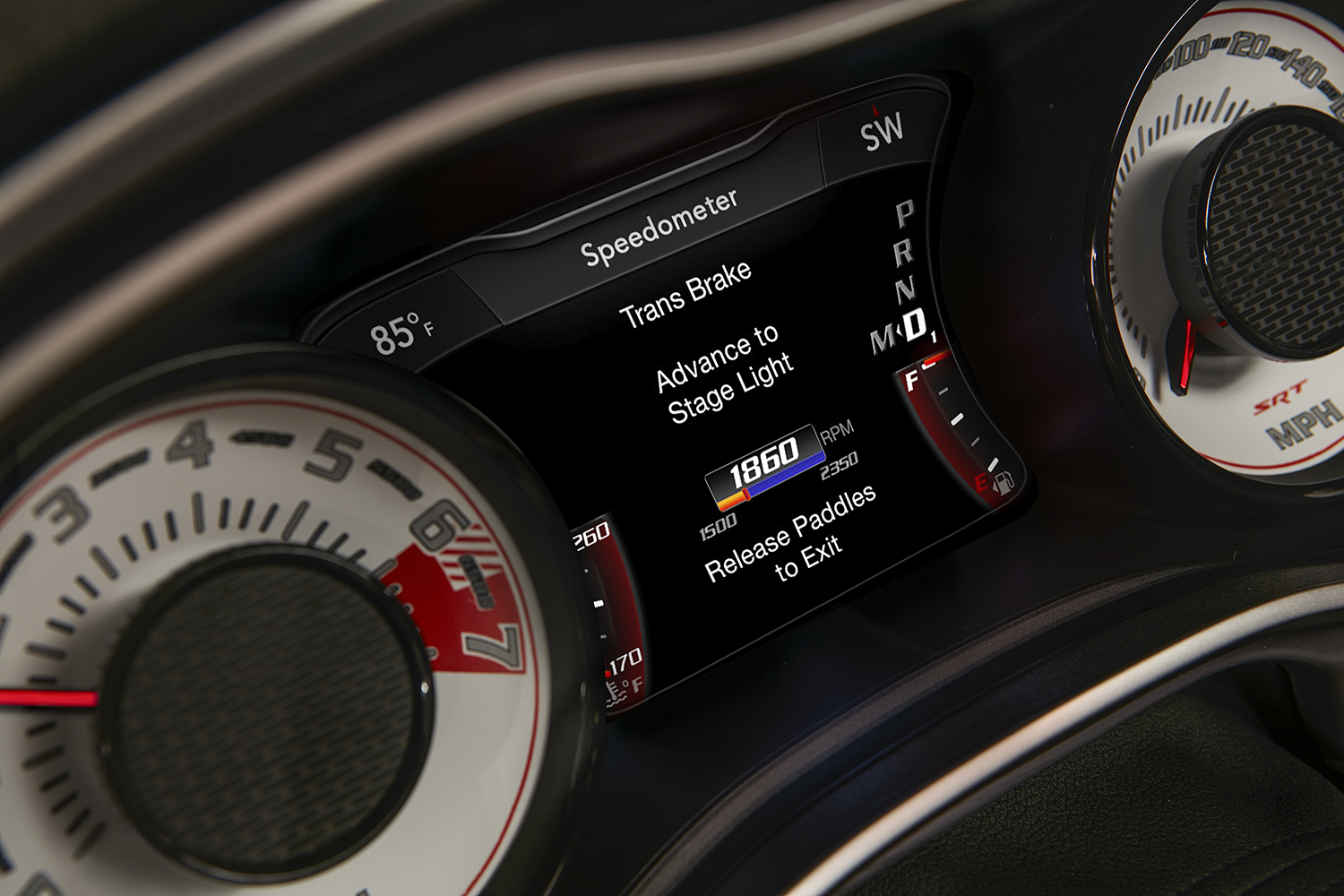 Now, all the power in the world won't get you anywhere if you can't transfer it efficiently to the ground. If you just want a motor that will roast $220-a-piece tires, well then you want a Hellcat. But while the Demon can smoke rubber in its sleep, Dodge made sure it can translate all of its power to actual performance on the street or strip. Engine power is routed through an eight-speed TorqueFlight automatic transmission featuring, you guessed it, a first-ever, factory production car TransBrake. What's a TransBrake, you might be asking? It locks the transmission output shaft to hold the car in place before launching from a standing start. This allows the driver to increase engine speed to 2,350 rpm without overpowering the brakes, resulting in up to 15 percent more torque at launch. If you've ever held the brake pedal with your left foot, gave it a little gas with the right and then released the brake, you get the idea.
The TransBrake works in conjunction with another first-ever factory-production car feature – Torque Reserve – which activates after 950 rpm and closes the supercharger's bypass valve to preload boost and manages fuel flow and spark advance or retard to balance engine rpm and torque.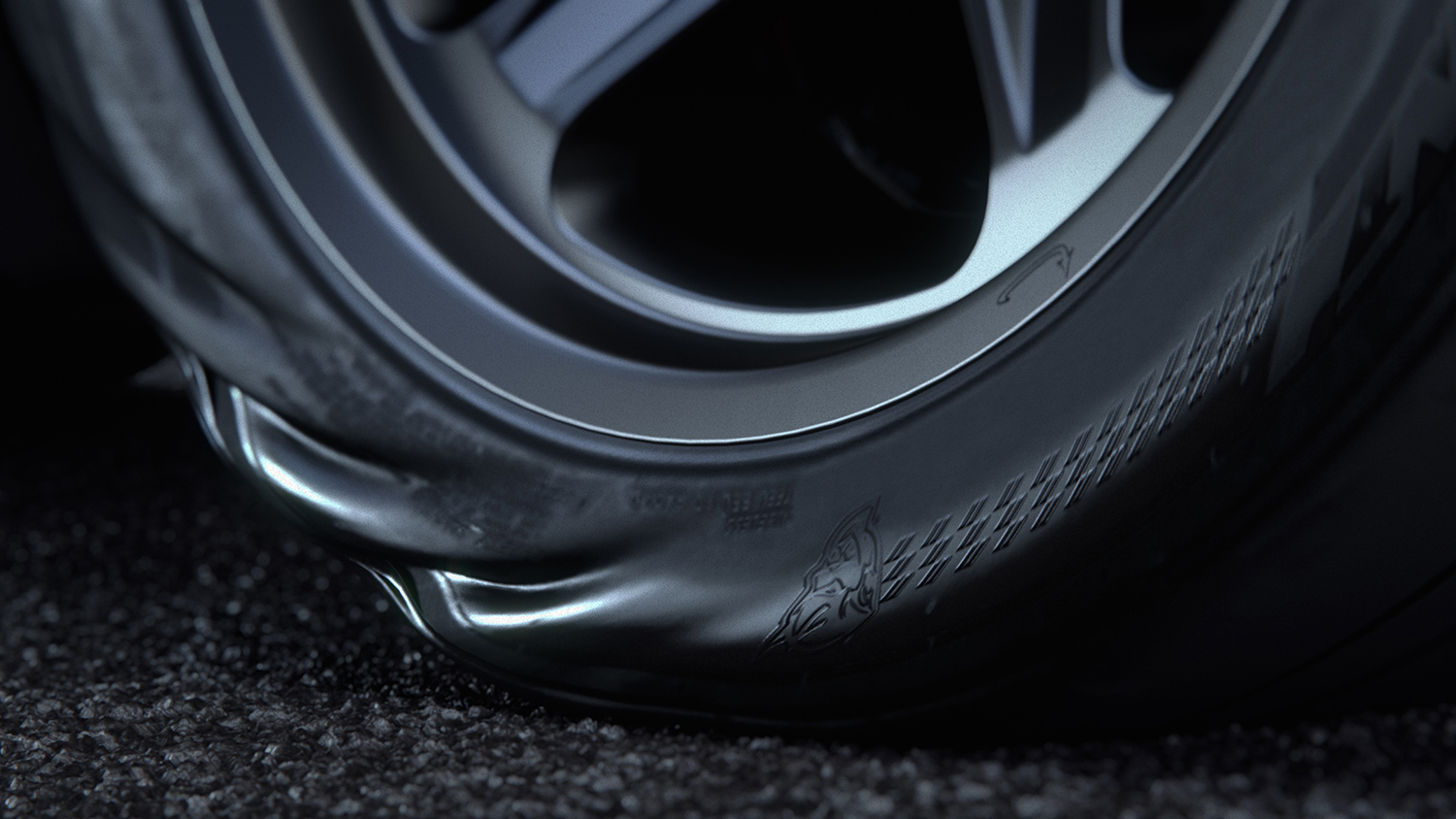 All of this combines to give the Demon more than 8 pounds of boost at launch and up to 120 percent more engine torque than without Torque Reserve. But if you want to lift front wheels and really launch a car, you need traction where the rubber meets the road, and Dodge delivers the goods here, too. An upgraded and strengthened driveline delivers the Demon's power to yet another production-car first: street-legal drag tires. The Demon comes equipped for the street with a set of four super-sticky Nitto NT05R 315/40R18 tires specifically designed and developed for this car. These tires not only provide a 15-percent larger contact patch than the Hellcat's 275/40ZR20s, but they also required wider body work, adding to the Demon's already menacing stance. Since the Demon comes standard with the same size tires fronts and back, if you do swap out the front tires out with the skinny tread, it's like getting two sets of rear tires to extend time at the drag strip.
In order to get the most out of the Nittos, SRT engineers sought a way to deliver clean launches free of power-robbing and driveline-trashing wheel hop. They came up with Drag-mode Launch Assist. Basically, when this "launch control" detects signs of wheel hop, the system momentarily reduces engine torque to reestablish maximum traction instantly, keeping the rear wheels glued to the road.
Once you get the Demon launched, SRT made sure it flies like a bat out of hell down the track using the tried and true racer's secret sauce: strip the interior. Sure, other cars like the GT350R and the Z/28 delete the rear seats, but the Demon is the first car we've ever seen to ditch the front passenger seat as well. Also gone are floor mats, 16 speakers, carpeting, trim, insulation, park sensors and modules. The SRT team also employed lighter sway bars, brake calipers and wheels. All told, the diet removes over 200 pounds of dead weight, because who needs passengers anyway? If it turns out you actually do need to transport other people, Dodge will gladly sell you back the passenger seats and trunk carpeting for the outrageous price of … $1 each.
Of course, a car this bonkers needs a palette of equally bold colors to match, so Demon owners can choose from 14 different colors, including F8 Green, Go Mango, Yellow Jacket, TorRed and Plum Crazy. All colors can be had with a satin black hood, roof and decklid to complete your demonic look. Pricing will be announced soon, and Demons are scheduled to possess their owners starting this fall.
And those acceleration numbers we mentioned earlier? This car is so fast it will make mince meat out of million dollar hypercars like the all-wheel-drive Porsche 918. One thing Dodge will not offer in the Demon is a full roll cage option, which is necessary to run sub-10 second quarter miles at NHRA tracks, but finding an aftermarket solution should not be an issue. The 2018 Dodge Demon is definitely the most purpose-built, unique, powerful and fastest car ever produced on planet earth, and we are happy to give it the Sons of Speed seal of approval. Gentlemen, start your Demons!