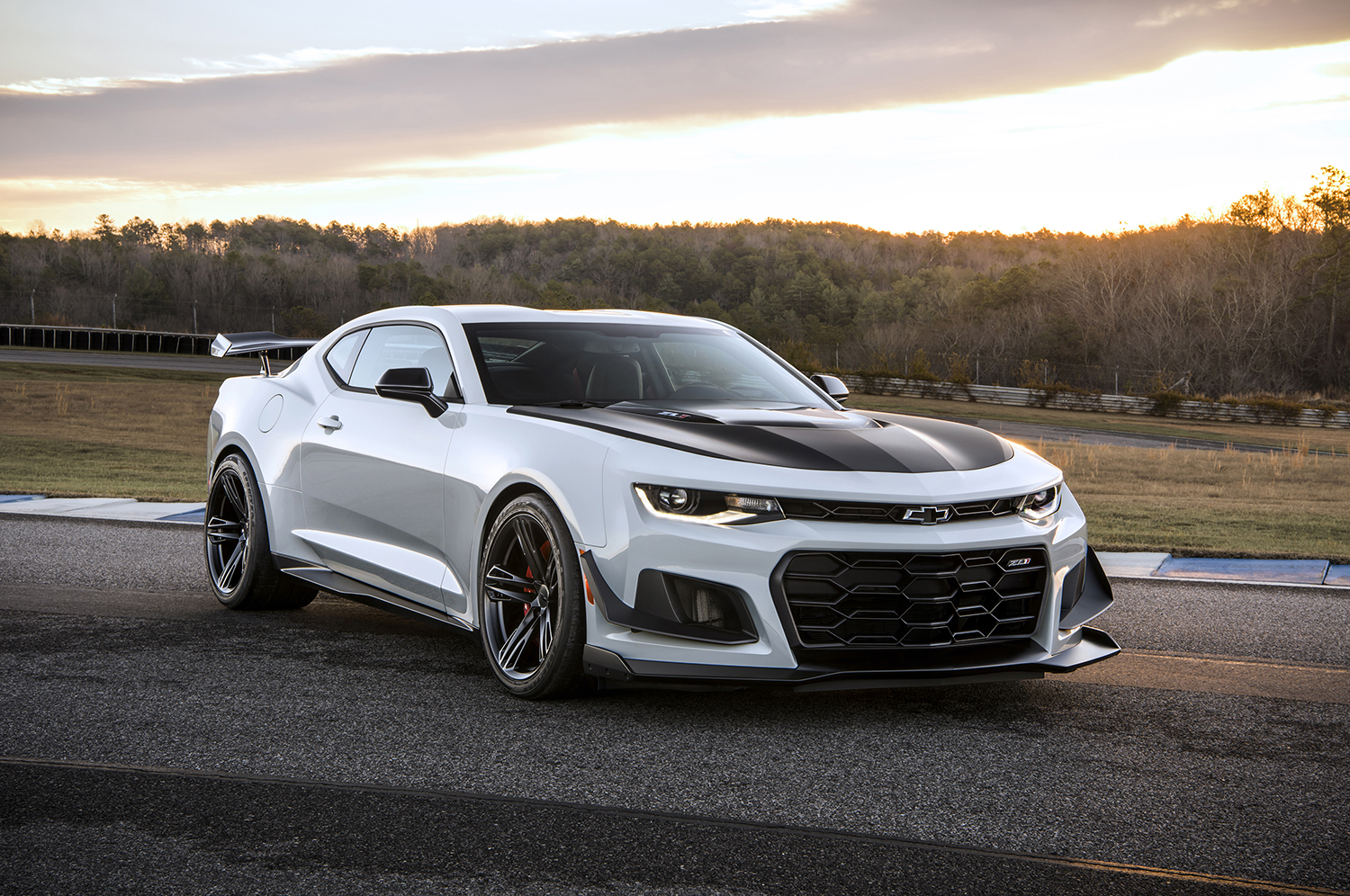 Last week, Sons of Speed was the only automotive media company to break the news that Chevy had another Camaro up its sleeve and would announce it at Daytona. We speculated it would be the new Z/28 that we saw sharing camouflaged Nürburgring track time with the ZL1, and we were half-right.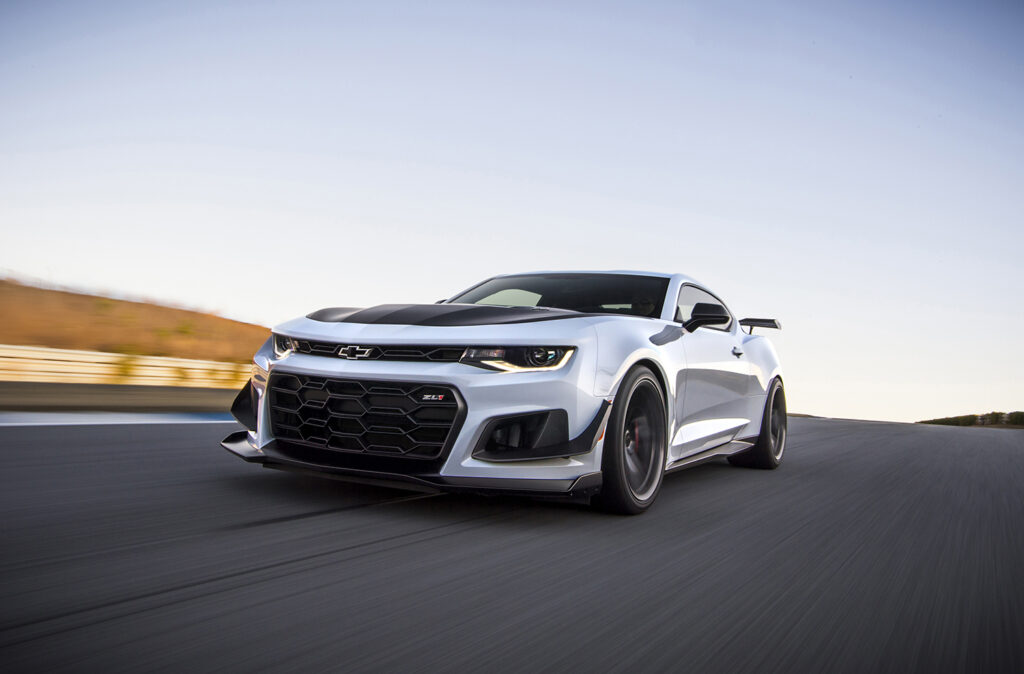 Chevy did release its new Camaro at Daytona today, and indeed it was the other half of the camo'd duo from the 'Ring, but it's not a new Z/28. Rather, Chevy is continuing its 1LE track-focused line that starts at the V6 1LE, steps up to the SS 1LE and now peaks at the already-insane track-star ZL1. Called the ZL1 1LE (get your vanity plate reservations in now), this most-track-capable Camaro ever features:
Aerodynamics: New aero features including a carbon fiber rear wing, specific air deflectors and dive planes on the front fascia produce grip-generating downforce to help the car stick harder and drive faster in turns.
Adjustable suspension: The ZL1 1LE features racing-derived, lightweight Multimatic DSSV® (Dynamic Suspension Spool Valve) dampers front and rear last seen on the 6th-Gen Z/28. The front-end ride height is adjustable with the front dampers, which are used with all-new, adjustable camber plates. The rear stabilizer bar also offers three-way adjustability. All of the components are designed for quick changes at the track for optimal performance and a quick return to street settings when the track day ends.
Wheels and tires: New, lightweight forged aluminum wheels are an inch wider but an inch smaller in diameter, front and rear, than standard ZL1 wheels and are used with new Goodyear Eagle F1 Supercar 3R tires that deliver max lateral grip of 1.10g. Developed exclusively for the Camaro ZL1 1LE, the 3R tires are designed to warm up faster to help maintain more consistent grip and speed, lap after lap. The overall footprint grows approximately 10 percent over the ZL1, but the wheel-and-tire package weighs about 3.3 pounds (1.5 kg) less per corner.
Lighter weight: The lighter wheels and dampers, along with reduced thickness rear glass and a fixed-back rear seat, contribute to an approximately 60-pound (27 kg) lower curb weight than a standard ZL1 Coupe.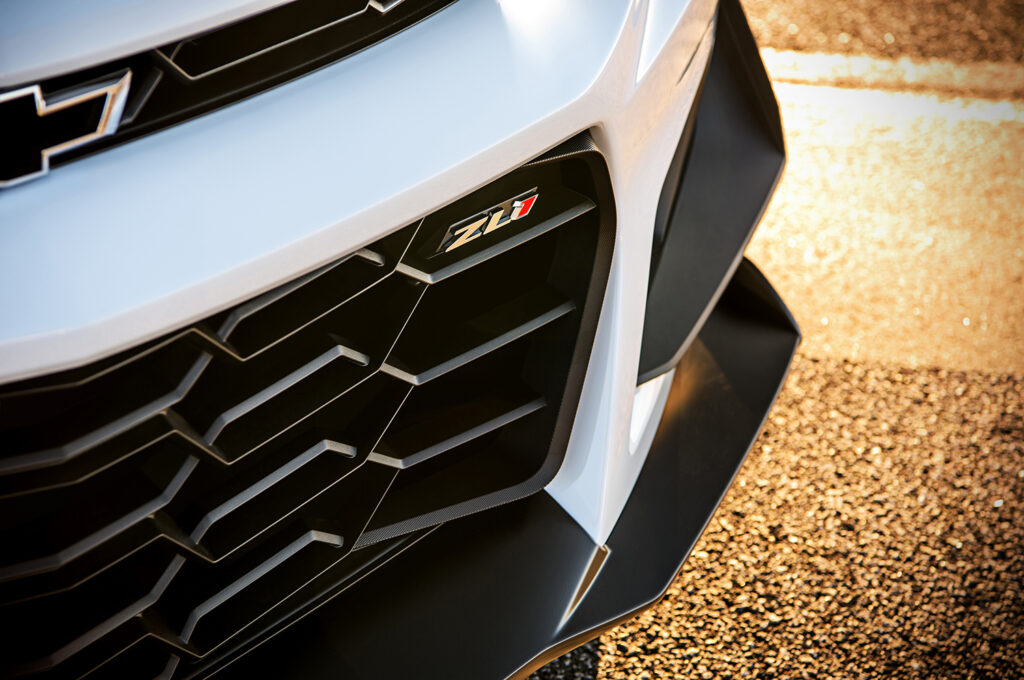 So what do all these features mean out on track? Chevy claims that in preliminary testing, the new ZL1 1LE was a full 3 seconds faster than the standard ZL1 Coupe around General Motors' 2.9-mile, 18-turn Milford Road Course test track. That would be the same ZL1 Coupe that just lapped Big Willow Raceway faster than an AMG GT-S, a Porsche 911 GT3, the Corvette Grand Sport and even a 2017 McLaren 570s. We can't wait to see what other supercars the 1LE leaves in its dust.
In a move guaranteed to please track purists, this car – like all 1LE's – comes exclusively with a 6-speed manual transmission and active-rev matching. Of course, being a ZL1, the 1LE still features the 650 hp/650 tq LT4 supercharged V8 engine and red-caliper Brembo brakes (with 1LE script) along with dual-zone climate control, Bose premium audio, heated/ventilated front seats and a heated steering wheel.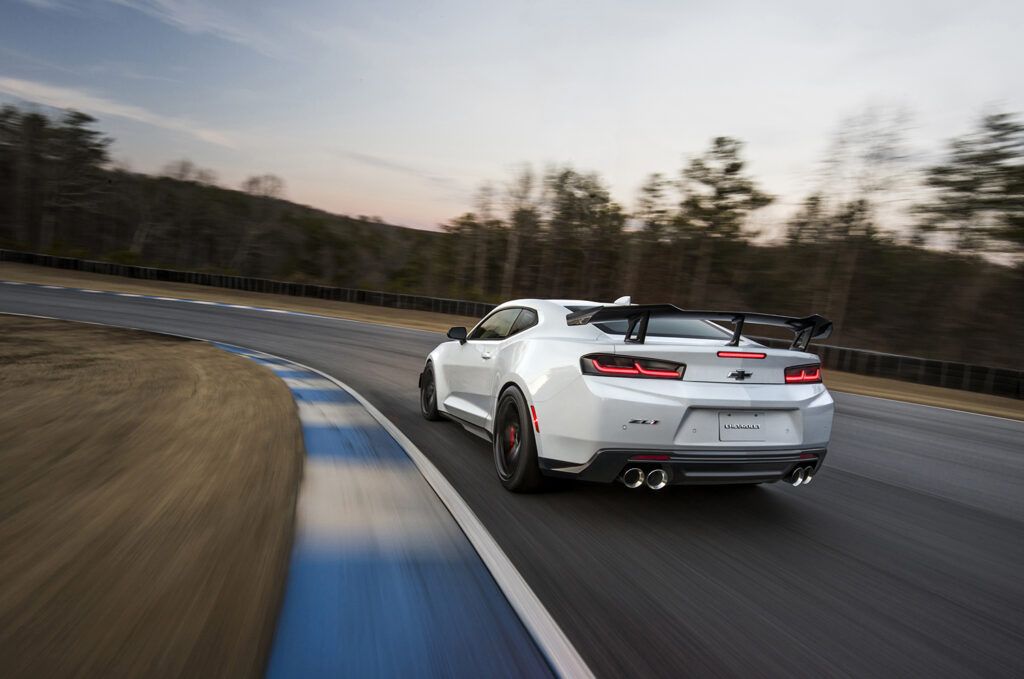 Chevy promises the 1LE will arrive "later this year," and pricing has not yet been announced, but expect to pay at least $3,000 to $5,000 over the cost of a stock ZL1. And if you happen to see one of these beasts in your mirror at your next track day, get ready to move the hell out of the way.