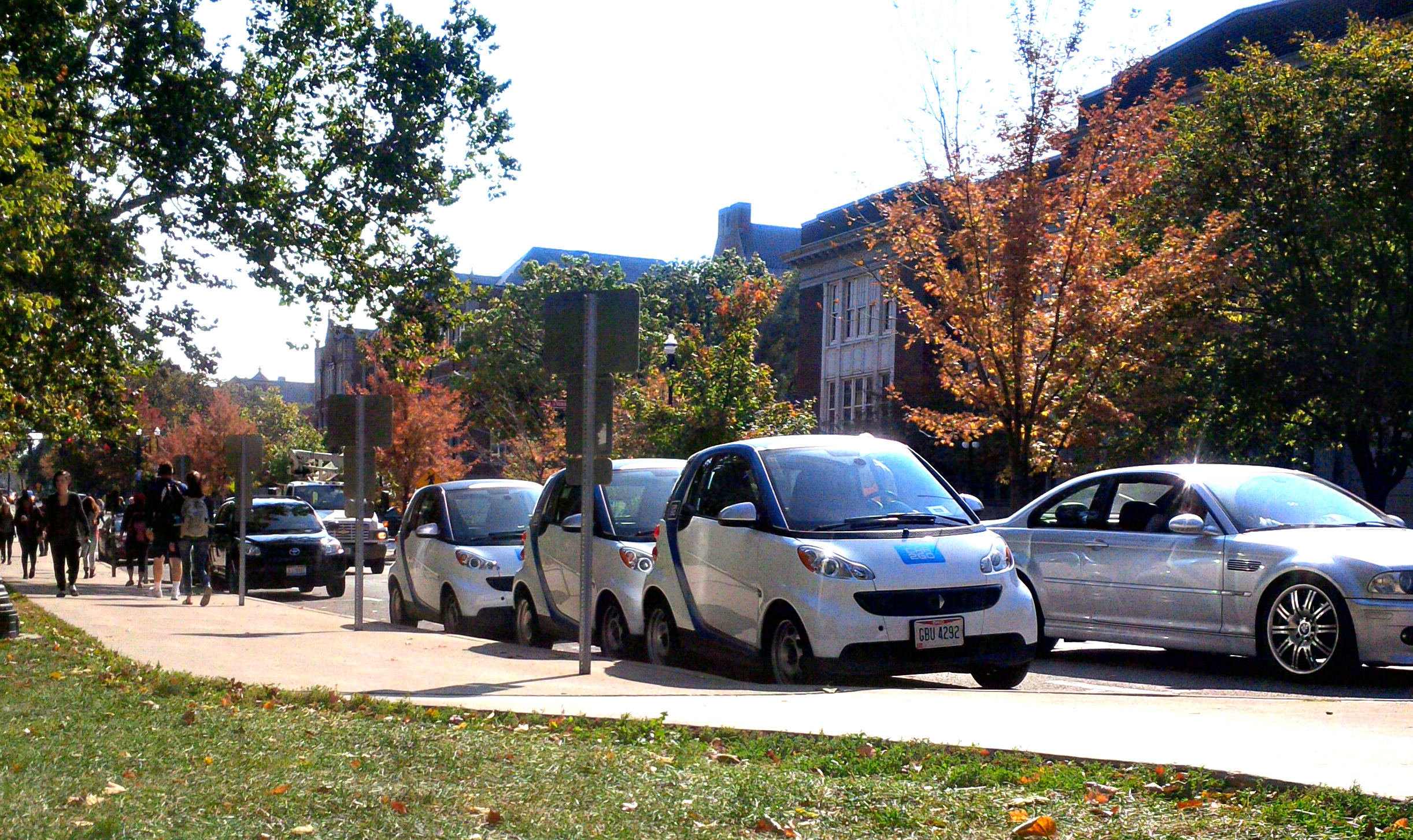 The 2016 Smart Fortwo is upon us. First unveiled at the 1998 Paris Motor Show, the Fortwo has always been a hit in congested European cities. In the United States, however, the car did not sell as much as Daimler AG – the makers of Mercedes-Benz and Smart – was anticipating. It's no secret that since its US launch in 2008, sales of the rear-engine, rear-wheel drive Smart have been dismal. The car clearly lacks a proper mission and doesn't exactly check off all the boxes that SUV minded American buyers are looking for in their ride. The Smart Fortwo is a niche product that is intended for a specific buyer – a buyer who is obviously hard to find in the US. But don't blame the US consumer just yet; there is a reason why Smart Automobile Inc is struggling today. Let's take a moment to look back at the previous Smart model to figure out what might have gone wrong.
Last week, I had the opportunity to visit a friend who attends Denison University in Granville, Ohio. Since there is no mode of transportation from my dorm in Columbus over to Granville other than by car, I figured I would utilize Car2Go. Car2Go is a service introduced by Daimler AG which rents Smart vehicles to members for a $35 registration fee and a diligent background check. After they scrutinized my driving history to assure that I had no speeding tickets, accidents, or any record of street racing, I was able to rent a car for $0.41 per minute even though I am only 18 years old, and yes – that is correct… $0.41 per minute! Thankfully, payment is capped at $80.00 a day.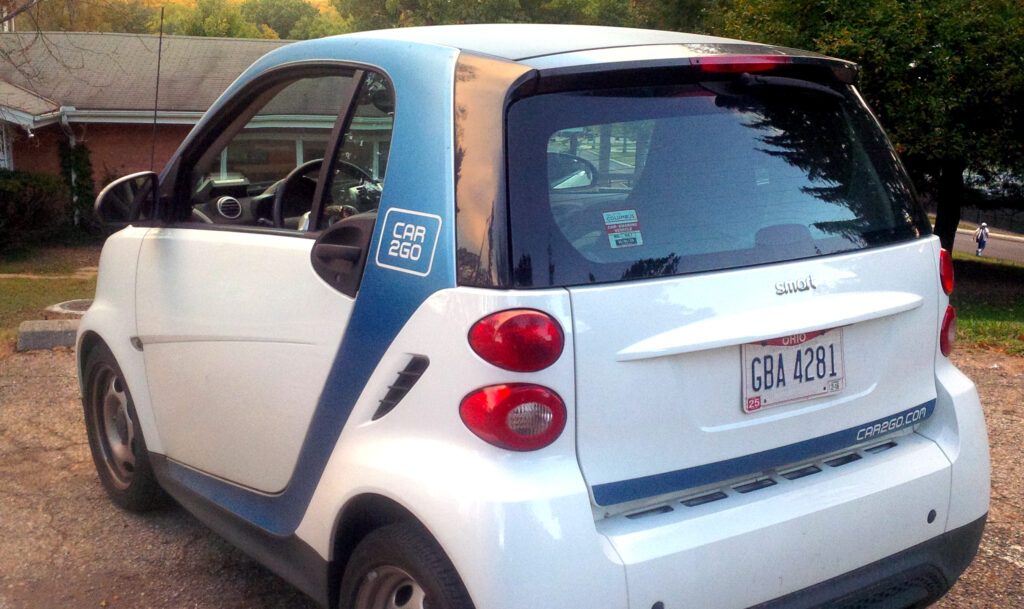 After reserving the car using Car2Go's app on my iPod (available on both Apple's App Store and Android's Google Play), I walked over to the parking area and approached my rented 2013 Smart Fortwo. The first thing that strikes you and everyone around you is the car's size – or lack of thereof. Imagine in your mind a small car, I mean a really small car… now, cut that really small car in half and now you have a good idea how tiny this thing really is. So tiny, in fact, that I felt a little apprehensive getting behind the wheel. It was only when I thought back to the car's brochure talking about its super strong "tridion safety cell" that I mustered up enough courage to keep walking towards the Fortwo. I have to say I was a little disappointed to find that instead of the stylish alloys advertised in Car2Go's promotional photos, I was given wheels that looked more at home on a shopping cart. Nonetheless, I took one last deep breath and opened the door.
Climbing in the Fortwo was actually a breeze as its doors are quite large and its interior is deceivingly spacious. Thoughts of how many circus clowns could fit inside started dancing through my head. As to be expected with a shared vehicle, the interior had little in the way of luxury. Despite the standard air conditioning and electric windows, I'm afraid the rest of the short list of creature comforts was all manually adjustable – such as the side mirrors and seats. Since I quickly ran out of things to play with, I decided to get started. After checking off a few boxes regarding the car's condition on the navigation system, Car2Go finally granted permission to begin my drive.
Now, because of its size, the Smart Fortwo is pretty nimble, easily squeezing through traffic and is able to park in a pinch – even in places you never even thought possible. But I'm afraid that everything is downhill from here. Despite the Smart's light weight, its 70-horsepower, 1.0 liter engine makes it slow by any standard. Basically, the car has trouble getting out of its own way; at times I felt like opening the door to help push it along with my left foot, like riding a skateboard. The ride quality of this car, with its short wheelbase, is not good. The suspension feels like it was lifted right out of a Radio Flyer Wagon: every imperfection in the road, no matter how small, is felt throughout the tiny cabin. Over larger potholes, the Smart is easily upset, evident by the flashing stability control light on the instrument cluster. If you like the way a golf cart handles, let's just say you will feel right at home in the Fortwo, heck… they are practically the same size. Steering was not as light as I was expecting and had a very lazy feel – definitely not tuned for fun. You definitely won't be looking to carve out any turns in the twisties. Brakes are drums in the rear and discs up front with standard ABS. You would think being a small and light car that the brakes would be pretty good. You would be wrong. Stopping distance is about average for any car twice its size, and applying the brakes, especially in an emergency stop, unsettles the car, introducing a twitchy sensation.

So far, I have listed a few points why I believe the Smart Fortwo is not selling very well here in the States, but all of these reasons simply pale in comparison to this car's worst attribute – its automated manual transmission. I cannot begin to describe the misery this transmission will put you through with its appallingly slow and jerky shifts accompanied by its constant search for the correct gear. It's as if the shift points were programed to be dreadful on purpose because even a random gear selector couldn't possibly be this bad. Regrettably, using the shift-it-yourself mode did not improve the experience.
As bad as I was having it on the local roads, things were about to get a lot worse as I pressed down on the turn indicator and was about to join the rush hour traffic on the highway. I know this may come as a shock, but it turns out that merging onto the highway is a struggle for the Fortwo. Acceleration is measured in epochs rather than seconds and actual 0-60 times become completely irrelevant. All you need to know is that this is not a car that can muscle its way around heavy traffic. Instead, you must plan your merging and lane changing ahead of time. On the bright side however, you don't need much of a hole in the rows of cars to squeeze right in. Well once I got rolling at highway speeds my faith in the so-called "tidion" safety cell flew out the window – not that I even dared to open the window, fearing that I would turn the Fortwo into a giant kite. Trying to make this car go straight is like a chess match, you have to anticipate any crosswinds three moves ahead and always be on the defensive. Driving over 60 miles per hour in the Smart requires nerves of steel. Because everything else on the road is bigger and faster than you… semi-trucks, SUVs, cars, even mopeds (almost) – you have this constant fear of being either run off the road or run over entirely. Also, you will swear the people passing you up are mouthing the words, "Who is this maniac?" Unfortunately, this does not make for much of a pleasurable drive. Oh, and before I forget, I need to announce that I sincerely apologize to all the Ohio citizens I held up that day and also thank you for not squashing me like a bug. All joking aside, I did learn a valuable lesson about cars that day – a car can't be all things to all people. While the Smart Fortwo is great in city traffic and can park just about anywhere, it is intended to be just that – a city car for short drives. If you need a car for long hauls or to carry more than two people, then at least a hundred better suited car makes and models come to mind.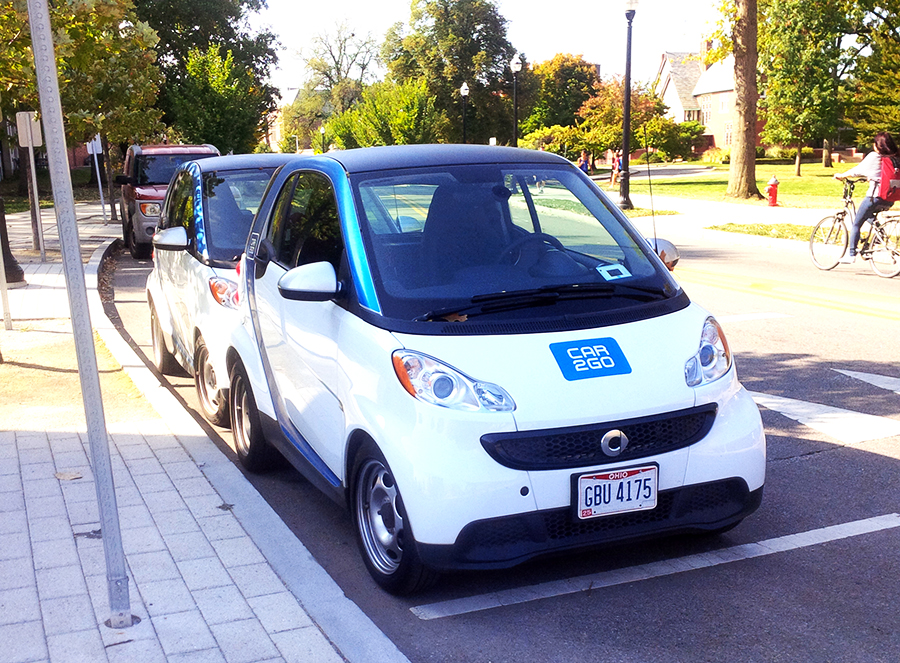 Apparently, many other customers of the Smart Fortwo have lodged the same complaints, and Diamler AG has taken note… seriously. Just announced for 2016, the Smart Fortwo is an all-new design and sports a choice of two all new transmissions, either a 5-speed manual or a 6-speed dual clutch transmission paired to a three-cylinder engine packing an extra 19 horsepower. In addition to the drivetrain improvements, Smart is also borrowing Mercedes-Benz's Crosswind Assist for better stability on the highway. Also, Daimler claims that the brakes are improved as well. Since these changes successfully address most of the major problems with the previous car, I am eager to try one out and I hope that Car2Go updates its lineup with these new 2016 models. As for its current Fortwo, sure it has its faults and sure it isn't anything remotely close to being fun, but I will certainly continue to drive them around as I can confidently say driving a Smart Fortwo sure beats walking.