Automakers have reached a fork in the hatchback-riddled road. Do they follow the hybrid path, and hope that the microscopic 2.2% market share that hybrids held in 2016 improves drastically, or do they go the hot hatch route, and look to build their image around the equally exclusive Civic Type R, Golf R, and Focus RS buyers?
It's the classic green versus mean face-off, and although most people will likely opt for a hatchback that features neither of these extremes, having an attention-grabbing "statement vehicle" on deck is always a smart marketing move. Push the envelope a bit technologically, aesthetically, or mechanically and you are pretty much guaranteed a spike in hype – something that Kia has wisely taken full advantage of in the hybridized Niro.
Since there is nary a pound of turbocharged boost to be found beneath the Niro's bonnet, I'll reserve pleas for a hot hatch version for a later date. For as thrilling as this machine (or the Forte5 SX for that matter) would be with a tweaked 2.0-liter turbo out of an Optima, adaptive dampers, and more aggressive aero, we can't fault the Korean automaker for treading down the sensible and far more approachable path.
Conversely, Kia has also made an interesting move by making the Niro surprisingly stout for a hybrid. It's a car that prefers to pour on the power than pickle it for later use much like its twin brother from another mother, the Hyundai Ioniq. This feisty little fellow sits almost a full 4-inches taller than its Korean cousin and subsequently packs a bit more interior room. This last fact is partially due to the Niro's super low seat rails, a detail that I feel could either win or lose buyers depending upon their physical prowess or lack thereof.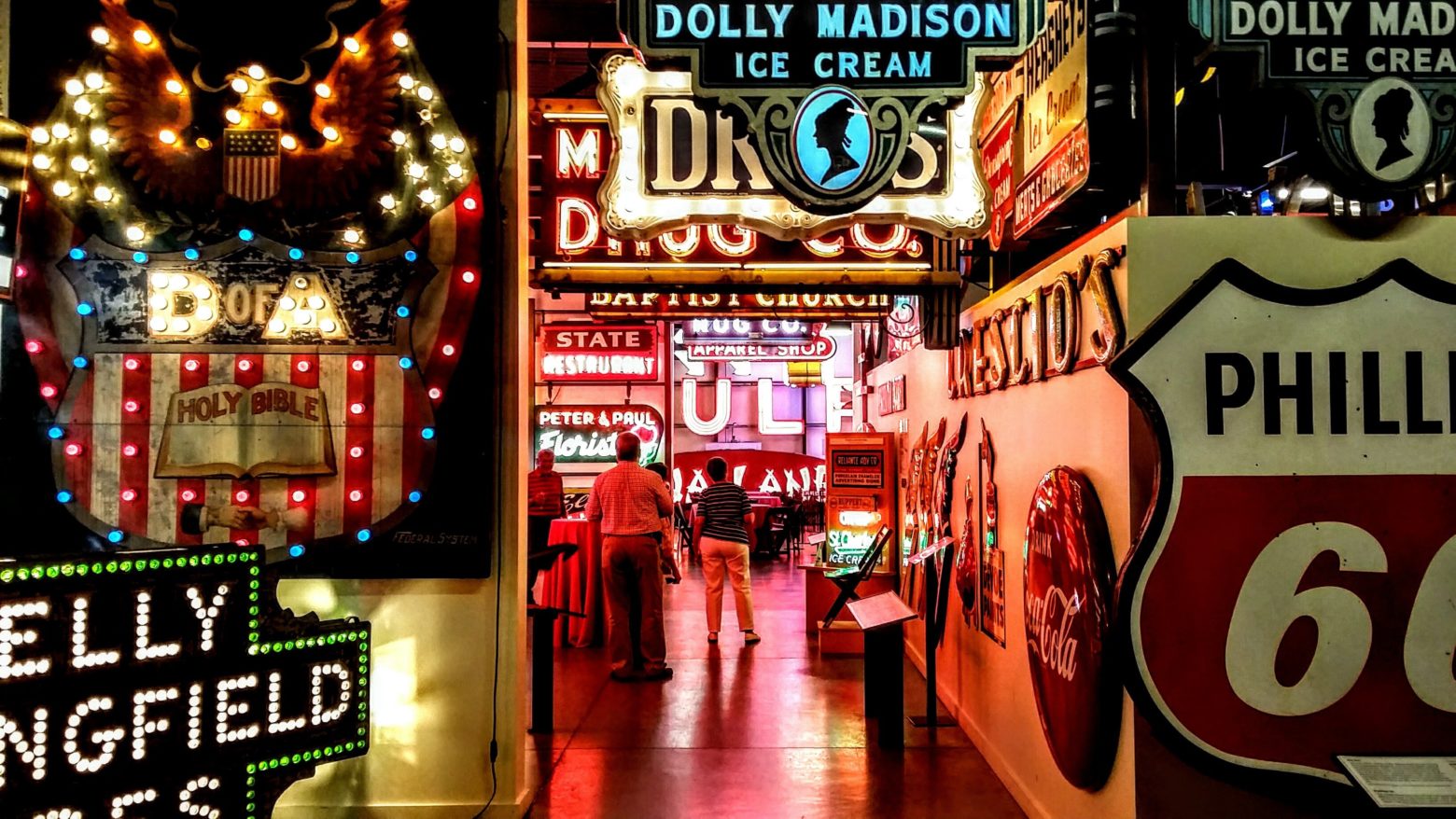 But before I dig too deep into the nuts and bolts, I must speak of the neon-lit reasoning behind my weekend adventures in this Korean creation. Unbeknownst to most, the official American Sign Museum has, and will continue to be located in Cincinnati, Ohio. Heralded as the nation's largest collection of public signage, this place is one of those hidden gems buried within Cincy that demands to be visited, and what is pictured here doesn't even come close to covering the what you will find inside.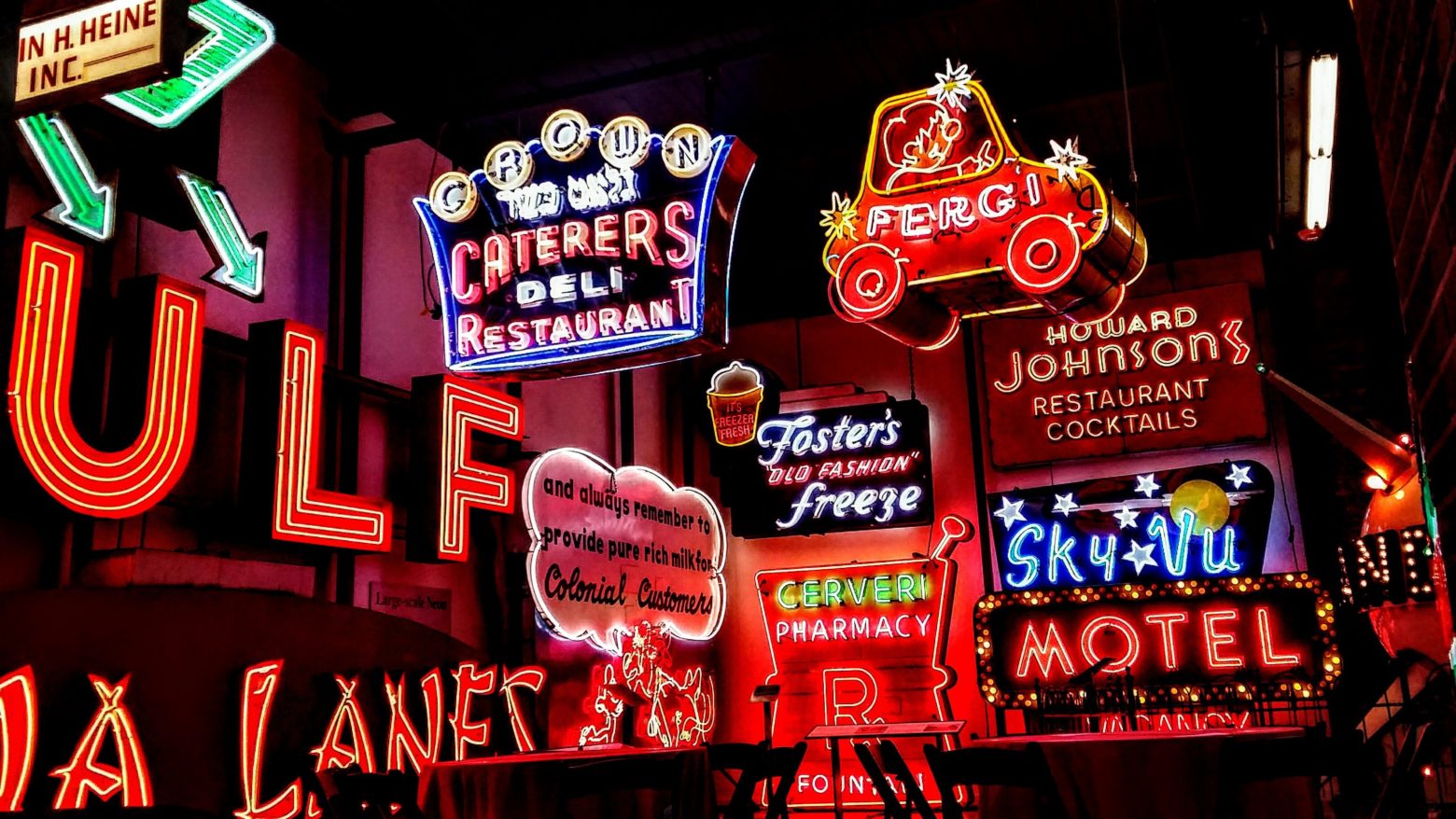 With over a hundred years of history stuffed within its 20,000 square foot space, this museum is a must for anyone craving a surreal serving of neon stratification and nostalgia. First started in 1999 by Tod Swormstedt under the unassumingly entitled "National Signs of the Times Museum," this collection of marketing keepsakes grew quickly thanks to generous donations from wealthy contributors before being renamed with its current title in 2005. Seven years later, Tod's collection had outgrown its home and was moved to the industrial district of Camp Washington, where larger signage could be displayed and future additions could be embraced without constraint.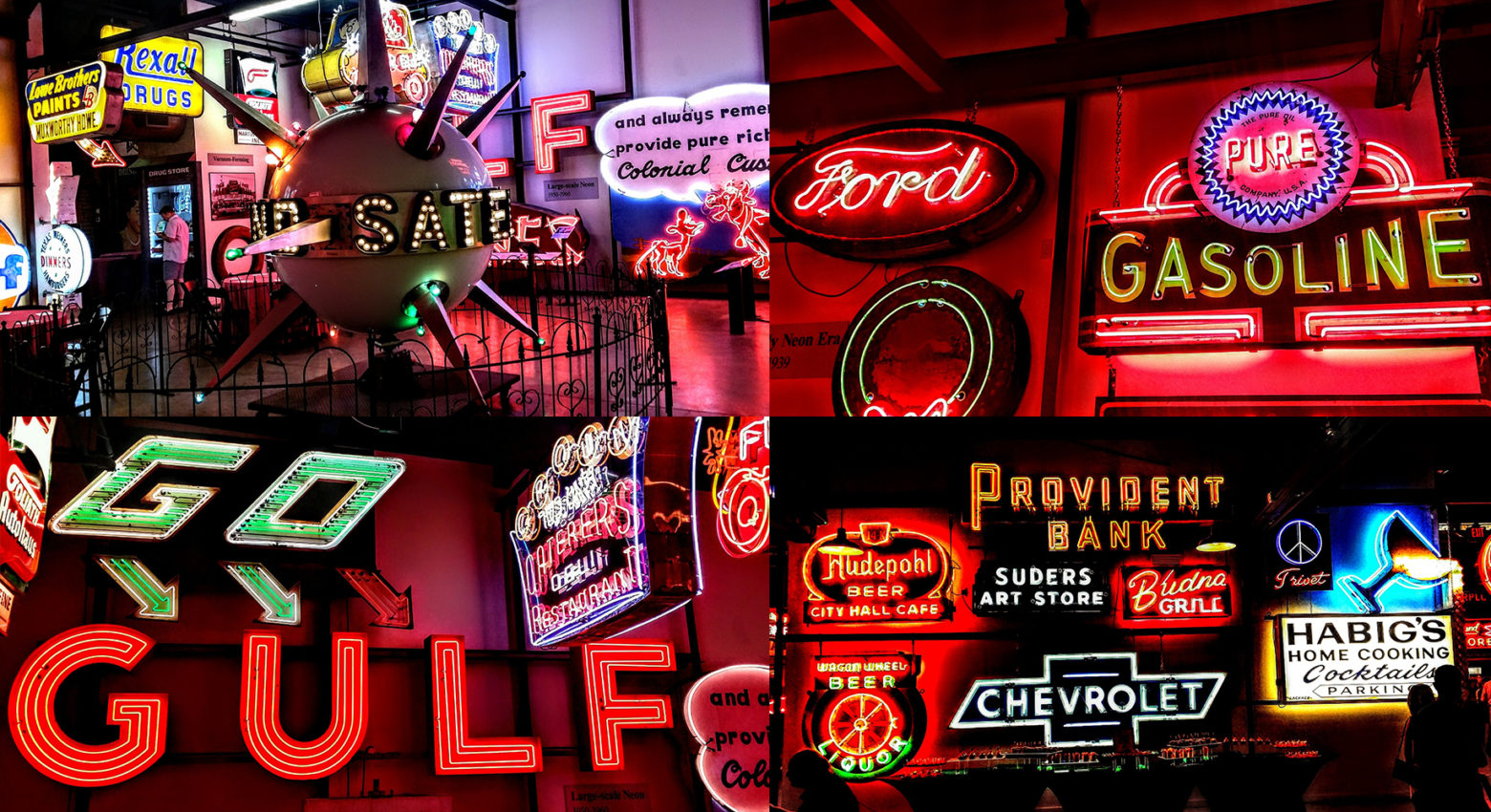 Commonly referred to as his "mid-life crisis project," Tod's avid interest in the preservation of signage and telling the history behind their manifestation is equal parts impressive and unusual. As with all collection museum's that are worth their salt, donations are the lifeblood of Tod's project, and to this day fresh procurements continue to arrive weekly. What started as a few generous gifts has turned into a behemothic beast, a monster that resides within a space where catered private events and neon repair classes can be held side-by-side on any given day.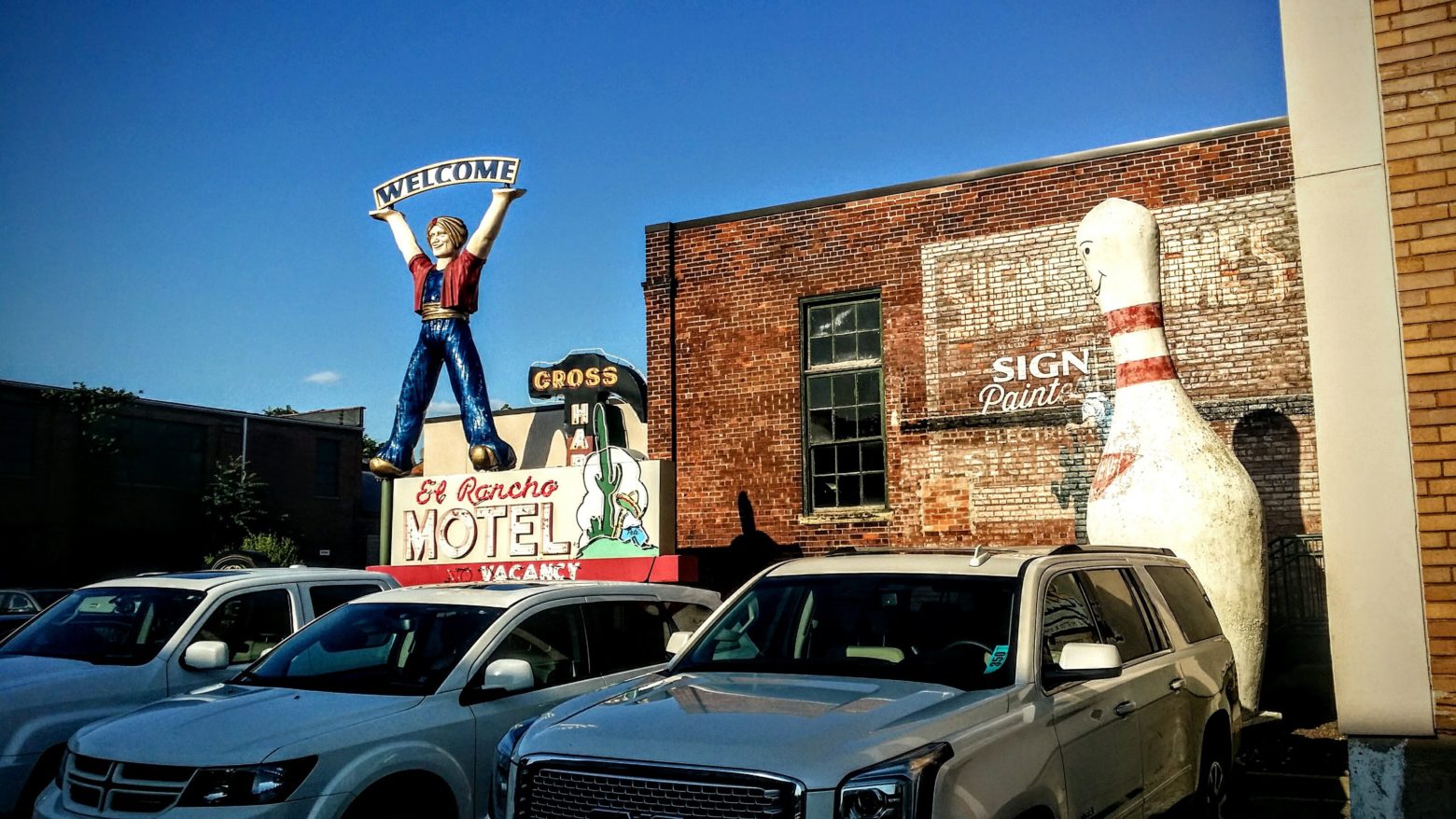 Kia has seen similar levels of exponential growth within the same time frame, and in many ways is just as quirky, fun, and inspiring as Tod's story. Cruising downtown in the Niro in search of picturesque sunset photo shoot spots, I reviewed what the little hybrid has to offer and the areas where it falls short in contrast to the rest of the segment.

The Niro is an undeniably smart little transportation device from bow to stern. From the hidden storage pockets beneath its rear cargo floor to the ergonomically engineered cubbies throughout, it's a car that has been designed for daily driving over all else. It's also a roomy little bugger thanks to those aforementioned seat rails and a smartly executed hatch design. There's a familiar, almost rugged CUV feel to this thing too, all the way up until you realize fuel economy can reach as high as 50 mile-per-gallon in this thing.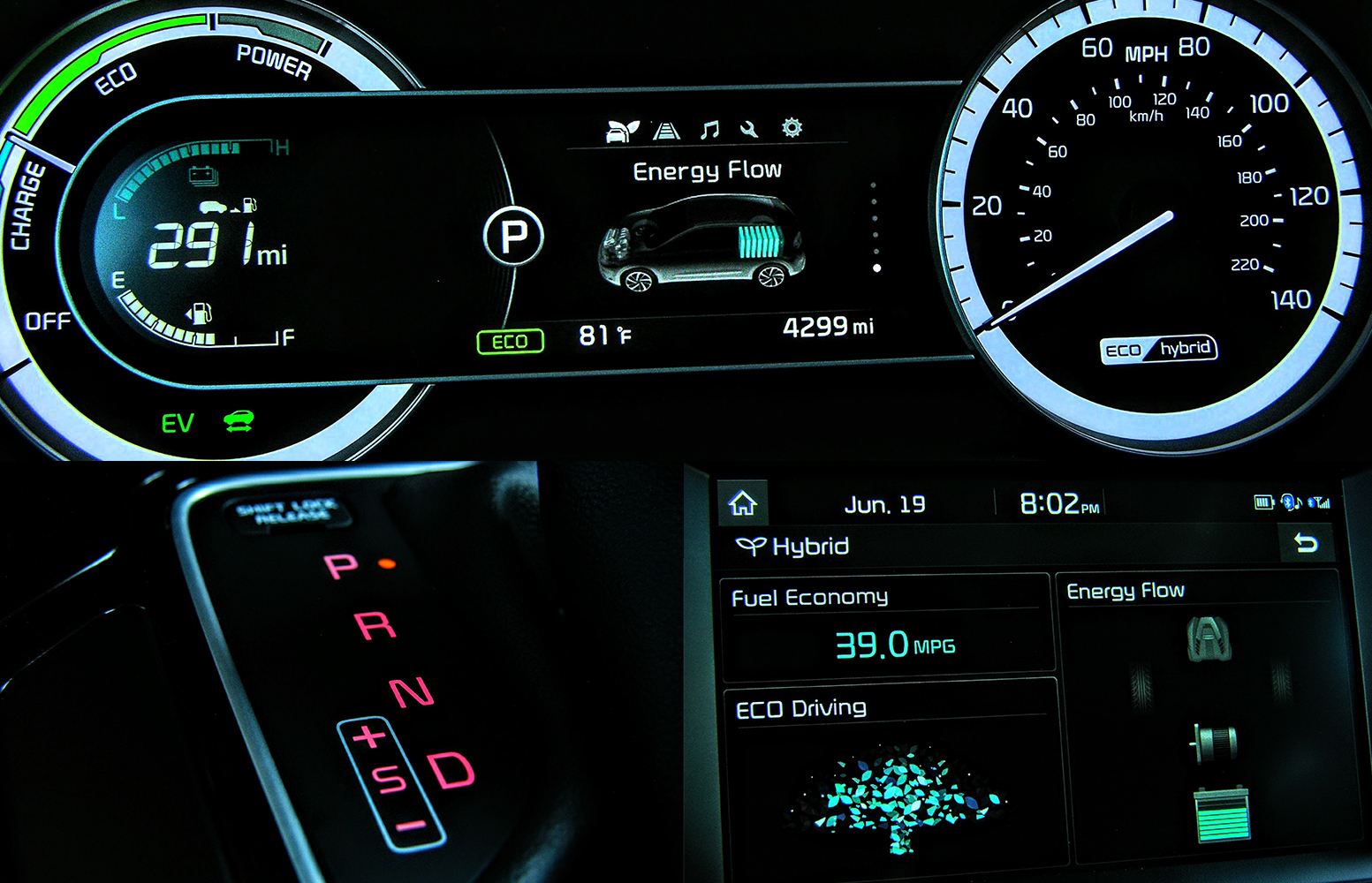 With an attitude that is playful and precise, the dual-clutch hybrid also has the ability to hit the ground hard with 195 pound-feet of torque but quickly plateaus to a gentle lope due to sporting just 139 horsepower. While you're encouraged to make the tree on the dash grow green leaves by driving efficiently, Cincy's hilly landscape and the Niro's torque curve dashed all chances of me reaching the 49 mpg average some journalists have achieved. On the bright side, the car's regenerative braking system was not nearly as noisy nor aloof feeling as the Prius, and although reverse took a moment to engage, it was by no means as laggardly as what was recently encountered in the Hyundai Tucson 1.6T.
Autonomously and aesthetically upgraded with Kia's "Sunroof & Advanced Technology Package," the $2,300 combination on our mid-grade EX model unveiled the Niro's first major flaw after I engaged the adaptive cruise control on the interstate. Even with ample amounts of spacing selected, this system waited until the last minute to engage the brakes, forcing quite a few cringe-worthy stops and a healthy amount of perspiration. Although the autonomous emergency braking system and forward collision warning worked, the adaptive cruise control refused to slow the vehicle down well before either needed to be engaged, an issue that was not detected in the Ioniq at any point.

Buyers will also likely find issue with the EX's singular USB port, the absence of an electronic e-brake and 360-degree cameras, and how the omission of a 40/20/40 split rear bench hampers hauling options. A dash wrapped in piano black accents is also quickly coated in fingerprints and dust build-up, and although sport mode kicks up the adrenaline a notch or two, I found myself too often reaching for paddle shifters that were missing altogether.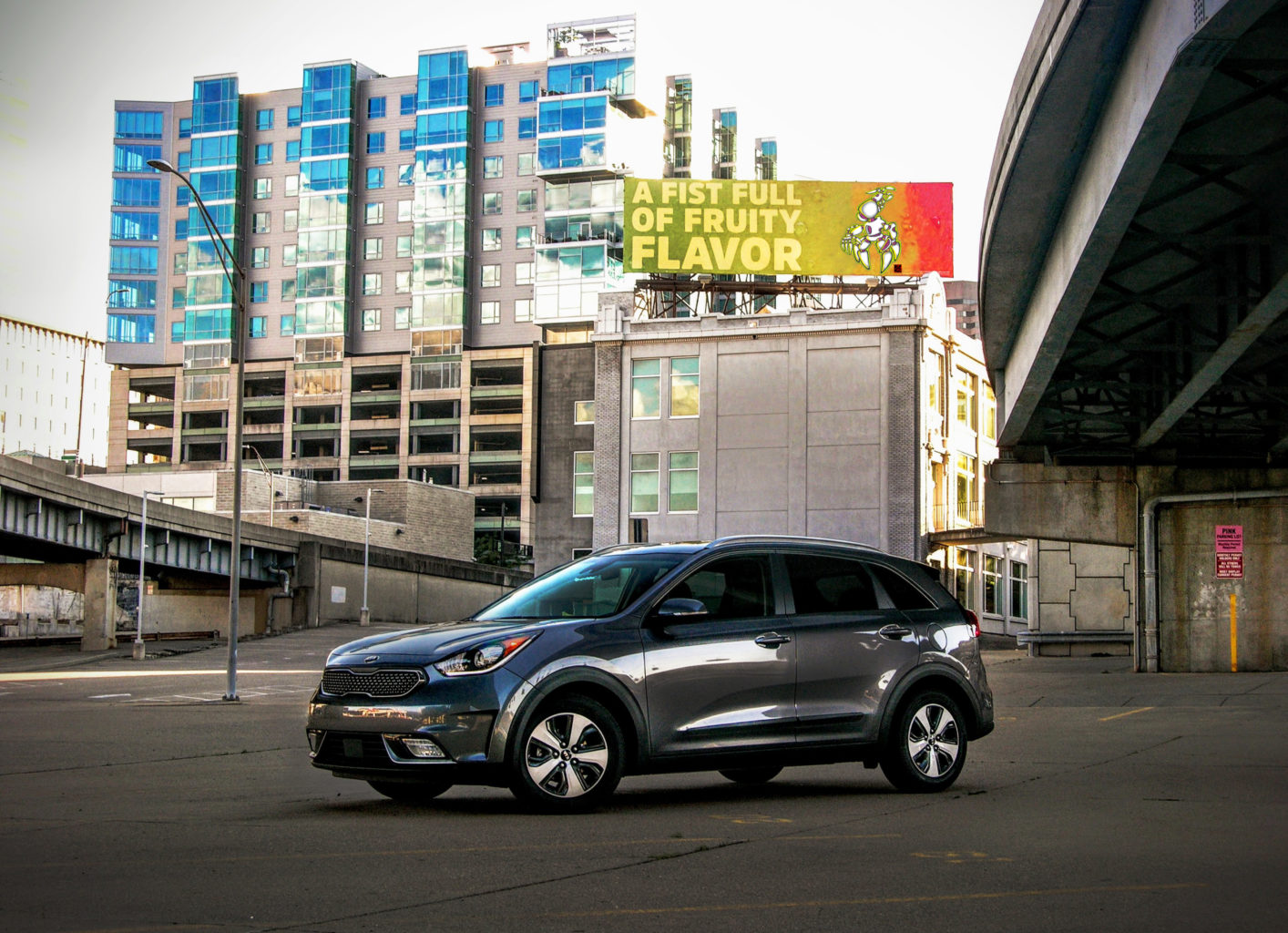 But as mother nature slowly blanketed the urban landscape in a shroud of darkness, encouraging modern signs to ignite in a vibrant crescendo, Kia's Niro kicked-off its own light show. Proximity sensitive door handle LED lamps activated upon approach, while out back LED lights struck up a display that seemed straight out of Blade Runner, a perfect parallel to the brilliant forward facing lenses. In a world of bland automobiles the Niro is a memorable hatchback, and after spending a week with one I still find myself favoring it over the Ioniq on an aesthetic level.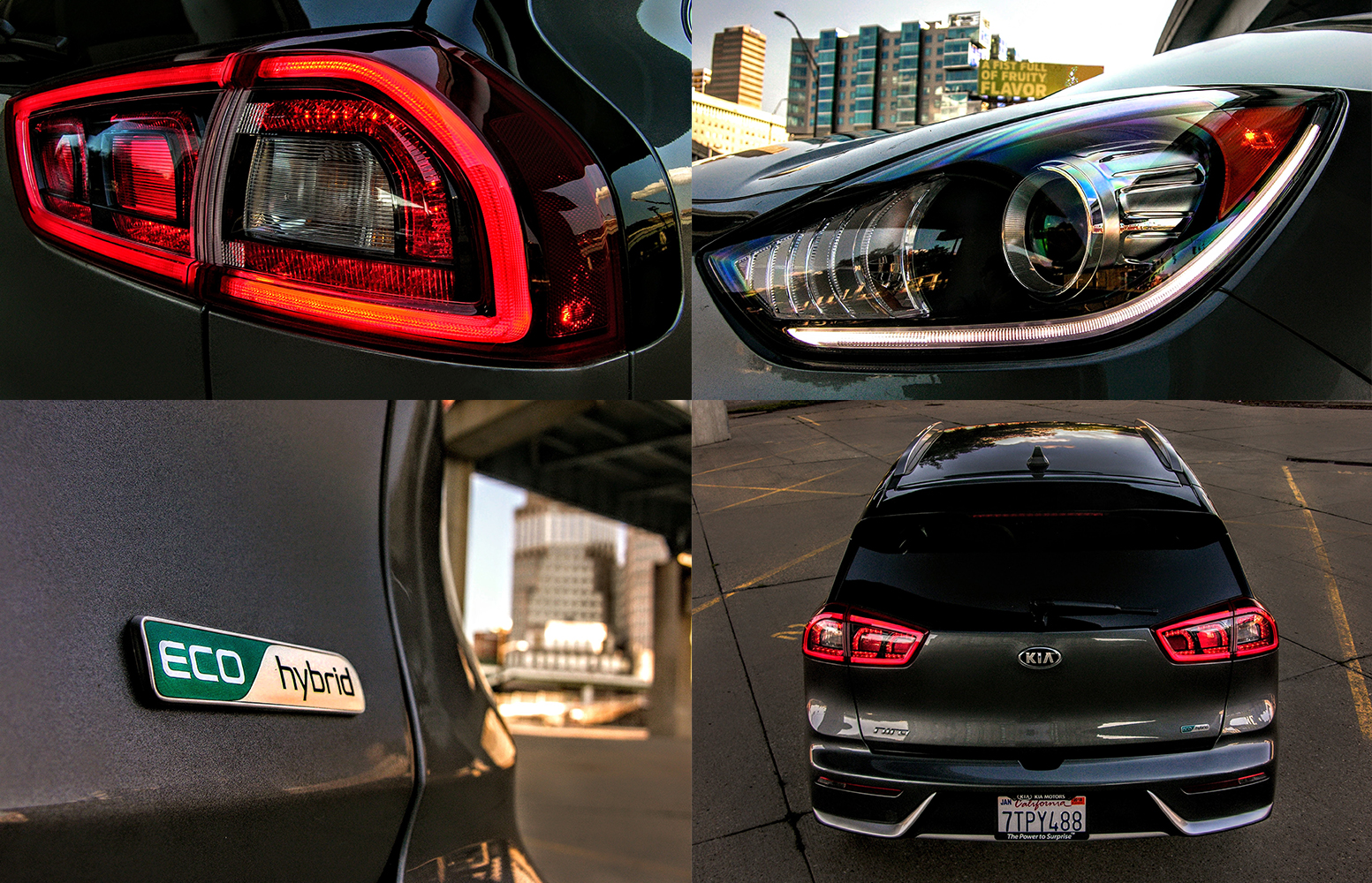 If you pay attention to the signs of the times, Kia has surprised everyone and will likely continue to do so for decades to come. As one of the strongest competitors in the affordable automotive market, Kia has found a way in which it can entice longtime Prius buyers while still offering the best initial quality out of any automaker.
Regrettably, despite looking like it should feature all-wheel drive, the Niro remains a two-wheeled affair, and both its cabin miscues and unrefined driving mannerisms kept it from winning me over at the end of the day. Brilliantly thought-out in certain areas, yet missing its mark in others, it's a hybrid hatchback that is lovable and forgivable, in a half-baked cookie dough kind of way.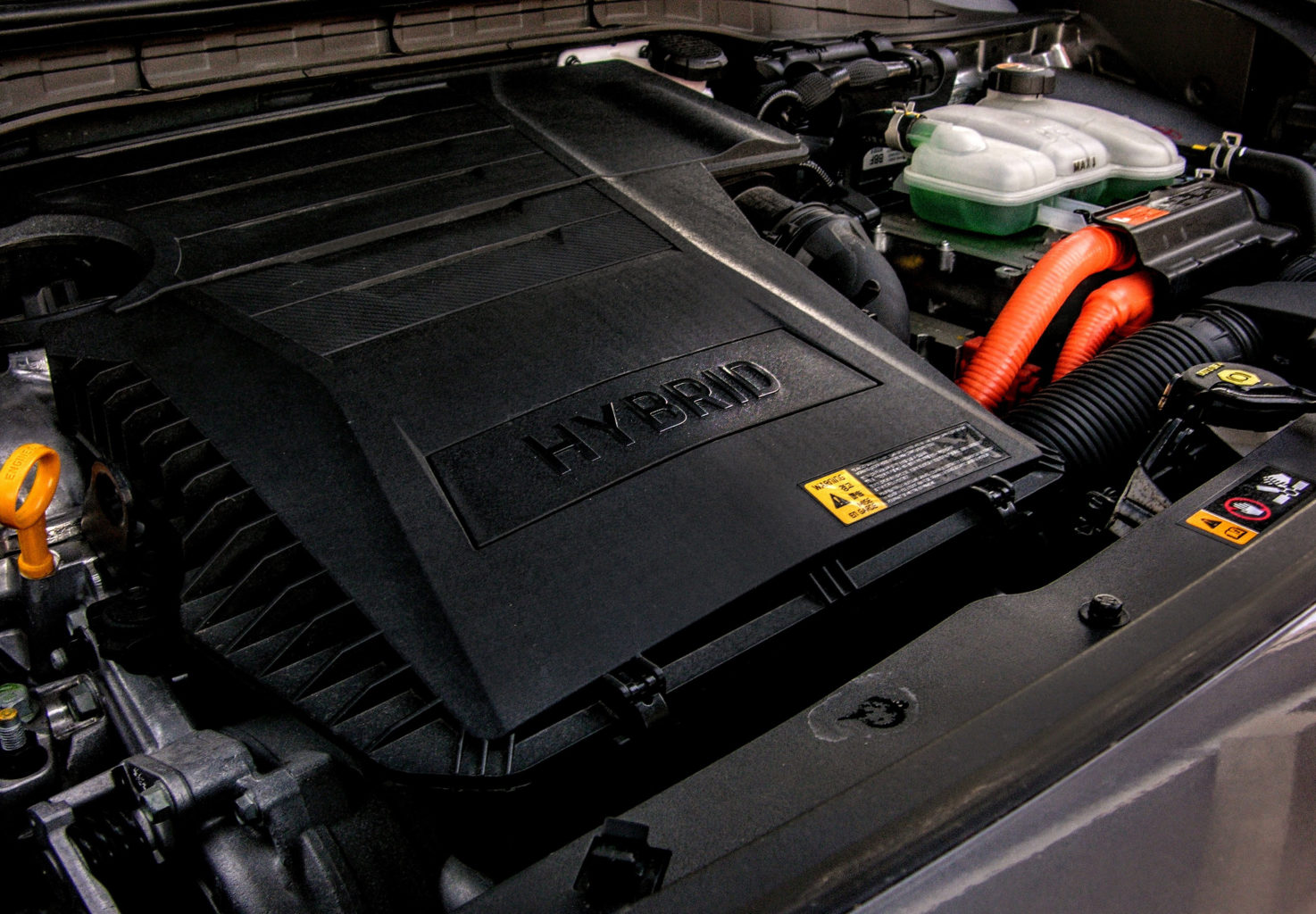 When the concept for the Niro was first teased we had high hopes for the long overdue hybrid. But without enough unique areas from which to promote the platform, it loses its luster next to the space-age Prius Prime, Volt/Bolt duo, and its own Hyundai alter-ego, the Ioniq. Fortunately, it seems that Kia is just getting warmed up, and we remain excited to see what this little rascal looks like in a few year's time.
Some of the most successful marketing ploys in history started off with a roughly executed first draft. For the Niro that should be an incredibly encouraging notion, because any initial attempt of this magnitude speaks volumes about the way in which recurring generations will someday operate.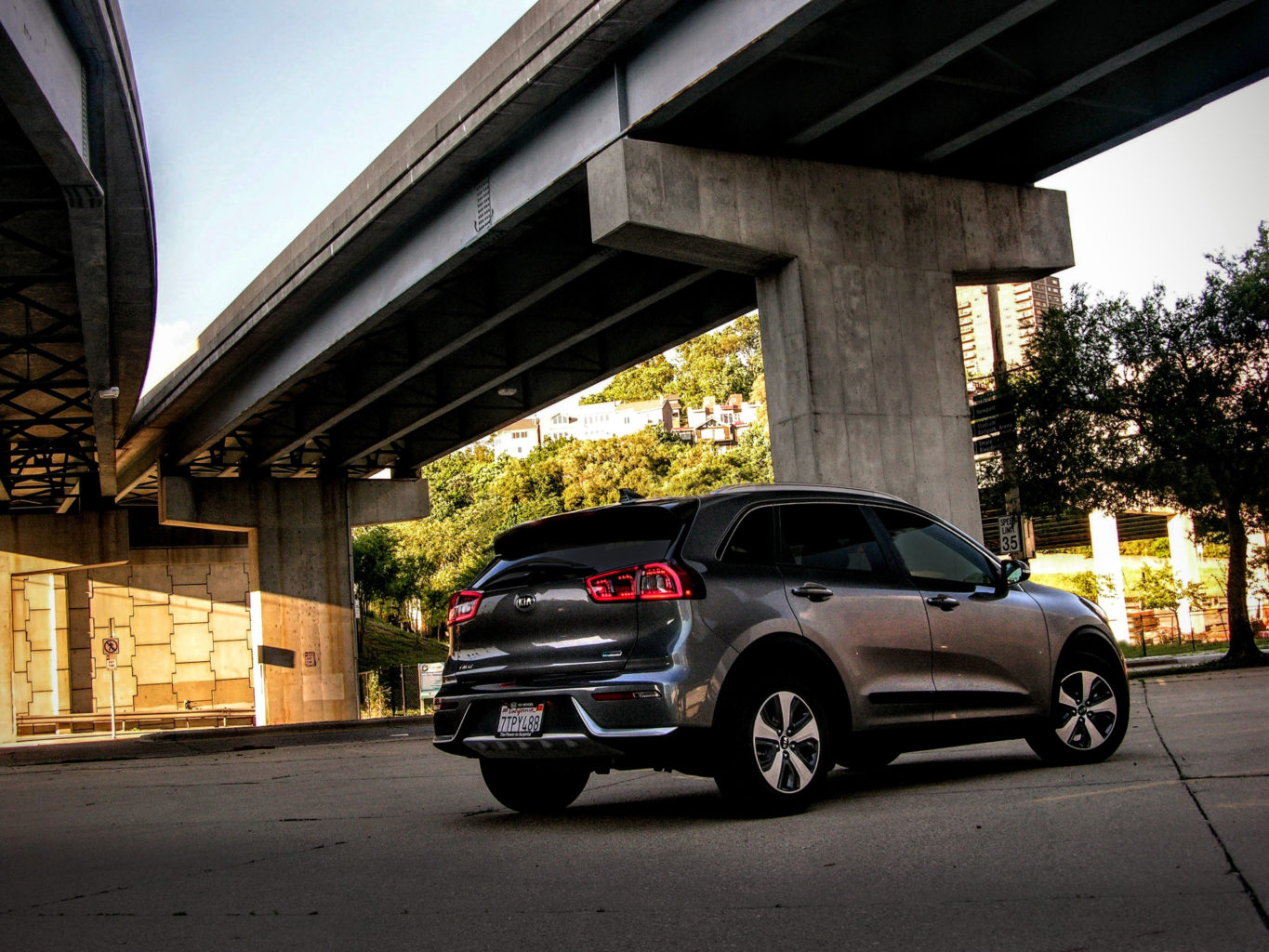 2017 Kia Niro EX
Four-door, five-passenger, family crossover.
Base price: $25,700
Price as tested: $28,995
Major Options: Sunroof and Advanced Technology Package ($2,300) includes power sunroof, Autonomous Emergency Braking, Forward Collision Warning System, Lane Departure Warning System, Smart Cruise Control, Power Adjustable Driver's Seat w/Lumbar Support, Destination charge ($895)
Engine: 1.6L 4-cylinder engine with electric motor
Transmission: 6-speed dual clutch transmission
Power: ICE – 104 hp, electric – 43 hp, combined – 139 hp
Torque: ICE – 109 lb.–ft., electric – 125 lb.–ft., combined – 195 lb.–ft.
Curb weight: 3161 lbs.
0-60: 8.9 seconds
Top speed: 111 mph
EPA Fuel Economy: 51 city/46 hwy/49 combined