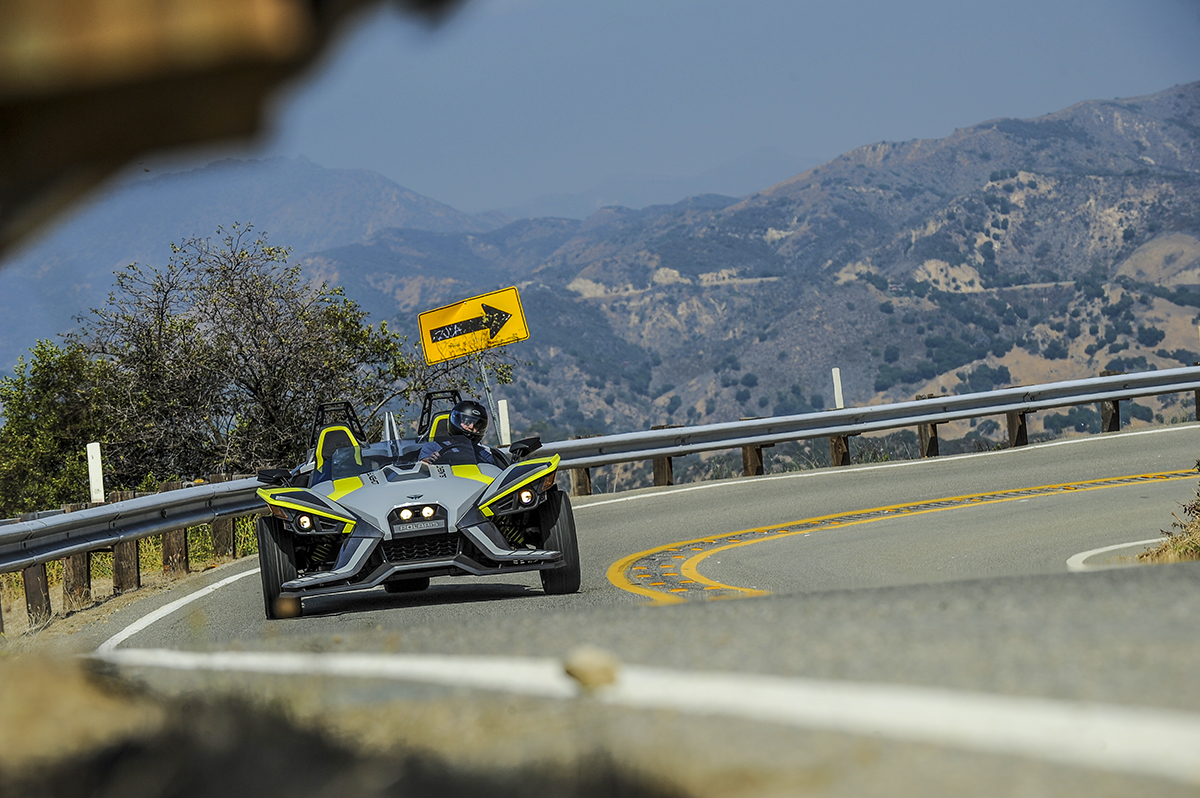 I learned everything I needed to know about the Polaris Slingshot shortly after parking it in a lot off the Pacific Coast Highway right next to the Malibu Pier.
There were about 10 of us pulling in and the sight of all these extreme vehicles created quite a stir. A tourist – an Eastern European gentleman – walked up to me and asked if he could take his picture with my silver and lime ride. I said, "sure" and started to step out of the way but he stopped me and said, "no you must be in the picture, too, since it's yours." After his wife snapped the pic, he thanked me and walked away.
I then pulled out my phone to see if anyone had commented on the pictures I posted earlier. Lets just say many of the comments were unprintable.
Clearly this Polaris is polarizing. And apparently that's okay with the folks who make it.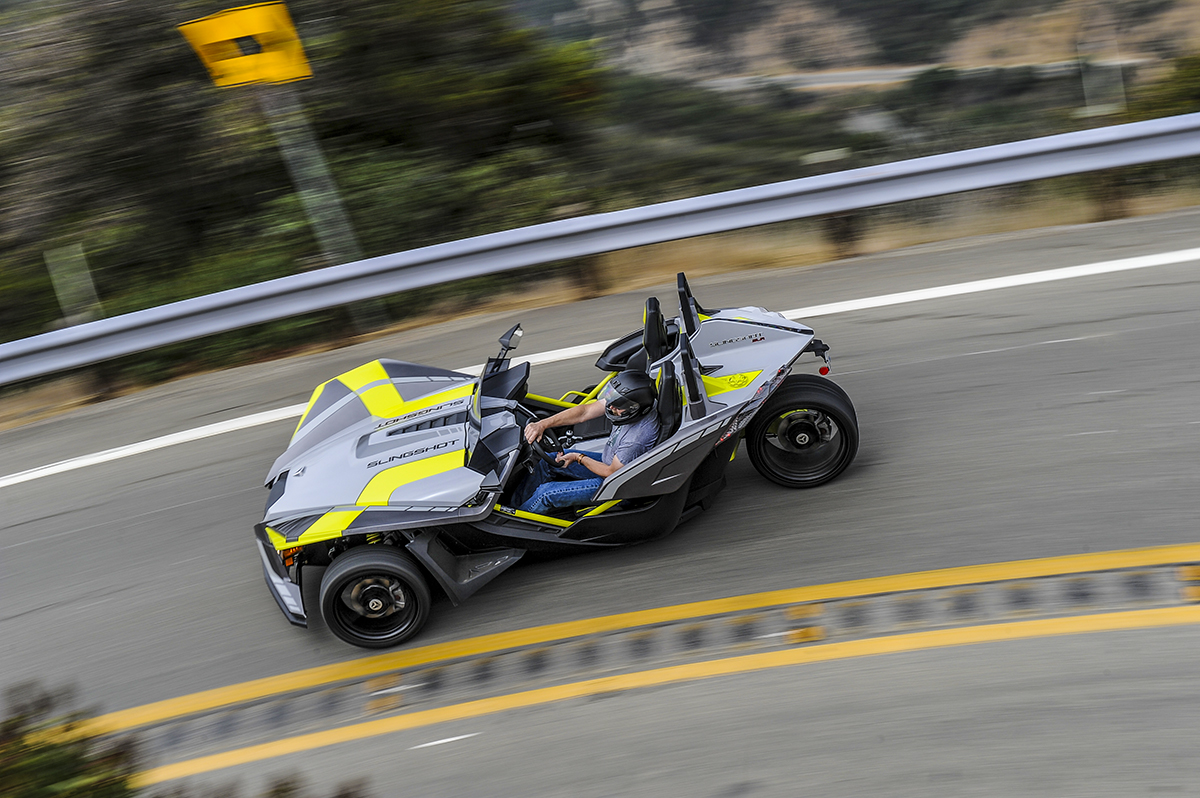 According to Kevin Reilly, VP, Marketing for Slingshot, there are two kinds of people who are most likely to buy one: adrenaline junkies and attention seekers, and they don't really care about anyone else. I can say for certain that attention seekers will get what they're looking for when they're behind the wheel of a Slingshot. As for adrenaline junkies, that depends.
But let's start at the beginning.
The Slingshot was introduced in 2014 and in most states it's legally an "Auto-cycle." This category of vehicle has three wheels, a steering wheel, a seat for the driver (at minimum), and can't weigh more than 1,750 pounds. In these states you don't have to wear a helmet to drive the Slingshot, but in California where we were testing it, legislators have decreed that anything with fewer than four wheels is a motorcycle logic be damned, so a helmet was required. In the years since it's introduction, Polaris has sold 20,000 Slingshots to attention seekers and adrenaline junkies – a pretty good start for a completely new vehicle that serves no rational purpose.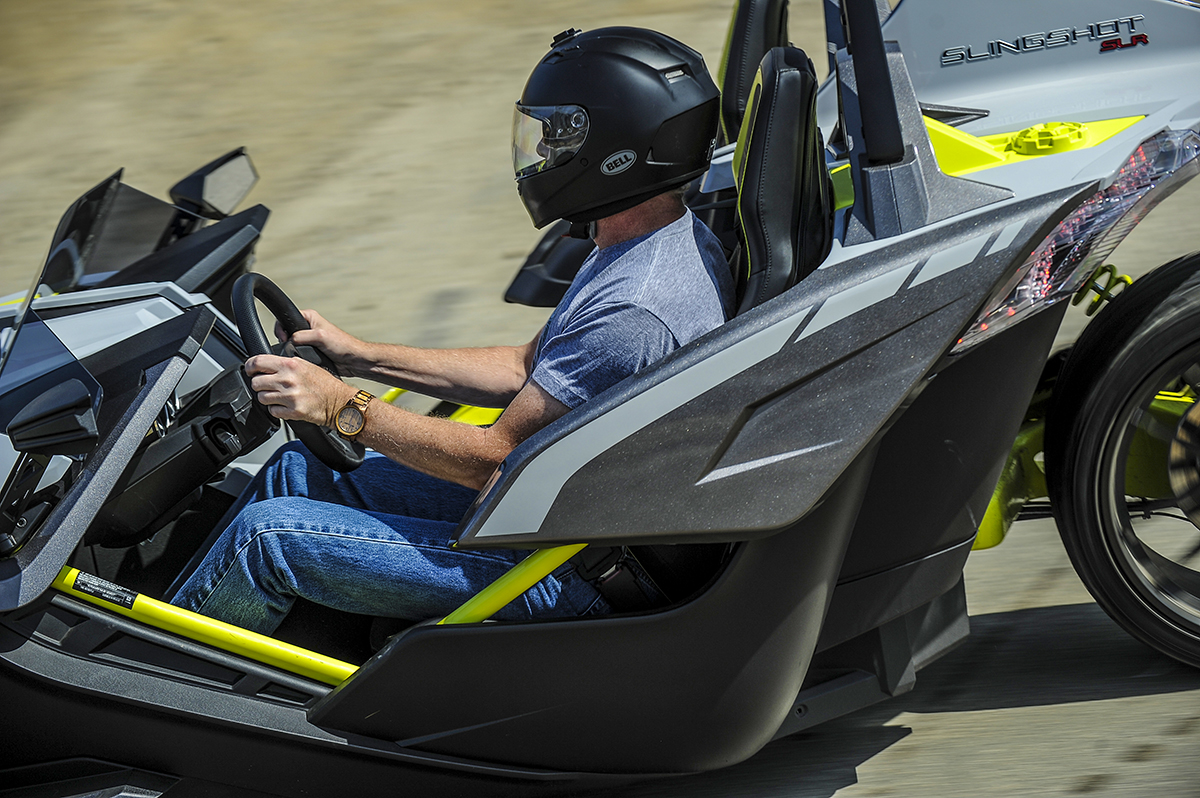 When I first walked up to the Slingshot, it was clear it is not a motorcycle. Side by side seating, the steering wheel, seat belts, a shift lever in the center console, and the 7-inch touch screen infotainment system all scream car. So even with my helmet in my hand my frame of reference went immediately from bike to roadster, or maybe even go-kart.
The Slingshot is powered by a GM-made 2.4L 4-cylinder engine that was at the heart of the Pontiac Solstice convertible. To save weight, the only transmission you can get is a GM 5-speed manual (apparently they're not interested in selling it to millenials) driving the rear wheel. With 173 horsepower the power to weight ratio is about 10 pounds per horsepower which is equivalent to an Alfa 4C or a Mustang GT. That's pretty respectable. What you don't get with only one wheel in the back is grip, even though that wheel has a beefy 305/30R20 Kenda tire mounted on it. It's simple physics. Light weight + small contact patch = wheel spin, which is something I came to appreciate the more time I spent in the driver's seat.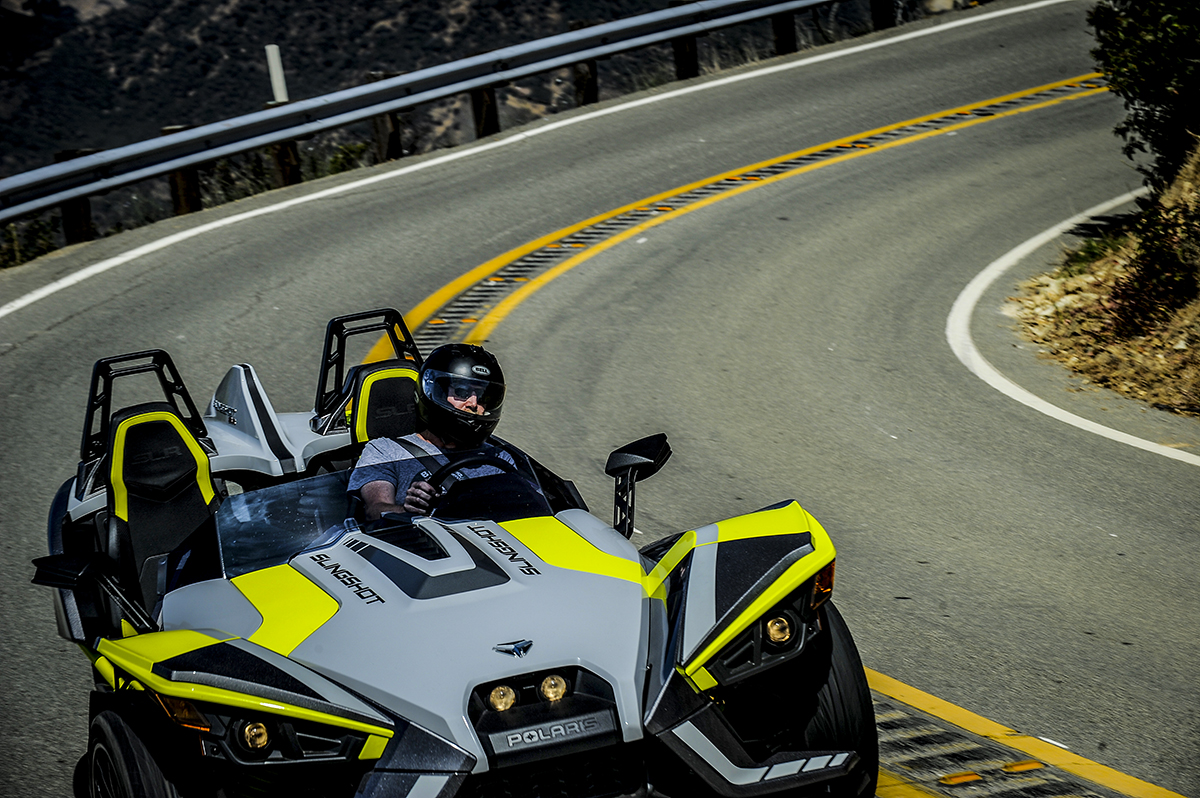 Sliding down into the seat behind the wheel – something you must do because this thing is just five inches off the ground and there are no doors – I hit the start button and moved the shift lever to first. Pulling out from the hotel parking lot onto Pacific Avenue, I was immediately impressed with the smooth uptake of the clutch and the clean, positive shifts. Driving a base S model, the shift knob wasn't great. It's a plastic affair with sharp edges and isn't very comfortable in your hand. The interior as you would expect is spartan. Three things drive this: weight, cost, and water-proofing. There's no roof on this thing, so like a motorcycle if you get caught in the rain, you (and it) are going to get wet. Thus the interior is all plastic, rubber, and vinyl. It's well executed and comfortable, just not luxurious. Upgrade to the SL, SLR, or SLR LE and you get a nice round metal shift lever and the interior appointments get a little more swanky as you move up the scale.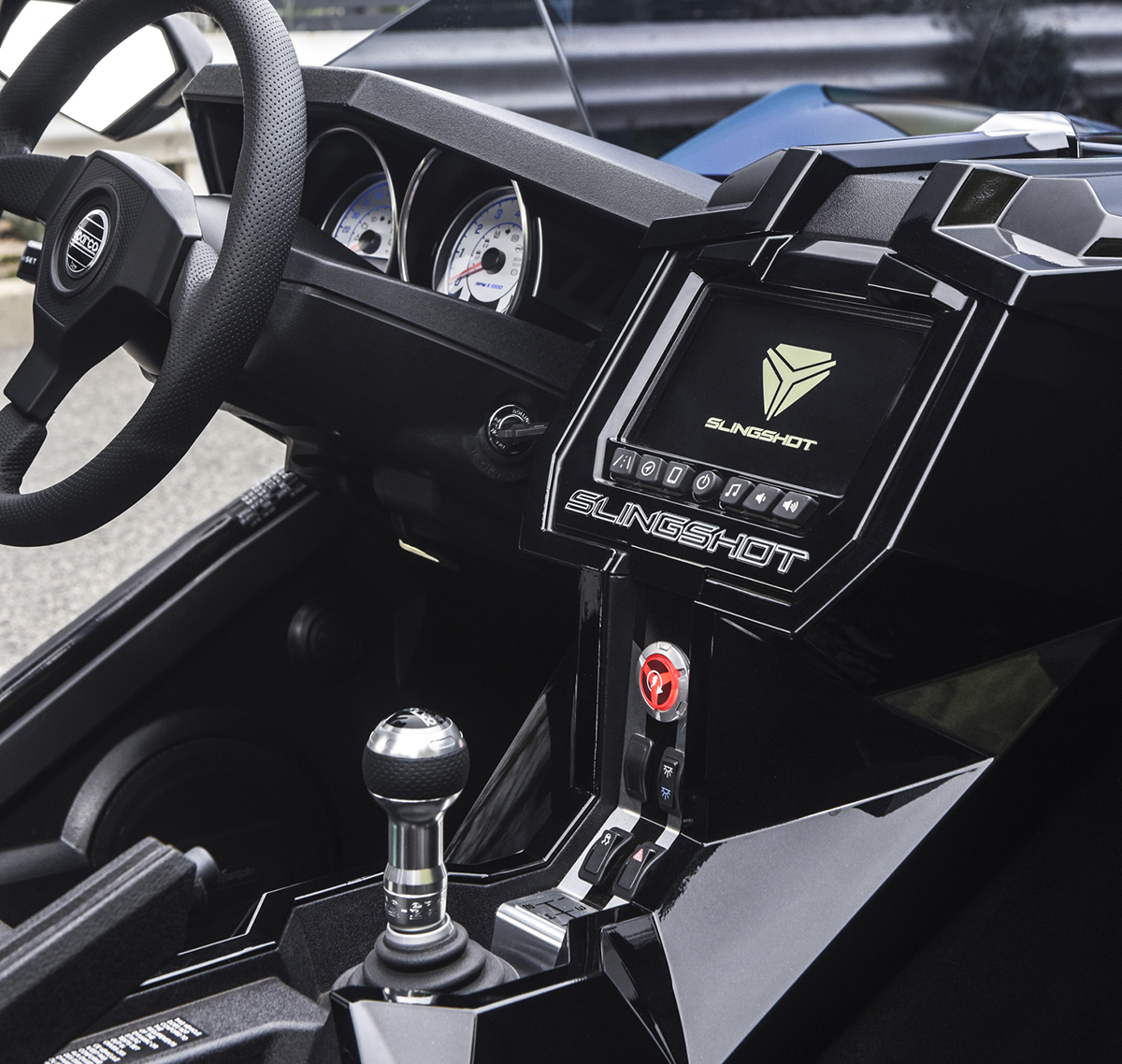 It wasn't until I started carving up the canyon roads above the Malibu coast, however, that the Slingshot really came to life, especially after I switched to the SLR LE variant with its Bilstein Shocks and beefier rubber. The front end clings to the pavement like a felon to an alibi, with absolutely no understeer even with 70% of the Slingshot's weight concentrated up front. What this meant was as I pushed harder and harder around the twisty bits, the rear end started to dance deliciously towards the outside of the corners. With traction control on, (yes, it has all the electronic nannies you'd expect including ABS brakes) you can't get too crazy, but switch it off and you go into full drift mode. Thus even though my full face helmet hid it, a grin spread across my face from ear to ear.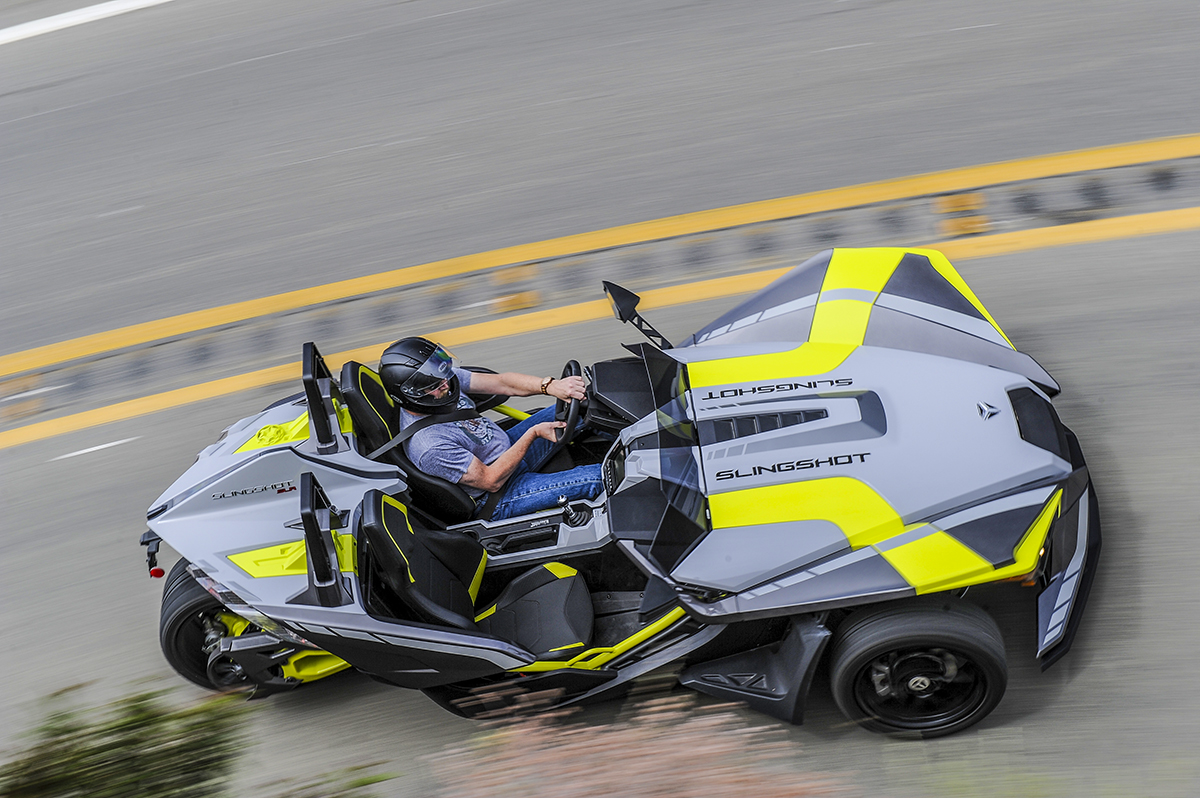 Sure you can cruise, tour, or tool around town in a Slingshot. It's comfortable. The SLR LE has 200 watt Fosgate Rockford stereo that kicks out the jams. You can even add a top which they call a "Slingshade" to protect you from the sun. But frankly that's missing the point unless the only thing you care about is being noticed. The adrenaline starts pumping when you find an open winding road and your bury your right foot to the floor. It's quick, but not lightning fast, mid 5 seconds 0-60, mostly because of the aforementioned grip issues. And, I imagine that when driven without a helmet, the wind through what little hair I have left would feel fantastic.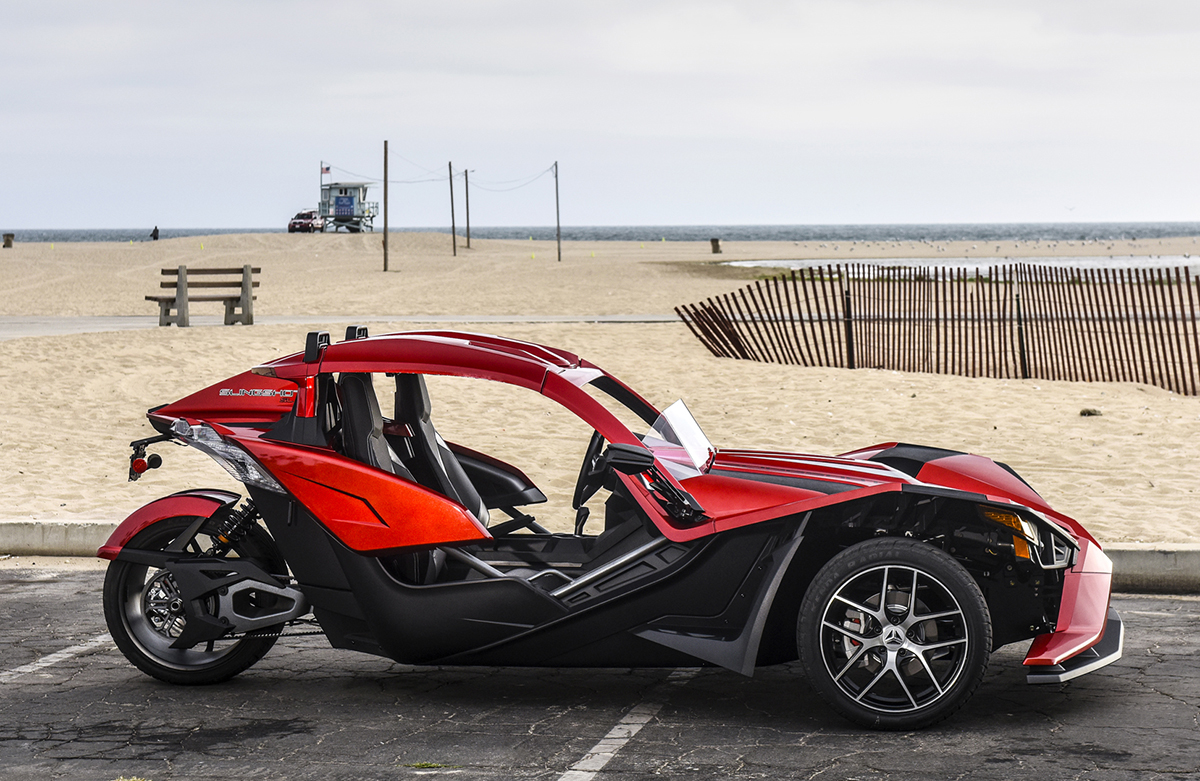 The Slingshot isn't a bike and if you're used to riding fast, it won't deliver those thrills. It's not a car – so while it will deliver more thrills per dollar than any car on the road today, you compromise comfort and convenience. The Slingshot is, like all powersports vehicles, a toy. In the same category as a recreational ATV, sportbike, boat, or snowmobile. If you have room in the garage, a few extra bucks, and the time for one more toy, the Slingshot can provide plenty of thrills, just be prepared to be the center of attention wherever you go, and make sure you get to the barber so you look good in all those pictures you'll end up in.
2018 Polaris Slingshot
Zero door, three-wheel, two-passenger auto-cycle
Base Price: S $19,900, SL $25,499, SLR $28,999, SLR LE $30,999
Engine: 2.4L Double Overhead Cam V6
Transmission: 5-speed manual
Power: 173 Horsepower
Torque: 166 lb.-ft.
Curb Weight: 1749 lbs.
0-60: 5.6 seconds
Top Speed: 130 mph